Herb Butter Salmon with Blistered Tomatoes and Green Beans
This easy sheet pan dinner is packed with flavors straight from the farm! Use up that fresh basil, parsley, cherry tomatoes, and green beans in this Herb Butter Salmon with Blistered Tomatoes and Green Beans dish! It comes together in under 20 minutes and will be a hit with the entire family!
Sheet Pan Herb Butter Salmon Recipe
This Sheet Pan Herb Butter Salmon recipe is is the ultimate summer meal! It utilizes fresh veggies like cherry tomatoes and green beans and cooks quickly under the broiler. The herb butter makes the salmon really special and gives this dish a bright finish. This sheet pan fish dish is a light and quick weeknight dinner you can get on the dinner from start to finish in roughly 30 minutes with minimal clean up! It's gluten-free, low-carb and paleo friendly.
Sheet pan dinners are the best because they minimize clean up by utilizing one cooking vessel and they make cooking hands-off. This sheet pan dinner is low carb for a nice light meal that is still going to leave you satisfied. It is packed with flavor and loaded with fresh, in-season vegetables.
How to Make Herb Butter
An herb butter is a compound butter! A Compound butter is simply a mixture of softened butter and flavorful components like herbs and spices. For this salmon recipe we combine butter with a bunch of fresh herbs. We love using grass-fed butter like Kerrygold or Vital Farms, but really any butter you use will have an improved taste with the addition of herbs!
To make herb butter simply combine softened butter with the prepared herbs. You can make it up to 2 days ahead, if kept in the refrigerator.
Tips for Sheet Pan Cooking:
Read the recipe all the way through (of course) and plan to use a timer! Most recipes require different cooking times, so make sure to use a timer so you can truly walk away from the oven and not have to worry about when your adding anything in to the oven.
Do the prep ahead of time to make for a quick meal: Clean the vegetables and make the herb butter the night before or that morning if you are looking to speed up the process when it comes time for the actual cooking.
Use parchment paper to make clean up a breeze.
Use the correct size sheet pan. When we say sheet pan we are referring to the rimmed half sheet pan which is 18″ by 13″. The size of the sheet pan matters because you do not want to overcrowd the pan when cooking, so if you are using a smaller sheet pan you may need to use 2 to achieve the same result.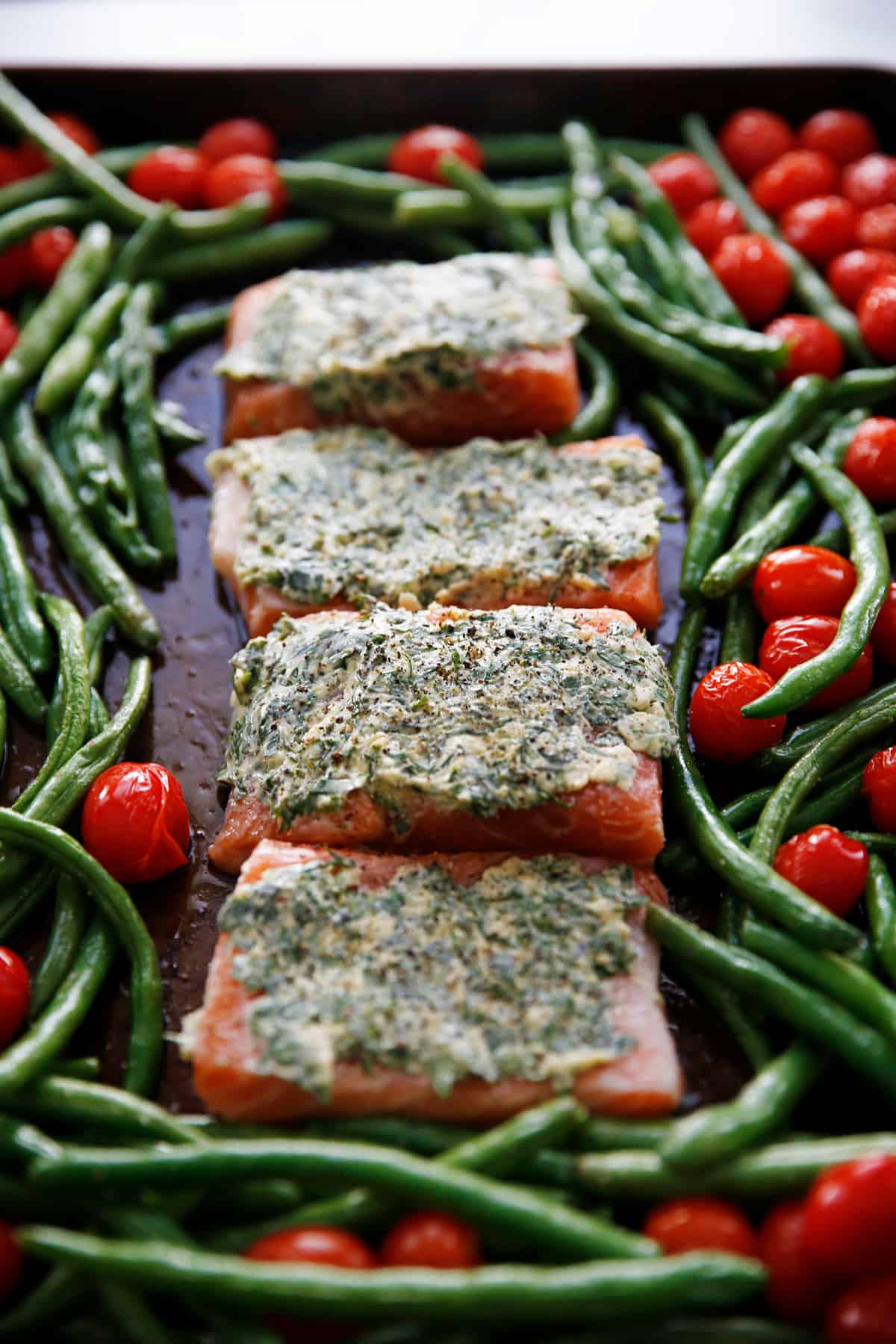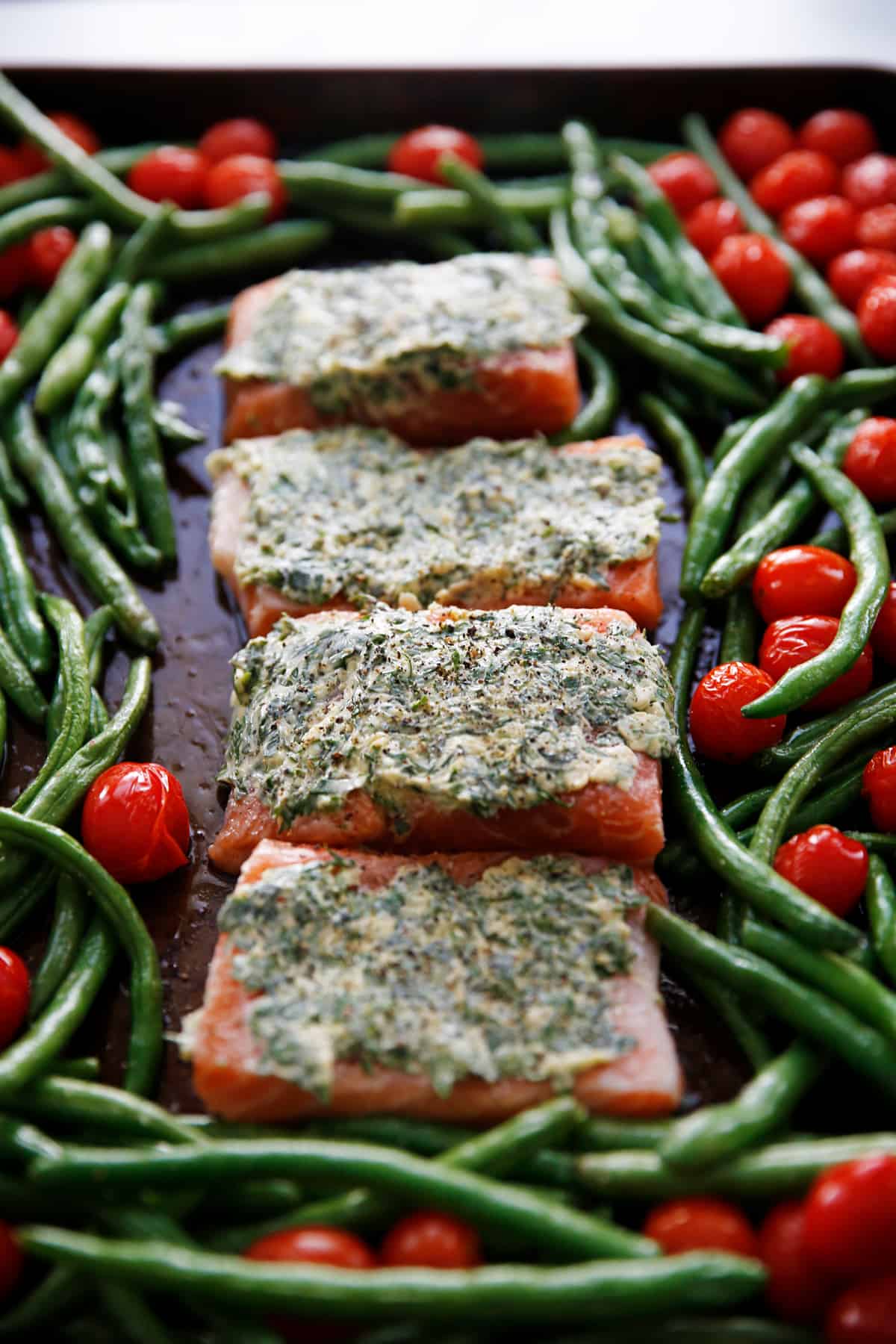 If you like this salmon recipe, check out these others:
If you like this sheet pan recipe, check out these others:
[yumprint-recipe id='379′]
Herb Butter Salmon with Blistered Tomatoes and Green Beans
This One-Pan Shrimp and Green Beans recipe in Chinese Garlic Sauce is the perfect, easy, whole30 compliant weeknight meal made in under 30 minutes!

One-Pan Shrimp and Green Beans in Chinese Garlic Sauce
I love healthy versions of my favorite Chinese food recipes! Growing up, we often ordered Chinese food, and while I have a clear memory of how delicious it was, it's obvious now how unhealthy those dishes can be. This garlic sauce is thick and flavorful, and reminds me so much of a yummy oyster sauce I used to order as a kid!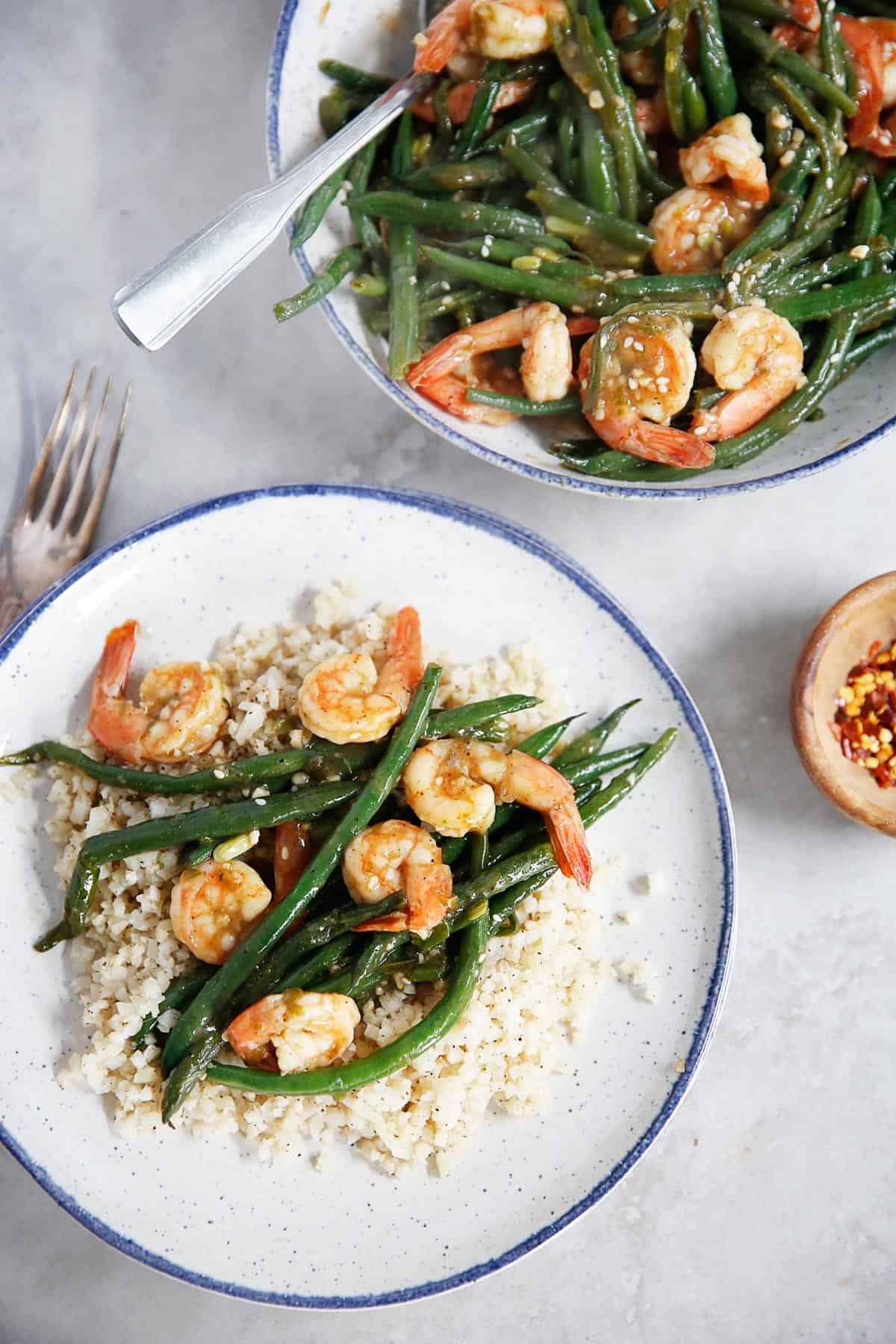 I love serving this dish over cauliflower rice, but white rice would be delicious too!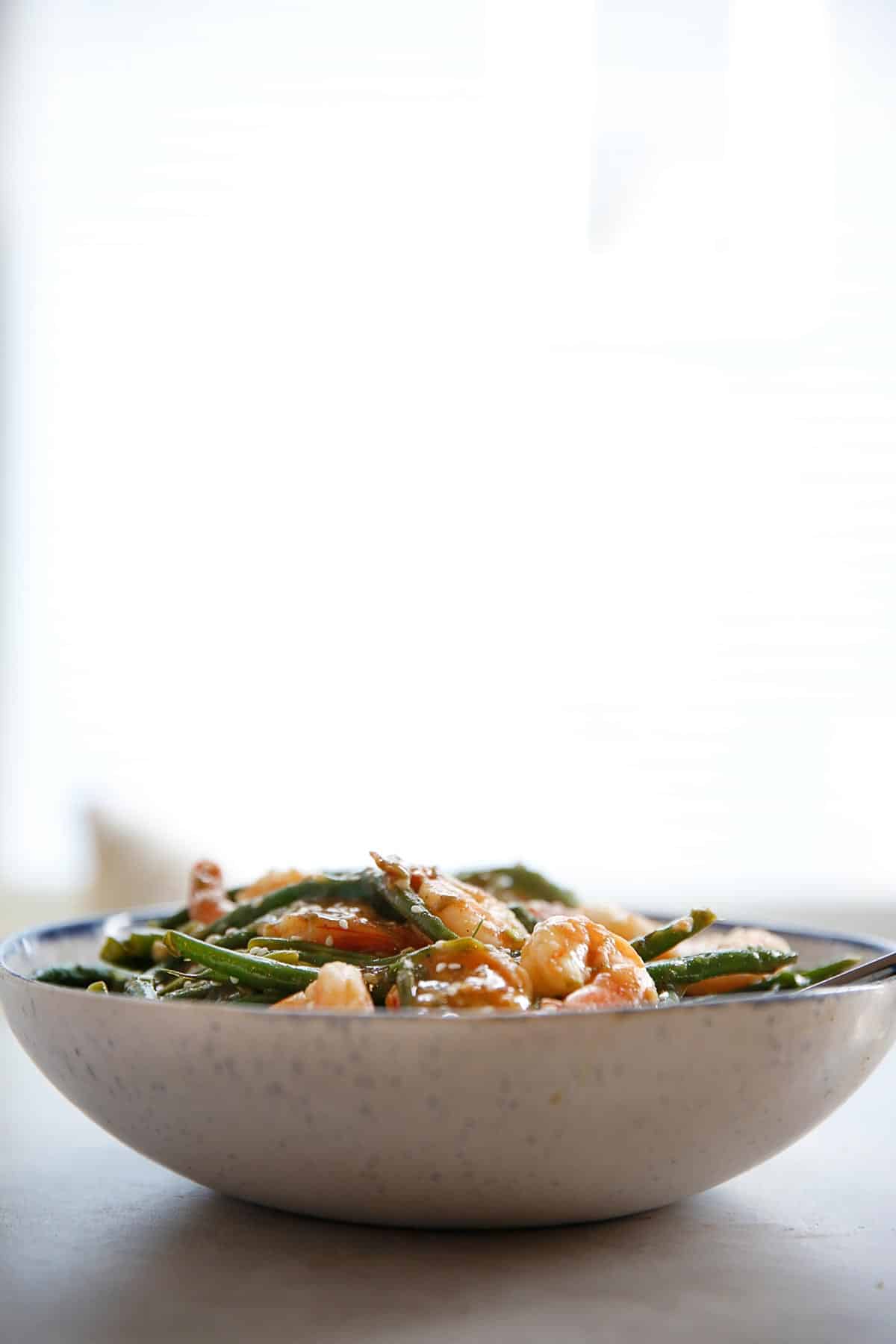 Want other heathy Asian food recipes? Here are some favorites:
Shrimp and Green Beans Recipe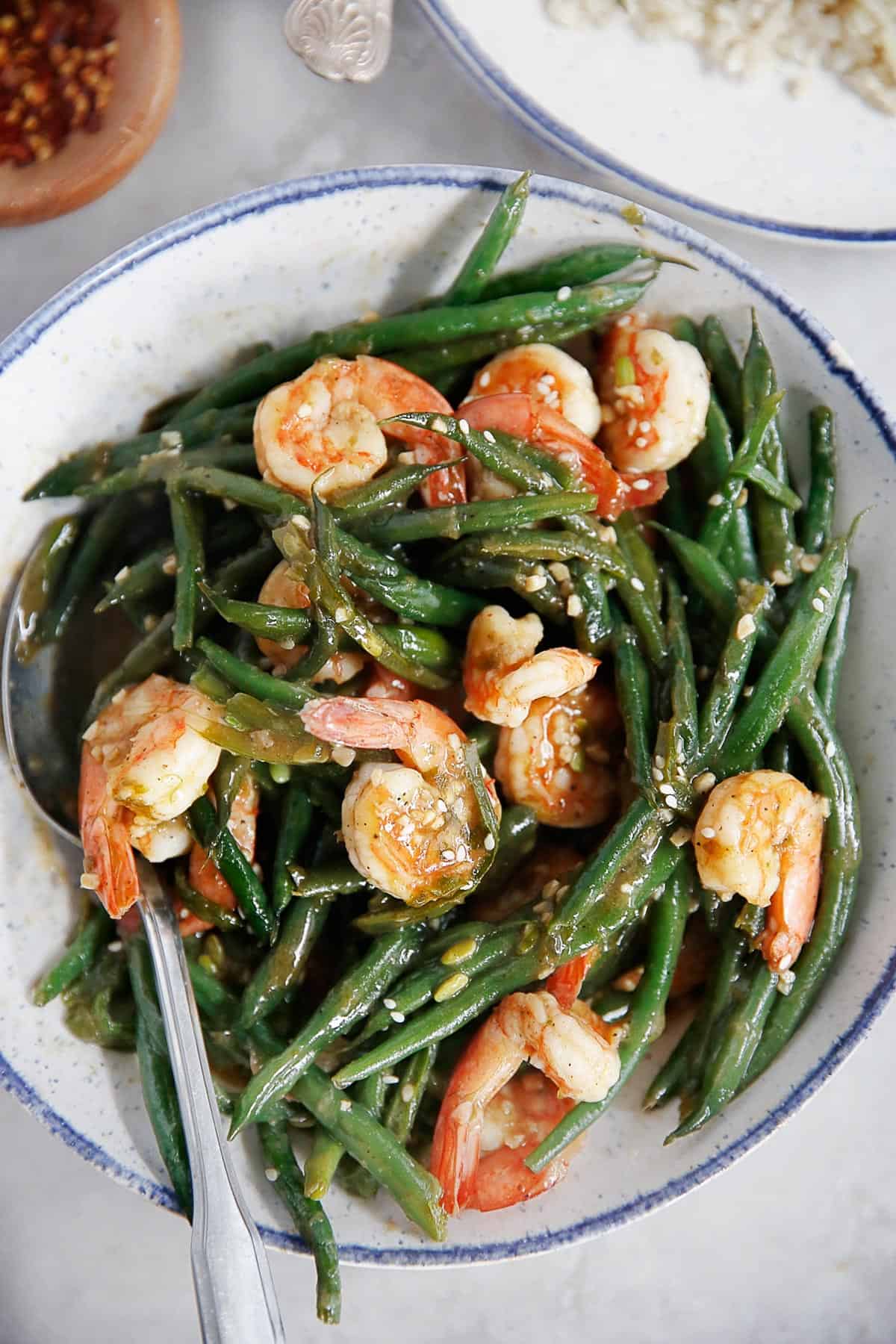 Watch the video:
One-Pan Shrimp and Green Beans in Chinese Garlic Sauce
This lightened up, healthier version of a Green Bean Casserole is sure to be a crowd pleaser this holiday season! It's dairy-free, made without any soup mix, and EASY to make. It's a fabulous and hearty holiday side dish topped with the most perfect crispy fried onions!
Healthier Green Bean Casserole (Dairy-Free)
I didn't grow up with a green bean casserole during the holidays and now that I've had it (and a version that is cleaned up), I will absolutely be making it year after year!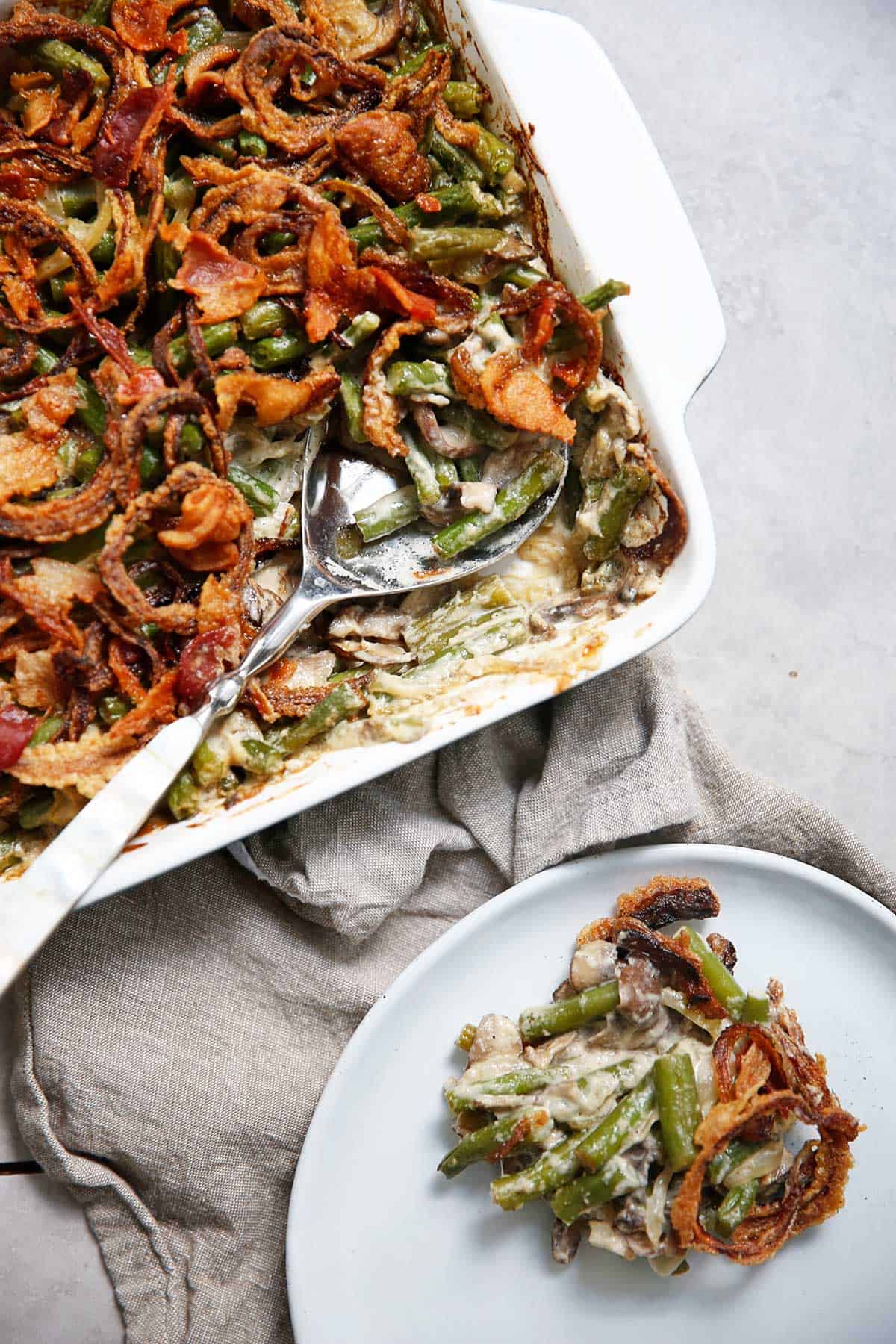 This side dish is:
Creamy, without any of the cream!
Flavorful with aromatic veggies and herbs.
Tender, cooked just right green beans in bite-size pieces.
Topped with perfect crispy fried onions (no white flour here!)
How do you make french fried onions healthier?
Use avocado oil instead of canola oil
Use arrowroot flour instead of white flour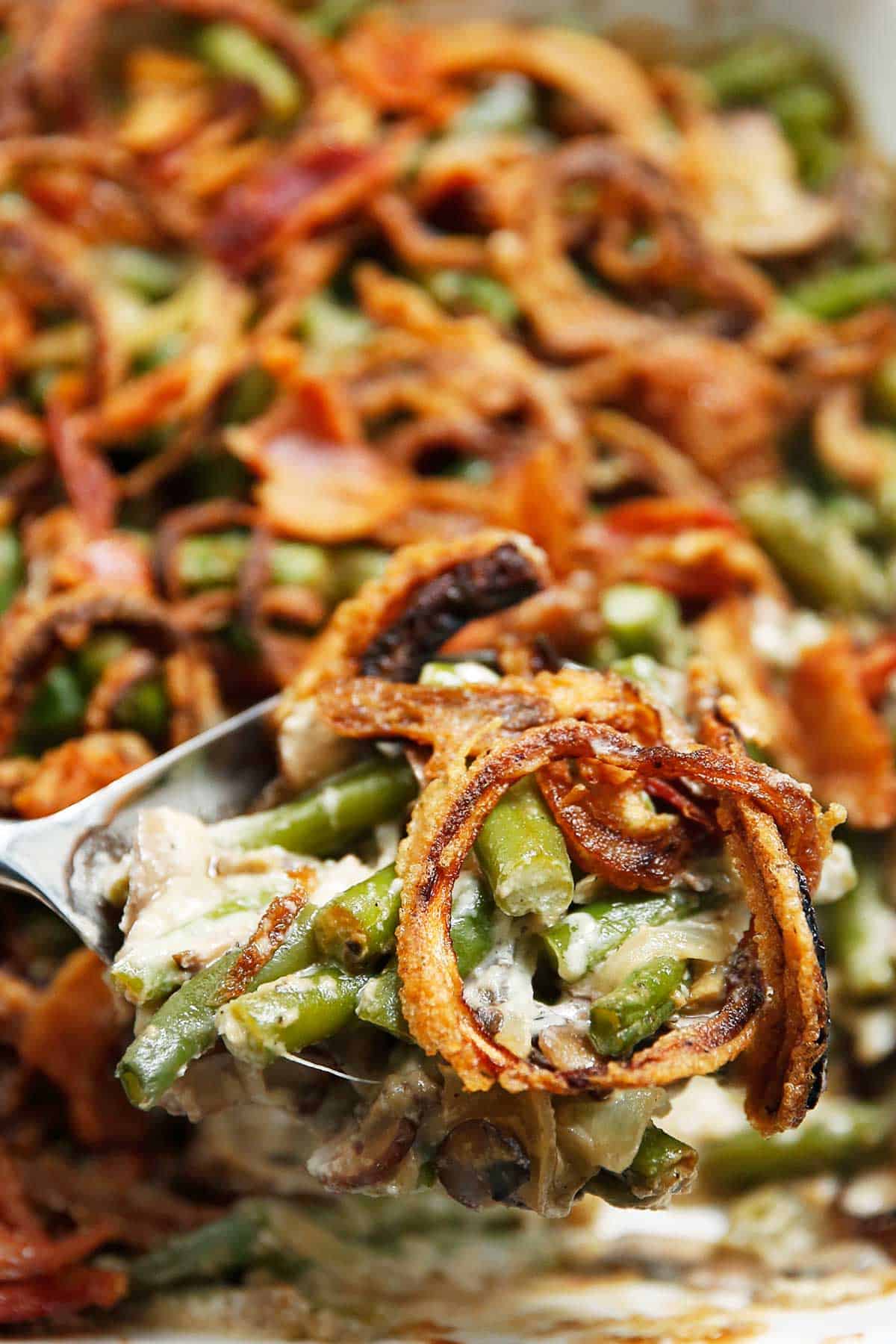 Try these other Thanksgiving Side Dish Recipes:
Watch the video:
Green Bean Casserole (Healthier & Dairy-Free)
A warmly spiced dish, Lubee is braised Lebanese Green Beans and Beef in a tomato sauce with cinnamon. Perfect for a cozy unique fall dinner.
Lubee Recipe: Lebanese Green Beans And Beef
This Middle Eastern dish from my girlfriend, Liz' newest Cookbook, The Ultimate Syrian Sunday Dinner, makes for such a perfect freezer-friendly comforting dish. On cold Fall and Winter nights, I want something simple, flavorful, and hearty and this dish is just that! One-pan and limited ingredients… it just doesn't get any better than this!
When my good friend Liz, from the food blog The Lemon Bowl, published a Food From Our Ancestors eCookbook series featuring home-style Italian family recipes, I knew I was going to be in LOVE. Her series of 4 e-books has recipes like Shrimp Scampi and Eggplant Parmesan, authentic Mexican Posole Rojo and Enchiladas Verdes, homemade Jewish Challah Bread and Beef Brisket and SO many awesome recipes from her newest book, the Ultimate Syrian Sunday Dinner Cookbook!
Make this on a Sunday for meal prep and enjoy the leftovers all week long! This dish is also very freezer friendly. Feel free to make a big batch and freeze the leftovers for an easily re-heatable dinner for those busy days when just don't have time to cook!
This dish is featured in the Syrian Cookbook edition and will definitely not disappoint. Tender beef stewed over low heat with sweet tomatoes, cinnamon, and green beans all served over cauliflower rice with parsley and an optional dollop of yogurt… count us IN! We loved this dinner!




You're going to absolutely love this collection. You can now learn more and buy all four editions of the Food From Our Ancestors eCookbook series for just $12.99 HERE!
Lebanese Green Beans And Beef
This Thai Basil Ground Turkey Bowl is the perfect meal prep recipe that comes together in no time! They are flavorful, delicious Whole30 approved, and packed with veggies to fuel you for your busy days ahead!
Meal Prep Thai Ground Turkey Bowl Recipe
This healthy Thai Ground Turkey Bowl recipe can be made in around 30 minutes and is a great low-carb, whole30 and paleo meal that can be eaten right away or made for meal prep. Double the recipe and you can also make it dinner one night and lunch for the next few days! The savory Thai Turkey is so good on its own, but really outstanding when paired with the veggies and rice. Feel free to keep it low-carb with cauliflower rice, or pair it with white rice. We recommend cooking it with veggies like peppers, carrots and bok choy, but you can really swap out with any veggies you have on hand that you think will go well in this dish.
What You Need to Make Thai Ground Turkey Bowls
Ground Turkey
Coconut Aminos (a soy free alternative)
Sesame Oil
Chili Paste
Fresh Ginger
Thai basil (or regular basil)
Lemon Grass
Fish Sauce
Salt and Pepper
For the Veggies:
Bok Choy
Green Beans
Bell Peppers
Cauliflower Rice, or White Rice
How to Make A Ground Turkey Bowl
Seriously, these are my new favorite lunch or easy weeknight dinner. Each aspect of the dish can be made ahead of time (think Sunday meal prep), and then tossed together in individual containers to bring with you on-the-go anywhere!
First, prep your cauliflower rice or white rice. If making cauliflower rice, feel free to buy pre-made if you'd like to skip that step. If not, we have a full tutorial here, and directions within the recipe below.
Then prep your ground turkey and all the veggies, which are flavored with such aromatic Thai ingredients. I gave a list of suggested vegetables to use, but you could really use what you have on hand for this.
And then the whole thing is drizzled with a delicious Thai Basil sauce. You can serve this with just the rice, or with Bibb lettuce to create a lettuce wrap feel to it.
Once you've assembled the separate components you can then either pack away for meal prep, or serve up for a delicious and light dinner.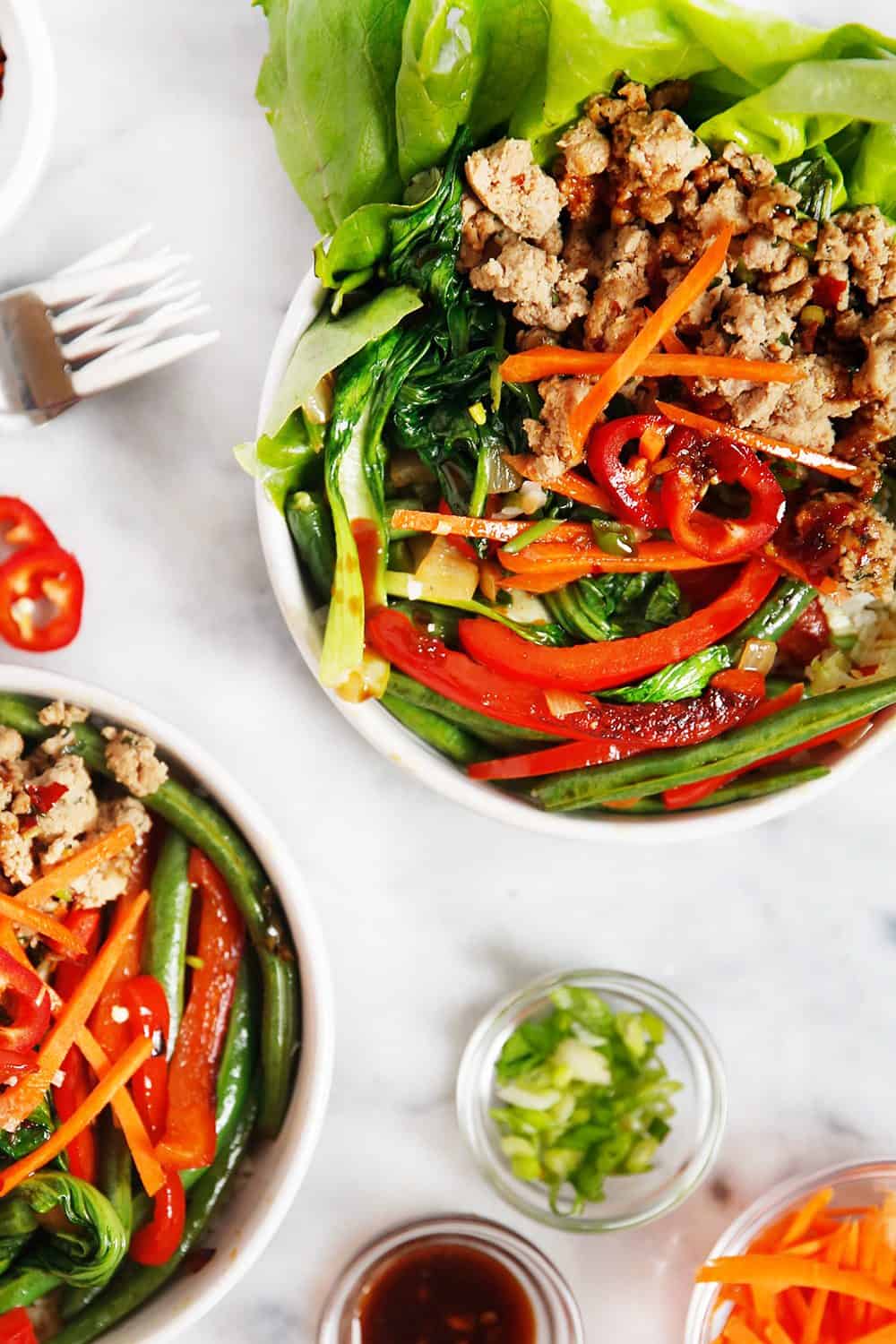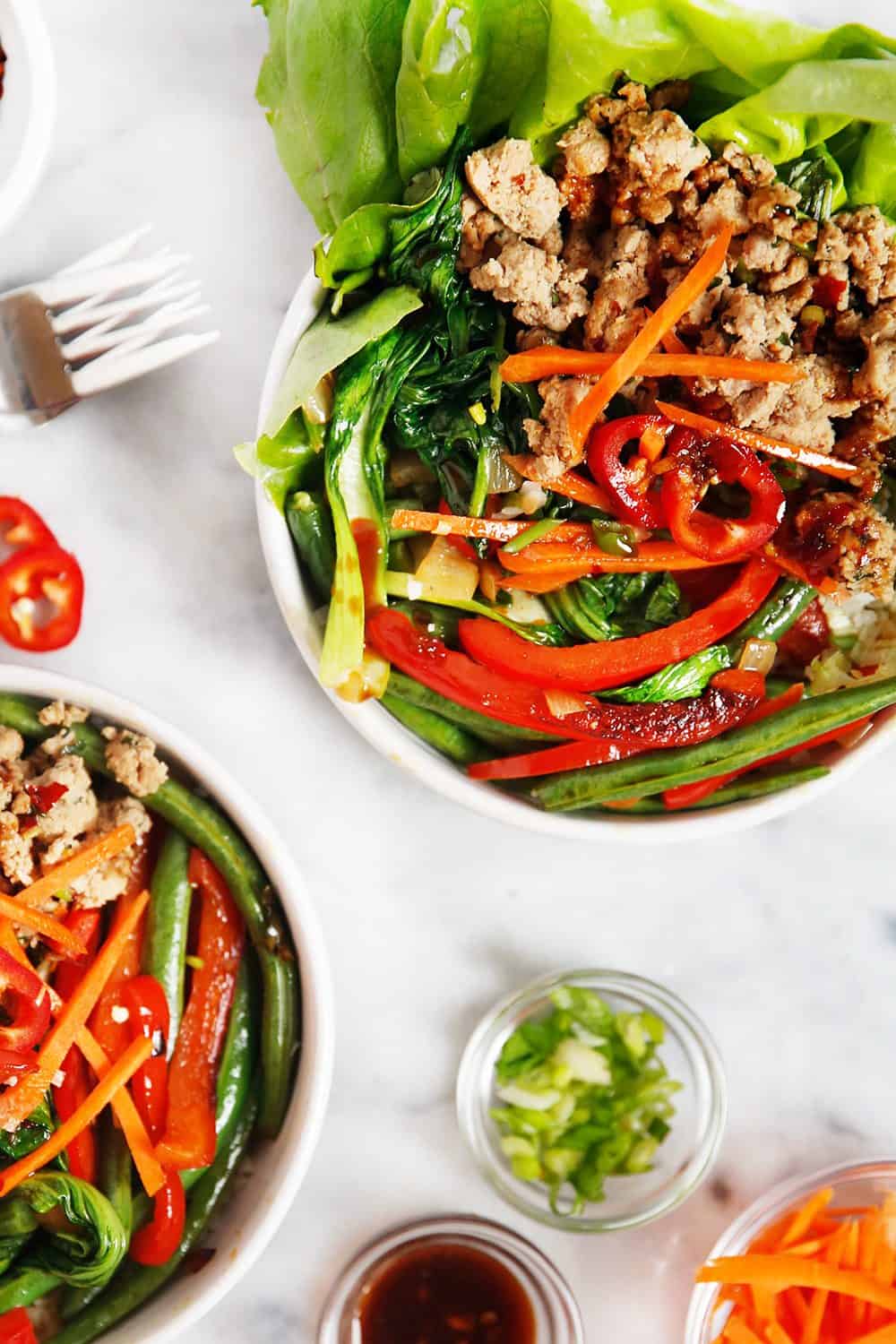 Can You Use Premade or Frozen Cauliflower Rice?
Yes! We take advantage of frozen cauliflower all the time, and love that it's readily available now. There isn't much difference between fresh or frozen except that the frozen can hold a little bit more water in it. So if you don't want to do the extra step of making your own cauliflower rice, feel free to use premade!
If you like this asian inspired recipe, check out these others:
[yumprint-recipe id='417′]