Thai Basil Ground Turkey Bowl Meal Prep
This Thai Basil Ground Turkey Bowl is the perfect meal prep recipe that comes together in no time! They are flavorful, delicious Whole30 approved, and packed with veggies to fuel you for your busy days ahead!
Meal Prep Thai Ground Turkey Bowl Recipe
This healthy Thai Ground Turkey Bowl recipe can be made in around 30 minutes and is a great low-carb, whole30 and paleo meal that can be eaten right away or made for meal prep. Double the recipe and you can also make it dinner one night and lunch for the next few days! The savory Thai Turkey is so good on its own, but really outstanding when paired with the veggies and rice. Feel free to keep it low-carb with cauliflower rice, or pair it with white rice. We recommend cooking it with veggies like peppers, carrots and bok choy, but you can really swap out with any veggies you have on hand that you think will go well in this dish.
What You Need to Make Thai Ground Turkey Bowls
Ground Turkey
Coconut Aminos (a soy free alternative)
Sesame Oil
Chili Paste
Fresh Ginger
Thai basil (or regular basil)
Lemon Grass
Fish Sauce
Salt and Pepper
For the Veggies:
Bok Choy
Green Beans
Bell Peppers
Cauliflower Rice, or White Rice
How to Make A Ground Turkey Bowl
Seriously, these are my new favorite lunch or easy weeknight dinner. Each aspect of the dish can be made ahead of time (think Sunday meal prep), and then tossed together in individual containers to bring with you on-the-go anywhere!
First, prep your cauliflower rice or white rice. If making cauliflower rice, feel free to buy pre-made if you'd like to skip that step. If not, we have a full tutorial here, and directions within the recipe below.
Then prep your ground turkey and all the veggies, which are flavored with such aromatic Thai ingredients. I gave a list of suggested vegetables to use, but you could really use what you have on hand for this.
And then the whole thing is drizzled with a delicious Thai Basil sauce. You can serve this with just the rice, or with Bibb lettuce to create a lettuce wrap feel to it.
Once you've assembled the separate components you can then either pack away for meal prep, or serve up for a delicious and light dinner.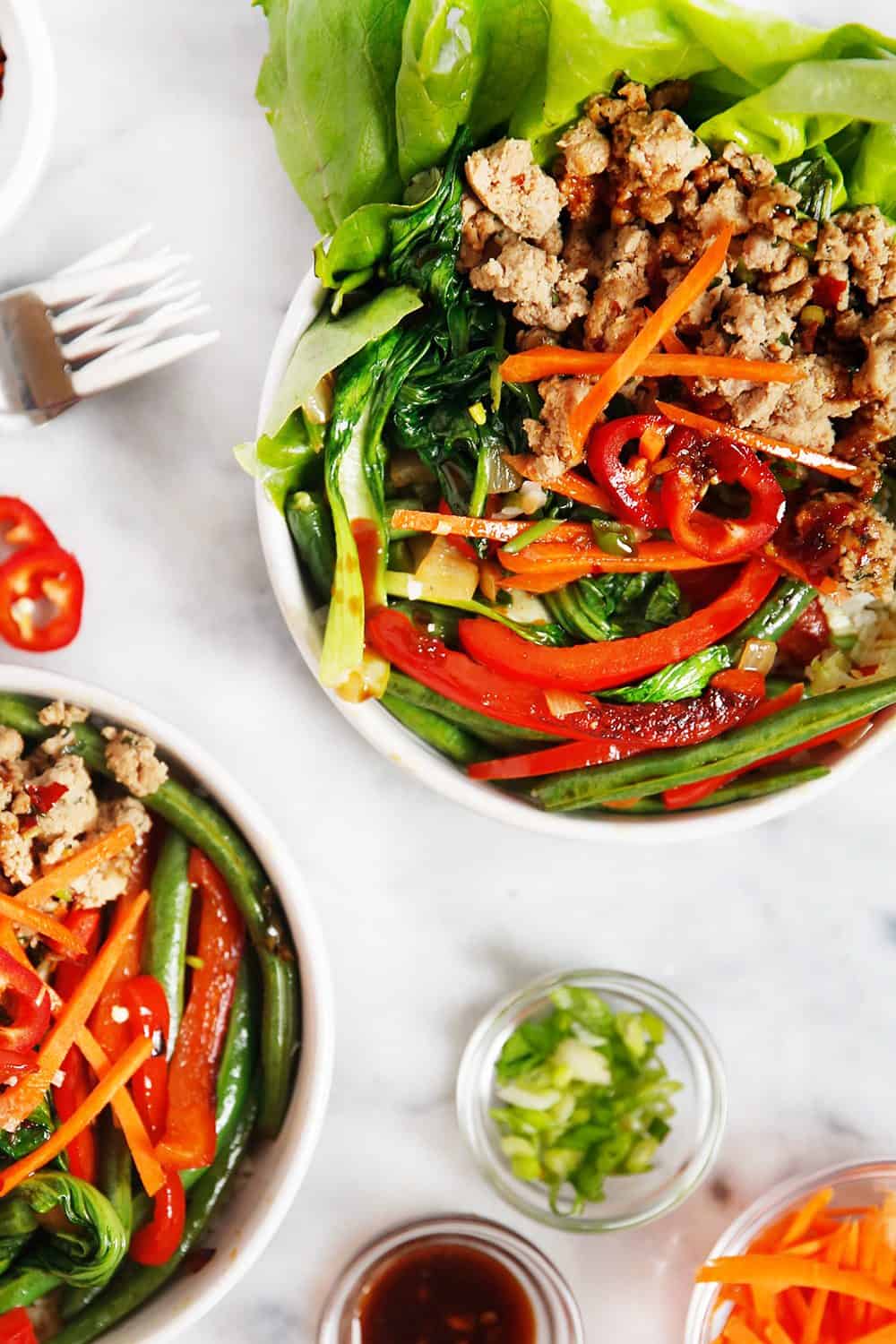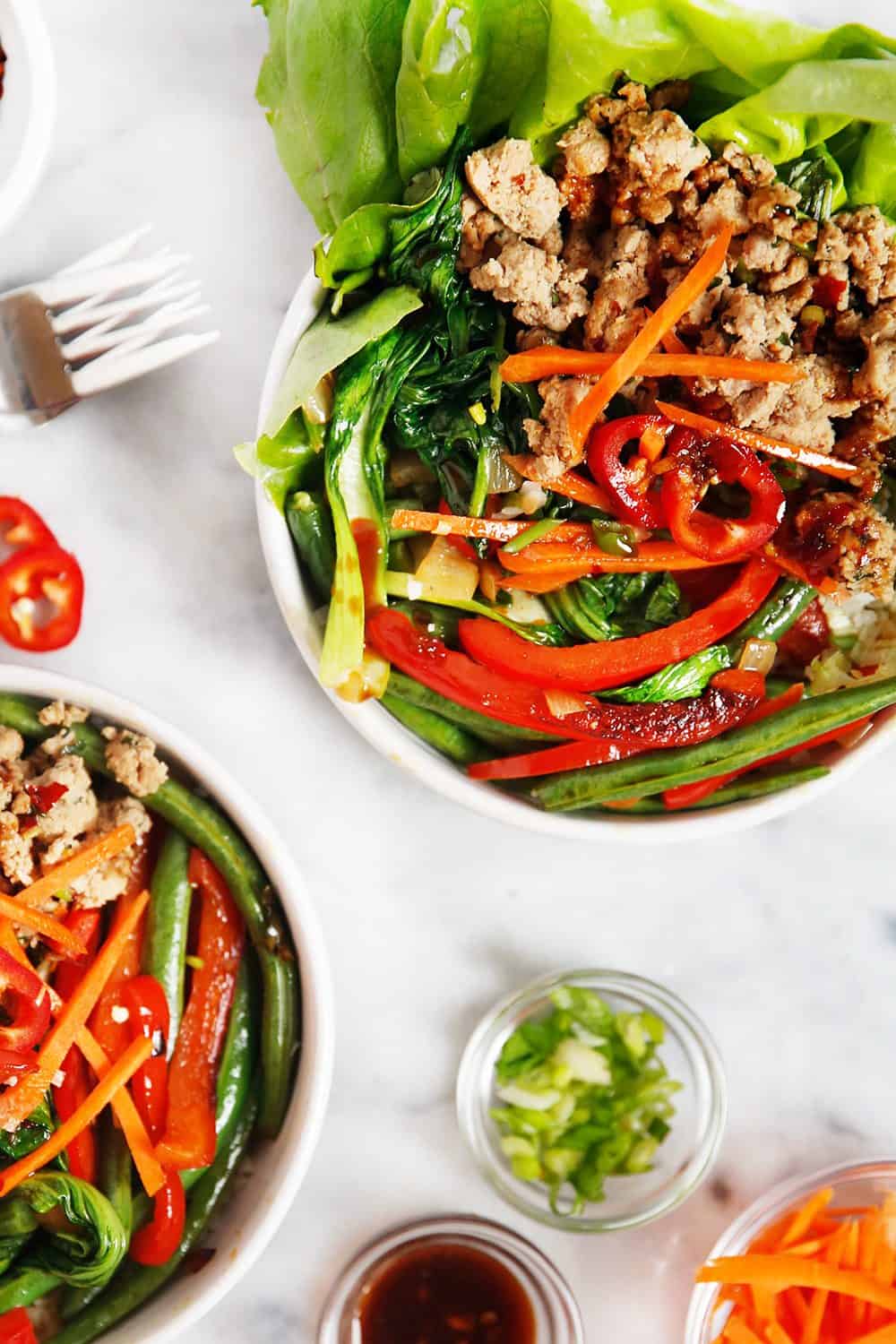 Can You Use Premade or Frozen Cauliflower Rice?
Yes! We take advantage of frozen cauliflower all the time, and love that it's readily available now. There isn't much difference between fresh or frozen except that the frozen can hold a little bit more water in it. So if you don't want to do the extra step of making your own cauliflower rice, feel free to use premade!
If you like this asian inspired recipe, check out these others:
Thai Basil Ground Turkey Bowls
This Thai Basil Ground Turkey Bowl is the perfect meal prep recipe that comes together in no time! They are flavorful, delicious Whole30 approved, and packed with veggies to fuel you for your busy days ahead!
---
---
Ingredients
For Turkey:
For the Veggies
For Sauce
To assemble:
Directions
Heat oil in a medium saucepan over medium heat. Once hot add all turkey ingredients and mix until well combined. Cook until the turkey is cooked through and no pink remains, about 5-7 minutes. Taste and adjust salt and pepper as needed.
Meanwhile, prepare either cauliflower rice or white rice as desired.
To cook veggies: Heat oil in another pan over medium heat. Add in diced onion, sliced red peppers and green beans. Cook until onion becomes translucent and veggies begin to soften, about 5-7 minutes. Add in bok choy, salt and pepper. Cook until wilted.
In a small pot add all of the ingredients for the sauce. Bring to a boil and then simmer for 1-2 minutes until sauce reduces and thickens slightly.
Assemble bowls by adding rice, then ground turkey, then veggies and drizzle with sauce. Serve with desired toppings. Serve immediately, or let cool completely before storing for meal prep.
---
Nutrition
Loading nutrition data...
17 comments
January 27, 2017
Subscribe to
Lexis Clean Living
Join our email list to get instant updates and weekly summaries of our top content and special exclusive offers along with our free clean eating kickstart guide!
This website may at times receive a small affiliate commission for products that we shared with you in our posts. Although we may receive a commission for linking certain products, there's no additional costs to you and all of our opinion and suggestions are 100% our own and unbiased. That's our promise to you!