Healthy Italian Wedding Soup
Studded with chicken meatballs and filled with veggies, this Italian Wedding Soup is a lightened up take on the classic. This hearty soup is family-friendly and would make great leftovers. Opt to make it lower carb by skipping any added pasta, or go ahead and make it the classic way with your favorite pasta shape.
Healthy Italian Wedding Soup
There is nothing like a hearty soup for a cool winter day! And this Healthy Italian Wedding Soup does not disappoint. The soup has some similar flavors to a classic chicken soup, but instead of the chicken there are tiny meatballs added along with hearty greens. If you are wondering why it's called Italian Wedding Soup, it isn't because this is traditionally served at weddings! The name refers to the marriage of flavors between the meatballs and the greens here. And they really are a great combination! This healthier version uses nutrient-dense kale and lightened up ground turkey or chicken meatballs. We've opted to leave out the pasta here for a more low-carb take, but feel free to cook some of your favorite small pasta shapes here.
Ingredients Needed
Ground Chicken or Ground Turkey

Kale
Carrots
Garlic
Onion
Celery

Egg

Chicken Stock (homemade or store-bought)

Almond Flour (this is used to bind the meatballs)

Herbs and Spices
Parmesan Cheese (optional)
Salt and Pepper
Can you change the greens for something else?
We've opted to use kale here. But feel free to change it add in spinach or escarole instead. If adding spinach, you don't need to cook it as long so add it in towards the end along with the meatballs.
How to Add Pasta
The exact timing of when you add in the pasta will depend on the type of pasta you are using, but it will be added in when you are simmering the soup. Check out the cook time on the box of pasta and simmer it for the length of time specified.
Do you need to bake the meatballs?
We opted to bake the meatballs and then add them into the soup to simmer. If you prefer to sear the meatballs on the stove first or even add them in raw to cook in the broth that works too.
Can you make this soup ahead of time?
Soups are the ultimate make ahead meal and it's freezer-friendly! This would be a great meal prep item to make a double batch of. Freeze some to eat later, and eat some throughout the week for lunches or dinners. Once frozen, leave in the refrigerator overnight to defrost and them simmer gently on the stovetop until reheated.
If you like this soup recipe, check out these others:
Healthy Italian Wedding Soup
These Gluten Free Swedish Meatballs are the perfect cozy dinner. They're warm and comforting with just enough (dairy-free) creamy gravy to make you feel a bit indulgent. What is even better is that they're simple to make and a crowd favorite. They're Whole30 and Paleo friendly and totally dairy-free.
Gluten Free Swedish Meatballs
Swedish meatballs may be just be the ultimate comfort, especially when they're served on top of a bed of mashed potatoes! The meatballs are so tender with a hint of warmth from the allspice covered in a creamy gravy that just so happens to be dairy and gluten-free.
Ingredients Needed
Ground Meat (We used beef and pork, but beef and turkey can work too!)

Almond flour

Onion

Egg

Spices

Avocado Oil
Coconut Aminos

Dijon Mustard

Beef Broth

Arrowroot Starch
How It's Made Dairy-Free
We're big fans of cashew cream here at LCK. Cashew cream is simply soaked cashews that are blended until they are smooth and creamy. It's a great replacement for heavy cream or in some recipes cream cheese. It can be used for both savory or sweet recipes but also it's just kind of delicious! It works so well with these Swedish Meatballs. We wrote a whole recipe, complete with a video, on how to make it. So check out this post if you want all the tips on making it.
If you can't tolerate nuts, but can tolerate dairy feel free to swap out the cashew cream 1-1 with heavy cream.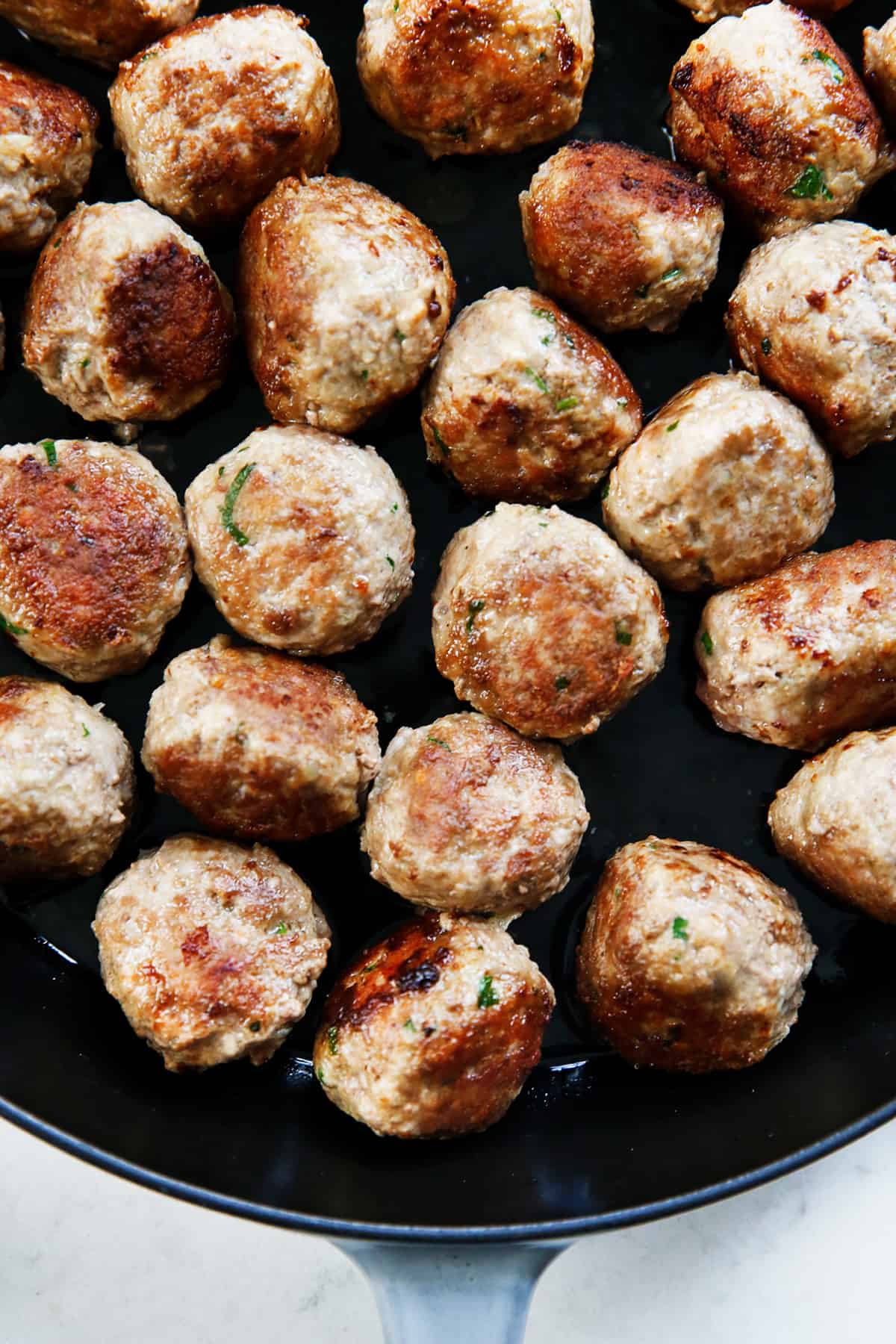 How to Make Paleo and Whole30 Swedish Meatballs
Begin by making your meatball mixture by adding all the ingredients into a bowl and mixing together until fully incorporated. Roll meat mixture into 1-½" balls and set aside.
Next you're going to sear the meatballs in a skillet and lock in all that delicious flavor. Brown on all sides of the meatball and then set them aside on a plate while you make the gravy.
Before you start the gravy, make an arrowroot slurry by whisking together the arrowroot starch and water. You'll need this to thicken up the gravy. Set aside until you are ready to use it.
Then you're going to toast up some grated onion, coconut aminos and dijon in the pan for a minute before deglazing that pan with some beef broth. Add in the cashew cream and some of arrowroot slurry and scrape up any browned bits on the bottom of the pan.
Return the meatballs to the gravy and cook them until they've reached an internal temperature of 165ºF.
If the gravy hasn't thickened enough, stir in the remainder of the slurry and then taste and adjust the seasoning!
What to Serve with Dairy Free Swedish Meatballs
Swedish meatballs can be served over a bed of mashed potatoes or buttered noodles and typically served with a sweet fruit compote like lingonberry sauce.
Some other options to serve with the dish:
Watch the video:
If you like this meatball recipe, check out these others:
Gluten-free Swedish Meatballs
Flavored with Italian seasoning, with a touch of spinach added in, these Paleo Turkey Meatballs make for a great weeknight dinner or meal prep solution! Double or triple the batch and serve some for now and save some for later. Serve with your favorite homemade or store-bought marinara and spaghetti squash and you've got the perfect lightened-up dinner.
Paleo Turkey Meatballs with Spinach
This gluten-free and Paleo Turkey Meatballs are a classic LCK recipe you've been loving since 2013! We went ahead and gave the recipe and photos a little update. We are so glad we did as it reminded us of how amazing these meatballs are, especially for meal prep! Make a double or triple batch of these Italian flavored meatballs and use some right away and then save some for later. Meatballs are great to keep in the freezer because they're quick and easy to pull out on a moments notice and reheat in your favorite homemade or store-bought marinara sauce.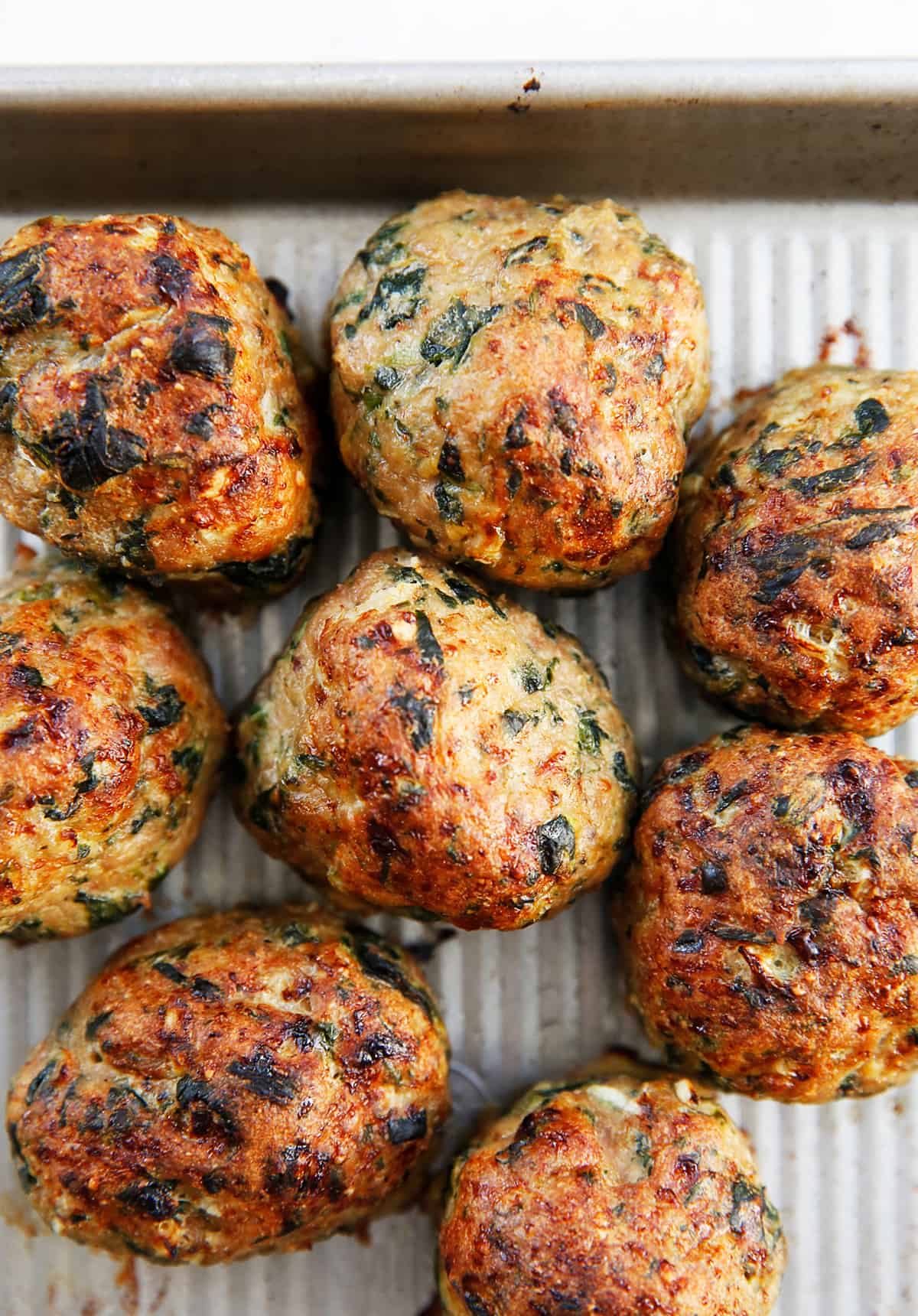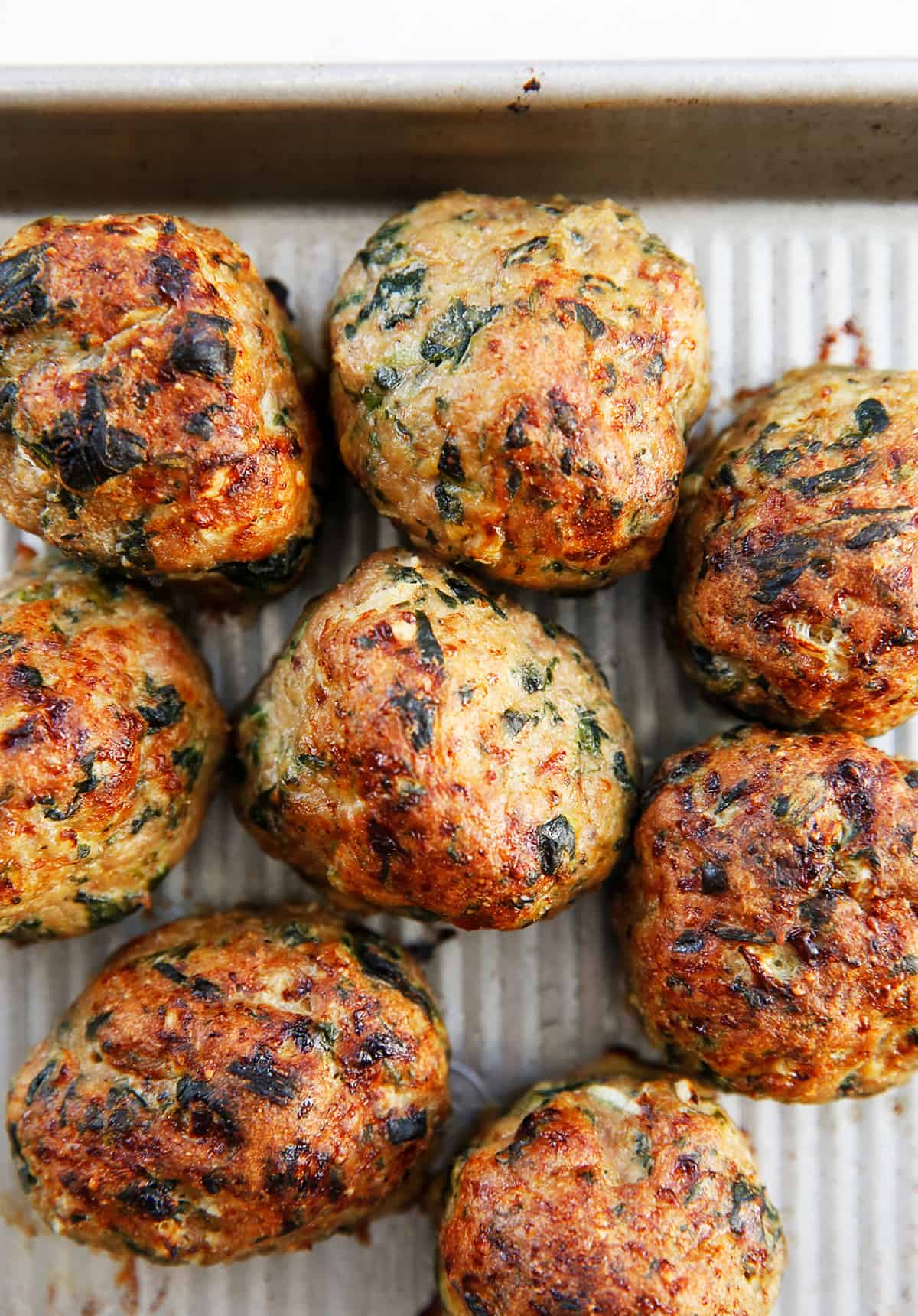 Gluten Free Turkey Meatball Ingredients
Ground Turkey (light or dark meat works here, though we prefer dark meat)
Frozen Spinach
Onion
Egg
Onion Powder
Garlic Powder
Italian Seasoning
Sea Salt and Pepper
Basil
Red Pepper Flakes
Make Ahead Meatballs and Freezer Instructions
Meatballs are the perfect make-ahead meal! They can made a few days ahead and left in the refrigerator or they can be frozen for up to 2 months.
To freeze meatballs, let them fully cool at room temperature and then transfer to a baking sheet lined with parchment paper. Let freeze for at least 1 hour, and then transfer them to a long term storage bag or container. Store for up to 2 months. Defrost in the refrigerator overnight, or warm up in your favorite pasta sauce over low heat.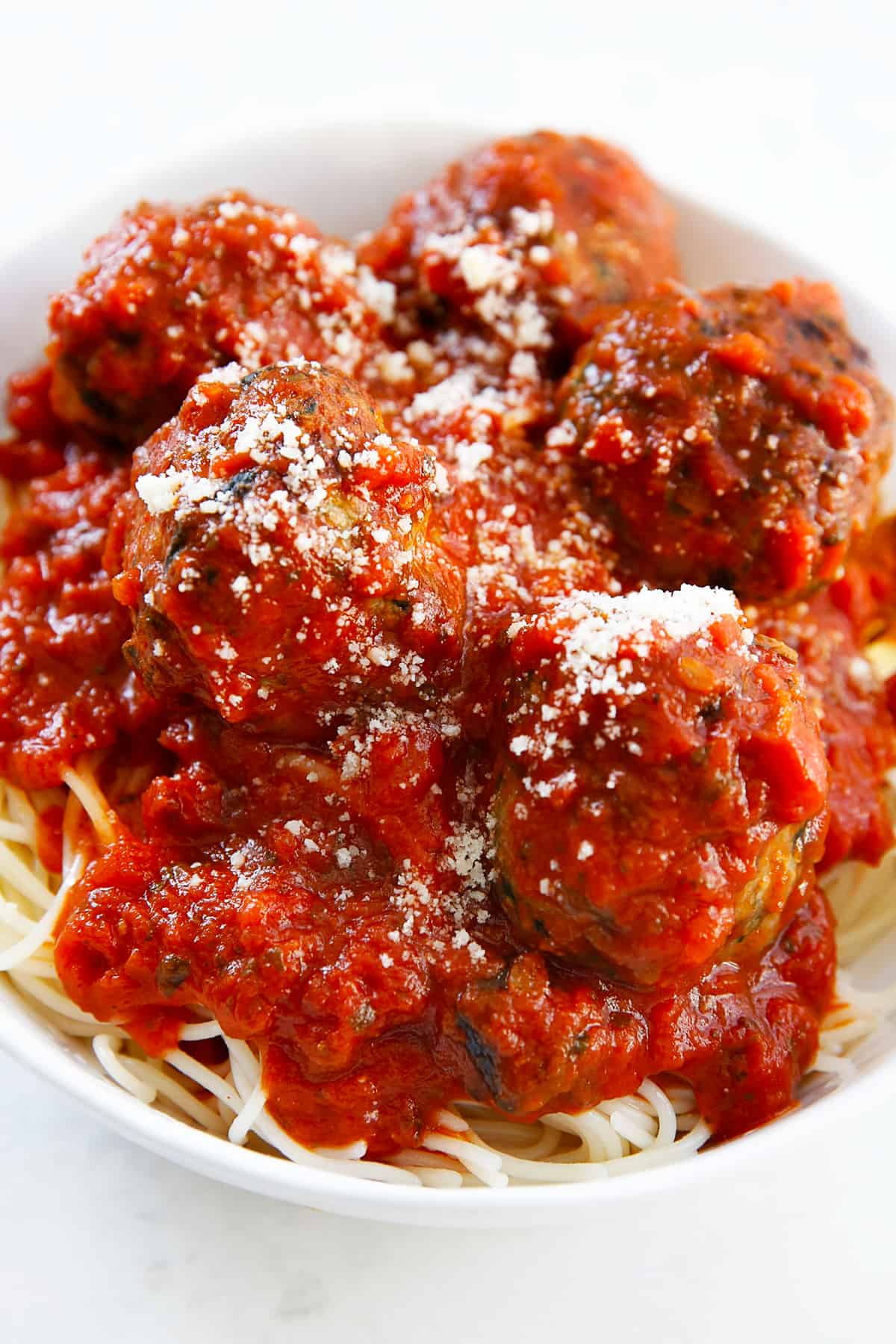 If you like this gluten-free classic recipe, check out these others:
If you like this meatball recipe, check out these others:
[yumprint-recipe id='191′]
Gluten Free Turkey Meatballs with Spinach
This Sheet Pan Greek Meatballs with Veggies and Chickpeas is a delicious dinner that will make the whole family happy! The greek meatballs have a healthy dose of spinach and a nice bright lemon and herb flavor to complement the veggies and chickpeas. This largely hands-off cooking dinner is gluten-free and optionally dairy-free too!

Sheet Pan Greek Meatballs with Veggies and Chickpeas
We can't get enough of sheet pan dinners, and we're happy to hear neither can you! Sheet pan dinners are great because they minimize dishes and utilize hands-off cooking! We love this Sheet Pan Greek Meatballs with Veggies and Chickpeas for all of those reasons, but most important we love it because that flavor is so bright with a healthy does of vegetables! The meatballs are made up of chicken, spinach, lemon and greek spices and optionally feta. It's easy to leave that out if you are dairy-free but we love the salty kick it gives the meatballs.
We used a bunch of veggies like red onions, peppers and eggplants to accompany the meatballs, but it's easy to swap out for what's in season or available to you, so long as it cooks in relatively the same amount of time. The chickpeas don't get super crunchy because they're cooked with a lot of vegetables with moisture but they add some nice texture and of course a healthy dose of fiber! All together this dish is so flavorful and likely to be your new favorite sheet pan dinner!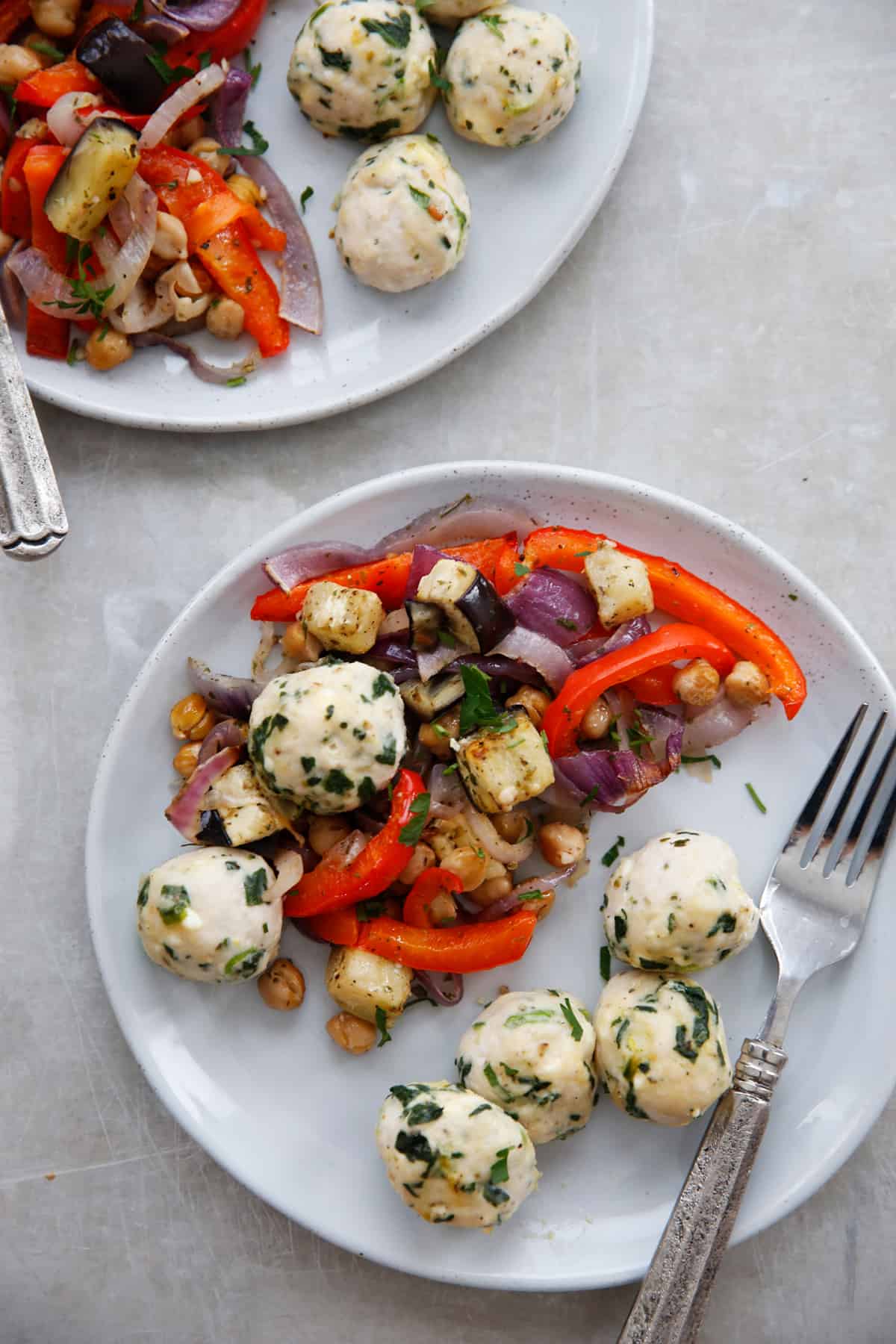 What vegetables go with meatballs?
We love recipes when they're versatile in terms of what veggies you can use, and this sheet pan dinner is no exception. We opted to use red onions, red peppers and eggplants (along with chickpeas) for this dish because they complemented the lemon and herb greek meatballs, but really you could use any veggies that would cook in the directed amount of time. Some other options:
cauliflower (small florets)
broccoli (small florets)
diced zucchini or summer squash
grape tomatoes
Tips for sheet pan cooking:
Sheet pan dinners are the best. Make sure to read the recipe all the way through (of course) and plan to use a timer! This way you can truly walk away from the oven and not have to worry about when you need to add anything for the next step.
Do the prep ahead of time: You can prepare so much of this meal the night before so that right before cooking all you have to do is cook! Chop all the veggies (minus the eggplant, which may brown if left cut overnight) and prepare the chickpeas and spices in a bowl and cover overnight in the fridge. You can also prepare the meatball mixture the night before so all you have to do is scoop them when ready to bake.
Use the correct size sheet pan. When we say sheet pan we are referring to the rimmed half sheet pan which is 18″ by 13″. The size of the sheet pan matters because you do not want to overcrowd the pan when cooking, so if you are using a smaller sheet pan you may need to use 2 to achieve the same result.
Watch the video:
If you like this sheet pan recipe, check out these others:
---
Sheet Pan Greek Meatballs with Veggies and Chickpeas
These Turkey Apple Meatballs are the perfect fall dinner. They're warm and comforting with just enough hint of spice to make you remember the season has changed. But even better is that you can have them on your table in under 30 minutes after coming home from fantastic fall activities! Oh, and they're paleo, gluten-free and absolutely kid-friendly!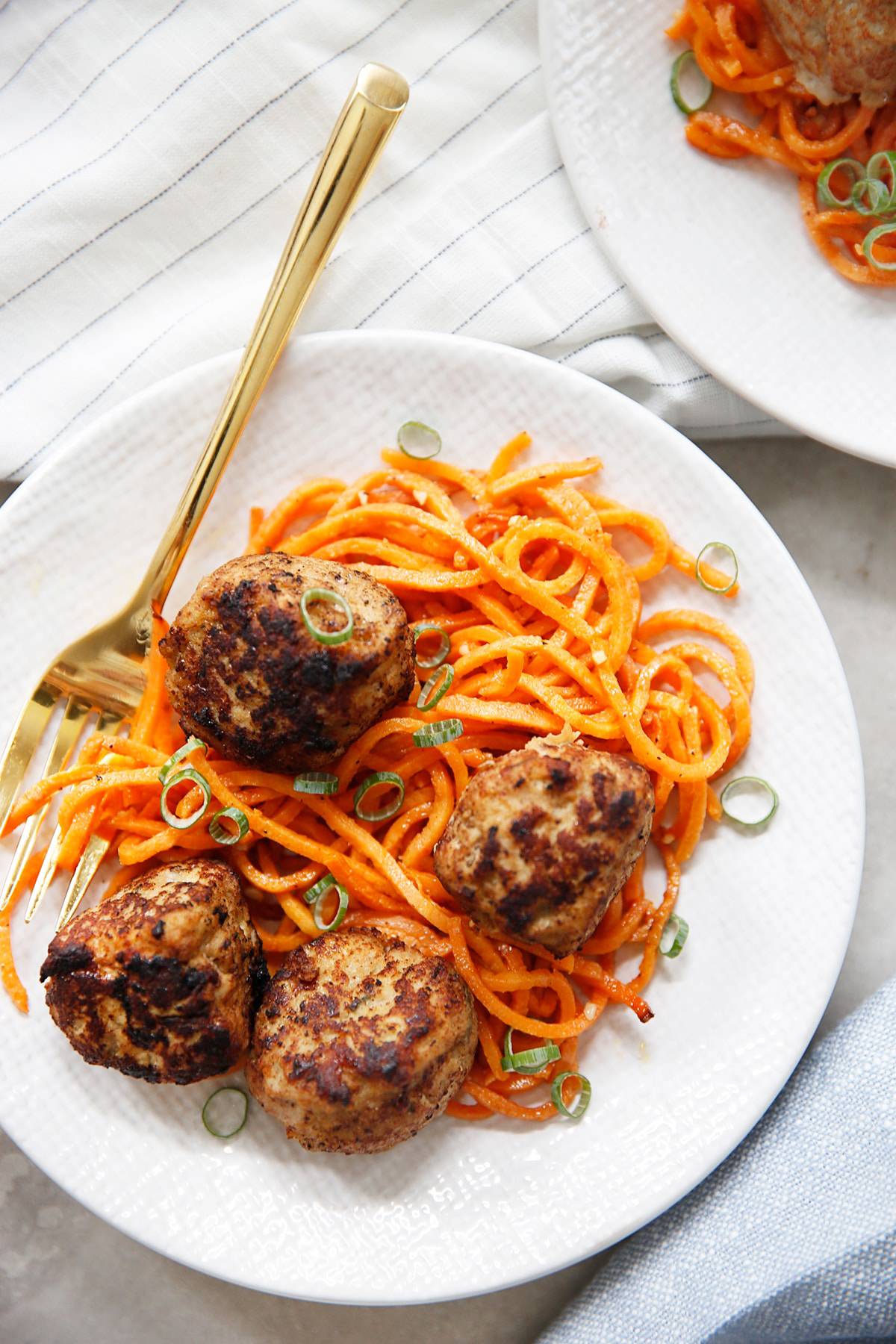 Turkey Apple Meatballs with Sage
Whether you love it or hate it, fall is just around the corner! And this is our quintessential welcome Fall easy 30 minute dinner! For so many of you the welcoming of this season means back from vacations and back to school! This time can be an adjustment, and the last thing you need is to be running around the kitchen making a complicated meal. So we've got your covered with these super easy and delicious Turkey Apple Meatballs with sage.
These meatballs are super easy to prepare and SUPER YUMMY. They're barely sweet from the apples with a hint of warmth from the allspice. I had to include the sage that's growing so well from my garden and it was the perfect addition. We like to serve them with butternut squash noodles (or sweet potato noodles) that we quickly sauté up with some garlic and oil. For a more kid-friendly option feel free to serve with some pasta with garlic and olive oil. Either way, they're just what you'll want on your table for dinner!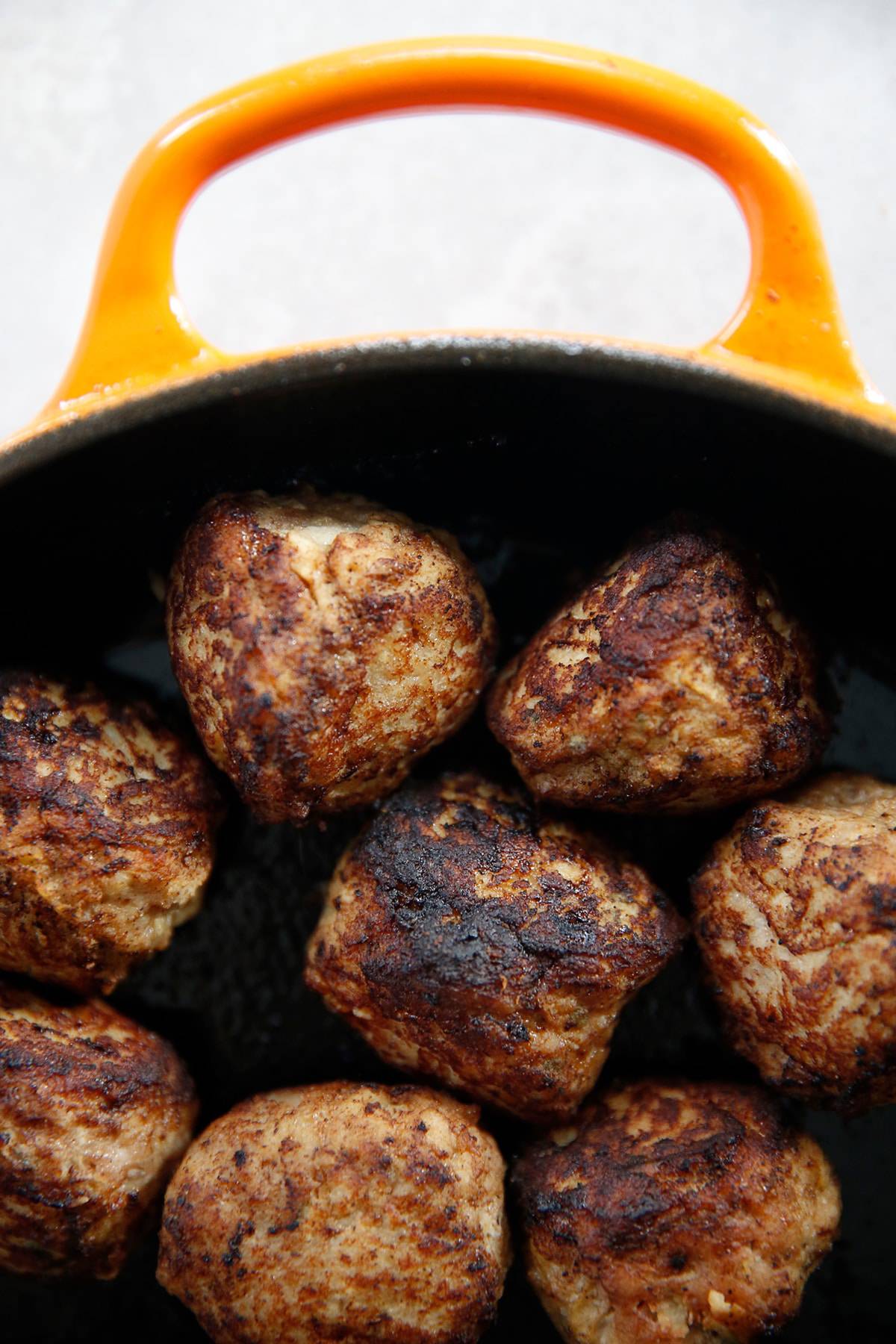 Gluten Free Turkey Apple Meatball Ingredients
Ground Turkey (light or dark meat both work here)
Apple
Egg
Fresh Sage
Garlic
Almond Flour
Onion Powder
Salt and White Pepper
Allspice
Oil
How to Make Gluten Free Sage Turkey Meatballs
We opted to pan-sear these first to give a nice caramelized flavor before finishing cooking them in the oven, but feel free to bake them from the start all the way through if you don't want the extra step.
To Make Them:
First, Pre-heat oven to 375º and line a rimmed baking sheet with parchment paper. Then mix together the meatball ingredients and form into 12 meatballs.
Then pan sear them, taking care to leave enough space in between each and brown meatballs on all sides, about 2 minutes per side. You may need to do this step in batches depending on how large your skillet is.
Finally, transfer the browned meatballs to the prepared baking sheet and bake in the oven until fully cooked through and reached an internal temperature of 165º.
Serve them hot with butternut squash noodles or pasta, or your preferred side dish.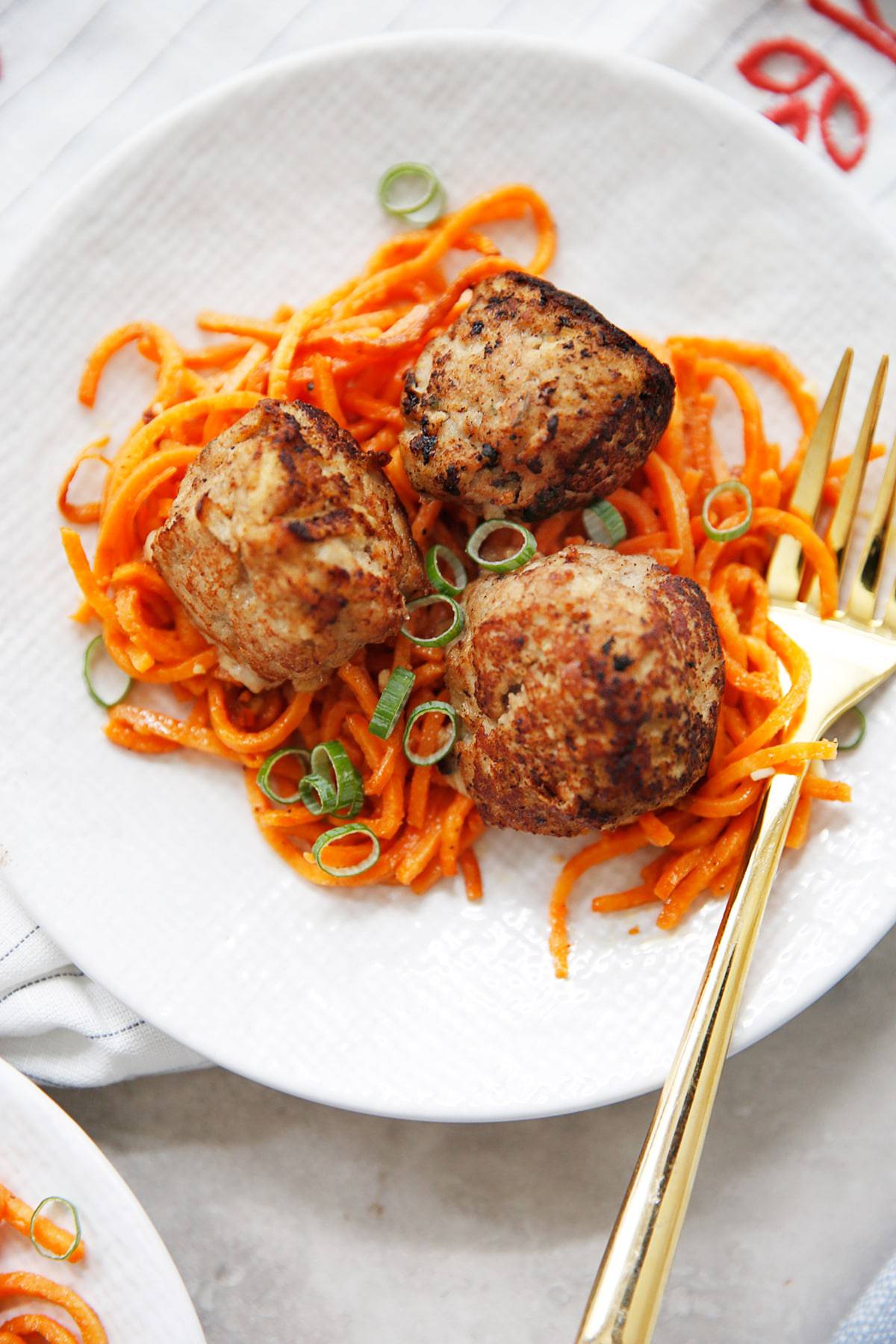 Love this meatball recipe? Check out these others:
Apple Sage Turkey Meatballs
These Thai Meatballs are paleo, gluten-free, and bursting with flavor. They are a healthy meatball recipe that everybody will love. This thai meatball recipe is loaded with veggies and infused with the perfect flavor combination of ginger, chili, garlic, and more. A total crowd pleaser that gets rave reviews!

Thai Meatballs
It took me a good three attempts to perfect these Thai Turkey Meatballs just right, and man are they a hit. The first time, the flavors just weren't there… The second attempt was better, but needed a little more. Third times a charm because these FLEW off the plate. We couldn't stop talking about how much we loved them and wanted them again.

Healthy Thai Turkey Meatballs
Plus, these could not be easier to make. Mix all the ingredients, toss on a baking sheet, bake, and enjoy! They make for a great meal prep option too! Protein packed, nutritious, and easy to take on the go.
Best Ground Turkey to Buy
We always buy organic ground turkey whenever possible!
What should I eat with meatballs
Cauliflower Rice
Rice
Stir Fry Veggies
Roasted Veggies
Zucchini Noodles
Rice Noodles
Thai Salad
… As MEAL PREP!

Watch the video:
Like this healthy meatball recipe? Try these other favorite meatball recipes:
---
Thai Meatballs
Nanny's Sweet and Sour Meatballs are a family staple holiday recipe, made a little bit cleaner! We love this slightly sweetened sauce paired with the gluten-free meatballs for a perfect holiday meal.

Last week I talked a little about Passover and my family. Specifically my nanny (also known as grandma). This little lady (little, like me), is extremely special to me.  She is also a mean cook in the kitchen. I've learned many tricks of the trade from her, especially when it comes to Holiday cooking. I also dedicated my cookbook to her! If you've made Nanny's Potted Chicken, you already know how fabulous her cooking is!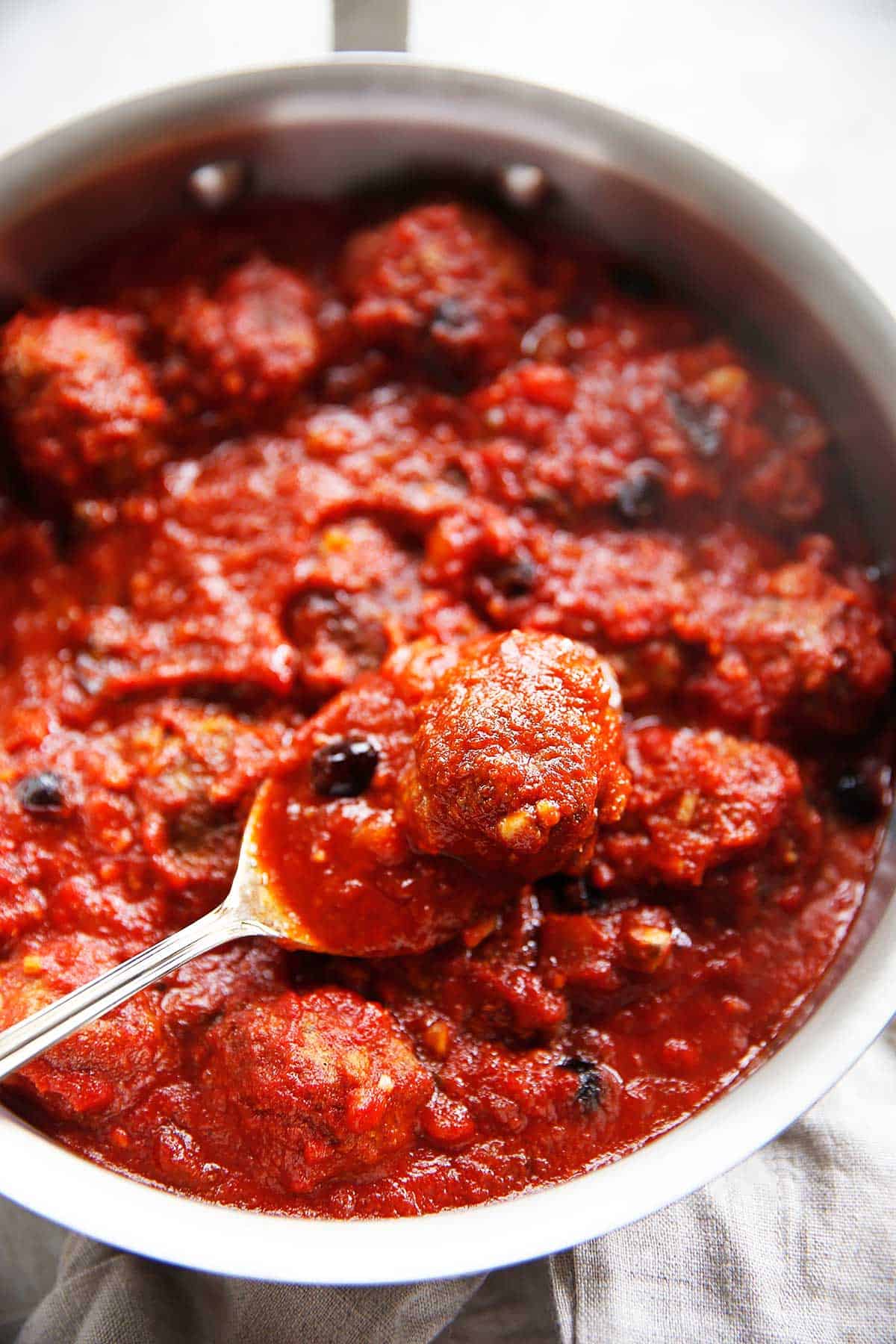 When she gave me her Swedish Meatballs and Rolled Cabbage recipe, I knew it was something I wanted to adapt to be a tad cleaner. After a few trial and errors, I've made a sauce almost identical to Nanny's. Note: We used to call these Swedish meatballs in our family, but sweet and sour is way more appropriate!
If you like this passover recipe, check out these others:
---
Nanny's Sweet and Sour Meatballs
These chicken meatballs would make the perfect healthy Superbowl appetizer or… serve it over
cauliflower rice
with a side of stir-fry veggies and have yourself a nice, quick and easy dinner!
[yumprint-recipe id='112′]

What do you bring when you are a guest at a party?