How to Make Cauliflower Rice
You can find cauliflower rice in most grocery stores these days, but if you've never made (or eaten) it, learning how to make cauliflower rice may seem difficult or time consuming. But trust us, it's easy peasy! We're offering two different methods on how to make it, giving you all the tips you need to know about storing it and letting you in on our favorite way to cook it up.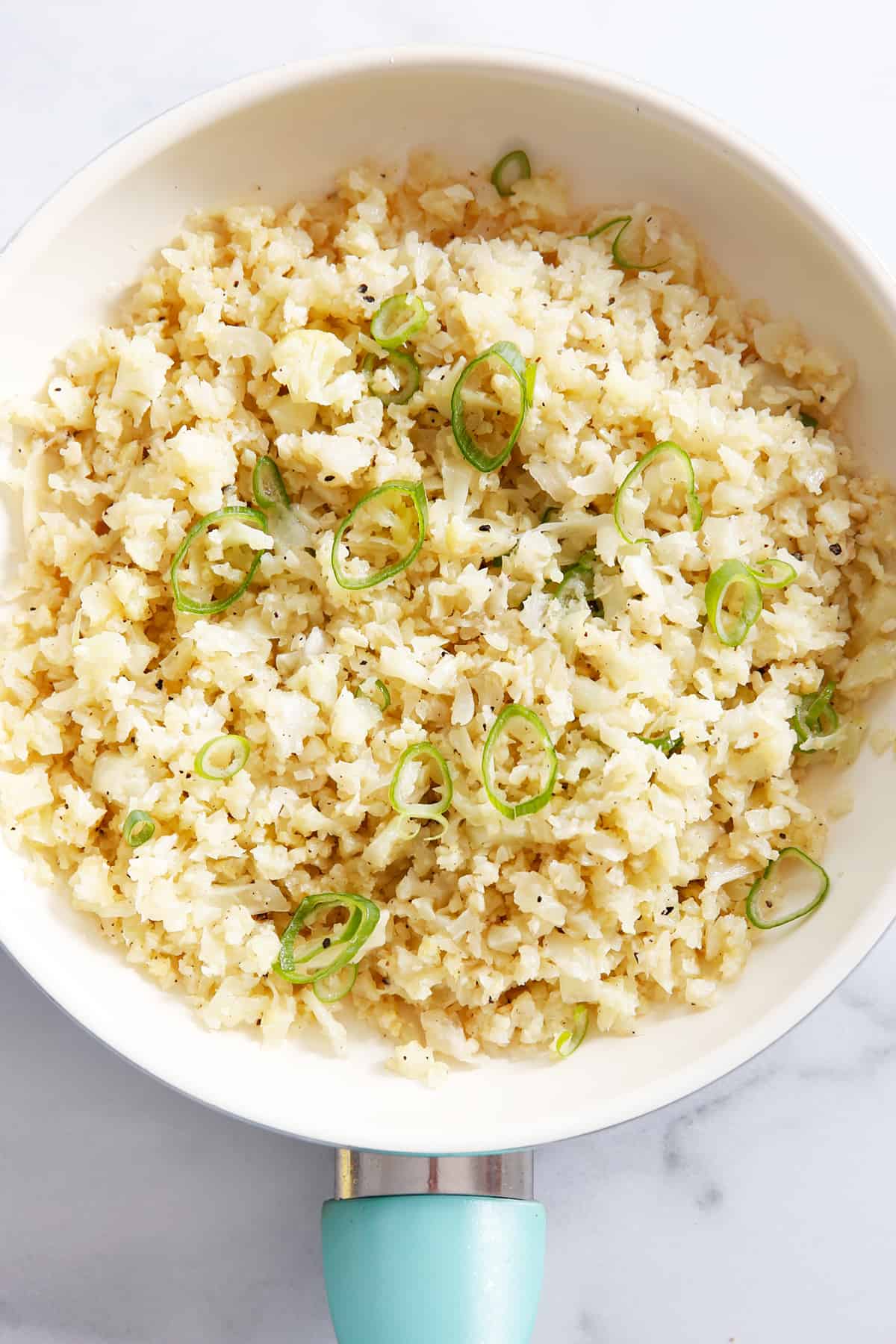 Cauliflower Rice How To
Cauliflower rice is not new to this site, in fact we've been talking about it for years. But we realized that there wasn't one comprehensive guide here that tells you all you need to know about cauliflower rice, whether you are new to adding it to your meals or you've been eating it for a while but buying it in the store. So we're filling you in on all the cauliflower rice knowledge we've gained over the years!
Ready? Let's dig in!
Why eat cauliflower rice?
If you've never eaten it before, you may be wondering what it is and why you should eat it. Putting it simply, cauliflower rice is rice-sized pieces of cauliflower that is cooked and served in place of regular rice.
When compared to regular white or brown rice, cauliflower rice is:
Grain-free
Low-carb
More nutrient dense
Fast to cook (5 minutes only!)
Why make cauliflower rice at home?
It's easy!
It's inexpensive.
Some recipes actually do best with finally made cauliflower rice versus store-bought larger pieces, like our 'Everything Bagel' Topped Cauliflower Rolls, Cauliflower Hash Browns (Keto!), and Cauliflower Pizza Bites (Gluten-Free and Grain-Free)! These recipes call for VERY FINE cauliflower rice that can only be achieved at home.
Does is taste good?
To be clear, cauliflower rice does not taste like white rice. It surely taste like cauliflower. So if you are strongly opposed to the taste of cauliflower, this is not the rice alternative for you. But if you like or don't mind cauliflower, much like white rice, it takes on the flavor of whatever it is served with, such as this Paleo Asian Beef, Fried Rice, Chicken and Broccoli or Stir Fry.
Making Cauliflower Rice:
While we definitely love using the food processor to make cauliflower rice as our preferred method, if you don't have one you can just as easily use a box grater.
How to make cauliflower rice with a food processor:
Cut the cauliflower into 2" florets (making sure they are all similar in size). Add the florets to the food processor and pulse 7-9 times until they are all broken down into "rice sized" pieces. 
How to make cauliflower rice without a food processor:
Cut the stem out of the cauliflower and cut the cauliflower into 4 pieces. Using the larger holes in the box grater (the ones you would typically use to grate cheese), grate the cauliflower.
Freezing Cauliflower Rice
Just like you can buy frozen cauliflower rice at the store, you can make your own at home and freeze it. It's truly cheaper and we do prefer the quality of cauliflower riced at home (though we buy our fair share at the store too, since it is so readily available). Place your riced cauliflower in a bag or container and freeze for around one month. It's easiest if you freeze it in the portion you are most likely to use. We find that about 4 cups uncooked cauliflower rice is a generous portion for 2 people.
How long will it last in the refrigerator?
Uncooked riced cauliflower will keep about 5 days in a closed container or bag in the refrigerator. Cooked cauliflower rice will last about 3-4 days.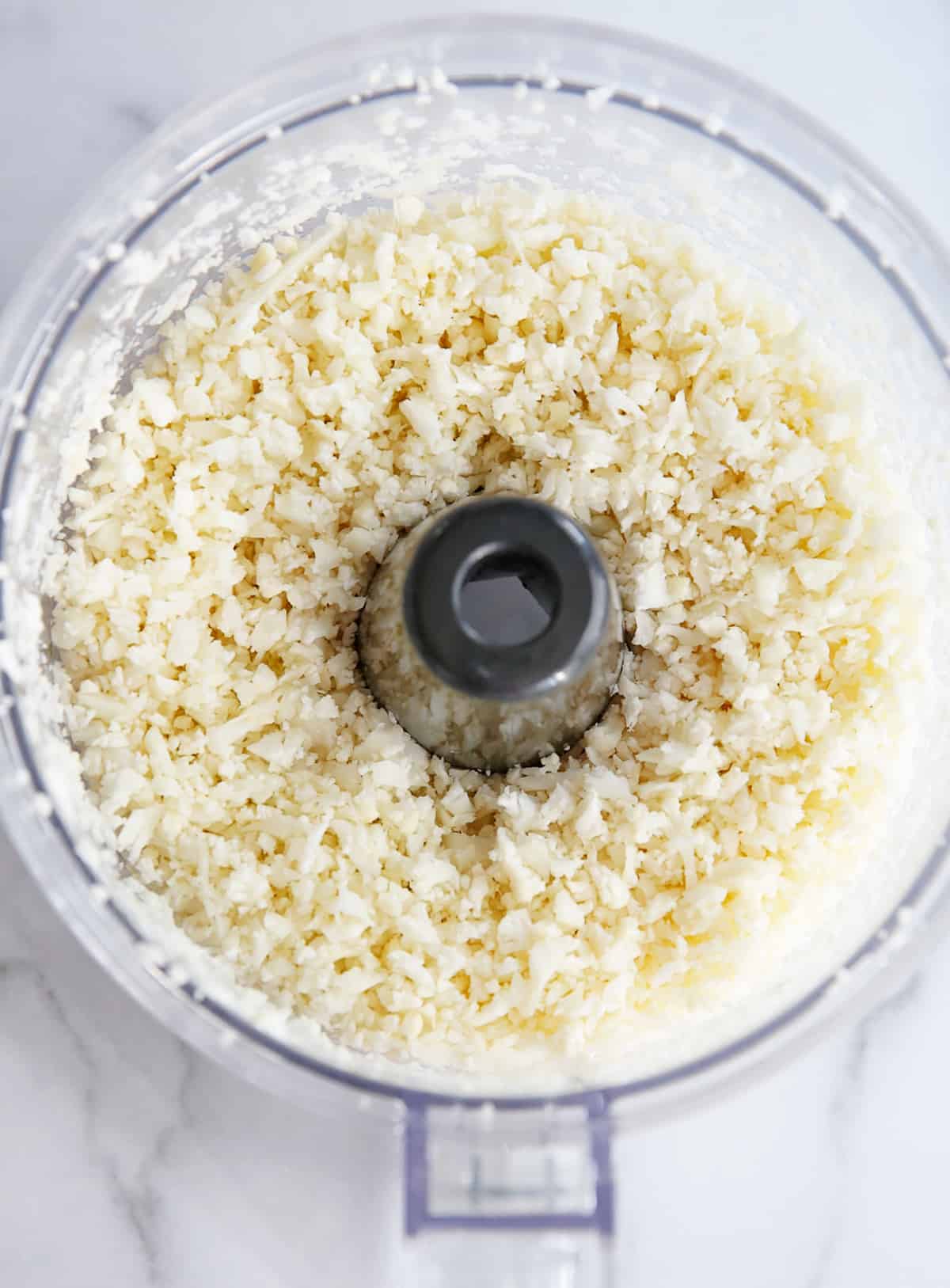 Best Ways to Cook Cauliflower Rice
We love using a nonstick skillet to quickly cook up cauliflower rice, with a touch of garlic powder and salt that is then topped with a few pieces of thinly sliced green onion. Scroll down for the entire recipe.
Recipes to use Cauliflower Rice
---
How to Make Cauliflower Rice
If you've ever thought rice was a plain-nothing-special side dish, this recipe on How to Make the Best Rice Ever (either in the stove top or instant pot) is for you! It's the perfect recipe to pair with just about anything, is largely hands-off cooking time and is flavorful thanks to added onion, garlic and toasted noodles. Our LCK Food Editor, Kelli Avila, shares how she came to love and cook this rice weekly.
How to Make the Best Rice Ever
Want to know How to Make the Best Rice Ever? Kelli here, and I know I did after years of eating the rice my husband John, who hails from Colombia (where rice is a staple dish), has cooked for our family. Anybody who has ever eaten it has claimed that it was indeed the best rice they've ever had.
His version of rice, also called arroz con fideos is similarly close to a what Americans would know as rice pilaf (or in Egypt is known as bil shareyah). It's basically rice enhanced with onions, garlic and fried noodles. We use gluten-free spaghetti, and it's quickly fried in oil that transforms it into something different with a  nice toasted flavor. Over the last few weeks I've asked John to cook a few batches so I could watch how he made it. Lexi and I then got in the kitchen to test our own take on it, and are so happy with the results. There isn't anything difficult to cook in this recipe, but it is all about building flavor with a few tricks to make the best rice ever.
This dish is so good it could be eaten simply on it's own, or in our family with two toddlers topped with a fried egg and happily eaten as dinner (and then remade into a new dish the next day such as a stir fry). You can also make a really large batch and freeze mini portions of it to take out as needed for a quick dinner side dish. And in the next few weeks we have some new amazing leftover rice recipes we can't wait to share.
Tips on How to Make the Best Rice Ever
Start with long grain white rice. Alternatively we also tested this with jasmine and basmati rice and it works similarly with a slightly different flavor profile. Do not use short grain white rice or brown rice for this recipe.
Wash the rice REALLY well, like wash it more than you've ever washed rice before. This is probably the most critical step when making the best rice ever. Washing the rice rids it of excess starch that can make the final dish sticky. To wash, place the rice in a large bowl and fill it with cold water. Agitate the rice with your hands and then empty out the water. Fill it back up and repeat. You'll do this several times until the water starts to get clearer, and then you can drain the rice and give it one more rinse until no cloudy runoff remains.
Brown the noodles until it is almost burnt. The more you toast the noodles, the more flavor they will impart on the final dish. Just be careful because it can go from toasty, to burnt really fast.
Mince the onions and garlic really well. The finer you can mince the aromatics the less bitter and harsh they come off in the final dish. The finally minced onions and garlic almost melt into the background of the dish instead of the rice very clearly having chunks of onion in it.
Let the water boil down before you cook it. This recipe calls for boiling down the water until it has completely evaporated below the rice before you reduce the heat and cover. This deviates greatly with traditional recipes, but it results in a more pleasant texture in the final result. You'll know you let the water boil down far enough once the little bubbles coming up through the rice disappear completely. Then you lower the heat and cover the rice for the remainder of the cooking.
After the rice has finished cooking, uncover and let the heat remain on if you wish to get a crispy bottom. The crispy bottom is referred to as the pega. In my husband's Colombian family everybody fights to get the pega because it's so tasty. It's basically a fried rice stuck to the bottom of the pot that is crunchy.
What is the ratio of water to rice?
For long grain white rice on the stove top, the ratio is 1 cup of rice to 2 cups of water. For long grain white rice on in the Instant Pot the ratio is 1 cup of rice to 1 cup of water.
What can you serve the Best Rice Ever with?
Just about everything. But if you're looking for some ideas, here are a few:
If you like this how to, check out these others:
---
How to Make the Best Rice Ever (Stove Top and Instant Pot)
These Honey Glazed Carrots are the perfect fuss-free side dish. They're cooked in one pan and result in the most tender, slightly sweet glazed carrots. They are so good they are borderline addictive and both kids and adults will love them! They're paleo friendly and easily made dairy-free and a great addition to a holiday feast or a special weekend dinner.
Honey Glazed Carrots Recipe
When we were thinking up a name for these Honey Glazed Carrots, we were seriously considering crack carrots, because we couldn't stop eating them. They are so addictive! They're also really easy to make and a great compliment to a roasted bird on a holiday table, or a delicious weekend dinner.
If you can, find the beautiful rainbow carrots that are so plentiful this time of year. If you can't, regular orange carrots will work too! The most important part is to cut these carrots as evenly as possible. Our recipe says to cut them on the bias, at 1/4″ of an inch. Take a look at the photos and see that even though the carrot shapes are different sizes, they are all basically cut about the same size with some of the smaller looking ones having a greater thickness so that they cook even with the larger size ones. This is important so that you cook the carrots as evenly as possible!
Ingredients for Honey Glazed Carrots
Carrots (we used rainbow carrots, for a pretty presentation!)

Honey

Oil

Butter (replace with additional oil for dairy-free)
Salt
Water
How to Make Glazed Carrots?
We opted to make these on the stove top! We love the idea of cooking up this quick side dish, all in one pan, without having to boil them. Some recipes call for boiling the carrots and then draining them out before glazing. We always try to avoid boiling vegetables because it doesn't preserve as many of the nutrients as steaming them does. For our method we place in a small amount of water and steam the carrots, and then evaporate the liquid so as much of the nutrients remains as possible.
Once the carrots are cooked through you add additional butter (or other dairy-free oil) and honey and cook them down until the sauce has glazed the carrots. There are a few minor details to pay attention to (like cutting the carrots correctly and making sure they cook properly) but all-in-all it's a pretty fuss-free side dish to prepare.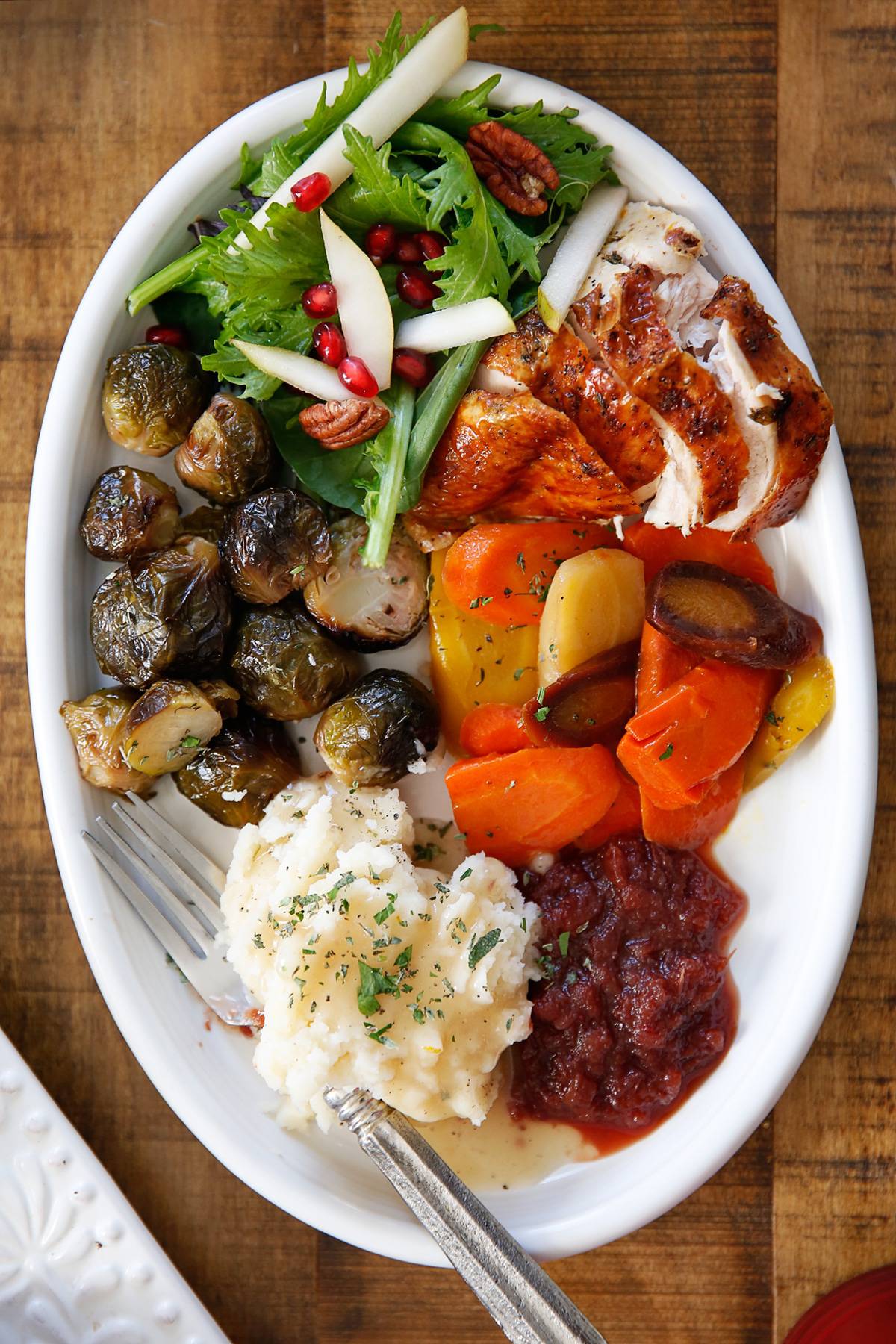 For other carrot recipes, check out these:
If you like this side dish recipe, check out these others:
Honey Glazed Carrots
This Creamed Spinach is a lightened up version of your favorite holiday classic and is made without cream for the perfect healthy and veggie-packed side for Thanksgiving! Creamy, flavorful and so simple to make! It's keto friendly and low carb, too! Made in partnership with Pacific Foods.
Healthy Creamed Spinach (Without Cream)
I used to love traditional creamed spinach from this local chicken shop in New York that I grew up with. It was a holiday staple for us, but I knew it was loaded with junk! I am so excited to have made this healthier version!
The star of the show is my new favorite dairy-free milk from Pacific Foods! Their cashew milk is perfectly creamy and so delicious. It's versatile, plant-based, and made with organic and Fair Trade Certified™ cashews!
The cashew milk makes for such a hearty and creamy sauce without any of the dairy… such a win! We used butter in this, but if you want a dairy-free option, feel free to substitute the butter for extra-virgin olive oil and ditch the cheese!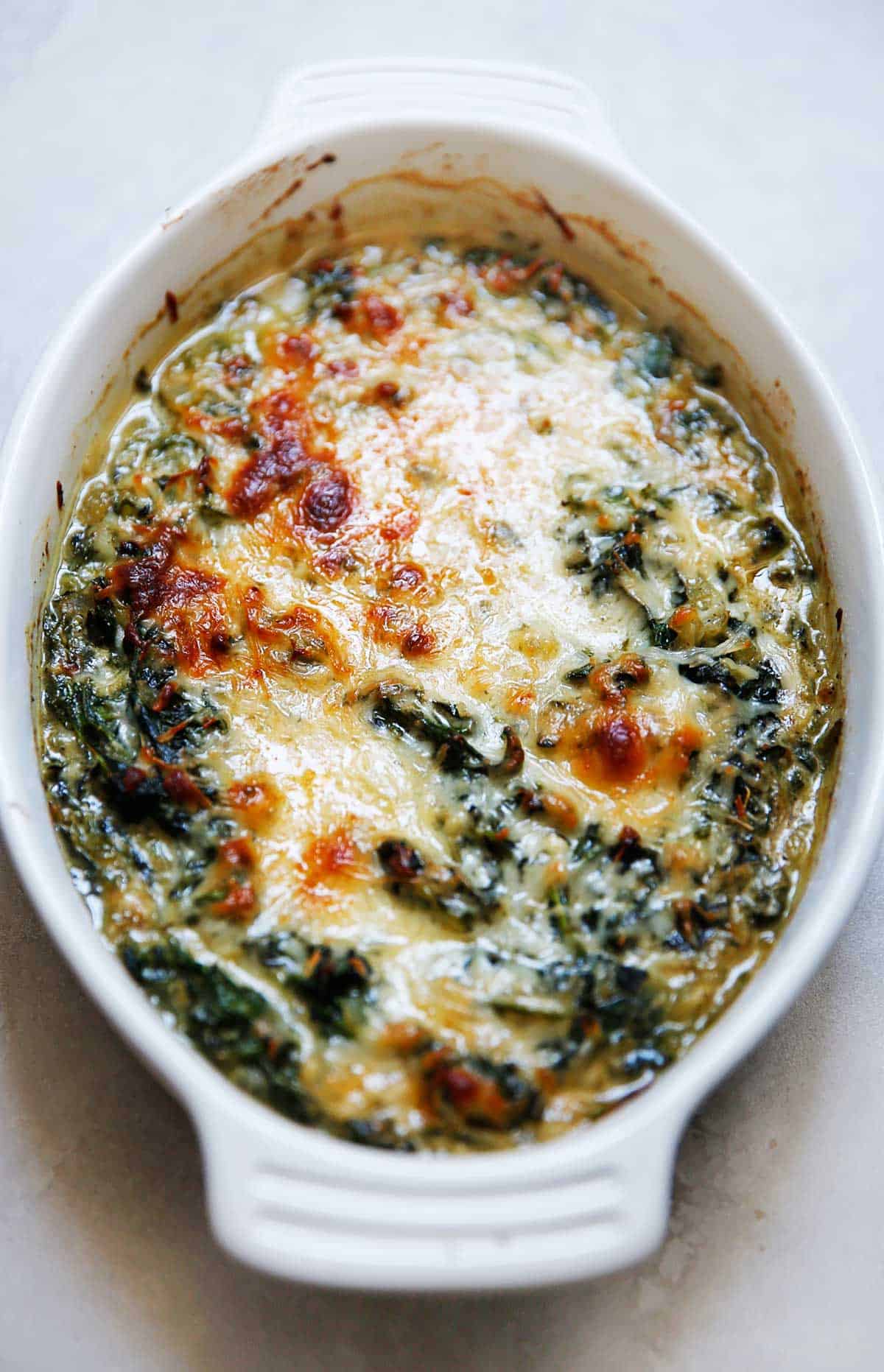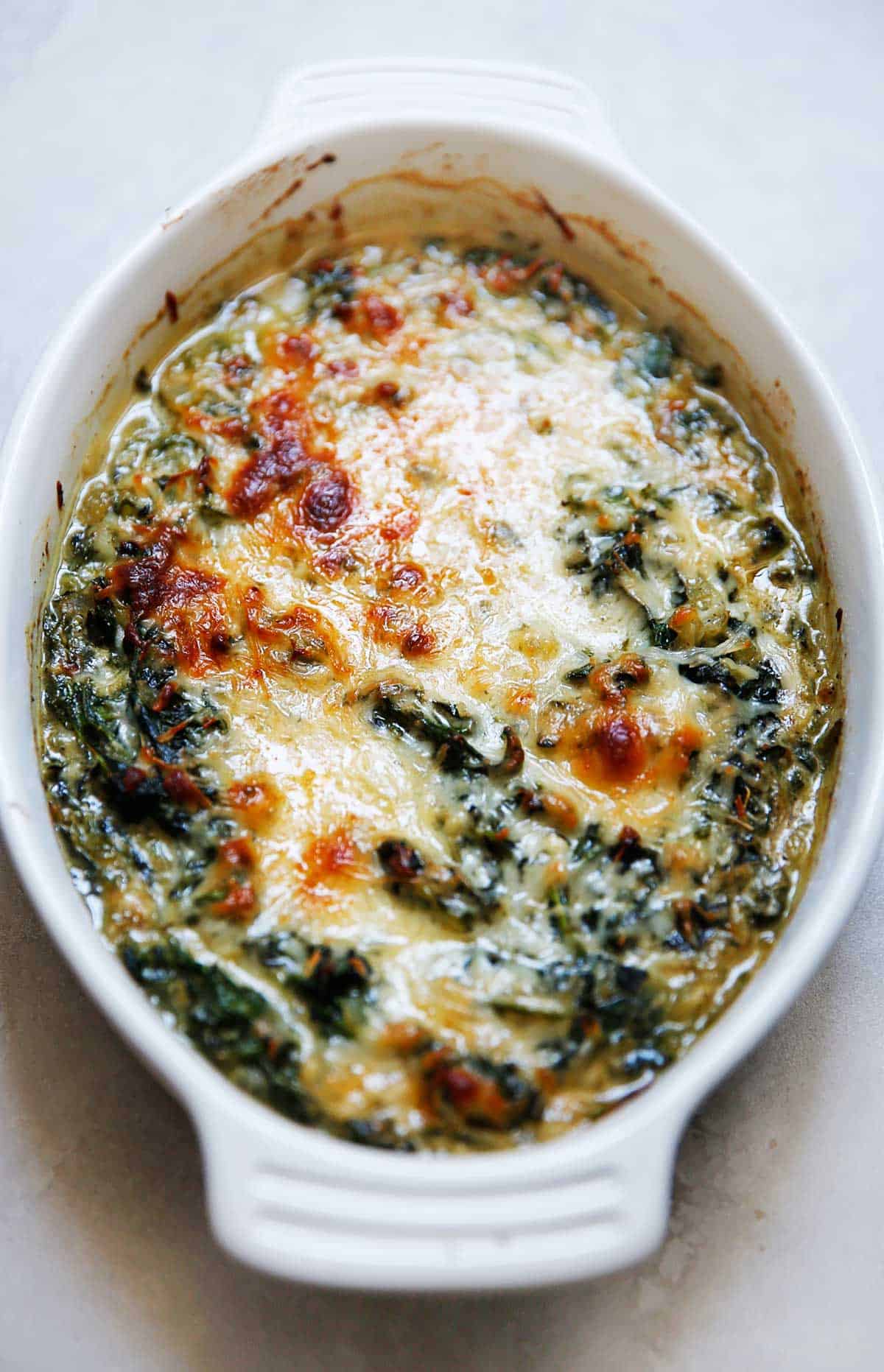 Watch the video here: 
If you like this recipe, try these other Holiday Side Dish Recipes:
This post is sponsored by Pacific Foods. All thoughts and opinions are always 100% my own! I love the integrity of their products and think you'll love them too. Thank you for continuing to support LCK and the brands I work with!
Healthy Creamed Spinach (Made Without Cream!)
This Cranberry Walnut Roasted Acorn Squash is the perfect Fall side dish, and perfect for Thanksgiving. The roasted onion and fresh cranberries give it warm bursts of delicious flavor, and the walnuts add a fabulous crunch!

This week has been a truly amazing whirlwind. The Lexi's Clean Kitchen Cookbook is here and it has been so much fun connecting with so many long-time readers, new faces, and friends! I see so many of you receiving your books and I hope you have a blast cooking your way through it!
But first, are you thinking about Thanksgiving yet? I am! Definitely, definitely add this to your Thanksgiving menu this year! It is my new favorite and festive side dish. We are having a Friendsgiving next week to kick off the season, and you can bet this will be on the menu!

[yumprint-recipe id='404′]
Fresh cranberries, roasted red onion, tender acorn squash, and walnuts. The perfect combination!
What is on your Thanksgiving menu this year?
Cranberry Walnut Roasted Acorn Squash
Thanksgiving is quickly approaching. I don't know about you, but the menu planning is the best part! You can get creative while pooling your favorite dishes for a fantastic spread. I'm super excited to get you ready for your big dinner with some show-stopping dishes that'll be devoured right off of the table. Whether you are hosting at your house, are a guest bringing a dish, hosting a "Friendsgiving", or just looking for a delicious veggie side, this dish is for you!

Simply roasted with some touches that'll shine. That's what I'm all about. Plus, just look at those colors!



[yumprint-recipe id='324′]
I was selected by American Express to contribute to its Tumblr community. As such I was paid for my services, but all opinions in general and about American Express are my own.
P.S. Don't forget to use my handy guide to plan your meal!
Perfect Roasted Veggies
A refreshing Watermelon Salad made with a unique basil and ginger dressing that is bound to be the hit of the BBQ table spread. It's simple to make, and optionally dairy-free.
Refreshing Watermelon Salad
This watermelon salad is packed with the perfect warm weather flavors: Sweet watermelon drizzled with delicious olive oil, garnished with toasted almonds, mint, sliced red onion, and a sweet basil and ginger dressing. This will be a BBQ hit all summer long.
Taking less than 15 minutes to make, this is the best warm weather salad and the perfect combination of sweet and savory.
Watermelon Salad Ingredients
Watermelon
Olive Oil + Salt + Pepper
Slivered Almonds
Feta Cheese (omit for dairy-free)
Red Onion
Fresh Herbs
Bacon (optional)
Honey
Fresh Ginger
How to Pick a Ripe Watermelon
It can be tricky to tell when the watermelon is ripe! For the best tasting watermelon, buy it locally at a farmer's market. The farmers always know when the watermelons are ripe, and those are the ones they are bringing to market. If you can't find one locally, pick up the watermelon. It should feel heavy for it's size, which indicated a lot of moisture. Give it a good whack, it should sound hollow inside. And finally, look for one with a creamy yellow splotch on it. This is the spot where it was laying on the field, indicating it's ripeness.
How Long Will Watermelon Salad Keep?
This salad is best served immediately. If you are preparing ahead of time, omit the herbs and the dressing until just ready to serve.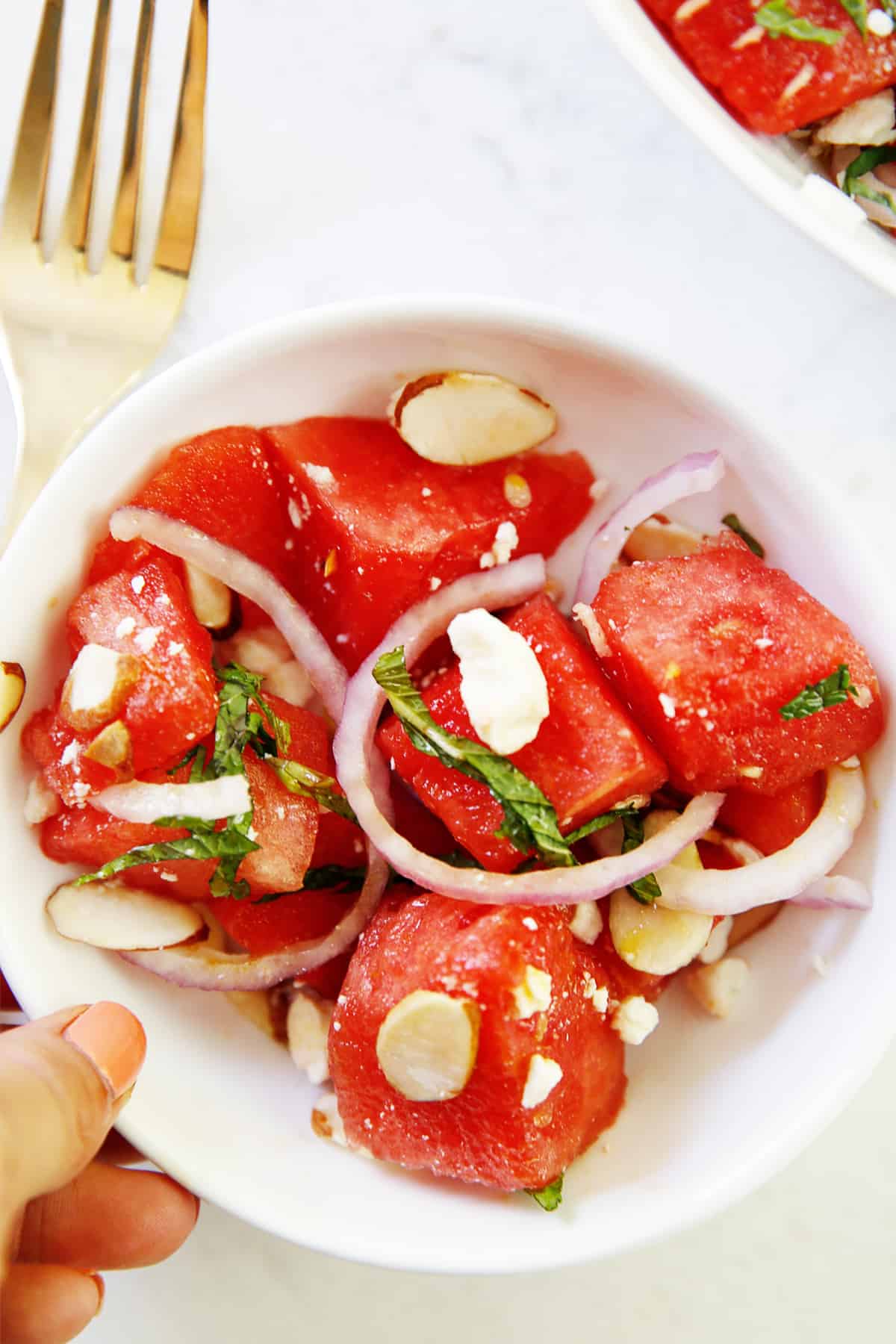 If you like this summer salad, check out these others:
Watermelon Salad with Basil-Ginger Dressing
Happy Foodie Friday with American Express! I'll often whip up some healthy fried plantains to go along with breakfast, Mexican night dinner, lunches, and so on. Whenever I make plantains and share photos on my Instagram page, I get asked over and over how exactly I make them!
Let's make today our little how-to day! Now go out and buy those plantains 🙂
[yumprint-recipe id='255′]
We eat fried plantains with eggs for breakfast, mexican night plates, or with beef barbacoa salads and bowls! They make for a perfect carb, especially when you're craving a little something sweet.

I was selected by American Express to contribute to their Tumblr community. As such I was paid for my services, but all opinions in general and about American express are my own.
Do you love plantains? What's your favorite way to eat them?