These really are the perfect roasted veggies recipe! A colorful blend of fresh veggies and purple grapes are tossed in oil and seasonings, roasted to crisp-tender perfection, then finished off with a drizzle of honey.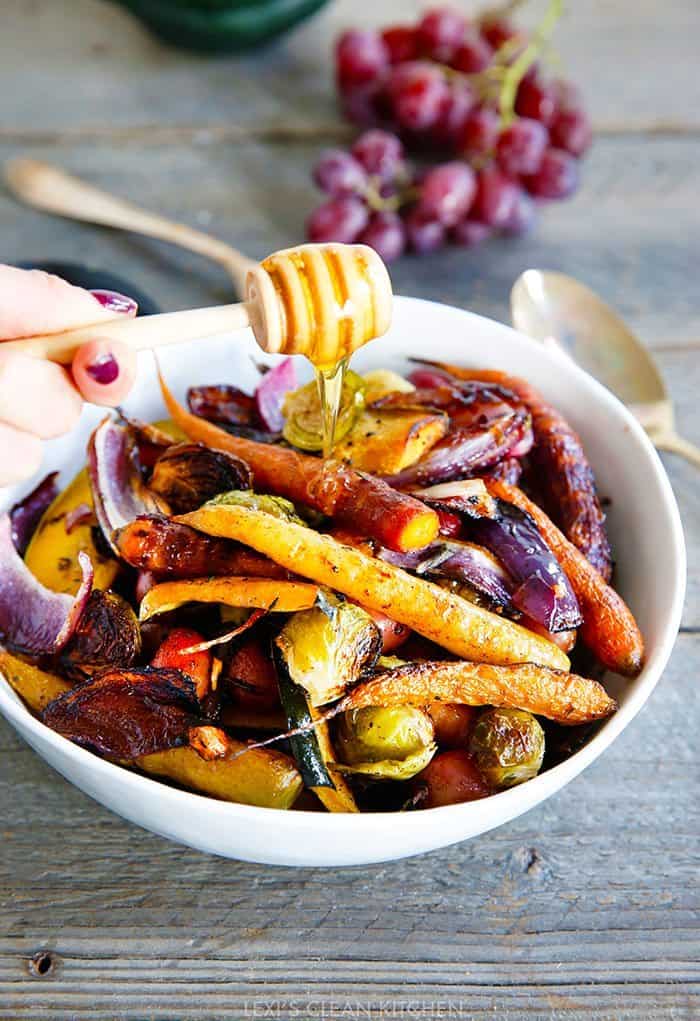 Perfect Roasted Veggies with Grapes and Honey
These really are the Perfect Roasted Veggies! A colorful blend of fresh veggies and purple grapes are tossed in oil and seasonings, roasted to crisp-tender perfection, then finished off with a drizzle of honey.
Oven-Roasted Veggies Recipe
Let's be honest. We're always looking for ways to incorporate veggies into our meals. And sometimes plain old steamed veggies just don't cut it.
Introducing the perfect roasted veggies! This recipe is absolutely packed with fresh veggies, grapes, garlic, fresh herbs, and seasonings. The veggies become crisp-tender and caramelized in the oven and the grapes add a warm burst of sweetness. If that combination wasn't delicious enough, the veggies are finished off with a drizzle of honey to tie in all the flavors.
Yeah, veggies just don't get better than that.
Whether you're hosting a holiday meal at your house, bringing a side dish to a Friendsgiving, or just looking for a delicious veggie side dish, this recipe will get everyone excited about eating veggies.
Ingredients Needed
This recipe makes a sweet and savory side dish that's packed with all of the best veggies to roast along with fresh herbs and so much flavor! Here's what you'll need:
Rainbow Carrots: regular carrots will work as well. 
Brussels Sprouts: sliced into smaller chunks. 
Red Onion: I love the tangy sweetness of red onion but yellow or white will work as well.
Squash: I use acorn squash, but any squash of choice will work. Check out my cranberry walnut roasted acorn squash recipe for instructions on cutting acorn squash!
Grapes: I use purple seedless grapes to add a burst of sweetness to the veggie mixture. Trust me on this one and don't skip the grapes!
Olive Oil: make sure the veggies are fully coated. The olive oil is what helps them get that delicious crispy texture.
Garlic: crushed, not minced. The smashed cloves still release a delicious garlicky flavor and aroma. If you mince the garlic, those smaller pieces will burn while the veggies are cooking. 
Thyme and Sage: I highly recommend fresh herbs for the best flavor. 
Seasonings: I use a simple duo of fine pink sea salt and pepper which is really all this recipe needs to result in super flavorful veggies. However, you can use whatever veggies you like!
Honey: an optional addition after the veggies are roasted but gives them a sweet, caramel-y finish that's pretty darn hard to beat. I don't recommend skipping the honey!
How to Make the Perfect Roasted Veggies
This 10-minute side dish could not be any easier to throw together!
Combine all ingredients: In a large bowl, combine the veggies, grapes, oil, garlic, salt, and pepper.
Roast: Transfer the veggies to a lined baking sheet, top with thyme and sage, and roast at 400ºF for 45-50 minutes, tossing halfway through.
Finish and serve: Once the veggies are cooked, remove any stems from the grapes and herbs, then add honey and additional salt and pepper if desired.
What temperature is best for roasting vegetables?
High heat is definitely the way to go when you're roasting veggies. I roast my veggies at 400ºF and they come out perfectly every time. It's hot enough that they get that nice crispy exterior, but not so hot that they burn on the outside before they cook all the way through. 
Should you cover vegetables while they roast?
Nope! The benefit of roasting veggies is that crispy, caramelized exterior. If you cover them up, the moisture they release as they cook will get trapped inside the baking dish and you'll end up with soggy veggies. 
Tips
Don't skip the sweetness. I know. Honey and grapes in roasted veggies? It's not conventional but trust me. These two ingredients take this simple side dish to another level!
Use any veggies you want. I love the combination of veggies in this recipe but the beauty of roasted veggies is you can just use your favorites! Try diced sweet potatoes, broccoli, parsnips, bell peppers, green beans, cauliflower, you name it.
Preheat the oven so the veggies start cooking right away. If you put them in before the oven is heated, the outsides will burn before the inside is fully cooked.
Cut evenly. Make sure the veggies are all roughly the same size so they finish cooking at the same time.
Line the baking sheet. Easier cleanup is always a bonus!
Don't overcrowd the pan. The veggies need enough space to cook all the way around. If the veggies are overlapping too much they will steam instead of roast and you won't get that crisp-tender texture you want!
Stir halfway through so the veggies get crispy on all sides!
Add the honey while the veggies are hot. The heat helps it melt over the veggies to really coat them all the way around.
Customize the flavor. You can super easily tweak this recipe to fit your tastes or to suit different meals. Serving the veggies with pasta? Use Italian seasoning and parmesan. With tacos? Toss them in taco seasoning! Get creative! It's pretty hard to mess these up.


What to Serve with Roasted Vegetables
These roasted vegetables are designed to be versatile so you can serve them with just about anything you like! Here are just a few ideas:
How to Store
Leftover roasted veggies will last in an airtight container in the fridge for up to 5 days. To reheat, spread back on a baking sheet and bake for 10 minutes at 400ºF. 
Fyi… Thanksgiving Serving Amounts
Perfect Roasted Veggies
These really are the Perfect Roasted Veggies! A colorful blend of fresh veggies and purple grapes are tossed in oil and seasonings, roasted to crisp-tender perfection, then finished off with a drizzle of honey.
Ingredients
10-15

rainbow carrots

3

cups

Brussels sprouts

sliced

1

large red onion

sliced

1

acorn squash or squash of choice

sliced

2

cups

purple seedless grapes

1/4

cup

extra-virgin olive oil

6

garlic cloves

crushed

2

sprigs thyme

4

sprigs of sage

1-2

teaspoons

fine sea salt

1/2

teaspoon

pepper

2

tablespoons

honey
Instructions
Preheat oven to 400°F.

In a bowl, combine sliced onion, Brussels sprouts, carrots, squash, and grapes.

Add in oil, garlic, salt, and pepper. Toss to evenly combine.

Line a baking sheet and spread out veggies across it. Top with thyme and sage.

Roast for 45-50 minutes, tossing halfway through.

Once soft and tender, remove from the oven Remove any stems (from grapes and herbs).

If adding honey, add while veggies are warm and gently toss to coat.

Taste and add additional salt and pepper as desired and serve hot.
Nutrition
Calories:
295
kcal
Carbohydrates:
45.3
g
Protein:
5.4
g
Fat:
13.2
g
Saturated Fat:
2
g
Sodium:
596
mg
Fiber:
9.2
g
Sugar:
18
g
I was selected by American Express to contribute to its Tumblr community. As such I was paid for my services, but all opinions in general and about American Express are my own.
P.S. Don't forget to use my handy guide to plan your meal!