Gluten Free Biscuits
These light and fluffy Gluten Free Biscuits come together quickly and are made using a mix of almond flour and coconut flour. They can be made in under 30 minutes, and are perfect on their own or in any recipe that require biscuits!
Gluten Free Biscuit Recipe
These classic Gluten Free Biscuits are so beloved here at Lexi's Clean Kitchen. We decided it was time to give them their own post dedicated to making this recipe successfully. While we are partial to eating these biscuits on their own, they are also equally great as a shortcake, a cobbler, on top of a soup or made with pumpkin!
Ingredients Needed:
Almond flour

Tapioca flour or arrowroot powder

Coconut flour

Baking powder

Fine sea salt

Butter or Ghee

Unsweetened applesauce

Egg

How the Recipe Has Evolved
This recipe was originally developed in 2014, evolving from a pumpkin biscuit recipe. They've been made by hundreds of LCK readers, and countless times in the LCK test kitchen and are tried and true. But in 2019, after we started regularly using a scale to measure our baking flours, we noticed that the biscuits were baking up flatter then usual. It was at this point we discovered how important it was to use a baking scale. But additionally, we discovered that more often than not, when we measure paleo flours in a standard cup measurement, we actually overmeasure it. Which means that when the recipe was developed, we were actually measuring out 1-1/4 cup of flour, instead of just 1 cup of flour. Because of this we have updated this classic recipe to note that if the flour is measured correctly you'll actually need 1-1/4 cup almond flour (or 120 grams) instead of 1 cup (96 grams).
How to Make These Gluten Free Biscuits
Whisk together the dry ingredients.

Rub the butter into the dry mix until it is completely combined.

In a separate bowl whisk together the applesauce and the egg and add it to the flour mixture.

Drop biscuits on a sheet tray and bake!
Storage Instructions
The biscuits are best eaten the day they are made, but you can store them for a few days in the refrigerator and they'll reheat nicely in a toaster oven! The biscuits are more delicate when they are warm so give them a few minutes to cool after they are toasted up before handling.
Recipes Using these Biscuits
As this is such a classic LCK recipe, there are many recipes that use this biscuit dough. Check out:
If you like this Classic LCK recipe, check out these others:
Gluten Free Biscuits
These gluten-free cherry pie bars have all the deliciousness of a cherry pie without the time needed to actually making one! It uses nutrient-dense almond flour to make the crust and the crumble on top and is packed with fresh cherry flavor. These bars are gluten-free, dairy-free friendly, and the ultimate summer dessert!
Gluten-Free Cherry Pie Bars
There is nothing better than an awesome summer dessert that is easy-to-make and made healthier using simple wholesome ingredients. These gluten-free cherry pie bars are just so delicious and so quick to put together! The crust is made out of almond flour and the filling is jam-packed with cherries that are sweetened just the right amount.
We use the same mixture for the crust as well as the crumble topping, and precook the cherry filling on the stove top so that it's just the right texture with minimal baking time!
Let's talk cherries
We tested this with two different types of cherries: fresh sour cherries and frozen sweet cherries. They do result in slightly different flavors and textures but both are equally delicious. The fresh cherries are of course, a bit less sweet and have a firmer texture. The frozen cherries are sweeter and are a bit more juicy. The photographs shown in this article are the frozen sweet cherries and they have a darker color, but the video features fresh cherries. You can use whatever is available to you whether it be fresh or frozen cherries.
What you need to make these cherry pie bars:
Almond flour

Tapioca flour

Coconut oil or butter

Maple syrup

Vanilla

Sea

salt

Cherries, fresh or frozen

Maple sugar (or coconut sugar)

Arrowroot
Here are the kitchen tools you need: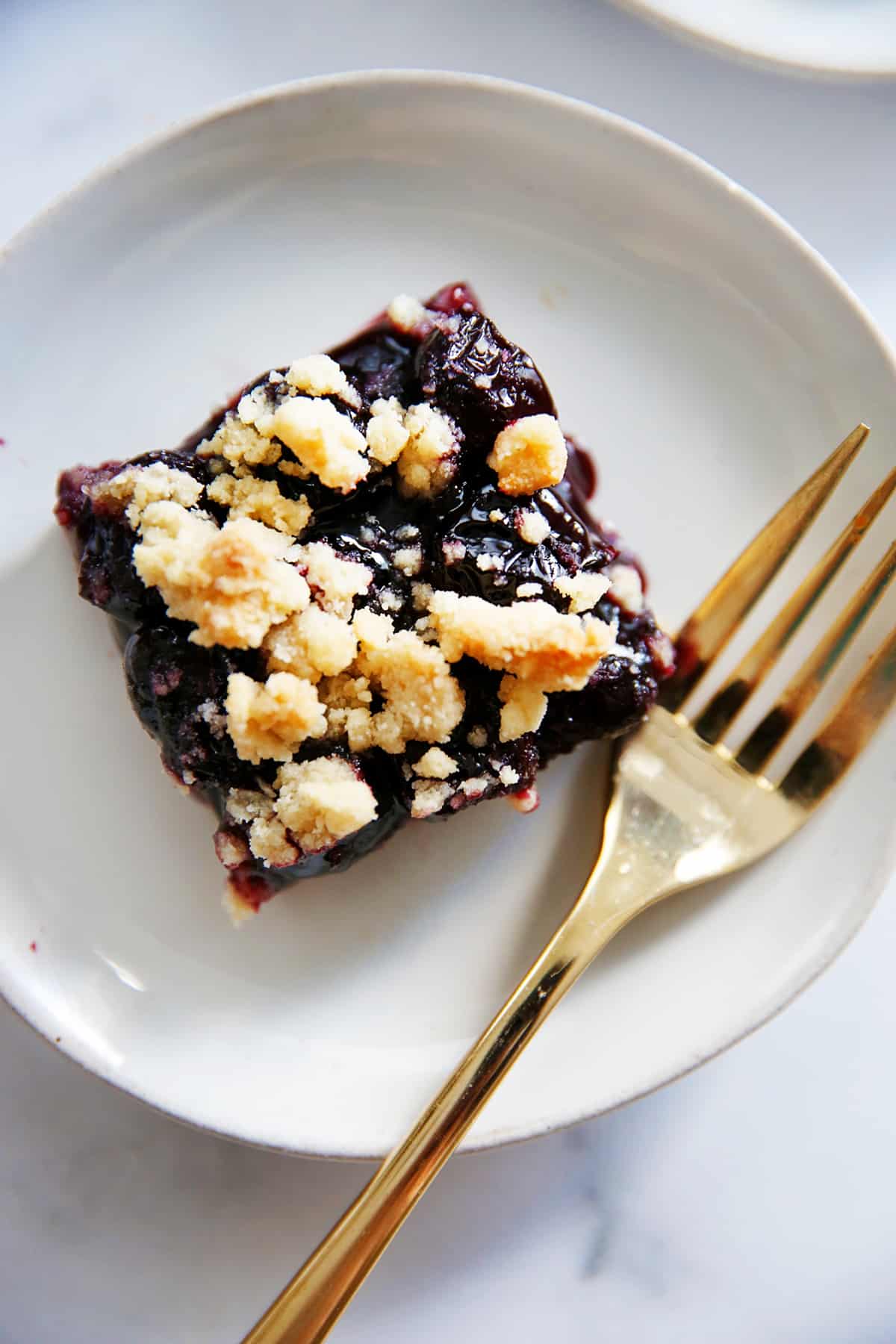 If you like this summer dessert, check out these others:
Watch the video:
Gluten-Free Cherry Pie Bars
This nut-based Gluten Free Pie Crust is buttery and so delicious! It uses almond flour and tapioca flour and it is great for both savory and sweet pies and is so easy to work with. It's gluten and grain free, with option for a dairy-free alternative.
Gluten Free Pie Crust
This gluten free and grain free pie crust has been on the Lexi's Clean Kitchen website (and book) for some length of time, but we've never taken it out of the various recipes and singularly focused on how to make it, and shared all the tips we can in one spot. So we're doing that now to talk all about how to make this buttery and delicious crust! It uses our trusted blend of almond flour and tapioca flour and it's made quickly in the food processor. It can be used in sweet pie recipes, such as Apple Pie, or savory recipes such as Spring Vegetable Quiche or other fun projects like Pop Tarts or Hand Pies!
Here is what is in this Classic LCK Gluten Free Crust
Salt
Butter (can sub ghee or coconut oil, but we prefer the taste of grass-fed butter by far)
Egg
Honey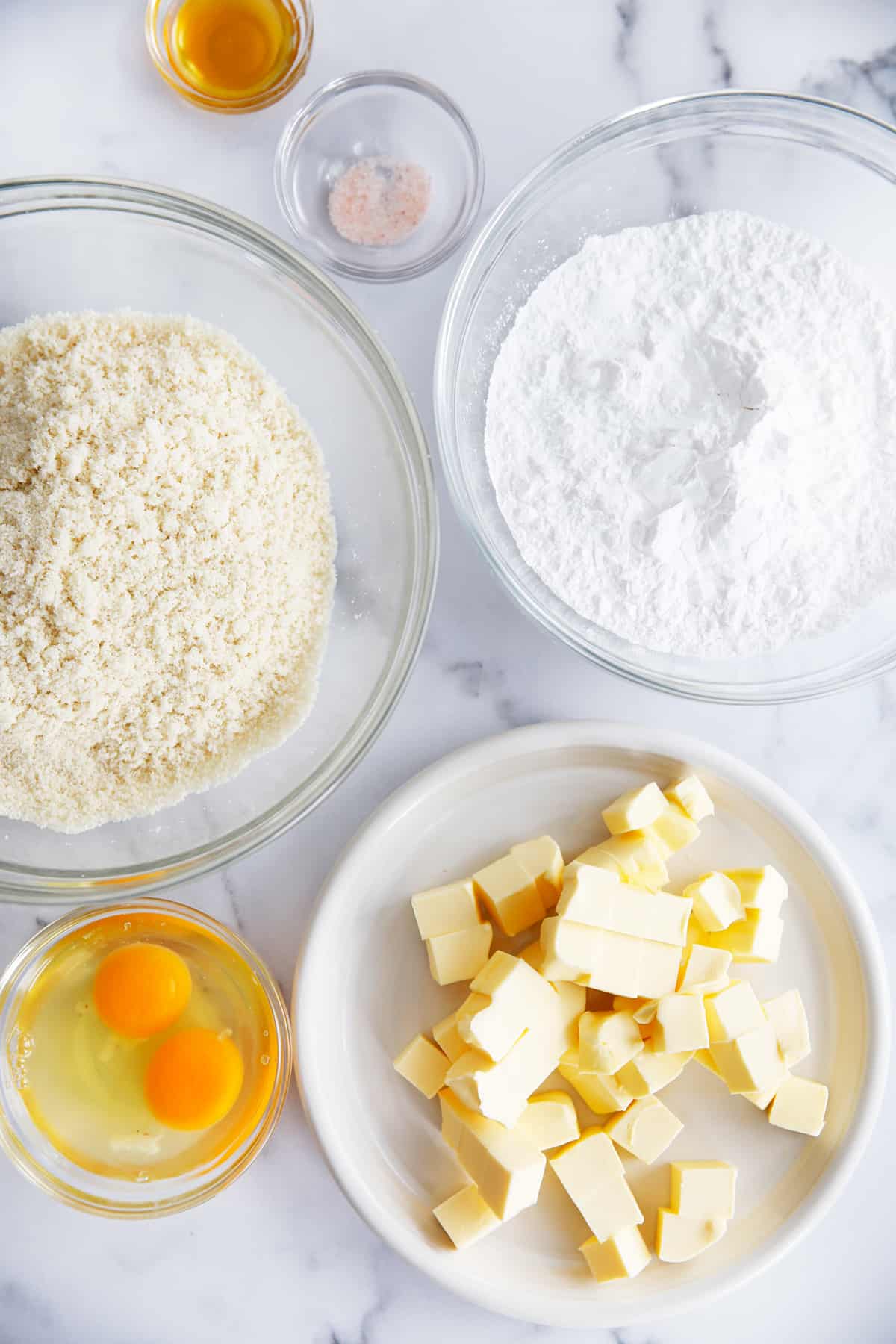 Tips for Making Gluten Free Pie Crust:
Get all of the ingredients prepared before you begin: Measure out the dry ingredients, cut the butter and make sure it is chilled and crack the egg with the honey in a bowl.
Don't over-process the dough: Once it has come together stop running the food processor.
Wrap it up! Wrap the dough tightly in plastic wrap, either in 1 or 2 disks, depending on if you are making a double batch.
Let it chill! The longer this dough chills, the better. It's best to let it sit overnight, but at a minimum it needs 4 hours.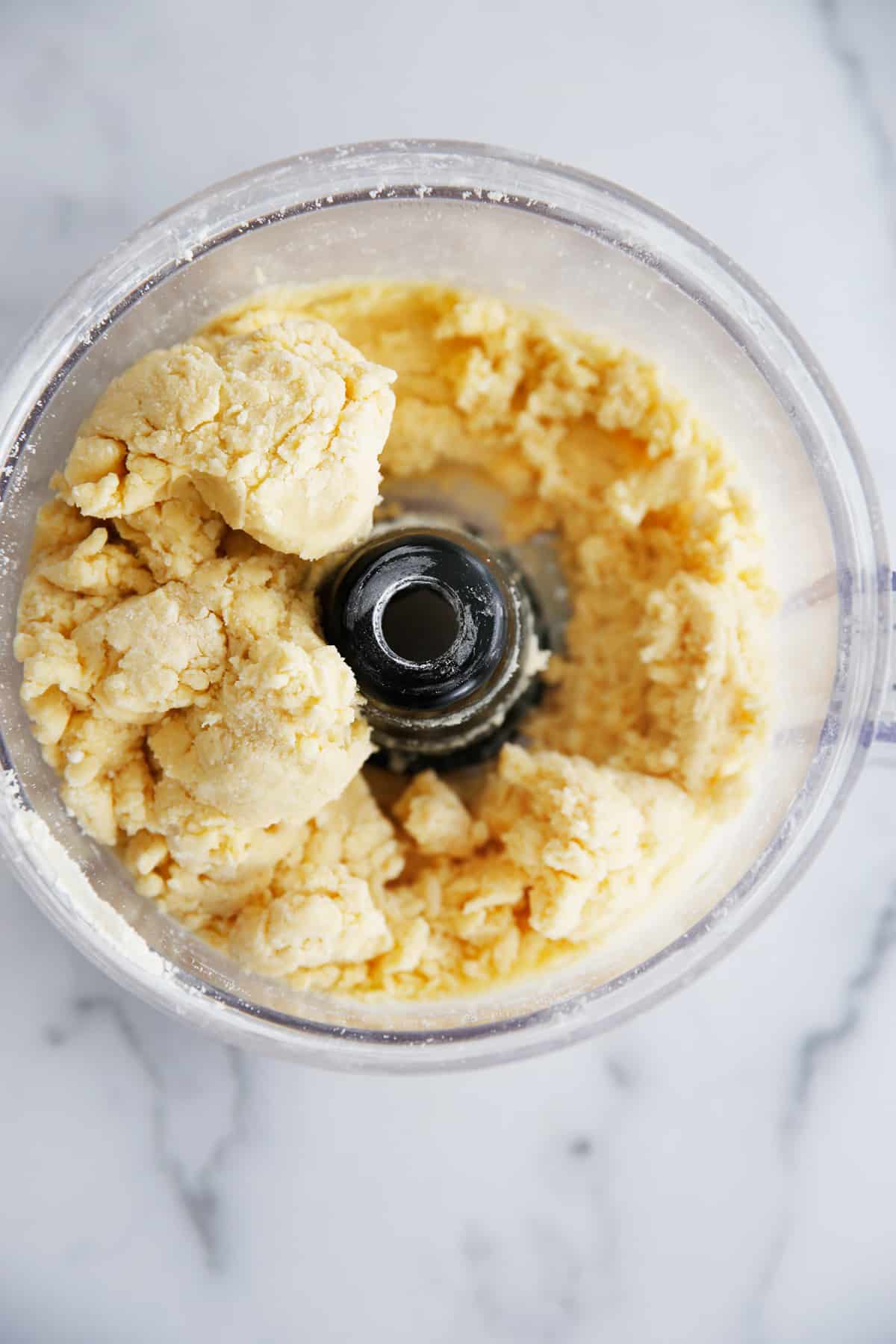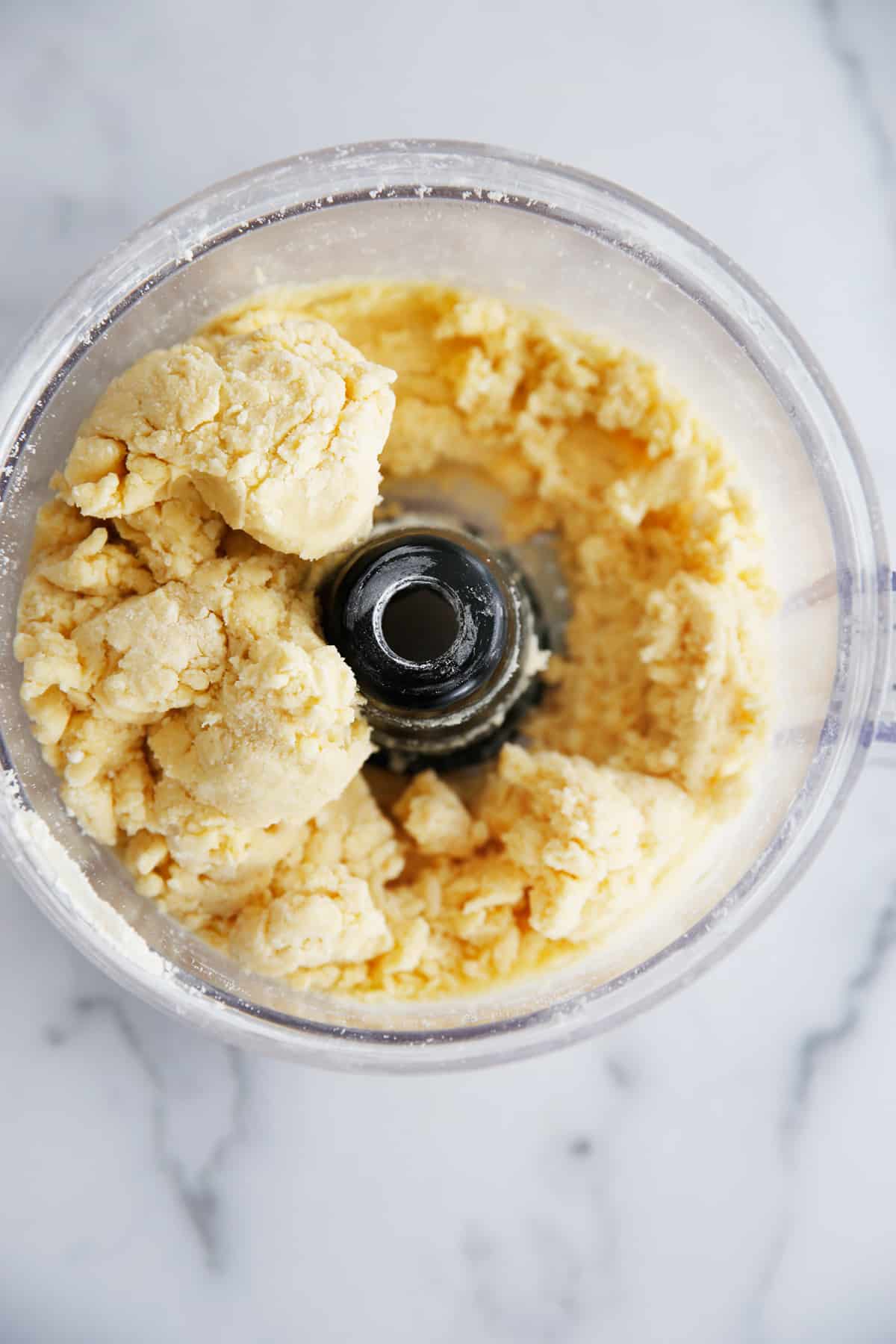 Tips for Rolling Out Pie Dough
Make sure your dough is thoroughly chilled first: this is the best tip we can offer! This dough is hard to work with when it is warm.
To roll it out we suggest using plastic wrap. Place a piece of plastic wrap down, then place the dough on top, then place another piece of plastic wrap and roll out between the two. We don't normally tend to suggest using plastic for anything, but with this dough it really works out better on plastic vs. parchment. If you don't own plastic wrap (we don't blame you!) parchment paper can work too. Wax paper might work as well, but we did not test that.
Work quickly when rolling, or working with the dough. If it warms up and becomes hard to work with just place it in the refrigerator to cool back down and then begin again. This is especially true in the summer if your home is hot.
If you are making a standard 9″ pie, roll the dough out into an 11″ circle. Then take off the top piece of plastic or parchment, place the pie tin on top of the dough and invert the rolled dough into the dish. Then you can crimp the crust if you desire.
What is par-baking?
Par-baking a pie crust means that you will partially or fully bake the pie crust before placing in the filling. Each recipe you use for the filling will indicate whether or not you need to par-bake the filling, but typically if the pie filling is going to be cooked for long periods of time (like fruit fillings) you do not need to parbake. But if you are making a pie such as a custard or even a no bake filling you'll want to partially to fully bake the pie crust.
We don't recommend baking this pie crust at a temperature higher than 350ºF so if you are using this pie crust in place of a regular wheat crust in another pie recipe you might have to adjust the temperature so this crust doesn't burn.
Can you make this dough ahead of time?
Yes, the dough can be made up to 5 days ahead of time. Wrap it tightly in plastic wrap twice. We do not recommend freezing this dough.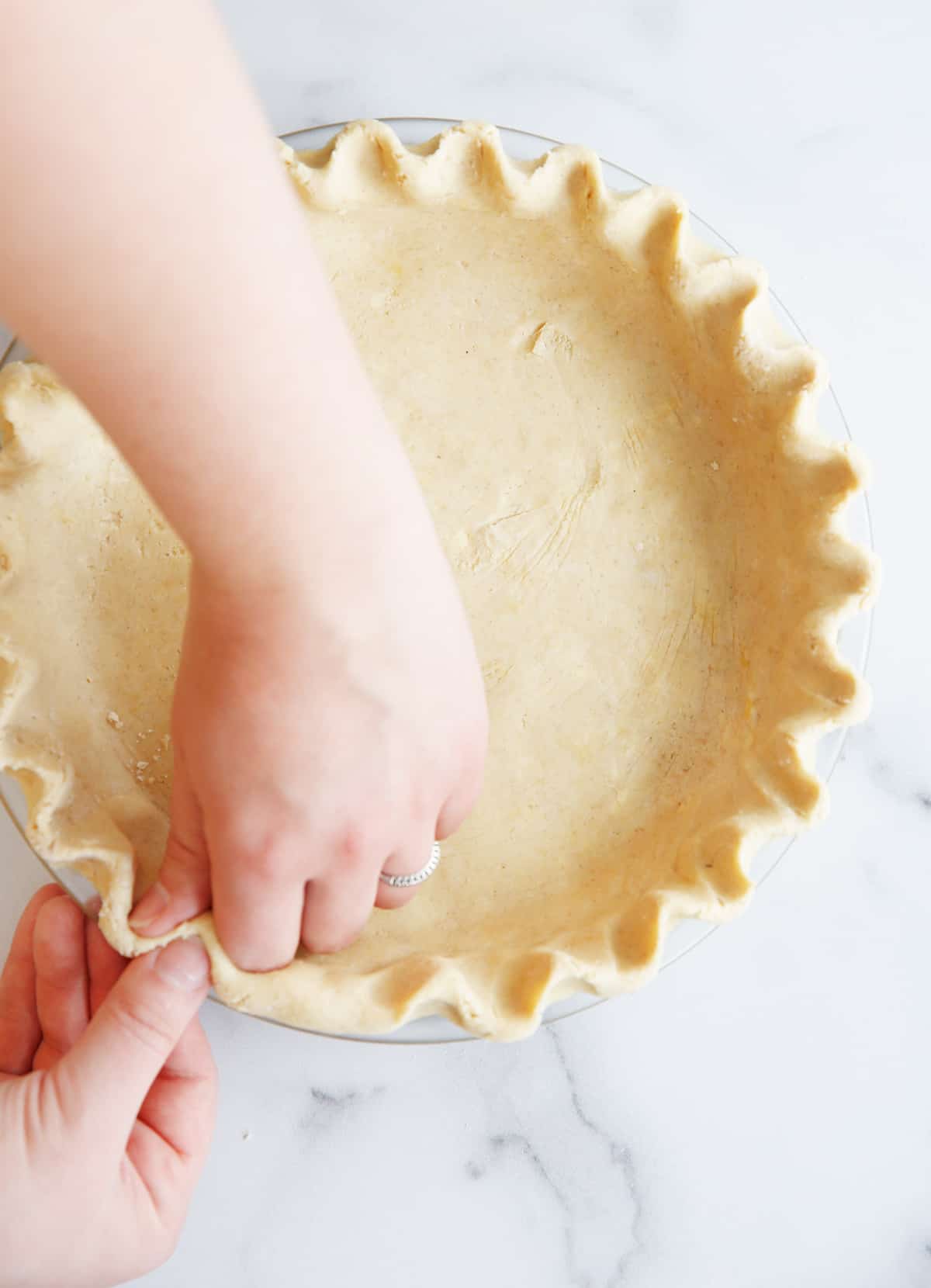 For this recipe we used these tools:
Essential items: Bowls, Whisk, Spatula
Check out these pie recipes:
---
How to Make a Gluten-Free Pie Crust
This super popular paleo bread recipe has the perfect texture and is such a satisfying grain-free, gluten-free, dairy-free bread. It's perfect for a sandwich, burgers or a slice of toast with nut butter! It uses almond flour and tapioca flour and the batter is put together in just one bowl, making this so incredibly easy to make! Want to to make it but can't have nuts? We also made this nut-free with this recipe here so everyone can make it and we've recently updated this recipe to include instructions on how to make as a bread loaf too!

How to make paleo sandwich bread
This recipe is one of my most popular paleo recipes and for good reason! This recipe can be made in both a loaf pan, or also as rolls. This paleo bread is gluten-free, grain-free, fluffy, sliceable, and TOTALLY BREAD-LIKE with the best texture! Plus, it's simple to prepare made all in one bowl without any kneading or rest time.
I wasn't a fan of gluten-free bread, whether store-bought or homemade, until this recipe. I always felt they were dense, not the right flavor, or difficult to make. But this paleo bread recipe? It has the right flavor and it's fluffy, soft, air-y, and with the perfect bread-like texture.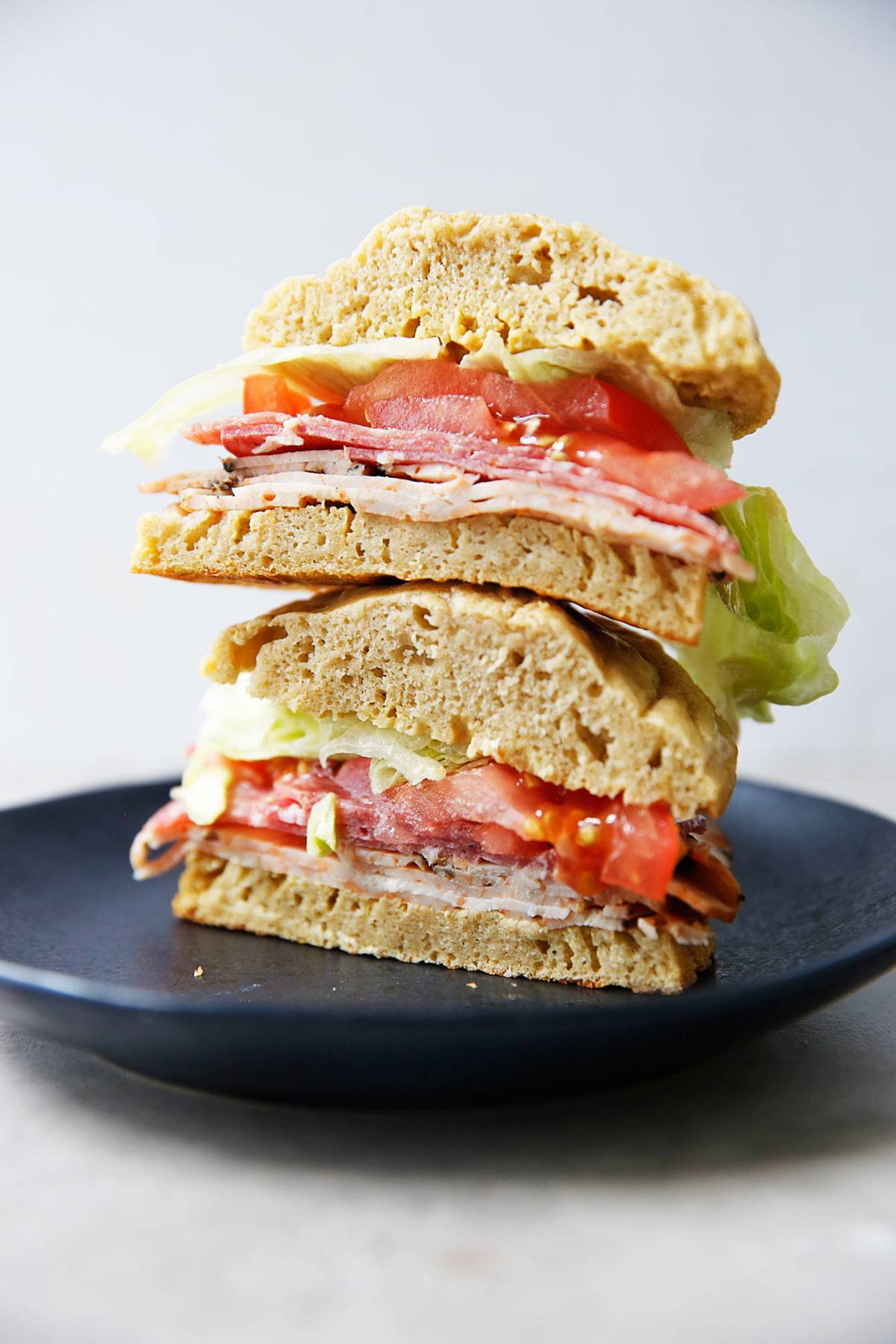 Can this be made as rolls or a loaf bread?
Originally when this recipe was first made a few years back the bread was made either as rolls, or as a long square loaf. I LOVE making it that way, but per request we've done some recent testing to include instructions on how to make it as a loaf pan! This is such a great update and hope you enjoy it too!
Watch how to make it:

Here's what you need to make it:
almond flour
tapioca flour
eggs
unsweetened apple sauce
baking powder
fine sea salt
We've made some updates to this recipe!
This bread recipe has long been a reader favorite and a cornerstone recipe for Lexi's Clean Kitchen! We've recently made some updates to it to include some instructions on how to make it into a loaf pan. We still enjoy the paleo rolls, and prefer making them that way but so many requested the ability to make this into a loaf pan, so we put it through some testing to get it to be able to do that! We call for using a smaller than average sized loaf pan, a 7.75″ x 3.75″ that way you get the proper rise for the loaf. If you use a bigger one the bread loaf won't be as tall.
What kind of bread can you eat on the Paleo diet?
Making this homemade bread is easy and kid-friendly! Paleo bread is different from gluten free bread because often on the paleo diet most grains are avoided. So gluten-free breads made with gluten-free flours like rice flour, teff flour, and corn meal would not be considered paleo bread! The combination of almond flour and tapioca flour as it creates the most legit paleo bread, and gluten-free I've ever tried!

How to use the bread:
If you like this paleo recipe, check out these others: