One Pot Turmeric Chicken and Rice
This One Pot Turmeric Chicken and Rice is a hearty, warm and comforting weeknight dinner option! It's full of veggies and uses both fresh and dried turmeric. It is dairy-free and gluten-free and is bound to be a new, and easy, family favorite!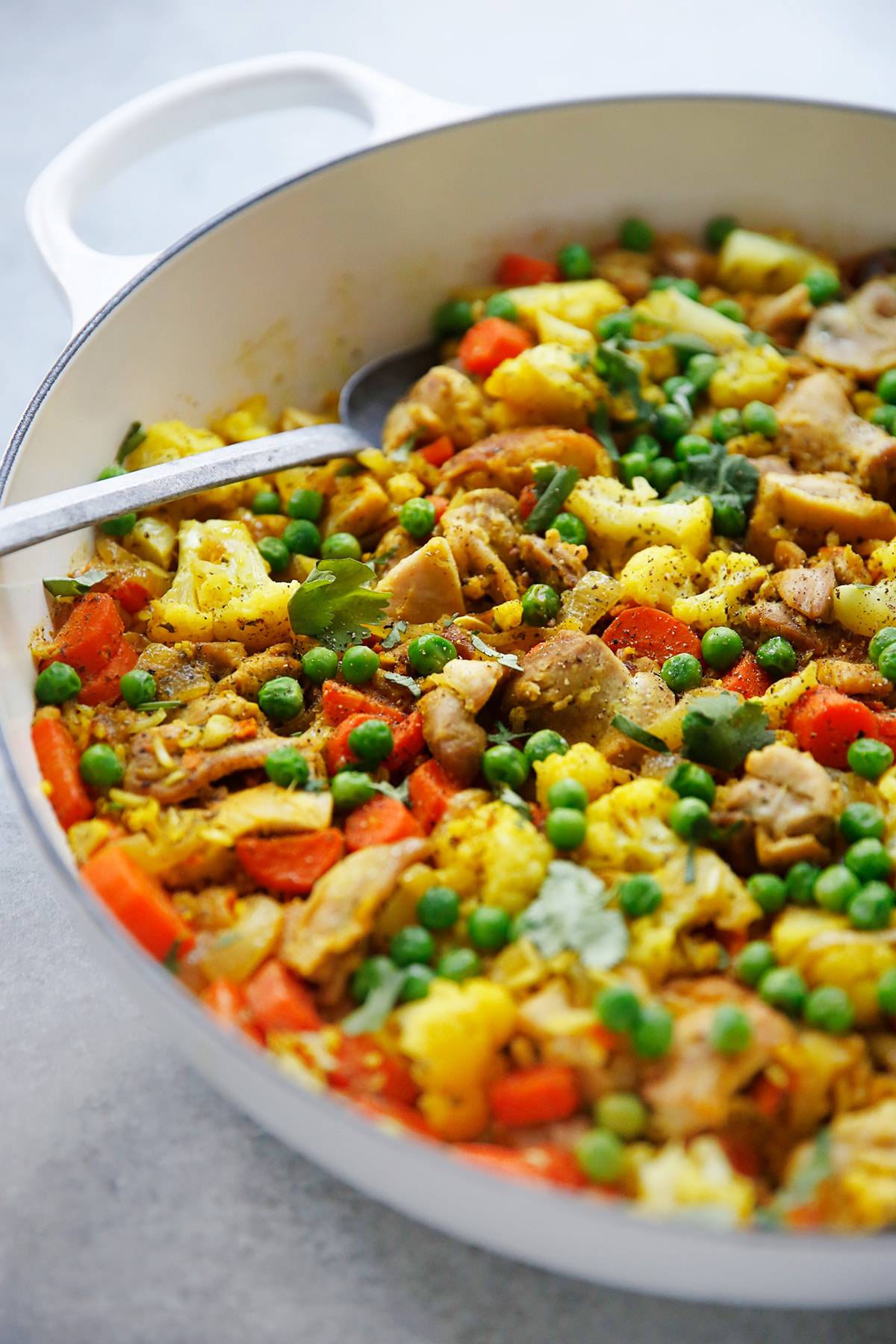 One Pot Turmeric Chicken and Rice
We love an easy-to-make and easy-to-love weeknight dinner and this One Pot Turmeric Chicken and Rice is one of them! A warm and comforting spiced chicken and rice dish that consists largely of unattended cooking and is made all in one pot for a simpler clean up! This dish uses both fresh and dried turmeric for an extra punch of flavor and has so many veggies packed in!
Let's talk turmeric:
We've talked quite a bit about turmeric on this site before because turmeric is a trendy food topic these days, but for good reason: it provides significant anti-inflammatory effects that can benefit a wide variety of health concerns! Curcumin, which is a nutrient found within turmeric, is a powerful anti-inflammatory. Chronic inflammation has been linked to a number of larger medical conditions such as diabetes, arthritis and heart disease. A natural and easy way to help keep inflammation down is through the foods you put in your body. This One Pot Turmeric Chicken and Rice uses both fresh turmeric and dried turmeric. Now are we saying if you eat this rice all of your inflammation will go away? Nope! But we are big believers in using a whole and real food approach to healthy living and including as many nutrient dense ingredients in our every day meals is a good start.
Where can you buy fresh turmeric?
Almost any major grocery store will sell turmeric. Look for it in the section where they sell fresh ginger, and it looks similar!
What do you do with fresh turmeric
You don't need to peel the thin skin off of fresh turmeric, but we prefer to especially if it isn't organic. The easiest way to do this is to take a spoon and gently scrape off the skin. You can grate the turmeric with a microplane or finely mince it. Just be careful about where you prepare the turmeric because it will leave yellow everywhere it touches, including your hands!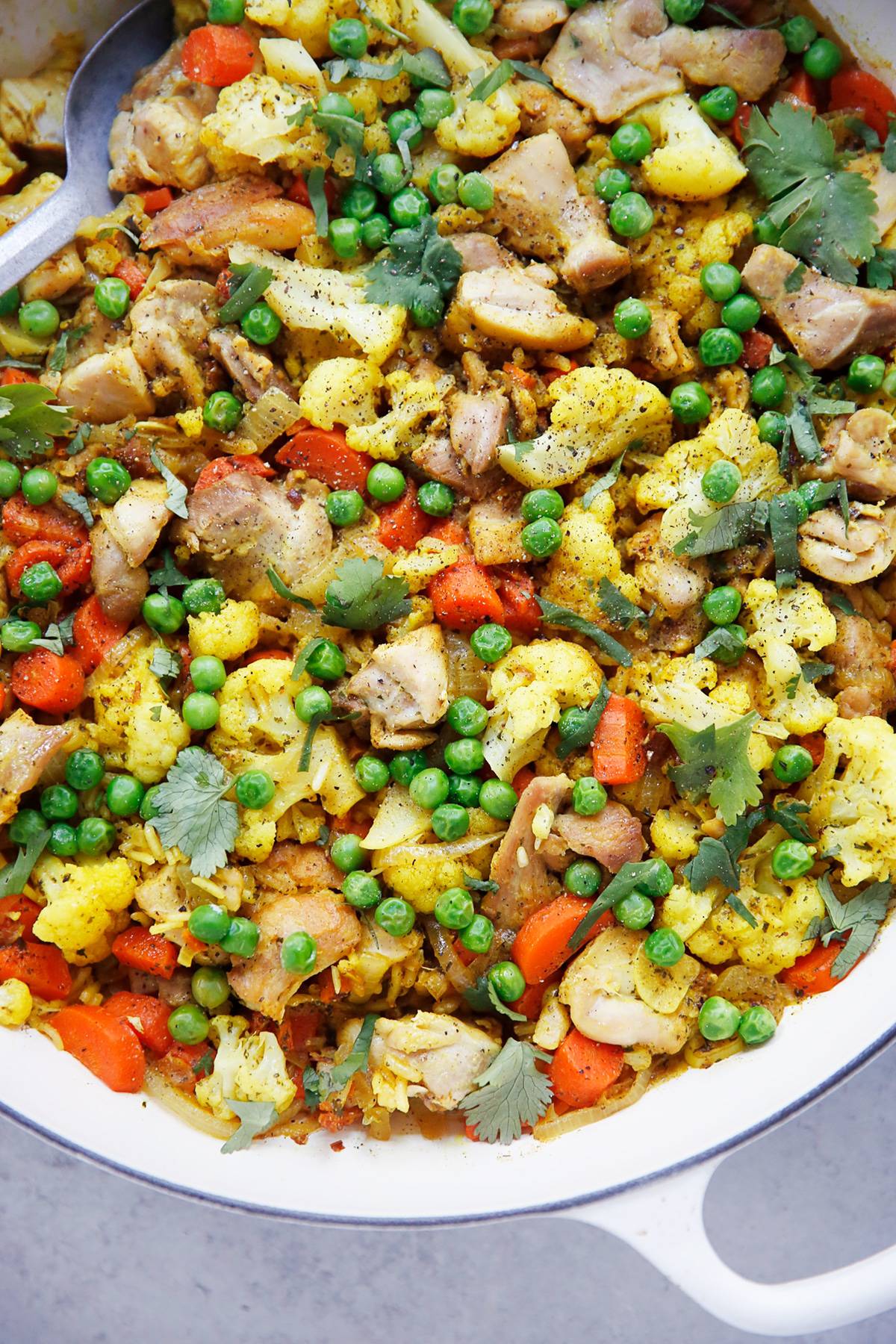 If you like this easy weeknight dinner recipes, check out these others:
---
One Pot Turmeric Chicken and Rice
We are well into cold and flu season and this Ultimate Kick-that-Cold Juice is a recipe you need in your back pocket! If you feel a cold coming on, or you are currently in the throes of one, this juice recipe with oranges, lemon, carrots, ginger and turmeric will give you an extra boost of vitamin C and antioxidants to help your body naturally feel better!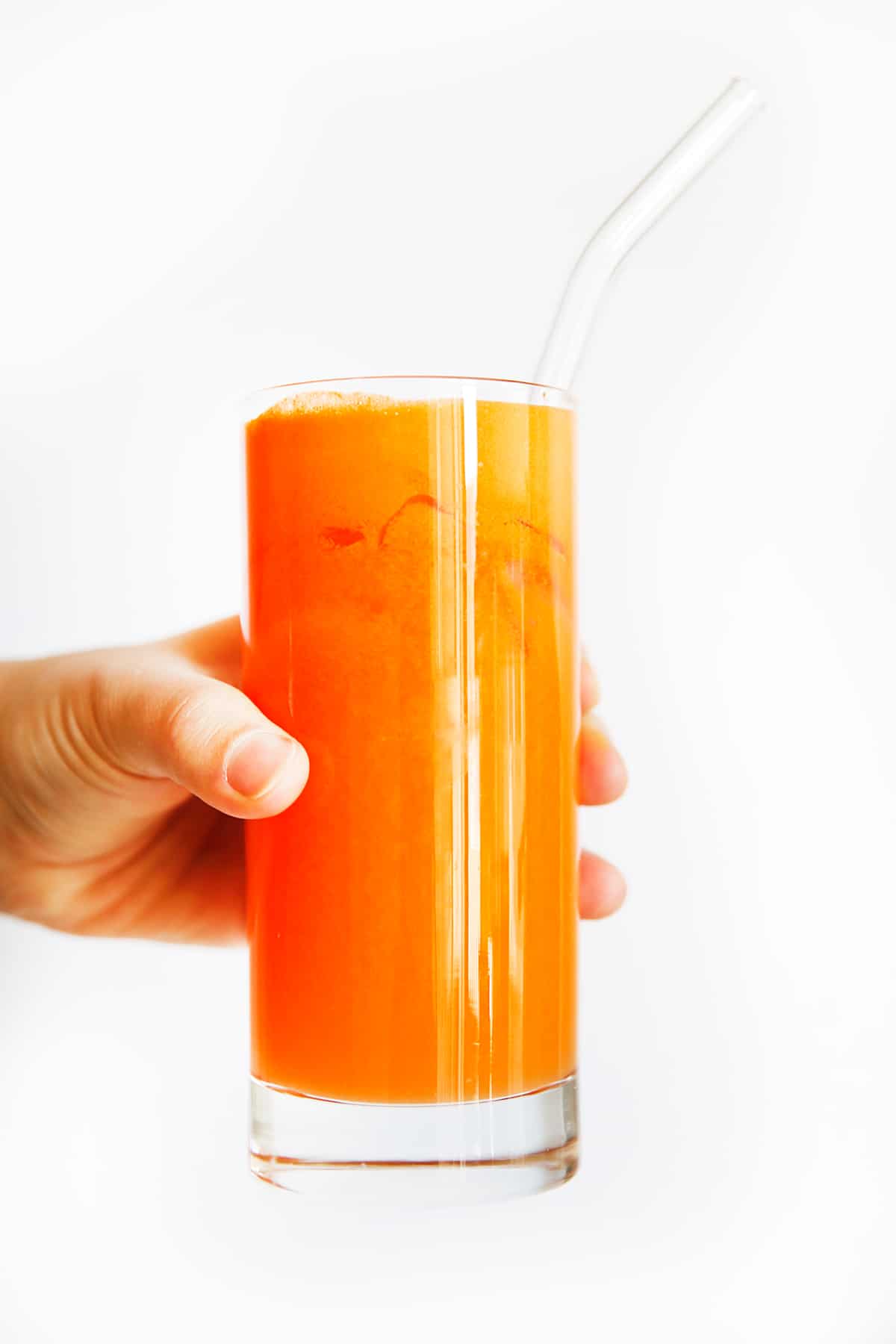 Kick-that-Cold Juice
When cold and flu seasons hits staying healthy can be a top priority. Our bodies naturally do a great job at utilizing their own defenses to fight off colds but it can never hurt to arm yourself with some extra Vitamin C and antioxidants to do it. This recipe has been used in my house for years and it's time it's officially landed on the blog. If we feel ourselves starting to get sick we immediately make this Ultimate Kick-that-Cold Juice and drink up! I swear by it, but it's also super delicious and a good pick-me-up.
Benefits of juicing:
Juicing can be controversial in the health world as it does remove some fiber from the fruit and veggies, but I've found, when I am coming down with something, this really does the trick! While of course fiber IS important (because it also contains nutrients and helps digestion), practically speaking, you will absorb more nutrients because the gut doesn't need to digest all that fiber at the same time! Want more info? I like this article!
Juicing extracts the juice from fresh fruits or vegetables. The resulting liquid contains most of the vitamins, minerals and phytonutrients found in the whole fruit! Since you have to use a far larger quantity of fruits and vegetables to make a glass of juice than you typically would eat in a sitting, you will get higher doses of those micronutrients and phytochemical. Juice quickly reaches your vital organs, can help reset your body, re-oxygenates yourblood, flush out fat, and more!
What I will say is: when ordering juice out, ask them how much fruit is going into your juice (so you can watch the sugar intake). Nobody needs 3 apples in one sitting!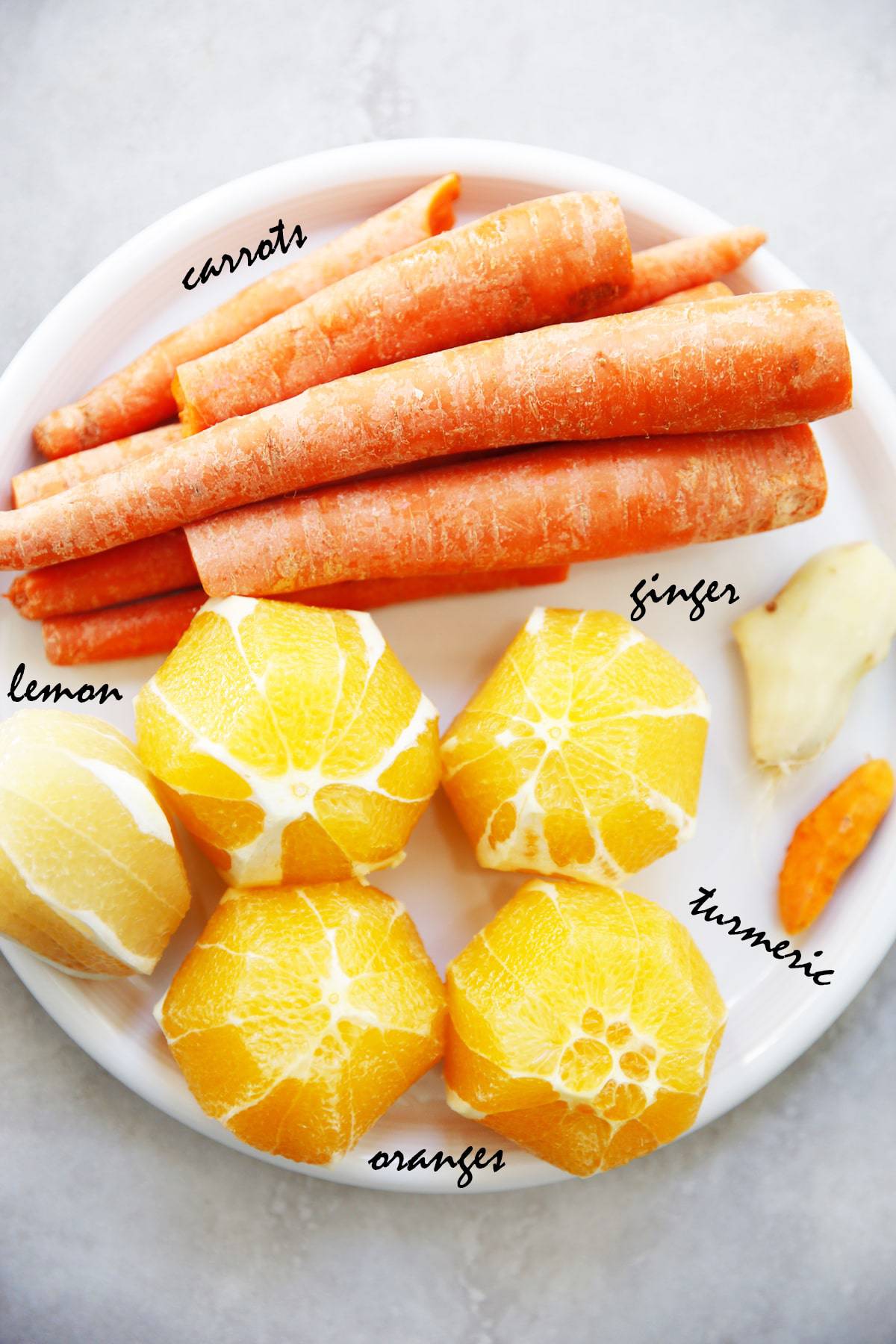 The juice is made up of oranges, carrots, lemon, fresh ginger and turmeric! The citrus and carrots add a much needed boost of vitamin c and antioxidants, the ginger is a natural antiviral and the turmeric has the nutrient curcumin which is a powerful anti-inflammatory.
To prep the fruits and veggies you remove the rinds from all of the fruit before juicing. This is important because the skin/rind is what can hold the most pesticide residue and we want to keep away all that harmful chemicals, especially when your body is fighting off a cold. You can either just wash the carrots, or peel them.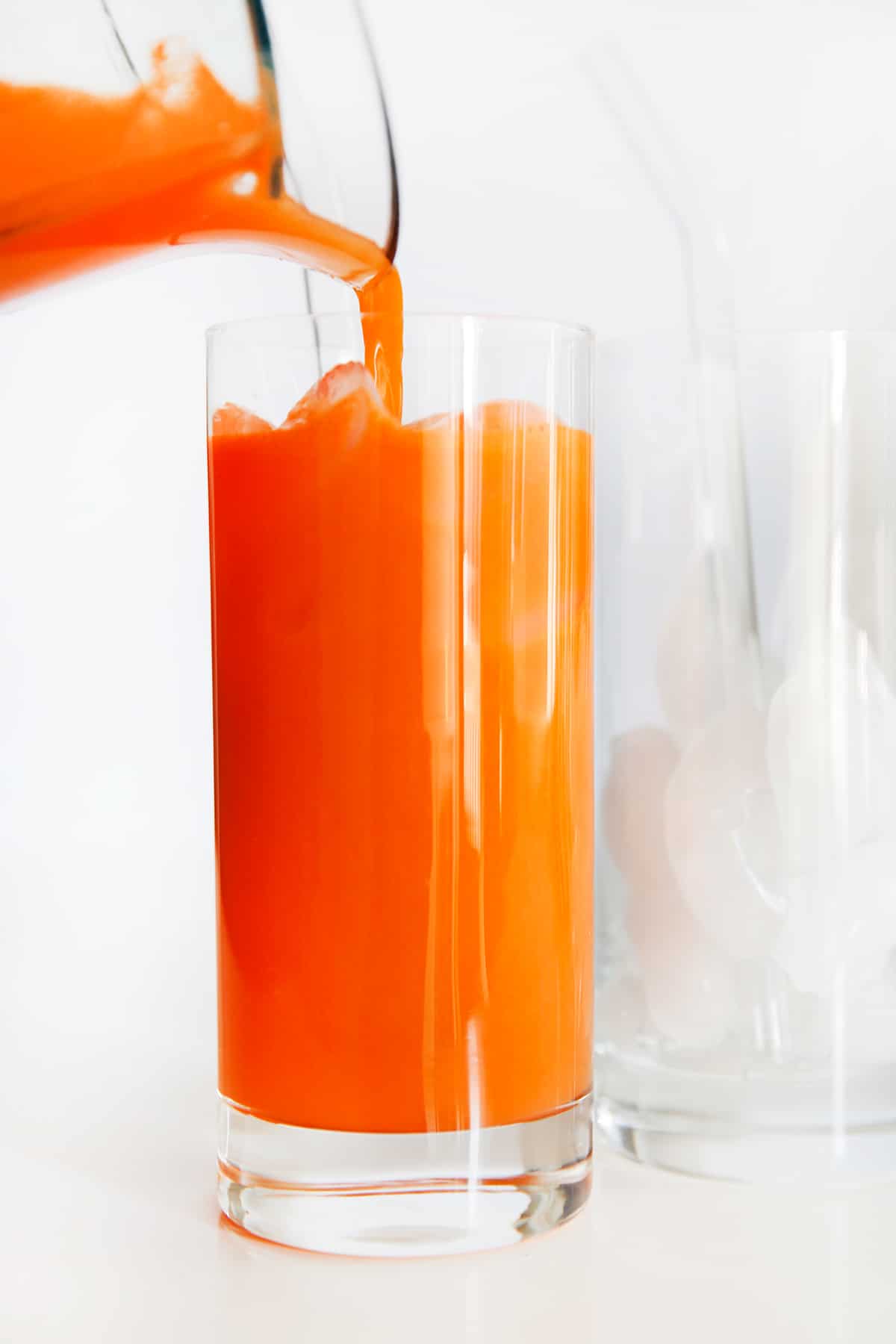 ---
Tools for juicing:
If you like this good-for-you recipe, check out these others:
Pin it for later:

What is your go-to natural cold remedy?
Ultimate Kick-that-Cold Juice
This Anti-Inflammatory Smoothie is the perfect make-ahead breakfast! It's full of anti-inflammatory foods that are rich in vitamins and minerals, tastes delicious and will keep you satisfied until lunch time. It's vegan, naturally gluten-free and and so easy to prep! We make them into freezer packs for easy breakfasts that are already prepped in the freezer. Just dump into the blender, add your liquid, and blend!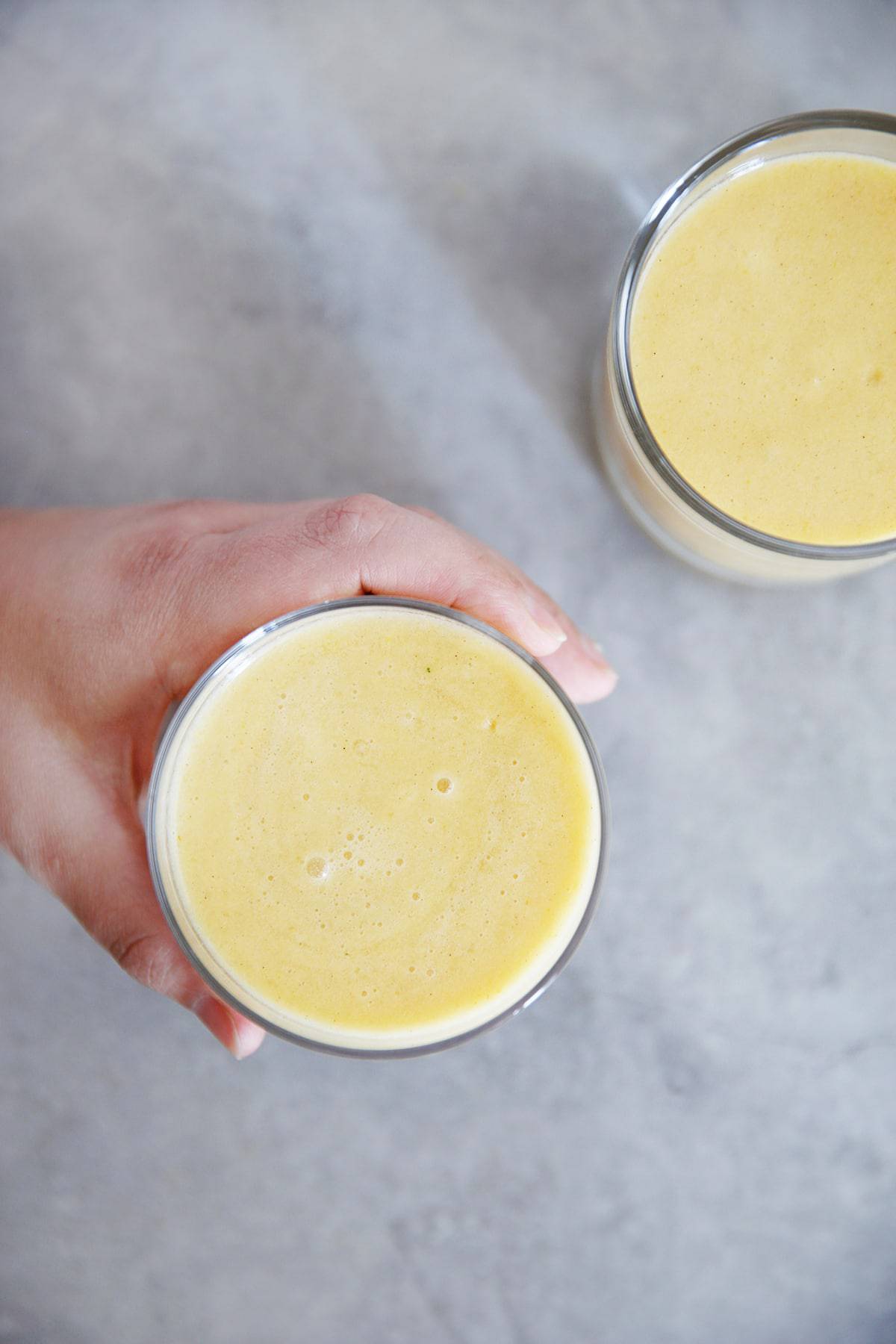 Anti-Inflammatory Smoothie
Smoothies are the easiest make-ahead breakfast! We love them because the possibilities are endless. In the past I've offered up many smoothie recipes, and even the perfect smoothie guide, but today we are focusing on the idea of smoothie freezer packs, and specifically nutrionally based smoothies.
Smoothie packs are so popular these days, and while they may be convenient, they can be pricey and you can't really control what is in them. For the next four weeks we're going to offer up 4 nutritional-minded smoothies that you can prep in advance, and in bulk if you choose, to be ready for a quick blend in the morning before heading out the door. And at the end we're going to do a round up and a bonus 30 Budget-Friendly Smoothies (in under 30 minutes) guide!

If you are a long-time reader of mine, you know that I believe that food can play a big part in not only keeping the body healthy, but also healing the body, so we're offering up 4 make-ahead smoothie packs that target specific health benefits! And today marks our first one: Anti-Inflammatory!
Inflammation in the Body
Our body uses a process known as inflammation to protect ourselves from invading foreign microbes  such as chemicals or pollen, or to help heal from a wound. When this condition persists without the underlying cause it can be harmful. This is known as chronic inflammation and it has been linked to a number of larger medical conditions such as diabetes, arthritis and heart disease. A natural and easy way to help keep inflammation down is through food!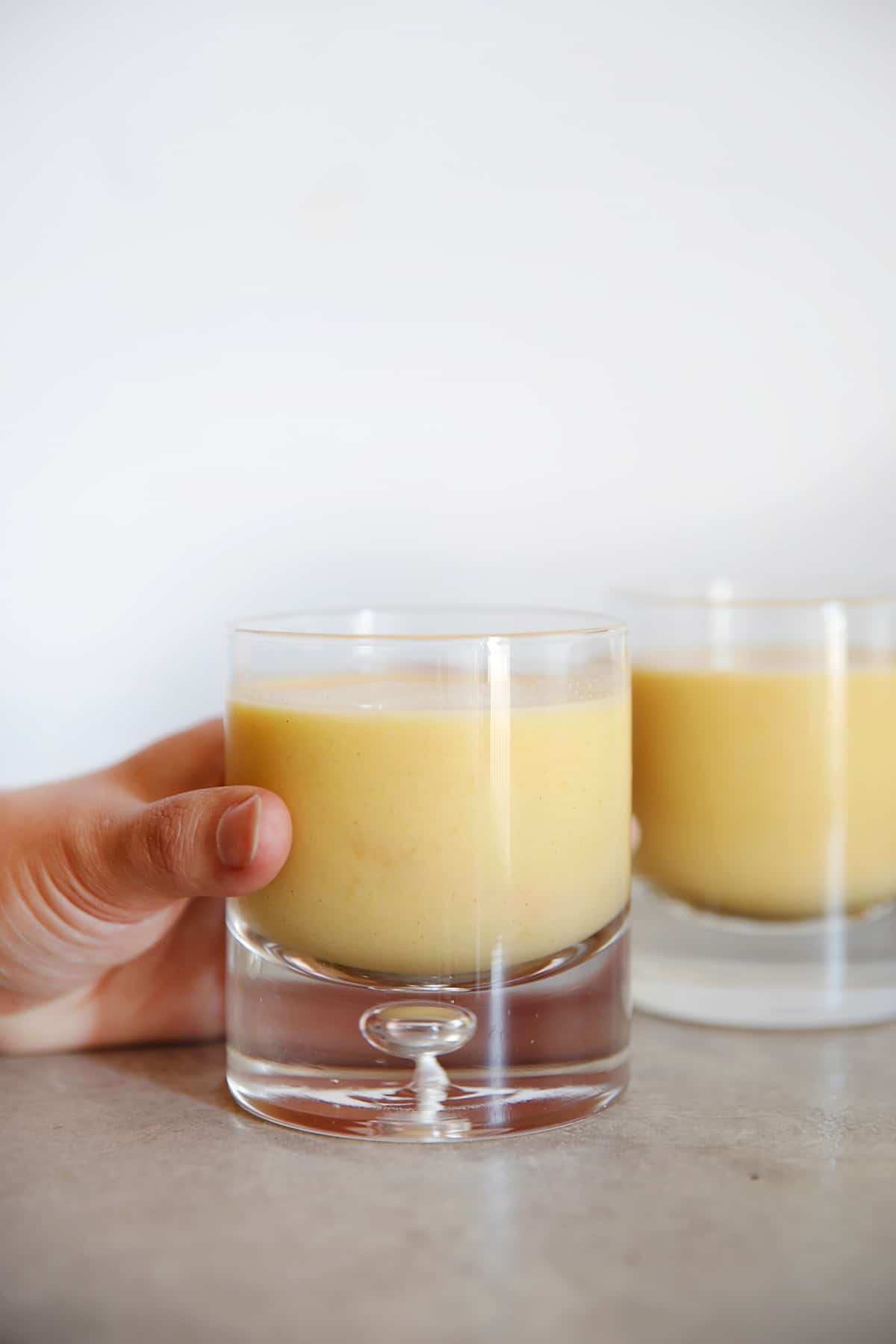 Best Anti-Inflammatory Foods
Eating a diet full of foods rich with vitamins and minerals is a great start to lower inflammation. Some common foods to help with this are leafy greens, nuts and fatty fish. For our smoothie today we've paired a few (delicious) foods together that are high in anti-oxidants and rich in vitamins in mineral to help reduce inflammation: mango, cauliflower, ginger, turmeric and black pepper!
Stay tuned for the rest of the make-ahead smoothie freezer pack series:
Items we love for smoothie packs: