This Feel Good Detox Soup recipe is a quick and hearty vegetarian soup (with a protein option) perfect to help kick a cold or sickness that arises! It's freezer-friendly, loaded with flavor, and packed with immune boosting ingredients.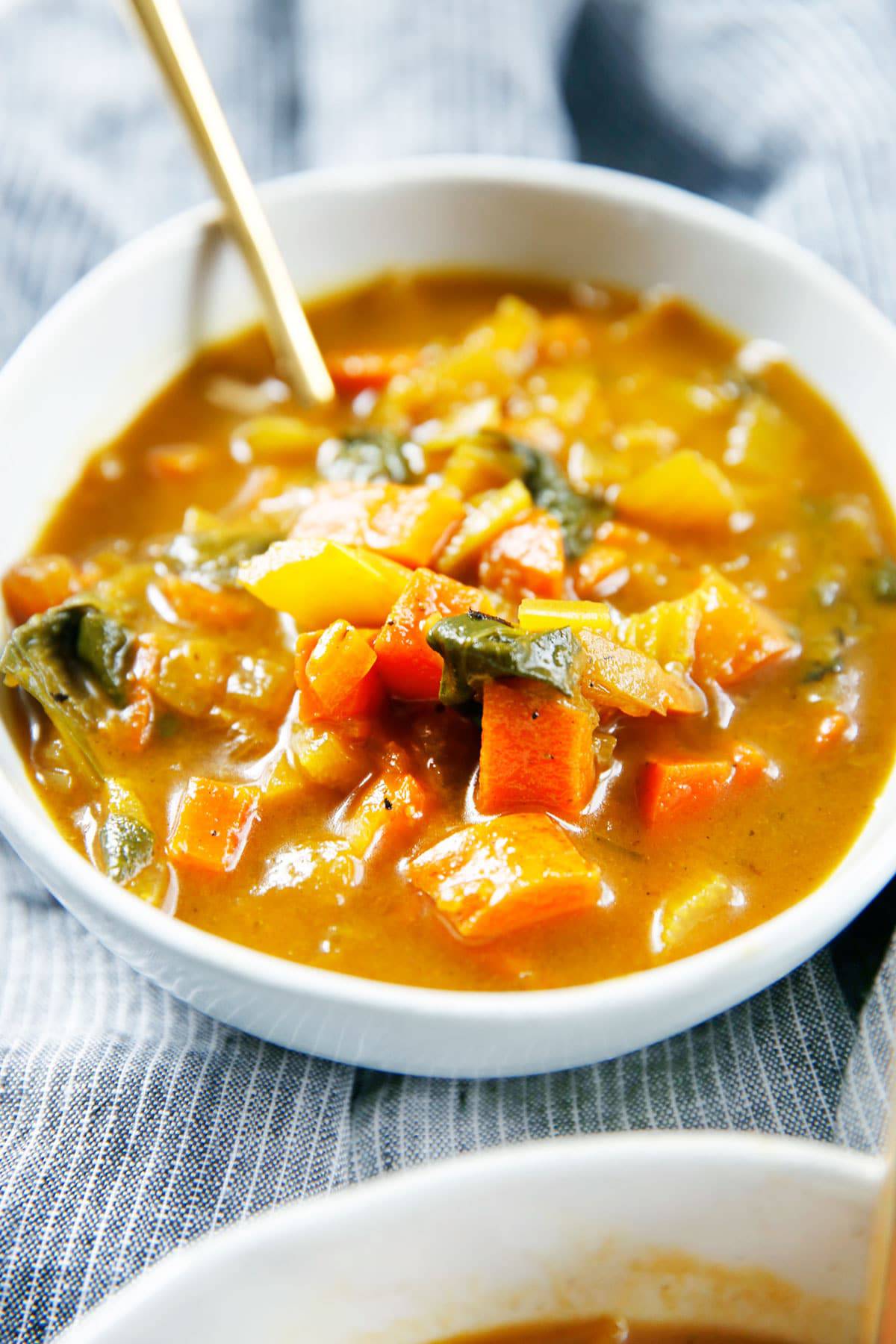 Feel Good Vegetarian Detox Soup
There is absolutely nothing better than homemade soup…especially when you're feeling under the weather! My detox chicken and kale soup has been one of my favorite immune boosting soups, so I decided to make a similar, nutrient-dense vegetarian vegetable soup!
This Feel Good Soup is packed with veggies and spices that are loaded with antioxidants to help you heal (or just feel extra awesome!) My family and I love to eat this soup when anyone is feeling under the weather, so I keep a batch in the freezer so it's ready to go whenever.

Looking for more feel-good soup recipes? Check out my classic chicken soup recipe!
Does Soup Help Your Immune System?
Absolutely! Especially when you're intentional about what you're putting in your soup.
While any healthy vegetable soup is going to contribute to a strong immune system, this feel-good soup recipe is designed with ingredients that serve specific purposes.
Carrot and Lemon: both carrots and lemon juice add a boost of vitamin C and antioxidants.
Ginger: ginger has anti-inflammatory properties and is loaded with antioxidants.
Garlic: garlic is anti-inflammatory, antiviral, and antifungal.
Turmeric: turmeric contains the nutrient "circumin" which is a very powerful anti-inflammatory.
Bone Broth: bone broth is said to help support immune function as well as promote healthy digestion and good sleep.
While we can't claim any of this as a cure-all, there's no doubt this healthy vegetable soup recipe is great to have on-hand. Plus, it tastes delicious!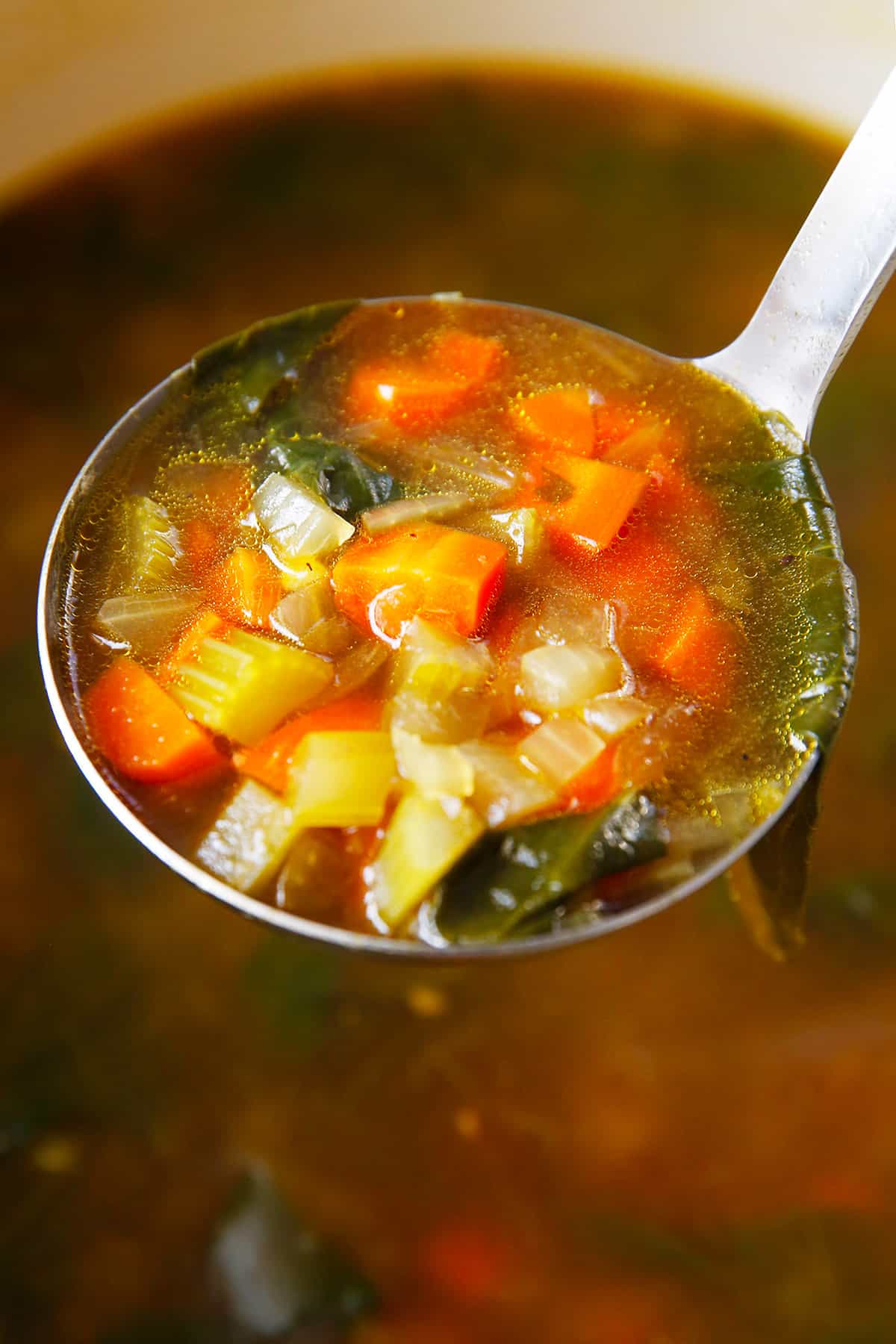 Ingredients Needed
This healthy detox soup is loaded with good-for-you, immune-boosting ingredients that pack a serious flavor punch.
Oil: you can use either olive oil or avocado oil to sauté the aromatics.
Garlic and Garlic: use freshly minced garlic and freshly grated or minced ginger for the best flavor and the most benefits.
Onion, Celery, and Carrot: this trio of veggies is a classic addition to soup. They create a flavor base and boost the nutrition. Feel free to add more veggies if desired!
Broth: you can use bone broth or veggie broth. I like to use homemade but store-bought will work of course!v
Seasonings: this soup doesn't need much to take on delicious flavor. I use a blend of fine sea salt, freshly ground black pepper, and ground turmeric powder.
Lemon Juice: a splash of freshly squeezed lemon juice brightens the flavor of the soup.
Greens (optional): I like to add roughly chopped kale or spinach but you could also try bok choy, collard greens, or Swiss chard.
Chicken (optional): you can either keep this as a vegetarian soup OR add a protein. I like to add shredded rotisserie chicken sometimes for a heartier meal.
Parsley (optional): for garnish!
Go the extra mile with homemade broth!
To me, homemade broth makes a world of difference in soup! I always keep veggie scraps and leftover chicken pieces in a bag in the freezer to whip it up in a pinch. Whether Chicken Broth or Vegetable Stock, it truly always tastes better than store-bought, and you can use it in so many recipes (like the noted below), aside from this one!
Do I need fresh ginger or turmeric?
Short answer, no! I have definitely made this detox soup with ground ginger and ground turmeric more times than I can count! It's definitely preferable to have fresh ginger and turmeric, but you certainly can use dried powdered ginger and turmeric if that is what is available!
How to Make This Healthy Vegetable Soup
This immune boosting soup recipe is ready in just 25 minutes!
Sauté the aromatics: In a dutch oven, heat oil and garlic. Add in the onion, carrot, ginger, and celery and cook until softened.
Add other ingredients: Add in the broth and seasonings. Bring to a boil and simmer. Add kale or spinach and chicken if using, then simmer some more.
Taste and serve: Squeeze in lemon juice, taste and adjust as needed, then serve!
Variations
Add more veggies. Anything goes for this healthy vegetable soup. Add whatever veggies you like! Try potato or sweet potato, broccoli, cauliflower, corn, mushrooms, peppers, etc.
Use a plant-based protein. While shredded chicken is great, you can keep this soup vegetarian by adding beans, lentils, or chickpeas.
Make it creamy. Give the soup a richer flavor and creamier texture with a splash of cream or full-fat coconut milk.
Make it spicy. If you like a soup with a kick of heat, add in a sprinkle of cayenne pepper or red pepper flakes.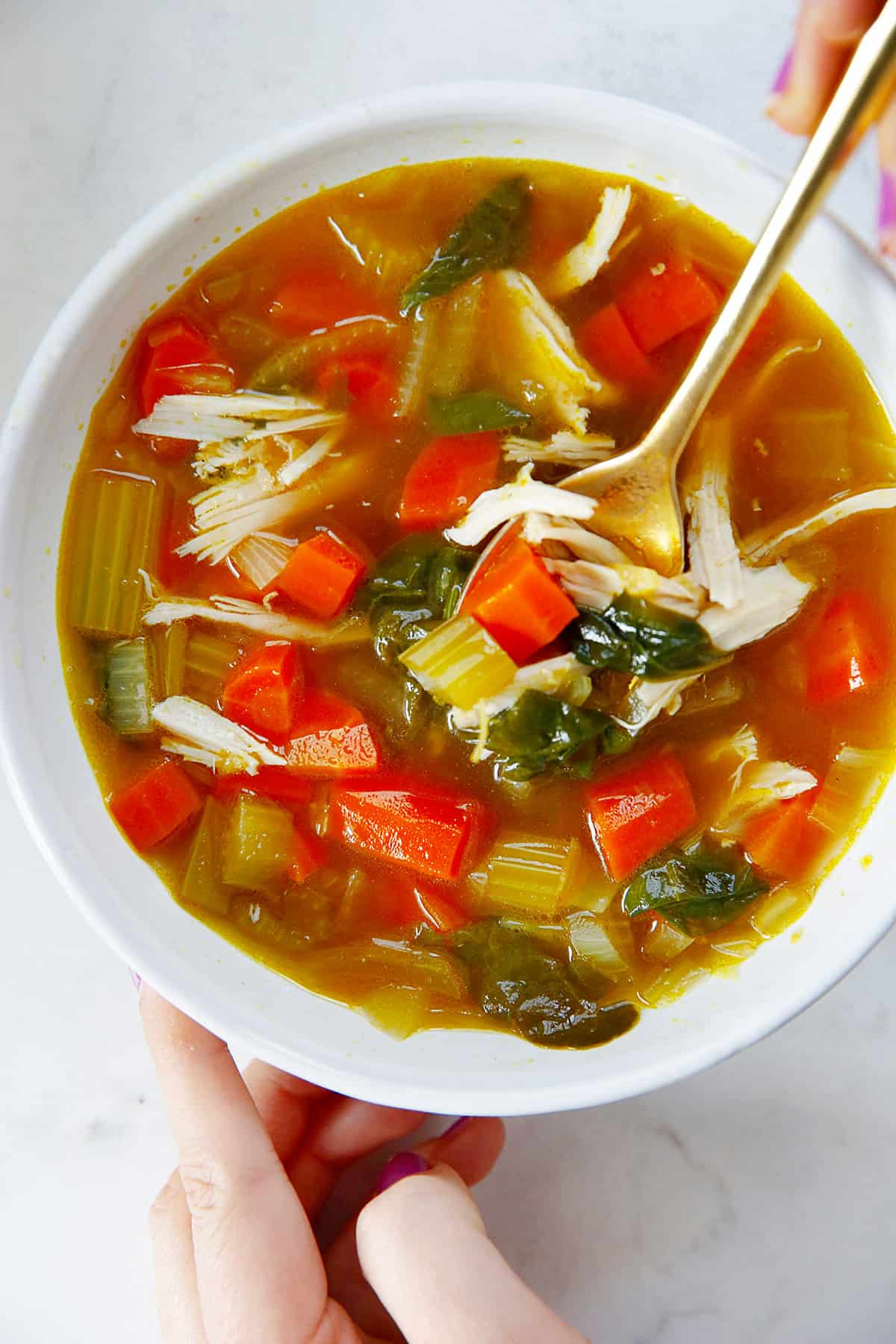 Serving Suggestions
I love to serve this vegetable soup over a pile of pasta or a scoop of white rice. It's a great way to add more texture and bulk up your meal.
To make a quick white rice for your soup:
Bring water, chicken broth, or vegetable broth to a boil. Most types of rice will use a 1:2 ratio (1 cup of rice to 2 cups of water), but double check your rice packaging to be sure.
Add in rice and a pinch of salt. 
Cover the pot and reduce heat to low. Let the rice simmer for 18 minutes, then turn off the heat and replace the lid. 
Let the rice rest for a few minutes, fluff with a fork, then serve.
Bulk your meal up even more by pairing your soup with a protein. I like shredded chicken, rotisserie chicken for an even bigger shortcut, or baked lemon pepper chicken!
Tips
Go easy on the turmeric. Turmeric has a strong flavor. I recommend starting with less and adding more to taste so you don't go overboard.
Use fresh ingredients. It's always preferable to use fresh ginger and turmeric, but if all you have on hand is dried those will work as well.
If the ginger, garlic, and turmeric flavors are too strong, simply add more bone broth or water to tone it down a bit.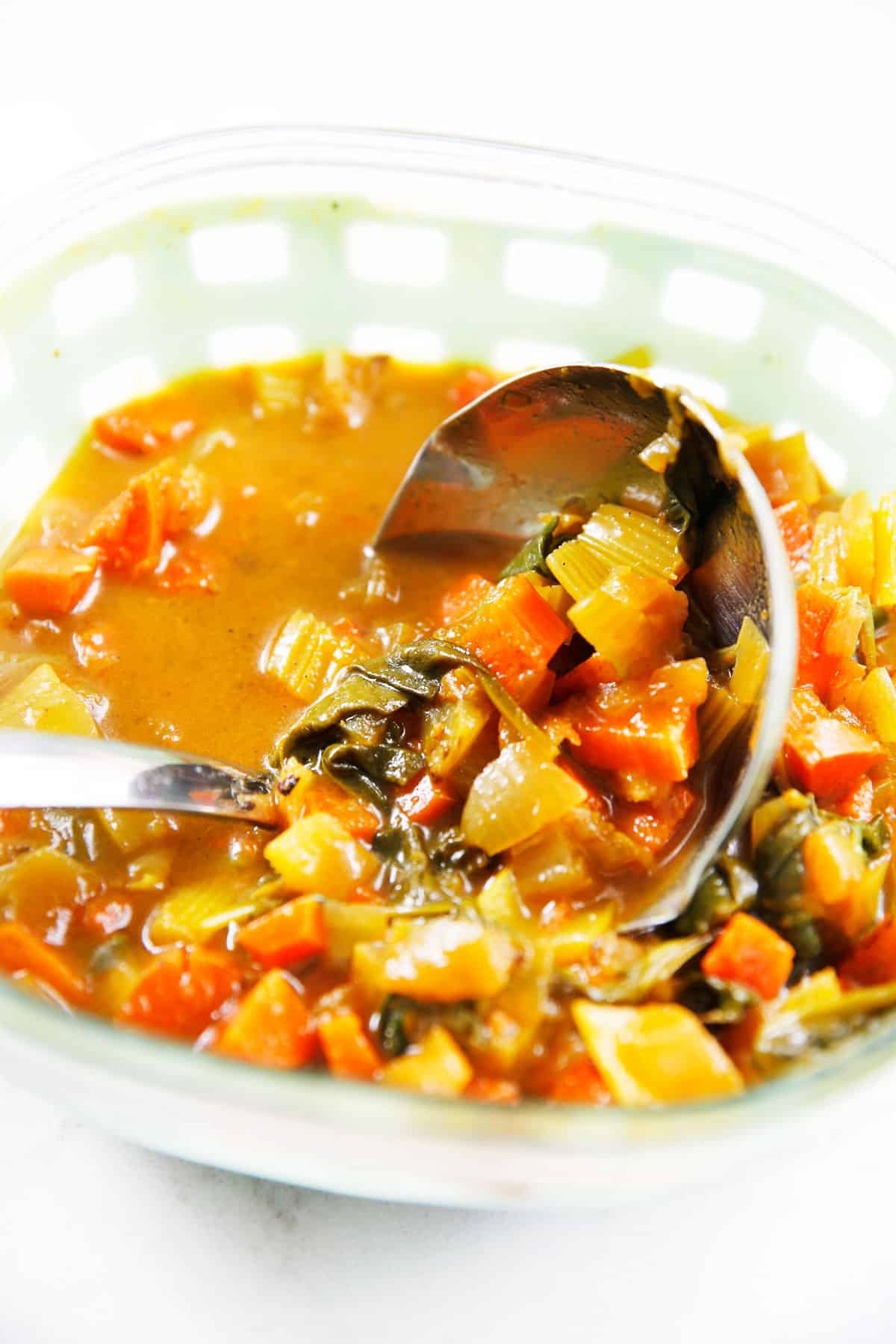 How to Store
Leftover vegetable soup will last in an airtight container in the fridge for up to 4 days. Soup can also be stored in the freezer for one year, but I prefer to use it within 6 months of freezing.
To reheat, thaw in the fridge if frozen, then warm on the stove or in the microwave until heated through.
Tips for Freezing Soup
Make sure it's fully cooled before freezing. 
Leave at least 1" of space for the soup to expand in the freezer.
Don't store in large batches. I store the soup divided into portions of about 1-2 servings. That way you can defrost only as much as you need each time. 
Label the soup with the contents and the date stored.
How to Defrost Soup Quickly
The best way to defrost soup is to let it sit overnight in the refrigerator. But sometimes, especially if you're not feeling well, you need soup like…now. Not tomorrow.
In that case, take the frozen soup container and place it into a large bowl with lukewarm water. Let it sit long enough that it defrosts around the edges. As it sits, the soup will soften around the edges. Before too long, you should be able to remove it from the container and place it into a pot. Let it thaw over medium-high heat, stirring often to keep it from burning, until heated through.
More Immune Boosting Recipes to Try
Watch The Video:
---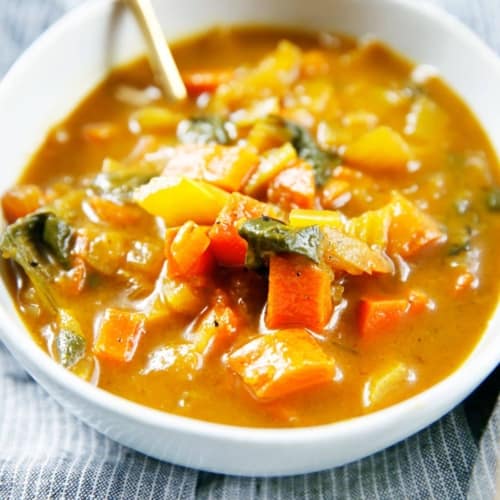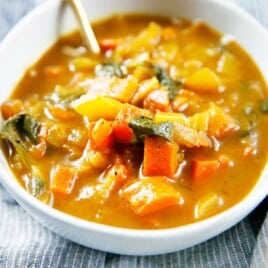 Feel Good Detox Soup
This Feel Good Detox Soup
recipe is a quick and hearty vegetarian soup (with a protein option.) It's freezer-friendly, loaded with flavor, and packed with immune boosting ingredients.
Ingredients
1

tablespoon

olive oil or avocado oil

2

cloves

garlic

minced

1

large onion or leek

finely diced

5

ribs celery

diced

5

large carrots

diced

1 1/2

inch

chunk ginger

grated or minced

9

cups

chicken bone broth or veggie broth homemade or store-bought

1

teaspoon

ground turmeric powder

1/2

teaspoon

fine sea salt

more to taste

1/4

teaspoon

freshly ground black pepper

more to taste

1/2

lemon

juiced (about 1 tablespoon)

Optional: 3 cups kale or spinach

roughly chopped

Optional: 3 cups shredded rotisserie chicken

Optional: Parsley

for garnish
Instructions
In your

dutch oven

heat oil and garlic for 1 minute.

Add in onions or leeks, carrots, ginger, and celery, let cook for about 10 minutes, stirring often, until vegetables have softened.

Add in broth and spices. Bring to a boil then reduce heat and let simmer for 15 minutes. Add optional kale, spinach, or chicken then let simmer for an additional 15 minutes.

Squeeze in lemon juice.

Taste and adjust spices as desired.
Notes
If the ginger, garlic, and turmeric made the flavors stronger than you desire, add additional bone broth or water.
Nutrition
Calories:
137
kcal
Carbohydrates:
11.7
g
Fat:
5.7
g
Saturated Fat:
1.1
g
Sodium:
1200
mg
Fiber:
2
g
Sugar:
3.8
g