Immune-Boosting Feel Good Soup
This hearty vegetarian soup (with a protein option) is packed with immune-boosting properties, and is the perfect easy soup to help kick any cold or sickness. It's quick to make and has become a family favorite healing soup that we always keep on hand frozen for when we need it! Made in partnership with my friends at Ello Products.
Feel Good Veggie Soup
There is absolutely nothing better than homemade soup when you are feeling under-the-weather. This soup is packed with veggies and spices that are loaded with antioxidants to help you heal (or just feel extra awesome). Made with ginger, garlic, turmeric, and bone broth, eating this is one of the most delicious and therapeutic ways to help you heal. This is the soup my family always eats when sick, and because of that I always keep a batch this and my Classic Chicken Soup ready to go in the freezer.
We all make sure we always have medicine on hand for the what-if's, but not many people think about making healing soup when you are feeling well! But I'm here to tell you, it's the way to go! After all, when you suddenly come down with a cold, do you really want to be standing over the stove? So make a batch (or two) of this soup, and have some for dinner tonight (you won't regret it) and a place some in the freezer for when you really need it!

Healing Benefits of Soup
We all can recall memories of being sick as a child and the warmth of being fed a big bowl of soup. Soup is nourishing not only for your mind, but also for your body, especially when it is made with nutrient-packed ingredients. The soup contains carrots, lemon, fresh ginger and turmeric! The citrus and carrots add a much needed boost of vitamin c and antioxidants, the ginger is a natural antiviral and the turmeric has the nutrient curcumin which is a powerful anti-inflammatory. Turmeric provides significant anti-inflammatory effects that can benefit a wide variety of health concerns! While we can't claim any of this is a cure-all, we can say it tastes super delicious and you'll be happy to have this on hand when you need it.
Serve this soup with:
White rice
Pasta of choice
Shredded rotisserie chicken if you want protein
How to make quick white rice for the soup
For most types of rice, you'll always use a ratio of 1 cup rice to 2 cups water (double-check your rice packaging depending on the rice you are using). P.S. I like to swap in chicken or vegetable broth for more flavor and nutrients!
Boil your water, then stir in rice and a pinch of salt.
Cover the pot or saucepan and reduce heat to low. Let it simmer.
Set your timer for 18 minutes, check on your rice, which should be done. Then, turn off the heat and replace the lid. Let it rest for a few minutes. After resting, fluff your rice with a fork.
Want to go the extra mile?
Make homemade broth! It always tastes better than store-bought, and you can use it in so many recipes (like the rice above), aside from this one!
Do I need fresh ginger or turmeric?
It's preferable to have fresh ginger and turmeric, but you certainly can use dried powdered ginger and turmeric if that is what is available.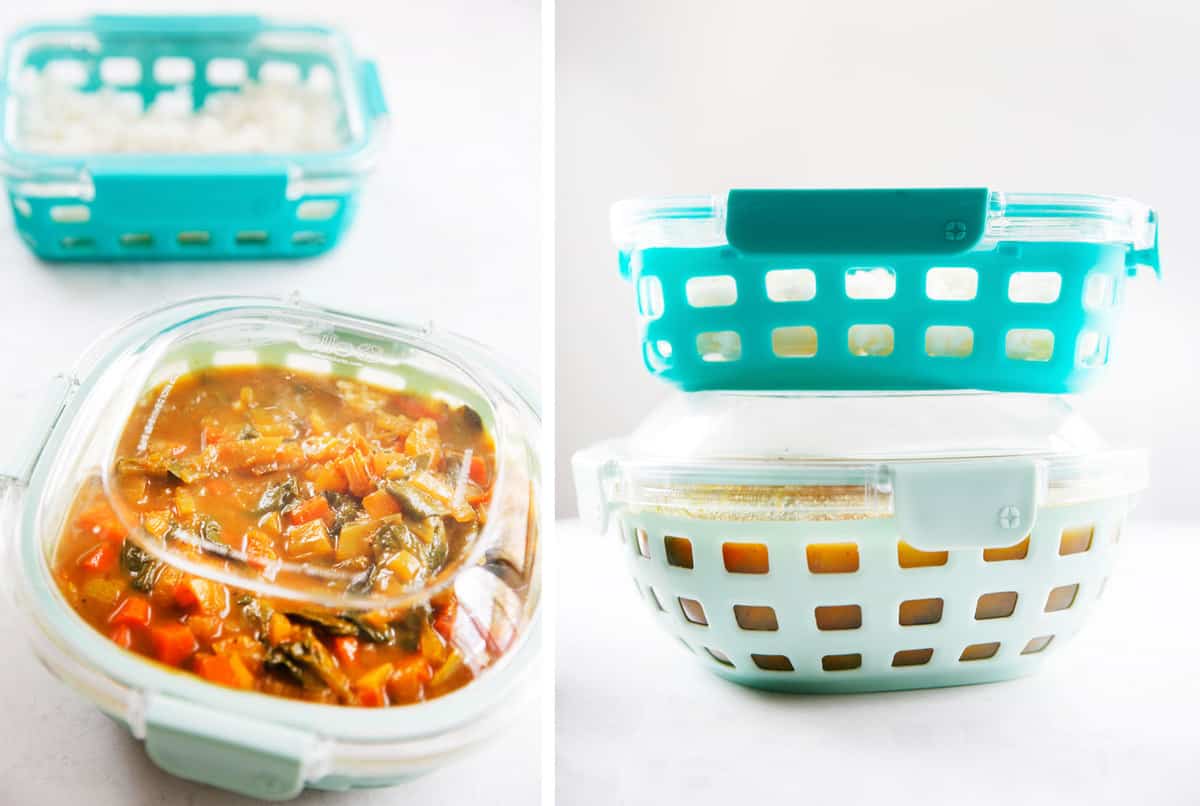 Why we LOVE Ello Storage Containers
We've been using Ello DuraGlass Meal Prep Containers for about 2 years now and they have been our favorite storage containers by far. Not only are the colorful silicone sleeves cute and helpful in pairing the containers with the matching lid, but they also serve a purpose! The silicone protects the glass and they act as as a trivet so a dish can go from the freezer or refrigerator, to the toaster oven (or microwave) and then right to the table.
I love using glass for storage (and re-heating) because it's free of harmful chemicals, can be heated in the oven (without lids), toaster oven or microwave and is (top-rack) dishwasher safe. Plus the crystal clear Tritan lid and colorful silicone sleeve let's me easily see what is in the containers so I can keep my refrigerator more organized. This is especially helpful when you have a refrigerator full of meal prep and you need to stay organized.
These Ello containers are the perfect for storing this Feel Good Soup for whenever you might need it.
Tips for Freezing Soup
Make sure the soup is fully cooled down before closing the lid and storing in the freezer. Never cover hot food or place in the freezer as you run the risk of creating an unsafe temperature for storing food.
Leave at least 1″ of space for the soup to expand in the freezer.
Don't store in large batches. Store enough soup for about 1-2 servings at a time.
Label the soup with the contents and the date.
Soup can be stored for up to one year safely, but we prefer to use stored soup within 6 months of freezing.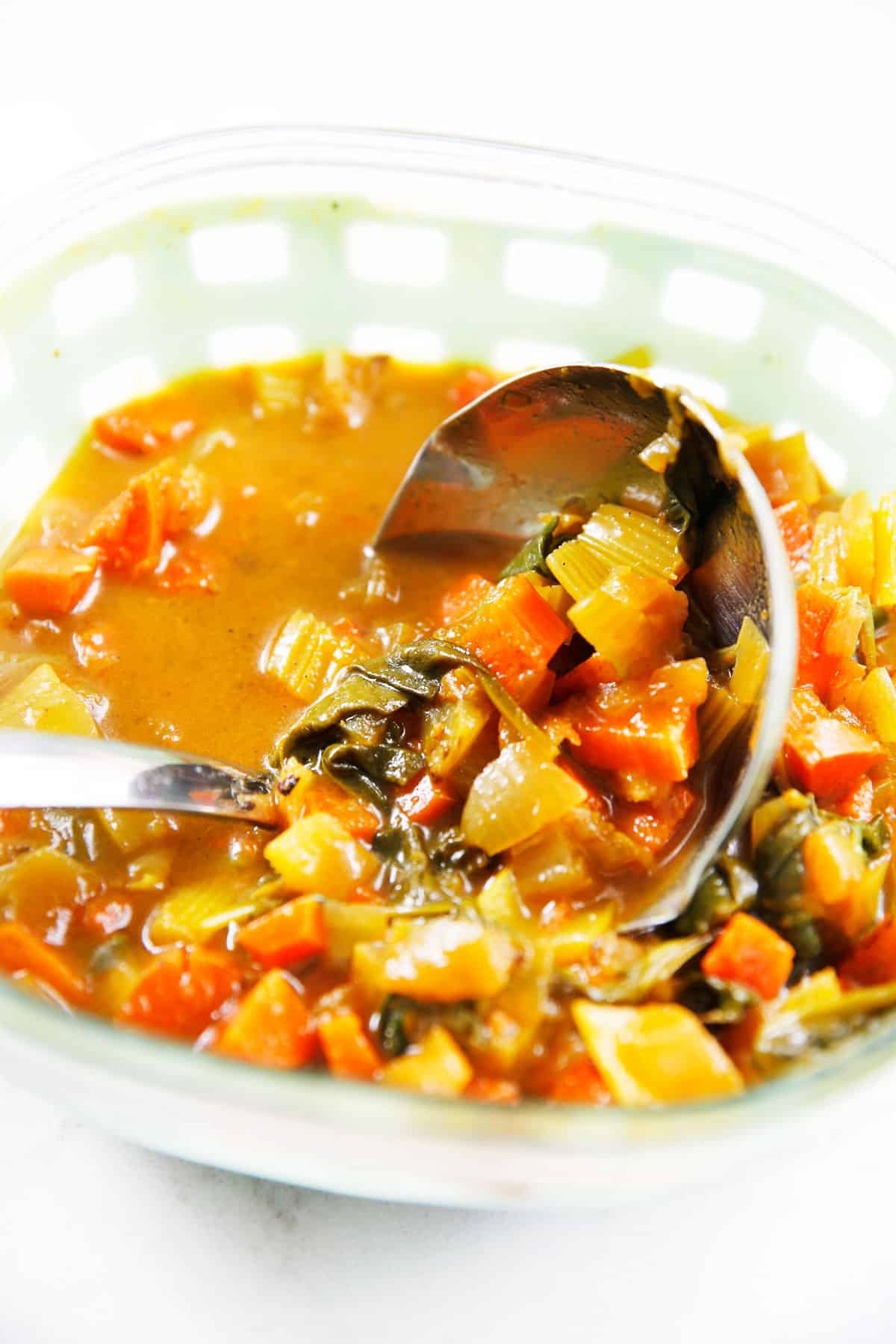 How to Defrost Soup
The best way to defrost soup is to let is sit overnight in the refrigerator first, and then reheat in a pot on the stove. You always want to make sure you bring the soup back up to the point of boiling.
But what if you need the soup like….now, instead of tomorrow? The best way to get soup out of a frozen container is to gently warm up the container so that the soup defrosts on the edges, so that the frozen soup can easily be placed inside of a pot. For the Ello Storage Containers that are glass, you can easily fill a large bowl with lukewarm water and then submerge the container in the water until the edges are slightly defrosted enough to loosen the soup.
Once you are able to get the soup out of the container and into a pot and let it thaw over medium-low heat, stirring to keep the soup from burning on the bottom.
---
Watch the video:
---
If you like this soup recipe, try these soup favorites:
Want more immune boosting recipes? Try these: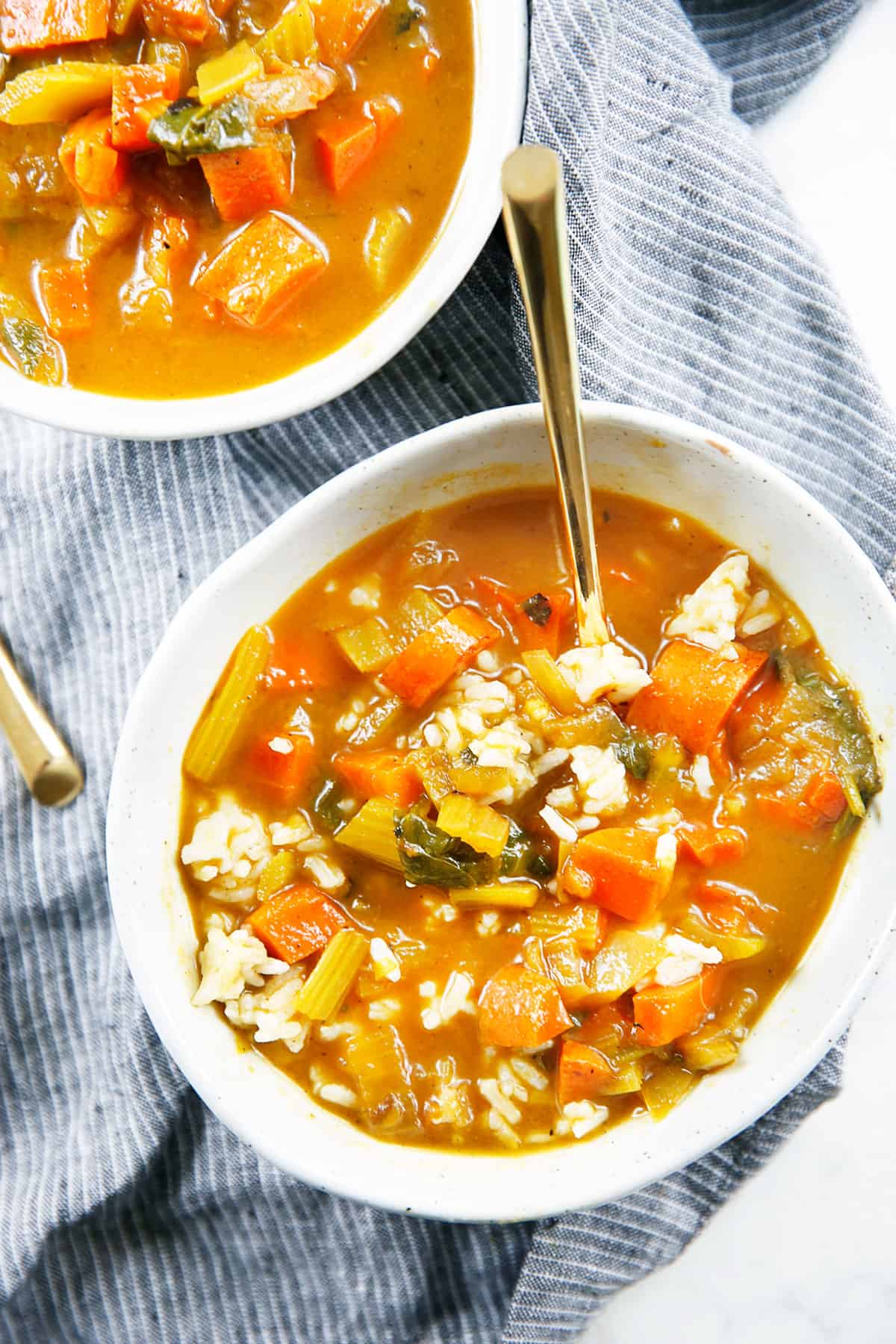 Immune-Boosting Feel Good Soup
This hearty vegetarian soup (with a protein option) is packed with immune-boosting properties, and is the perfect easy soup to help kick any cold or sickness. It's quick to make and has become a family favorite healing soup that we always keep on hand frozen for when we need it!
---
---
Ingredients
1 tablespoon avocado oil or olive oil
3 cloves garlic, minced
2 onions, finely diced
6 large carrots, diced
6 ribs celery, diced
1-1/2 inch piece fresh ginger, grated or 1/4 teaspoon ground ginger
1 teaspoon ground turmeric
1/2 teaspoon fine sea salt, more to taste
1/4 teaspoon freshly ground black pepper, more to taste
6-8 cups chicken broth, veggie broth, or bone broth; homemade or store-bought
2-3 cups chopped kale or fresh spinach
2 tablespoons lemon juice (about 1/2 lemon)
Parsley, for garnish
Optional: 3 cups rotisserie chicken
Directions
Heat oil over medium heat in a dutch oven. Once hot, add garlic and cook for 1 minute.
Add in onions, carrots, celery, and ginger let cook over medium heat for 7-10 minutes, until soft and fragrant. Speed this up by covering your pot with the lid.
Add in turmeric, salt, pepper, and mix to combine.
Add in broth. Bring to a boil then reduce heat and let simmer for 25 minutes.
Add kale or spinach, and optional chicken if adding then let simmer for an additional 5 minutes.
Add lemon juice and taste and adjust salt and pepper as desired.
Serve on its own, or with rice or noodles!
---
Nutrition
Loading nutrition data...
26 comments
April 27, 2020
This website may at times receive a small affiliate commission for products that we shared with you in our posts. Although we may receive a commission for linking certain products, there's no additional costs to you and all of our opinion and suggestions are 100% our own and unbiased. That's our promise to you!
Subscribe to get our FREE clean eating guide!
Join our email list TODAY to start recieving our newsletter weekly, access to exclusive content and deals, *and* a FREE complete 24-page clean eating guide!