Melon Salad with Prosciutto
This Melon and Prosciutto Salad with Mint Apple Cider Vinaigrette is a flavorful and delicious addition to your summer table! It's gluten-free and grain-free, and packed with fresh mint, sweet melon, ripe avocado, salty prosciutto, and the most wonderful light vinaigrette dressing.
Melon Prosciutto Salad
This Melon Salad with Prosciutto screams summer! And it also screams delicious: it's sweet, salty, tangy and creamy! There is so much going on with this salad and in a good way! You want to know what really takes it over the top though? The fresh mint! Seriously, it ties the whole salad together and is NOT TO BE MISSED.
This is the perfect salad to serve up as an appetizer at a summer party but it also works equally as well as a light salad that WILL leave you satisfied.
Here's what is in this Melon and Prosciutto Salad:
Olive Oil
Apple cider vinegar
Honey
Dijon mustard
Fresh Mint
Arugula
Cantaloupe
Honeydew melon
Mozzarella
Prosciutto
Avocado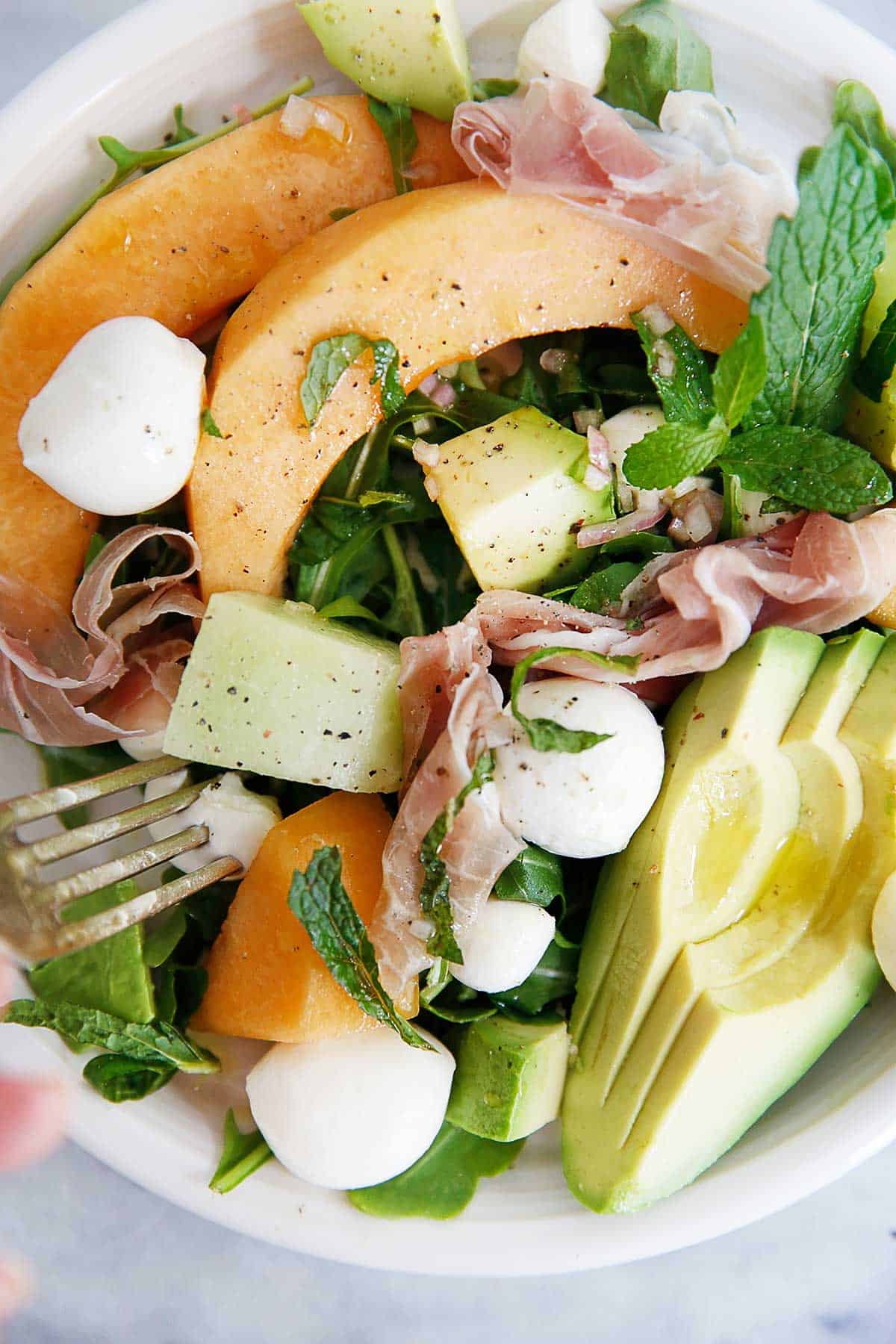 Did you know you need to clean your melons before cutting?
Just in case you didn't know! Make sure to clean your melons before cutting in them! Whenever you are cutting whole fruit, especially melons, you'll want to wash the outside of the fruit in case there are any harmful germs on the outside of the fruit. Of course you aren't eating the melon skin, but you are cutting through it, and the knife can transfer bacteria from the skin into the inner flesh as it gets dragged through! Simple scrub with a vegetable brush with warm water as you would potatoes!
If you like this fresh summer salad recipe, check out these others:
This post is sponsored by Rubbermaid

FreshWorks. All opinions are always, 100% my own!
Melon Salad with Prosciutto
This Sriracha Lime Chicken Chopped Salad is bursting with flavor. Bold, zesty chicken and juicy sweet pineapple make this chopped salad one of our absolute favorites!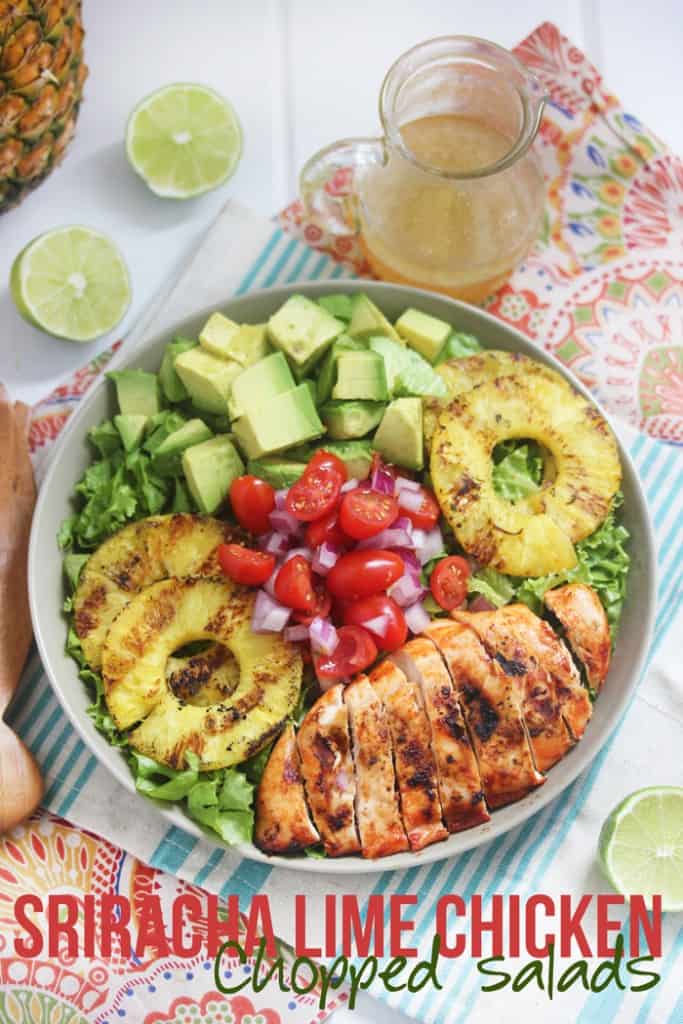 It is so hot here in Boston, and that's coming from the girl who was just visiting Florida in June. Wheeeew, hot. In leu, turning on the stove the past two nights wasn't quite in the cards. The grill was though, paired with this Sriracha Lime Chicken Chopped Salad that is just bursting with flavor.
Let's see what we got: spicy and bold chicken, sweet and juicy grilled pineapple, refreshing crisp local lettuce, local tomatoes, and finally, avocado. Count me in any day of the week. Oh, and don't forget the light and easy lime vinaigrette.

This salad is one of the most popular recipes on the blog, and for good reason! It's simple, flavorful, with a deliciously bold chicken!
A little spice, a little sweet, a perfect dinner! The Sriracha and lime together make for a fabulous marinade that comes together quickly!
Healthy, low-carb, and perfect for summer!

Sriracha Lime Chicken Chopped Salad [VIDEO]
This Homemade Strawberry Vinaigrette adds such delicious flavor to any salad. The combination of fresh, local, sweet strawberries with tangy balsamic vinaigrette is salad dressing perfection. This vegan salad dressing is also Paleo friendly and will be loved by all!
Strawberry Vinaigrette Recipe
This vinaigrette screams summertime! Made with fresh strawberries, tart balsamic vinegar and salt and fresh ground black pepper to round it all out it will be perfect for a spring or summer salad! I also like to use it as a marinade for chicken of for a tart and sweet dip for fruits or veggies.
It's a great way to use up all those fresh, ripe strawberries! They can be slightly overripe, just be sure to test a strawberry from your batch to make sure it tastes good on it's own.
How to use this Berry Vinaigrette:
It works well as a salad dressing when you want a little sweet with your savory salads
Use it as a marinade for chicken
Add to to fruit salad
Use it as a dip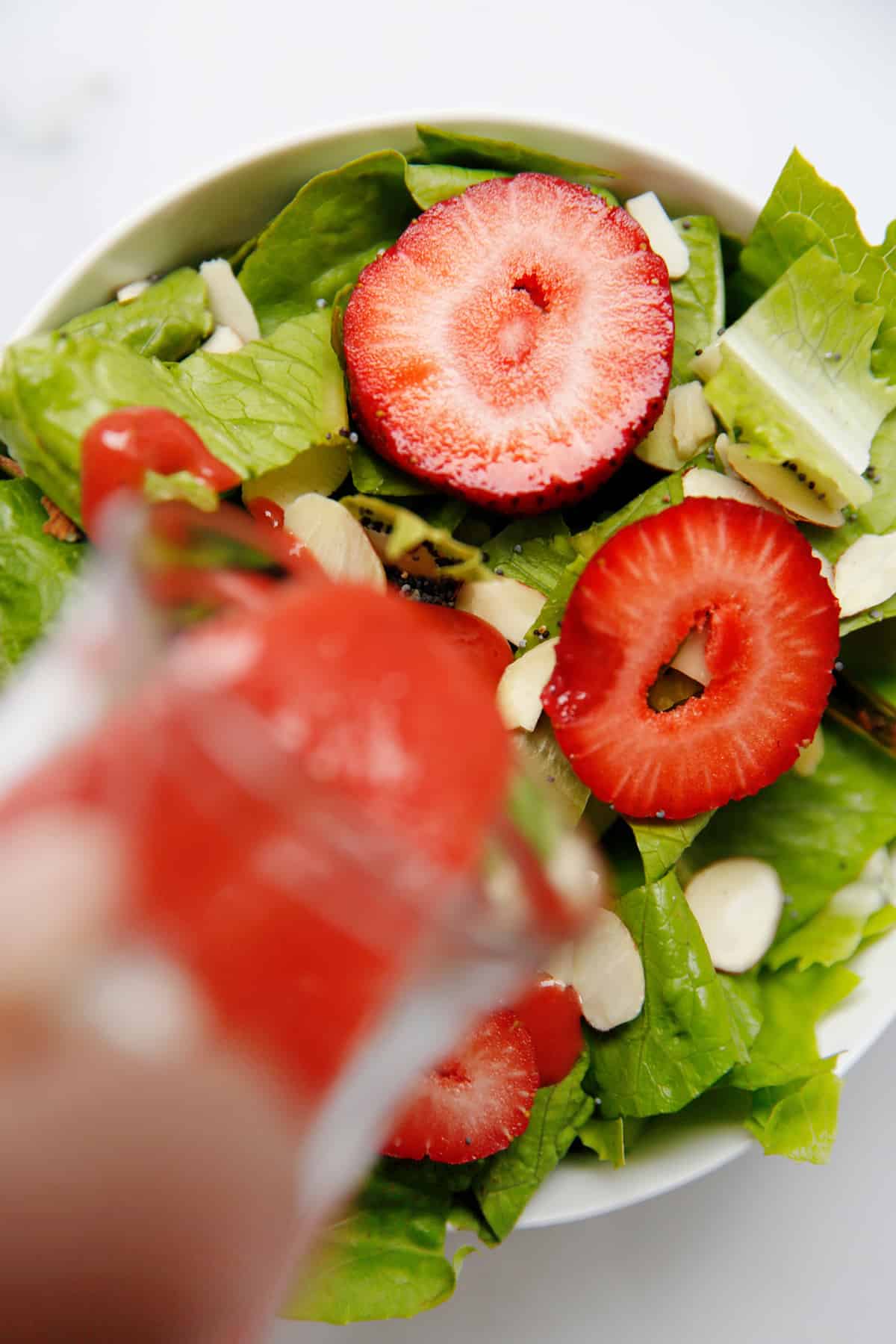 If you like this strawberry recipe, check out these others: