Here's a list of 16 books we are excited to dive into this Summer!
When you were a kid, you were probably assigned some kind of summer reading at school.  s the school year came to a close, you received a list of books that you were expected to pick up before classes resumed in the fall. Even if you loved to read, I have a feeling that this whole thing felt like a bit of a drag. Anything feels less fun when it becomes a requirement… especially when you have summer adventures to get to. 
Now that you're a grown-up, you don't have to deal with assigned summer reading, which means you can spend this magical, sunny season reading anything you want. It's a good thing, too, because there are so many amazing books out there just waiting to be tossed in your beach bag this summer. Here are 16 of them!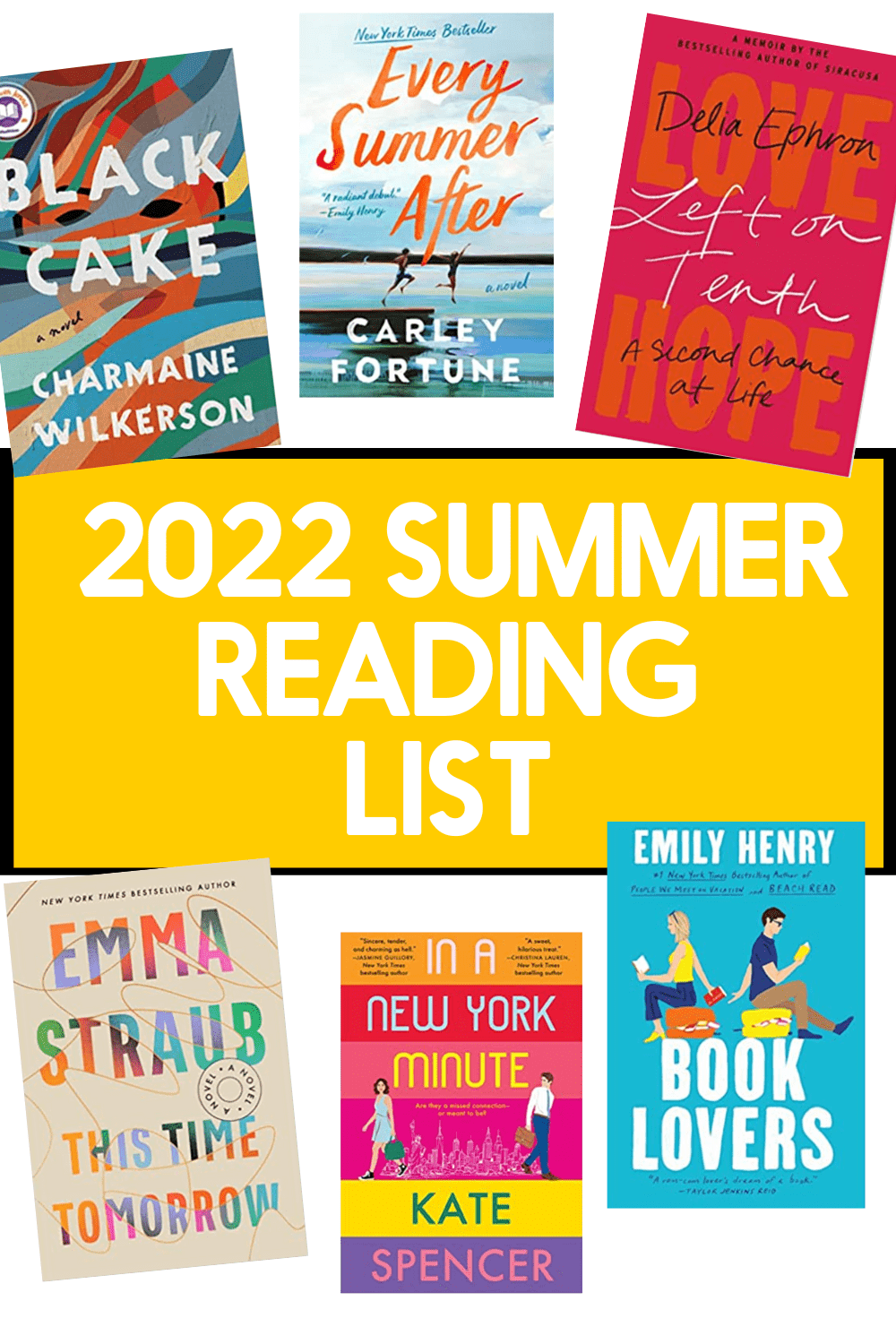 15 Must-Read Books to Pack for the Season's Adventures
1. Every Summer After by Carley Fortune: If the title of this book isn't enough of a clue that it's a must-read for summer, maybe the rave reviews from PopSugar, USA Today, BuzzFeed, and Bustle will convince you to toss a copy in your pool bag. There's also the story itself, which revolves around a young woman named Persephone Fraser who returns to her hometown of Barry's Bay… and to a former love interest who she thought was totally off-limits. There's a summery setting, endearing characters, and — of course— a love story.
2. Finding Me: A Memoir by Viola Davis: There's never a bad time to read a celebrity memoir, but there's something about the summertime that makes me that much more excited to lose myself in the real-life story of a person I'm used to seeing only on-screen. This summer, the queen of the memoir game is Viola Davis, who you probably recognize from movies like The Help, Fences, and Widows. There's so much more to this incredible actress than meets the eye and she shares all the details of her life in Finding Me. 
3. True Biz: A Novel by Sara Nović: The year isn't quite halfway over, but I'm already pretty confident that True Biz is going to secure a spot on my list of favorite 2022 reads. It centers a group of characters who are part of the deaf community and I learned so, so much from it about how to be a better ally to people who are hard of hearing. Bonus points for a boarding school setting, which is always a plus.
4. Book Lovers by Emily Henry: I can't help but assume that anyone who is reading this list is at least kind of a book lover… which means this one is for you! The latest from the author of Beach Read and People We Meet on Vacation, Book Lovers has been getting tons of love from the literary community. And rightfully so! A will-they-or-won't-they story of book agent Nora and brooding editor Charlie, it's the peak summery romance of 2022.
5. Black Cake by Charmaine Wilkerson: The cover of this book is so gorgeous that I think you might call it a work of art — and that's just the outside! The pages of Black Cake are an artistic feat unto themselves. Inside this novel, you'll find an intergenerational story that spans decades and continents, long-buried family secrets, and a mysterious black cake recipe that unites people under the most challenging of circumstances. The fresh cast of characters includes long-distance swimmers, a social media-famous scientist, and an expert on world cuisine.
6. The Wild One: A Novel by Colleen McKeegan: Did you grow up as a camp kid? If you weren't a camp kid, did you wish you could be? Do you just love a good thriller? If your answer to any of these questions is "yes," it's time that you run — don't walk! — to get yourself a copy of The Wild One. Debut author Colleen McKeegan builds a suspenseful story of flashbacks and high tension set in Manhattan high-rises and a rural sleepaway camp. You'll read it in a single sitting!
7. This Time Tomorrow by Emma Straub: Time travel? A chance to get a mid-life reset? Nineties nostalgia? It's all right here in This Time Tomorrow, which was an instant New York Times bestseller. This book has been just about everywhere lately, and you won't want to be left out of the chatter about it. 
8. How to Raise an Antiracist by Ibram X. Kendi: It's important for all of us to learn to be better allies for people of color — and all people, really — but we can't stop there. We also need to share those lessons with our kiddos! I hope that we've all kept up our antiracism energy over the last few years, and thanks to Ibram X. Kendi's new book for parents, we have the opportunity to pay it forward. Let's grab that opportunity with open hands!
9. Left on Tenth: A Second Chance at Life: A Memoir by Delia Ephron: Delia Ephron is best known for writing some of the rom coms you probably already know and love (You've Got Mail, anyone?), but she takes a different tone in this memoir. The story is less about romance and more about resilience, taking readers through a series of Delia's challenges, including the loss of a sibling, the loss of a spouse, and a terrifying diagnosis. Don't worry: there are some high points, too! It is Delia Ephron, after all. 
10. Half-Blown Rose: A Novel by Leesa Cross-Smith: If you're dreaming of a European adventure this summer but don't think you'll be able to make it happen IRL, Leesa Cross-Smith's new novel will almost make you feel like you made the trip. The backdrop of Half-Blown Rose is Paris — more specifically, a Paris populated by artists, complicated romance, and betrayal. Make sure you pack plenty of sunscreen with this one because you're not going to want to look away!
11. The Latecomer: A Novel by Jean Hanff Korelitz: Jean Hanff Korelitz's The Plot got lots of buzz when it hit shelves last year, and she certainly did not disappoint with The Latecomer. It's an intimate account of the wealthy Oppenheimer family and what happens when a fourth child is added to the mix when triplets Harrison, Lewyn, and Sally leave for college. More is usually merrier, but that doesn't mean the latecomer isn't going to shake things up.
12. In a New York Minute by Kate Spencer: Think about your favorite rom-com. Do you have it in your head? Great. Imagine putting all of the magic, sparkly energy of that movie and putting it on paper. Sounds pretty fantastic, right? It is — and it already exists in the form of Kate Spencer's In a New York Minute. This is truly the ultimate summer read and I guarantee that you'll be recommending it to friends as soon as you turn the final page.
13. Nora Goes Off Script by Annabel Monaghan: Whether we know it or not, we're all living our lives based on some kind of script. Sometimes, we improvise by choice — but other times, we have to rewrite the story thanks to circumstances outside of our control. In Nora Goes Off Script, a screenwriter named Nora is forced into a major life revision when her husband leaves her and their two children. Suddenly, she's feeling the pressure to deliver a smash hit with her new screenplay so she can secure financial stability for her family. She knows what she's doing there, but she's a little less prepared to deal with the sexy actor who is cast in the film. Spicy!

14. Remarkably Bright Creatures: A Novel by Shelby Van Pelt: The Today Show's Read With Jenna Book Club recently chose Remarkably Bright Creatures, but you should consider picking it up even if you're not part of the club. Come for the bright, whimsical cover and stay for the friendship, mystery, and ocean life.
15. What They Don't Teach You at Harvard Business School: Notes from a Street-smart Executive: To this day, McCormack's business classic remains a must-read for executives and managers at every level. Relating his proven method of "applied people sense"in key chapters on sales, negotiation, reading others and yourself, and executive time management, McCormack presents powerful real-world guidance.
16. Just Like Home by Sarah Gailey: Throw this thriller in your beach bag! A story of a young woman who returns to her childhood home to care for her sick mother, even though the house is filled with memories of her late serial killer father. 
2021 Summer Book List:
2020 Summer Book List:
The Jetsetters: A Novel by Amanda Eyre Ward
The Two Lives of Lydia Bird: A Novel by Josie Silver
Summer Longing by Jamie Brenner
All Adults Here: A Novel by Emma Straub
Little Family: A Novel by Ishmael Beah
Happy and You Know It by Laura Hankin
Beach Read by Emily Henry
Big Summer: A Novel by Jennifer Weiner
Brunch and Other Obligations: A Novel by Suzanne Nugent
Summer Darlings by Brooke Lea Foster
The Jane Austen Society: A Novel by Natalie Jenner
Exciting Times: A Novel by Naoise Dolan
What books are you reading this summer?