This 2-Minute Watermelon Juice is quick, simple, and so refreshing! This (optional) four-ingredient, or less, recipe is just what you need on a hot summer day!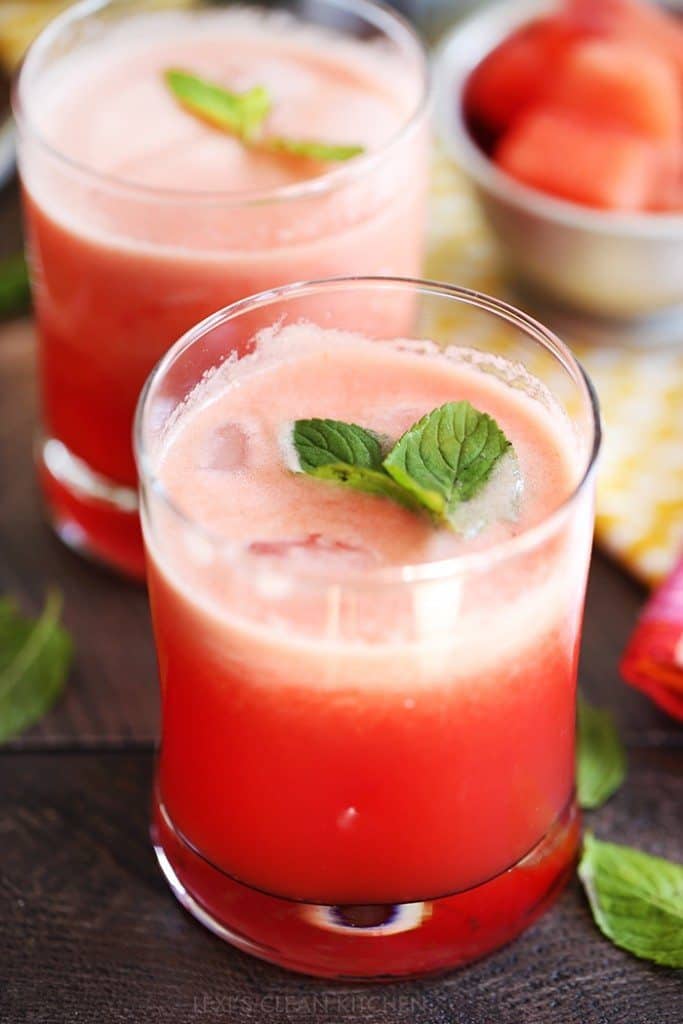 How to Juice a Watermelon
Sometimes when it's hot out, the only thing that sounds good is an ice cold glass of something refreshing. And that's where this Watermelon Juice comes in. You can also use this watermelon juice in my Watermelon Margaritas!
This recipe is made with blended watermelon, fresh mint, and optional lime and honey. It's so simple, so quick to make, naturally sweetened, and the perfect way to cool off in the summer. Everyone will love this easy fruit drink.
What You'll Need
Watermelon: you'll need 3 cups of fresh watermelon cubes. Frozen will work too, but it won't be as fresh and it will be more like a slushy.
Mint (optional): garnishing your glass with some fresh mint leaves adds delicious freshness and makes it look pretty.
Lime (optional): I love to add a splash of fresh lime juice to give the drink a subtle tangy flavor.
Honey (optional): for some extra sweetness, if desired.
How to Make Watermelon Juice
This watermelon juice recipe really comes together in just a couple of minutes!
Blend: Place watermelon cubes into a blender and blend until smooth.
Add flavor (optional): Add lime and honey if using, then blend again.
Strain: If needed, strain! If you use a high-speed blender, you can omit this step.
Garnish and serve: Garnish with mint and serve in your favorite glass.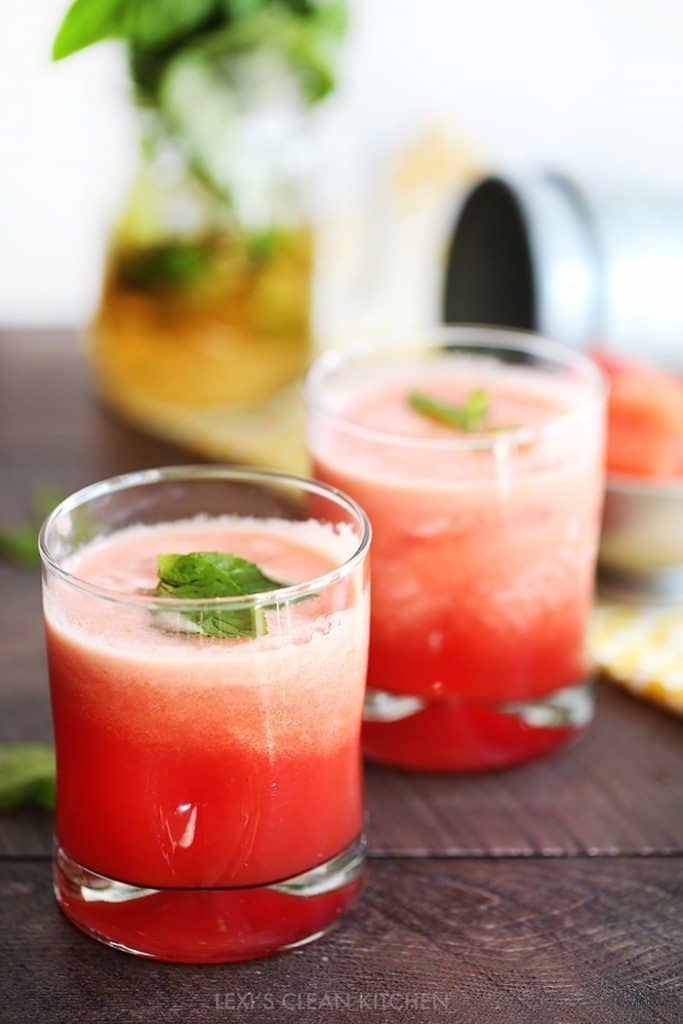 Benefits of Watermelon Juice
There are plenty of watermelon juice benefits! Watermelon is super high in vitamins A, B, and C as well as potassium and antioxidants. It's also over 90% water.
And the same goes for the juice. It's loaded with vitamins and nutrients AND it's super hydrating.
Is it Good to Drink Watermelon Juice Everyday?
Like all things, you should enjoy watermelon juice in moderation. Sugar is sugar. However, there's nothing wrong with sipping on a glass of this refreshing stuff everyday!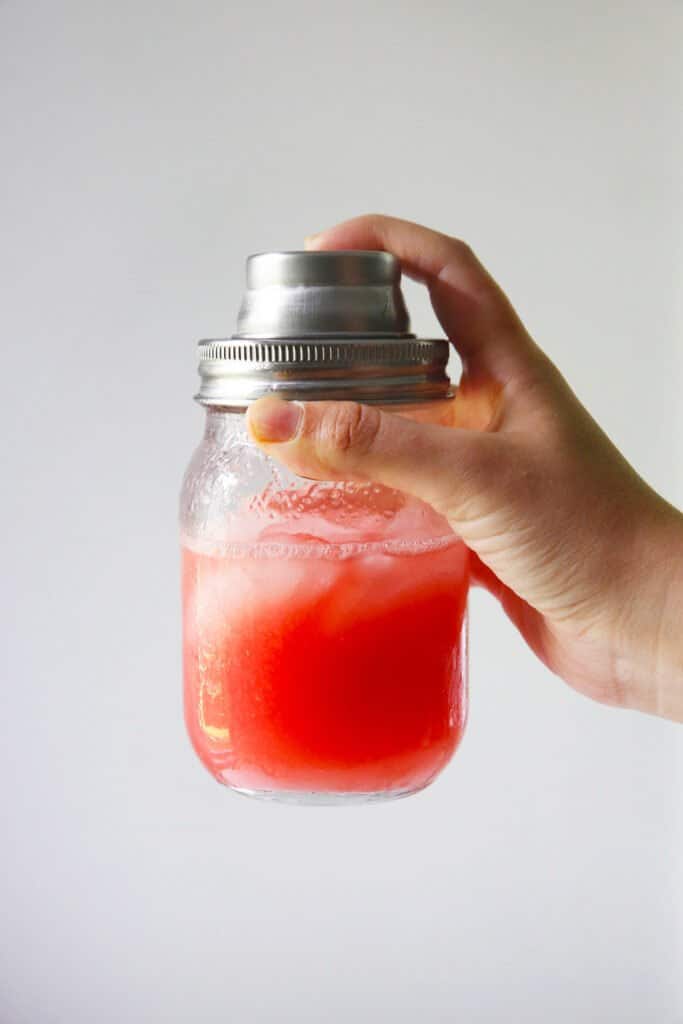 Tips and Notes
Get seedless. Seedless will have the little white seeds, but not the big black ones. We don't want those.
To find a good watermelon, give it a knock with your knuckles. It should sound hollow. The skin should also be more dull than shiny. The riper the watermelon, the sweeter the juice.
If you love mint, blend some in along with the lime and honey.
Make it boozy. Add a splash of tequila or white rum for a refreshing summer cocktail.
How to Store
Leftover watermelon juice will last in the fridge for up to 3 days. You can also freeze it and make it into a slushy or turn it into delicious watermelon popsicles. It will last in the freezer for up to 2 months.
Other Drink Recipes We Love
Watch The Video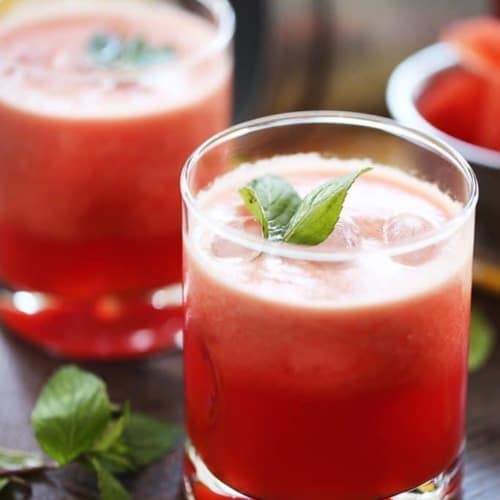 2-Minute Watermelon Juice
This 2-Minute Watermelon Juice is quick, simple, and so refreshing!
Ingredients
3

cups

fresh watermelon

more as desired

Optional: 1/2 lime

squeezed

Optional: 2-3 teaspoons honey

Optional: Fresh mint leaves

for garnish
Instructions
Optional: Taste and add lime or honey as desired, and blend again.

If not using a high-speed blender, strain your juice.

Blend, pour, garnish, and serve. Everyone will love this easy fruit drink, with none of the junk of fruit juices from the store!