If you are looking to put a little magic into your day, you are going to want to make this Birthday Cake Granola. Made with oat and nut granola clusters, sprinkles and white chocolate…and it is definitely as fun as it sounds. This granola is full of fiber and healthy fats, but more importantly, a little whimsy!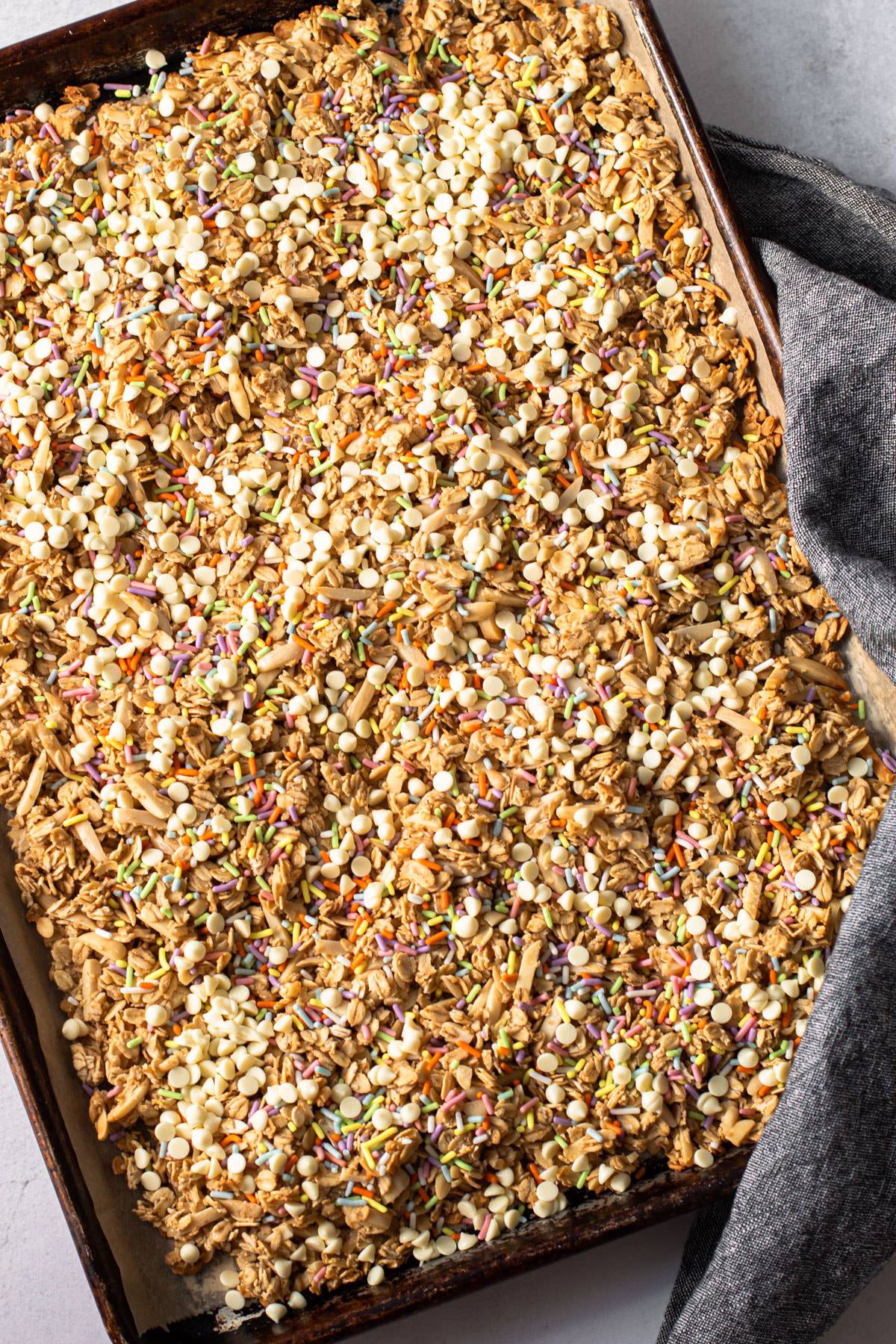 Super Fun Sprinkle Cake Granola
I am pretty sure you will not find a more fun granola out there than this Birthday Cake Granola recipe! We took our super popular Granola recipe, and added a little magic to it to turn it into a sprinkled-filled oat and nut granola. It's a super bright start to the day, or because this is on the sweeter side, an easy dessert, too. Either way, you dish it out, you're going to love this granola filled with oats, nuts, white chocolate chips and sprinkles!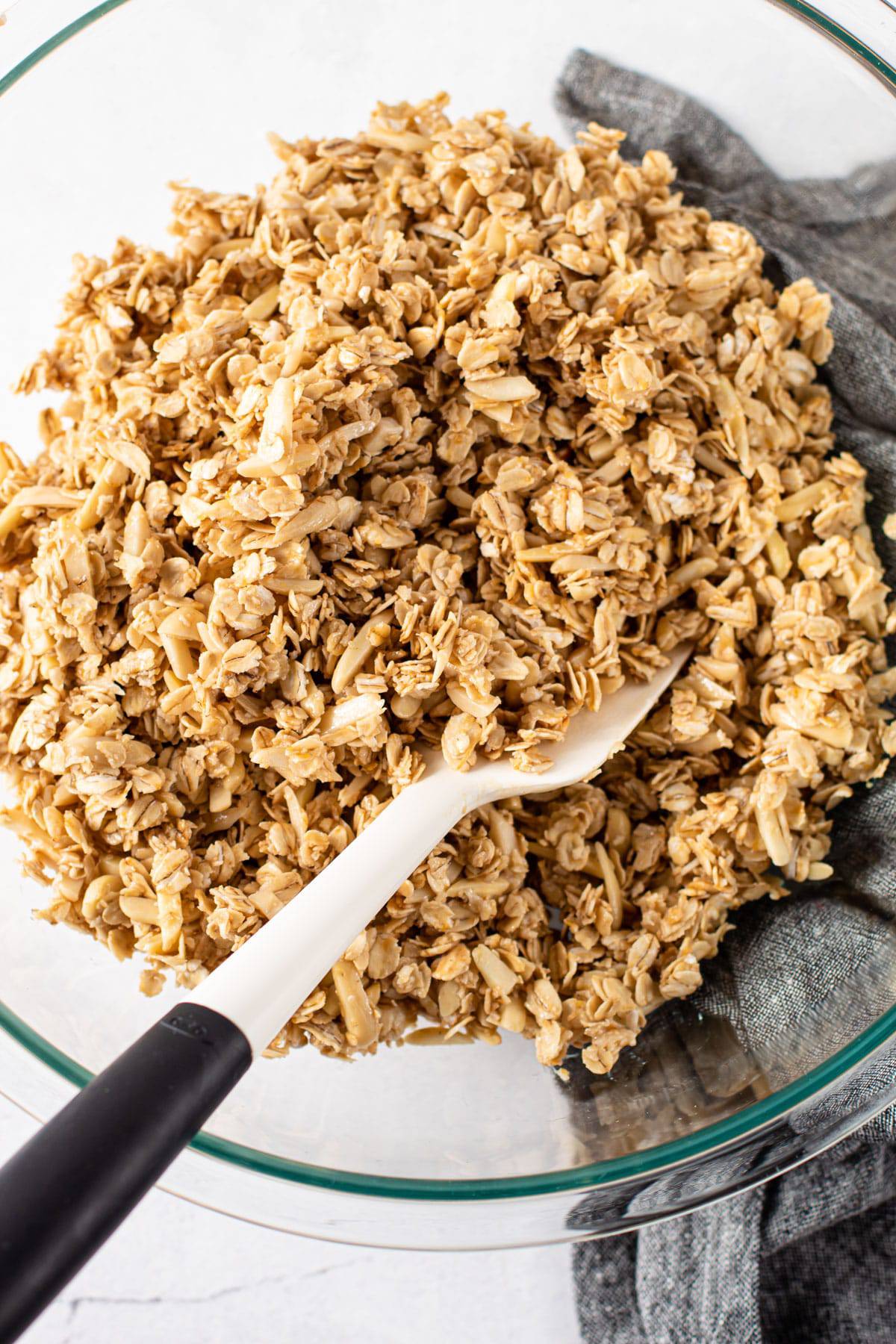 Ingredients Needed
Rolled Oats
Slivered Almonds
Butter
Honey
Maple Syrup
Vanilla Extract
Almond Extract
Pinch of salt
Egg White
Sprinkles
Mini White Chocolate Chips
Substitutions
Oats: Look for Old Fashioned or Rolled Oats! Quick oats don't work well in granola.
Almonds: You can swap in any type of nut, or even use seeds such as pumpkin or sunflower seeds.
Butter: You can swap this out for coconut oil if you want. Though if you are doing so to make it dairy-free you'll need to look into alternatives for the white chocolate and check for the labels of the sprinkles in case it has dairy in it. Swapping out the butter will make this taste a bit less like a "birthday cake" flavor.
Sweeteners: We call for the use of both maple syrup and honey because we didn't want the granola to take on the taste of either one of them, and have found that when they are used in equal parts, they have a more neutral flavor. But if you only had one, that is fine too.
Extracts: The use of vanilla and almond together make for the birthday cake flavor we all know and love. Don't skip out on them!
Are oats gluten-free?
Oats are naturally gluten-free, but can come into contact with wheat, rye, or barley during harvesting or transportation. So if you have a gluten allergy or intolerance look for the gluten-free labeled rolled oats.
Let's Talk Healthy Sprinkles
While we aren't exactly claiming this granola to be the healthiest of healthy granola, we did feel it important to look for sprinkles that contained natural ingredients and no artificial food dyes. Luckily there are plenty on the market now. Here are some of the ones we've tried:
Our Best Tip for Making this Granola
This granola recipe uses my famous secret for making granola with clusters. That not-so-secret-anymore secret is to fold in a whipped egg white into the granola before it bakes. And then our best tip: let the granola cool completely before you touch it. That means that the granola will set together as it cools, and then you break it up into clusters.
But one problem we needed to solve with this granola was how to get the chocolate chips and the sprinkles to set with the granola without melting. It turned out to be a pretty simple problem to solve because all we needed to do was sprinkle the white chocolate chips and the sprinkles directly on top of the granola while it's still hot and then don't touch it! The white chocolate definitely gets melty at that point, but because you aren't touching it until it's cooled, it will keep its shape, and at the same time, some of the sprinkles will set into the granola.
Once the granola is fully cooled (we're talking hours of wait time), you can then break apart the granola into clusters.
How to Store It
Store the granola at room temperature in an airtight container, such as a mason jar with a tight-fitting lid.
How Long Will This Granola Last?
You can store this granola for about a month! But honestly, it's doubtful a batch will last that long because it's hard to stop snacking on it!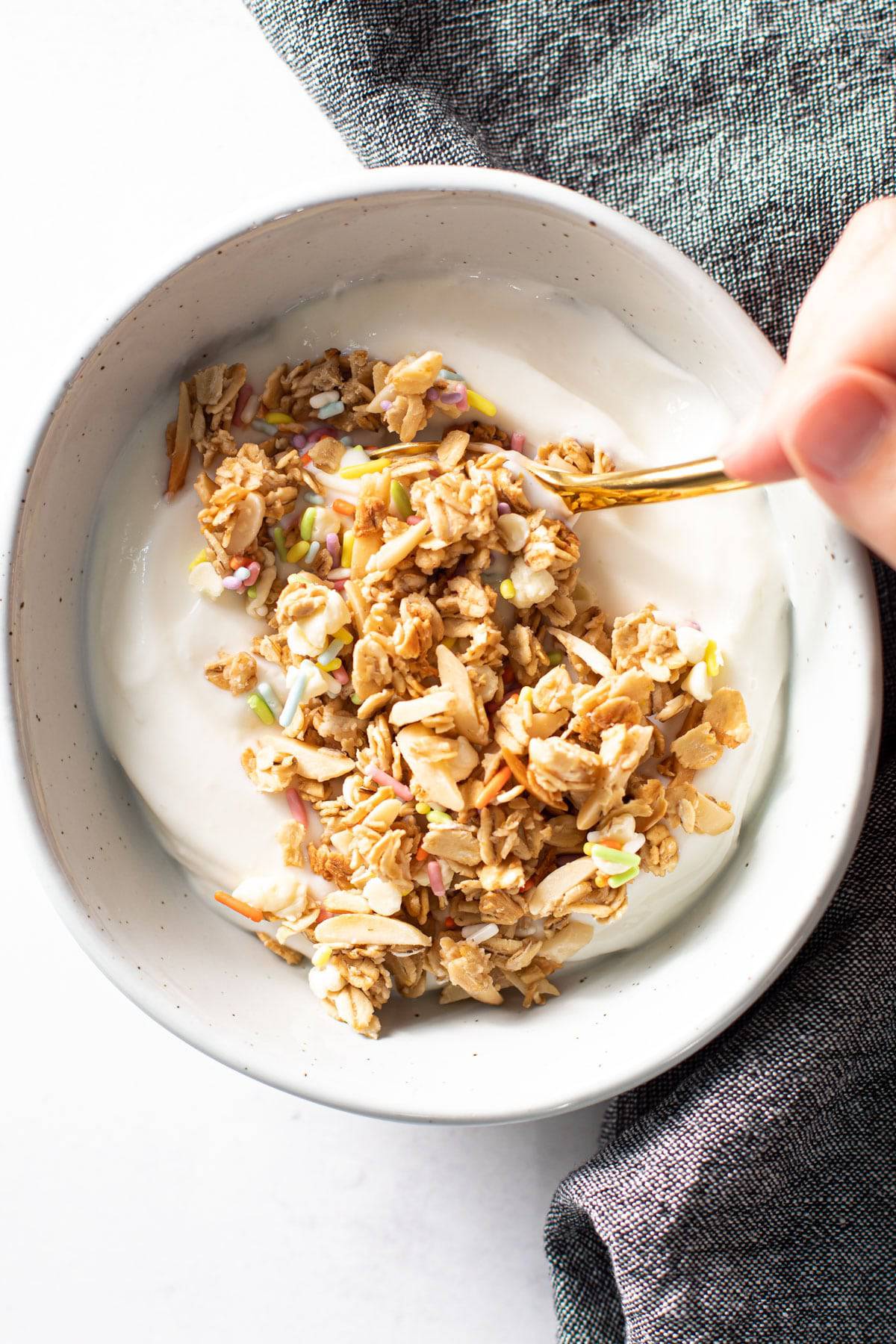 Ways to serve Birthday Cake Granola
You get to decide: is this granola breakfast or dessert? Either way works for us! But here are some suggestions on how to serve it:
With milk-of-choice and berries
With yogurt (check out this coconut milk yogurt recipe or greek yogurt recipe)
In a smoothie bowl
Straight up as a snack
On top of ice cream
With banana or an apple and nut butter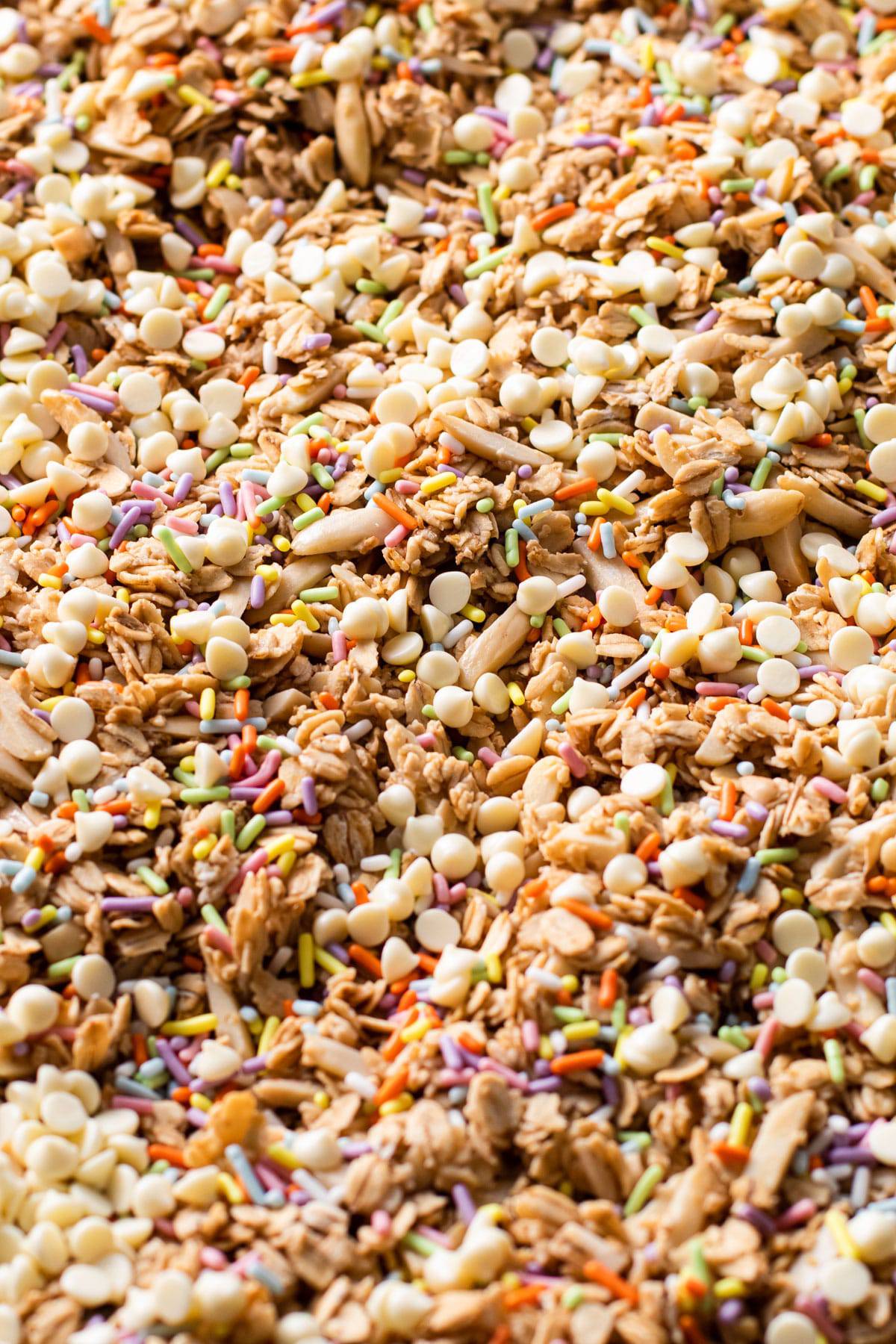 Watch the video:
---
---
If you like this breakfast recipe, check out these others: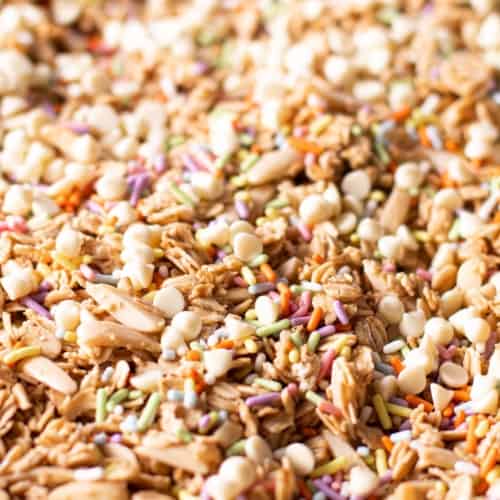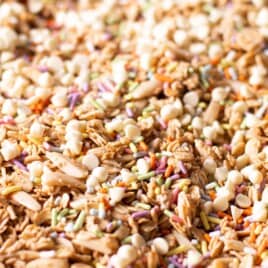 Ingredients
4

cups

rolled oats

see note

1

cup

slivered almonds

1/4

cup

butter or coconut oil

melted

1/4

cup

honey

¼

cup

maple syrup

1

teaspoon

vanilla extract

1/2

teaspoon

almond extract

Pinch

of salt

1

large egg white

1/2

cup

sprinkles

½

cup

mini white chocolate chips
Instructions
Preheat oven to 350 °F. Line a baking sheet with parchment paper.

Add oats, almonds, melted butter, honey, maple syrup, vanilla extract, almond extract, and salt and mix together.

In a separate bowl, whisk the egg white vigorously until frothy. Add the frothed egg white to the oats and mix well.

Transfer the oat mixture to the baking sheet and spread it out evenly. 

Bake without stirring, until golden brown, about 12-16 minutes. Watch carefully to avoid burning.

Once you have removed the granola, evenly spread the sprinkles and the white chocolate on top of the hot granola. Then let it cool fully (this could take a few hours).

Once cool, break into clusters and store in an air-tight container for up to 4 weeks.
Notes
If you have dietary restrictions with gluten, make sure to look for certified gluten-free oats.
Nutrition
Serving:
1
/15 recipe. About 2/3 cup
Calories:
267
kcal
Carbohydrates:
34
g
Protein:
5
g
Fat:
13
g
Saturated Fat:
3
g
Cholesterol:
11
mg
Sodium:
97
mg
Fiber:
2
g
Sugar:
15
g