Pumpkin Overnight Oats are just the breakfast to make-ahead for a quick, seasonally on-point morning!  These oats are creamy (without any dairy) and with just the right amount pumpkin spice. This vegan-friendly and gluten-free overnight oats recipe pack a lot of fiber into your breakfast to leave you satisfied all morning long! This post is made in partnership with my friends at Ello.
Pumpkin Spice Overnight Oats
We just love overnight oats because of how easy they are to make and prep ahead of time, so as October comes closer, we knew it was time to pumpkin spice it up! This Pumpkin Overnight Oats recipe is the perfect start to a crisp fall day, whether you eat it cold on-the-go or reheated for a warm breakfast.
It's slightly sweet, full of fiber and bursting with seasonal fall flavors. Overnight oats couldn't be easier to make. You simply place all of the ingredients in a container, mix it up with a spoon and it's ready to go the next morning. The oatmeal tastes so creamy without ever adding any dairy at all. Plus, it takes 5 minutes to throw together!
Ingredients Needed
Gluten-free Old Fashioned Oats

Milk

Pumpkin Puree

Raisins OR Mini Chocolate Chips

Pecans (optional)

Maple Syrup

Chia Seed

Vanilla Extract

P

umpkin Pie Spice
Substitutions
Oats: Don't need to be gluten-free? Use whatever brand works for you. We recommend old fashioned oats / rolled oats for this, because it gives the best bite. Quick oats can work, but they'll be a bit softer. Steel-cut oats will not work for this.
Sweetener: You can substitute in another sweetener that works for you. Start with a teaspoon, and add more if desired. You can omit the sweetener, but pumpkin is a strong flavor and is balanced by the use of a touch of sweet.
Nuts: Make this nut-free by omitting the nuts. Or you can also swap in another kind, if desired.
What Type of Milk to Use
You can use any milk you typically enjoy! We've tried this with almond milk, oat milk, boxed coconut milk, and regular dairy milk. If you are using canned coconut milk you may need to cut it with water, otherwise, it will be too thick. We've also tried this with greek yogurt as well, though that too is quite thick so we suggest adding in a bit of water to thin it out.
How Do You Make Overnight Oats?
It's so super simple to make overnight oats! Simply measure out the oats, milk of choice and additional flavors and place in a container. Give it a shake and close it up and place in the refrigerator. You can leave it to sit overnight, as the name suggests, but really it is ready to consume after about 3 hours.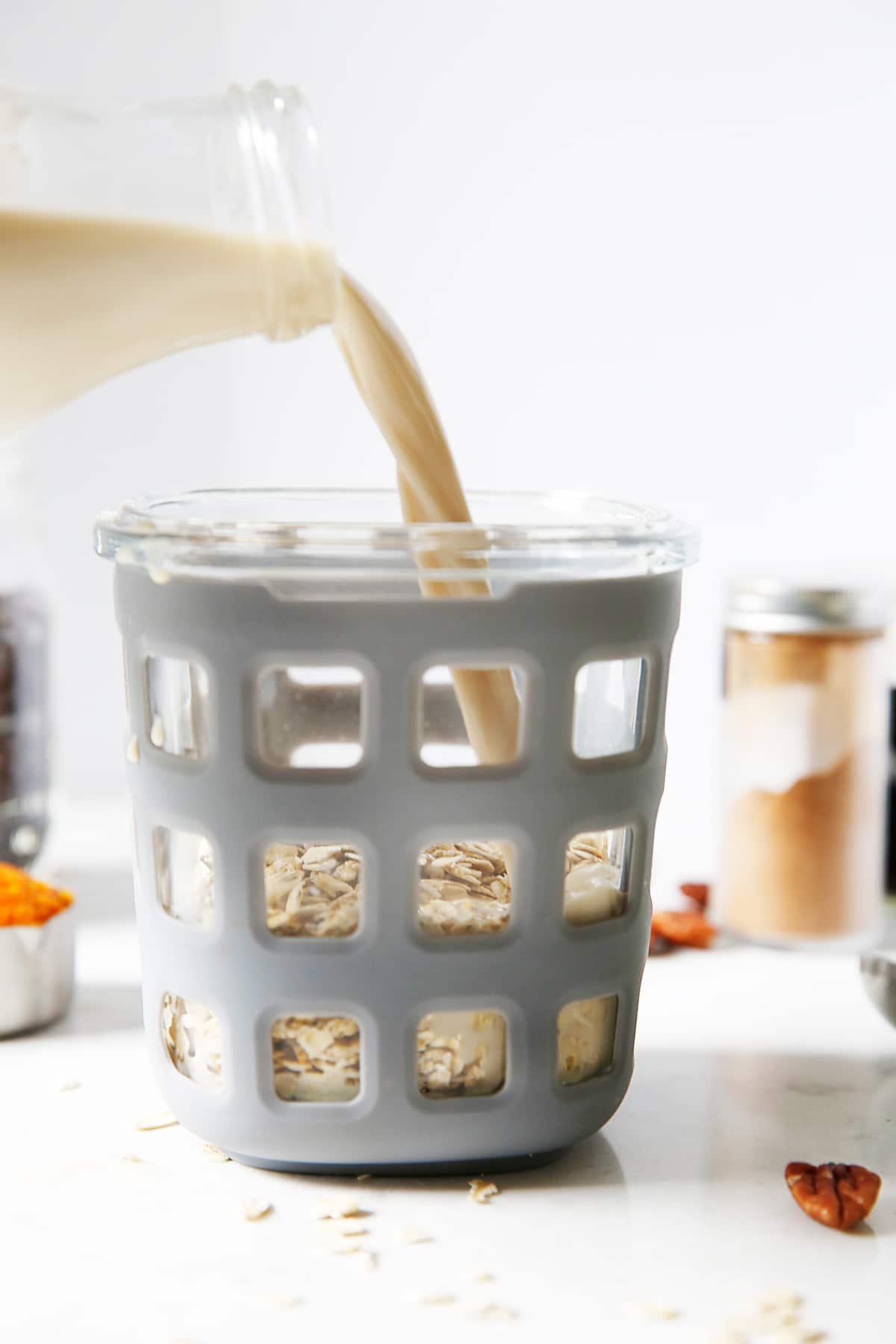 How to Store It
One of the best parts of this recipe is that you can make it directly inside of the container you plan to store it, and eat it from!
I love to store everything in glass and have been using Ello Food Storage Containers for a few years now. They recently came out with Duraglass™ Round Food Storage Containers that are absolutely perfect to make and serve these overnight oats in. These unique round storage containers are slim, and easy to hold in your hand, especially when on-the-go. Plus, these glass containers are heat-safe, which means if you want to heat up the pumpkin oats quickly in the microwave, it's perfectly safe to do so.
Why We Love Ello Food Storage Containers
I use glass containers for many reasons, including the obvious: plastics are bad for the environment and can contain harmful chemicals when coming in to contact with food.
The new Duraglass™ Round Food Storage Containers are awesome because they are free of harmful chemicals, they can be heated, are dishwasher safe and they don't stain or have a funny smell. But what makes them different is the protective silicone sleeve. It prevents the glass from breaking or chipping, as can happen often if you are using glass containers regularly. Plus, you don't have to take the silicone sleeve off to wash it.
And my favorite part? The colorful leak-proof lid! The crystal clear Tritan lid and colorful silicone sleeve let's me easily see what is in the containers so I can keep my refrigerator more organized. This is especially helpful during the busy back-to-school season and start of fall when there is a lot of food being cooked and prepared ahead of time.
Do you eat overnight oats hot or cold?
Overnight oats are a great and easy on-the-go breakfast! Grab it out of the fridge, cold or if you really want to heat it up place it in a small pan and warm it up with a little extra almond milk on low heat (or in the microwave if you use one).
How long can you keep overnight oats in the refrigerator?
I keep my overnight oats for up to 3 days in the refrigerator.
If you like this oat recipe, check out these others: