These Homemade Chocolate Turtles are the ultimate lightened-up homemade candy. They're so delicious and making them at home is easy, using only a handful of wholesome ingredients like our Vegan caramel, pecans and dark chocolate. They are the  perfect treat to have on hand in the fridge or freezer for when you want something sweet!
Homemade Chocolate Turtles
Homemade Chocolate Turtles just might be the best homemade candy of all time. If you don't know what a turtle is, let me tell you: It's chocolate with homemade caramel and pecans. We made a handheld version that is easy to make and eat. Plus we lightened these up using vegan, dairy-free caramel and dark chocolate, so these are essential a healthy snack, right?! Run, don't walk, into the kitchen to get started on these now!
Ingredients Needed:
How to Make Chocolate Turtles
To make these chocolate turtles you mostly just assemble ingredients. The only thing that needs to be prepared is the caramel. For this recipe, we are using our favorite vegan caramel. It is made with a handful of wholesome ingredients and is super simple to make requiring no special equipment and it's made in just under 20 minutes. We tested this dairy-free caramel with three different types of unrefined sweeteners: maple syrup, honey and coconut sugar. They truly all have their own flavor, so you can make whichever you'd like. We really enjoyed using a mix of the coconut sugar and maple syrup for our turtles recipe.
Here is how simple it is to make the caramel: You put all of the ingredients in a medium-large pot and cook it over medium-high heat, undisturbed for about 15 minutes until it's slightly thickened and darkened in color. Seriously, how easy is that? We wrote a whole post about it, so go check out all you need to know and the exact recipe to make it there.
You will want to let your caramel cool before trying to use it in this recipe. If possible, let it cool overnight in the refrigerator. As the recipe says, this caramel will be thin when it is first made and will thicken up as it chills.
Once you've got your cooled caramel you can mix in some pecan pieces and melt the chocolate. After that, there isn't too much more to do other than assembling! We used a muffin tin to make our turtle cups. Line a 12-cup muffin tin with parchment paper or silicone liners and then add in some chocolate. Using a spoon, push the chocolate 1/3 of the way up the sides. Next, freeze it for 10 minutes. Then, add in the turtle mixture, before topping with more chocolate and sea salt if desired.
How to Melt Chocolate
We suggest melting chocolate over a double-boiler. Most people don't have an actual double boiler at home, so make up your own by placing a heat proof bowl over a simmering pot of water. Just make sure that the bowl is not touching the water. Using this method to melt the chocolate is easy and it ensures you don't over cook the chocolate. Overcooking the chocolate can make it separate, or "break".
The microwave is an alternative way to melt chocolate. If you do use the microwave heat the chocolate in very short bursts, no more than 20 seconds, while whisking in between each time.
How to Eat and Store Chocolate Turtles Cups
These chocolate cups are best eaten when they are slightly warmed at room temperature (so the chocolate isn't super hard), but they're best stored in the refrigerator or freezer.
They'll keep in the refrigerator for up to 1 week or slightly longer. And in the freezer they'll keep for up to 3 months.
I like to store them in the freezer long term, and then grab out when I'm craving a healthy treat. Let it sit on a plate at room temperature for about 15 minutes and then it will be good to go!
If you like this lightened up treat, check out these others:
---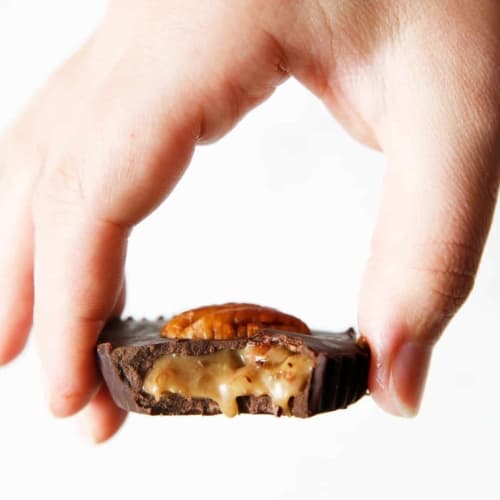 Caramel Turtle Cups
These Caramel Turtle Cups are the ultimate cleaned up homemade candy treat, that's delicious and easy. It uses our homemade Caramel and is perfect to have on hand in the fridge or freezer for when you want something sweet!
Ingredients
1/2

cup

vegan caramel

prepared and cooled

1-1/2

cups

about 10 ounces dark chocolate chips

2

teaspoons

coconut oil

1/3

cup

pecans

toasted and chopped finely

12

whole pecans

for garnish
Instructions
Place parchment paper or silicone muffin liners in a 12-cup muffin tin and set aside.

Melt chocolate using the double-boiler method: Bring a small saucepan of water to a simmer and place a heatproof bowl over the top. Make sure the simmering water isn't touching the bowl. Add the chocolate and the

coconut oil

to the bowl and slowly melt and stir the chocolate, whisking together at the end. Alternatively you could melt the chocolate in the microwave at 20 second intervals, whisking in between until it's fully melted.

In a small bowl combine cooled caramel and pecans and mix together.

Place 2 teaspoons of chocolate into each of the molds with a spoon and gently push the chocolate 1/3 of the way up the sides of the parchment paper. Place in the freezer to harden for 10 minutes.

Remove from freezer and drop in about 1 tablespoon of caramel mixture into the center of the chocolate and smooth down.

Top the caramel with 2 teaspoons melted chocolate and let sit for a few minutes before topping with whole pecan.

Store in the refrigerator for 1 week or in the freezer for 3 months.