This Vegan and Paleo Caramel is not only super delicious, but it's also easy to make! We've tested three different versions using unrefined sweeteners for all of your caramel needs!
Vegan Caramel
This Paleo and Vegan caramel is UNREAL. It is made with a handful of wholesome ingredients and is super simple to make requiring no special equipment in just under 20 minutes. This paleo caramel is perfect for topping ice cream, cocktails, using with cake or drizzling on top of fresh fruit. We tested this dairy-free caramel with three different types of unrefined sweeteners: maple syrup, honey and coconut sugar. They truly all have their own flavor, so you can make whichever might go best with what you plan to use the caramel for.
Paleo Caramel Ingredients
Full-Fat Canned Coconut Milk

Sweetener (choose between maple syrup, coconut sugar or honey)

Coconut oil (or ghee, or grass-fed butter)

Sea Salt

Vanilla Extract
Unrefined Sugar and Oil Options
The best part of this recipe is that there are a few different options for sugars and fat to make the Paleo Caramel. You can choose which option works for you in terms of what you have in your pantry and what your dietary needs are! You could also use a mix of two of the sugars. We love the mix of half coconut sugar and half maple syrup. It gives it a delicious flavor with the characteristic caramel color.
Maple Syrup: Caramel made with maple syrup has the most mild flavor. It's also great because most people already have maple syrup in your pantry. Just make sure to use the real stuff! This makes a light colored caramel.
Honey: Caramel made with honey has a distinctly honey flavor, so make sure to use a honey that you actually like the flavor of. The milder, the better. If you are vegan, skip this sweetener option. This makes a light colored caramel.
Coconut Sugar: Caramel made with coconut sugar has the most caramelized flavor and is very dark in color. It's a good option for both paleo and vegan diets.
Grass-fed Butter: Good quality grass-fed butter like Vital Farms or Kerrygold adds an amazing flavor to the caramel. Obviously it's not a good choice for fully dairy-free or vegan options.
Ghee: Another option for added fat is ghee, which is the non-dairy part of butter. This too adds a great flavor, and if you tolerate ghee would be a good choice for the butter flavor.
Coconut oil: For fully dairy-free and vegan caramel, coconut oil is the best choice. You won't taste any coconut oil flavor in this, but it helps make there caramel silky!
How to Make Dairy Free Caramel
Here is how simple it is: You put all of the ingredients in a medium-large pot and cook it over medium-high heat, undisturbed for about 15 minutes until it's slightly thickened and darkened in color. Seriously, how easy is that?
But there are a few important things to note:
The size of the pan matters! Use a pot that holds about 2 quarts of liquid. The caramel will bubble close to the edge as it boils down, so you want to make sure you pan is big enough.
Do not disturb the caramel! As much as it may be tempting to whisk it or stir it while it's cooking–don't. When you whisk it it makes it bubble up even more, and potentially out of the pan.
If you notice sugar on the edge of the pan burning you may have to play with how high your heat is. If you need to turn the heat down, you can cook it for a bit longer.
Cook it about 15 minutes until it has reduced by about half, slightly thickened and darkened in color. You don't want to cook it too long however because there is a potential that the mixture will separate. The caramel will continue to thicken as it cools.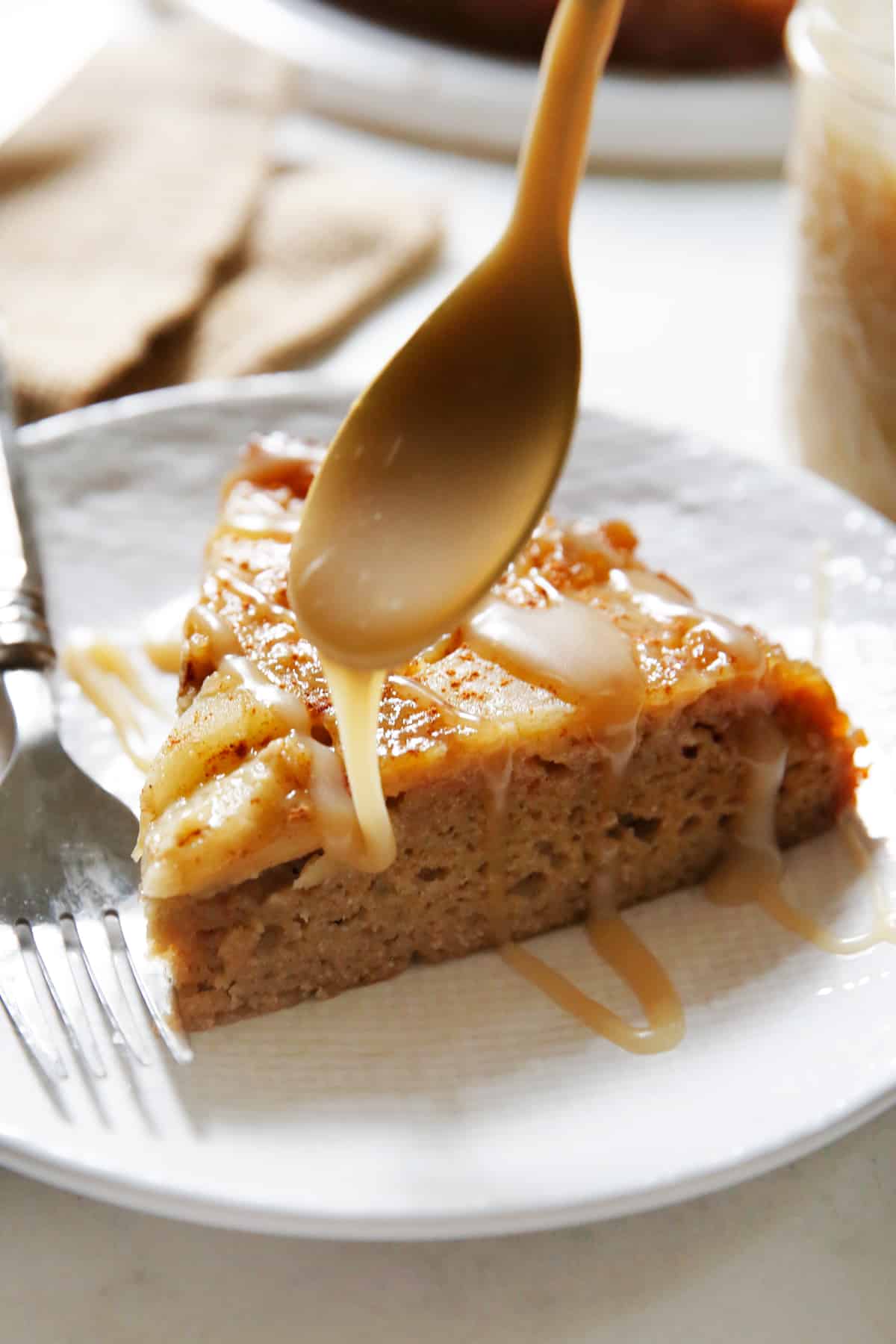 How to Store Vegan Caramel
Store this caramel in the refrigerator. You can let it sit out briefly to warm up before using it, or you can gently reheat it before use.
How to Use this Caramel
The options are endless as to how to use this! This caramel is perfect:
If you like this dairy-free recipe, check out these others:
Watch the video:
---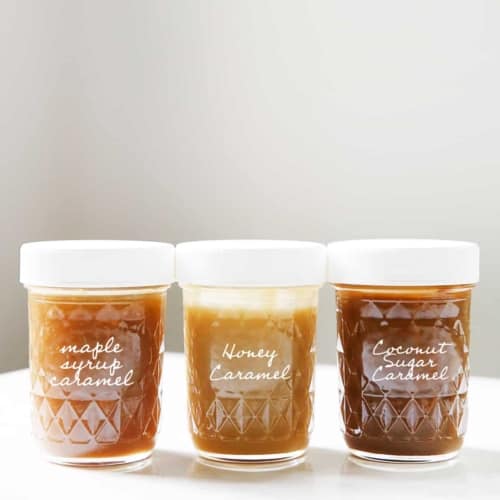 Paleo and Vegan Caramel
This Paleo and Vegan caramel can be made with your choice of sugar and your choice of oil. For fully dairy-free use coconut oil. For fully vegan use either coconut sugar or maple syrup and coconut oil. Make sure not to touch the mixture while it is cooking. The sugar mixture is boiling and it has a tendency to bubble over if a whisk or spatula is used during the cooking. Use a medium pot that holds about 2 quarts liquid so the caramel can bubble without going over the edge.
Ingredients
1-14

ounce

can full-fat Coconut Milk

½

cup

maple syrup or coconut sugar or honey

1

tablespoon

ghee or butter or coconut oil

Pinch

salt

2

teaspoons

vanilla extract
Instructions
Combine all ingredients in a medium pot and whisk together.

Turn the heat to medium and whisk until the coconut milk is fully combined with sugar and oil. Continue to cook, undisturbed, for 15 minutes, or until it's reduced by about half, thickened slightly and darkened in color. While cooking, if it comes close to bubbling over you can turn down the heat slightly.

Shut off heat, whisk together one more and let cool down.

Store in the refrigerator for 1-2 weeks. Use on ice cream, here or

here

.
Notes
For fully vegan, use maple syrup or coconut sugar for the sweetener and coconut oil.