This Classic Chocolate Mousse is a rich, velvety treat with just the right amount of sweetness. It's so simple to make and made with minimal ingredients!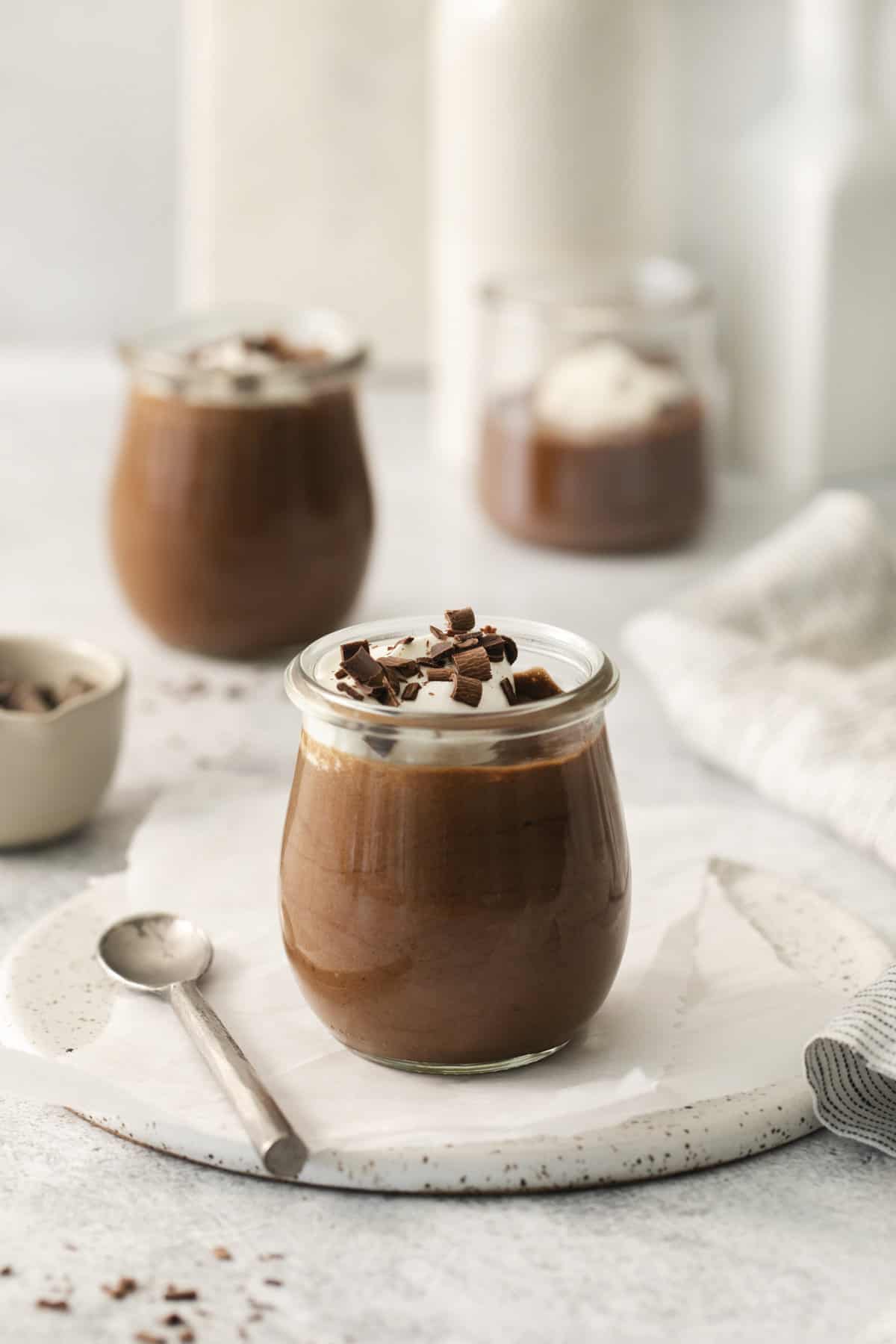 Easy Recipe for Chocolate Mousse
Looking for something that requires very little time and effort, comes together in just a few minutes, but will definitely satisfy your sweet tooth?
This Classic Chocolate Mousse is it.
This mousse is a rich, fluffy, French-style, chocolatey treat with just the right amount of sweetness. It's made with minimal ingredients, no-bake, dairy-free, and high in protein!
What is the Difference Between Chocolate Pudding and Chocolate Mousse?
The key difference is the cooking method!
Pudding is cooked which results in a denser, thicker texture. Mousse is a no-cook dessert that is whipped extensively to incorporate air into the mixture. This results in a lighter, fluffier consistency.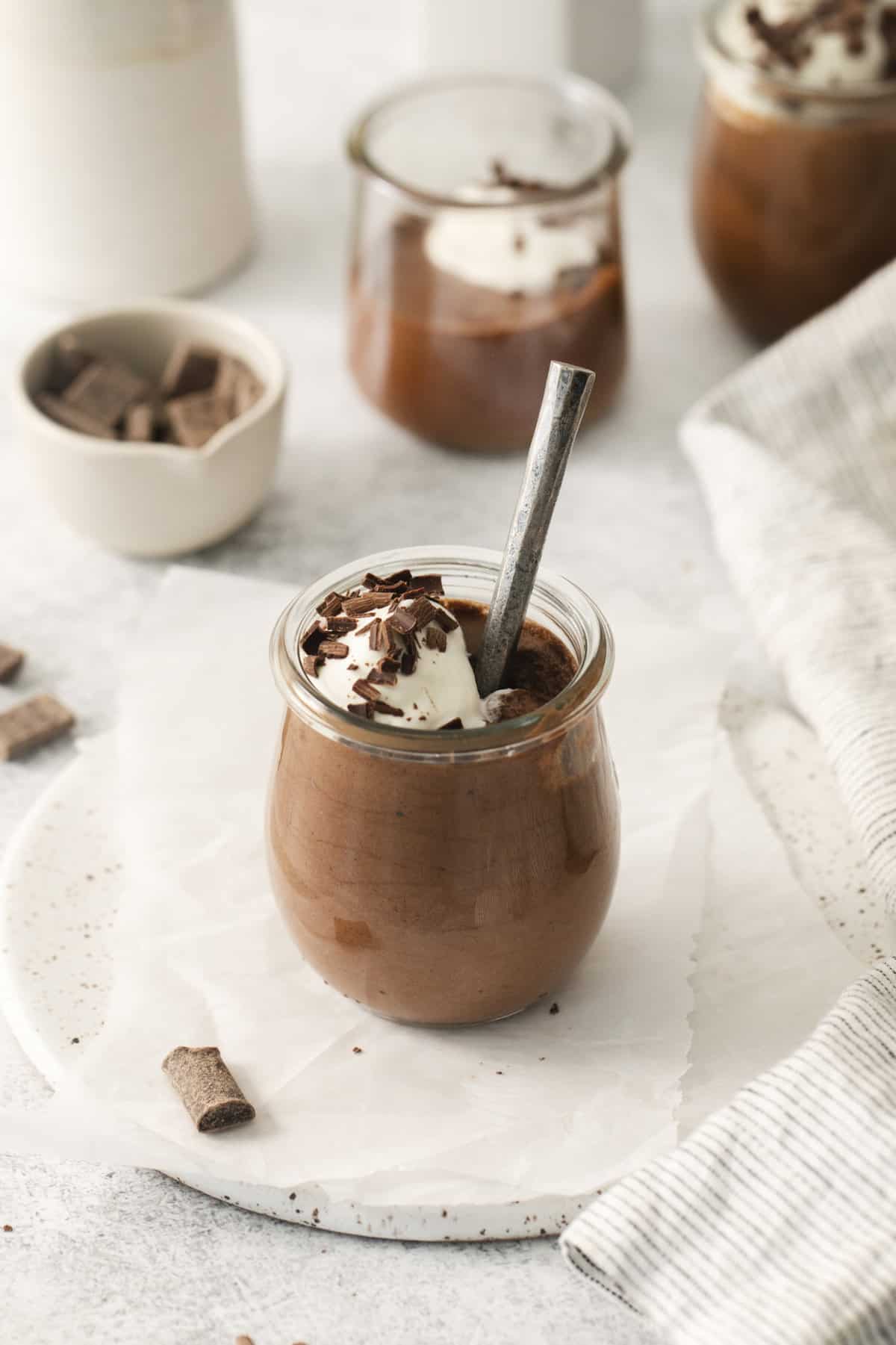 What is Chocolate Mousse Made Of?
This recipe for chocolate mousse is made with all natural ingredients! Here's what you'll need:
Chocolate Chips: Feel free to use your favorite variety of baking chips.
Cocoa Powder: Use a good-quality cocoa powder. You want the best chocolate flavor you can get!
Vanilla: We're using both vanilla extract and vanilla bean.
Honey: My natural sweetness of choice.
Espresso Powder: No, it won't make your mousse taste like coffee. A little bit of espresso powder actually just enhances the chocolatey flavor.
Sea Salt: A pinch of salt helps cut the sweetness just enough.
Egg Whites: Whipped egg whites are what give the mousse its structure. See below on more on this!
How to Make Chocolate Mousse
This chocolate mousse recipe really is so simple to put together!
Make the chocolate mixture: Use a double boiler to melt the chocolate until smooth. Once it's melted, add in the cocoa powder, vanilla extract and vanilla bean, honey, espresso powder, and salt.
Beat the egg whites: Use an electric mixer to beat the egg whites on high speed until they reach stiff peaks.
Combine and chill: Pour the chocolate into the whipped egg whites, then use a stand mixer to beat the mixture for 20- seconds or until fully combined. Chill for at least 30 minutes, then serve as desired.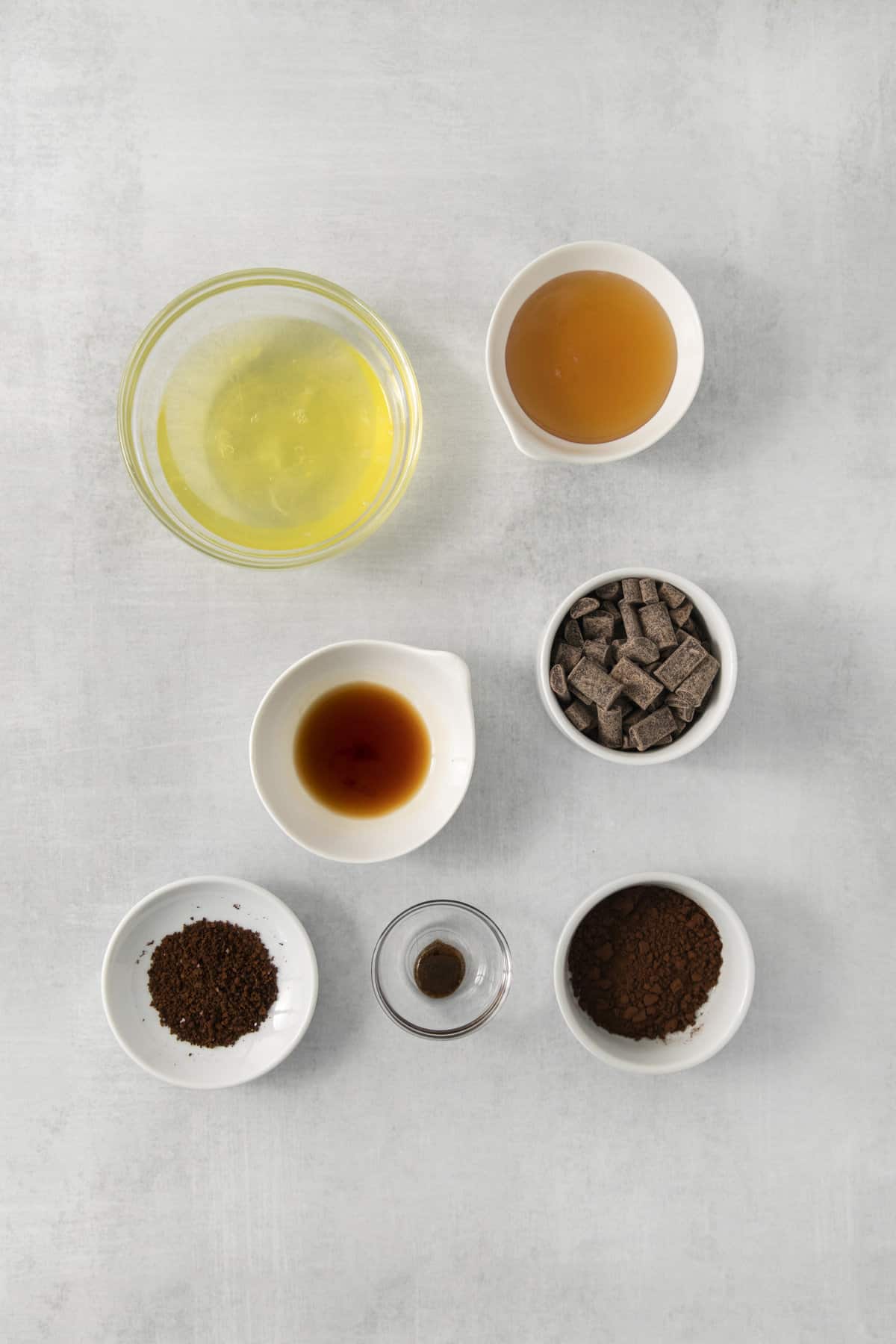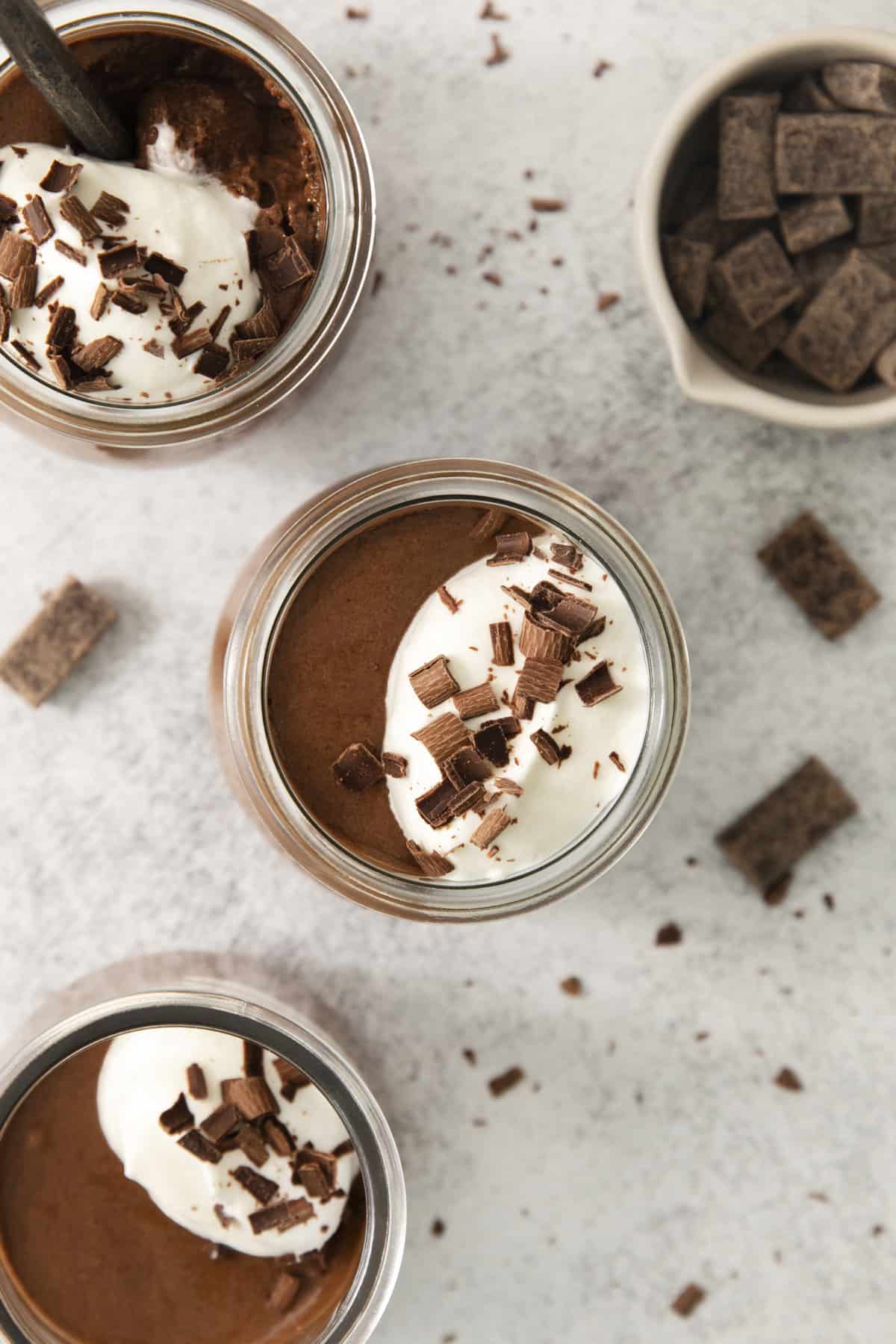 Tips and Notes
Use baking chocolate. The chocolate you usually eat doesn't melt as smoothly. I recommend a good baking chocolate for the best results.
Use a double boiler to melt the chocolate. Keeping the chocolate off of the direct heat helps prevent it from burning as it melts.
If you are melting the chocolate in the microwave, I recommend doing so at 50% power so as not to burn it.
Use a clean bowl. Make sure the mixing bowl you use to whip the egg is extra clean and fully dry. Any little thing can compromise the texture of the egg.
Is it Safe to Use Egg Whites Uncooked?
I definitely am not going to tell you it's completely safe to consume any egg or egg white that isn't cooked. However, food safety regulations require that most chickens be vaccinated against salmonella. With that, the risks of getting sick from using an egg white for a dessert are very, very minimal.
Simply put, if it makes you uncomfortable, try one of our other desserts!
Can I Make A Recipe (That Call For Egg Whites) Without Egg Whites?
Most likely, yes! You have another option! While I haven't tried it here (so can't 1000% promise), you can make a vegan version of this using aquafaba, which is the liquid from a can of chickpeas. Yes, the liquid from a can of chickpeas! It results in the same foamy creaminess that you would get by using an egg white. This is a great option if you're vegan or avoiding raw egg!
To swap the egg white out for aquafaba, use 2 tablespoons for every 1 egg white.
Used IN THIS RECIPE: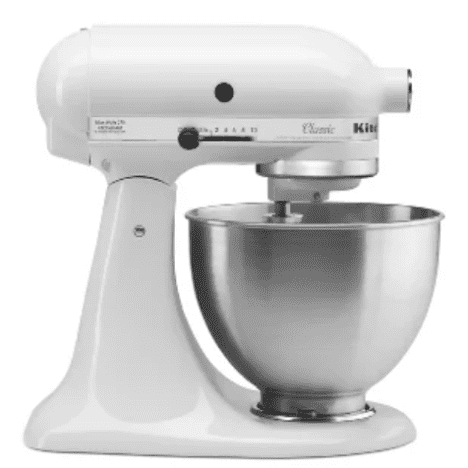 KitchenAid Classic 4.5qt Stand Mixer
10 speeds for nearly any task or recipe, from mixing ingredients together on the stir speed, to whipping cream at speed 8, you'll get thorough ingredient incorporation every time!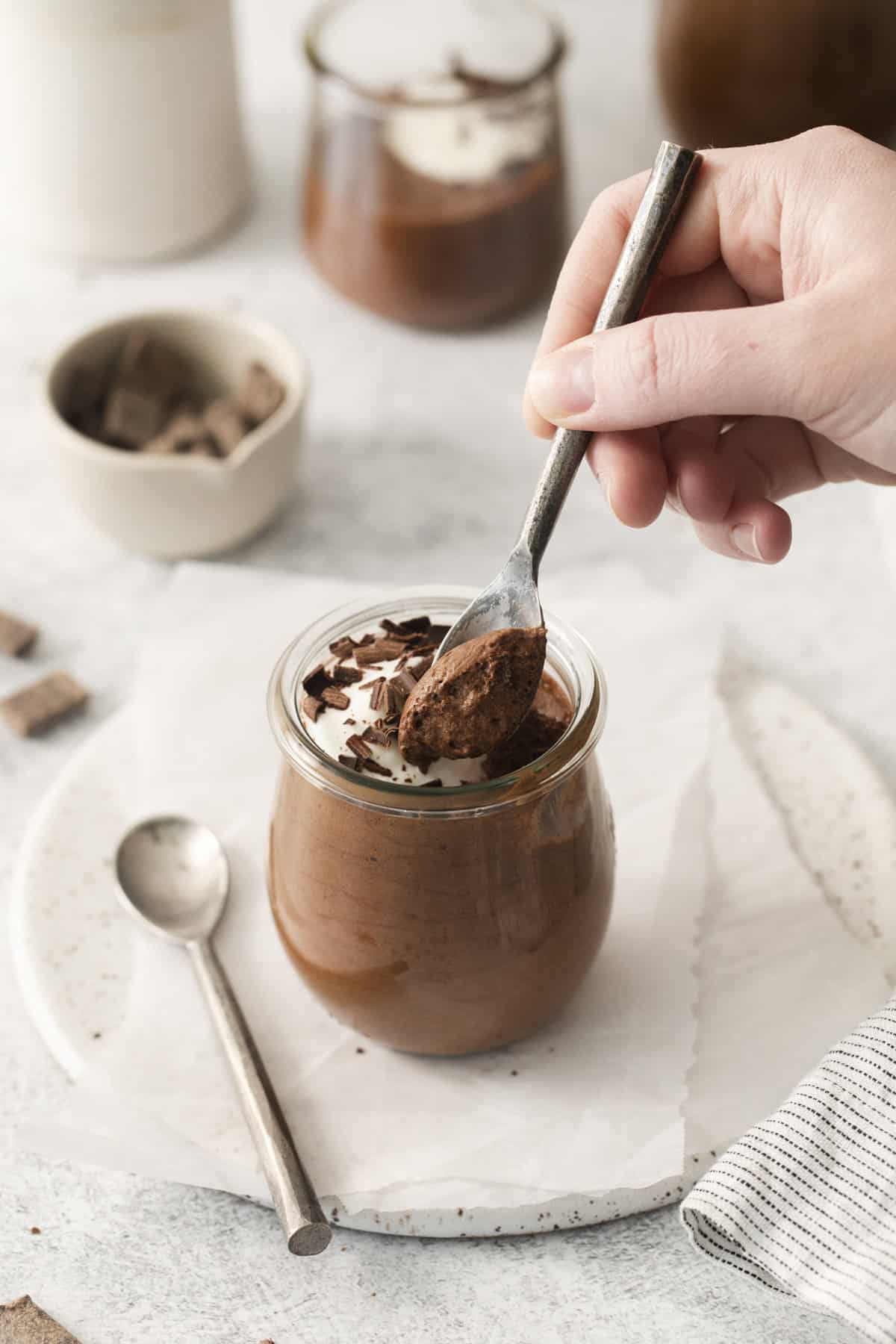 Serving Suggestions
My favorite way to serve this easy chocolate mousse is with any and all fresh berries! It makes for the perfect light and fresh dessert.
If you want to get extra fancy with it, serve it in champagne glasses topped with homemade Coconut Whipped Cream and even Easy Strawberry Chia Jam!
How to Store
For the best texture, I recommend enjoying any leftover mousse within a couple of days.
However, it will last in the fridge for up to 5 days!
More Chocolate Recipes to Try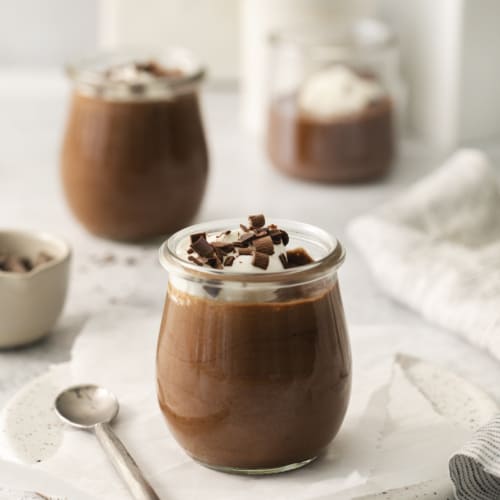 Classic Chocolate Mousse
This Classic Chocolate Mousse is a rich, velvety treat with just the right amount of sweetness. It's so simple to make and made with minimal ingredients!
Ingredients
1/2

cup

chocolate chips

1

tablespoon

cocoa powder

2

teaspoons

vanilla extract

1/4

vanilla bean

scraped

3

tablespoons

honey

1

teaspoon

espresso powder

Pinch

of sea salt

4

egg whites

at room temperature
Instructions
Melt chocolate using the double boiler method or microwave.

Once chocolate has melted, add in cocoa powder, vanilla extract, vanilla bean, honey, espresso powder, and a pinch of sea salt and set aside.

Using a stand mixer or hand mixer, beet egg whites on high until you reach a stiff peak.

Pour chocolate mixture into beaten egg mixture. Using a stand mixer, beat the entire mixture for about 20 seconds, until chocolate is smooth and creamy looking, or just until blended (you want to avoid over mixing the egg whites).

Let set for at least 30 minutes in the fridge before serving.

Garnish with fresh berries and serve!
Notes
Before you place the chocolate mousse mixture in the fridge to set, it might look really thin. This is okay! Once it sets in the fridge, it will firm up and look creamy, airy, and delicious.
If the chocolate mixture hardens while you are beating the egg whites, place back over the double boiler until melted again.