This Healthy Carrot Cake Loaf is perfect for spring! It's naturally sweetened, spiced with a dash of cinnamon, moist, and tender, and topped with a light and sweet maple glaze.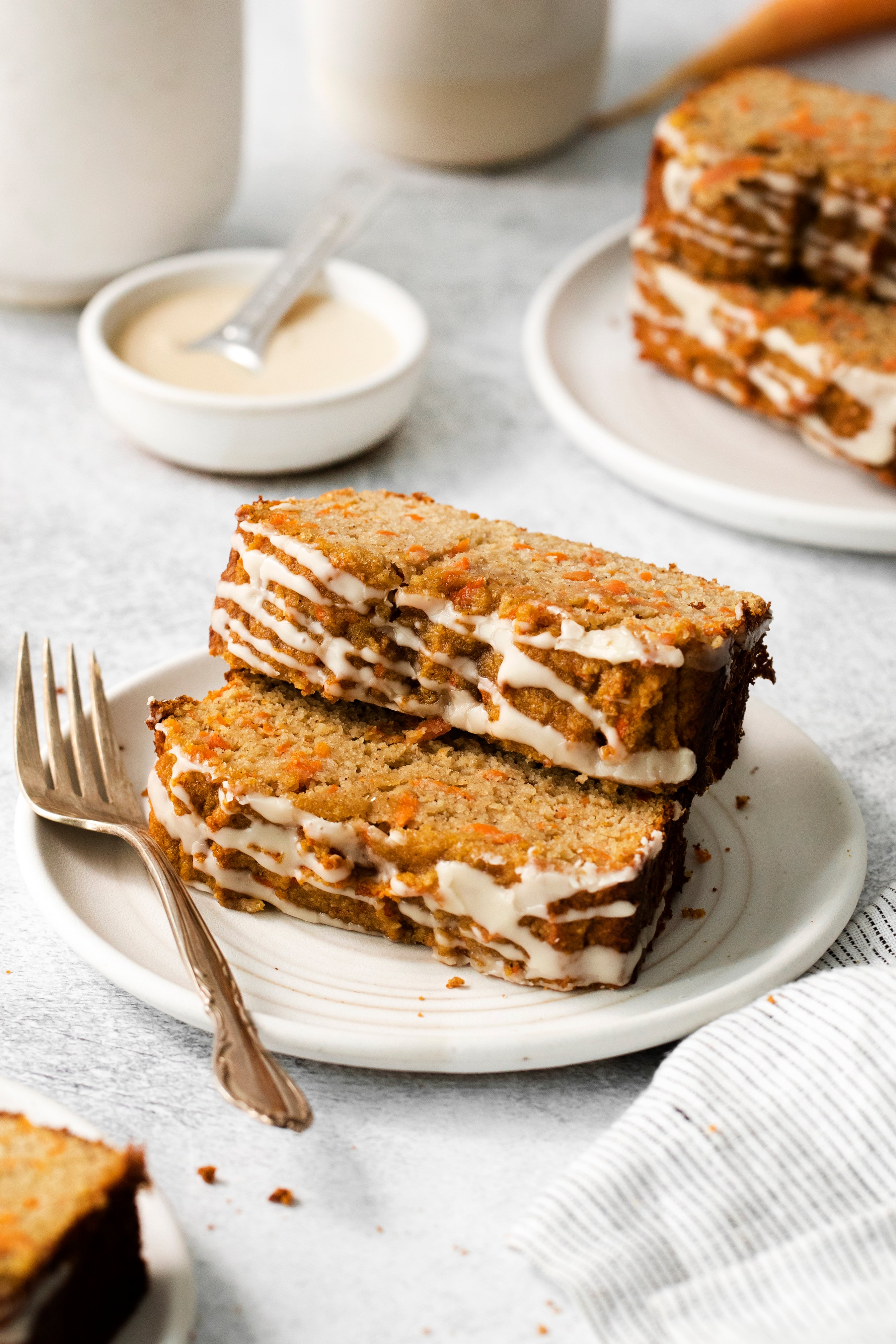 Easy Gluten-Free Carrot Cake Recipe
It's no surprise to anyone that I love carrot cake—as demonstrated by my Carrot Cake Baked Oats, Healthy Carrot Zucchini Bars, Healthy Carrot Muffins, Gluten-Free Carrot Sheet Cake, and Gluten-Free Carrot Cake Cookies.
This Healthy Carrot Cake Loaf is a new favorite carrot cake-inspired recipe. It's made using a gluten-free and paleo-friendly blend of almond and coconut flour, so moist, naturally sweetened with honey and applesauce, and topped with a simple and sweet maple glaze.
This delicious and healthy carrot cake recipe is loaded with carrots and optional add-ins like raisins, nuts, or chocolate. It's a sweet treat that everyone will love!
Bonus: it's made in just one bowl for easy cleanup!
Is Carrot Cake Healthier than Chocolate Cake?
This carrot cake definitely is better for you than a regular chocolate cake. Not only does it have carrots in it, which are packed with nutrients, it's also naturally sweetened, gluten-free, and paleo-friendly. Nothing unhealthy here!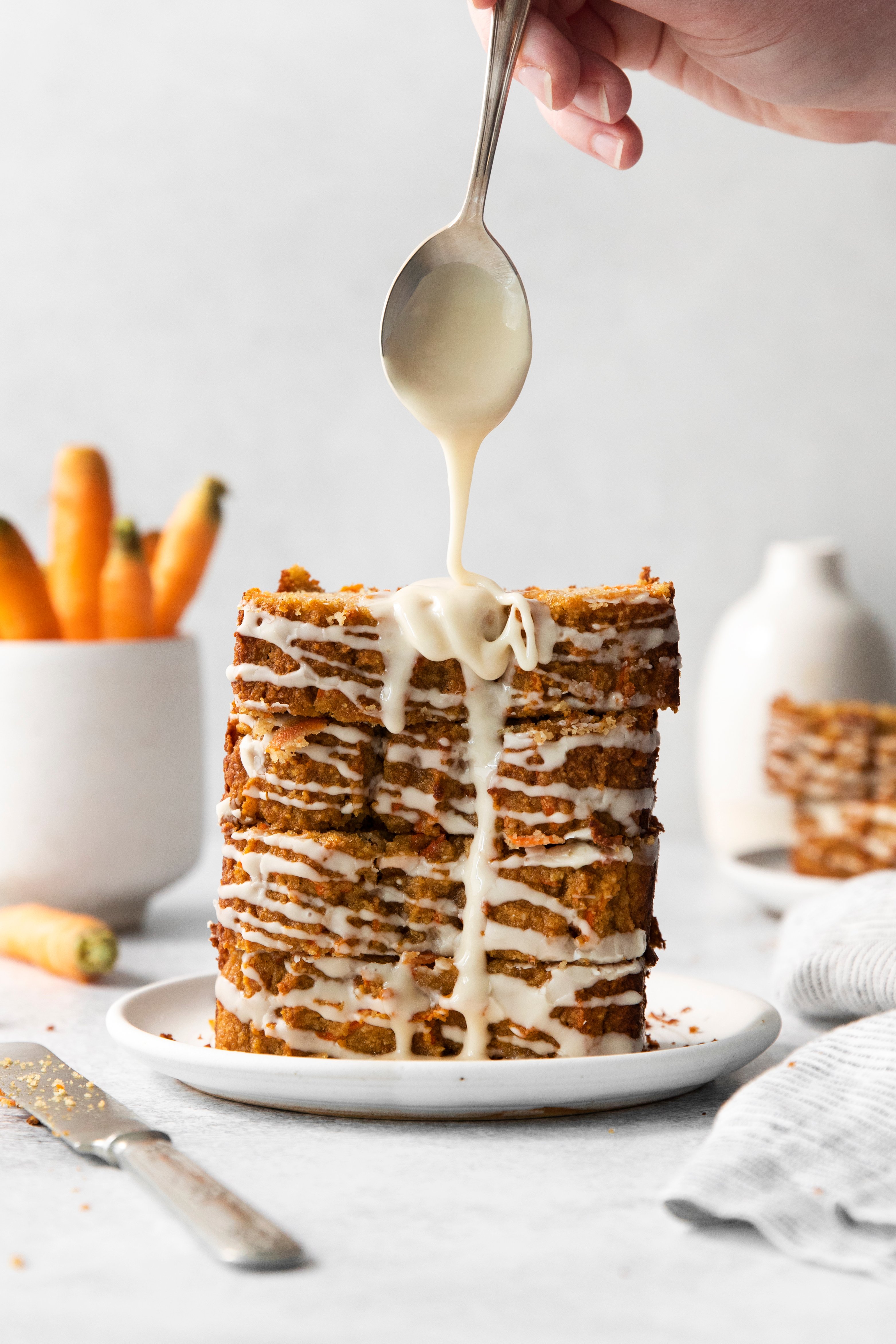 Ingredients Needed
Eggs: Binds everything together so the loaf can hold its shape.
Applesauce: Unsweetened applesauce is a great way to add moisture and a little natural sweetness to the bread.
Honey: Our other natural sweetener of choice.
Oil: Use avocado or melted coconut oil to add moisture to the bread. Avocado oil will have a more neutral flavor while coconut oil will have a subtle coconut flavor.
Vanilla Extract: Adds flavor depth and warmth.
Flour: We're using a blend of almond flour and coconut flour to give the loaf its structure and keep it gluten-free.
Baking Powder and Baking Soda: We're using both leavening agents to make sure we get a light and fluffy texture.
Ground Cinnamon: Adds a touch of sweet spice.
Salt: A pinch of fine sea salt cuts the sweetness and enhances the flavors in the bread.
Carrots: You'll need about 2 medium carrots, grated so they incorporate well into the batter.
Optional Glaze: If you want, you can whip up a simple glaze using organic powdered sugar, maple syrup, almond milk, and optional maple extract for a little extra maple flavor.
Optional Add-Ins
Raisins: Turns out, carrots and raisins are a delicious combination. A handful of raisins adds some extra sweetness and a delicious chewy bite.
Chocolate Chips: You can't go wrong with a scoop of mini chocolate chips.
Nuts: Chopped walnuts or pecans adds the perfect crunch in each bite.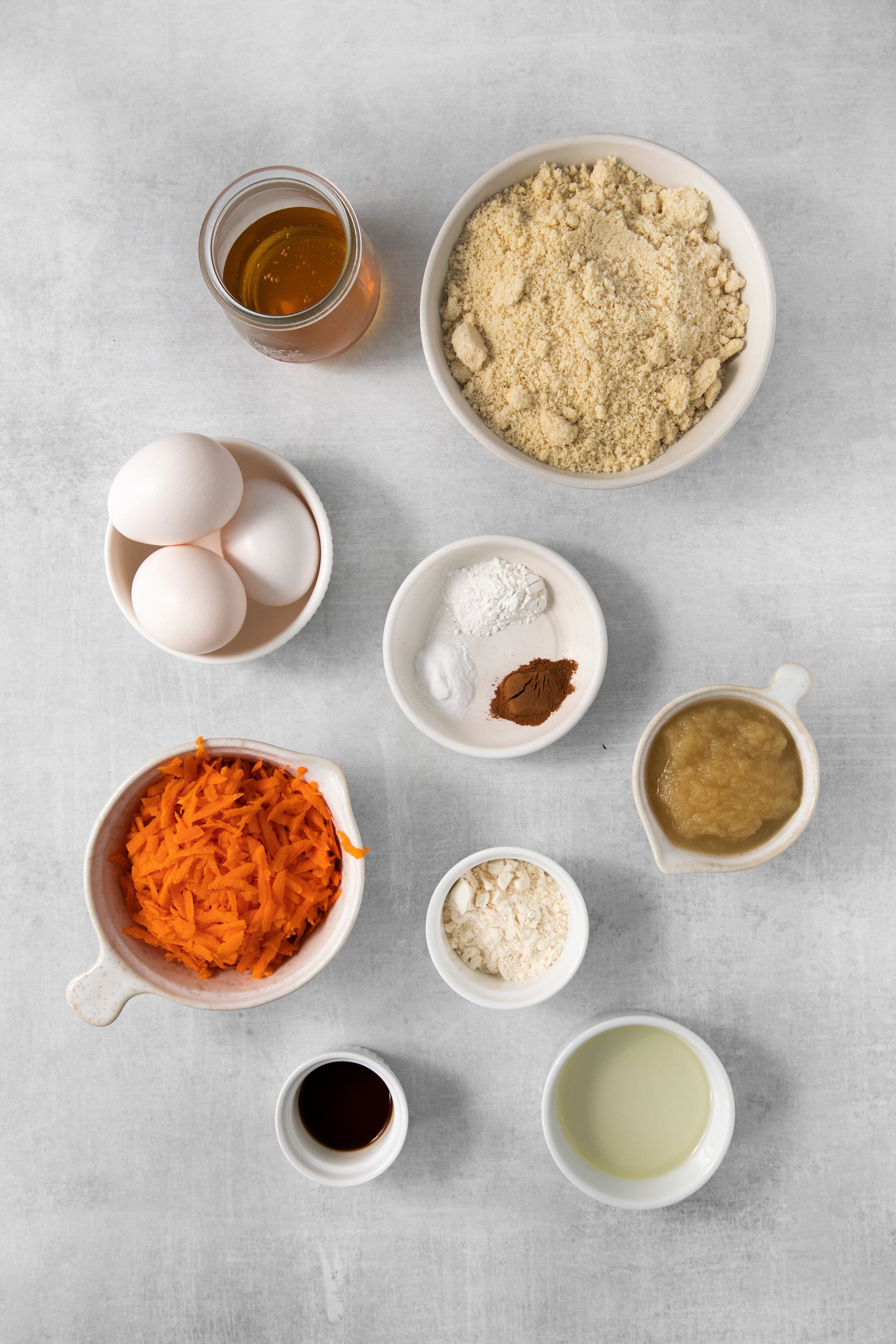 How to Make Healthy Carrot Cake
This delicious carrot cake loaf takes just 10 minutes to prep!
Make the batter: In a bowl, whisk together eggs, applesauce, honey, oil, and vanilla. Add in flours, baking powder and soda, cinnamon, and salt. Whisk until combined, then fold in carrots and other add-ins if using.
Bake and cool: Pour the batter into a parchment-lined loaf pan, smooth over the top, then bake until a toothpick comes out clean. Cool completely.
Add the glaze: In a bowl, whisk together all of the glaze ingredients. Drizzle over the top of the cooled loaf, then slice and serve.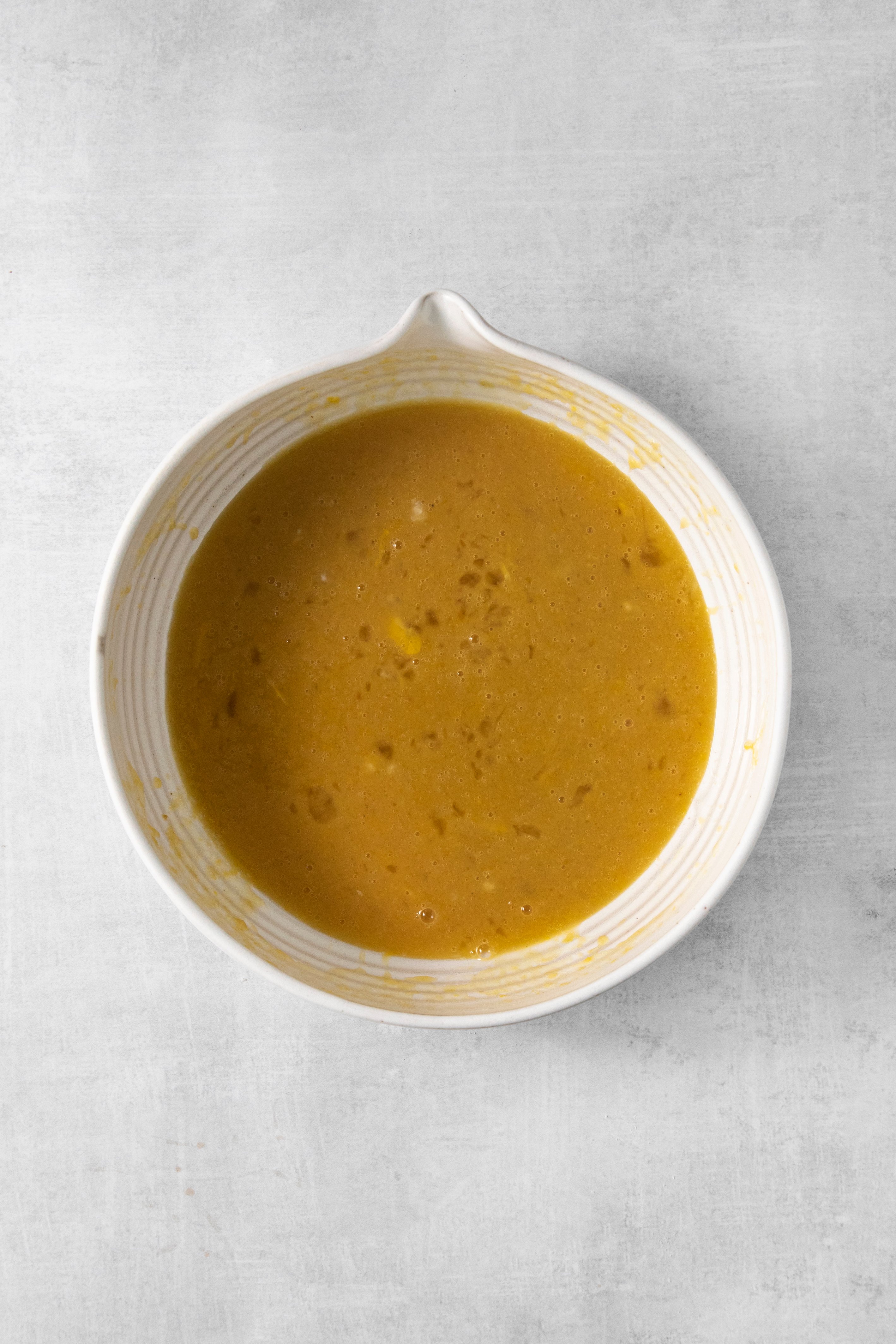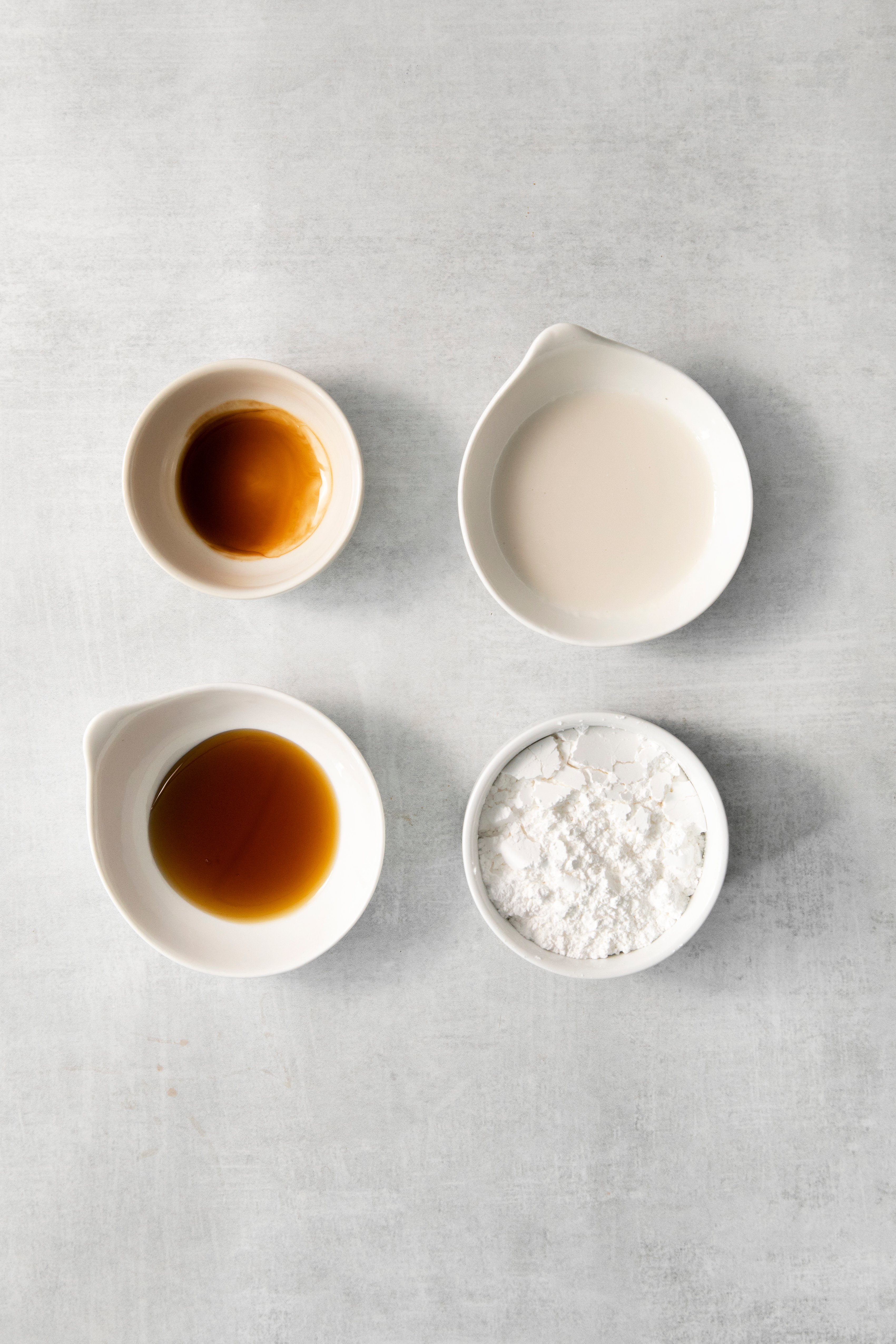 Is Butter or Oil Better for Carrot Cake?
While that depends on the recipe, I definitely recommend oil in this recipe. It keeps the gluten free carrot cake even more moist than butter does, so the texture stays deliciously tender longer!
How Do You Keep a Gluten-Free Cake Moist?
There are a couple things we're doing to make sure our gluten-free carrot cake stays nice and moist!
Adding moisture to the batter: We're adding plenty of moisture to the batter using applesauce and oil. The carrots add moisture too!
Baking just the right amount: Take the loaf out the oven as soon as a toothpick comes out clean. Over-baking can cause it to dry out pretty quick.
Storing in an airtight container: If you have leftovers, make sure they are stored either in an airtight ziplock bag or container at room temperature. This preserves the moist texture the best.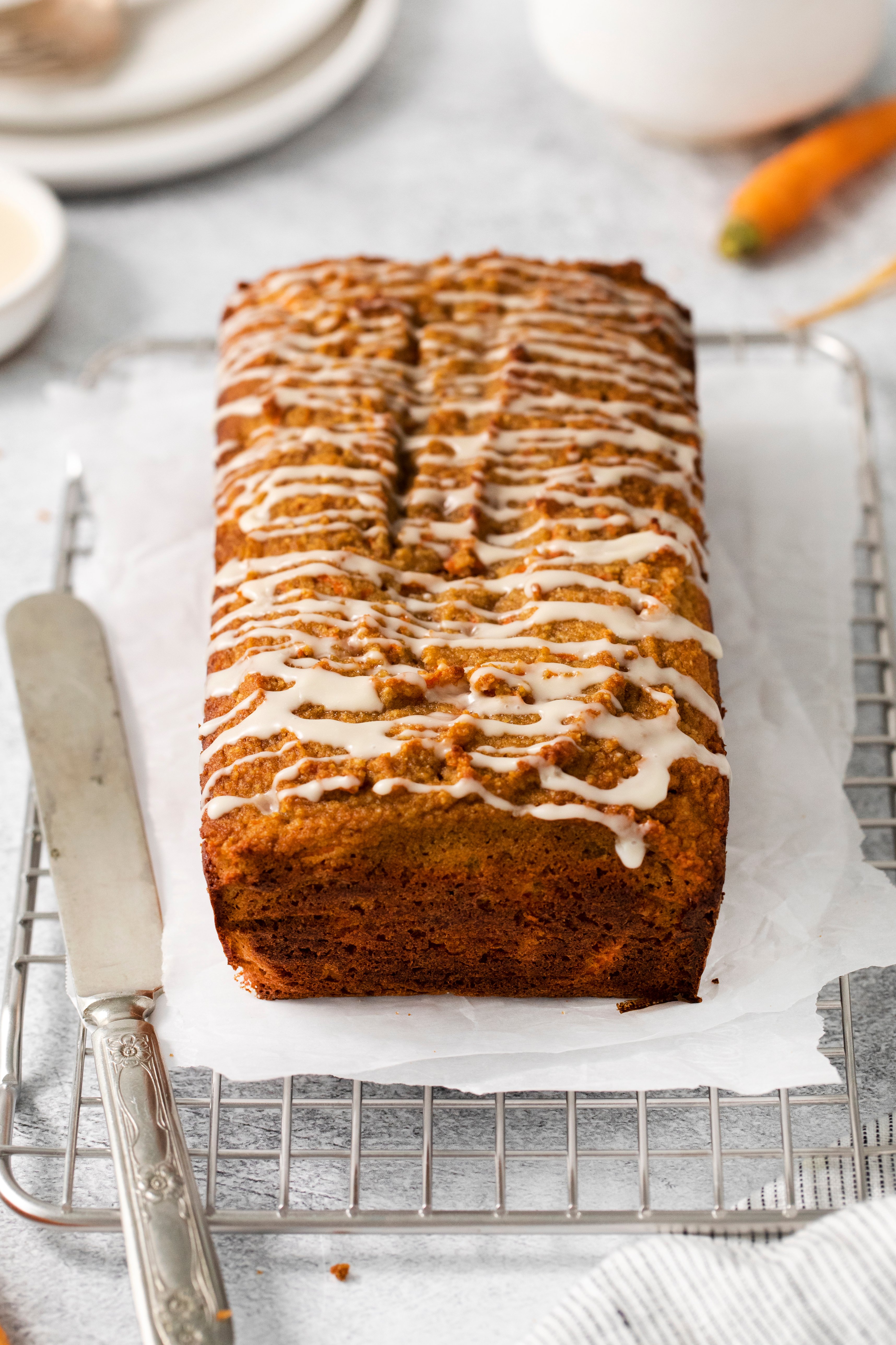 Tips and Notes
Line the loaf pan. I recommend lining the loaf pan with a parchment paper sling. This makes it so much easier to lift the loaf out after its done baking.
Don't swap the flours. I don't recommend using any flours in place of the almond and coconut flour. This recipe is designed for those specific flours and the amount of moisture they absorb. Other ones won't work the same.
Check for doneness. After 45 minutes, stick a toothpick into the center of a loaf. If it comes out clean, then it's ready to go.
Cool before glazing. Make sure the carrot cake is completely cooled before you add any glaze. If it's too warm, it will become runny and melt off.
If you want to skip the glaze, it's delicious without it too. You could also try the glaze we use on our cinnamon roll overnight French toast bake.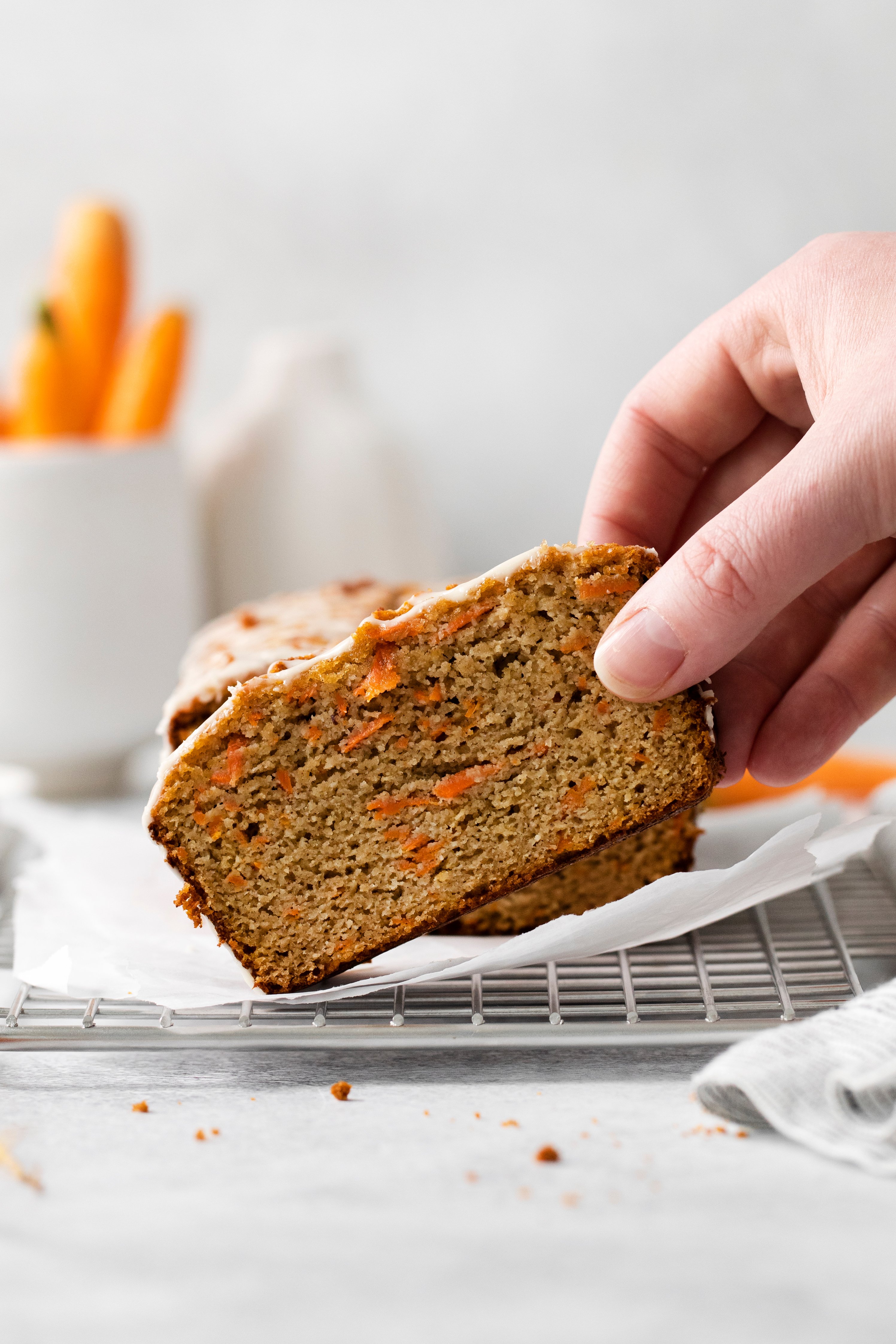 How to Store
Leftover healthy carrot cake will last in an airtight container or ziplock bag at room temperature for 2-3 days. I don't recommend storing it in the fridge because it is more likely to dry out.
For longer storage, you can wrap the loaf tightly and store it in the freezer (without the glaze) for 2-3 months. When you're ready to serve, simply thaw it at room temperature!
More Carrot Recipes You'll Love
Watch the Video Here: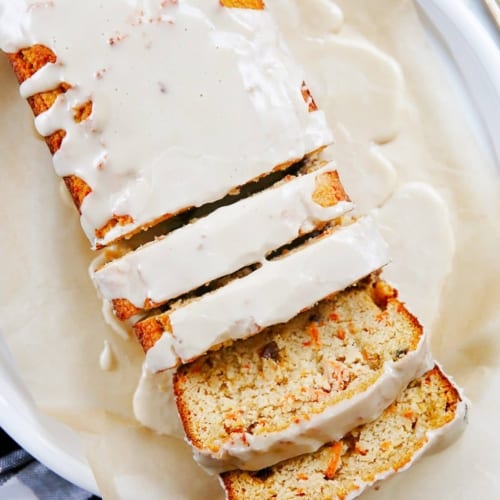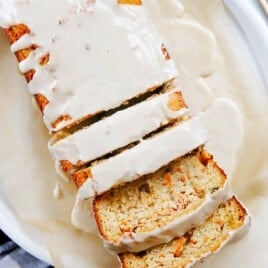 Healthy Carrot Cake Loaf
This Healthy Carrot Cake Loaf is perfect for spring! It's naturally sweetened, spiced with a dash of cinnamon, moist, and tender, and topped with a light and sweet maple glaze.
Ingredients
3

eggs

1/3

cup

unsweetened apple sauce

¼

cup

cup honey

2

tablespoons

avocado oil or coconut oil

melted

1

teaspoon

vanilla extract

2

cups

200 grams almond flour

2

tablespoons

15 grams coconut flour

1-½

teaspoons

baking powder

½

teaspoon

baking soda

½

teaspoon

ground cinnamon

Pinch

fine sea salt

1

cup

grated carrots

from about 2 medium carrots
Optional Add-ins:
½

cup

raisins

½

cup

mini chocolate chips

⅓

cup

walnuts or pecans

chopped

Glaze:

½

cup

organic powdered sugar

1

tablespoon

maple syrup

1-2

tablespoons

almond milk

½

teaspoon

maple extract

optional
Instructions
Preheat oven to 350ºF and line a 8″x5″ loaf pan with a

parchment paper

sling.

In a large bowl, whisk together eggs, applesauce, honey, oil, and vanilla until combined. Add in almond flour, coconut flour, baking powder, baking soda, cinnamon and salt and whisk until fully combined.

Fold in carrots and any optional add-in's.

Pour batter into prepared loaf pan and smooth over the top.

Bake in preheated oven for 45-50 minutes until a toothpick inserted in the middle comes out clean.

Let cool the loaf cool completely.

To make the optional glaze: Whisk all ingredients together. If the glaze is too thick you can add a tablespoon more almond milk at a time until it has reached the desired consistency.
Notes
Looking for a glaze made without refined sugar? Check out the glaze used in this recipe.
Nutrition
Serving:
1
piece
Calories:
351
kcal
Carbohydrates:
20.7
g
Protein:
11.6
g
Fat:
24.9
g
Saturated Fat:
6.2
g
Cholesterol:
93
mg
Sodium:
67
mg
Fiber:
5.3
g
Sugar:
10.7
g