Overnight Cinnamon Roll French Toast Casserole
This Cinnamon Roll French Toast Casserole is the the absolute best holiday brunch. It literally taste just like a cinnamon roll, without all the work of making cinnamon rolls. Plus, it's great to prepare the night before and either bake up for guests at home, or to bring along to a pot luck brunch. Trust me, you are going to love this one. Made in partnership with my friends at Ello Products.
Cinnamon Roll French Toast Casserole
Would you believe me if I told you, you could make an easy breakfast to feed a crowd, prepared the night before, that will leave your whole house smelling like legit cinnamon rolls? Based off of these photos, I hope you believe me because this overnight French toast bake is the real deal. It taste just like cinnamon rolls, but it's so easy to prepare! The hardest part is waiting for this dish to cook long enough before you can dig in. Plus, it can be made gluten-free, dairy-free and refined sugar free.
Ingredients for Overnight French Toast Bake
White Bread (we used gluten-free, but use what you need to!)

Milk (we used almond milk to keep it dairy-free)

Eggs

Coconut Sugar

Cinnamon

Butter (or ghee, or coconut oil for dairy-free)
We also topped this French toast with a dairy-free glaze made from cashew cream and maple syrup. It was heavenly. You could also top it with a standard powdered sugar glaze by mixing together powdered sugar and a place of milk, until it's reached the consistency you'd like.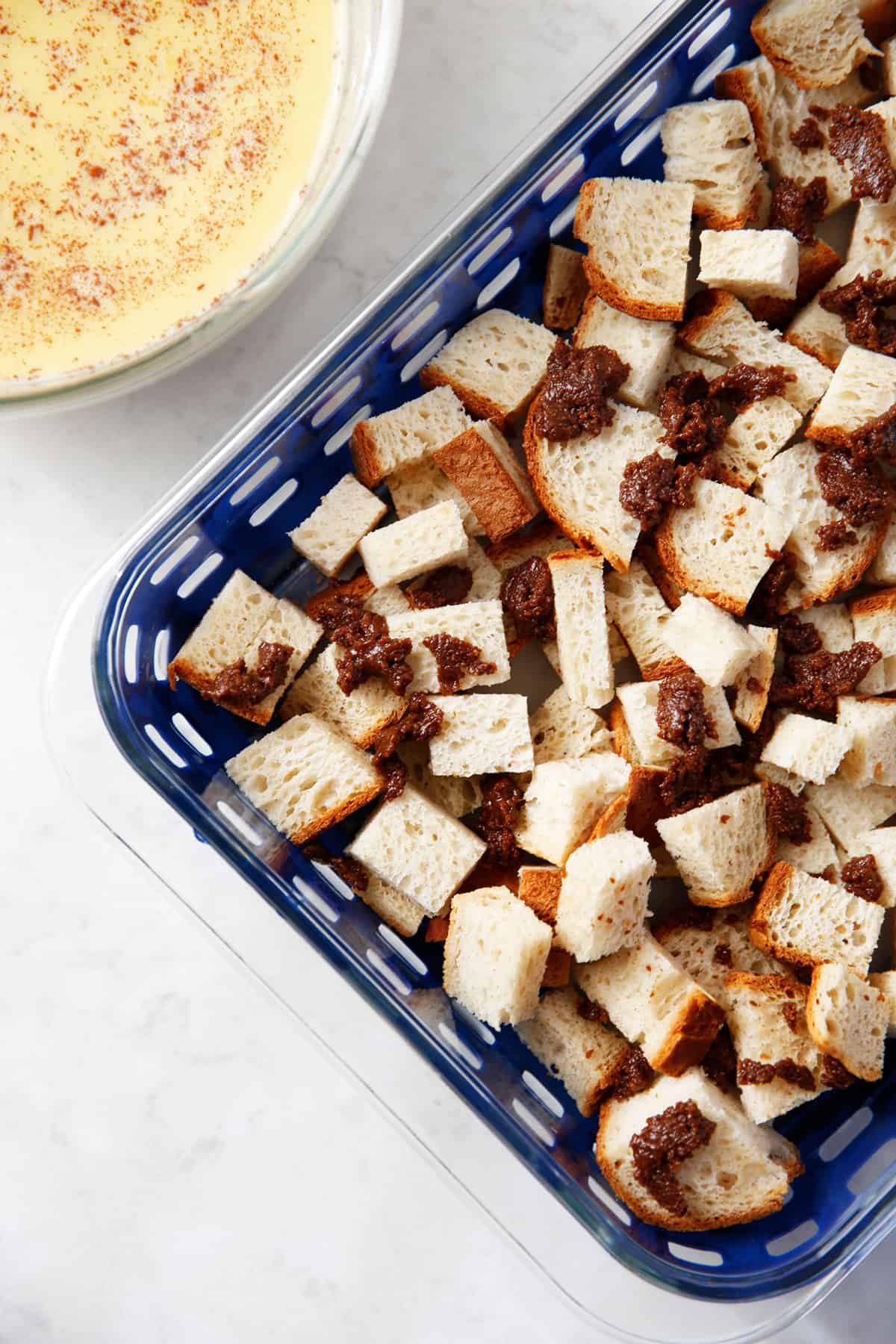 How to Make a French Toast Casserole?
It couldn't be easier. You cube up some bread. It's best if you can either do this ahead of time, and leave the bread out to dry out, or you can toast the bread in the oven beforehand. This step isn't absolutely essential, but it improves the texture of the final dish, especially if you are using gluten-free bread.
Next you place half the cubed bread cubes in a greased 9×13″ baking dish. We love using it in our Ello DuraGlass Bakeware Containers because they have a matching lid that makes this the perfect prep, bake and serve container for an overnight French toast.
Then you sprinkle a cinnamon roll sugar mixture over the bread crumbs. Top that with the remainder of the bread cubes. Next, pour over a mixture of eggs and milk and push down on the bread cubes to make sure all of it gets in contact with the milk. Sprinkle the remaining cinnamon sugar over the bread. Then cover the dish and let rest overnight!
When you are ready to bake in the morning, preheat the oven and pop the lid off the bakeware. Place in the oven and bake until cooked through.
And finally, drizze that cinnamon roll french toast for a more authentic look and taste.
Why we Love Ello Bakeware for Making this Dish
To make this extra portable I love baking this in Ello DuraGlass Bakeware Containers. For this recipe we're using the 9×13 baking dish. These durable glass baking dishes are perfect for both cooking at home and bringing food along to cook on the go. What makes this line of bakeware special is that they come with a protective silicone sleeve that doubles as a trivet so a dish can go from the freezer or refrigerator, to the oven and then right to the table.
That makes these Ello DuraGlass Bakeware with matching lids perfect for holiday baking, especially for make-ahead and on-the-go dishes. Each container is perfectly portable and pretty cute too so it works as both bakeware and a serving dish. I love that the lid first on perfectly when I store this overnight French toast bake in the refrigerator.
I love using glass both for baking and for storage because it's free of harmful chemicals, can be heated in the oven, and is (top-rack) dishwasher safe. Plus the crystal clear Tritan lid and colorful silicone sleeve let's me easily see what is in the containers so I can keep my refrigerator more organized. This is especially helpful during the busy holiday season when there is a lot of food being cooked and prepared ahead of time.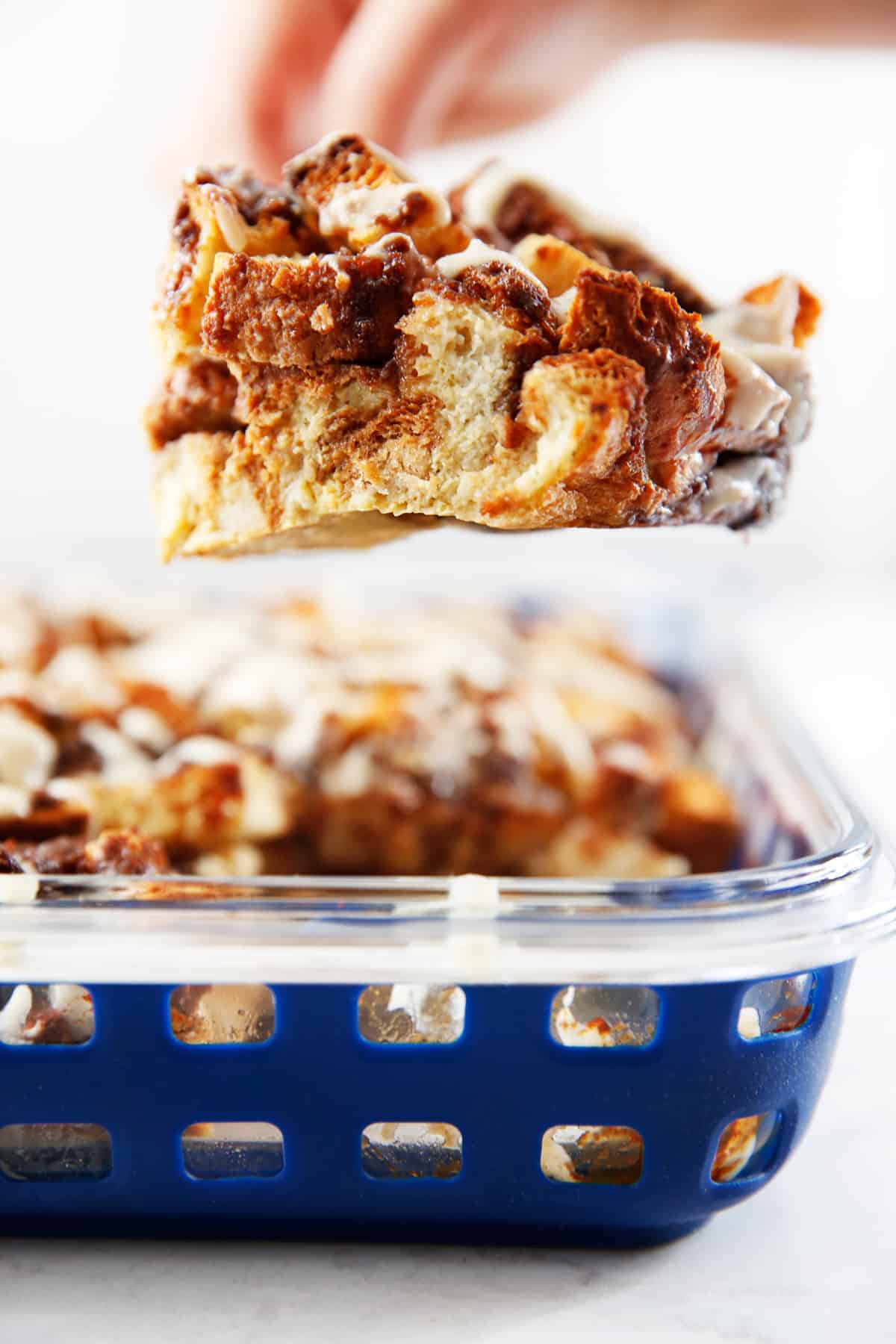 Do you need to prepare this overnight?
Casseroles are a perfect make-ahead dish. This French toast casserole tastes better when the bread has a chance to soak up the egg and milk mixture. We did test this baked right after preparing the dish and it still tastes great, but not all of the custard is absorbed at that point, so you will notice some of it baked up in the dish. We do recommend you prepare it the night before, though in a pinch, it can be baked right away. We know this is the perfect holiday brunch dish because there are two ways to prep for it ahead of time.
This dish is obviously prepared the night before. You can either bake the dish at home for guests, or snap on the lid and bake fresh at your destination. This is a good option if you are traveling with this dish, but want to eat it freshly baked.
Or you can fully bake this dish and reheat. This entire dish can be prepared fully, except for the glaze, cooled completely and then stored in the refrigerator, for up to 1 day, until ready to serve. Reheat the dish in a warm oven until heated through. Then drizzle it with the glaze.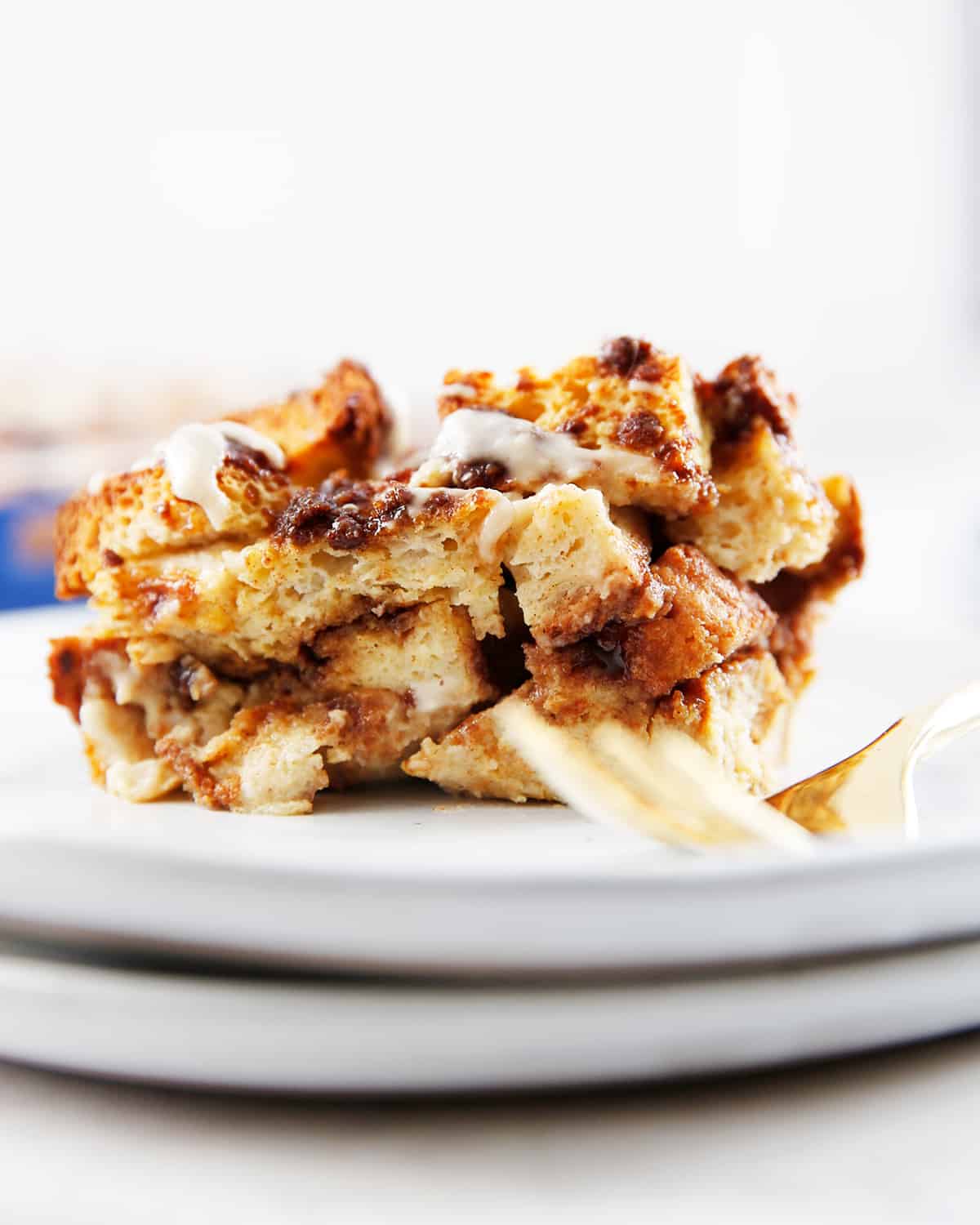 If you like this breakfast recipe, check out these others:
Cinnamon Roll French Toast Bake
This Cinnamon Roll French Toast Casserole is the the absolute best holiday brunch. It literally taste just like a cinnamon roll, without all the work of making cinnamon rolls. Plus, it's great to prepare the night before and either bake up for guests at home, or to bring along to a pot luck brunch.
---
---
Ingredients
27 ounces gluten free bread, cubed (about 11 cups of bread, see note)

¾ cup coconut sugar
1 tablespoon cinnamon, divided
4 tablespoons softened butter, ghee or coconut oil

2-1/2 cups milk-of-choice (we used almond milk)

8 eggs
For Cashew Cream Glaze (see note for alternative)
Directions
Either leave out the bread overnight, or toast in a 350 degree oven for 15 minutes until toasted.

Mix together coconut sugar, 2 teaspoons cinnamon and softened butter together in a small bowl until crumbly.
Grease a 9x13 baking dish. Place half of the bread cubes in the greased pan. Sprinkle ⅓ of the cinnamon sugar mixture on top. Top with remaining bread cubes.
Whisk together milk, eggs and 1 teaspoon cinnamon in a large bowl. Pour evenly over the top of the bread cubes. Using your hands, push down on the bread cubes to make sure they come into contact evenly with the milk.

Sprinkle the remaining sugar mixture over the top of the bread cubes. Cover and let sit, refrigerated, overnight.

When ready to bake, preheat the oven to 350ºF. Bake in the oven 35-40 minutes, until set.

Meanwhile make glaze: Mix together cashew cream and maple syrup (see notes for alternative).

Let the baked french toast casserole sit for 10 minutes before drizzling with glaze and serving.
Recipe Notes
To make a classic powdered sugar glaze instead of the cashew cream glaze:

Mix together ⅓ cup powdered sugar with 2 teaspoons milk-of-choice.
---
Nutrition
Loading nutrition data...
This post is sponsored by
Ello Products
. All thoughts and opinions are always 100% my own! I love the integrity of their products and think you'll love them too. Thank you for continuing to support LCK and the brands I work with!
30 comments
December 1, 2019
This website may at times receive a small affiliate commission for products that we shared with you in our posts. Although we may receive a commission for linking certain products, there's no additional costs to you and all of our opinion and suggestions are 100% our own and unbiased. That's our promise to you!
Subscribe to get our FREE clean eating guide!
Join our email list TODAY to start recieving our newsletter weekly, access to exclusive content and deals, *and* a FREE complete 24-page clean eating guide!