Granola can be a great whole grain breakfast or snack, especially when paired with yogurt! This Cherry, Coconut and Chocolate Granola is full of fiber and healthy fats, but more important it tastes so delicious! It's super crispy and has the perfect combination of tart cherries, sweet coconut flakes and big chunks of chocolate! It's gluten-free and refined sugar free and so easy to make!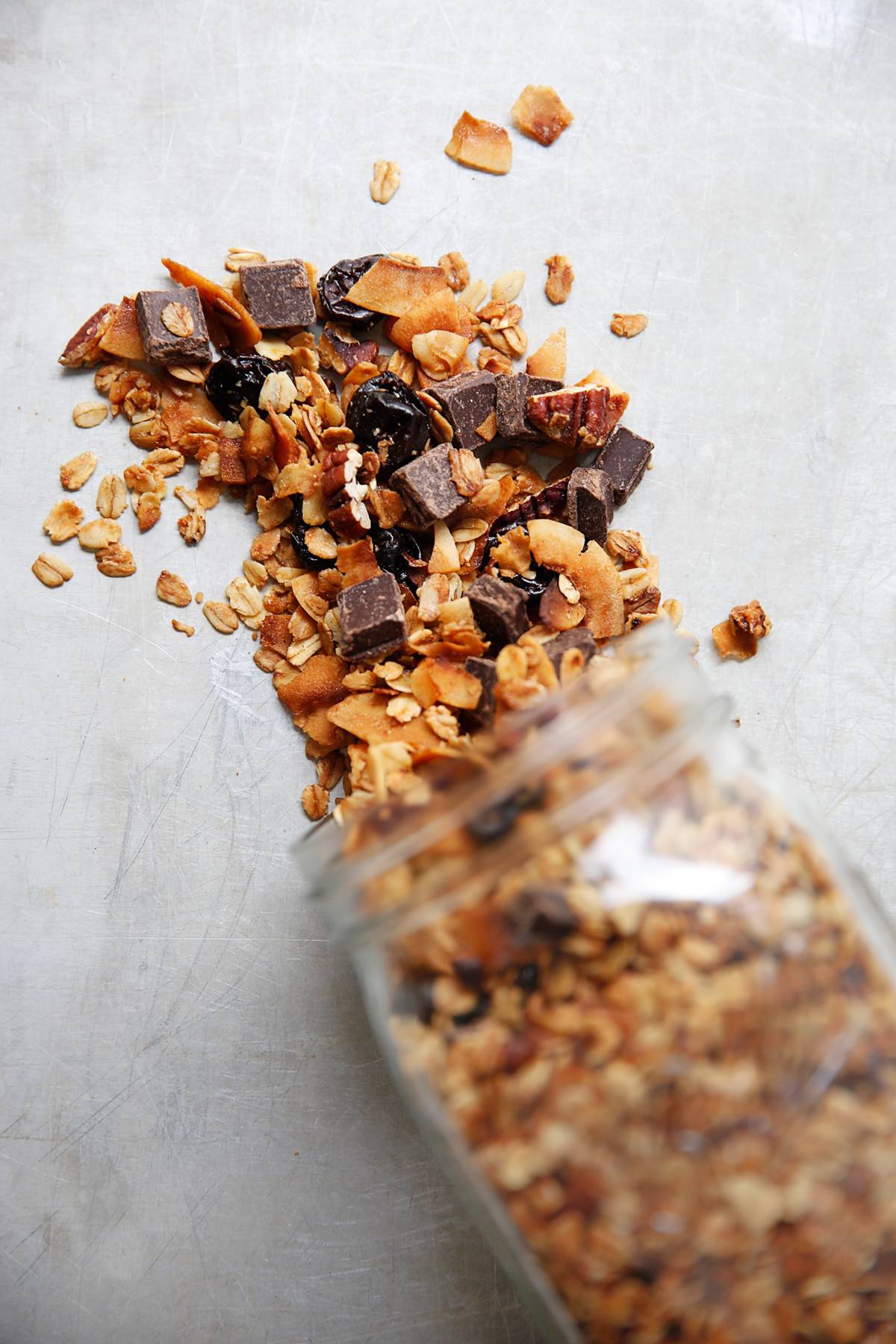 Cherry Coconut and Chocolate Granola
Ready for a story? Once upon a time Lexi was on vacation and was in a cute store offering cute looking wares and picked up some cute looking granola. She was hungry so grabbed two bags and went to pay. Not paying attention to the cost until after she left, she quickly discovered she had just unwittingly spent $40 on granola. YES you read that right: $40. Well she was still mad when digging into the bag to taste it, but once tasting that granola she immediately released all anger because the granola was SO GOOD. Vowing to make up for the $40 granola she knew she would spread the wealth by creating a new granola recipe for her recipe site that matched it and voila: this new Cherry, Coconut and Chocolate Granola recipe was born.
We've explored making the BEST granola before, but this recipe for Cherry, Coconut and Chocolate Granola is quite different than that one. The biggest difference is our other granola recipe is all about the granola clusters! This one is cluster free, and is an olive oil granola. What stands out and makes this granola so dang good is the crisp texture of the individual oats and coconut flakes and the salt. We added just enough salt to really bring out all of the flavors of the granola and it is borderline addicting.
So the good news is that in the end, that $40 granola was worth it, because it spurred on this amazing new recipe (as well as one other that will be forthcoming in a a few weeks). But Lexi has learned a valuable lesson for sure: when in one of those cute cute shops on vacation, ALWAYS check the price tag lest you end up with granola for millionaires.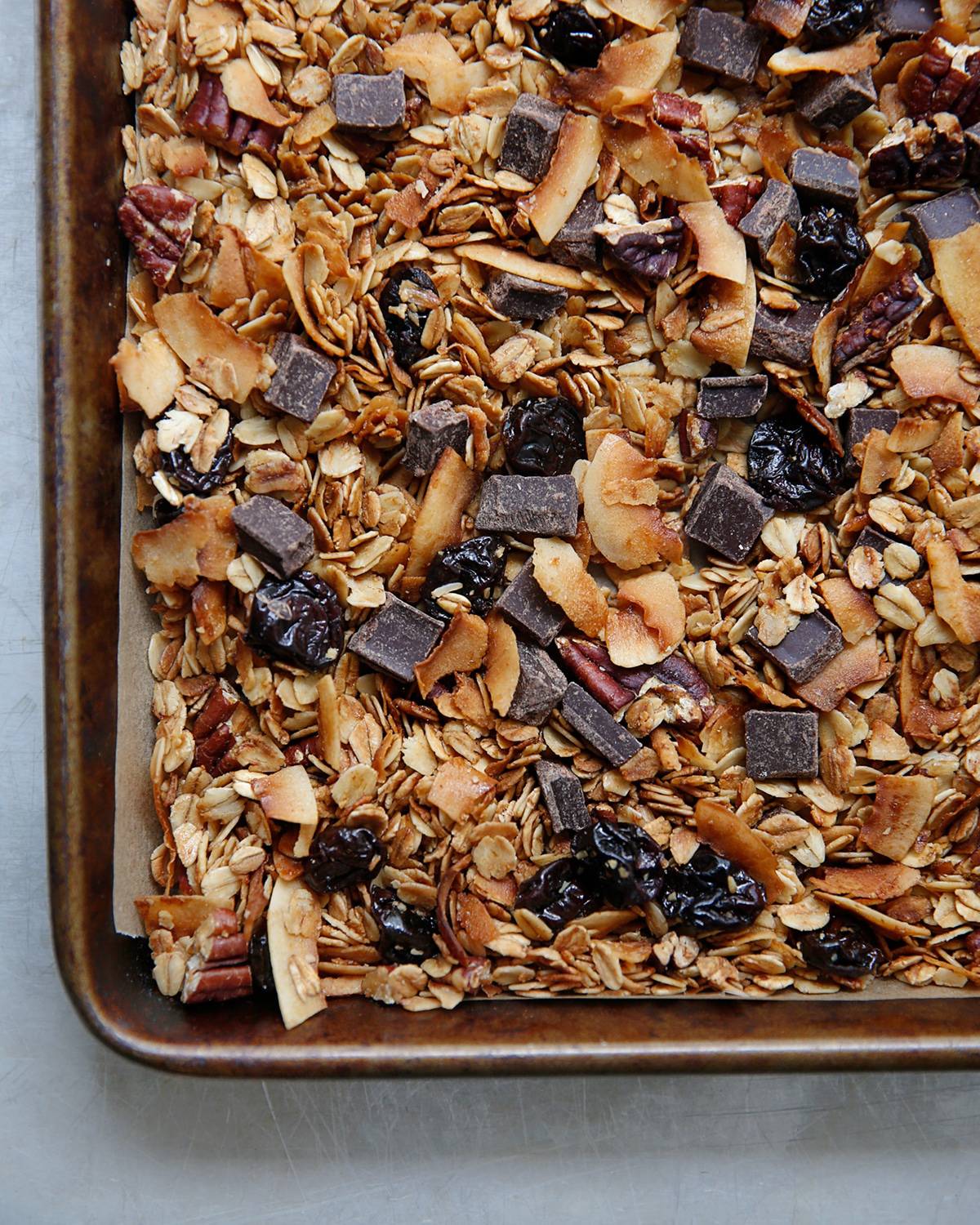 How long does homemade granola last?
You can store this granola at room temperature in an air tight for about a month! But honestly it's doubtful a batch will last that long, because it's hard to stop snacking on it.
Are oats gluten-free?
Oats are naturally gluten-free, but stray wheat, rye, or barley can be introduced during the harvesting and transportation. So if you have a gluten allergy or intolerance look for the gluten-free labeled rolled oats.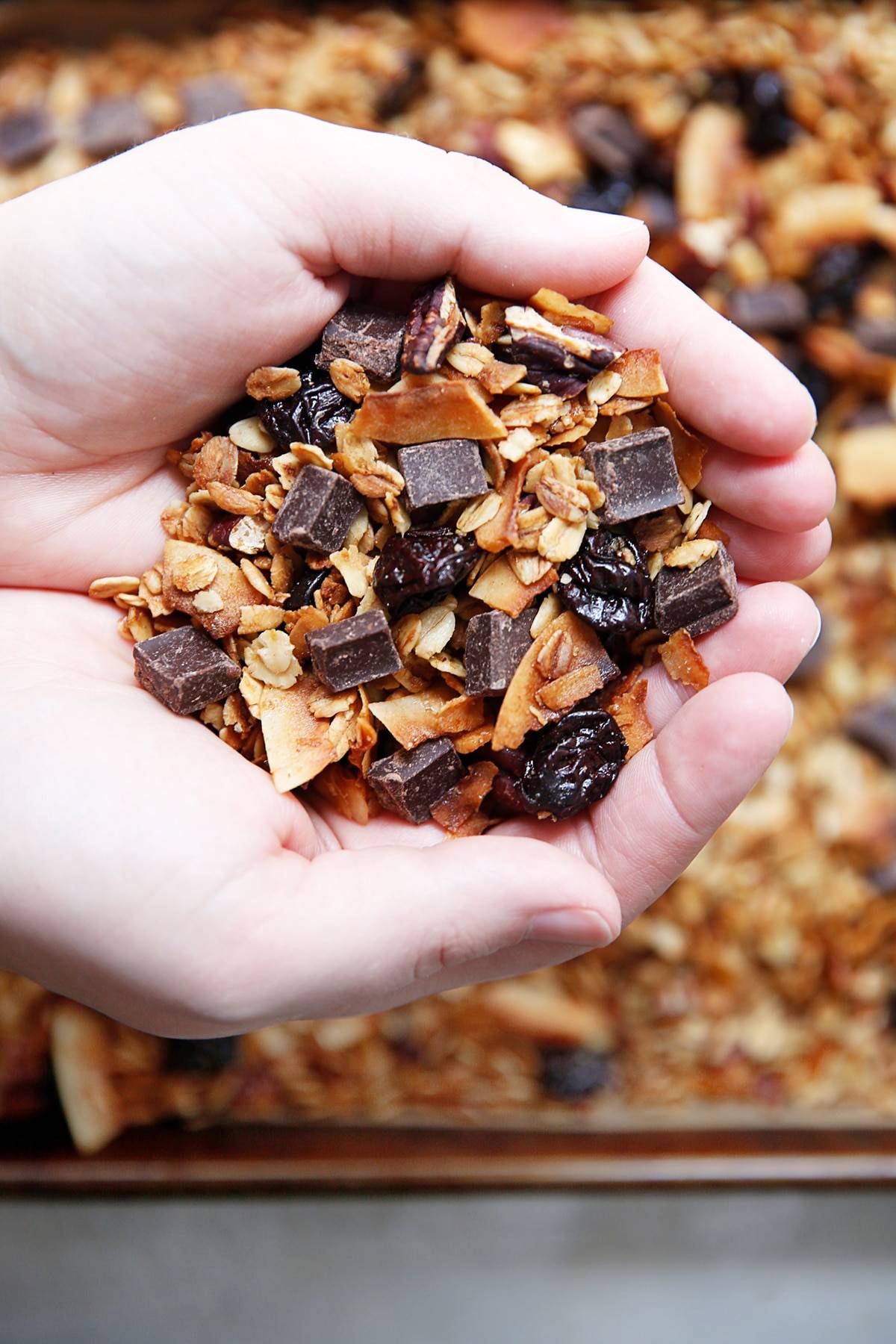 Eat homemade granola with:
Nut milk and berries
Yogurt
Smoothie bowls
As a snack
On top of ice cream
With banana or an apple and nut butter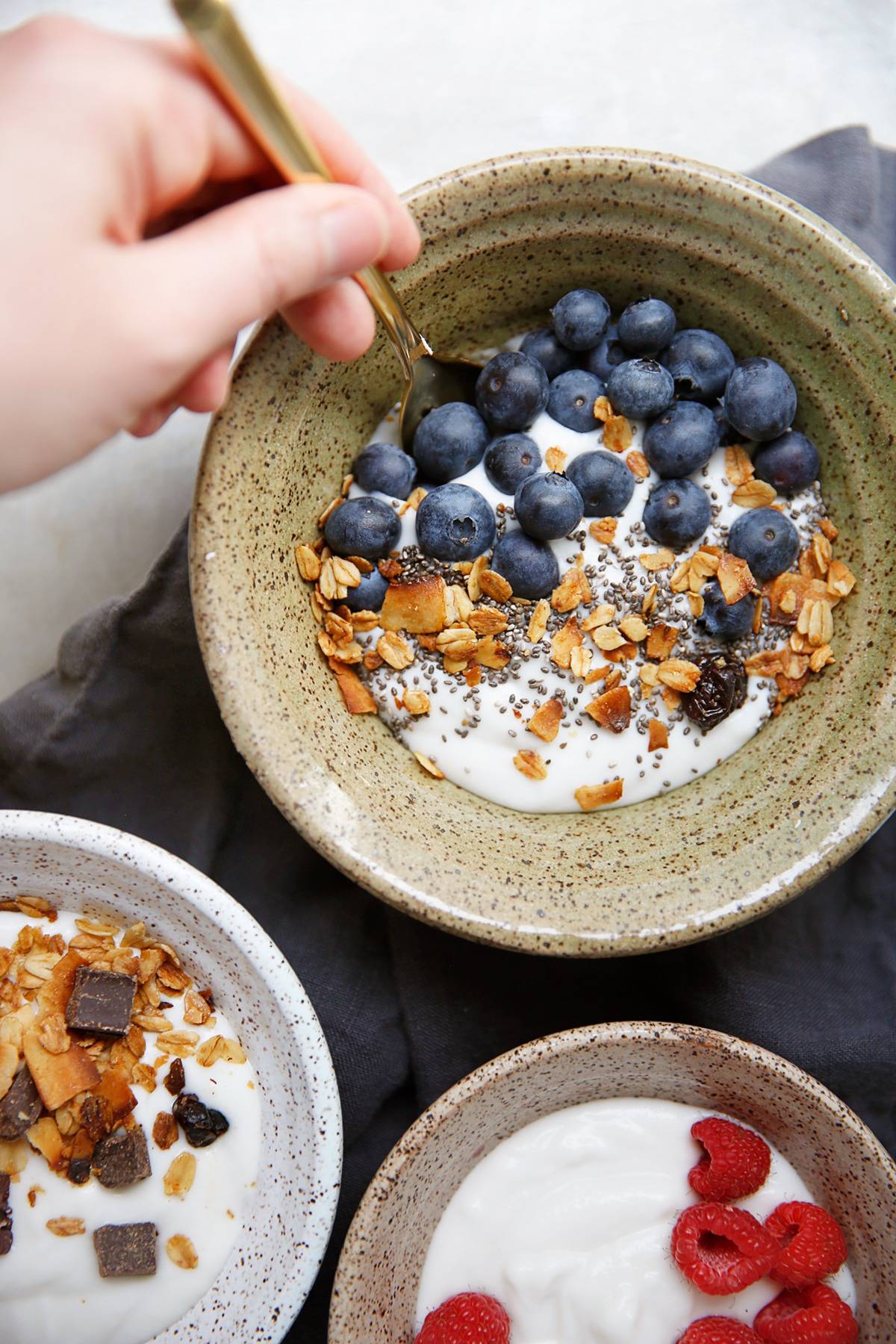 If you like this breakfast recipe, check out these others:
---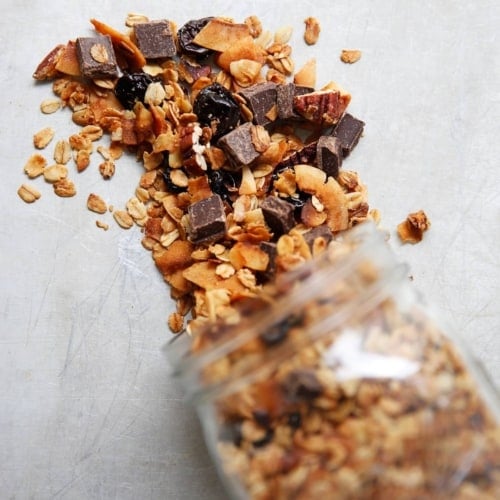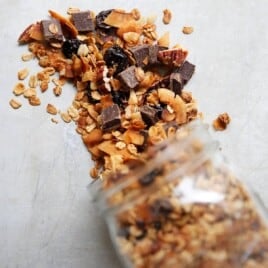 Cherry, Coconut and Chocolate Granola
Ingredients
4

cups

gluten-free rolled oats

1

cup

coconut flakes

½

cup

chopped pecans

see note for nut-free

1

teaspoon

salt

⅓

cup

olive oil

½

cup

maple syrup

½

cup

dried cherries

½

cup

chocolate chunks
Instructions
Preheat oven to 350ºF and line a baking sheet with parchment paper.

In a bowl, combine all of the ingredients except the cherries and chocolate chips and stir to combine.

Pour on prepared baking sheet and shake until it is in one even layer.

Bake at 350 for 22 minutes, turning the mixture halfway through so it bakes evenly.

Let cool and toss with cherries and chocolate chunks. Store in an airtight container at room temperature for up to one month.
Notes
You can substitute pumpkin seeds or sunflower seeds for the pecans if you'd like to make a nut free version.
Nutrition
Serving:
18
g
Calories:
193
kcal
Carbohydrates:
22.1
g
Protein:
2.5
g
Fat:
11.6
g
Saturated Fat:
2.8
g
Sodium:
130
mg
Fiber:
2.3
g
Sugar:
11.8
g