Learning How to Sear a Steak is an essential cooking skill you'll likely use all of your life! Our method sears the outside of the steak and then finishes the cooking by basting it with butter and aromatics.
It takes around 10 minutes to complete, results in the most flavorful steak and can save you the worry of: what's for dinner tonight?
How to Sear a Steak
While the grill gets all the claim to fame as the best way to cook a nice piece of steak, we're here to say that you may have overlooked your cast iron skillet as the top choice because it is so easy from start to finish and results in the most flavorful steak there ever was.
We're talking all about How to Sear a Steak here and to finish it off with the most chef-worthy trick there is: basting it with butter and aromatics at the end to infuse it with flavor!
Using this method to pan sear steak you'll end up with steak that tastes the same as the $80 ones served at steakhouses. You'll never go back!
Let's talk about the Steak!
We choose to pan sear a boneless rib-eye, but this method could also work with a NY strip steak or even a filet mignon so long as the cut is about 1 to 1-1/2 inches thick. If it's thinner than it will cook faster. Any larger than this then we recommend searing on the stovetop and finishing the steak in the oven for a more even cook time. The same goes for a piece of steak with a bone in it as it just won't cook as evenly as desired in the skillet.
Buy the best steak you can afford for this one, as it's the star of the show. It will be so much cheaper than anything you'll find at a steakhouse to cook this for yourself at home, so if possible spend the extra few dollars to get a grass-fed rib-eye if possible.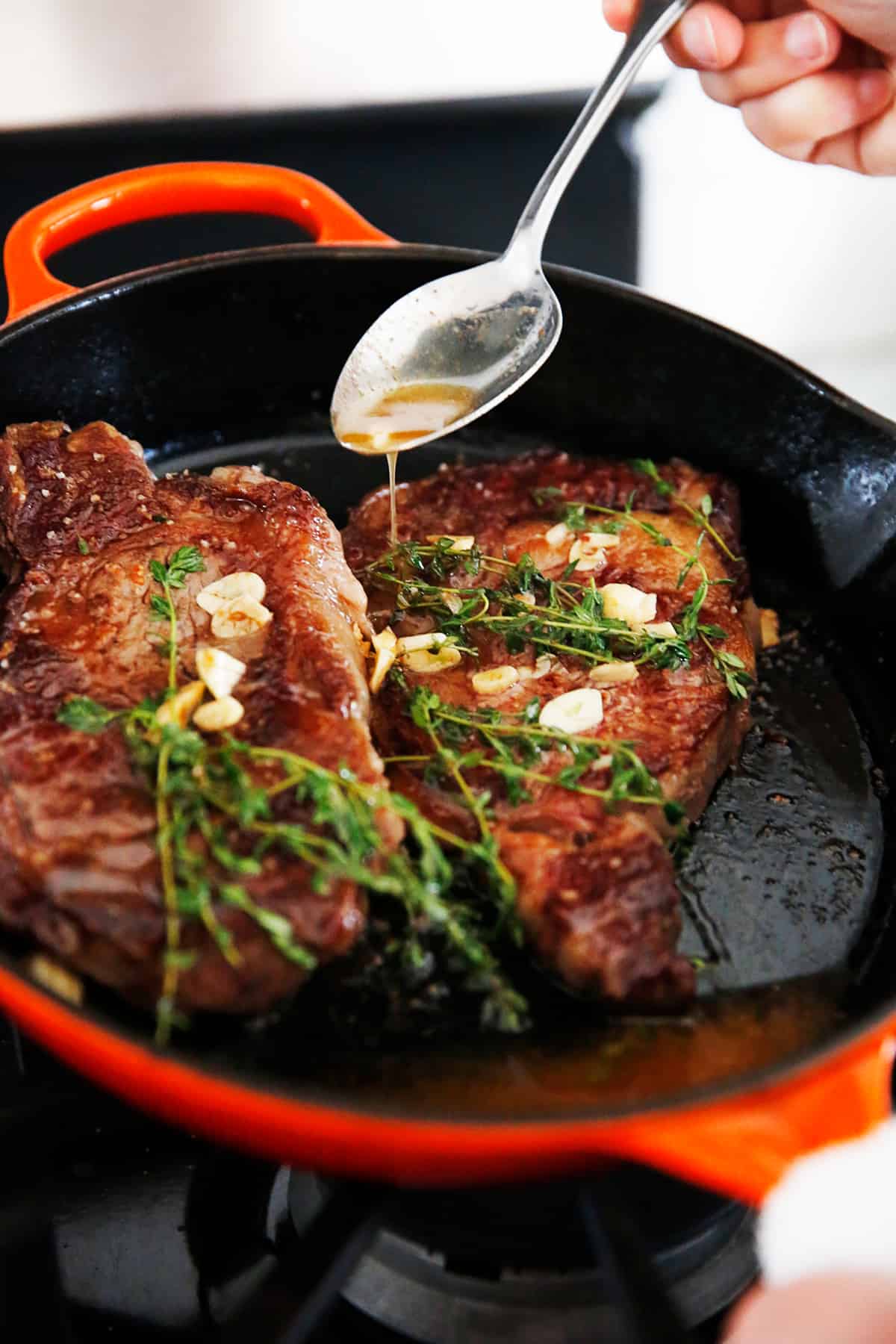 Tips for Pan Searing a Steak
There are only a few things you're going to want to get right when making this recipe:
Take the chill off the steak before cooking! If possible let the steak sit at room temperature for about an hour before you sear it. This step isn't make or break, but as much as possible take the chill off the meat so there is less shock when the meat is cooked. It will result in a more tender steak, but certainly it doesn't mean you shouldn't cook the steak if you aren't able to do this step.
Season the steak well! Place a generous amount of coarse sea salt before you cook it. We skip the pepper until after it's been seared on one side because coarse ground pepper can burn at such a high heat.
Preheat the pan! Get that pan nice and hot before you put the steak inside of it to get that caramelized sear on it. We recommend a cast iron skillet here. They aren't expensive and have a lot of uses in the kitchen. If you don't have one a heavy bottomed pan that heats evenly can work in a pinch, but don't try this with a thin pan.
Check the temperature! We so often talk about taking a temperature here at Lexi's Clean Kitchen and it's because it's such an easy tool to make you a better cook. Probe the meat with an instant read thermometer towards the end of cooking to make sure it's at the exact temperature you want it to be.
What temperature to cook a steak to
If you like rare steak, stop cooking at 125°F.
If you like medium-rare steak, stop cooking at about 130°F.
If you like medium steak, stop cooking at 140°F.
If you like a well-done steak stop cooking at 150ºF-155ºF.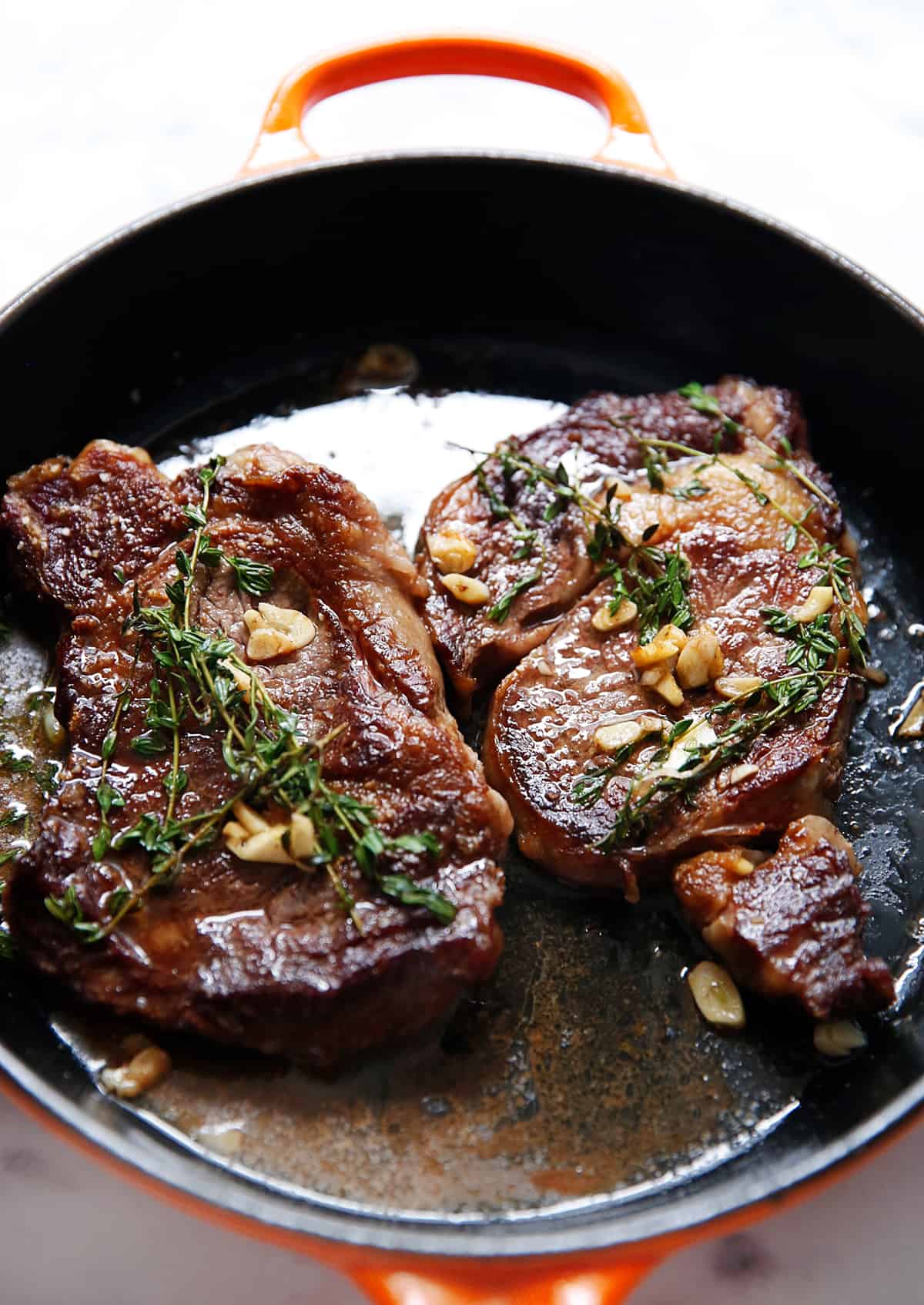 What to serve with a pan seared steak:
Wondering how to get the best steak delivered to your door?
We love the steak in our ButcherBox and it is the best quality.
Each month, ButcherBox  curates a one-of-a-kind selection of the healthiest, tastiest meats, humanely raised and free of antibiotics and hormones. Or you can customize your box and select your favorite cuts and get 20% more meat.The price works out to less than $6.00/meal and shipping is always free. You can also space it out so it's not every 4 weeks, too!
How to defrost your meat:
1. If you remember, take it out and put it in the fridge the day before or until thawed.
2. Didn't remember? All good! Place it in a bowl of cold water (in the package or a resealable plastic bag). Let sit, changing the water with fresh cold water as it warms until defrosted.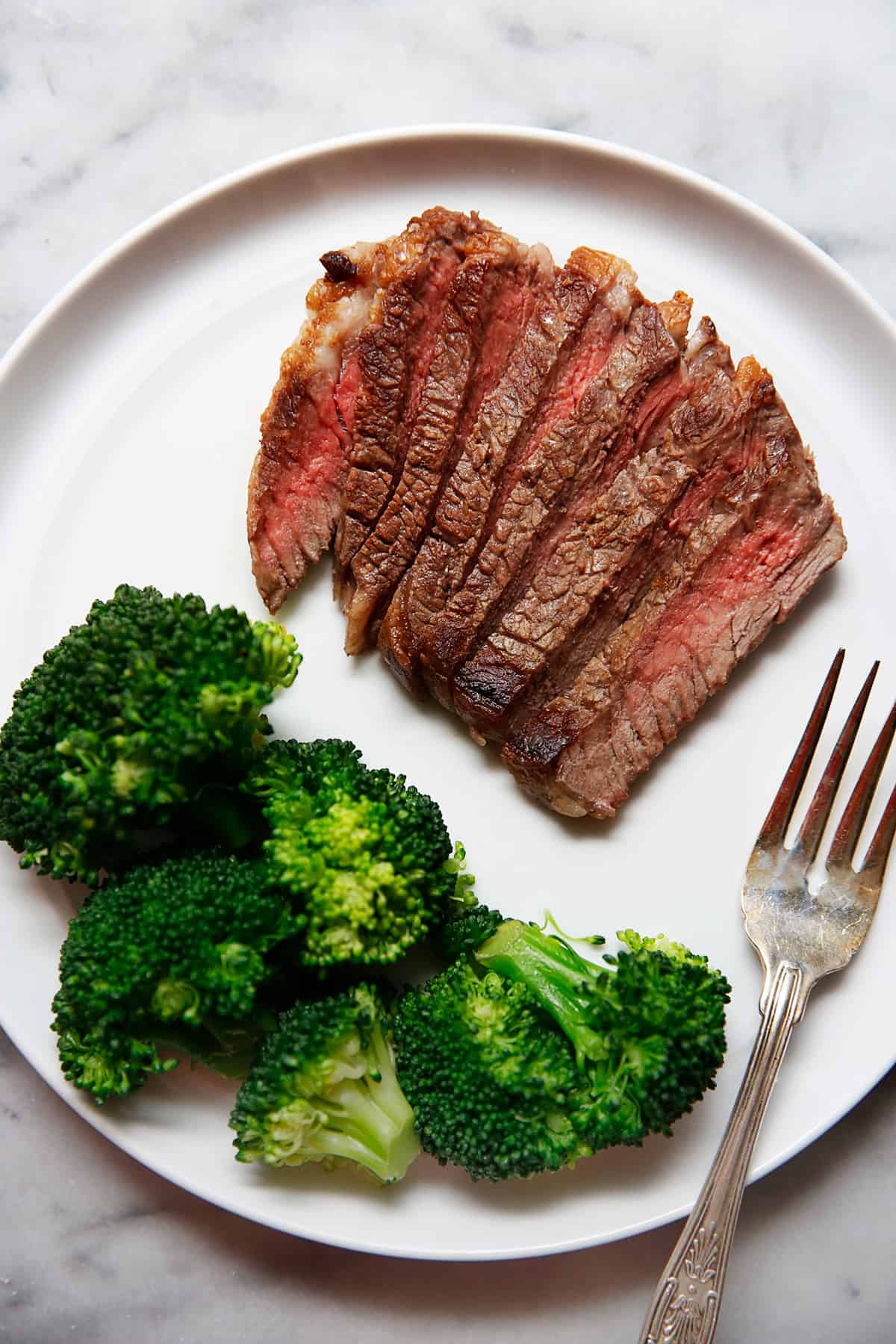 If you like this How to recipe, check out these others:
Watch the video:
Grab our kitchen BFF, the Thermapen MK4 here.
---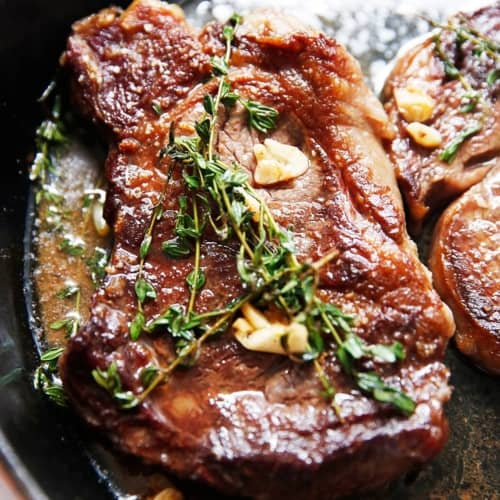 How to Sear a Steak
Learning How to Sear a Steak is an essential cooking skill you'll likely use all of your life! Our method sears the outside of the steak and then finishes the cooking by basting it with butter and aromatics. 
Ingredients
2

boneless rib-eye steaks

about 1 to 1-1/2 thick, about 1 - 1-½ pounds total

Avocado oil

Coarse sea salt

Fresh ground black pepper

1

tablespoon

butter

3

cloves

of garlic

sliced

Very small bunch of fresh thyme

about 12 stems
Instructions
Pat steak dry with paper towels and sprinkle with generous amount of salt on each side. Let steak sit until it has come close to room temperature, about 1 hour or so.

Over high heat, heat a 10"-12" well-seasoned cast iron pan until it is just about to smoke.

Splash the steaks with avocado oil on one side and and place the steak oil side down in the hot pan, making sure as much of the steak surface is touching the hot pan by gently pressing down on it. Sear for 5 minutes undisturbed.

Flip the steaks and make sure the other side of the steak is getting as much contact with the pan as well. Grind a generous amount of black pepper on the seared side. Continue to sear for another 3-4 minutes, until it has reached the desired temperature. We like ours around 135ºF (and it will go up another 5 degrees additionally while resting) but you can adjust to your desired temperature by cooking 1-2 minutes less or more.

When it has reached 135ºF add the butter, garlic, and thyme to the pan and let is sit for 30 seconds until it has melted. Carefully tilt the pan slightly upwards so all the fat pours to the bottom. Repeatedly spoon the mixture, including the herbs and garlic over the steak, about 1 minute to baste the steak with flavor.

Remove the steak from the pan, dripping off any excess oil and and let rest, tented with aluminum foil or alternative for 5 minutes with butter and herbs and garlic on it.

Once done, remove the garlic and herbs and slice against the grain and serve immediately.
Notes
Some other options for pan seared steak are: NY strip, filet mignon.
The cast iron skillet shouldn't be so large that there is a lot of extra space, but not too small that it leaves the steak crowded.
We don't put the black pepper on the steak before it's been seared because at a high temperature the peppercorns can burn and give off a bitter flavor.
Nutrition
Serving:
1
/2 recipe
Calories:
682
kcal
Carbohydrates:
1
g
Protein:
40
g
Fat:
56
g
Saturated Fat:
24
g
Cholesterol:
170
mg
Sodium:
1000
mg