This Healthy Smash Cake is made simply with wholesome ingredients, like oat flour and applesauce! Perfect for your little one's first birthday celebration.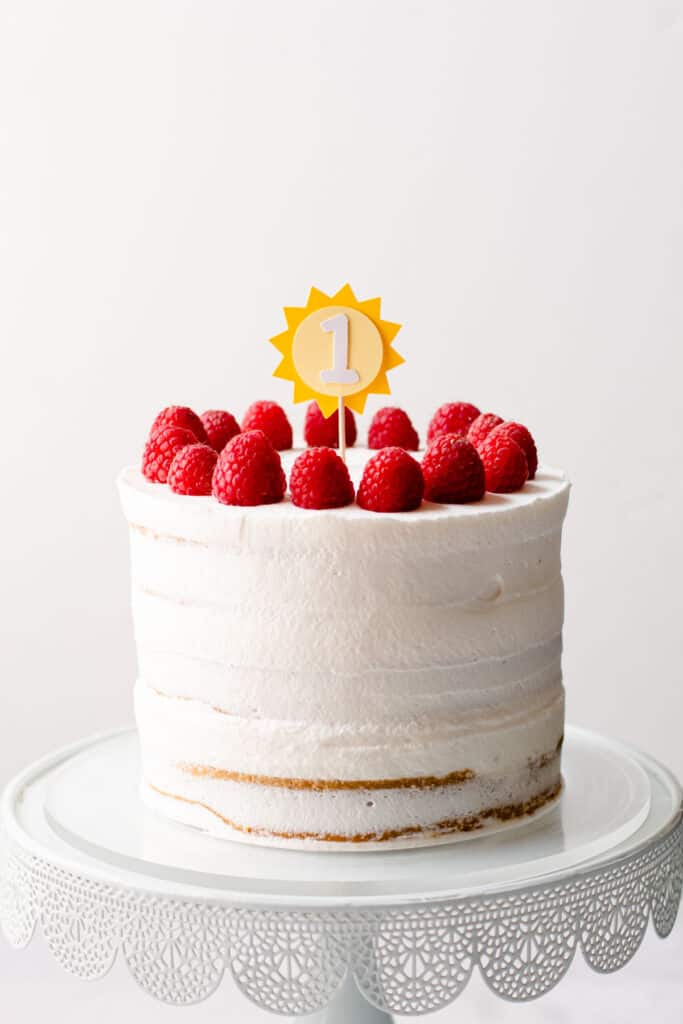 I can't believe my baby turned one. I am a mix of emotions but mostly just overwhelmed that I get to be her mama and watch her grow, learn, and be her #1 cheerleader throughout her life! Skylar is so sweet, snuggly, fun, silly, and just a burst of sunshine to be around!
I'm emotional, so I can go on and on, but now…let's talk about this cake! This Healthy Smash Cake is the perfect way to celebrate your little one! Not only is it truly simple to make, but the ingredient list is also simple, too! This cake is primarily made from oat flour, with a few other wholesome ingredients like applesauce, coconut oil and oat milk! The cake is meant to be made in three 6″ pans, to make a for a tiny, but very cute cake, perfect for letting your little one smash away.
Keep scrolling for all the details and options you have to make this perfect Healthy Smash Cake.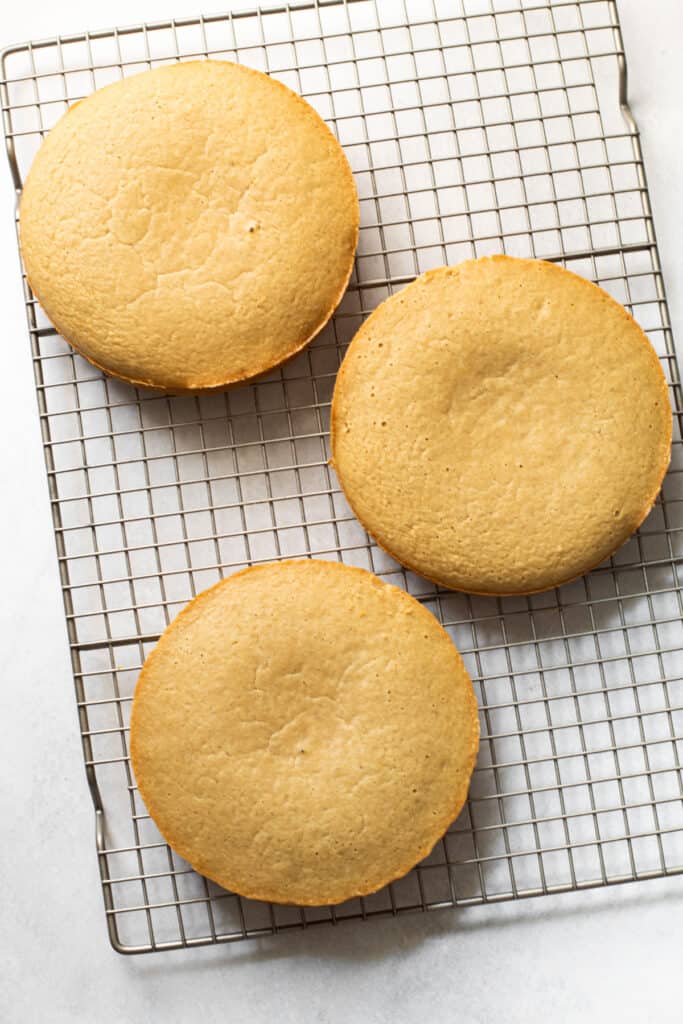 Healthy Smash Cake Ingredients
This smash cake is truly minimal ingredients!
Oat Flour (make it or buy it!)
Oat Milk (make it or buy it!)
Coconut Oil
Maple Syrup (optional)
Eggs
Baking Powder
Substitutions
We tried to keep the ingredients minimal and as friendly as possible to common baby allergens. Here are some substitutions though that you might be wondering about:
Eggs: We tested this using a flax egg. It needs three flax eggs, which adds a substantial amount of flax flavor, but as long as you don't mind that, the recipe work just fine. The recipe below has all the details for how to make this using flax eggs specifically in the notes.
Oat Flour: We have not tried this with any other flour! If you are looking for a cake made from almond flour, give this Vanilla Birthday Cake recipe a try!
Oat Milk: You can use whatever milk works for you here (such as cow's milk, almond milk or coconut milk).
Maple Syrup: This is entirely optional. (See more on this below)
Oil: We tested this with coconut oil and avocado oil and they both work great. We haven't tested it with melted butter, but suspect it will work just fine.
How to Make it a No Sugar Added Smash Cake
During the first few tests of this cake, we omitted any added sugar. We tried it with mashed banana, but didn't like the texture (it very much looked and tasted like banana bread). So this recipe was first developed without any added sugar. The cake had a nice texture, and had a subtle oat flavor since it is the primary ingredient. We felt this was just perfect for a baby smash cake, especially a baby who hasn't had any sugar beforehand.
After we got that right, we then tested it with a bit of added maple syrup. This drastically improved the flavor for grown-up taste buds. However, it's such a minimal amount of added maple syrup that we decided to leave it as the standard base recipe. It lightly sweetens up the cake, while still being a minimal amount and it being a natural sweetener.
So you can decide to use the maple syrup in the cake, or omit it for a truly no-sweetener added healthy smash cake.
Do what works best for your family!
Tips for Making a Smash Cake
We love how easy this is to make! Simply add the wet ingredients to a bowl, and whisk together, then add in the dry and whisk! But here are a few tips for making it that help lead to a successful outcome:
If possible, have all ingredients close to room temperature. While not absolutely essential, it helps prevent the added melted coconut oil from solidifying if it hits very cold ingredients.
And with that being said, let the melted coconut oil cool down after melting it! If the coconut oil is very hot, it is more likely to freeze up and solidify when added in with the rest of the ingredients.
Have your cake pans prepared before you start making the batter. Oats are absorbent and will continue to hydrate and suck up the moisture in the batter if it sits or too long, so it's best to make the batter right away and get it into the oven ASAP.
Make sure the cake is done by sticking a toothpick in the center of the cake. Just most crumbs should come off of the toothpick, not moist batter.
Healthy Smash Cake Frosting Ideas
There are lots of ways to decorate a healthy smash cake!
Since the cake already has very minimal or no added sugar, you can decorate it with a traditional buttercream frosting (like I choose to do for Skylar!).
Or you can use any one of a number frosting ideas we have here on my site:
Or, you could do what we did for the photos for this recipe and just use plain unsweetened whipped cream to decorate the cake! We also played around with decorating the cake with fruit, including sticking some in between the layers. This added some flavor and color to the cake, naturally.
Bottom line is to choose what frosting idea you feel good about!
Our Little Sunshine Turned 1
We went with the theme: SUNSHINE to celebrate, because that's what we call Skylar, our little sunshine! So it was fitting to have pops of pink, yellow, and white!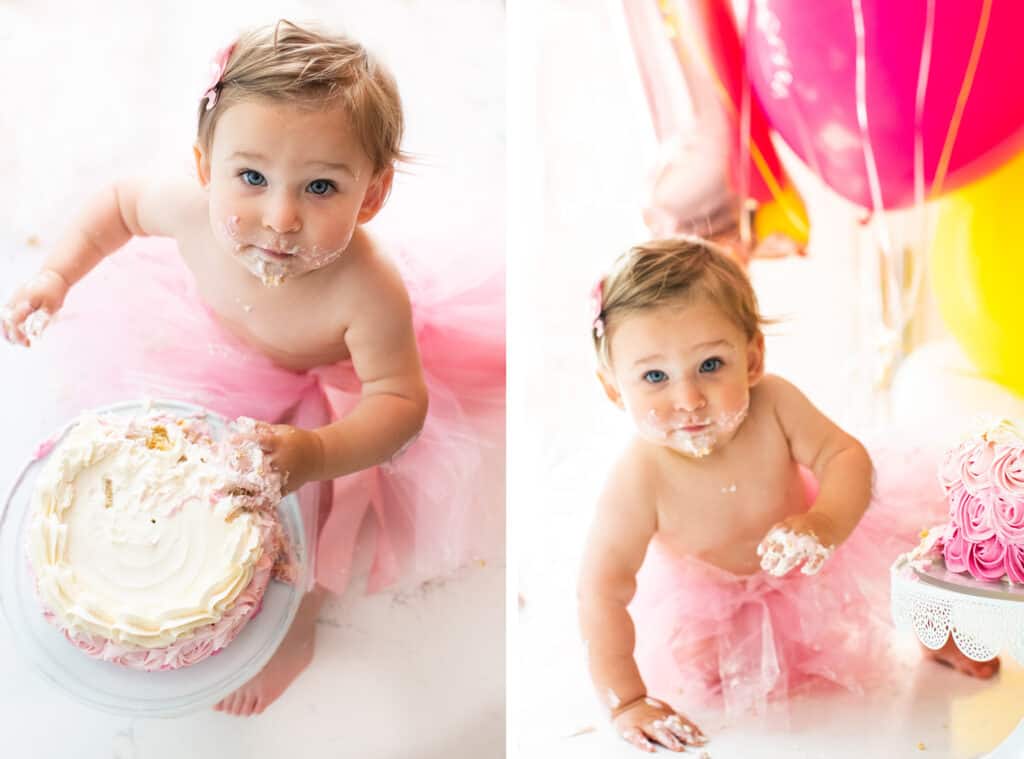 Looking for more healthy cake ideas?
While this recipe was developed specifically for a healthy smash cake, we have a lot of other healthy cake ideas that could work just as well as a smash cake. Here are a few suggestions:
Watch the Video Here: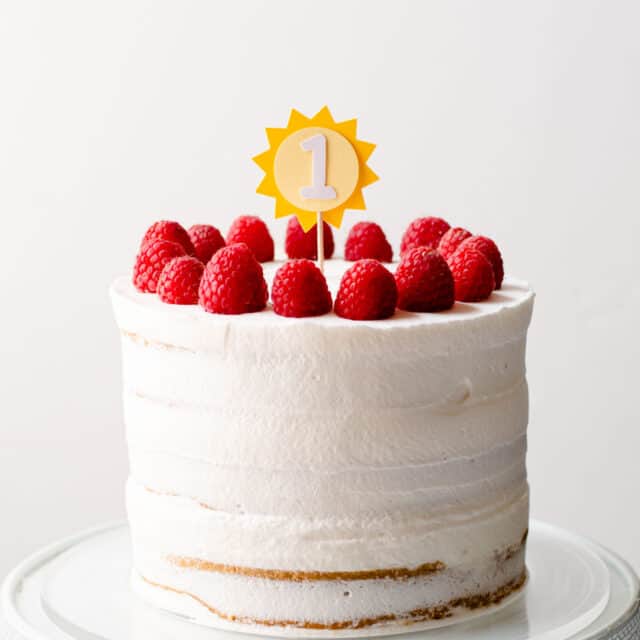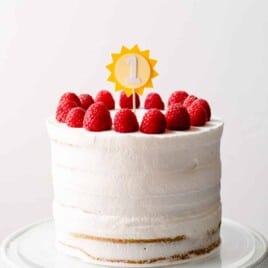 Healthy Smash Cake
This Healthy Smash Cake is made simply with wholesome ingredients, like oat flour and applesauce! Perfect for your little one's first birthday celebration.
Ingredients
2/3

cup

apple sauce

3

eggs

see note for egg alternative

¾

cup

oat milk

½

cup

coconut oil

melted and cooled (see note)

⅓

cup

maple syrup

optional

3

cups

oat flour

1

tablespoons

baking powder
Instructions
Pre-heat oven to 350ºF and prepare three 6″ cake pans by cutting out three parchment paper circles to fit exactly inside the cake pan. Lightly spray the sides and bottom of the cake pans with avocado oil and place parchment paper circles inside.

Add applesauce, eggs, milk, coconut oil and maple syrup to a large bowl and whisk together. Add in oat flour and baking powder and whisk until smooth.

Evenly divide batter into cake pans and bake for 28-32 minutes, until the cake is puffed up all over and a toothpick inserted in the center comes out clean.

Let the cakes cool in the pan for 5-10 minutes, and then remove from the pan to a cooling rack to cool completely before frosting.

Frost as desired, and optionally decorate with fruit! If your cake is unsweetened, it might be a nice touch to add in some sweet fruit in between the layers of the cake.
Notes
If possible, have your eggs, milk and applesauce be as close to room temperature as possible. This is only important to prevent the coconut oil from solidifying when it hits the cold ingredients.
The coconut oil needs to slightly cool down after melting because if it is added too hot into the bowl with the other cool ingredients, it will solidify.
Need to swap out the eggs? Instead, make a flax egg with ⅓ cup ground flaxseed mixed together with 1 additional cup of milk. Let it sit for 15 minutes before adding it into the cake batter in place of eggs.
We have a whole paragraph up above with frosting suggestions. Some options would be to just use a basic buttercream. Or you could use unsweetened whipped cream. Or even coconut cream! Use what you feel comfortable serving to your baby.