The Best Gluten Free Birthday Cake
We made the best Gluten-Free Birthday Cake. Seriously, it's the best cake ever. It tastes like the real deal cake you've been wanting, made gluten free!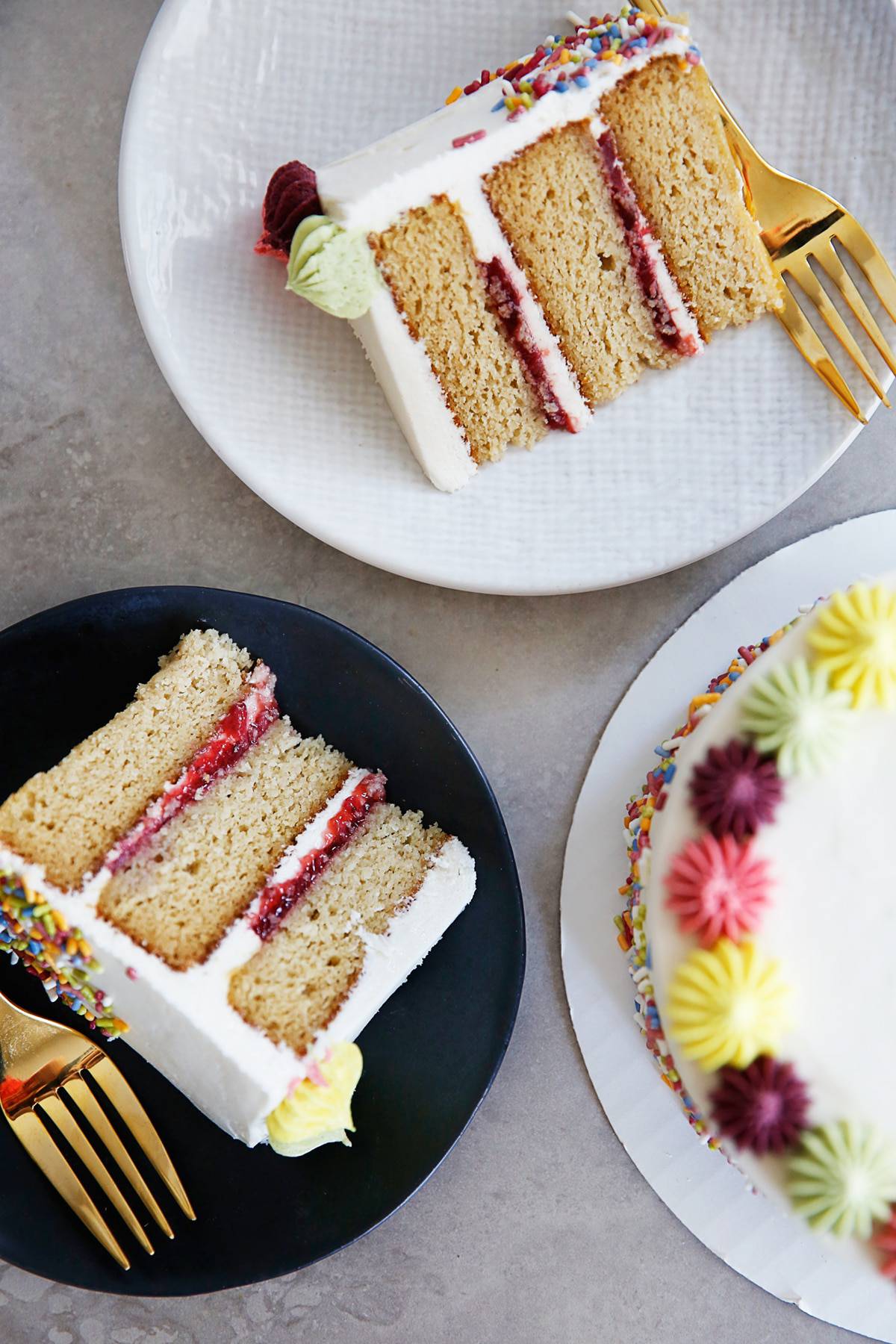 The Best Gluten-Free Birthday Cake
We took my nut-free cake and made it even more amazing. SO if you're looking for a nut-free cake recipe, go for the two in my cookbook or this July 4th Classic Cake!
Aside from the health benefits of using gluten-free flours in this cake, the combination of almond and coconut flour is so moist and tender! While you do have to cream the butter and sweetener together, this is a relatively fool proof recipe as there is no concern about the cake being tough from over-beating the batter like there is with a gluten flour containing cake. We also use all natural/homemade food dyes, see here!
I can't believe Lexi's Clean Kitchen has been up and running for FIVE whole years. I truly feel so blessed that this is my job and that all of you trust me with the recipes you feed your family and friends, and yourself! Thank you for trusting me, supporting me, continuing to follow along this journey, and for being a part of the LCK family. I truly mean it with all of my heart. Thank you, thank you, thank you.
Let's celebrate!
Ingredients Needed:
For The Gluten Free Cake:
Butter
Honey or maple syrup
Eggs
Almond flour
Coconut flour
Baking powder
Baking soda
Sea salt
Unsweetened almond milk
Vanilla extract
Almond extract (optional)
For Strawberry Filling:
Strawberries
Honey
Lemon juice
For the full details and frosting recipe, scroll down for the full recipe.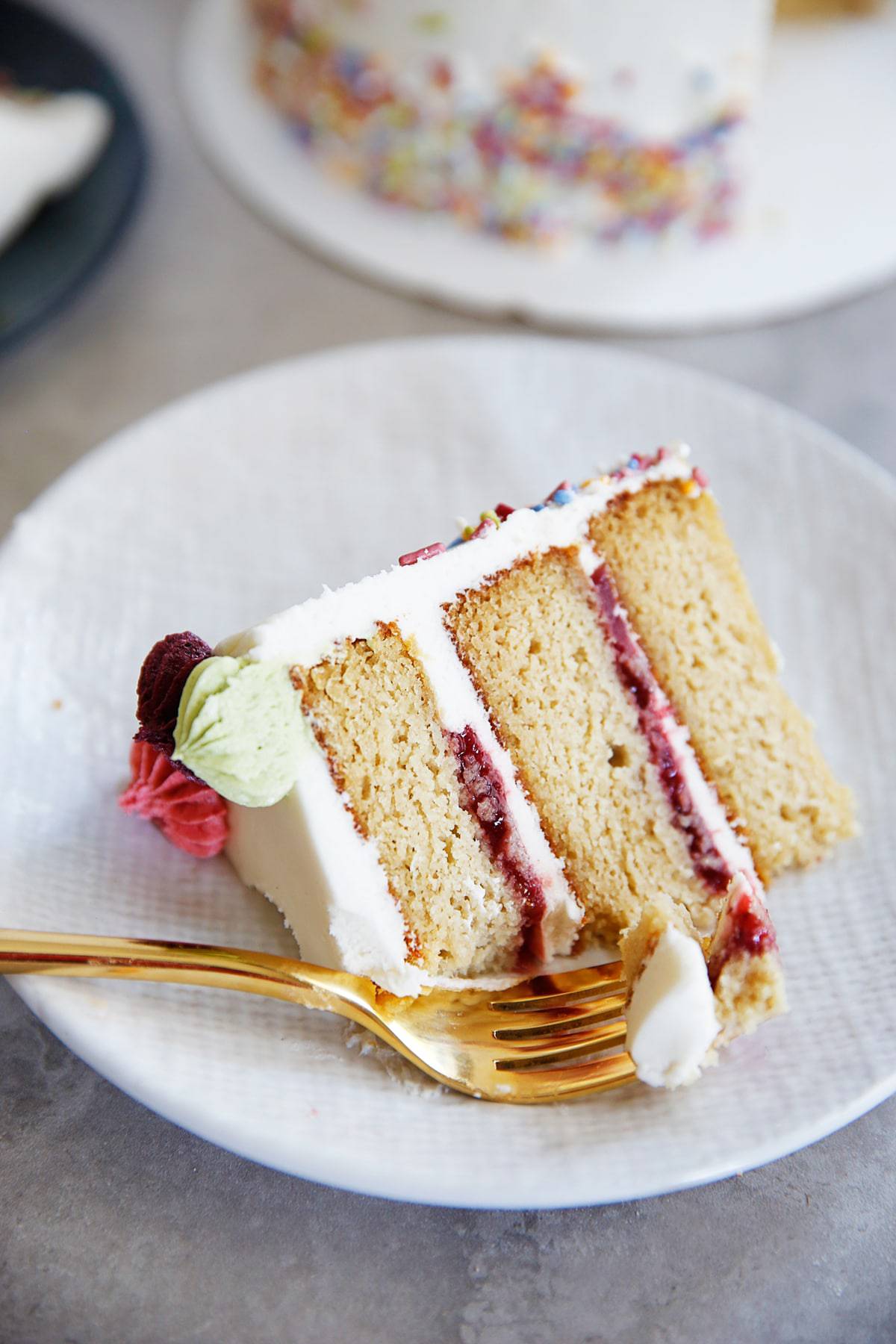 Tips Tools Needed to Frost a Cake Like a Pro
Now not everyone is going to frost this cake like we did. But if you want to give it a whirl, getting these tools make it easier to get an even and smooth cake!
Tips to Making Cake Ahead of Time:
Make the cake layers and the jam the day before. Once the layers are cooked completely wrap them up or put them in a large airtight container, otherwise they will dry out.
Make the frosting and assemble the day of.
Cakes keep wonderfully fully assembled in the frige for a few days.
Additionally here are some tips that make it easier to frost a cake:
Temperature matters: Chill your cake layers before assembling, and chill the cake after you have built your layers as it helps keep your cake evenly stacked.
Apply a crumb coat: Frost the cake with a thin layer of frosting that locks in any stray crumbs
To achieve a smooth finish: Once you have finished frosting the cake, chill again for 10 minutes and then heat the bench scraper or off-set spatula with hot water (make sure to dry it off completely) and make one final swoop to smooth it all out.
Watch the Video:
Print
The BEST Gluten-Free Birthday Cake
Author:
Prep Time:

45 minutes

Cook Time:

20 minutes

Total Time:

1 hour and 5 minutes

Yield:

6

" 3 Layer Cake

1

x
For Cake:
1/2 cup

(

4 oz

. or 1 stick) butter, softened (see note)

1/3 cup

honey or maple syrup (see note)

4

eggs

2 cups

(

192g

) almond flour

1/2 cup

(

48g

) coconut flour

1 teaspoon

baking powder

1 teaspoon

baking soda
pinch fine sea salt

1/2 cup

unsweetened almond milk (or milk of choice)

1

–

1/2

teaspoon vanilla extract

1/2 teaspoon

almond extract (optional)
For Strawberry Filling:
2 cups

strawberries, sliced

2 tablespoons

honey

1 teaspoon

lemon juice
For Buttercream Frosting:
1 cup

(

2

sticks) butter, softened

3 cups

powdered sugar, sifted

1 teaspoon

vanilla extract

1

to

2

tablespoons almond milk
Natural food coloring (follow this guide)
Instructions
Pre-heat oven to 350ºF and prepare three 6″ cake pans by cutting out a three parchment paper circles to fit exactly inside the cake pan. Butter sides and bottom of cake pan and place parchment paper circles inside.
In a heavy duty stand mixer, or hand held mixer, add butter and honey/maple syrup to bowl and cream together until light and fluffy, about 3-5 minutes.
Add eggs, one at a time, blending together after each one.
Add almond flour, coconut flour, baking powder, baking soda and salt and beat on medium for 1-2 minutes until well blended.
Add almond milk, vanilla extract and almond extract and beat on medium for 2 minutes until light and fluffy.
Divide batter into cake pans, about 1 cup of batter each, and bake for 20 minutes, or until toothpick inserted in center comes out clean.
Let cake cool in pan for 5-10 minutes, and then remove from pan to a cooling rack to cool completely before frosting.
For Strawberry filling:
In a medium sauce pan place strawberries, honey and lemon juice and turn on heat to medium low.
Cook, stirring frequently, until reduced, about 15 minutes.
Let cool completely before using in cake.
For Buttercream Frosting:
In the bowl of a stand mixer fitted with paddle attachment beat the butter until light and fluffy, 3-5 minutes.
Add the sugar and mix on low speed until well blended. Increase the speed to medium and beat until fluffy, 1 to 2 minutes.
Add the vanilla and 1 tablespoon of almond milk (or more if needed) and beat on medium speed until lightened in color.
Add natural food coloring if using and blend.
To Assemble Cake:
Once cake and jam is cooled completely place first layer on serving plate and frost with a thin layer of buttercream. Create a 1/2″ dam of buttercream on the perimeter of the cake layer by piping it, or using a offset spatula, to prevent the jam from leaking out of the cake. Top with 2 heaping tablespoons of jam and smooth over.
Add next layer of cake and repeat with layer of buttercream, buttercream dam,  and jam.
Place cake in refrigerator for at least 15 minutes, to let set up and to make frosting cake easier.
Once cake has chilled, add about half of frosting to the top of the cake and using an offset spatula frost cake starting with the top and moving excess down the sides of the cake and smoothing as going.
Decorate as desired with additional frosting.
Cake will keep 3-5 days in refrigerator.
Notes
We used a combination of maple syrup and honey equal to 1/3 cup together to prevent the cake from taking on the flavor too much of either one.
The butter absolutely must be at room temperature or it will not cream together with the honey. It is always best when making a cake if all ingredients are as close to room temperature (especially eggs and milk) as the cake batter comes together more easily and you get a fluffier textured cake. If the eggs are not at room temperature you can place them in a bowl with warm (not hot) water for about 10 minutes. You can also gently heat up milk using your preferred method (stove top or microwave) to bring it up to room temperature (but make sure it is not hot).
Follow this guide for our post on Natural Food Coloring!
Sprinkles we use: We get them from Whole Foods  because they are artificial food dye free. These are also a decent option.
Thank you for being a part of the Lexi's Clean Kitchen family throughout these amazing 5 years. I love you all!!
This website may at times receive a small affiliate commission for products that we shared with you in our posts. Although we may receive a commission for linking certain products, there's no additional costs to you and all of our opinion and suggestions are 100% our own and unbiased. That's our promise to you!
Subscribe to get our FREE clean eating guide!
Join our email list TODAY to start recieving our newsletter weekly, access to exclusive content and deals, *and* a FREE complete 24-page clean eating guide!