Risotto is a classic Italian dish that consists of the rich creamy rice that is slowly cooked with shallots, wine and broth and peppered with parmesan cheese. While this dish isn't hard to make, there is a technique to it. We're sharing all of our tips for How to Make Risotto so you can make this restaurant-quality meal at home.
Simple Classic Risotto
There is no doubt, Classic Risotto is comfort food at its finest. A good risotto should be rich and creamy (without the need to add tons of butter and parmesan), with a bit of a bite to it (also known as al dente), and has the proper consistency which looks like the rice forming a soft mound on the bowl without it falling flat.
Risotto is made using the risotto method of cooking short-grain white rice while slowly adding small increments of warmed chicken broth. This gradual addition of liquid coaxes the rice to release its starch to create a creamy sauce. The rice is finished cooking when it is plump with a slight bite to it. A pat of butter and parmesan cheese is added at the end to bolster the velvety sauce, but not overwhelm it.
This dish is honestly just fine to serve all on its own, or it can be served as a side along with a main protein.
Ingredients Needed
There is just a short list of ingredients needed to make risotto! The recipe we're sharing today is a very classic, paired-down version. Once you get the hang of making it, you can experiment and add in different flavors. To make classic risotto you need:
Arborio Rice

Chicken or Veggie Stock

Shallots

Butter
White Wine (optional)
Parsley
Parmesan Cheese
Salt and Pepper
Need this to be dairy-free? You can omit the parmesan cheese if you have to, but it will lose some of the richness and flavor.
Steps to Make Risotto
Let's go over the basic steps to making risotto! Risotto has an undeserved reputation of being fussy and time-consuming to make. The truth is, once you've made it the first time, you'll have mastered it and understand that it's one of the simplest dishes to make! In short, you are slowly cooking rice while gradually adding in liquid in small increments. Here is an overview of steps for making risotto:
Bring the chicken stock (or veggie stock) up to a boil and then keep it over a low flame to stay warm.
Cook shallots in butter, and then "toast" the rice. Use your nose as the key as to when the rice is toasted enough. It shouldn't be so toasted that it starts to brown.
Deglaze the pan with white wine. This step is optional, but encouraged because it adds a layer of flavor to the final dish.
Gradually add in the warmed chicken stock a 1/2 cup at a time, stirring frequently, until each addition has been fully absorbed.
Once the risotto is done, add in the butter, parmesan and parsley. Taste and adjust seasoning.
Serve risotto immediately, in warm bowls.
Helpful tips:
Make sure all ingredients are ready to go before you begin cooking. That means broth is warmed, shallots are cut, and other ingredients and tools you need (like a ladle) are nearby. And don't forget about warming the bowls.
The first time you make this, it's best to just stay hanging around the pot to monitor how the rice is doing in between adding batches of chicken stock. Stir frequently to make sure the rice doesn't scorch and add in more broth just as the last batch has been fully absorbed. Truly, this process in total usually doesn't take more than about 20 minutes.
If you have used up all of your chicken stock and the rice still isn't fully cooked you can use water to continue to cook it.
Don't salt the dish heavily until after you've added your parmesan cheese since that contributes to the overall salinity of the dish.
Understanding Risotto Better
If you are new to making risotto, you may find that the recipe has a lot of specific instructions and requirements. Once you get the hang of it, you will find it isn't complicated to make risotto. But if you are new to making it, learning a bit more about the reasons for some of these specific requirements is useful. Below is a list of some frequently asked questions some people have if they are new to making risotto.
Can I use a different type of rice? Technically you can use the risotto technique on any type of rice. But risotto is classically made with a short-grain white rice, such as arborio or carnaroli.
Why do you need to warm up the chicken broth? Warming up the chicken broth ensures that the rice cooks properly and stays a consistent temperature and releases it's starch. If you add in cold chicken broth it can "shock" the rice, preventing it from fully releasing the starch.
Why do you serve it on a warm plate? Risotto is most creamy right after it's finished cooking. Serving it in warm bowls ensures it doesn't cool too quickly. Once it cools, it starts to thicken up.
Do I have to stir it the entire time? Yes and no. We recommend the first time you make it, you stand by the pot, and stir it very frequently. Stiring it ensures it cooks evenly, and doesn't scorch anywhere as the liquid is absorbed. Once you've made risotto, you can get a feel for when it's ok to stir less frequently according to how your stovetop cooks the rice.
Can I store leftover risotto? While we recommend serving freshly made risotto immediately, you can in fact reheat leftover risotto. Reheat it slowly on the stovetop with a bit of extra water or chicken broth, until it's reached that correct consistency when it flows back into the space left when you run a spoon through it.
 What to Serve with Risotto
Risotto can be left in its classic form and served alongside a main dish. Here are some suggestions on main dish recipes to serve alongside risotto.
Watch the video here:
---
---
If you like this rice recipe, check out these others: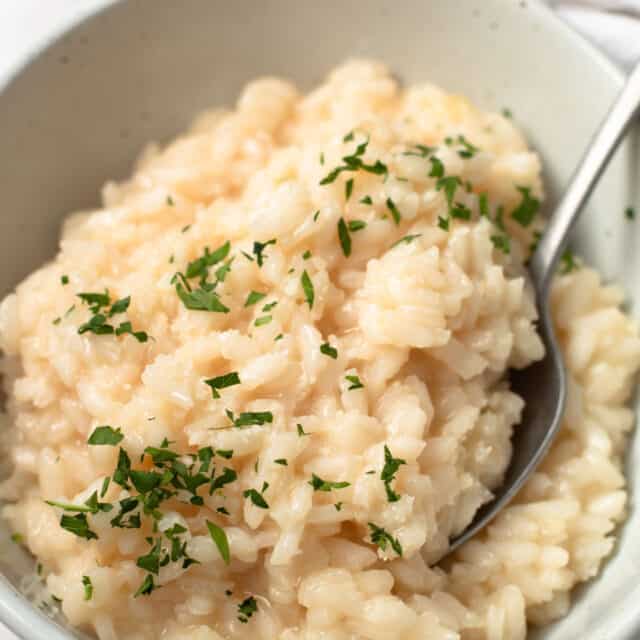 How to Make Risotto
Risotto is a classic Italian dish that consists of the rich creamy rice that is slowly cooked with shallots, wine and broth and peppered with parmesan cheese. While this dish isn't hard to make, there is a technique to it.
Ingredients
5-6

cups

chicken or vegetable stock

3

tablespoons

butter

divided

2

shallots

minced

Pinch

salt

1-1/2

cups

arborio rice

½

cup

white wine

2

tablespoons

finely minced parsley

2-4

tablespoons

parmesan cheese

Additional Salt and Pepper

to taste
Instructions
Place chicken stock in a medium saucepan and heat to boiling, then lower the heat to simmer to keep hot.

Heat 1 tablespoons butter in a large dutch oven. Add shallot and cook for 2 minutes. Add a big pinch of salt, arborio rice and cook until the rice smells toasted, about 2-4 minutes. Do not let the rice get brown.

Add white wine to deglaze the pan and cook, stirring frequently, until all of the wine has been absorbed.

Add in ½ cup of chicken stock to the pot, and stir. Continue to cook over medium, stirring frequently, until the chicken stock has mostly been absorbed. Then add in another ½ cup of chicken stock, and repeat the process of incrementally adding in the chicken stock and stirring, until the rice is al dente (nearly cooked through, with just a chewy bite in the grain of rice remaining), about 15 to 20 minutes. You don't need to be standing over the pot the whole time, but you shouldn't stray too far for too long from the pot. You want to add just enough broth to the rice so it's perfectly cooked, and the risotto flows slowly when a spoon is dragged through it.

Once the risotto is al dente, shut off the heat. Stir in the parsley, remaining 2 tablespoons butter and parmesan cheese. Taste and adjust seasoning, adding in more salt and cheese, as needed.

Serve risotto immediately, in warm bowls. Sprinkle with additional parsley and parmesan cheese.
Notes
Risotto is one of those dishes that really must be served warm. The longer it sits, the more liquid the rice absorbs, and it can go from creamy to too thick quickly. Warming the bowls helps slows down this process. If your oven has a "keep warm" cycle, that is a great place to stash the bowls to keep warm until ready to serve.
Nutrition
Serving:
1
/4 recipe
Calories:
448
kcal
Carbohydrates:
59
g
Protein:
17
g
Fat:
18
g
Saturated Fat:
6
g
Cholesterol:
25
mg
Sodium:
956
mg
Fiber:
1
g
Sugar:
1
g