Mediterranean Quinoa Salad
This Mediterranean Quinoa Salad is a must make for a healthy, light dinner or an easy side dish! With protein-packed quinoa, tomatoes, feta, arugula and mint this easy-to-make salad will be on repeat this summer!
Mediterranean Quinoa Salad Recipe
This is the first official quinoa recipe here on Lexi's Clean Kitchen and it's a good one! Many of you have requested healthy and nutrient-dense grain recipes and a promise is a promise! In the past we've had lots of oat recipes which you all have been loving and thought it time to incorporate some recipes with this healthy gluten-free grain! This Mediterranean Quinoa Salad is so flavorful and loaded with veggies and herbs! It tastes as fresh as it looks and is the perfect dish to serve as a light dinner or as a side. It also can work as meal prep for a few days.
Is Quinoa Healthy?
Our in-house nutritionist Gabby says: Quinoa is tremendously healthy, especially for those following a vegan or vegetarian diet. Quinoa is one of the very few plant proteins that contains all nine essential amino acids that our body cannot make on their own, making it a complete protein. Not only is it a rich source of protein, it is also naturally gluten-free, safe for those with celiac disease.
Many believe quinoa is a seed, but it is actually a whole grain. This makes it a nutrient-dense, high fiber substitute for things like white pasta. Last but not least, it is high in many vitamins and nutrients that Americans are deficient in such as magnesium, thiamin, folate, iron, potassium, calcium and phosphorus.
Do you need to rinse quinoa?
Yes! Don't skip this step, even if your quinoa says "pre-rinsed". Rinsing the quinoa get's rid of the natural powdery coating called saponin that has a strong, somewhat unpleasant flavor. Put the quinoa in a strainer and rinse really well under cold water for 1-2 minutes. Then it's ready to use.
How long will this salad keep?
This salad as made is best served immediately because of the arugula. But if you'd like to keep it longer, or use for meal prep you can make the salad up to 2 days ahead and either skip the arugula all together or add it to the prepared salad right before ready to serve.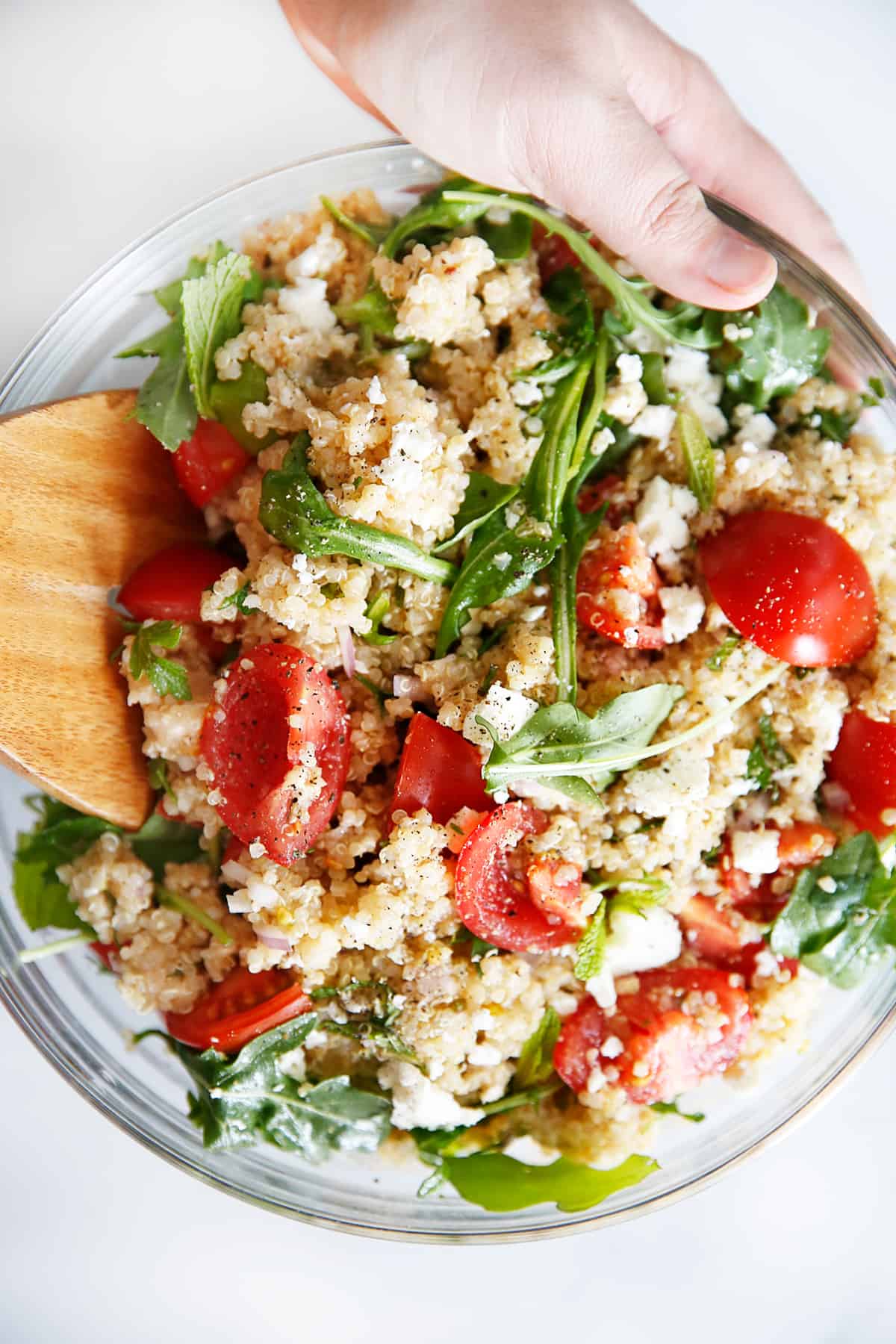 If you like this healthy salad recipe, check out these others:
Watch the video here:
---
Mediterranean Quinoa Salad
---
---
Ingredients
1 cup quinoa

2 cups water
¼ cup olive oil

3 tablespoons white balsamic vinegar

1 1/4 teaspoons kosher salt
1/4 teaspoon freshly ground black pepper
1 medium shallot, finely chopped

2 pints cherry tomatoes, halved

1 cup crumbled feta

1/2 cup freshly chopped mint leaves

1 cup arugula
Directions
Cook quinoa: Rinse quinoa under cold running water really well. In a pot add quinoa, pinch of salt and 2 cups of water and bring to a boil. Reduce heat to medium-low, cover, and simmer until quinoa is tender, about 10 minutes. Remove from heat and let stand, covered, for 5 minutes. Fluff with a fork and spread out on a baking sheet to slightly cool, about 10 minutes.
Meanwhile, in a large bowl make dressing: whisk together olive oil, balsamic vinegar, salt, pepper and shallots.

Once the quinoa has slightly cooled, to the large bowl add quinoa, cherry tomatoes, feta, mint and arugula. Toss to combine. Taste and adjust seasoning.
Recipe Notes
You can prepare the quinoa, dressing and chop all the veggies 1 day ahead of time.

We enjoyed eating this both warm straight after making the quinoa, or after the quinoa has been completely cooled. Either way works, and just depends on your preference.
---
Nutrition
Loading nutrition data...
10 comments
July 11, 2019
This website may at times receive a small affiliate commission for products that we shared with you in our posts. Although we may receive a commission for linking certain products, there's no additional costs to you and all of our opinion and suggestions are 100% our own and unbiased. That's our promise to you!
Subscribe to get our FREE clean eating guide!
Join our email list TODAY to start recieving our newsletter weekly, access to exclusive content and deals, *and* a FREE complete 24-page clean eating guide!