These Avocado Brownies are moist, fudge-y, chocolatey, and secretly nutritious! They're flourless, paleo-friendly, refined sugar-free, and take just 10 minutes to prep!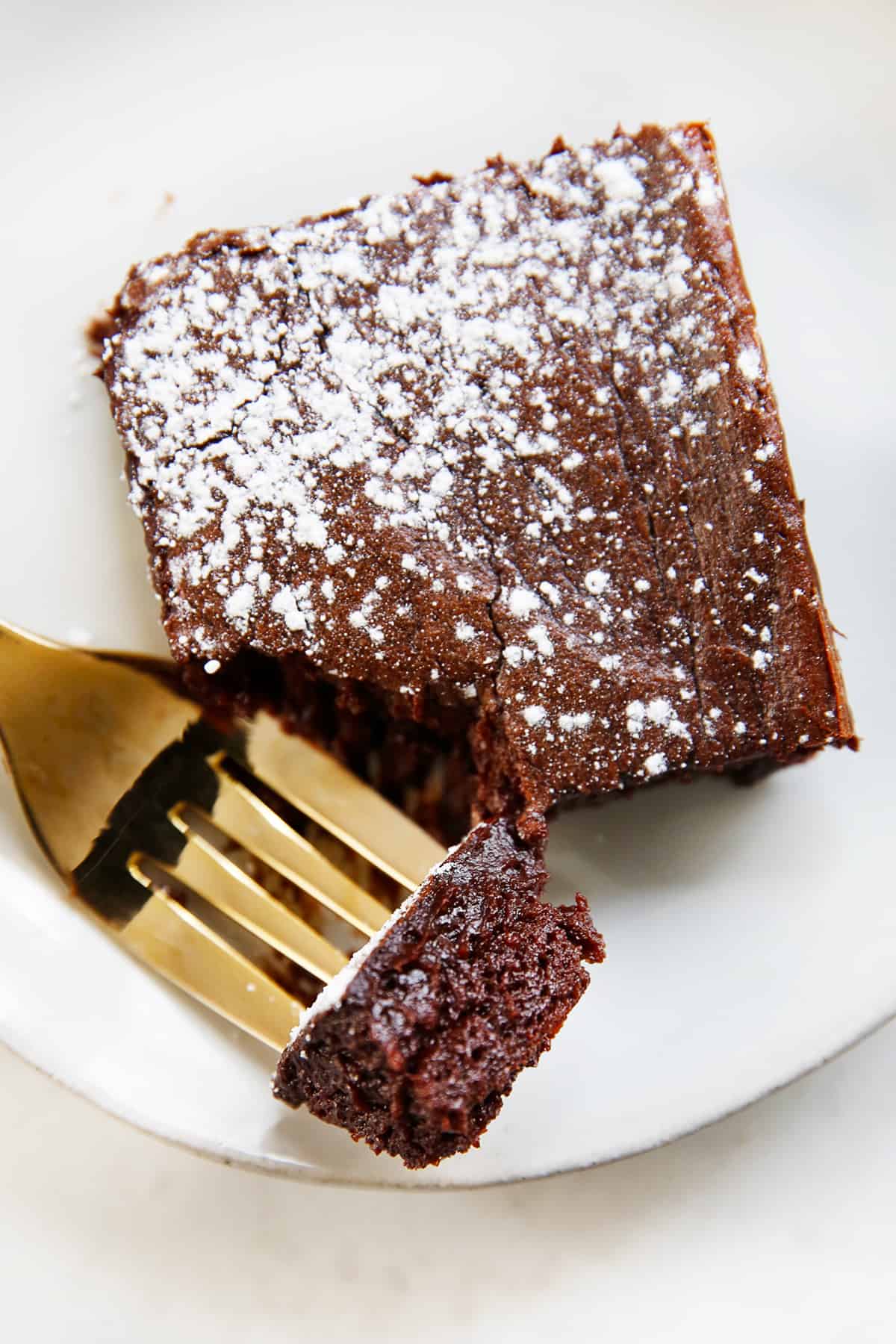 Easy and Healthy Brownie Recipe
Avocado in brownies? Heck yes!
These flourless brownies are the perfect sweet treat to end a meal or to pack in a lunch box for the kiddos (or for yourself!)
They have a not-so-secret ingredient that creates a super fudge-y texture. No one would ever guess you snuck avocado into them. Avocado brownies for the win!
Can I Use Avocado for Brownies?
Absolutely! Avocado has a super mild flavor, so it adds a boost of nutrition and creates a super moist and fudge-y texture without really changing the flavor of the brownies.
Ingredients Needed
Butter: I use grass-fed butter, but coconut oil will work too.
Dark Chocolate: You can use chopped dark chocolate or your favorite variety of dark chocolate chips.
Avocado: You'll need one extra ripe avocado.
Eggs: Eggs bind everything together so the brownies can hold their shape.
Sweetener: Maple sugar or coconut palm sugar are both great options.
Cocoa Powder: Use a good quality cocoa powder for the best chocolatey flavor.
Baking Powder: Keeps the brownies lighter and fluffier.
Maple Syrup: A little bit of maple syrup adds another layer of sweetness.
Vanilla Extract: Adds flavor depth.
Sea Salt: Cuts the sweetness and enhances the flavor of the brownies.
How to Make Avocado Brownies
This healthy brownie recipe comes together so quickly and easily…and it's made with ingredients you might already have in your kitchen.
Melt the chocolate: Use a double boiler to melt the butter and dark chocolate together until smooth. Alternatively, melt in the microwave at 20 second intervals, stirring after each interval. Cool slightly.
Make the batter: In a food processor, combine avocado, eggs, maple syrup, cocoa powder, baking powder, maple syrup, vanilla, and salt. Blend until smooth, then add in the chocolate mixture. Blend again until smooth.
Bake: Transfer the batter to a greased baking dish lined with a parchment paper sling. Bake at 350ºF until a toothpick comes out of the center clean. Cool, then slice and serve.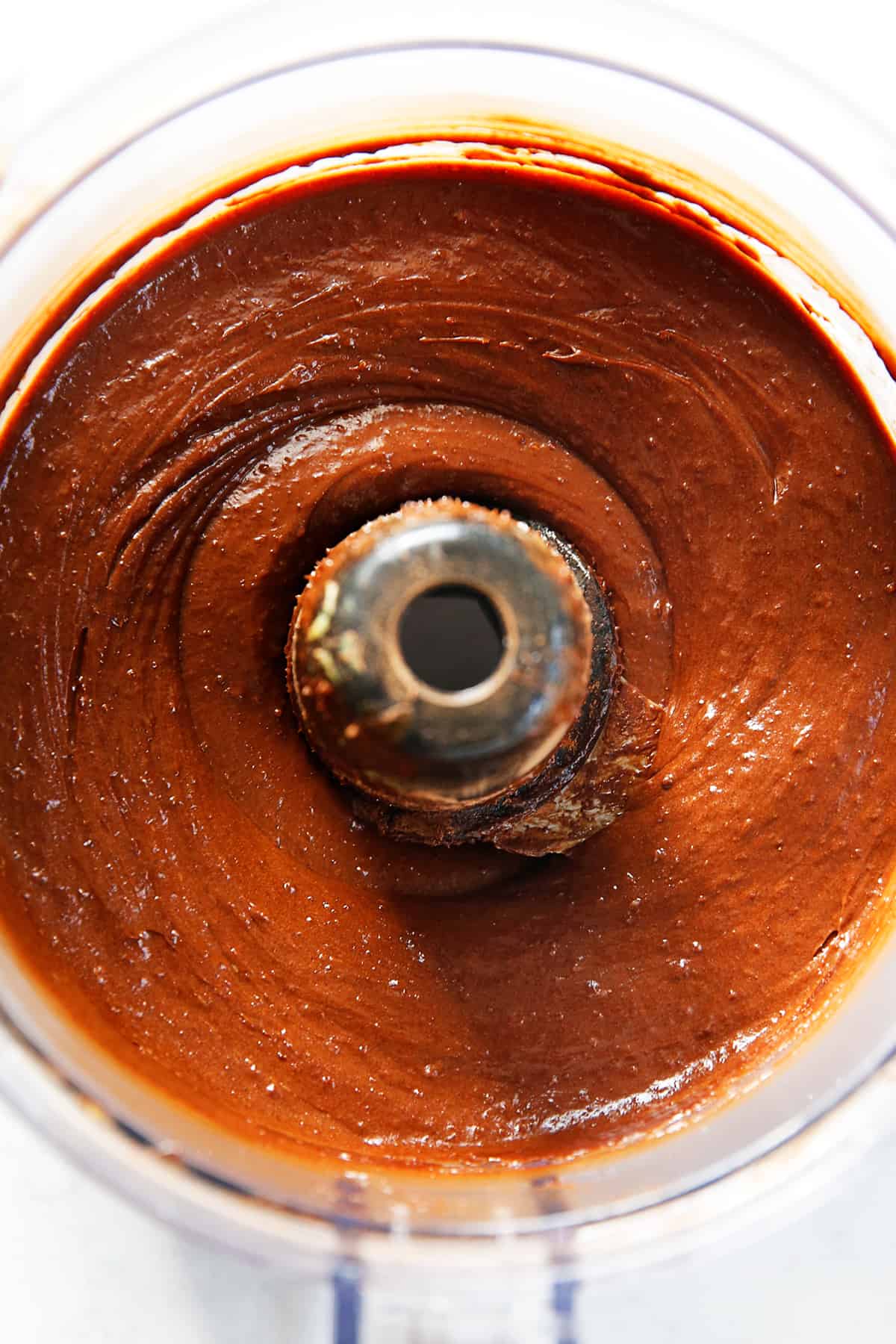 What Does Butter Do in Brownies?
Butter serves a couple of purposes in brownies. The first, and likely most obvious, is that it adds delicious flavor depth to the batter.
Additionally, the lactic acid in butter reacts with the leavening agent (aka the baking powder) in brownies to create a lighter texture.
Tips and Notes
Use extra ripe avocado. The best texture and flavor comes from a perfectly ripe avocado. If the avocado is hard, it won't have that same smooth, velvety texture and buttery flavor.
Grease and line the baking dish. This makes it so much easier to to remove the brownies from the pan once they're done. I like to create a parchment paper sling so I can easily lift the brownies out of the pan.
Blend the batter. Previously this recipe was made by pureeing an avocado in a blender, then transferring it to a bowl. Now, I like to just blend everything together at once. It makes for a smoother brownie and dirties fewer dishes!
Check for doneness. To make sure that your brownies are done, insert a toothpick into the center. If it comes out clean, then they're good to go!
Variations
Add mix-ins. Add some nutty flavor and a crunchy bite with the addition of chopped walnuts, pecans, or macadamia nuts OR mix in your favorite chopped candy bar, M&Ms, you name it.
Make nut butter brownies. Try swirling in your favorite peanut butter or almond butter.
Add caramel. Use a knife to swirl in paleo and vegan caramel for a gooey flavor twist.
Frost them. Add an extra layer of sweetness by cooling the brownies completely, then topping them with 2-ingredient paleo chocolate frosting.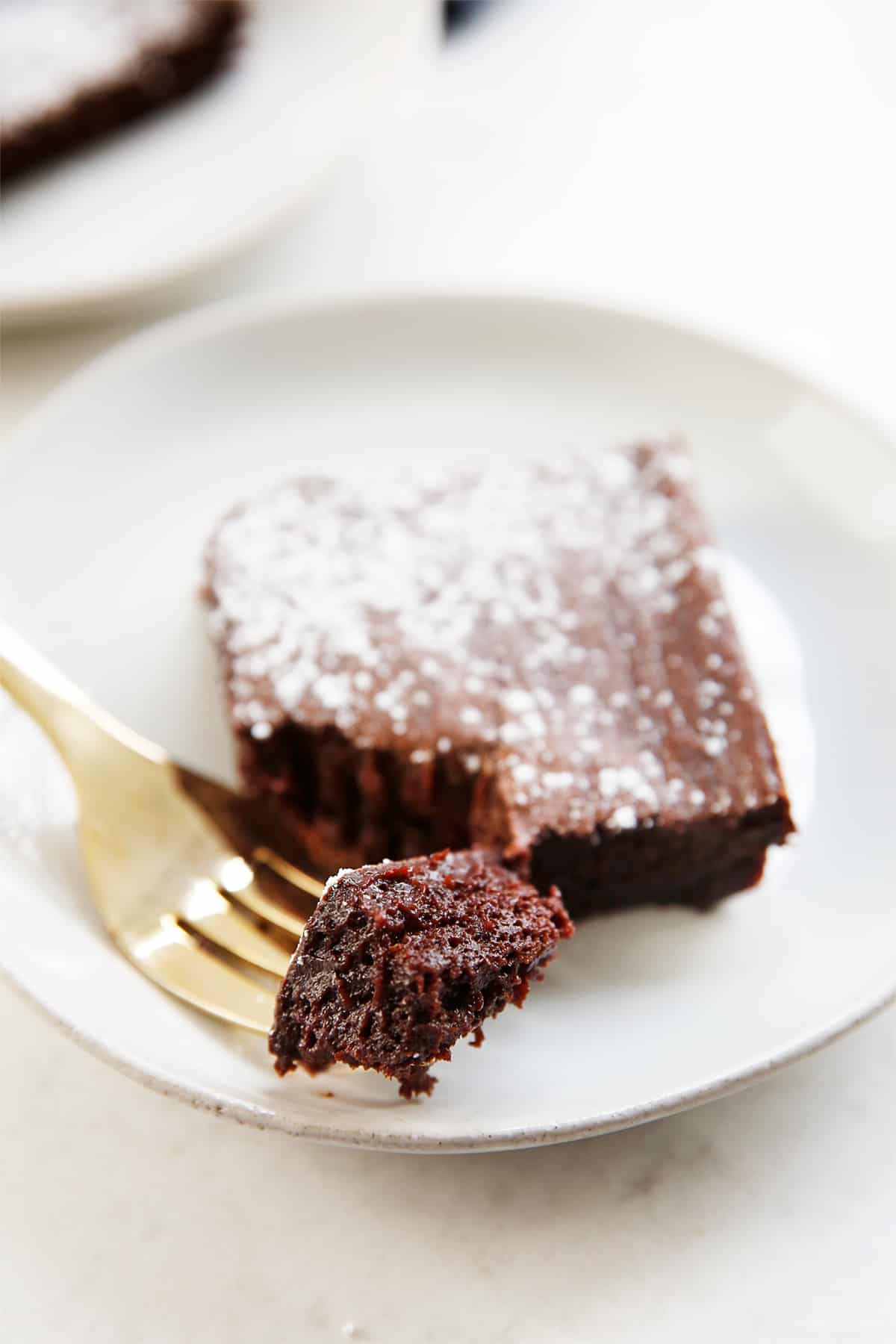 How to Store
These paleo brownies can be stored in an airtight container at room temperature for 3 days or in the fridge for up to a week. They can also be wrapped tightly and stored in the freezer for up to 4 months.
When you're ready to serve, simply thaw on the counter if frozen.
More Brownie Recipes You'll Love
Watch the video here: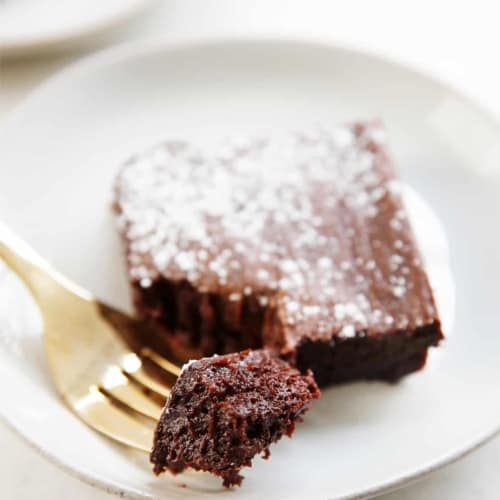 Avocado Brownies
These Avocado Brownies are moist, fudge-y, chocolatey, and secretly nutritious! They're flourless, paleo-friendly, refined sugar-free, and take just 10 minutes to prep!
Ingredients
1/4

cup

grass-fed butter

1

cup

dark chocolate chopped

or chips

1

ripe avocado

2

eggs

1/3

cup

maple sugar or coconut palm sugar

1/4

cup

cocoa powder

1/2

teaspoon

baking powder

2

tablespoons

maple syrup

1

teaspoon

vanilla extract

One pinch fine sea salt
Instructions
Preheat the oven to 350ºF and prepare an 8″ baking dish by greasing it and lining it with a parchment paper sling.

Melt butter and 

dark chocolate

using a double-boiler method: Bring a small saucepan of water to a boil with heatproof bowl over the top. Add the butter and chocolate to the bowl and slowly melt and stir the chocolate until all of it has melted. Remove from heat, let sit a few minutes and then whisk it all together. Alternatively you could melt them together in the microwave at 20 second intervals, whisking in between until it's fully melted.

Add ripe avocado to a food processor and blend until smooth. Add in eggs, maple sugar, cocoa powder, baking powder, maple syrup, vanilla extract and sea salt and blend until smooth, scraping down the sides as necessary.

Add the slightly cooled chocolate mixture to the processor and pulse until fully combined.

Transfer brownie batter to the prepared baking dish and smooth over the top.

Bake for 25 minutes or until a toothpick inserted in the middle comes out clean.

Cool completely before slicing.
Nutrition
Serving:
1
brownie
Calories:
165
kcal
Carbohydrates:
16.8
g
Protein:
2.4
g
Fat:
11.4
g
Saturated Fat:
5.6
g
Cholesterol:
37
mg
Sodium:
40
mg
Fiber:
1.7
g
Sugar:
12.3
g