Gluten-Free Funfetti Blondies
If you like buttery, chewy and dense blondies that are speckled full of sprinkles and also happened to be gluten-free with a dairy-free paleo option, then you are going to love these Funfetti Gluten Free Blondies! They're so ridiculously tasty, and come to you today to celebrate Lexi's Clean Kitchen turning 6 years old this month!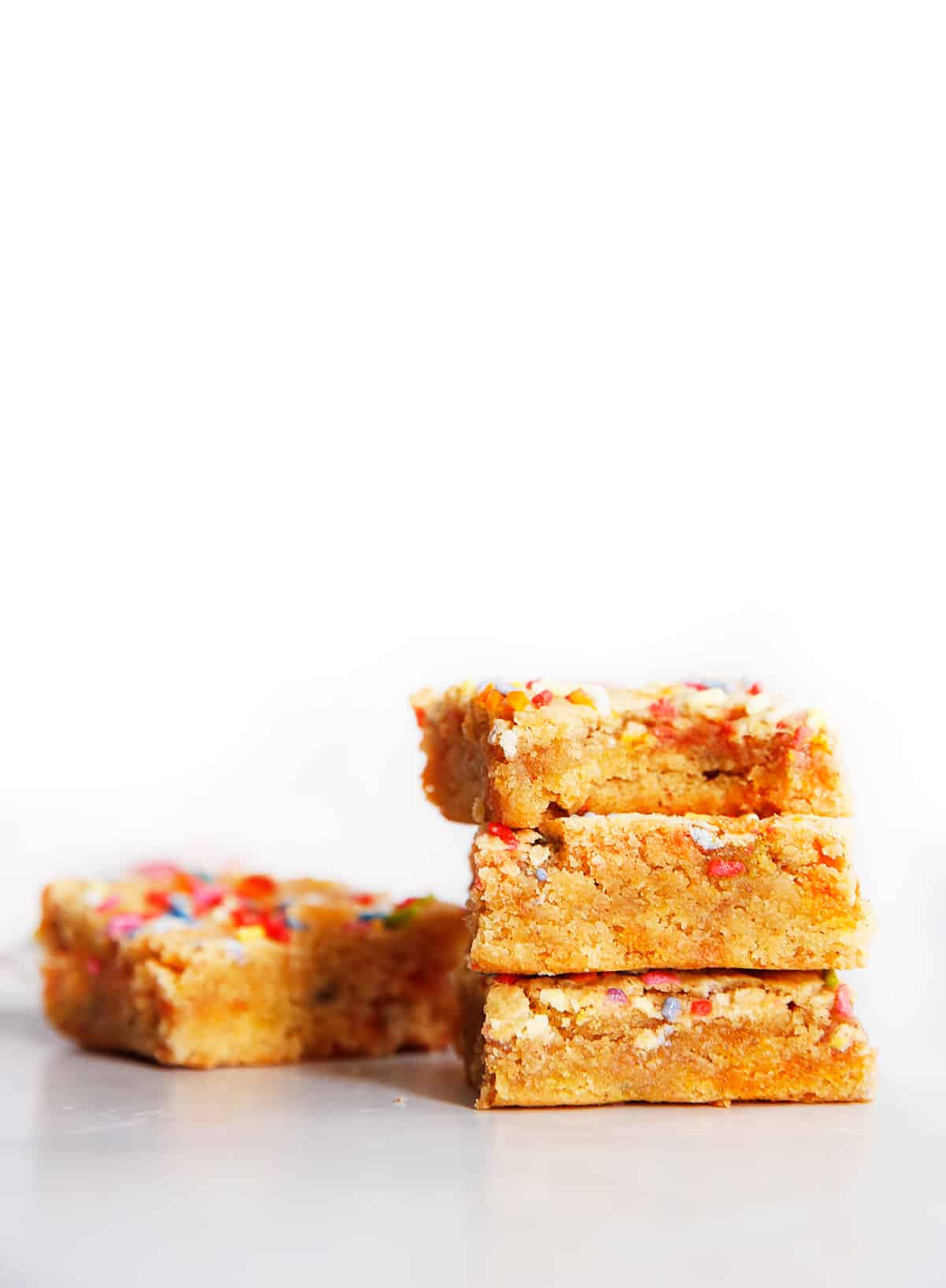 Funfetti Gluten Free Blondie Bar Recipe
Lexi's Clean Kitchen just turned SIX. Where has the time gone? Six years of recipes, cleaner living, healing journeys together, and so much more. Remember when I quit my teaching job? Or when I shared this epic birthday cake to celebrate 5 years? To say I'm grateful for our amazing community is an understatement. So let's celebrate! These Funfetti Blondies are the perfect treat to celebrate any occasion, but especially LCK's 6th birthday! They're pretty easy to make and are SO, SO, SO GOOD!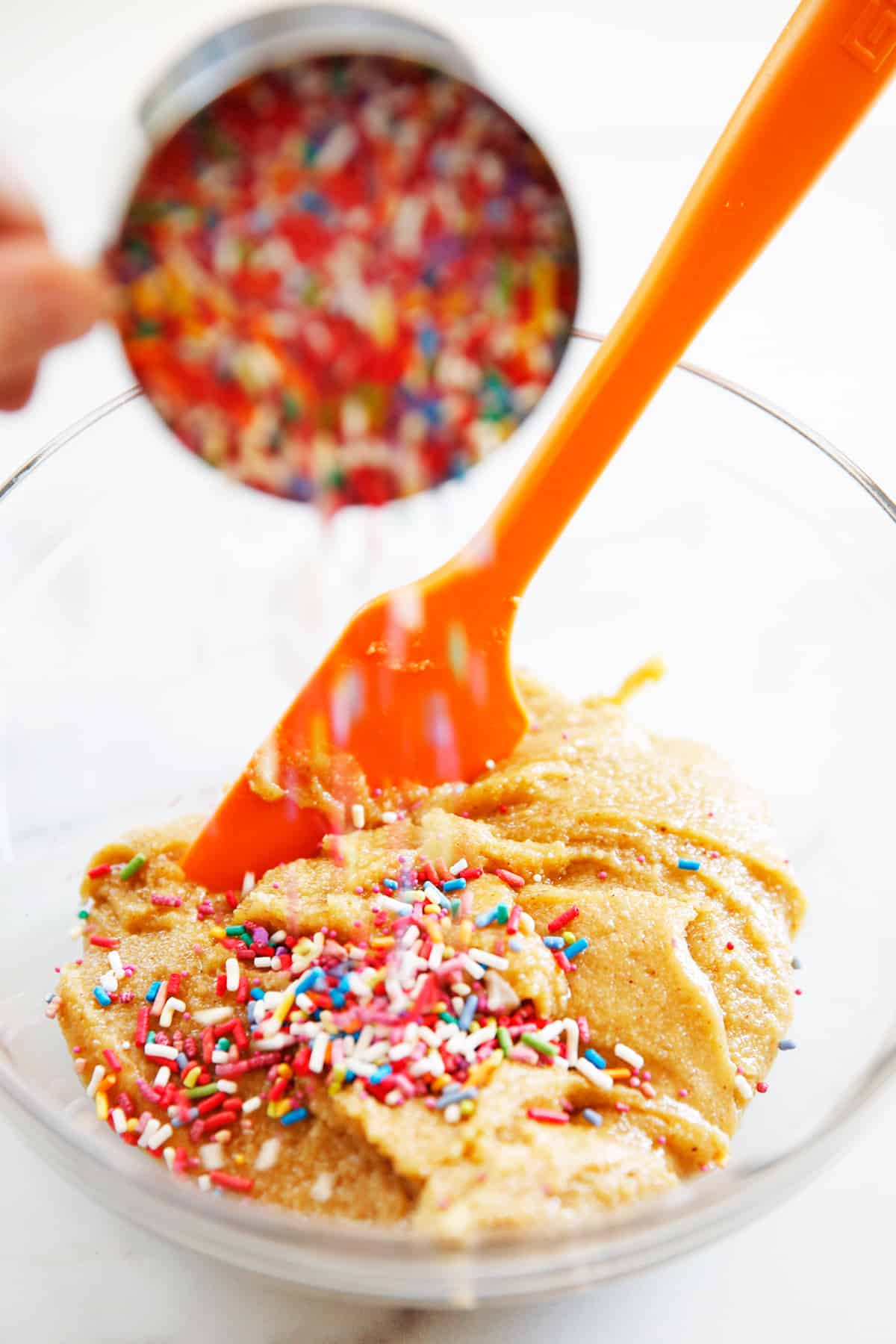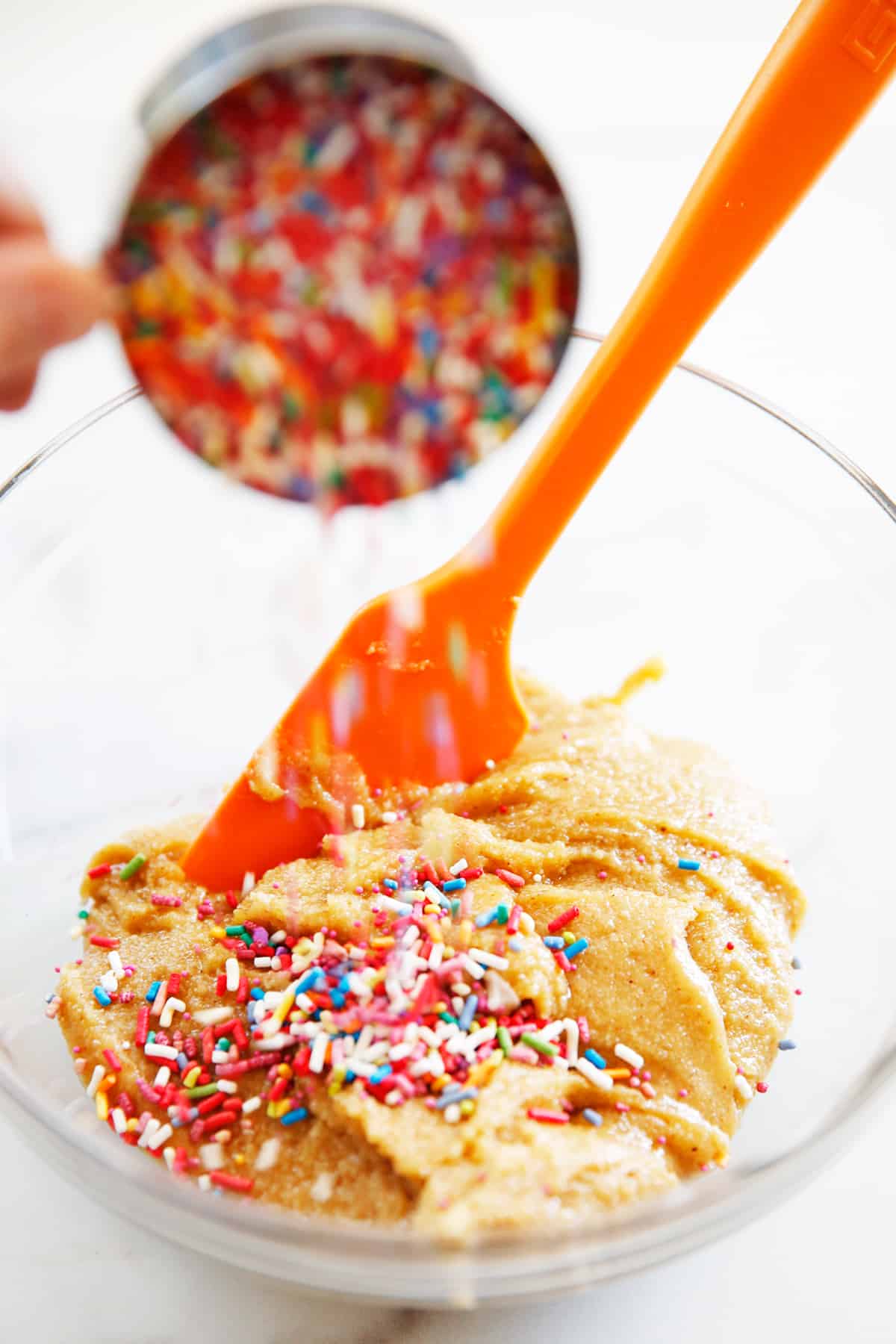 Here's what you need to make them:
Butter or coconut oil

Almond butter

Maple sugar

Egg

Vanilla extract

Almond flour

Coconut flour

Baking powder

Salt

Sprinkles (see below for the brands we recommend)
A note about sprinkles
We stay away from artificially dyed sprinkles at all cost. Lucky for us there are so many good brands out there for naturally dyed sprinkles derived from fruits, vegetables and herbs. And for a true funfetti look try to avoid sanding sugars or nonpereils, the best kind of sprinkles here are the classics.
Here is a list of some of the ones we've tried and liked:
Let's Do Organic: This one will add some color to the blondies but are similar to nonpareils. We've added this to the list because this brand can be purchased at a few natural grocery stores and Whole Foods and might be easier to find, though these would be our last choice.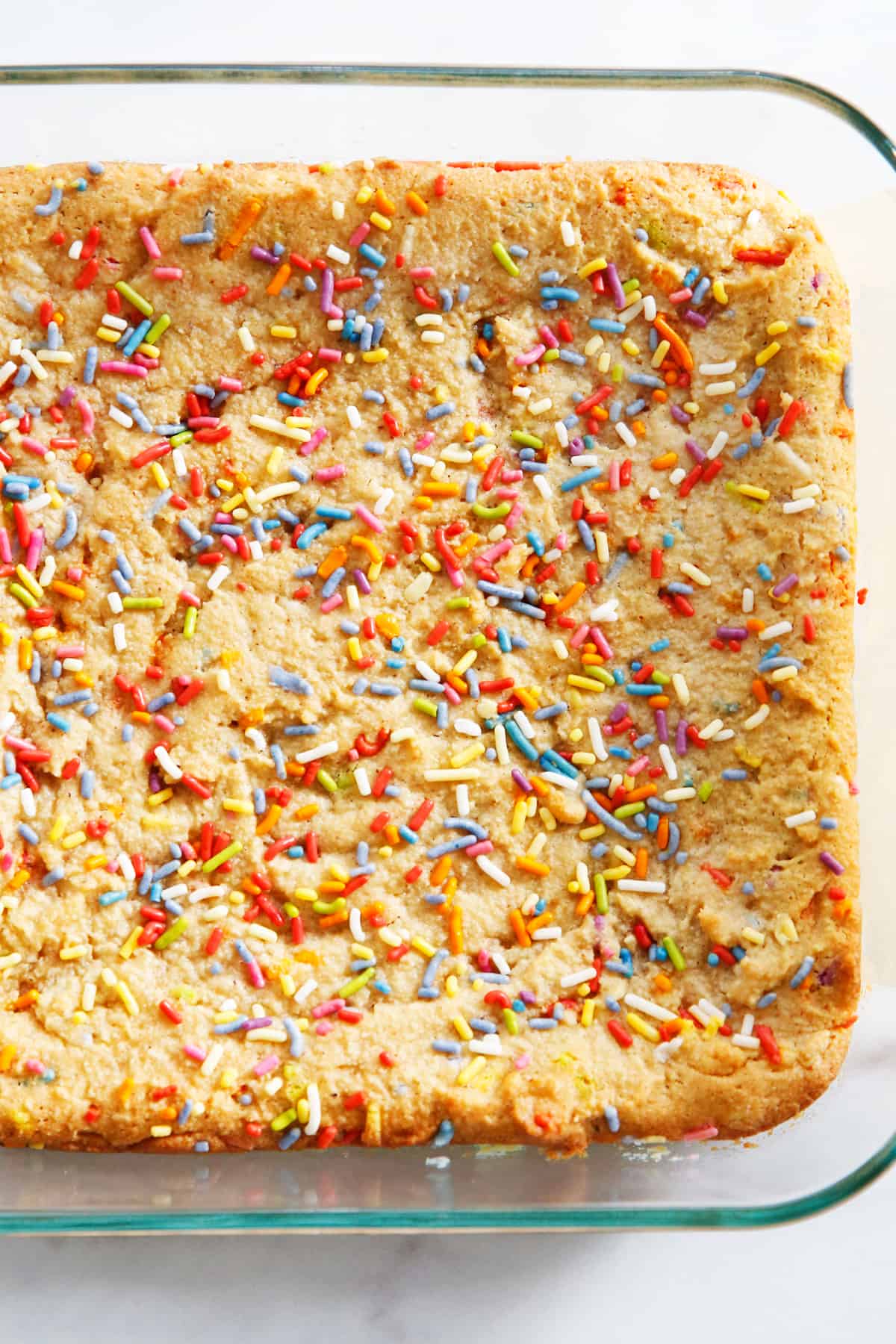 If you like this birthday inspired recipe, check out these others: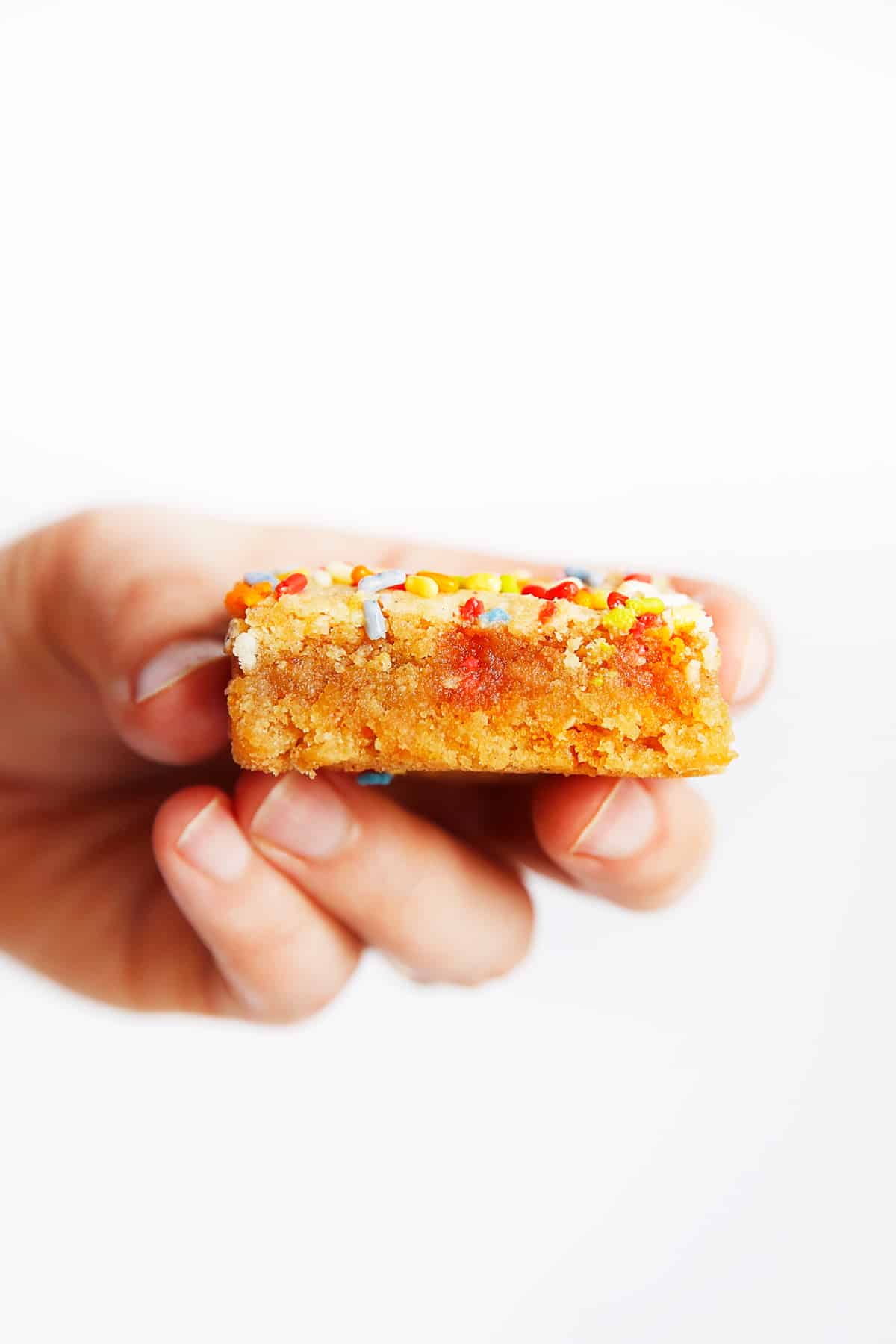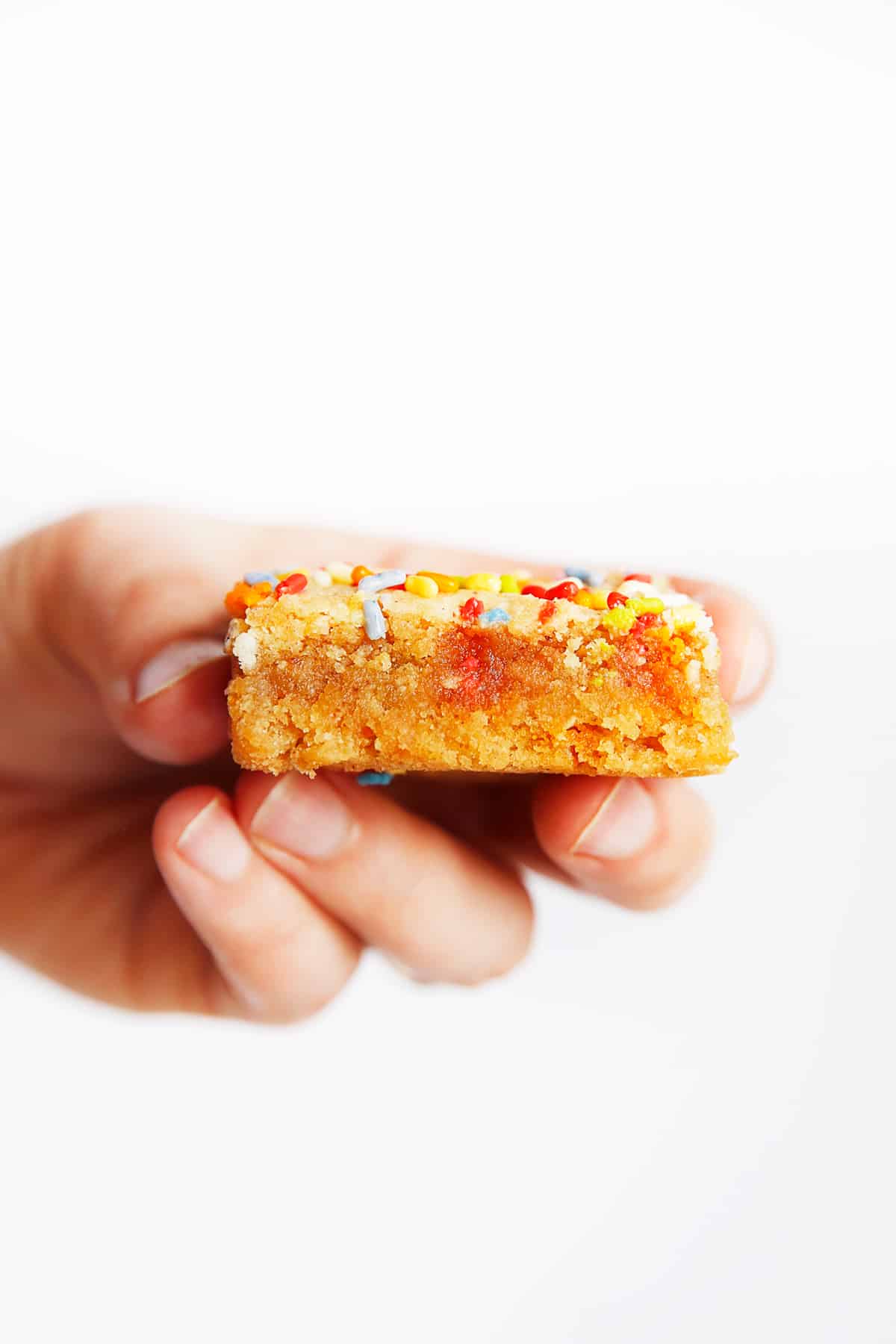 Thank YOU for being a part of the LCK family. We couldn't do all that we do here without each and every one of you!
Watch the video:
---
Funfetti Gluten-Free Blondies
If you like buttery, chewy and dense blondies that are speckled full of sprinkles and also happened to be gluten-free and paleo, then you are going to love these Funfetti Gluten Free Blondies!
---
Yields
9
Prep Time
15 minutes
Cook Time
20 minutes
Total Time
35 minutes
Recipe Type:
dessert
Cuisine
gluten-free, grain-free
Author: Lexi's Clean Kitchen
---
Directions
Preheat the oven to 350ºF and prepare an 8" baking dish by greasing it and lining it with a parchment paper sling.
Add the butter and the almond butter to a small pan. Melt together over low heat and whisk to combine, and set aside to cool slightly.
To a large bowl add maple sugar, egg, vanilla extract. Whisk until combined. Slowly pour in melted butter, a little bit at a time while whisking until it is all combined.
Add in the almond flour, coconut flour, baking powder and salt and combine until it comes all together.
Fold in the sprinkles and place better into the prepared pan. The batter will be thick. Using an spatula press the batter down evenly into the pan and smooth over the top. Add more sprinkles to the top of the batter.
Bake for 18-20 minutes, or until the blondies have puffed up throughout.
Remove from oven and let cool slightly. Remove the blondies from the pan and let cool on a rack.
Cut into 9 portions and enjoy.
Store in the refrigerator or freezer.
Recipe Notes
You can substitute coconut sugar if you cannot get maple sugar but it will change the color of the blondies and make them darker.
---
Nutrition
Loading nutrition data...
Click to edit CSS
Click to edit CSS
Subscribe to
Lexis Clean Living
Join our email list to get instant updates and weekly summaries of our top content and special exclusive offers along with our free clean eating kickstart guide!
This website may at times receive a small affiliate commission for products that we shared with you in our posts. Although we may receive a commission for linking certain products, there's no additional costs to you and all of our opinion and suggestions are 100% our own and unbiased. That's our promise to you!