Instant Pot Southwest Chicken Soup
This Southwest Chicken Soup is made easy in the Instant Pot with chicken, beans, corn and tomatoes. It is simple to make and can optionally be prepared ahead of time and stored in the freezer. It's as easy as placing all the ingredients in a freezer bag and stashing it away until you are in need of a quick weeknight. Simply defrost in the refrigerator overnight and place everything in an Instant Pot to cook at dinnertime! Made in partnership with my friends at Farmer Focus!
Instant Pot Southwest Chicken Soup
This Southwest Chicken Soup is pure comfort food in a bowl. Southwest inspired flavors like chicken, tomatoes, corn and lime are mixed together in an easy to make soup. What makes this even more special is that you can prepare batches of this ahead of time and place in the freezer for the next time you need an easy dinner! Don't care to meal prep this soup? No problem! Just place everything in your Instant Pot pressure cooker fresh and dinner is ready in just about 20 minutes.
Serve this soup with ALL the garnishes like crushed up tortilla chips, cheddar cheese, cilantro, lime wedges or pickled jalapeños.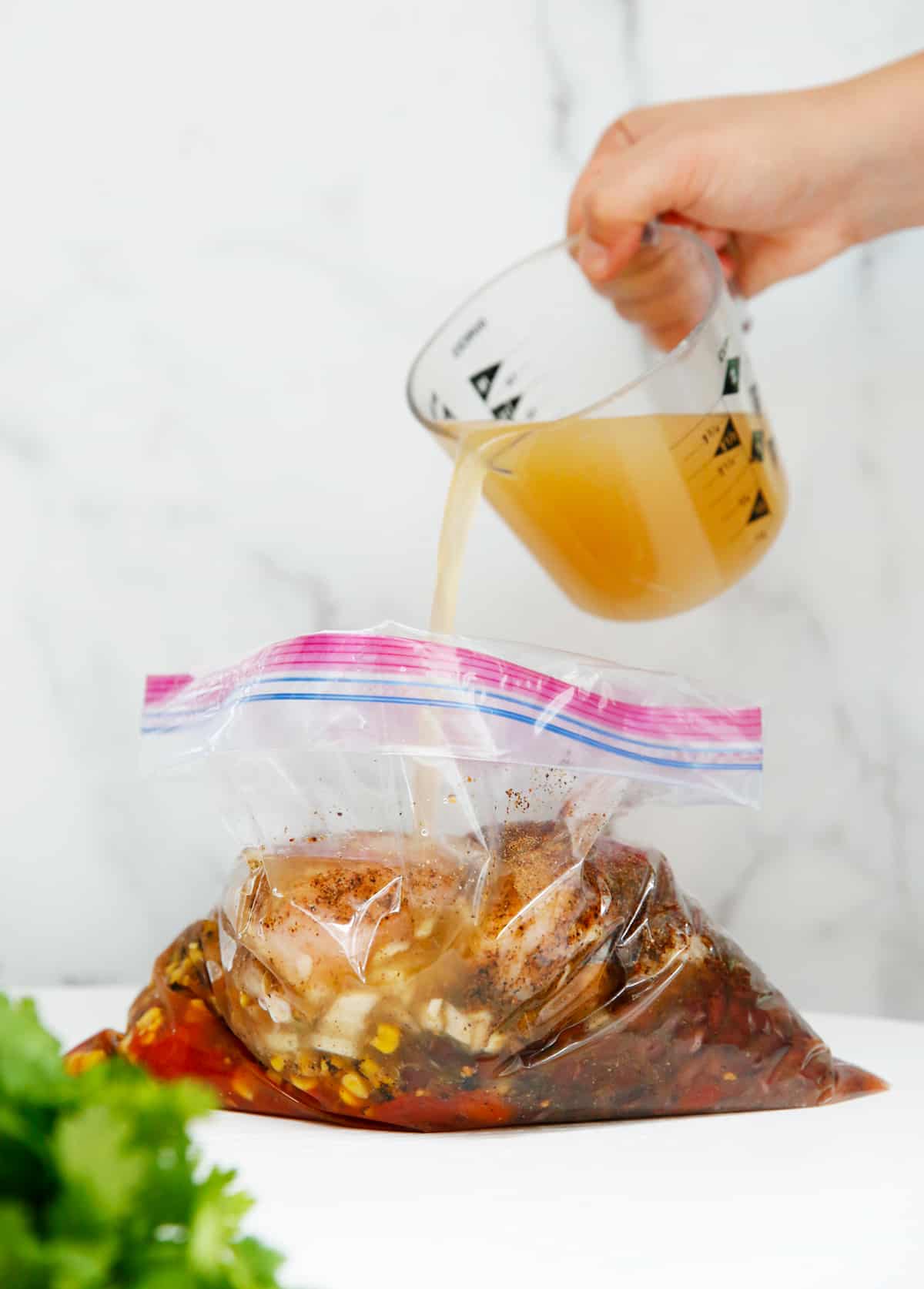 How to Make a Dump Freezer Dinner
So let's talk a little bit about the concept of a "dump" dinner, because we've been loving these types of meals lately and we plan to continue to share more of them in the future.
A dump dinner is recipe that doesn't really require too many steps in terms of preparation before it is cooked. Typically you just gather the ingredients, with minimal chopping, and dump them into the cooking equipment. Typically this is either a slow cooker, a stock pot or an Instant Pot. A Dump and Start meal refers to a meal that you just gather the ingredients, dump them in your pot and start cooking. A Freezer Dump Dinner is a meal that is gathered ahead of time and frozen in a bag. When you want to cook it, you defrost in the refrigerator overnight and then dump the meal in the cooking vessel when ready to cook!
For this recipe, it will work either way. Gather all off the ingredients for the Southwest Chicken Soup and either prepare one (or more) batches ahead of time and freeze, or gather up all the ingredients and cook immediately in the Instant Pot or Slow Cooker.
Why We're All About Good Quality Chicken
I am so happy to partner again with my friends at Farmer Focus to bring you today's easy Instant Pot chicken recipe! Farmer Focus has been my go-to, trusted chicken for years now, because they pride themselves in producing the highest quality meat grown on family-owned farms. I love being able to grab up a package of Farmer Focus chicken at the grocery store and not having to question whether it is truly coming from meat raised in a humane way.
Farmer Focus is building partnerships with growers through their innovative Farmer Focus Business Model
Farmer Focus is a company that supports their farmer partners and that is working hard to do things right and truly raise and produce the highest quality chicken! Every Farmer Focus product includes a 4-letter farm I.D. that traces your chicken to the farm that raised it. Buying meat from Farmer Focus also gives me peace of mind that I am supporting hard working family farmers.
Farmer Focus chickens are humanely raised and fed a diet free from animal byproducts, pesticides, and antibiotics. On their website you can see where all of the farms are located, so you know just where your chicken was raised! How awesome is that?!
You can also use their easy store locator to find where you can get this amazing quality chicken near you.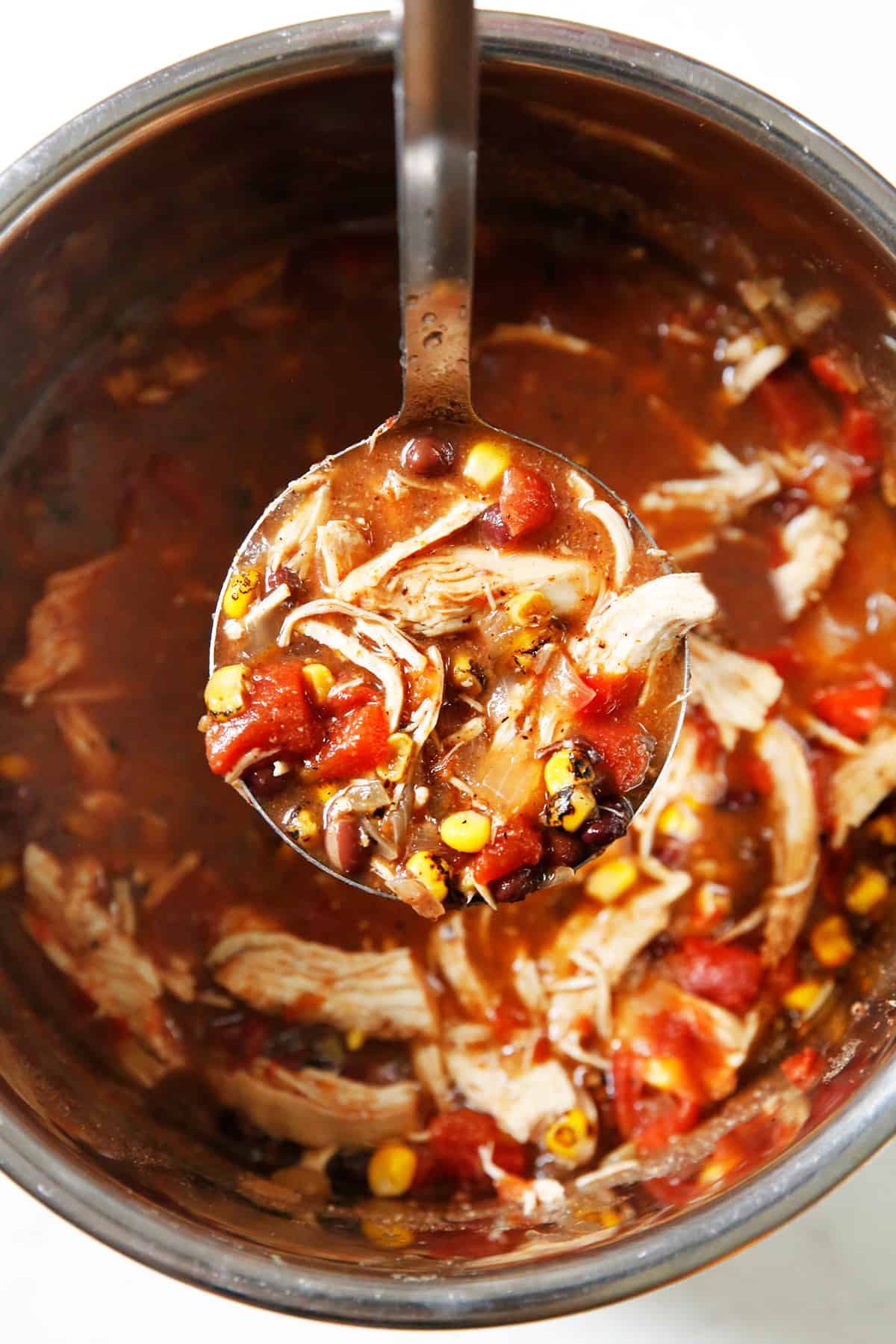 If you like this chicken recipe, check out these others: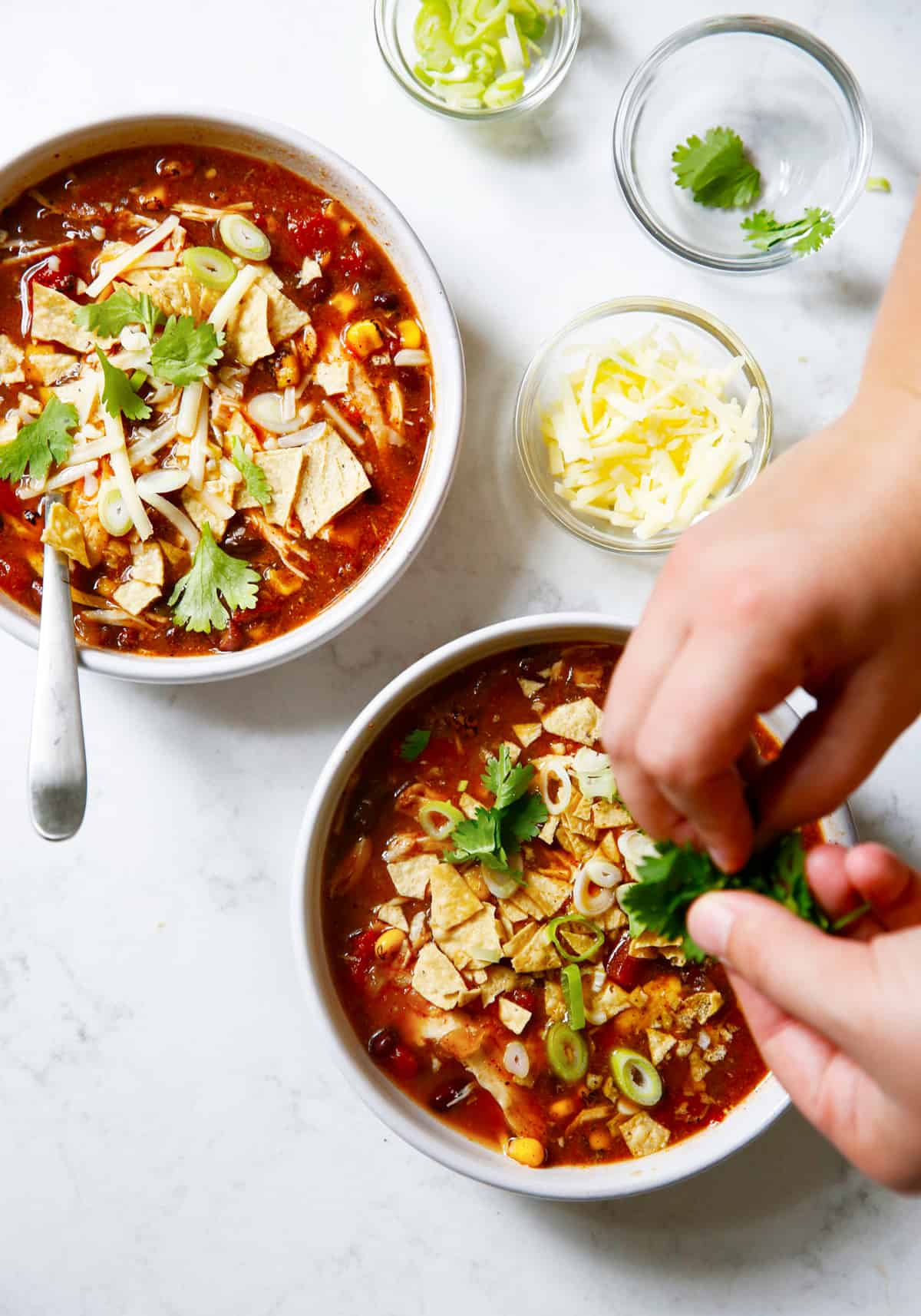 If you like this Instant Pot Recipe, check out these others:
Watch the video here:
---

This post is sponsored by Farmer Focus! All thoughts and opinions are always 100% my own! I love the integrity of their products and think you'll love them too. Thank you for continuing to support LCK and the brands I work with!
Instant Pot Southwest Chicken Soup
This Corn Avocado Salsa recipe is a quick and delicious side to serve up with just about anything! This cool summer side dish is easy to make and is gluten and dairy free!
Avocado and Corn Salsa Recipe
This is the perfect summery side dish to serve when the weather is HOT. This Avocado and Corn Salsa comes together quickly. It is the perfect easy side dish to throw together and flies off the table! This dish is served great with nearly anything, but we especially like it for other quick cooking summer dishes like this Blackened Fish, quick Chicken Tacos or this Garlic and Lime Grilled Steak.
Corn Salsa Ingredients
Fresh Corn on the Cob
Red Onion
Cherry Tomatoes
Avocado
Olive Oil
Lime
Cilantro
Salt and Pepper
Methods to Cook the Corn
The only piece of this salsa that needs to be cooked is the corn! There are a few different methods you can use to cook it. You can quickly boil it, as we suggest in the recipe. Or you could grill it! Additionally you can also cook corn in the Instant Pot using these directions here.
If you like this avocado recipe, check out these others:
If you like this side dish, check out these others:
[yumprint-recipe id='40']
Avocado and Corn Salsa
This Easy Gluten Free Cornbread is the perfect side dish or a great stand alone treat! It's sweet, moist and tender and super simple to put together! It would be equally amazing served at a holiday feast, with a bowl of chili, or brought along to a picnic or BBQ in warmer months. This cornbread is, of course, gluten-free and also with some easy swaps can be made dairy-free as well!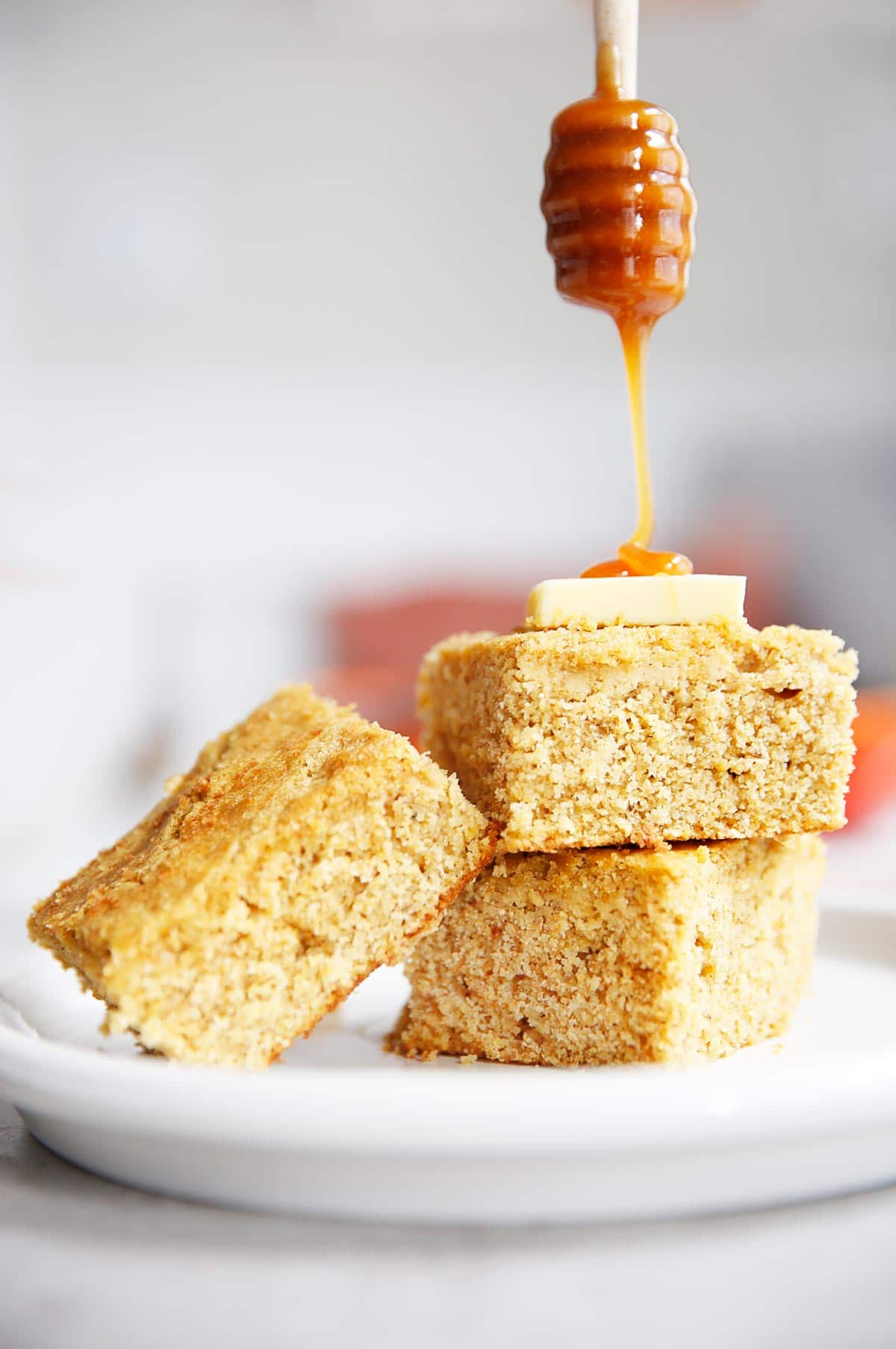 Easy Gluten Free Cornbread
It's finally here! I know you all have been asking about an Easy Gluten Free Cornbread recipe for some time now, and we're so excited to finally share it with you. This recipe was in development for a while, testing it more than 10 times to get it JUST perfect for you. We are so happy with the final result, and know you will love it as well.
It's so easy to put together! Simply add the dry ingredients to one bowl and the wet to another and whisk together and then pour into a cast iron skillet or baking dish and 18 minutes later it's done! Traditionally cornbread contains both cornmeal and wheat flour. We went with a combination of cornmeal (or cornflour) and tapioca flour to keep it nice and tender! And this recipe is developed in New England, so our cornbread is sweet!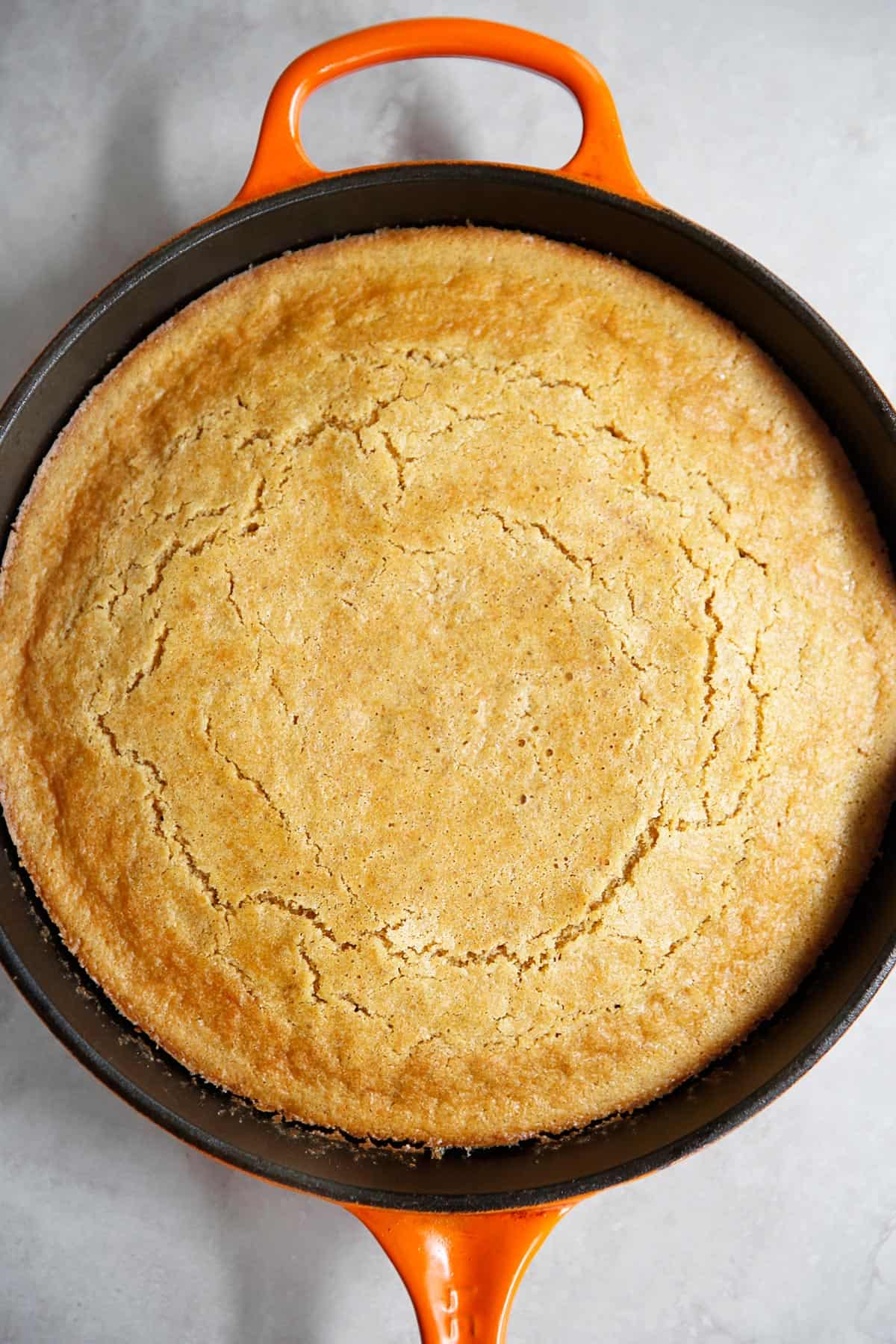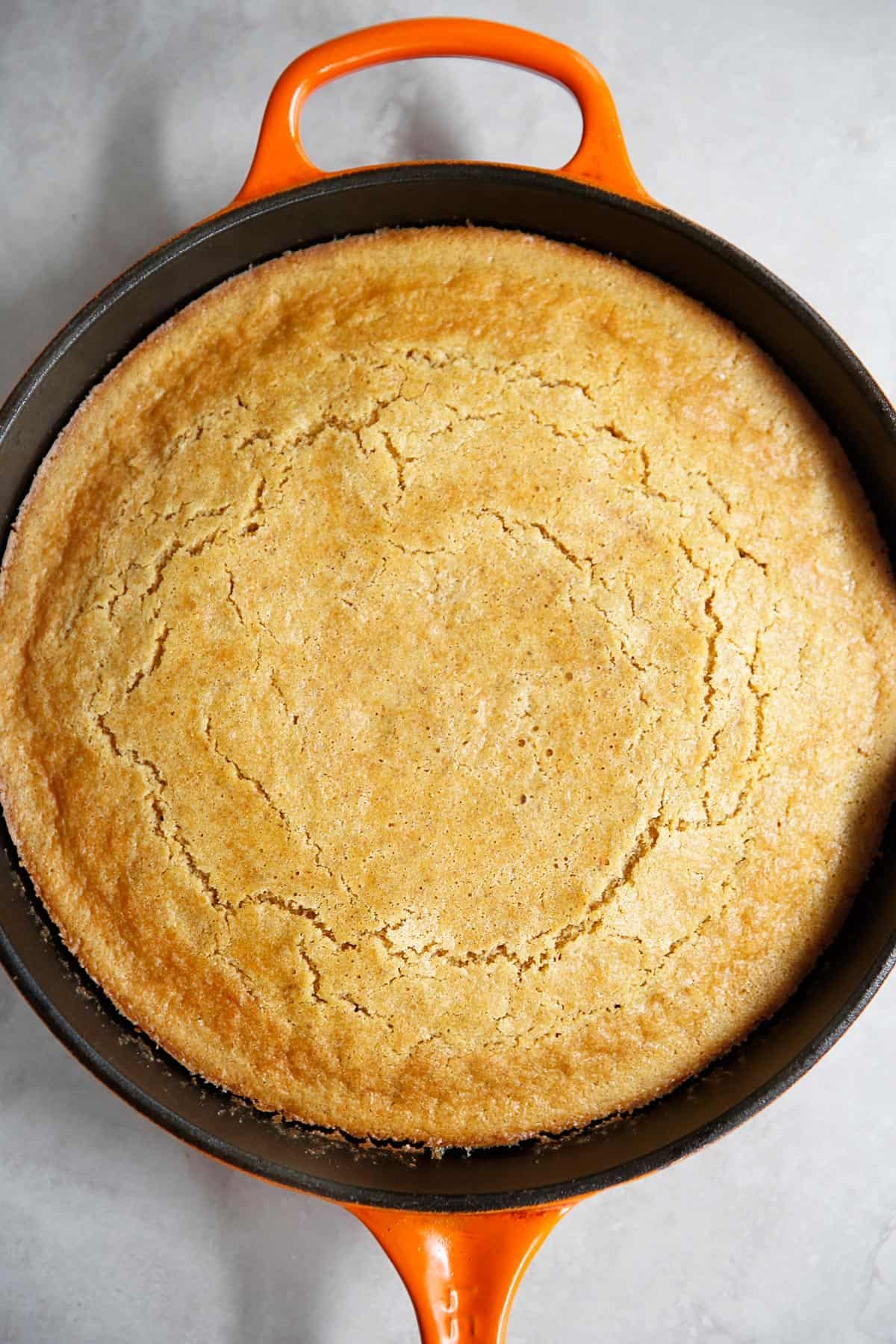 As we said, we tested this recipe extensively! We ended up deciding on a recipe that resulted in a sweet cornbread that had a moist center, but limited the amount of butter (fat) that was added. If you are looking for a more cake-like cornbread you can increase the fat (and with that, the moisture level) and use 1/2 cup melted butter in place of the 1/4 cup. As always, we tolerate grass-fed butter in my household, but if you don't you can swap out the butter for a dairy-free butter alternative or palm shortening, but it will affect the flavor slightly. Other than the butter the recipe is dairy-free.
We devoured this cornbread right from the skillet, but there are many recipes and many seasons that you can serve this cornbread with!
It would be a great side to serve for a holiday dinner, like Thanksgiving (hello, CORNBREAD STUFFING)! Or it would be great served along side Turkey Chili, White Chicken Chili, Buffalo Chicken Chili, Easy Black Bean Soup or Taco Soup.
This wouldn't be out of place either served on the table with our Ultimate Southern Dinner or brought along to a picnic or BBQ with Chipotle Slaw, S'mores Pie, and Greek Three Bean Salad.
If you like this side dish recipe, check out these others:
Easy Gluten Free Cornbread
This Instant Pot Corn on the Cob recipe makes getting corn on the table a breeze, without heating up your house and keeping all that juicy flavor in the cobs! And the spicy southern compound butter adds just the right amount of flavor to make this corn on the cob stand out!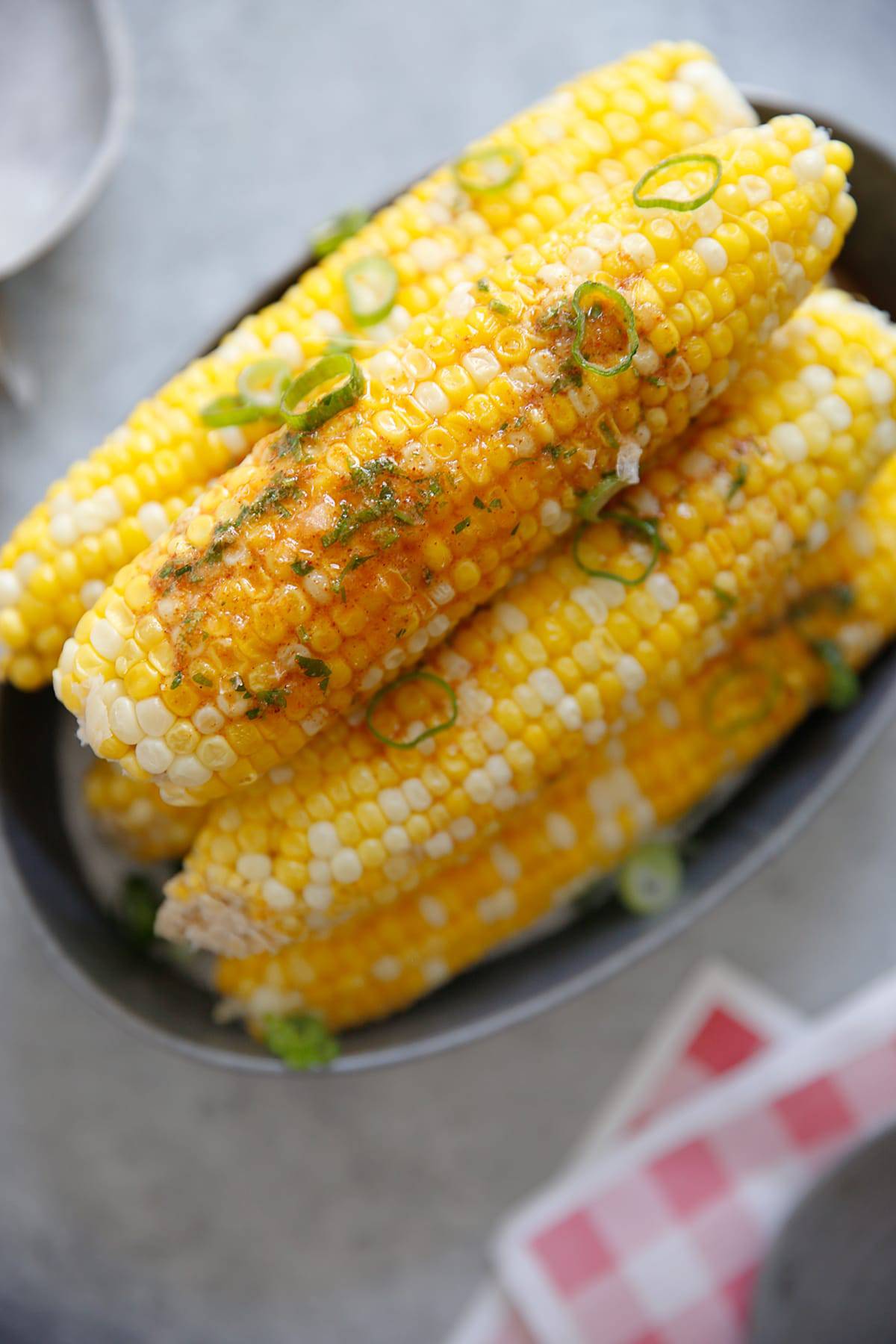 Instant Pot Corn on the Cob
IT'S HERE! Southern Fried Chicken Dinner week. Each day this week we'll be sharing a recipe to complete an epic southern dinner! We're starting off with this easy corn on the cob, cooked in one of my favorite kitchen appliances: the Instant Pot!
Why Make Corn on the Cob in the Instant Pot?
Sure, there are a few other methods you can cook corn: steam, boil, grill. But we feel having this option in your back pocket on the nights when you don't want to heat up the house with a pot of boiling water, or you don't already have the grill going, the Instant Pot is the PERFECT way to cook it. Oh, and I can't forget: THE FLAVOR. Cooking the corn in the Instant Pot yields the juiciest, most flavorful corn thanks to it's quick cook under pressure. You can choose to leave the husk on during cooking, but we found it easier to take it off beforehand, or even better take it off at the store!
Can I grill the corn instead?
Of course you can! Here's how to grill corn:
Preheat your grill for high heat and lightly oil your grate.
Peel back corn husks and remove silk. Spread out a piece of aluminum foil and add corn, then place 1 tablespoon butter, salt and pepper on each piece of corn.
Wrap each ear of corn tightly in the aluminum foil. Place on the prepared grill.
Cook for 20-30 minutes until tender!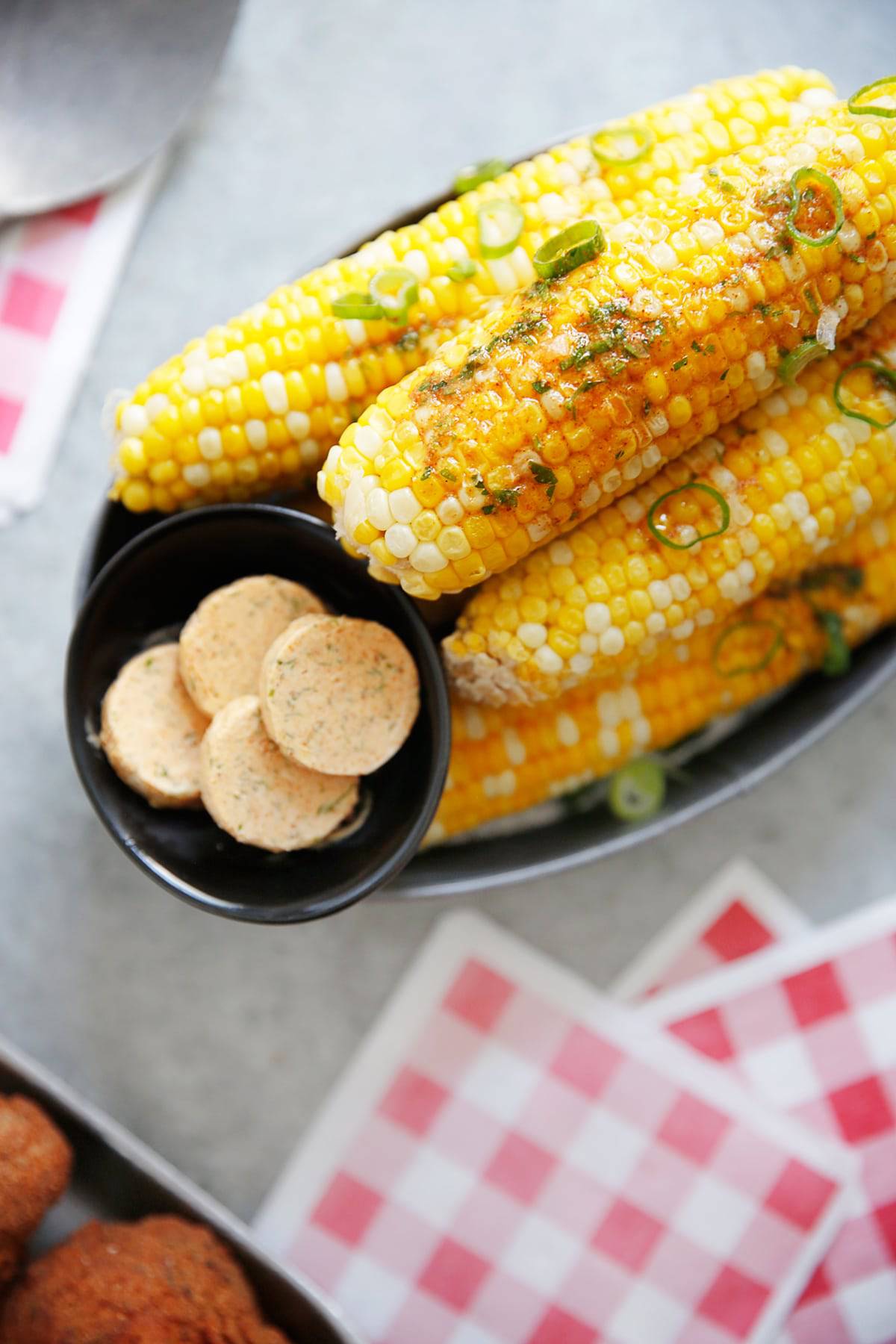 What is Compound Butter?
Compound butter is simply a mixture of softened butter and flavorful components like herbs and spices. We infuse our butter here with classic southern spices like celery seed, white pepper and cayenne, among others.
What butter do you use?
We here at LCK love pasture-raised grass-fed butter, like Kerrygold or Vital Farms.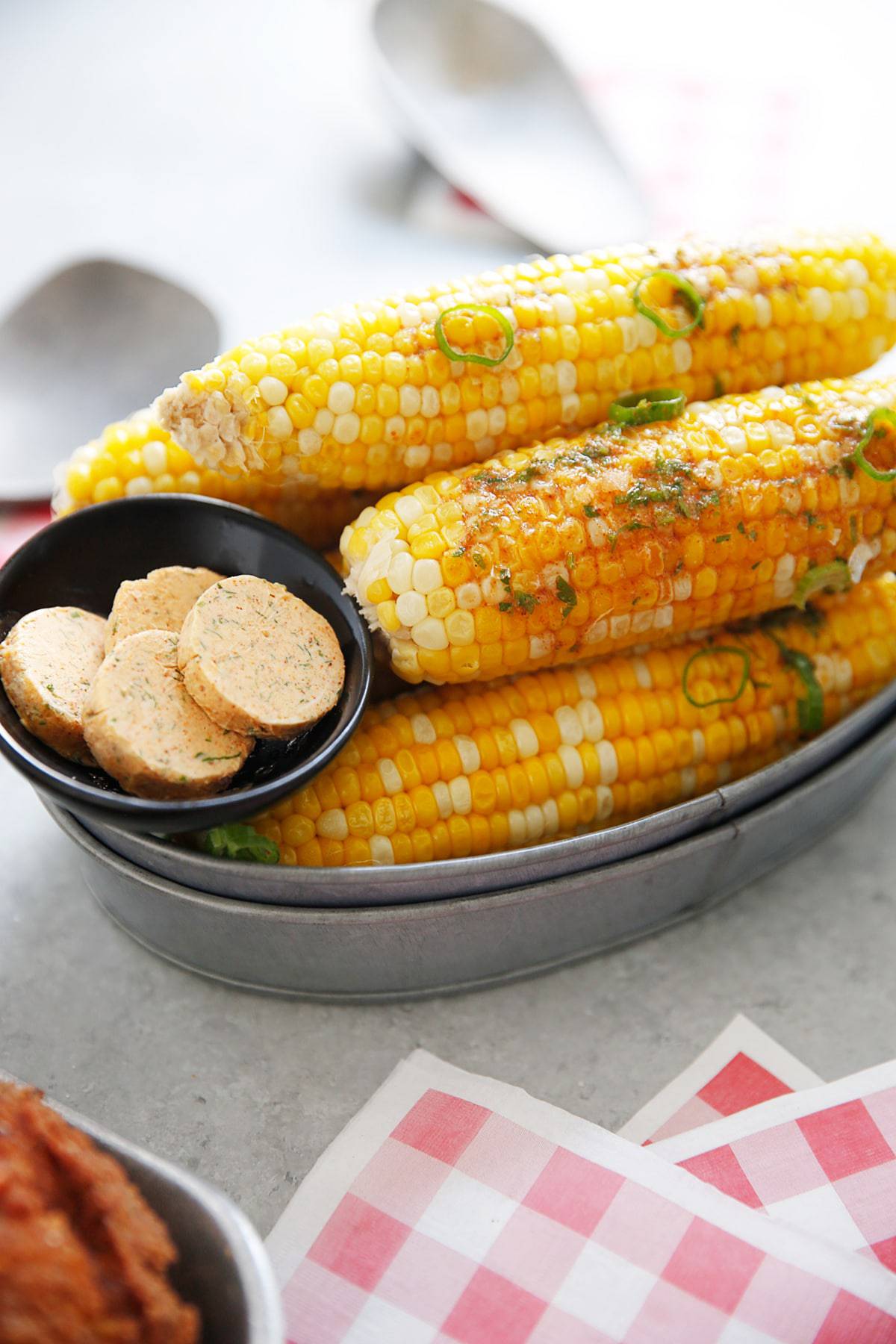 Stay tuned for the rest of the week for the Ultimate Southern Dinner:
Instant Pot Corn on the Cob with Southern Spicy Butter
This Baked Southwestern Hummus dip is going to be your new favorite part appetizer! Hummus is baked with a topping of southwest style veggies and cheese and serve warm! It's a crowd-pleasing dip that is sure to be on repeat for all of your parties.
Southwestern Hummus Dip
If you love southwestern flavors, this Southwestern Hummus Dip is for you! It is such a fabulous vegetarian dip for entertaining or to enjoy as a snack! If you haven't made my first hummus dip and you are skeptical about baked hummus, I promise, it is so so good.
Veggies, beans, and spices; cooked to perfection! Baked hummus is my new go-to game day dip because it is so easy to make and is perfect for prepping ahead of time. I throw it all together and top it with cheese, then cover and refrigerate until ready for baking. Simply bake, add your garnishes, and serve!
Check out these other hummus recipes:
If you like this appetizer, check out these others:
Southwestern Hummus Dip
This Mexican-Inspired Street Corn Salad is my new summer salad obsession! So much flavor, and simple to prepare. It will be a BBQ staple all season long. It's naturally gluten-free and made with the option for cheese, making it dairy-free if you want it to be!
Let's keep with tradition and grill up our corn! Perfectly fresh grilled corn is SO GOOD.
Now to get the kernels off, this way works…
But this way works much better!
Get those kernels off the cob, mix up the delicious sauce, mix together, and devour!
I used to not eat much corn. Not because I couldn't digest it well, I can digest it decently, but because so much of it is genetically modified. Did you know corn is one of the most GMO crops? NOW I get my corn from my local farmers and feel GOOD about it. Plus, local fresh corn is so so so good. I'll take it all summer long, please!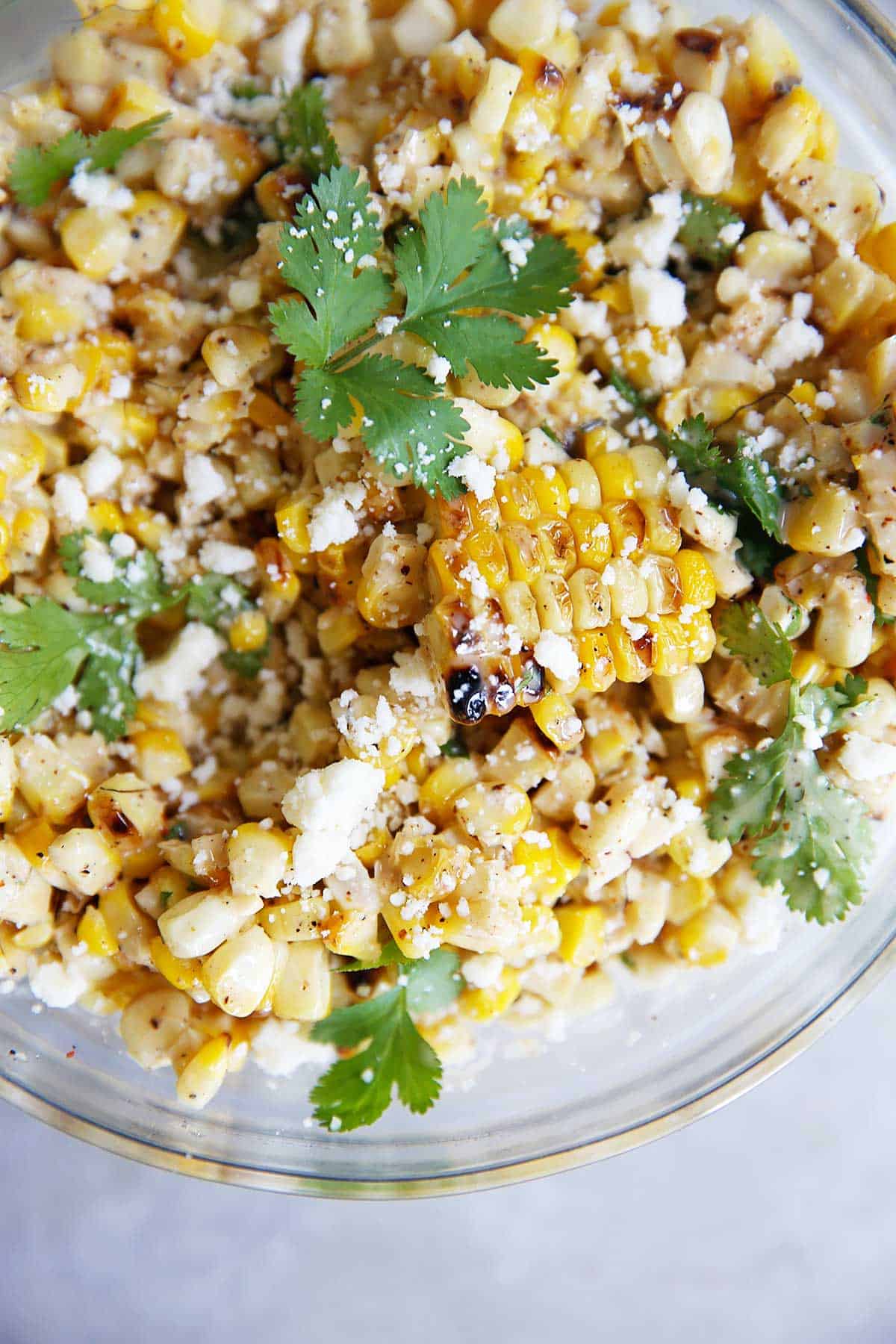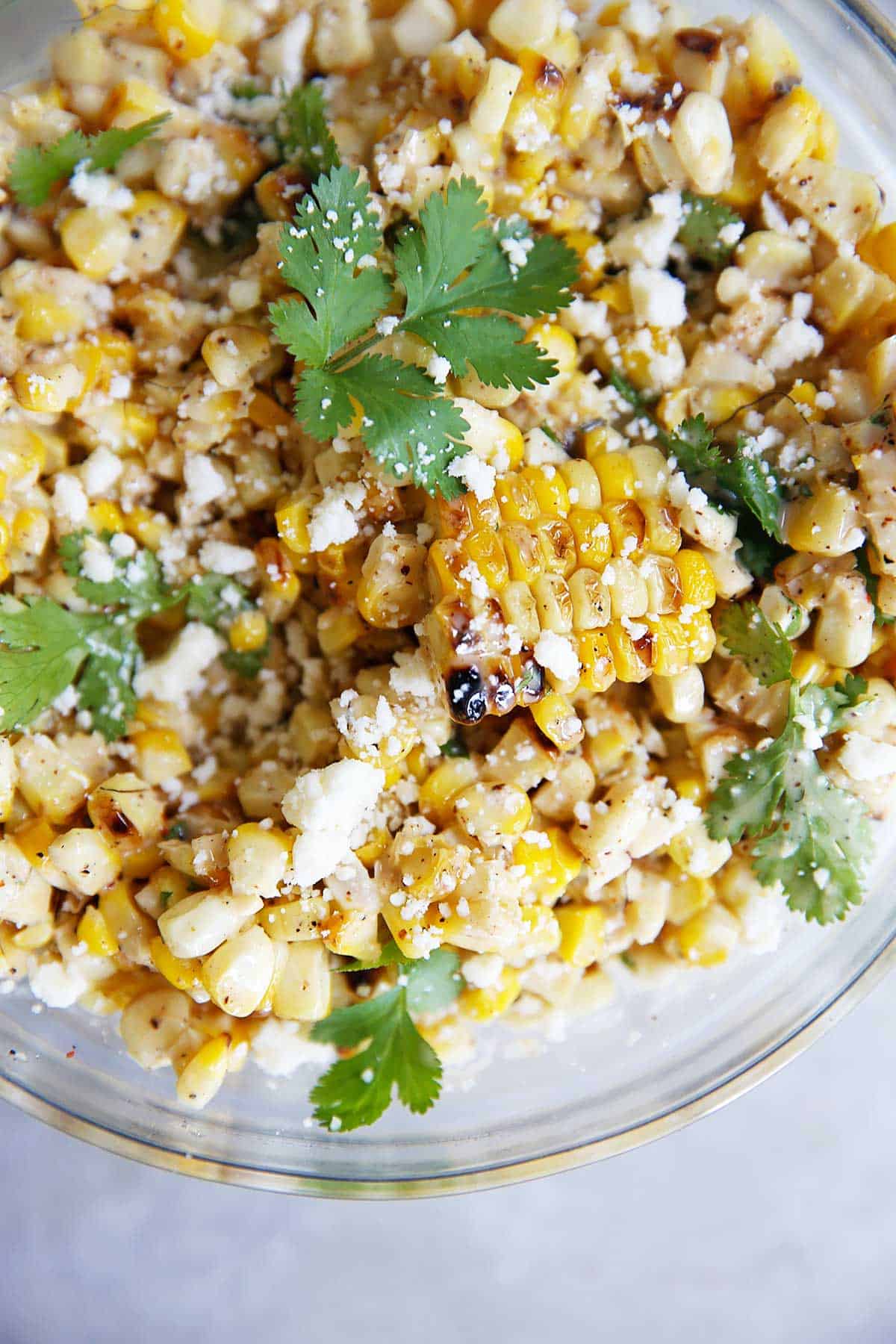 I can't get enough of this salad. It's easy to make and a different fun way to serve up your corn. A little bit of creaminess, a little tang, and a lot of fresh! Serve them up as a side for anything, but may I suggest this epic tostada?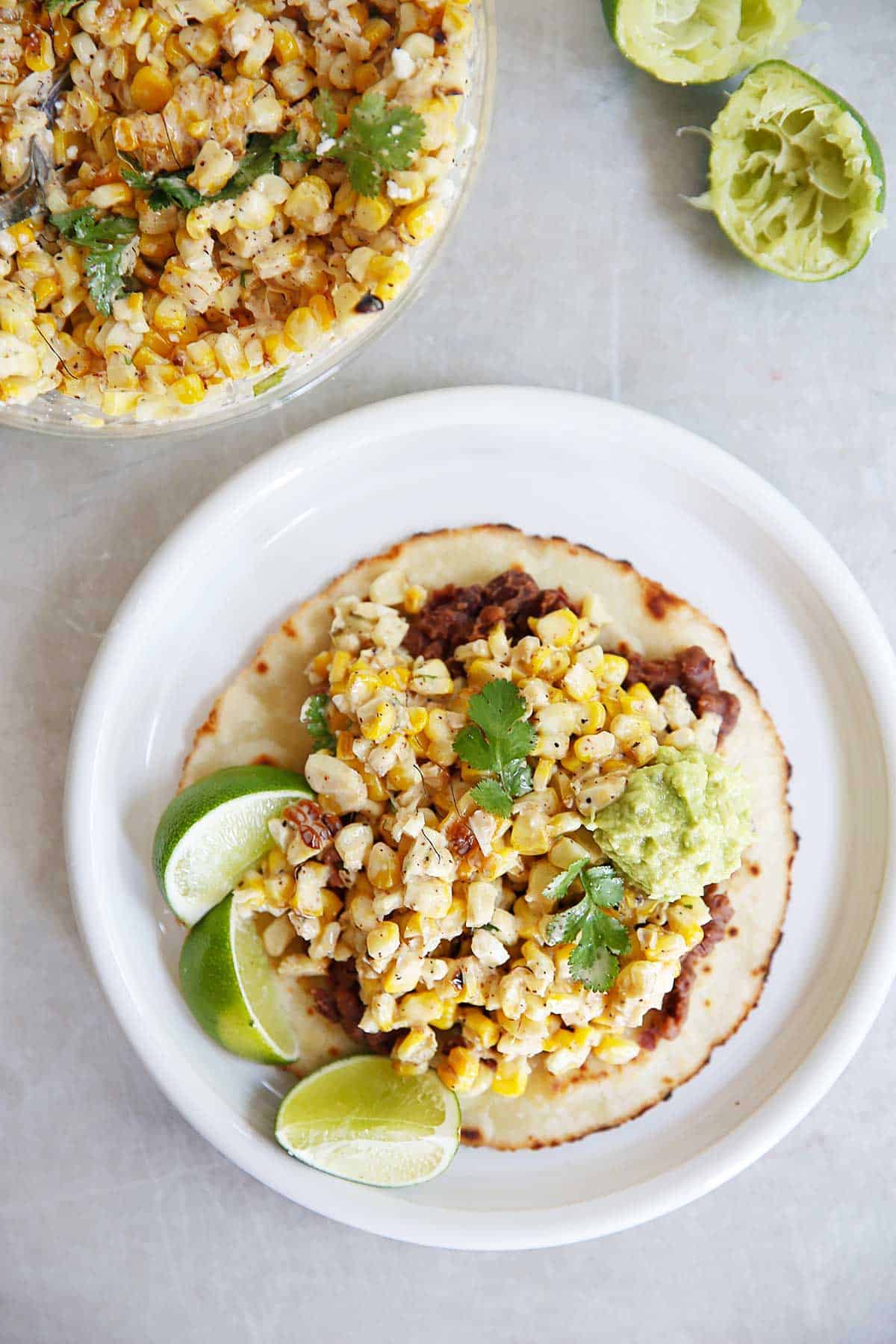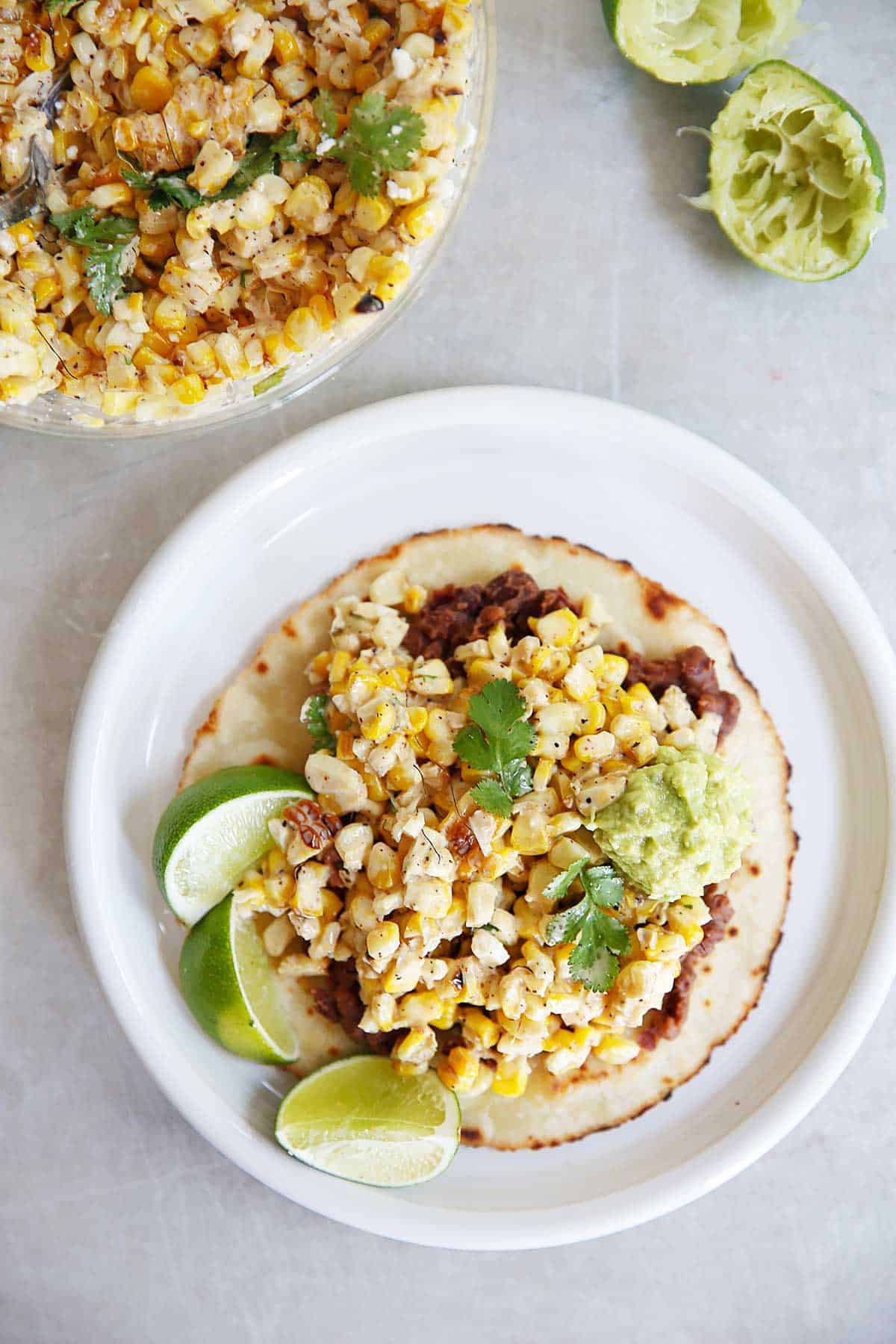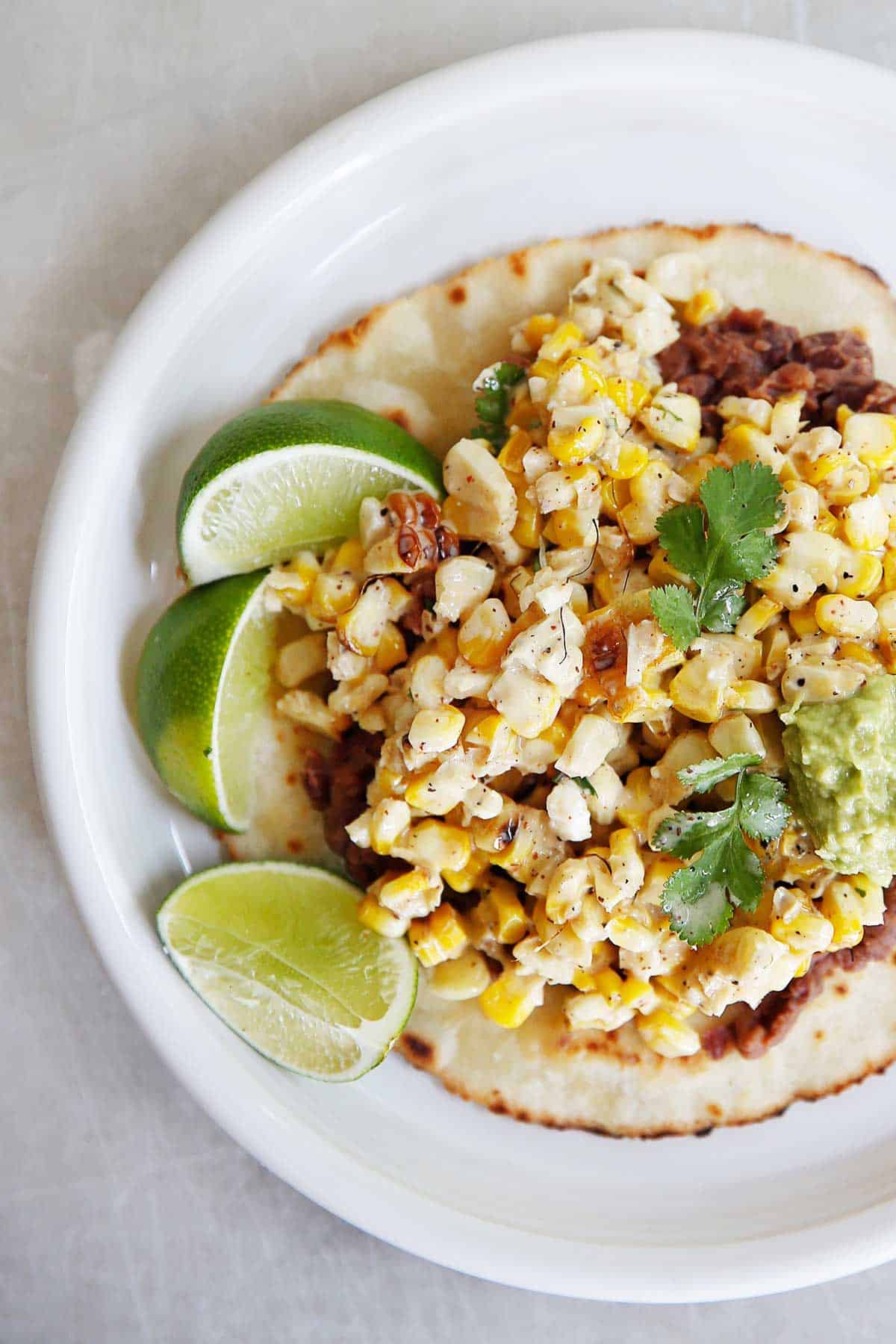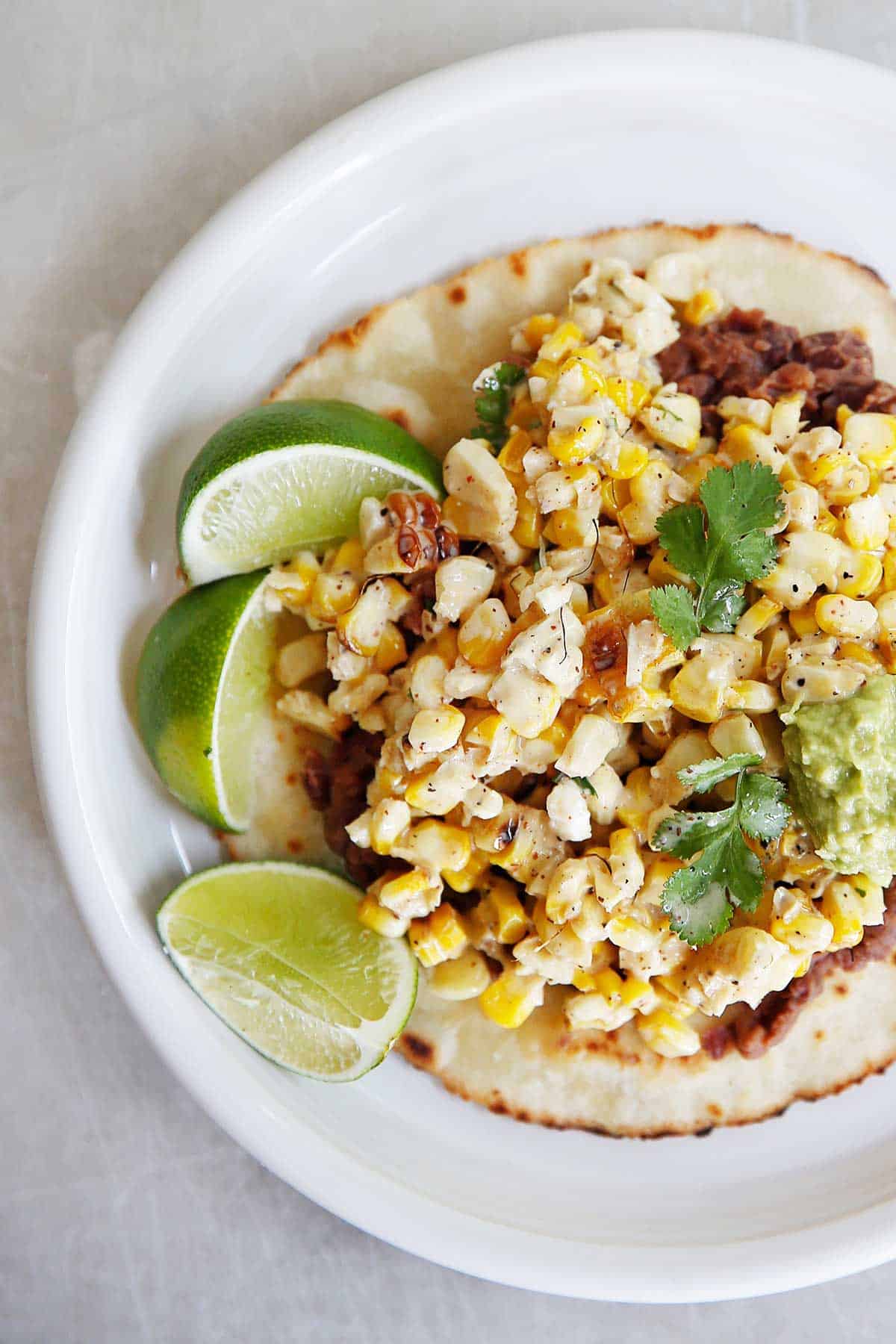 Watch the video: