We are well into cold and flu season and this Ultimate Kick-that-Cold Juice is a recipe you need in your back pocket! If you feel a cold coming on, or you are currently in the throes of one, this juice recipe with oranges, lemon, carrots, ginger and turmeric will give you an extra boost of vitamin C and antioxidants to help your body naturally feel better!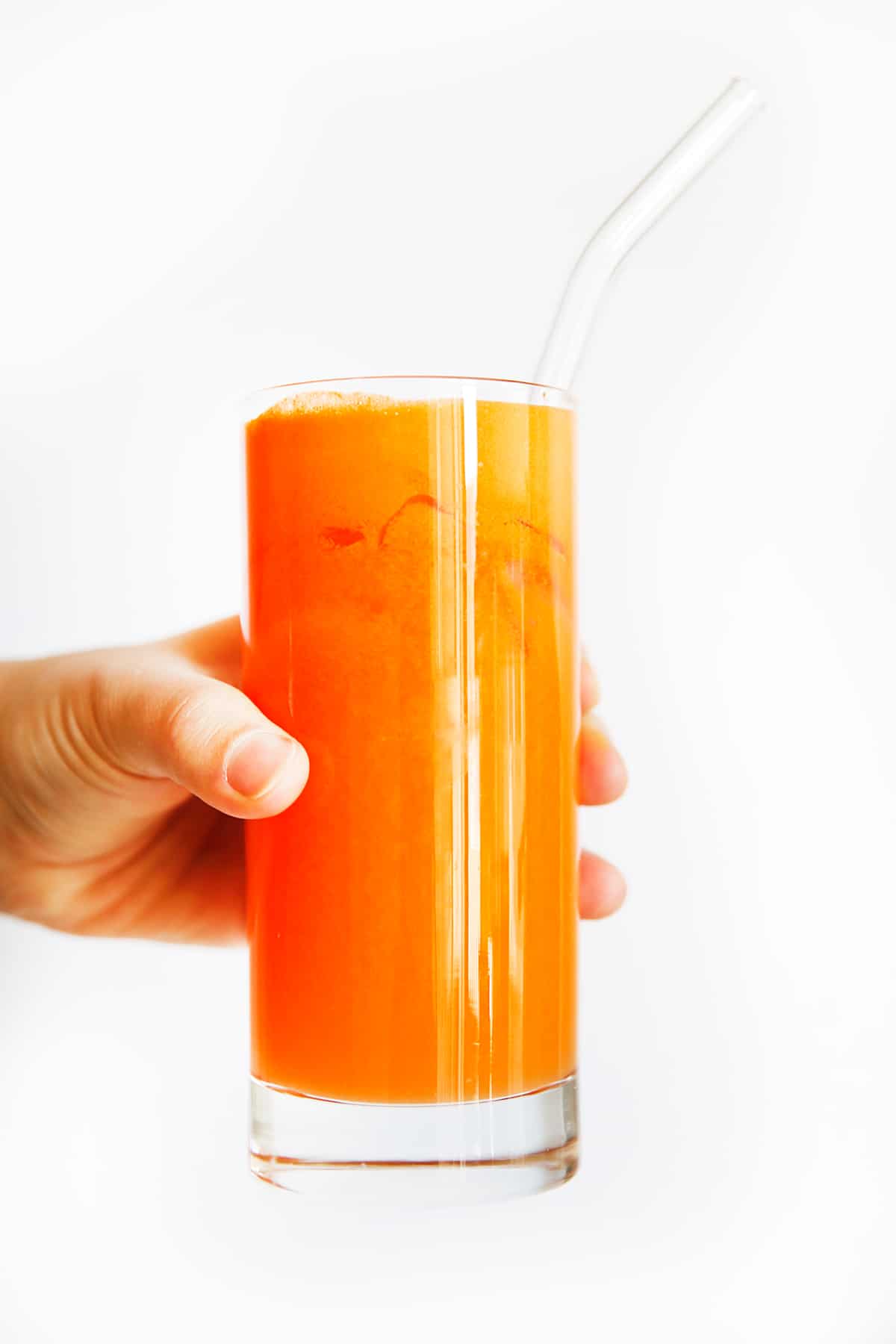 Kick-that-Cold Juice
When cold and flu seasons hits staying healthy can be a top priority. Our bodies naturally do a great job at utilizing their own defenses to fight off colds but it can never hurt to arm yourself with some extra Vitamin C and antioxidants to do it. This recipe has been used in my house for years and it's time it's officially landed on the blog. If we feel ourselves starting to get sick we immediately make this Ultimate Kick-that-Cold Juice and drink up! I swear by it, but it's also super delicious and a good pick-me-up.
Benefits of juicing:
Juicing can be controversial in the health world as it does remove some fiber from the fruit and veggies, but I've found, when I am coming down with something, this really does the trick! While of course fiber IS important (because it also contains nutrients and helps digestion), practically speaking, you will absorb more nutrients because the gut doesn't need to digest all that fiber at the same time! Want more info? I like this article!
Juicing extracts the juice from fresh fruits or vegetables. The resulting liquid contains most of the vitamins, minerals and phytonutrients found in the whole fruit! Since you have to use a far larger quantity of fruits and vegetables to make a glass of juice than you typically would eat in a sitting, you will get higher doses of those micronutrients and phytochemical. Juice quickly reaches your vital organs, can help reset your body, re-oxygenates yourblood, flush out fat, and more!
What I will say is: when ordering juice out, ask them how much fruit is going into your juice (so you can watch the sugar intake). Nobody needs 3 apples in one sitting!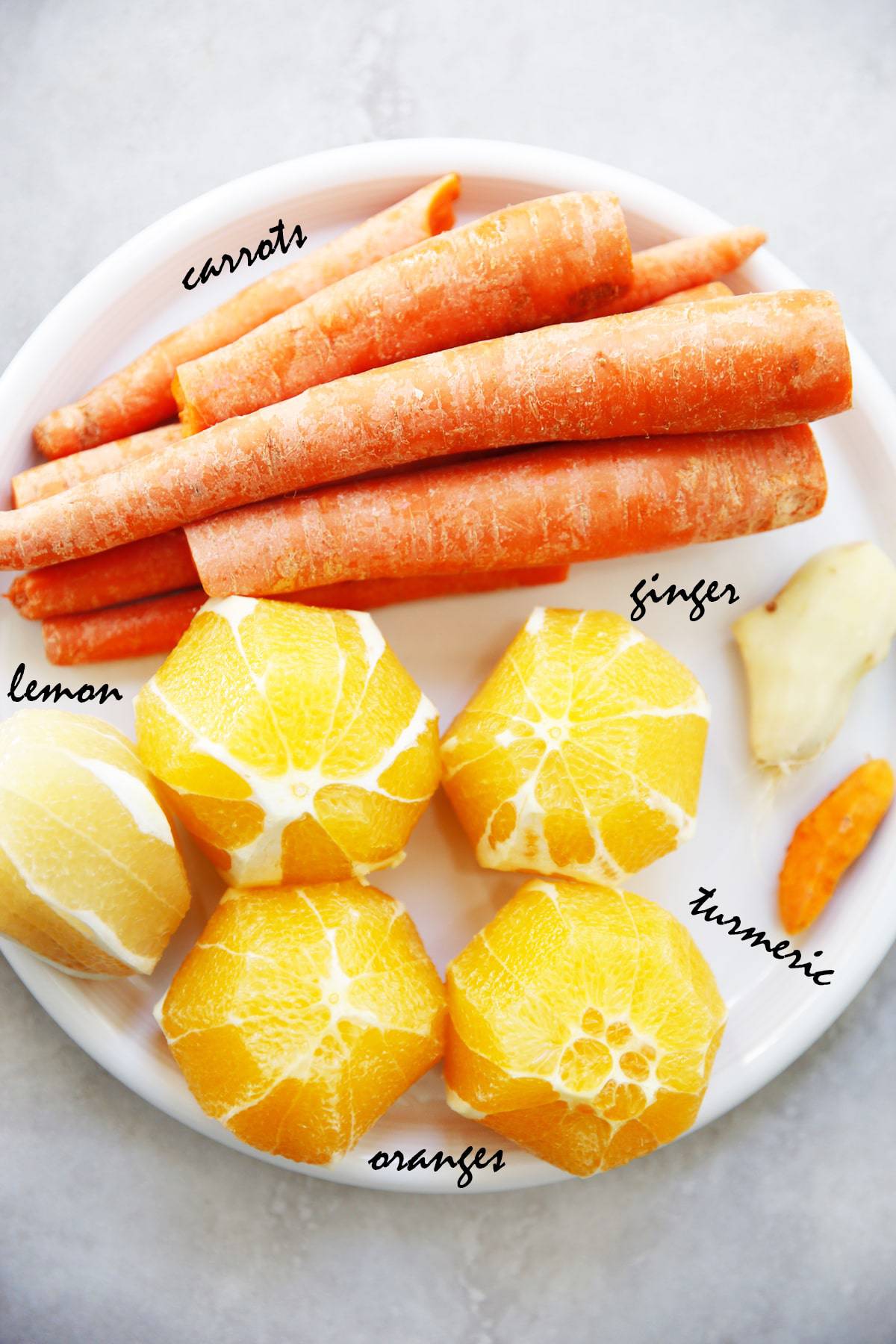 The juice is made up of oranges, carrots, lemon, fresh ginger and turmeric! The citrus and carrots add a much needed boost of vitamin c and antioxidants, the ginger is a natural antiviral and the turmeric has the nutrient curcumin which is a powerful anti-inflammatory.
To prep the fruits and veggies you remove the rinds from all of the fruit before juicing. This is important because the skin/rind is what can hold the most pesticide residue and we want to keep away all that harmful chemicals, especially when your body is fighting off a cold. You can either just wash the carrots, or peel them.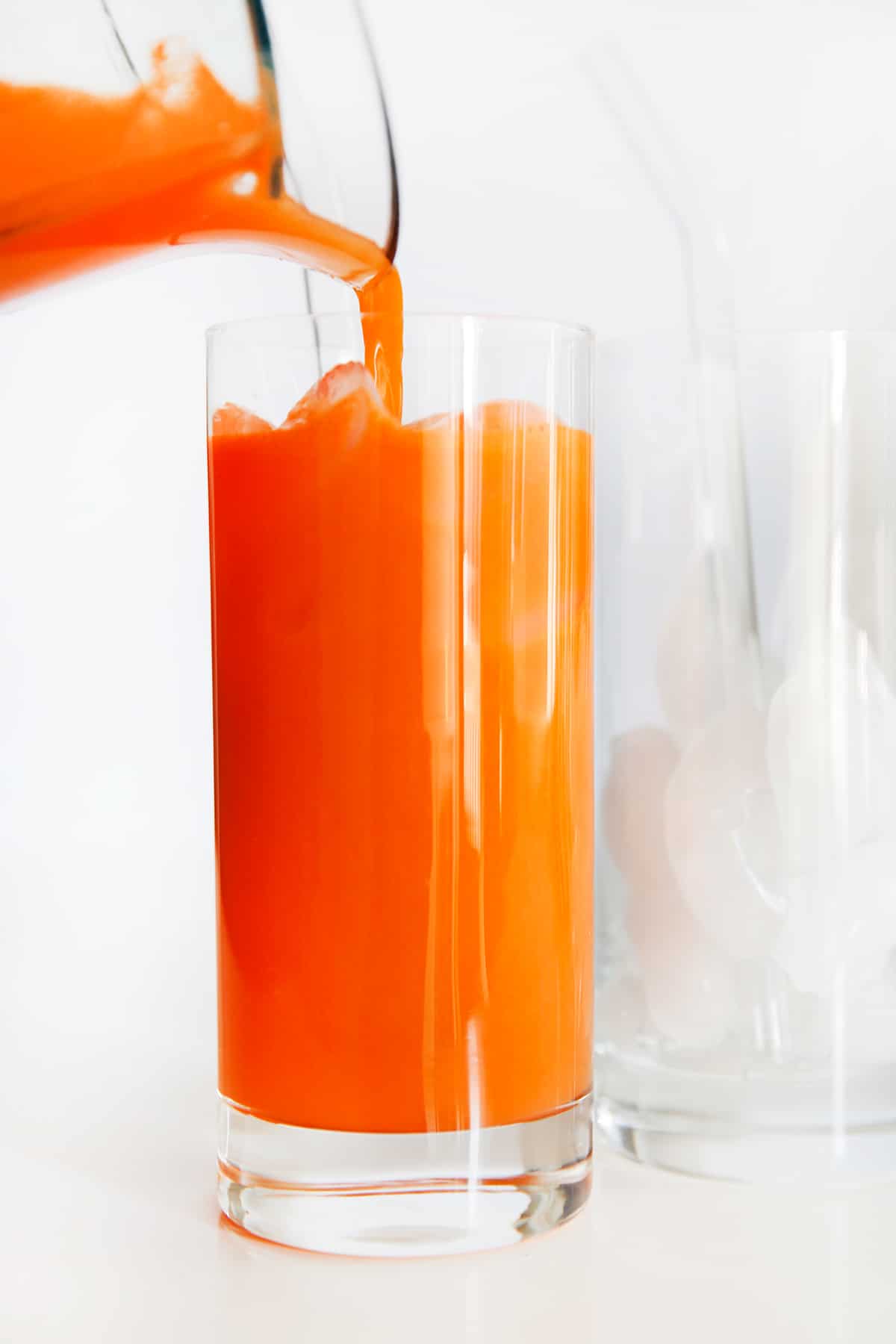 ---
Tools for juicing:
If you like this good-for-you recipe, check out these others:
Ultimate Kick-that-Cold Juice
Ingredients
4 oranges, rind removed

1 lemon, rind removed

2" chunk ginger

1" knob turmeric

5 large carrots, cleaned / peeled
Directions
Place all ingredients through a high-speed juicer and mix well before serving over ice. Consume immediately.
Loading nutrition data...
There may be affiliate links in this post! By clicking on them, or purchasing recommended items I may receive a small compensation, at no cost to you! However, I only recommend products I absolutely love and use in my own home! Thank you for supporting Lexi's Clean Kitchen when you shop! See my
privacy policy
for more information about this, the information we save, and more!
Pin it for later:

What is your go-to natural cold remedy?