Immune-Boosting Feel Good Soup
This hearty vegetarian soup (with a protein option) is packed with immune-boosting properties, and is the perfect easy soup to help kick any cold or sickness. It's quick to make and has become a family favorite healing soup that we always keep on hand frozen for when we need it! Made in partnership with my friends at Ello Products.
Feel Good Veggie Soup
There is absolutely nothing better than homemade soup when you are feeling under-the-weather. This soup is packed with veggies and spices that are loaded with antioxidants to help you heal (or just feel extra awesome). Made with ginger, garlic, turmeric, and bone broth, eating this is one of the most delicious and therapeutic ways to help you heal. This is the soup my family always eats when sick, and because of that I always keep a batch this and my Classic Chicken Soup ready to go in the freezer.
We all make sure we always have medicine on hand for the what-if's, but not many people think about making healing soup when you are feeling well! But I'm here to tell you, it's the way to go! After all, when you suddenly come down with a cold, do you really want to be standing over the stove? So make a batch (or two) of this soup, and have some for dinner tonight (you won't regret it) and a place some in the freezer for when you really need it!

Healing Benefits of Soup
We all can recall memories of being sick as a child and the warmth of being fed a big bowl of soup. Soup is nourishing not only for your mind, but also for your body, especially when it is made with nutrient-packed ingredients. The soup contains carrots, lemon, fresh ginger and turmeric! The citrus and carrots add a much needed boost of vitamin c and antioxidants, the ginger is a natural antiviral and the turmeric has the nutrient curcumin which is a powerful anti-inflammatory. Turmeric provides significant anti-inflammatory effects that can benefit a wide variety of health concerns! While we can't claim any of this is a cure-all, we can say it tastes super delicious and you'll be happy to have this on hand when you need it.
Serve this soup with:
White rice
Pasta of choice
Shredded rotisserie chicken if you want protein
How to make quick white rice for the soup
For most types of rice, you'll always use a ratio of 1 cup rice to 2 cups water (double-check your rice packaging depending on the rice you are using). P.S. I like to swap in chicken or vegetable broth for more flavor and nutrients!
Boil your water, then stir in rice and a pinch of salt.
Cover the pot or saucepan and reduce heat to low. Let it simmer.
Set your timer for 18 minutes, check on your rice, which should be done. Then, turn off the heat and replace the lid. Let it rest for a few minutes. After resting, fluff your rice with a fork.
Want to go the extra mile?
Make homemade broth! It always tastes better than store-bought, and you can use it in so many recipes (like the rice above), aside from this one!
Do I need fresh ginger or turmeric?
It's preferable to have fresh ginger and turmeric, but you certainly can use dried powdered ginger and turmeric if that is what is available.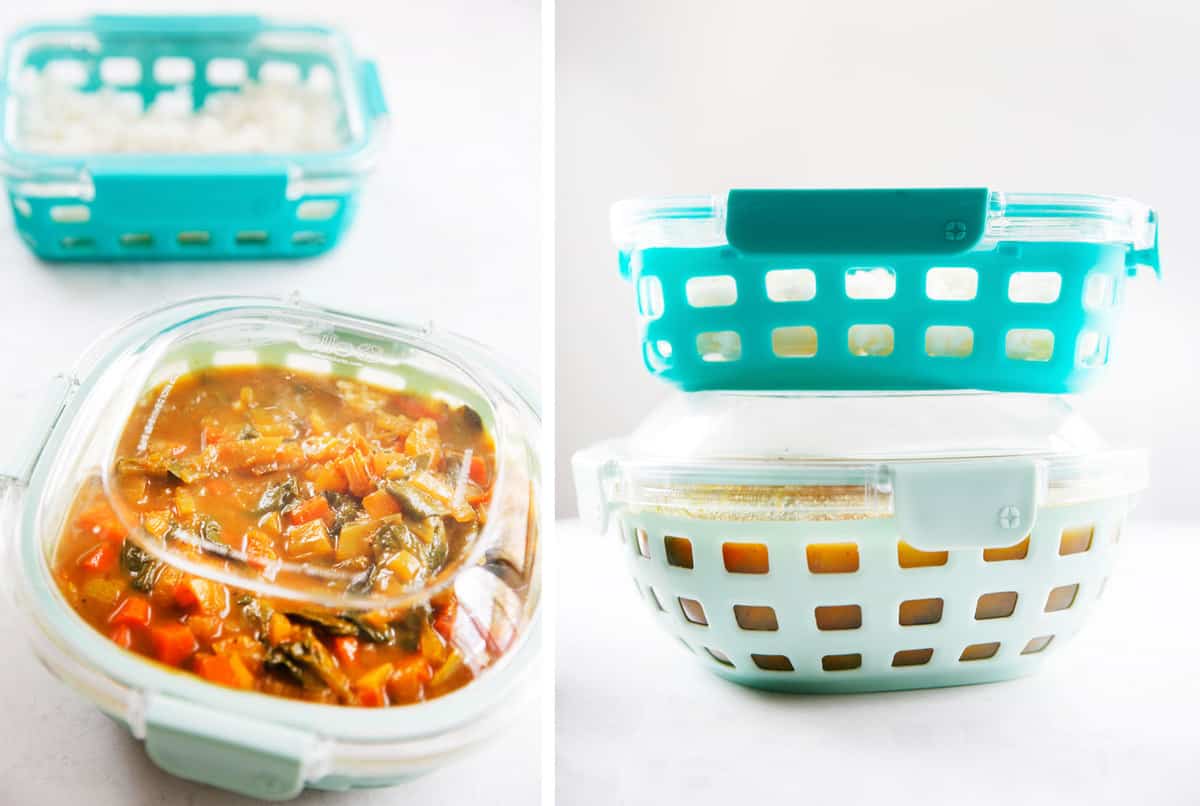 Why we LOVE Ello Storage Containers
We've been using Ello DuraGlass Meal Prep Containers for about 2 years now and they have been our favorite storage containers by far. Not only are the colorful silicone sleeves cute and helpful in pairing the containers with the matching lid, but they also serve a purpose! The silicone protects the glass and they act as as a trivet so a dish can go from the freezer or refrigerator, to the toaster oven (or microwave) and then right to the table.
I love using glass for storage (and re-heating) because it's free of harmful chemicals, can be heated in the oven (without lids), toaster oven or microwave and is (top-rack) dishwasher safe. Plus the crystal clear Tritan lid and colorful silicone sleeve let's me easily see what is in the containers so I can keep my refrigerator more organized. This is especially helpful when you have a refrigerator full of meal prep and you need to stay organized.
These Ello containers are the perfect for storing this Feel Good Soup for whenever you might need it.
Tips for Freezing Soup
Make sure the soup is fully cooled down before closing the lid and storing in the freezer. Never cover hot food or place in the freezer as you run the risk of creating an unsafe temperature for storing food.
Leave at least 1″ of space for the soup to expand in the freezer.
Don't store in large batches. Store enough soup for about 1-2 servings at a time.
Label the soup with the contents and the date.
Soup can be stored for up to one year safely, but we prefer to use stored soup within 6 months of freezing.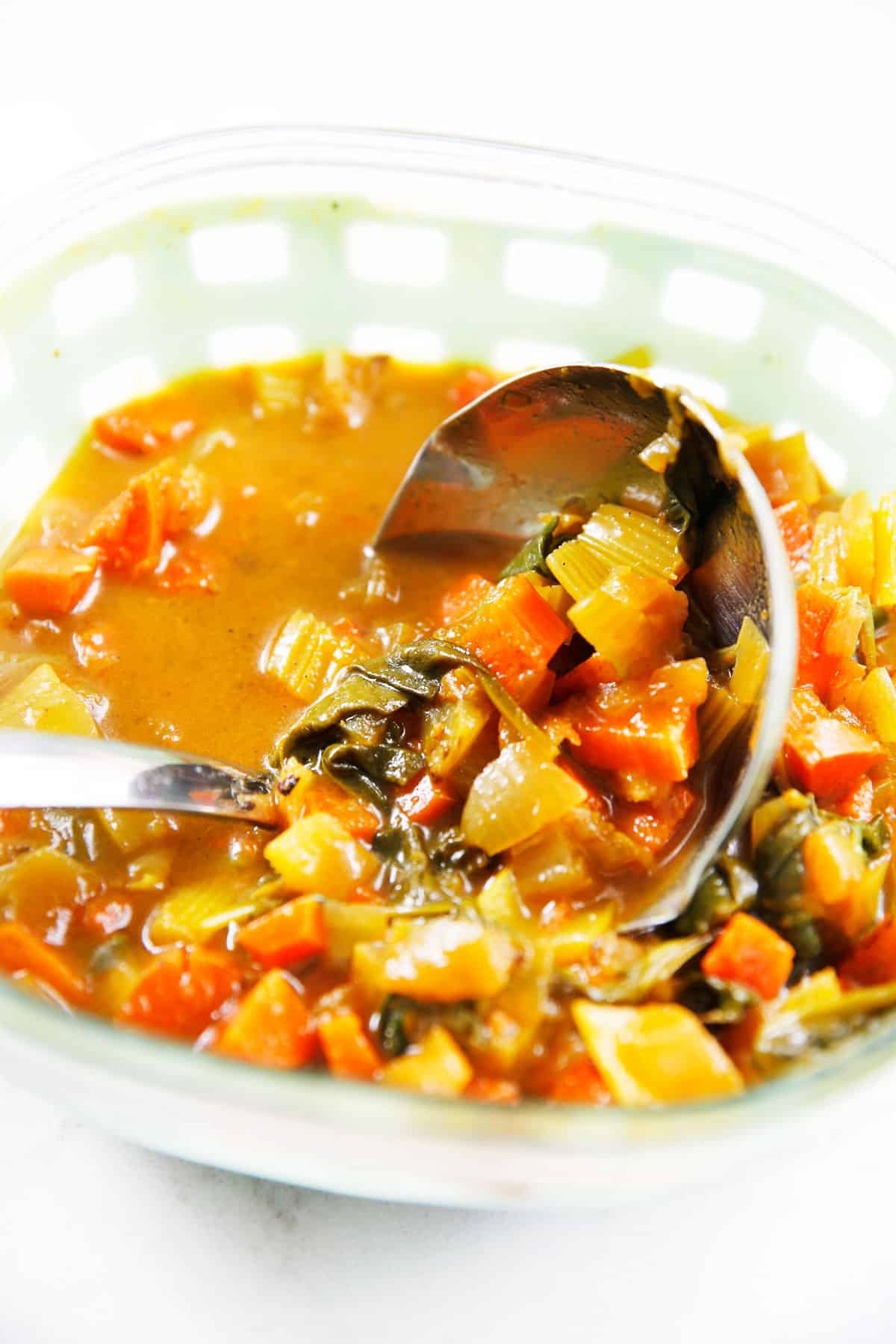 How to Defrost Soup
The best way to defrost soup is to let is sit overnight in the refrigerator first, and then reheat in a pot on the stove. You always want to make sure you bring the soup back up to the point of boiling.
But what if you need the soup like….now, instead of tomorrow? The best way to get soup out of a frozen container is to gently warm up the container so that the soup defrosts on the edges, so that the frozen soup can easily be placed inside of a pot. For the Ello Storage Containers that are glass, you can easily fill a large bowl with lukewarm water and then submerge the container in the water until the edges are slightly defrosted enough to loosen the soup.
Once you are able to get the soup out of the container and into a pot and let it thaw over medium-low heat, stirring to keep the soup from burning on the bottom.
---
Watch the video:
---
If you like this soup recipe, try these soup favorites:
Want more immune boosting recipes? Try these: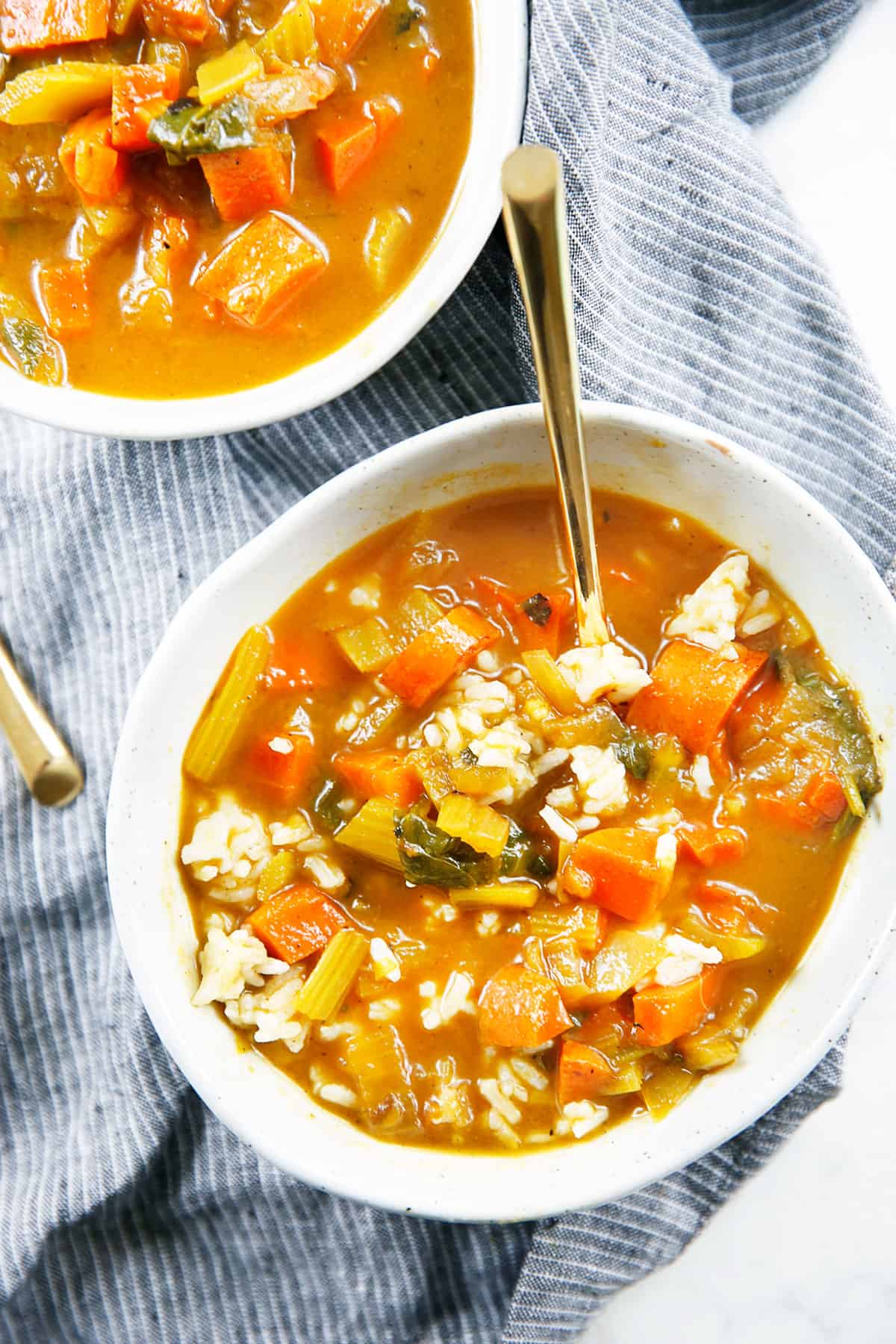 Immune-Boosting Feel Good Soup
We are well into cold and flu season and this Ultimate Kick-that-Cold Juice is a recipe you need in your back pocket! If you feel a cold coming on, or you are currently in the throes of one, this juice recipe with oranges, lemon, carrots, ginger and turmeric will give you an extra boost of vitamin C and antioxidants to help your body naturally feel better!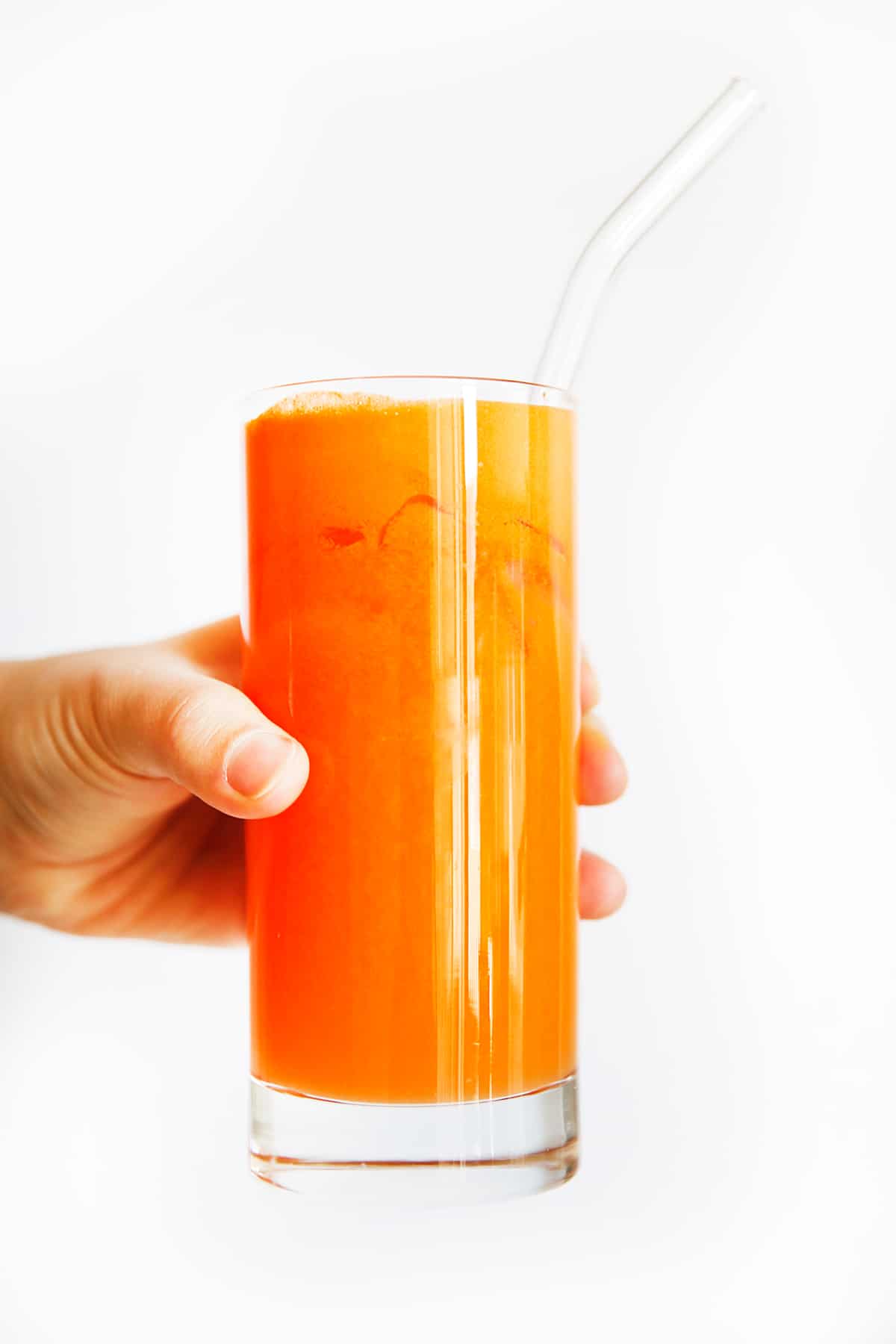 Kick-that-Cold Juice
When cold and flu seasons hits staying healthy can be a top priority. Our bodies naturally do a great job at utilizing their own defenses to fight off colds but it can never hurt to arm yourself with some extra Vitamin C and antioxidants to do it. This recipe has been used in my house for years and it's time it's officially landed on the blog. If we feel ourselves starting to get sick we immediately make this Ultimate Kick-that-Cold Juice and drink up! I swear by it, but it's also super delicious and a good pick-me-up.
Benefits of juicing:
Juicing can be controversial in the health world as it does remove some fiber from the fruit and veggies, but I've found, when I am coming down with something, this really does the trick! While of course fiber IS important (because it also contains nutrients and helps digestion), practically speaking, you will absorb more nutrients because the gut doesn't need to digest all that fiber at the same time! Want more info? I like this article!
Juicing extracts the juice from fresh fruits or vegetables. The resulting liquid contains most of the vitamins, minerals and phytonutrients found in the whole fruit! Since you have to use a far larger quantity of fruits and vegetables to make a glass of juice than you typically would eat in a sitting, you will get higher doses of those micronutrients and phytochemical. Juice quickly reaches your vital organs, can help reset your body, re-oxygenates yourblood, flush out fat, and more!
What I will say is: when ordering juice out, ask them how much fruit is going into your juice (so you can watch the sugar intake). Nobody needs 3 apples in one sitting!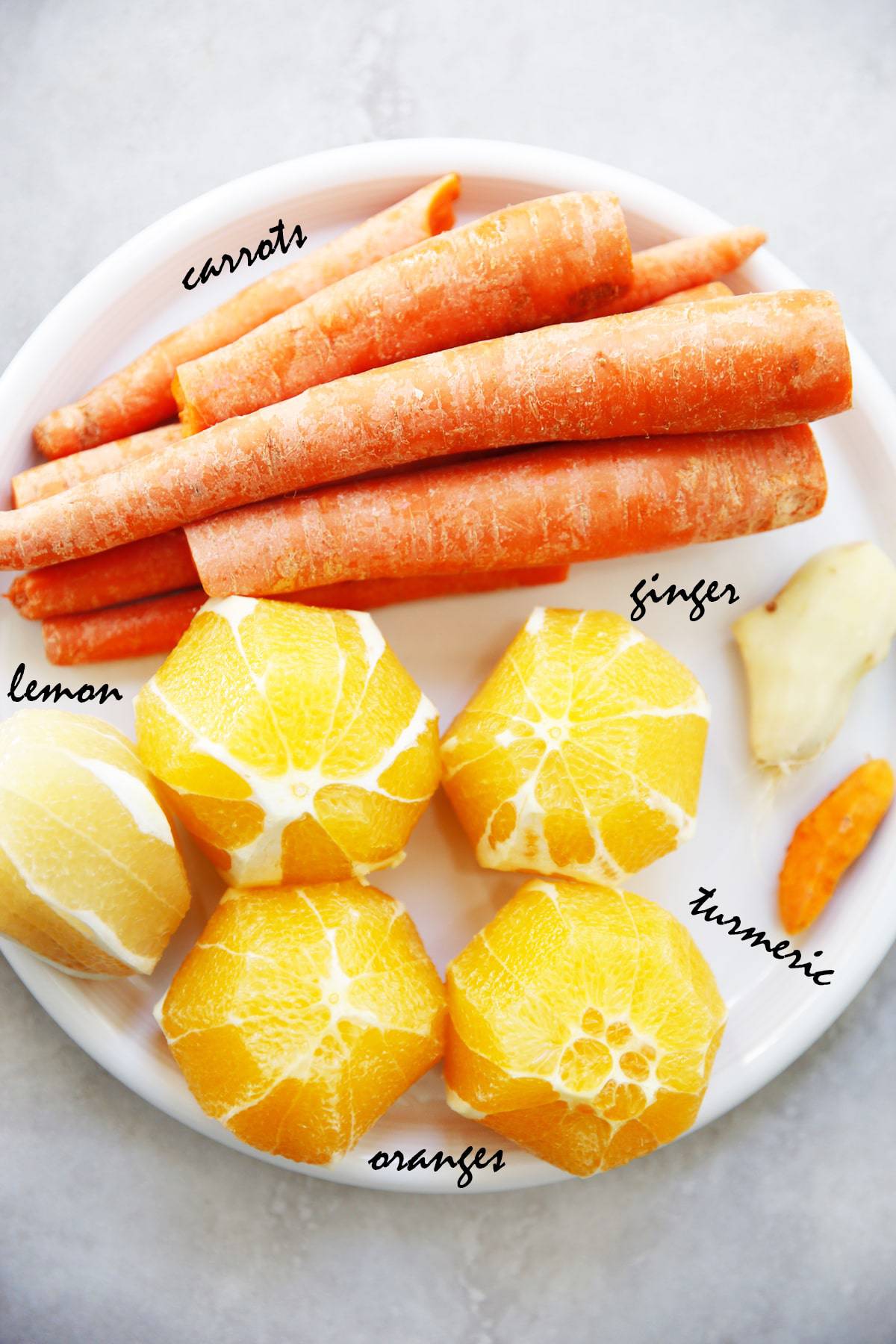 The juice is made up of oranges, carrots, lemon, fresh ginger and turmeric! The citrus and carrots add a much needed boost of vitamin c and antioxidants, the ginger is a natural antiviral and the turmeric has the nutrient curcumin which is a powerful anti-inflammatory.
To prep the fruits and veggies you remove the rinds from all of the fruit before juicing. This is important because the skin/rind is what can hold the most pesticide residue and we want to keep away all that harmful chemicals, especially when your body is fighting off a cold. You can either just wash the carrots, or peel them.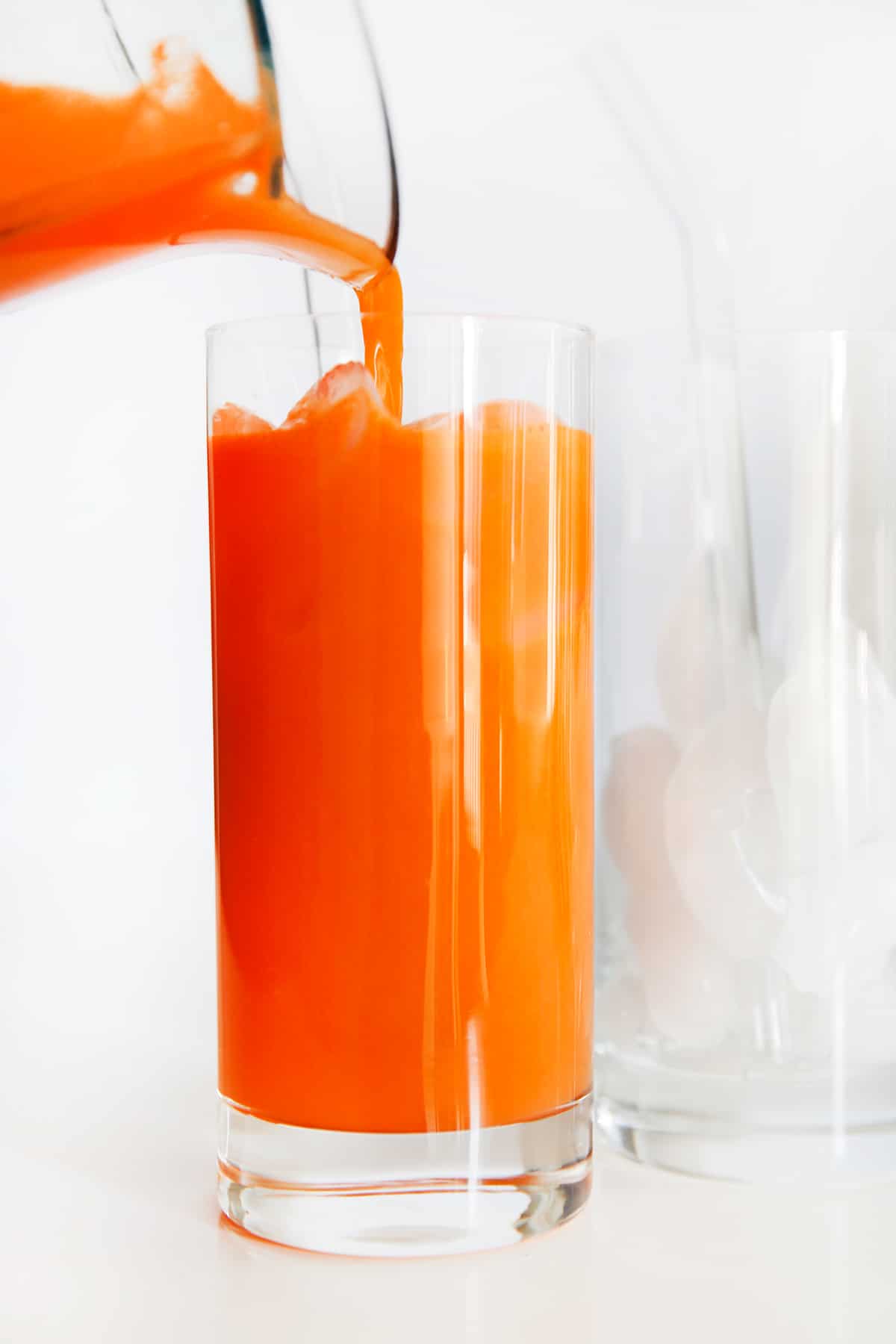 ---
Tools for juicing:
If you like this good-for-you recipe, check out these others:
Pin it for later:

What is your go-to natural cold remedy?
Ultimate Kick-that-Cold Juice
This paleo Homemade Jello recipe is one everyone will love, and made so much healthier than traditional jello. You can feel good about serving this healthier jello snack, and it's a great to include healthy Grass-Fed Beef Gelatin in your diet. We've included a basic recipe as well as two options to make your own strawberry and lime juice or a carrot, orange and ginger juice to make the healthiest Homemade Jello ever!! There are no artificial colors/flavors or added refined sugar and they make the cutest lunchbox treat to send your kids to school with, or have for when they get home! Made in partnership with my friends at Vital Proteins!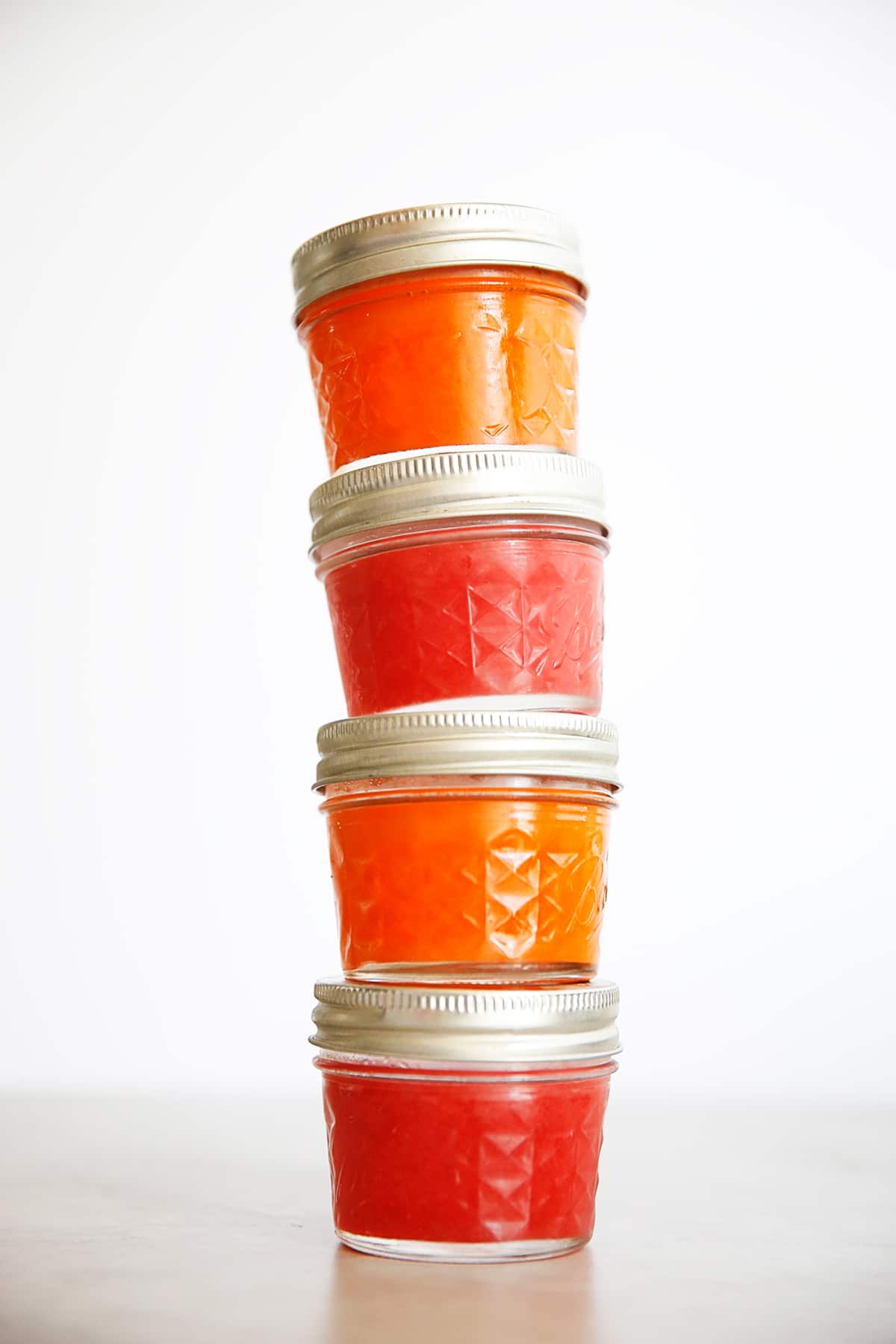 Homemade Jello
When most people think of jello, they probably think of the unhealthy little plastic containers you buy at the store that are filled with artificial ingredients, flavors and full of sugar or those small little boxes filled with an unknown substance. Well, today we are going to change your mind about how healthy and delicious Homemade Jello can be! We have a recipe that brings jello back to what it should be: freshly made juice combined with healthy pasture-raised, Vital Proteins Beef Gelatin to make the cutest little lunchbox addition that any kid (or grown-up alike) will enjoy – with the same jello consistency you know and love!
Check out the vibrant colors of our jello! We made them with two homemade juices: Strawberry and Lime and Carrot, Orange and Ginger!
For the Strawberry Lime juice we simply combined sliced strawberries with a touch of honey (which you can omit if your strawberries are really sweet) in a blender, and then strained out most of the seeds. This juice is somewhat thick, and makes for the BEST tasting strawberry jello ever. It actually tastes like strawberry!
For the vitamin C and antioxidant rich Carrot, Orange and Ginger juice we used a juicer! It's one of my favorite homemade juice flavors, especially when I feel a cold coming on, I always drink a glass of this. It is naturally sweet enough so this juice is perfect when made into jello.
We also share how you can shortcut the whole process and use fresh juice you buy in a store!

Once you have the juice, the only other ingredient is gelatin. We use my favorite Pasture-Raised Beef Gelatin from Vital Proteins. If you read my previous blog post you know how I use collagen peptides in my coffee each morning and this is just another great recipe to add a healthy dose of collagen to your diet. Adding collagen to your diet can be a great way to improve and promote bone and joint health, aid in healthy digestion and gut health, improve sleep and nourish your skin. BUT I've never showed you how I use Vital Proteins, BEEF GELATIN (the green container). This gelatin is different as it's perfect for jello, marshmallows, homemade candies/gummies, and more!
How Do You Make Homemade Jello?
It's so easy to make jello at home! All you need is either 100% juice purchased at the store or fresh made juice and Beef Gelatin. There are three steps to making it. First you bloom the gelatin by combining it with a bit of the juice and whisk (which ensures the gelatin is evenly distributed) and then boil the remaining juice and combine with the bloomed gelatin to dissolve it. Place in the refrigerator until it has set up!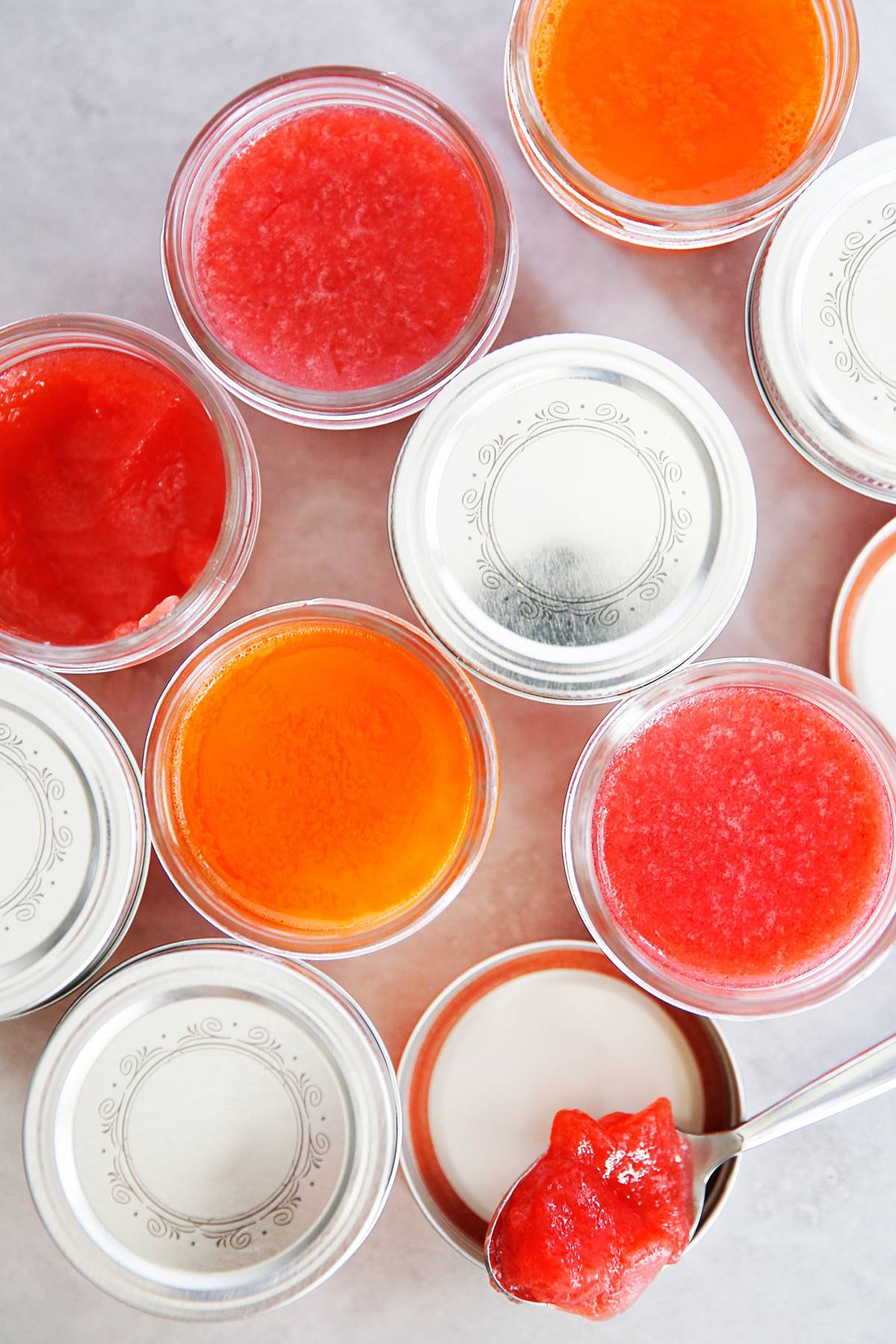 We store our jello in 4 ounce mason jars for easy serving portions and they are so cute! You can send the jello in a lunch box, but treat it like you would a yogurt by packing it with an ice pack. If the jello is kept at room temperature for more than 2-3 hours (depending on the temperature outside) it dissolves again and will go back to being juice.
There are no preservatives in this jello of course so they'll last about as long as the fruit and vegetables would that you made them with (about 3 to 5 days). Jello made with store bought juice will last slightly longer than jello made with the homemade juice.
If you like this fruit forward snack, check out these others: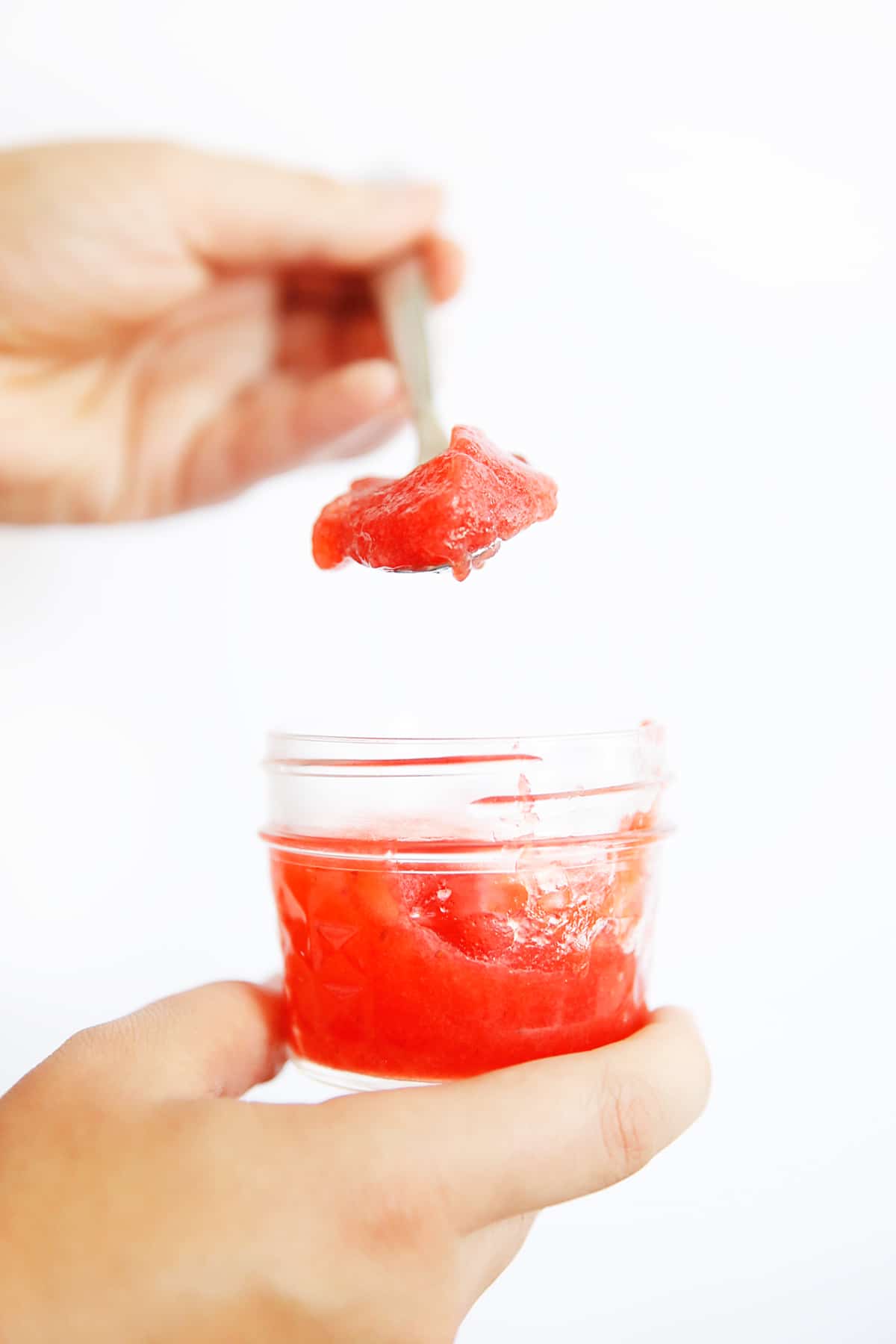 If you want other collagen-packed recipes, try these:

Watch the video:





This post is sponsored by Vital Proteins. All thoughts and opinions are always 100% my own! I love the integrity of their products and think you'll love them too. Thank you for continuing to support LCK and the brands I work with!
Homemade Jello (Healthy!)
This Anti-Inflammatory Smoothie is the perfect make-ahead breakfast! It's full of anti-inflammatory foods that are rich in vitamins and minerals, tastes delicious and will keep you satisfied until lunch time. It's vegan, naturally gluten-free and and so easy to prep! We make them into freezer packs for easy breakfasts that are already prepped in the freezer. Just dump into the blender, add your liquid, and blend!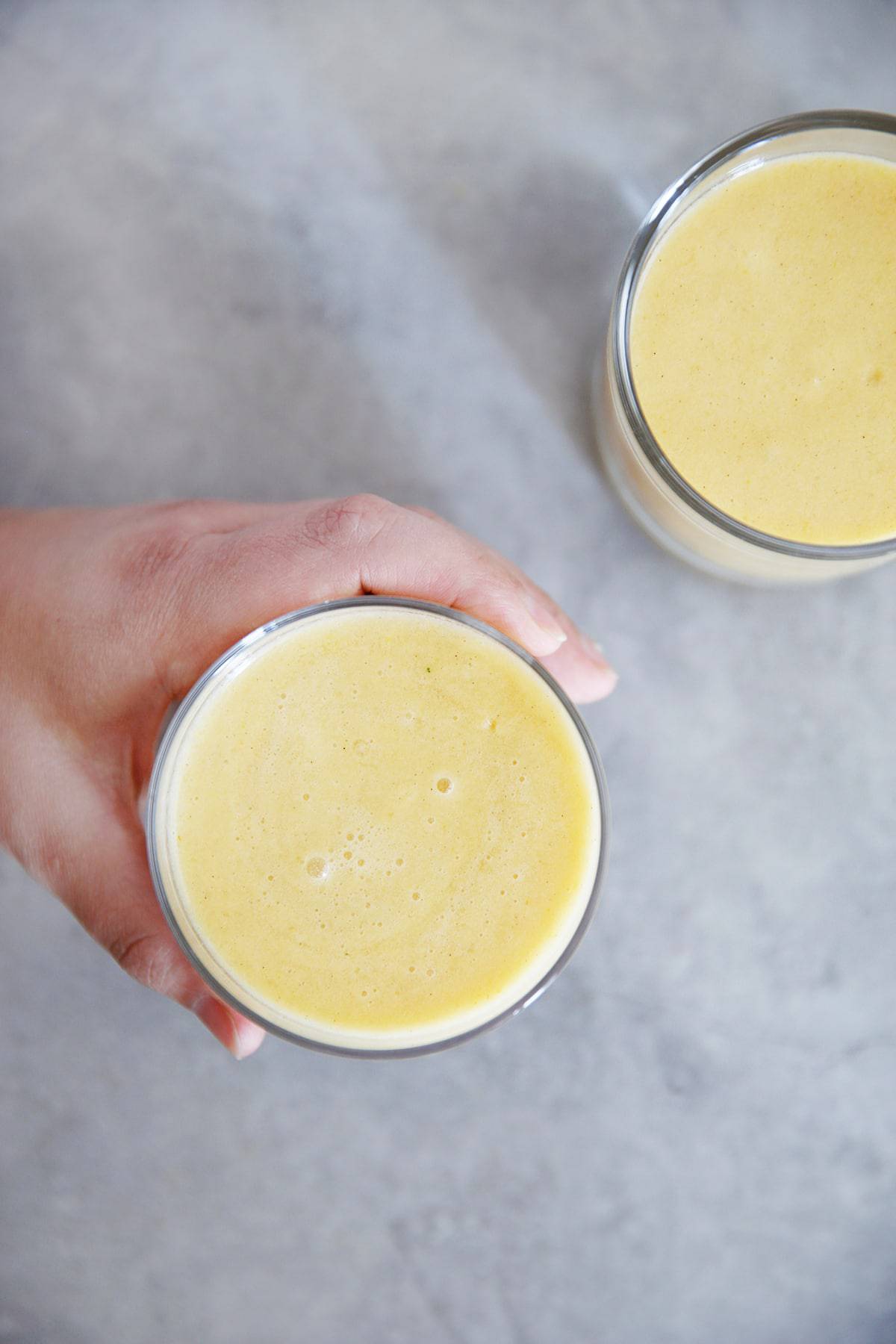 Anti-Inflammatory Smoothie
Smoothies are the easiest make-ahead breakfast! We love them because the possibilities are endless. In the past I've offered up many smoothie recipes, and even the perfect smoothie guide, but today we are focusing on the idea of smoothie freezer packs, and specifically nutrionally based smoothies.
Smoothie packs are so popular these days, and while they may be convenient, they can be pricey and you can't really control what is in them. For the next four weeks we're going to offer up 4 nutritional-minded smoothies that you can prep in advance, and in bulk if you choose, to be ready for a quick blend in the morning before heading out the door. And at the end we're going to do a round up and a bonus 30 Budget-Friendly Smoothies (in under 30 minutes) guide!

If you are a long-time reader of mine, you know that I believe that food can play a big part in not only keeping the body healthy, but also healing the body, so we're offering up 4 make-ahead smoothie packs that target specific health benefits! And today marks our first one: Anti-Inflammatory!
Inflammation in the Body
Our body uses a process known as inflammation to protect ourselves from invading foreign microbes  such as chemicals or pollen, or to help heal from a wound. When this condition persists without the underlying cause it can be harmful. This is known as chronic inflammation and it has been linked to a number of larger medical conditions such as diabetes, arthritis and heart disease. A natural and easy way to help keep inflammation down is through food!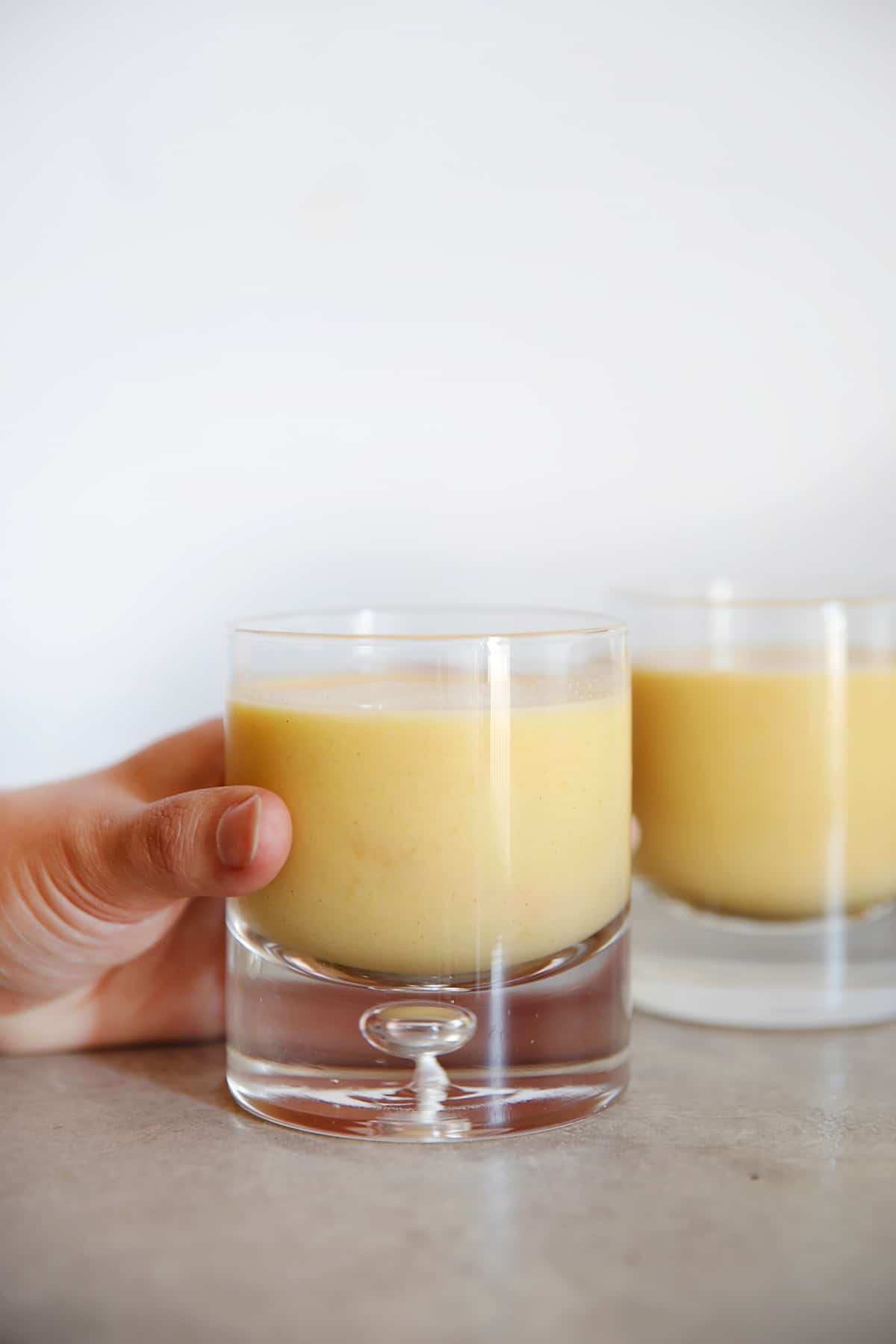 Best Anti-Inflammatory Foods
Eating a diet full of foods rich with vitamins and minerals is a great start to lower inflammation. Some common foods to help with this are leafy greens, nuts and fatty fish. For our smoothie today we've paired a few (delicious) foods together that are high in anti-oxidants and rich in vitamins in mineral to help reduce inflammation: mango, cauliflower, ginger, turmeric and black pepper!
Stay tuned for the rest of the make-ahead smoothie freezer pack series:
Anti-Inflammatory Smoothie Freezer Pack
Detox Smoothie Freezer Pack
Round Up + 30 Budget-Friendly Smoothies
Items we love for smoothie packs:
Anti-Inflammatory Smoothie Freezer Pack
Adorned with a sweet and sticky glaze, this Asian Salmon recipe is just what a fun and delicious dinner looks like. Plus, it's super simple to put together and pairs well with just about any veggies for a side. It's gluten-free, dairy-free and Paleo and calling your name to put on the dinner list this week!
Sticky Asian Salmon Recipe
Salmon is hands down one of my favorite ways to put a quick dinner on the table, and this Sticky Asian Salmon dinner is no exception. It is flavorful and is simple to put together. The salmon is quickly marinaded in common pantry staples like coconut aminos (a soy-free soy sauce alternative) and honey and then quickly broiler up before brushing on some of the reduced sticky marinade! Serve with a simple side of steamed or roasted veggies and dinner is served!
Ingredients Needed
Wild Salmon

Coconut Aminos

Honey

Rice Wine Vinegar

Garlic

Ginger
What to Serve With It
Because salmon is such a quick dish to make, it's best to serve with either a prepped ahead veggie dish (we like to roast a big batch of veggies at the beginning of the week to use throughout the week) or something that takes just a few seconds to put together, like a salad!
Some other options are to serve with a quick cole slaw, like this one or this one, some zucchini noodles or other veggie noodles, or some cauliflower rice.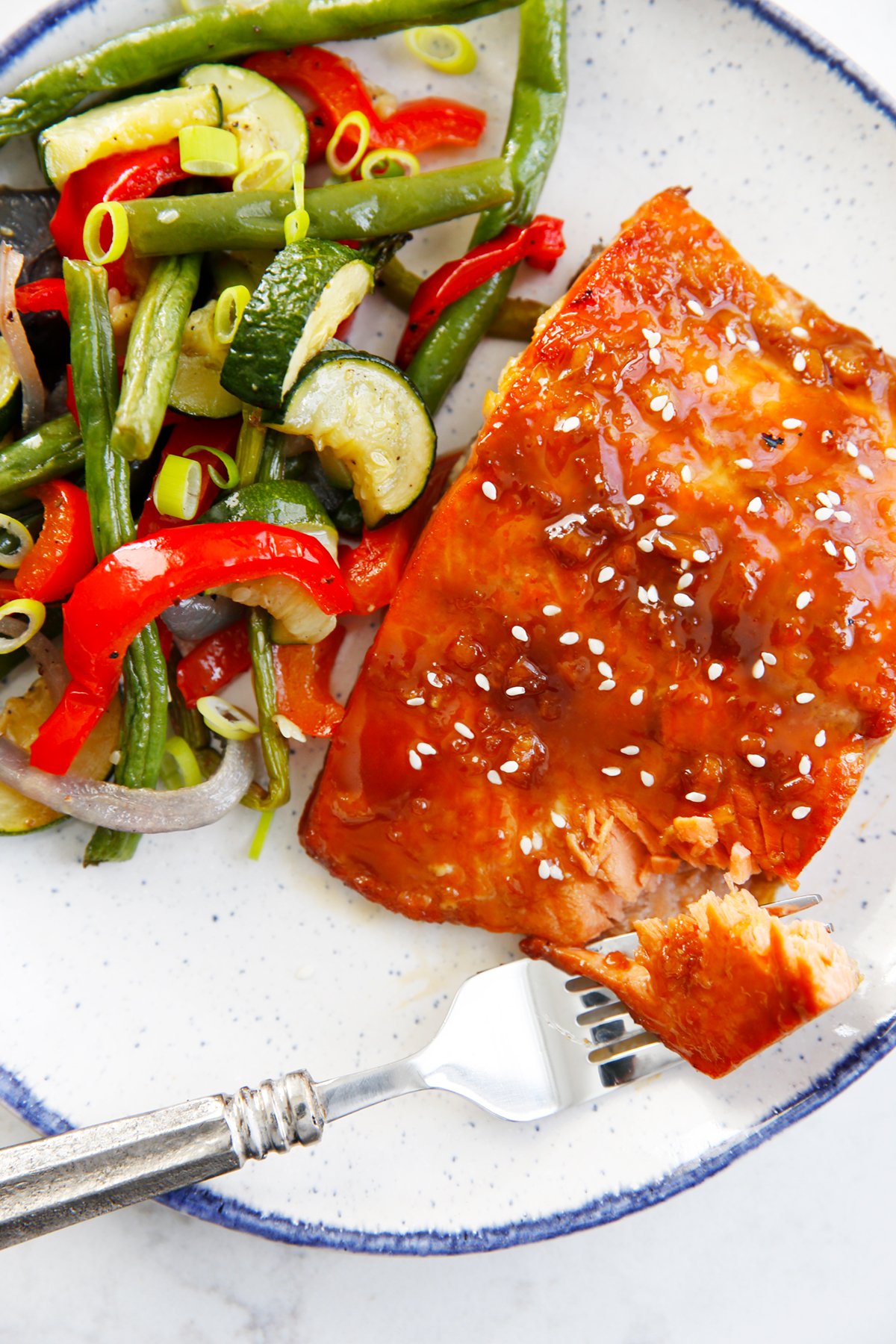 If you like this salmon recipe, check out these others:
Sticky Asian Salmon
These little honey vodka drink packs a whole lot of refreshing flavors; of ginger, honey, and lemon. Plus, an additional kick of vodka, because hey, sometimes we want to spice things up a bit. Leave out the vodka for a delicious lemonade beverage.
Honey Vodka Cocktail with Ginger
This simple and refreshing Lemon, Ginger and Honey Vodka Cocktail is simple and delicious. The ginger infused honey really amps up the flavor on this vodka cocktail. You could also use the ginger infused honey for lemonade!
How to Make Ginger Infused Honey:
There are two ways:
You can cook the ginger and honey together over a double boiler for about an hour. Be sure to check the water levels periodically so that the water doesn't evaporate.
Or you can simple placed the crystallized ginger in the honey for a few days, or indefinitely.

If you like this lemon recipe, check out these others:
If you like this cocktail recipe, check out these others:
[yumprint-recipe id='151′]