This paleo Homemade Jello recipe is one everyone will love, and made so much healthier than traditional jello. You can feel good about serving this healthier jello snack, and it's a great to include healthy Grass-Fed Beef Gelatin in your diet. We've included a basic recipe as well as two options to make your own strawberry and lime juice or a carrot, orange and ginger juice to make the healthiest Homemade Jello ever!! There are no artificial colors/flavors or added refined sugar and they make the cutest lunchbox treat to send your kids to school with, or have for when they get home! Made in partnership with my friends at Vital Proteins!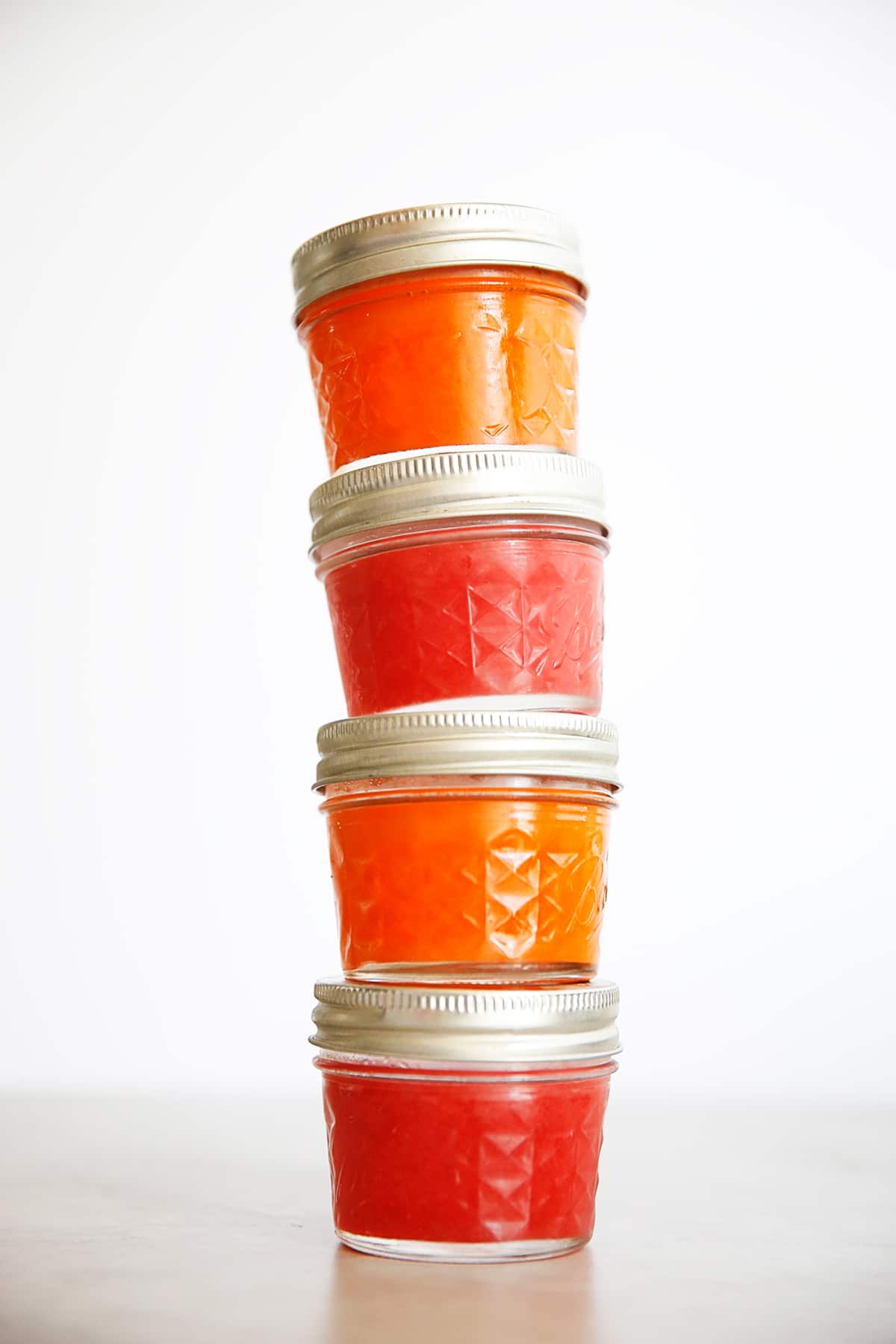 Homemade Jello
When most people think of jello, they probably think of the unhealthy little plastic containers you buy at the store that are filled with artificial ingredients, flavors and full of sugar or those small little boxes filled with an unknown substance. Well, today we are going to change your mind about how healthy and delicious Homemade Jello can be! We have a recipe that brings jello back to what it should be: freshly made juice combined with healthy pasture-raised, Vital Proteins Beef Gelatin to make the cutest little lunchbox addition that any kid (or grown-up alike) will enjoy – with the same jello consistency you know and love!
Check out the vibrant colors of our jello! We made them with two homemade juices: Strawberry and Lime and Carrot, Orange and Ginger!
For the Strawberry Lime juice we simply combined sliced strawberries with a touch of honey (which you can omit if your strawberries are really sweet) in a blender, and then strained out most of the seeds. This juice is somewhat thick, and makes for the BEST tasting strawberry jello ever. It actually tastes like strawberry!
For the vitamin C and antioxidant rich Carrot, Orange and Ginger juice we used a juicer! It's one of my favorite homemade juice flavors, especially when I feel a cold coming on, I always drink a glass of this. It is naturally sweet enough so this juice is perfect when made into jello.
We also share how you can shortcut the whole process and use fresh juice you buy in a store!

Once you have the juice, the only other ingredient is gelatin. We use my favorite Pasture-Raised Beef Gelatin from Vital Proteins.  If you read my previous blog post you know how I use collagen peptides in my coffee each morning and this is just another great recipe to add a healthy dose of collagen to your diet. Adding collagen to your diet can be a great way to improve and promote bone and joint health, aid in healthy digestion and gut health, improve sleep and nourish your skin. BUT I've never showed you how I use Vital Proteins, BEEF GELATIN (the green container). This gelatin is different as it's perfect for jello, marshmallows, homemade candies/gummies, and more!
How Do You Make Homemade Jello?
It's so easy to make jello at home! All you need is either 100% juice purchased at the store or fresh made juice and Beef Gelatin. There are three steps to making it. First you bloom the gelatin by combining it with a bit of the juice and whisk (which ensures the gelatin is evenly distributed) and then boil the remaining juice and combine with the bloomed gelatin to dissolve it. Place in the refrigerator until it has set up!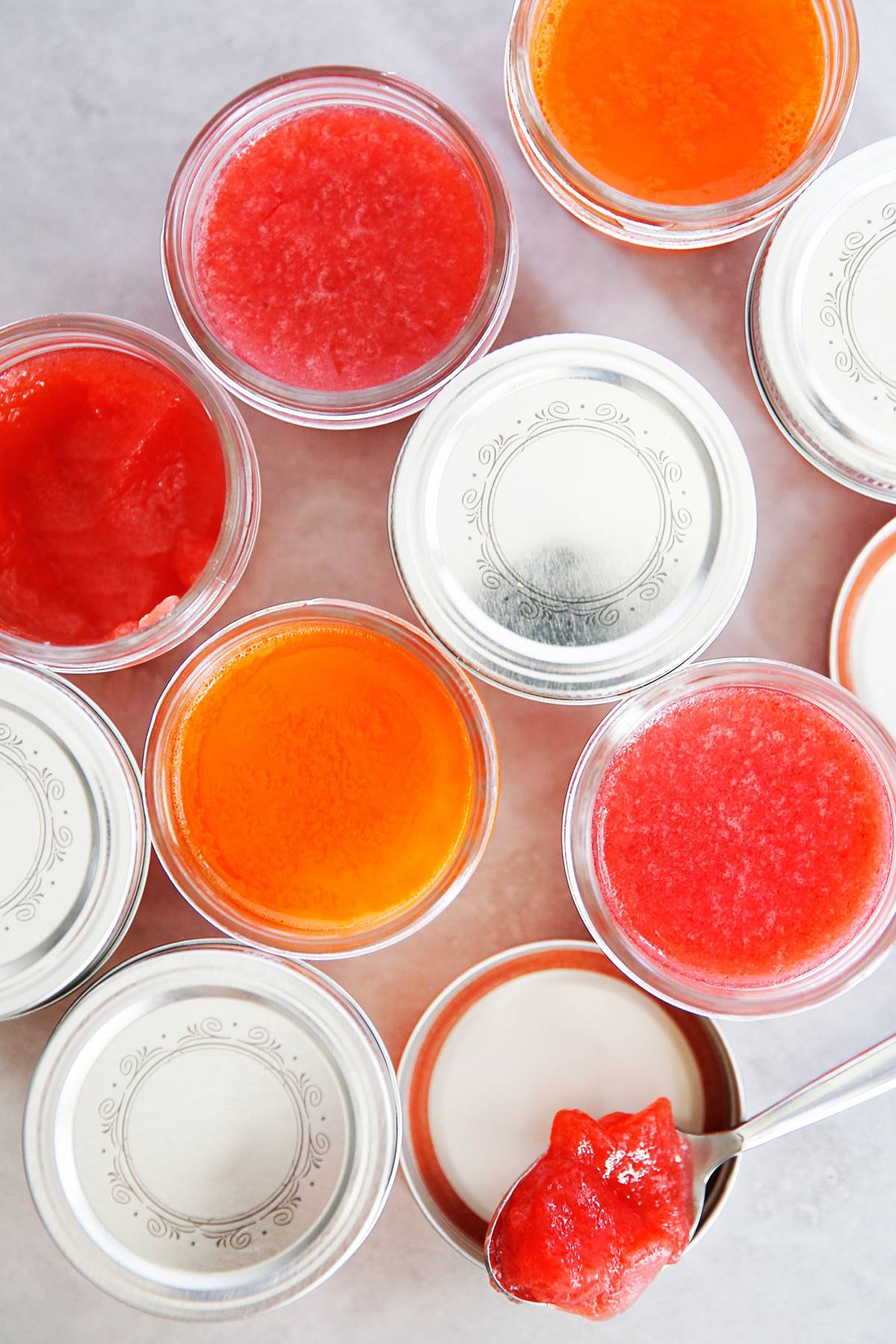 We store our jello in 4 ounce mason jars for easy serving portions and they are so cute! You can send the jello in a lunch box, but treat it like you would a yogurt by packing it with an ice pack. If the jello is kept at room temperature for more than 2-3 hours (depending on the temperature outside) it dissolves again and will go back to being juice.
There are no preservatives in this jello of course so they'll last about as long as the fruit and vegetables would that you made them with (about 3 to 5 days). Jello made with store bought juice will last slightly longer than jello made with the homemade juice.
If you like this fruit forward snack, check out these others: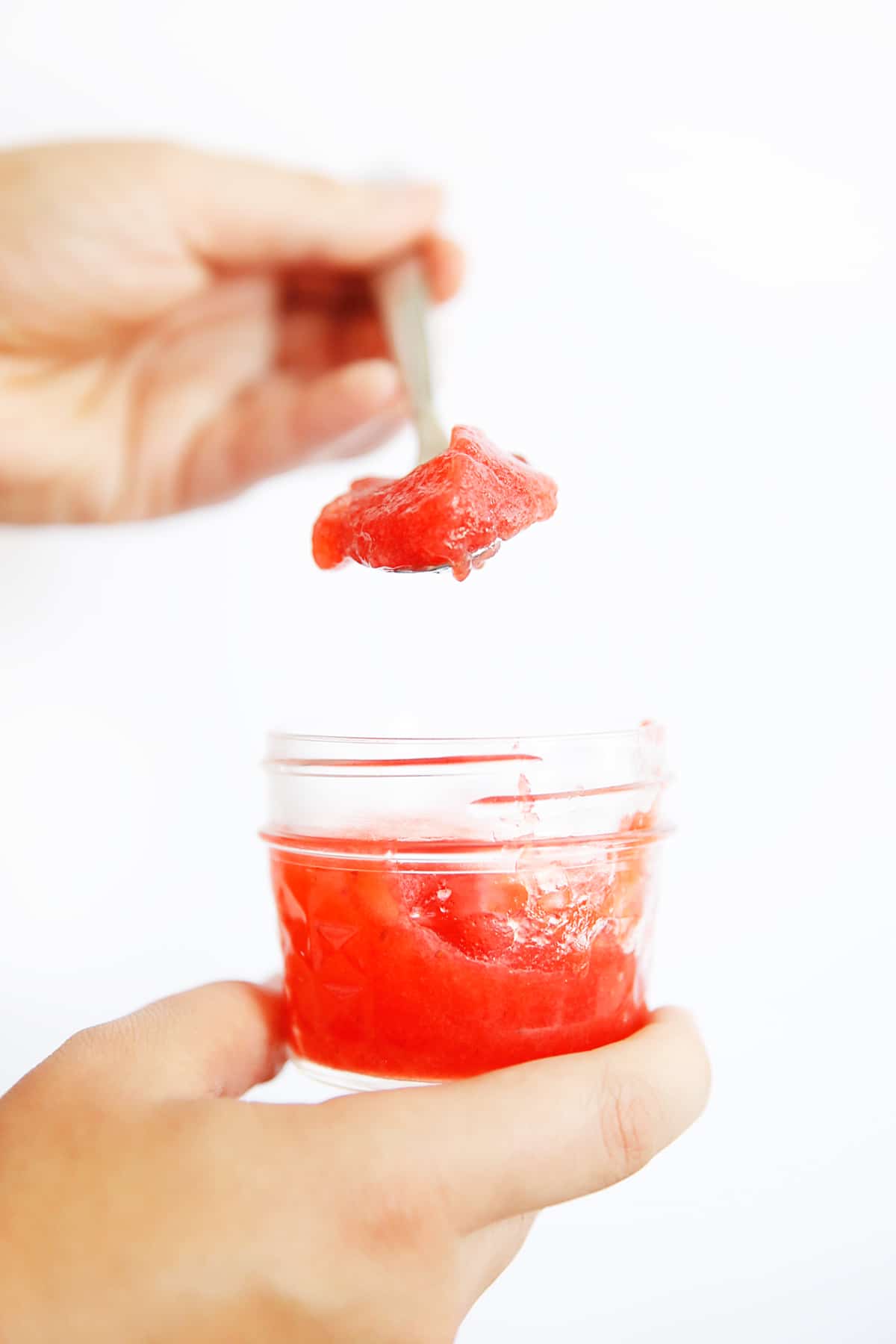 If you want other collagen-packed recipes, try these:
Watch the video: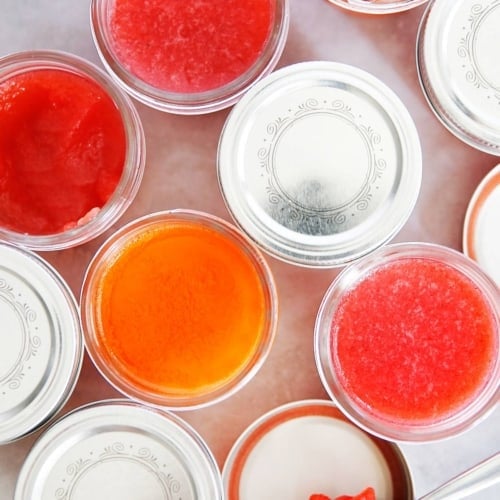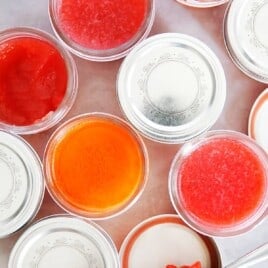 Homemade Jello (Healthy!)
Ingredients
For the Base Jello Recipe:
2-1/2

cups

juice

see options below, or use store-bought 100% juice

1

heaping tablespoon Vital Proteins Beef Gelatin
For the Strawberry Lime Juice:
2

quarts

organic strawberries

rinsed and greens removed

4

tablespoons

honey

1

small lime

juiced
For Carrot Orange Ginger Juice:
2

oranges

rind removed and cut in half

4

carrots

peeled

2

" piece ginger

peeled
Instructions
To make Strawberry Lime Juice:
Slice strawberries and place in bowl with honey and combine.

Pour into a blender and blend until pureed and place in a fine-mesh strainer. Push down to get as much juice as possible. You should have about 2-½ cups.
To make Carrot, Orange, Ginger Juice:
Place all the prepared ingredients through a juicing machine. Leave behind any accumulated foam. You should have about 2-½ cups. If you have a bit less, add some water or extra orange juice, if you have it, until you reach 2-½ cups.
To Make Gelatin:
In a medium bowl place 1 heaping tablespoon (see note) of Vital Proteins Beef Gelatin. Pour ½ cup of juice over the gelatin and whisk it together until it's fully combined and let it bloom while you heat up the remaining juice. You want to make sure that the gelatin fully absorbs the water and there aren't any clumps of unhydrated gelatin.

In a small saucepan, bring the remaining juice to a full boil. Once it has reached a full boil, pour it over the bloomed gelatin and whisk it until it has fully dissolved. Place jello in six 4 ounce mason jars, or in another container if desired. Refrigerate at least 3 hours, or until fully set.
Notes
Depending on what type of juice you buy, you may have to add some sweetener. We tested it with 100% mixed fruit juice from Whole Foods, and did not feel it needed any added sweetener. Overall we are going for a less sweet version than typical jello, so feel free to adjust to your liking.
A heaping tablespoon is exactly what it sounds, a mounded tablespoon. Place the tablespoon inside the gelatin and pull it out without leveling it. If you'd like to be a bit more precise you can measure it out to 1 tablespoon and 1 teaspoon. But we tested it both ways and there was no difference in the finished jello so went with the heaping tablespoon measurement since it's easier.
The finished Jello needs to be stored in the refrigerator and will last anywhere from 3-5 days, depending on what type of juice you use. Because this has no preservatives it will not last as long as the shelf stable variety. We found the fresh strawberry one to last the shortest amount of time, closer to 3 days. We did feel it stood up to being outside of the refrigerator for a few hours with an ice pack so it is a great choice to pack for lunch for kids (or adults).
This post is sponsored by Vital Proteins. All thoughts and opinions are always 100% my own! I love the integrity of their products and think you'll love them too. Thank you for continuing to support LCK and the brands I work with!