Spicy Shrimp and Citrus Salad
When perfectly cooked shrimp with just the right amount of spice gets paired with all the winter citrus, you get salad magic! This Spicy Citrus Shrimp Salad comes together in roughly 20 minutes, and it's the perfect hearty weeknight salad that everyone will love. Especially during the winter months when fresh citrus is in abundance!
Citrus and Spicy Shrimp Salad
Get ready to fall in love with this Spicy Citrus Shrimp Salad! Not only am I in love with the beautiful colors of winter citrus, but the bursts of flavor it gives pairs so lovely in a salad. Everyone will love this easy shrimp salad recipe! You can make it spicy or not, and rest assured, the combination of lettuce, zesty shrimp, sliced citrus, and an easy grapefruit vinaigrette is absolutely the greatest combination when paired together.
What winter citrus is best?
While we love the combination we used here, you can absolutely get creative if you don't like one of the citrus fruits we used.
Some in-season winter citrus includes:
Oranges
Blood Oranges
Cara Cara Oranges
Pink Grapefruit
White Grapefruit
Mandarin Oranges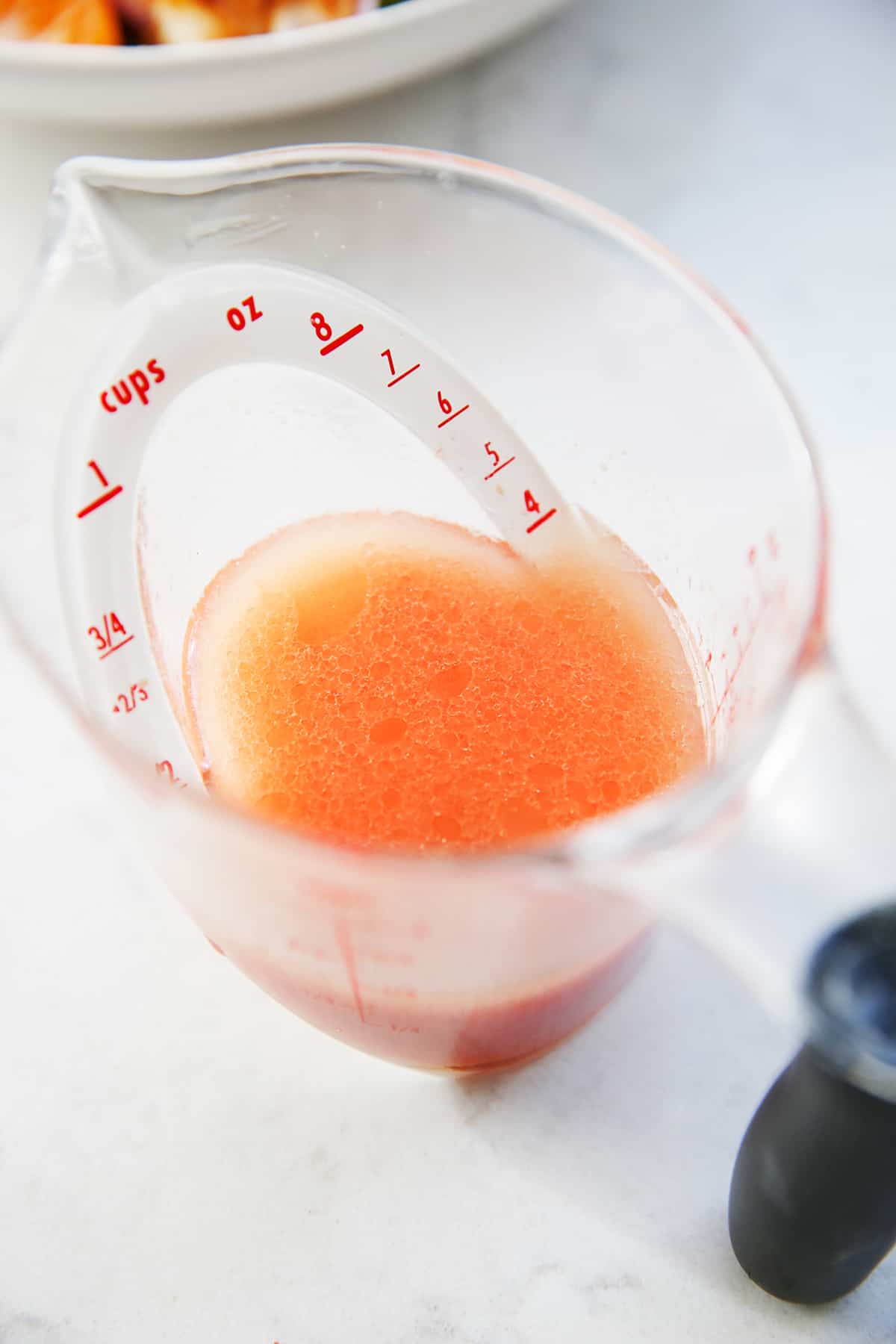 How to Make this Shrimp Salad Recipe
It doesn't take much to put together this salad. First assemble all of your salad ingredients, which largely consists of segmenting citrus. Then, make your dressing! And finally, cook your shrimp! Layer it all up and serve immediately.
Making salad dressing at home
I love making my own dressings for a few reasons.
They come together in a few short minutes. You simply need your ingredients, a bowl or mason jar, and a whisk!
You often have all the ingredients right in your pantry.
Often you'll find store-bought salad dressings to have added sugars, preservatives, and icky oils, so making them yourself makes your salad dressing even healthier!
Plus, you can customize your dressing with your salad ingredients for less waste. For example, we used the grapefruit juice from the extra grapefruit in this salad for the dressing.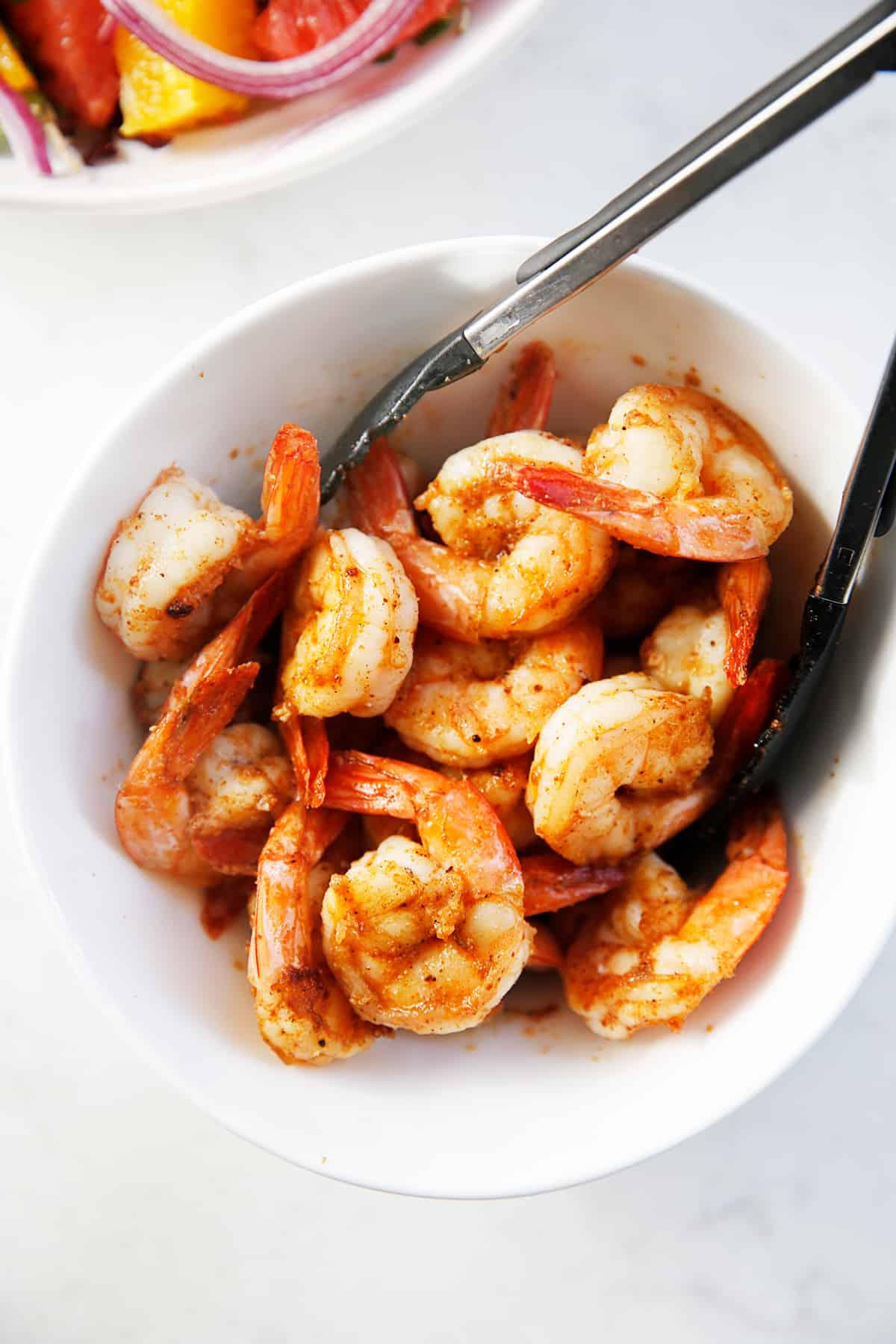 I love this zesty shrimp that cooks up in no time! It uses a few simple spices and you simply cook, let cool slightly, then serve on top of your salad! It would be delicious on top of any salad, or alone served with Herb and Garlic Quinoa, Oven Roasted Vegetables, or Homemade Guacamole for taco night! You can cook this shrimp in a skillet for ease, or if it's grilling season, throw it on the grill!
Why are citrus fruits segmented?
Citrus fruit, like oranges and grapefruit are often segmented *basically* for presentation purposes. They look gorgeous, don't you agree? When segmenting, you are removing the membrane, so you're left with beautiful pieces of the fruit that are very juicy and delicious — perfect for a salad!
How to segment an orange or a grapefruit
Place the fruit flat end down on the cutting board. Using a sharp knife, slice off the top and bottom of the orange.
Using even downward strokes, slice the skin away from the flesh and discard until completely peeled. Then, remove any remaining white pith.
Cut between as close to the membranes as possible, to segment the fruit!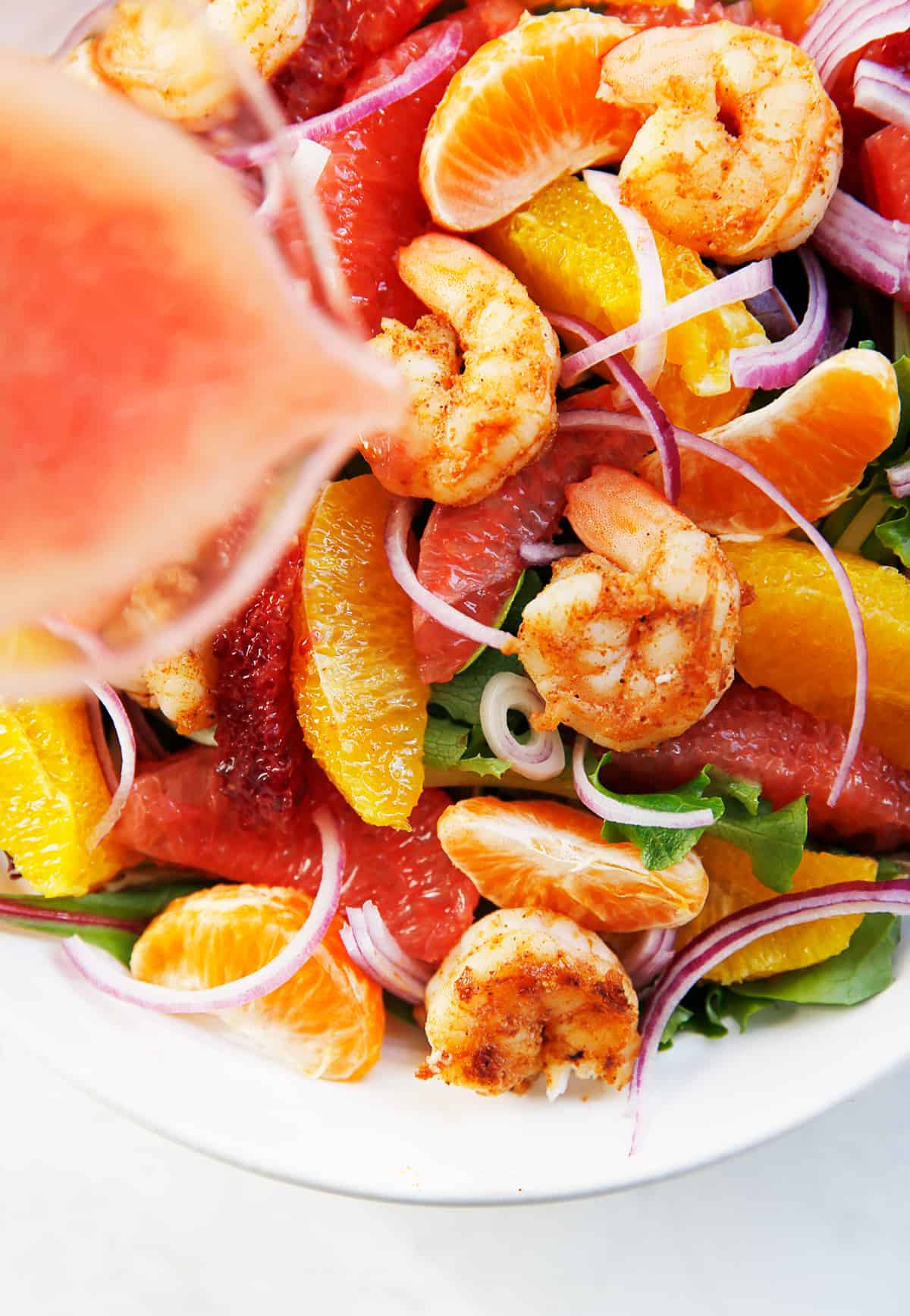 Like this salad recipe? Try these other favorite salads:
Want more shrimp recipes? Try these favorite easy shrimp recipes:
[yumprint-recipe id='340′]
---
Pin it for later:
What is your favorite way to use Winter citrus?
Spicy Shrimp and Citrus Salad
This Orange Cranberry Overnight Oats recipe is the best make-ahead breakfast. It's creamy (without any dairy) and bursting with seasonal orange, cranberry and pecan flavor. This vegan-friendly and gluten-free overnight oats recipe packs a lot of fiber into your breakfast to leave you satisfied all morning long!
Orange Cranberry Overnight Oats
This Orange and Cranberry Overnight Oats recipe is the perfect start to the day, made the night before!  It's slightly sweet, full of fiber and bursting with seasonal fall flavor thanks to the cranberries and orange. Overnight oats couldn't be easier to make. You simple place all of the ingredients in a jar, mix it up with a spoon and it's ready to go the next morning. The oatmeal tastes so creamy without ever adding any dairy at all! Plus, it takes 5 minutes to throw together!
Ingredients Needed
Rolled Oats

Milk (dairy-free or dairy)

Fresh Squeezed Orange Juice

Orange Zest
Pecans
Chia Seeds

Dried cranberries

H

oney

Vanilla Extract

What Type of Milk to Use
You can use any milk to you typically enjoy! We've tried this with almond milk, oat milk, boxed coconut milk and regular diary milk. If you are using canned coconut milk you may need to cut it with water, otherwise it will be too thick. We've also tried this with greek yogurt as well, though that too is quite thick so we suggest adding in a bit of water to thin it out.
How Do You Make Overnight Oats?
It's so super simple to make overnight oats! Simply measure out the oats, milk of choice and additional flavors and place in a mason jar. Give it a shake and close it up and place in the refrigerator. You can leave it to sit overnight, as the name suggests, but really it is ready to consume after about 3 hours.
Do you eat overnight oats hot or cold?
Overnight oats are a great and easy on-the-go breakfast! Grab it out of the fridge, cold or if you really want to heat it up place it in a small pan and warm it up with a little extra almond milk on low heat (or in the microwave if you use one).
What type of oats do you use for overnight oats?
We recommend using gluten-free rolled oats for this recipe. You can use quick oats, but they might have a slightly softer texture when compared to old-fashioned rolled oats.
How long can you keep overnight oats in the refrigerator?
I keep my overnight oats for up to 3 days in the refrigerator.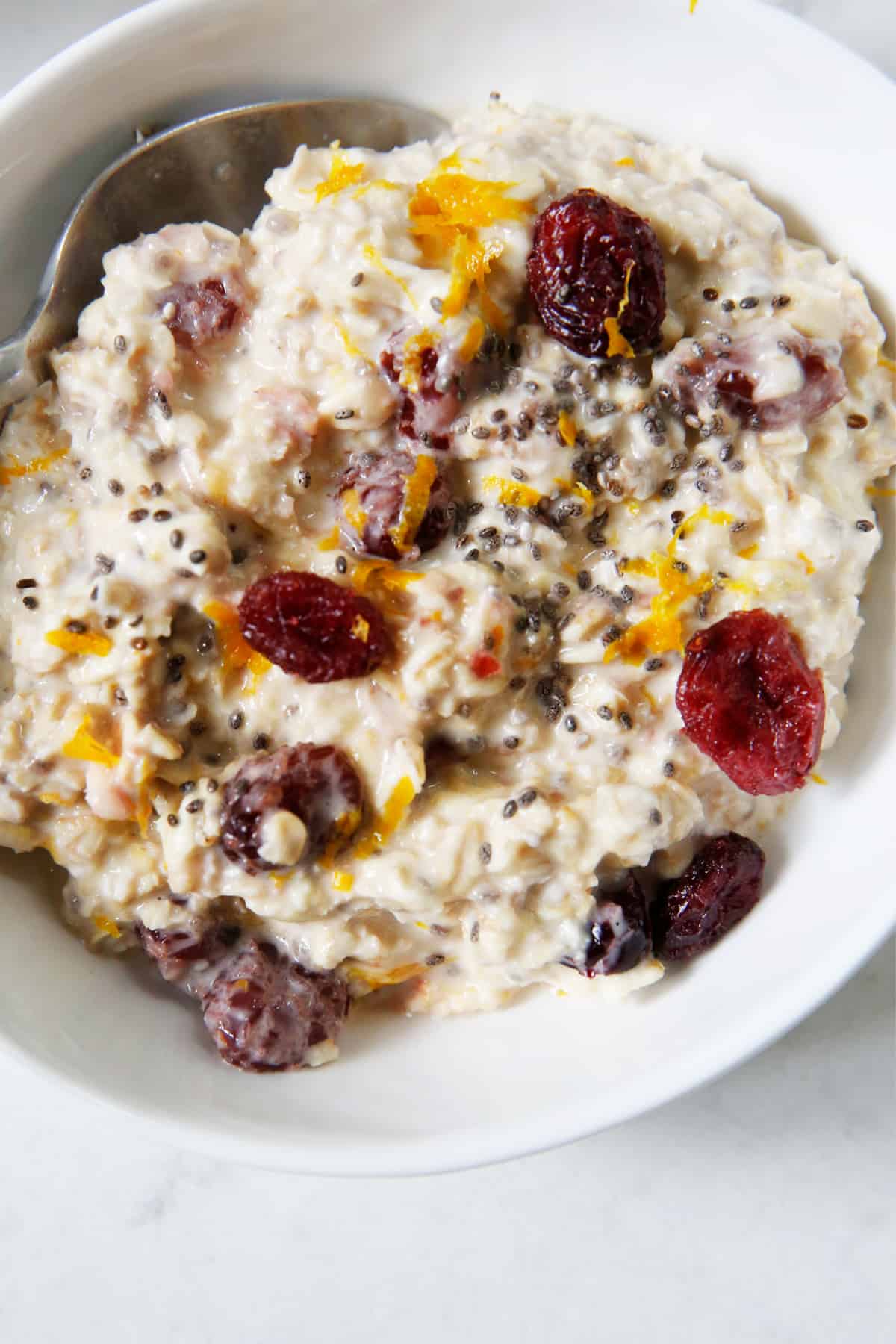 If you like this oat recipe, check out these others:
Orange Cranberry Overnight Oats
This Orange Cranberry Overnight Oats recipe is the best make-ahead breakfast. It's creamy (without any dairy) and bursting with seasonal orange, cranberry and pecan flavor. This vegan-friendly and gluten-free overnight oats recipe packs a lot of fiber into your breakfast to leave you satisfied all morning long!
---
---
Ingredients
1 cup rolled oats

3/4 cup milk of choice

¼ cup fresh squeezed orange juice

1 teaspoon orange zest

2 teaspoons chia seed

1/4 cup dried cranberries

2 teaspoons

honey

1 teaspoon

vanilla extract
2 tablespoons chopped pecans, optional
Directions
Place all ingredients into a jar and mix well to combine.
Place in the refrigerator, covered, for at least 3 hours or overnight. Serve cold with garnish of choice.
Recipe Notes
If desired, add more almond milk before serving, but this is the amount we prefer.
Store in the refrigerator for 3 days.
---
Nutrition
Loading nutrition data...
Orange Cranberry Overnight Oats
Meet my favorite drink of summer: the Aperol Spritz. This classic Italian cocktail was one that we grew to love in Italy and we brought this aperol spritz recipe right home with us when we returned! It's light, refreshing, and packed with perfect citrus flavor. This is an easy cocktail to throw together that everyone will enjoy!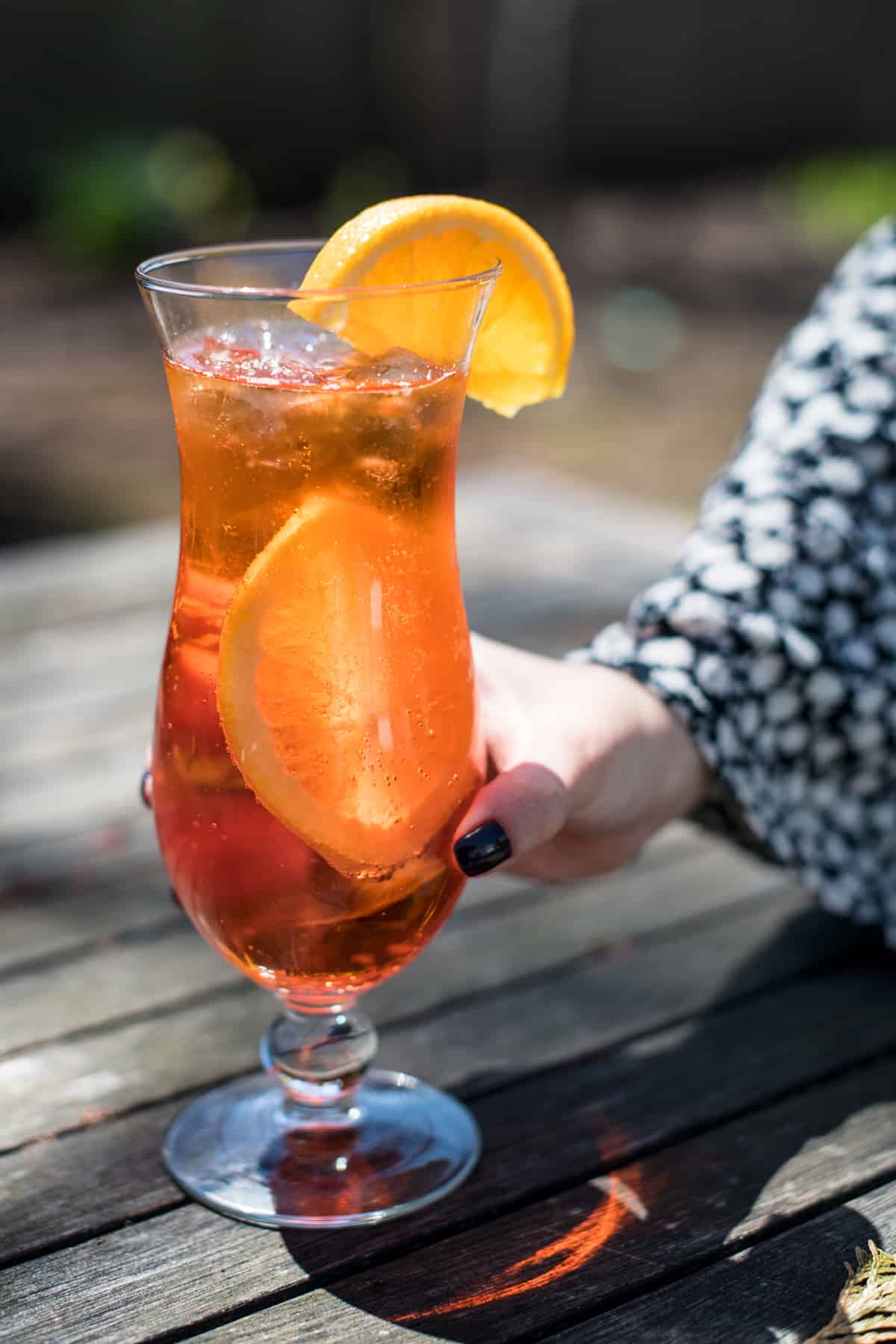 Super Easy Aperol Spritz Recipe
When we were in Italy, we discovered the Aperol Spritz. I know, it's not new, but it was to us at the time, and it has since become our staple cocktail. It's light, refreshing, and the best non-recipe recipe you can make! In Italy, an Aperol Spritz is an "apertivo" — which is essentially a 2 hour post-work cocktail hour with light dishes. One dinner we continued to ordered them, instead of switching to wine, and let's just say we got many looks, haha.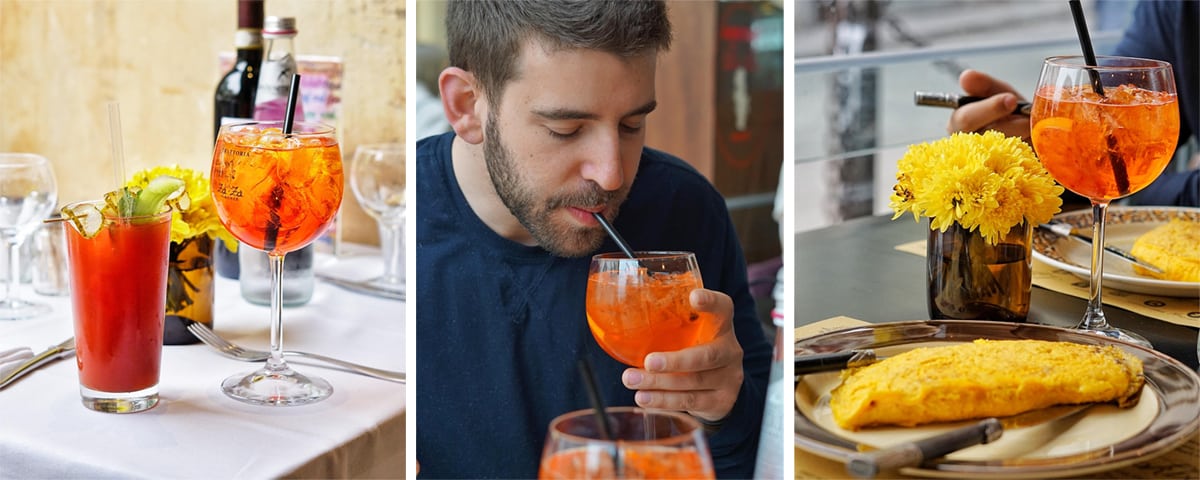 Clearly, we enjoyed them all trip long!
First… What is Aperol?
Aperol is an orange flavored Italian Apertif with a mix of sweetness, bitterness & spices. It's similar to Campari but slightly different as it's less bitter and half the alcohol content. In addition, it's also inexpensive which makes it a great cocktail to serve a large group!
An Aperol Spritz is made with:
Aperol
Chilled Prosecco
Soda Water or Tonic Water
Fresh Orange Slices, for garnish
Ice
Generally, an Aperol Spritz is a 3-2-1 mix of three parts prosecco, two parts Aperol, and one splash of soda water. However I prefer making it with a slight change: I ditch the soda water! First, fill up your glass with prosecco. Then add a splash of Aperol. Finally, garnish with an orange slice and enjoy! It's that easy! I love serving guests Aperol Spritz', because it's hands off and makes my time hosting less stressful!
Cheers, friends!
Want other easy cocktail recipes? Try these favorites:
Aperol Spritz
Meet your new favorite drink of summer: the Aperol Spritz. It's a classic Italian cocktail that we grew to love in Italy, and brought this aperol spritz recipe right home with us. It's light, refreshing, and packed with perfect citrus flavor. It's an easy cocktail to throw together that everyone will enjoy!
---
---
Ingredients
4 ounces Prosecco
1 ounce Aperol
Fresh orange slices, for garnish
Optional: soda water or tonic water
Ice
Directions
Fill a glass halfway with ice.
Add prosecco.
Add the aprol and optional soda water.
Stir to combine.
Garnish with a slice of orange.
---
Nutrition
Loading nutrition data...
Aperol Spritz
This paleo Homemade Jello recipe is one everyone will love, and made so much healthier than traditional jello. You can feel good about serving this healthier jello snack, and it's a great to include healthy Grass-Fed Beef Gelatin in your diet. We've included a basic recipe as well as two options to make your own strawberry and lime juice or a carrot, orange and ginger juice to make the healthiest Homemade Jello ever!! There are no artificial colors/flavors or added refined sugar and they make the cutest lunchbox treat to send your kids to school with, or have for when they get home! Made in partnership with my friends at Vital Proteins!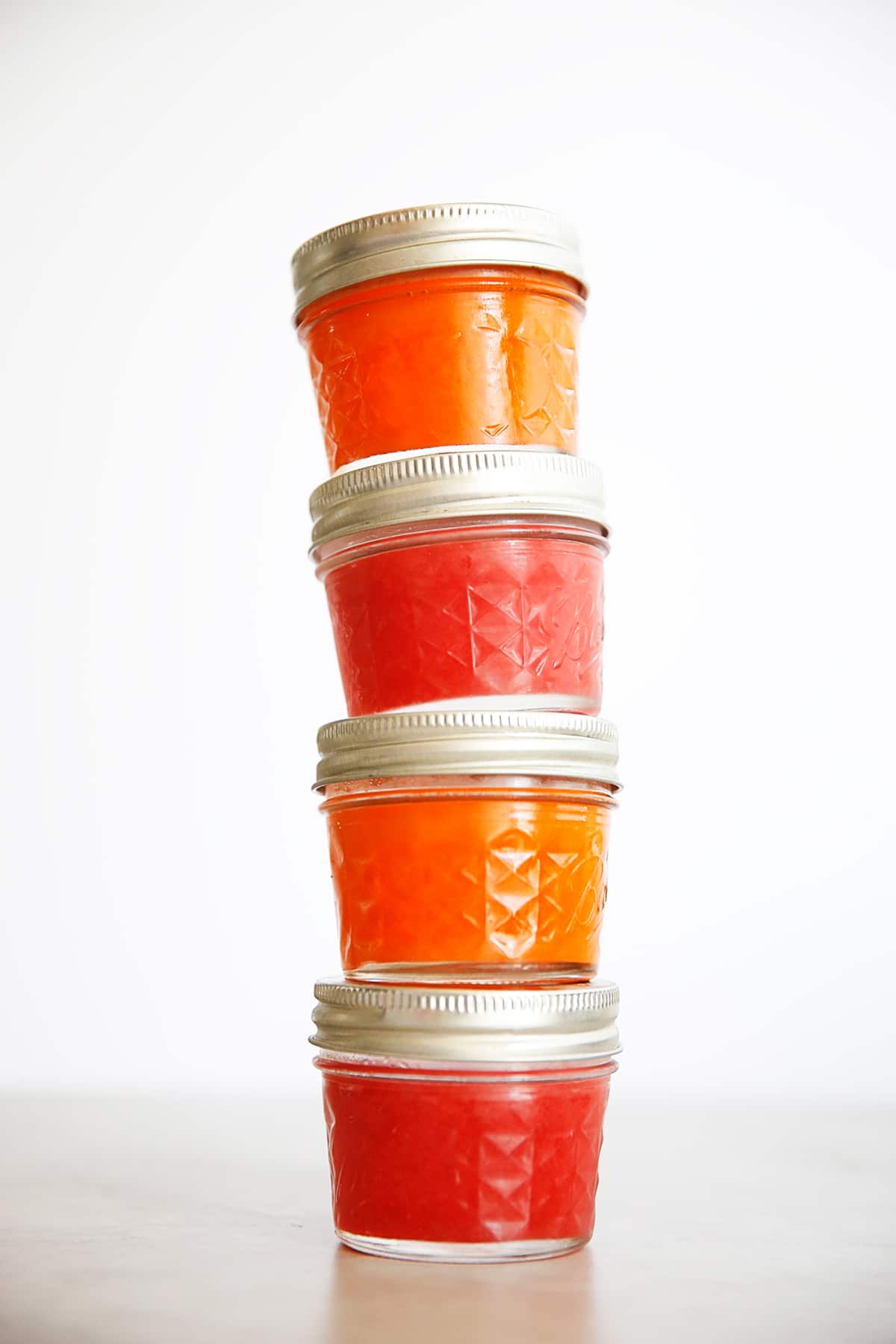 Homemade Jello
When most people think of jello, they probably think of the unhealthy little plastic containers you buy at the store that are filled with artificial ingredients, flavors and full of sugar or those small little boxes filled with an unknown substance. Well, today we are going to change your mind about how healthy and delicious Homemade Jello can be! We have a recipe that brings jello back to what it should be: freshly made juice combined with healthy pasture-raised, Vital Proteins Beef Gelatin to make the cutest little lunchbox addition that any kid (or grown-up alike) will enjoy – with the same jello consistency you know and love!
Check out the vibrant colors of our jello! We made them with two homemade juices: Strawberry and Lime and Carrot, Orange and Ginger!
For the Strawberry Lime juice we simply combined sliced strawberries with a touch of honey (which you can omit if your strawberries are really sweet) in a blender, and then strained out most of the seeds. This juice is somewhat thick, and makes for the BEST tasting strawberry jello ever. It actually tastes like strawberry!
For the vitamin C and antioxidant rich Carrot, Orange and Ginger juice we used a juicer! It's one of my favorite homemade juice flavors, especially when I feel a cold coming on, I always drink a glass of this. It is naturally sweet enough so this juice is perfect when made into jello.
We also share how you can shortcut the whole process and use fresh juice you buy in a store!

Once you have the juice, the only other ingredient is gelatin. We use my favorite Pasture-Raised Beef Gelatin from Vital Proteins. If you read my previous blog post you know how I use collagen peptides in my coffee each morning and this is just another great recipe to add a healthy dose of collagen to your diet. Adding collagen to your diet can be a great way to improve and promote bone and joint health, aid in healthy digestion and gut health, improve sleep and nourish your skin. BUT I've never showed you how I use Vital Proteins, BEEF GELATIN (the green container). This gelatin is different as it's perfect for jello, marshmallows, homemade candies/gummies, and more!
How Do You Make Homemade Jello?
It's so easy to make jello at home! All you need is either 100% juice purchased at the store or fresh made juice and Beef Gelatin. There are three steps to making it. First you bloom the gelatin by combining it with a bit of the juice and whisk (which ensures the gelatin is evenly distributed) and then boil the remaining juice and combine with the bloomed gelatin to dissolve it. Place in the refrigerator until it has set up!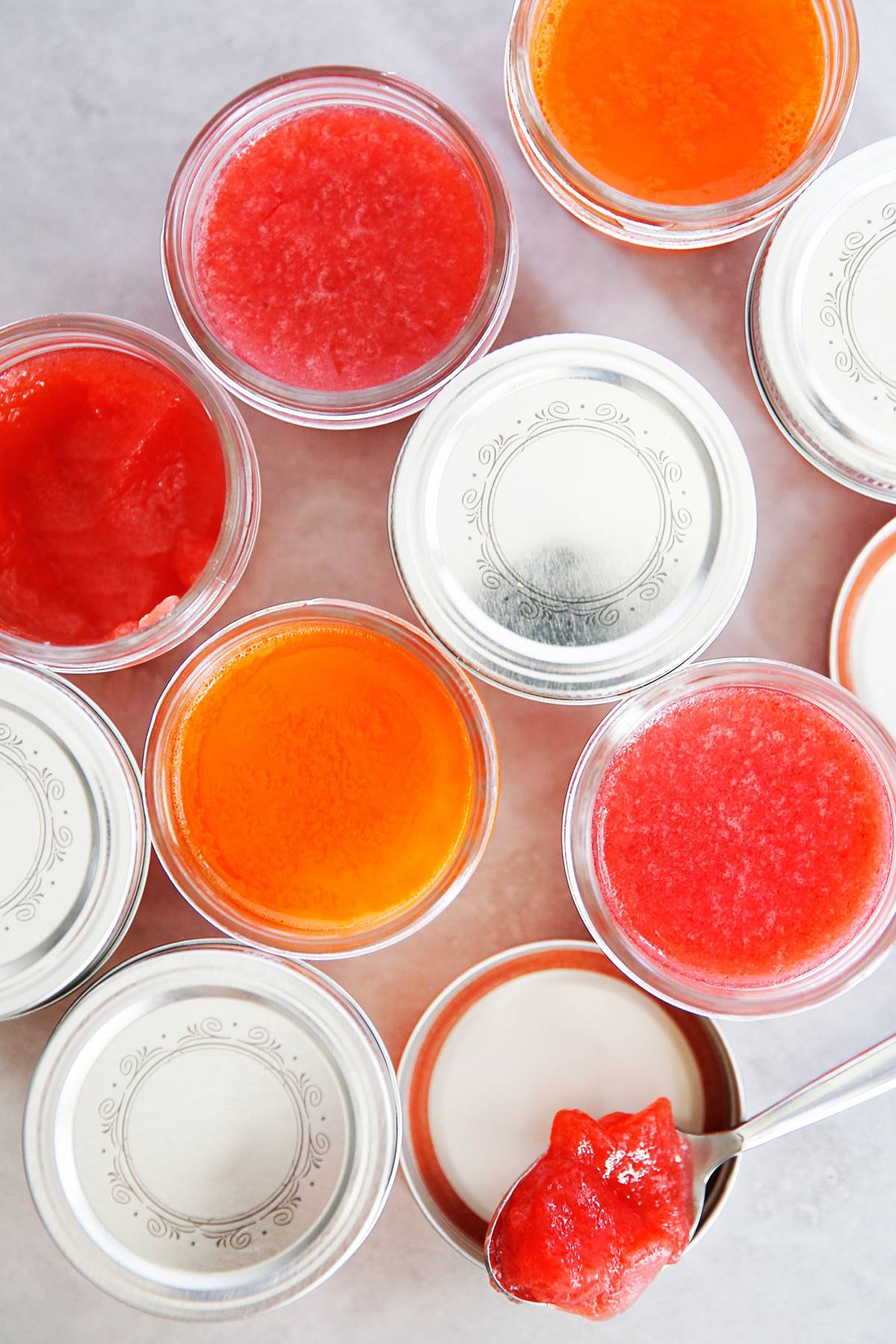 We store our jello in 4 ounce mason jars for easy serving portions and they are so cute! You can send the jello in a lunch box, but treat it like you would a yogurt by packing it with an ice pack. If the jello is kept at room temperature for more than 2-3 hours (depending on the temperature outside) it dissolves again and will go back to being juice.
There are no preservatives in this jello of course so they'll last about as long as the fruit and vegetables would that you made them with (about 3 to 5 days). Jello made with store bought juice will last slightly longer than jello made with the homemade juice.
If you like this fruit forward snack, check out these others: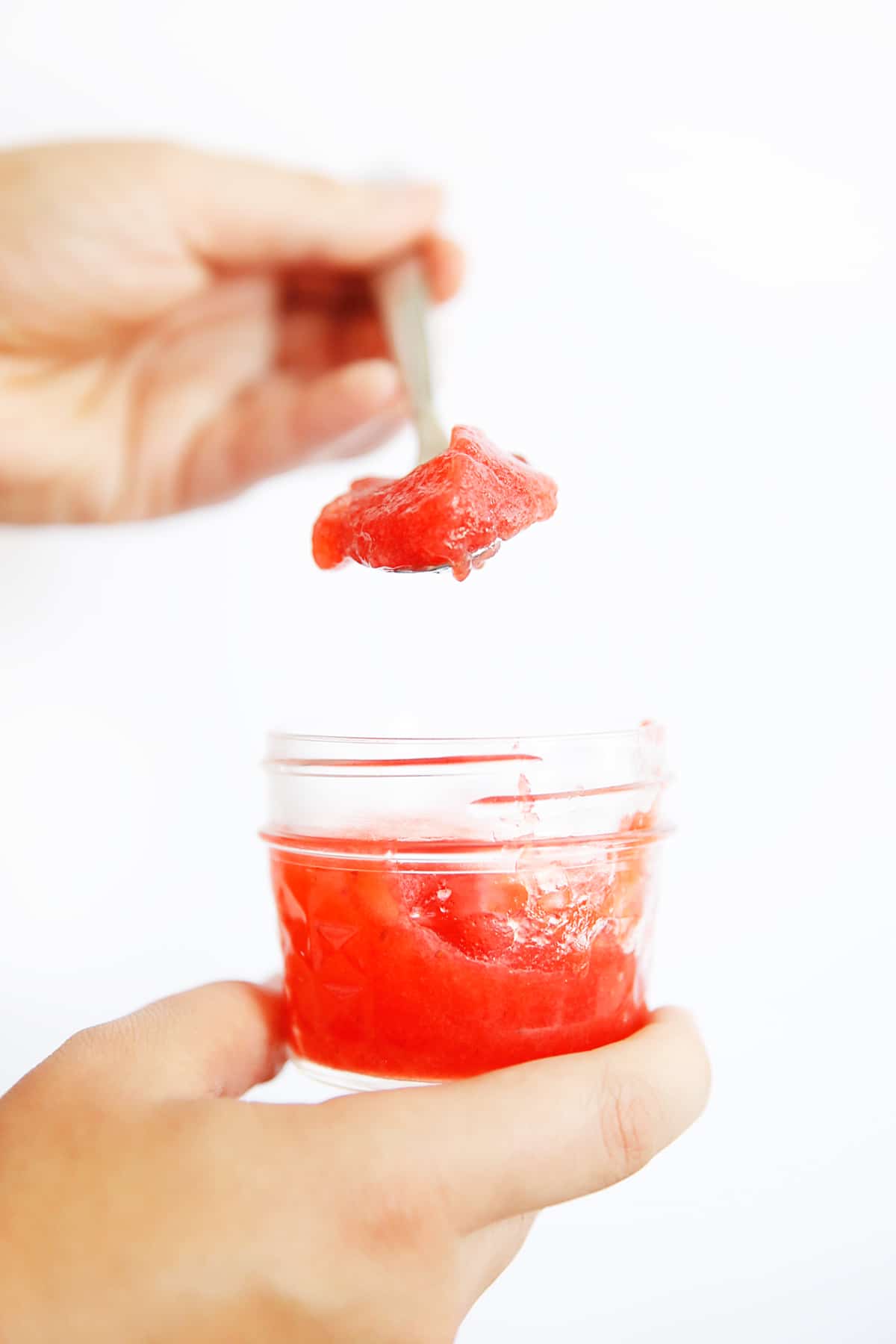 If you want other collagen-packed recipes, try these:
Watch the video:
Homemade Jello
---
---
Ingredients
For the Base Jello Recipe
2-1/2 cups juice (see options below, or use store-bought 100% juice)
1 heaping tablespoon Vital Proteins Beef Gelatin
For the Strawberry Lime Juice
2 quarts organic strawberries, rinsed and greens removed
4 tablespoons honey
1 small lime, juiced
For Carrot Orange Ginger Juice
2 oranges, rind removed and cut in half
4 carrots, peeled
2" piece ginger, peeled
Directions
To make Strawberry Lime Juice:
Slice strawberries and place in bowl with honey and combine.

Pour into a blender and blend until pureed and place in a fine-mesh strainer. Push down to get as much juice as possible. You should have about 2-½ cups.
To make Carrot, Orange, Ginger Juice:
Place all the prepared ingredients through a juicing machine. Leave behind any accumulated foam. You should have about 2-½ cups. If you have a bit less, add some water or extra orange juice, if you have it, until you reach 2-½ cups.
To Make Gelatin:
In a medium bowl place 1 heaping tablespoon (see note) of Vital Proteins Beef Gelatin. Pour ½ cup of juice over the gelatin and whisk it together until it's fully combined and let it bloom while you heat up the remaining juice. You want to make sure that the gelatin fully absorbs the water and there aren't any clumps of unhydrated gelatin.

In a small saucepan, bring the remaining juice to a full boil. Once it has reached a full boil, pour it over the bloomed gelatin and whisk it until it has fully dissolved. Place jello in six 4 ounce mason jars, or in another container if desired. Refrigerate at least 3 hours, or until fully set.
Recipe Notes
Depending on what type of juice you buy, you may have to add some sweetener. We tested it with 100% mixed fruit juice from Whole Foods, and did not feel it needed any added sweetener. Overall we are going for a less sweet version than typical jello, so feel free to adjust to your liking.

A heaping tablespoon is exactly what it sounds, a mounded tablespoon. Place the tablespoon inside the gelatin and pull it out without leveling it. If you'd like to be a bit more precise you can measure it out to 1 tablespoon and 1 teaspoon. But we tested it both ways and there was no difference in the finished jello so went with the heaping tablespoon measurement since it's easier.

The finished Jello needs to be stored in the refrigerator and will last anywhere from 3-5 days, depending on what type of juice you use. Because this has no preservatives it will not last as long as the shelf stable variety. We found the fresh strawberry one to last the shortest amount of time, closer to 3 days. We did feel it stood up to being outside of the refrigerator for a few hours with an ice pack so it is a great choice to pack for lunch for kids (or adults).
---
Nutrition
Loading nutrition data...


This post is sponsored by Vital Proteins. All thoughts and opinions are always 100% my own! I love the integrity of their products and think you'll love them too. Thank you for continuing to support LCK and the brands I work with!
Homemade Jello (Healthy!)
This Kale and Jicama Salad with Orange Vinaigrette is so refreshing. It's crunchy, creamy and tangy from the citrus in the vinaigrette, perfect for pairing with grilled meat.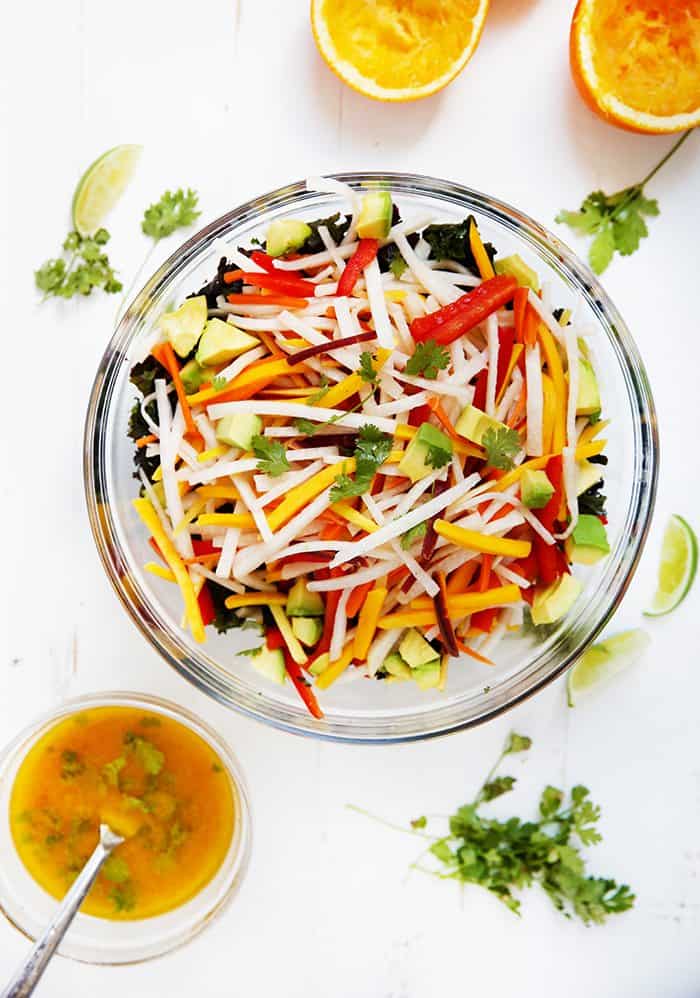 Kale and Jicama Salad with Orange and Lime Vinaigrette
This is a such a delicious light summer dish packed with kale, red bell peppers, cilantro, and carrots from the farm with the additional pops of flavor with mango and avocado! Tossed with a delicious orange lime dressing everyone will love. Make it as a side, or top it with grilled chicken or shrimp for a fabulous main dish!
Ingredients Needed
Kale
Jicama
Bell Peppers
Carrots
Avocado
Mango
Orange
Lime
Olive Oil
Ginger
Honey
Cilantro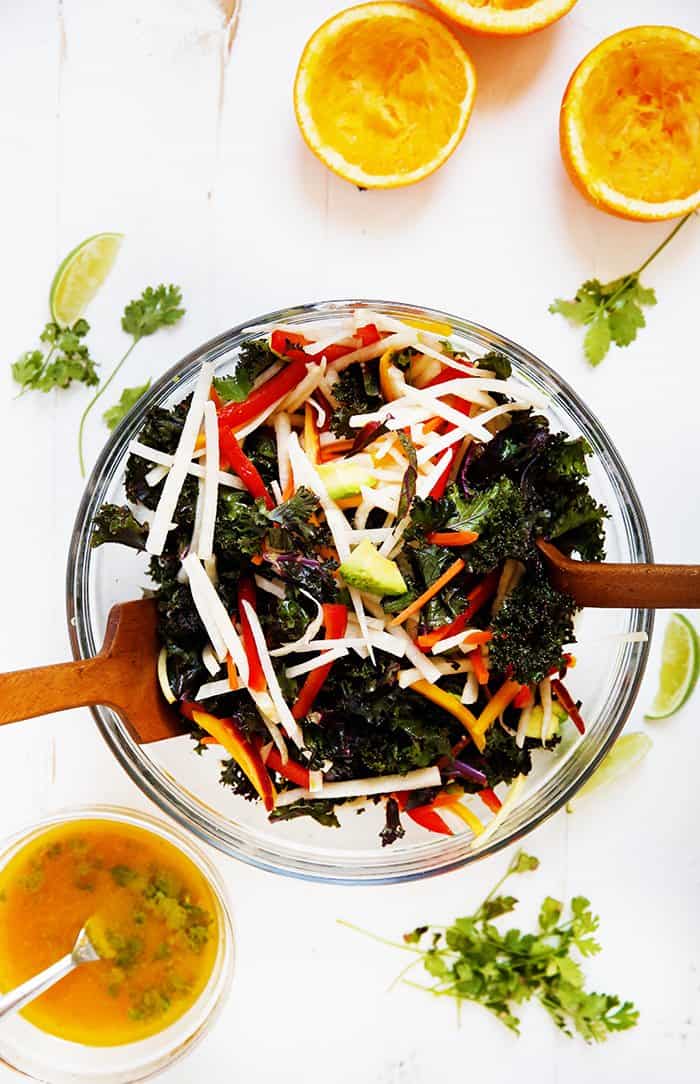 If you like this salad recipe, check out these others:
[yumprint-recipe id='376′]
Jicama Kale Salad with Orange Lime Vinaigrette
This Sea Salt and Chocolate Orange Bark treat is simple to make, but looks so elegant. Make it under 15 minutes with just a few simple ingredients to serve at a holiday party or to give away as a gift.

Sea Salt and Chocolate Orange Bark
Holiday season is in full-force! If you're like me and are getting homemade gifts ready for your friends and family, you have to make this ridiculously easy and delicious Orange Zest and Sea Salt Holiday Bark. Plus, it's gluten-free, grain-free, dairy-free, and vegan friendly!
This bark is as easy as pour, let harden, place in a bag or a cute little box, and deliver! It's also totally customizable.
This flavor combination is my absolute favorite right now. If you've never had chocolate + sea salt + orange zest, you need to try it!
When I was teaching I received this gift bag of bark in adorable festive cookie cutters and I LOVED the idea. You get the bark and the cookie cutter as a bonus! Plus it looks super cute in a gift bag!

Check out these other edible gifts:
If you like this chocolate recipe, check out these others:
[yumprint-recipe id='334′]