When perfectly cooked shrimp with just the right amount of spice gets paired with all the winter citrus, you get salad magic! This Spicy Citrus Shrimp Salad comes together in roughly 20 minutes, and it's the perfect hearty weeknight salad that everyone will love. Especially during the winter months when fresh citrus is in abundance!
Citrus and Spicy Shrimp Salad
Get ready to fall in love with this Spicy Citrus Shrimp Salad! Not only am I in love with the beautiful colors of winter citrus, but the bursts of flavor it gives pairs so lovely in a salad. Everyone will love this easy shrimp salad recipe!
You can make it spicy or not, and rest assured, the combination of lettuce, zesty shrimp, sliced citrus, and an easy grapefruit vinaigrette is absolutely the greatest combination when paired together.
What winter citrus is best?
While we love the combination we used here, you can absolutely get creative if you don't like one of the citrus fruits we used.
Some in-season winter citrus includes:
Oranges
Blood Oranges
Cara Cara Oranges
Pink Grapefruit
White Grapefruit
Mandarin Oranges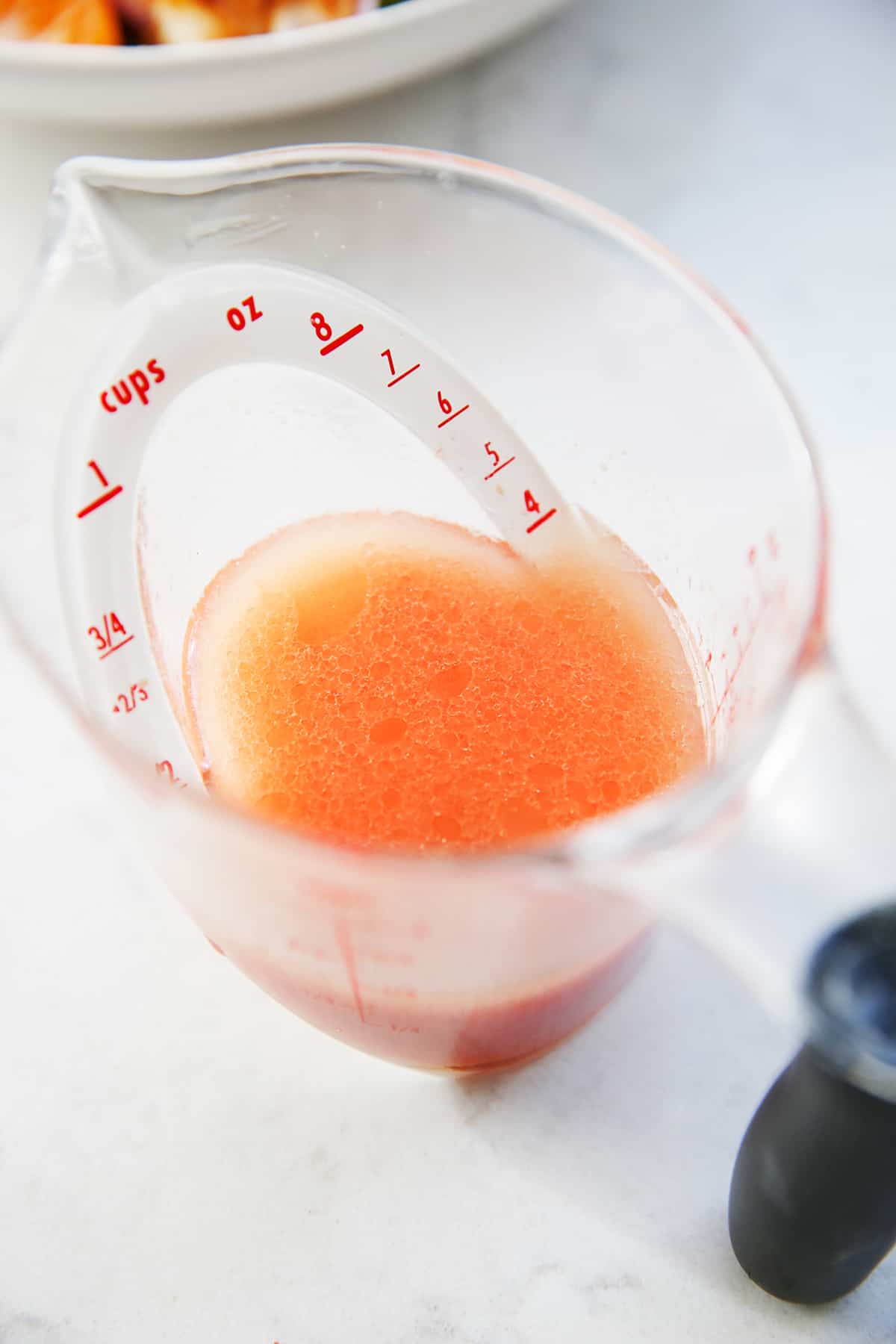 How to Make this Shrimp Salad Recipe
It doesn't take much to put together this salad.
First assemble all of your salad ingredients, which largely consists of segmenting citrus.
Then, make your dressing!
And finally, cook your shrimp! Layer it all up and serve immediately.
Making Salad Dressing At Home
I love making my own dressings for a few reasons.
They come together in a few short minutes. You simply need your ingredients, a bowl or mason jar, and a whisk!
You often have all the ingredients right in your pantry.
Often you'll find store-bought salad dressings to have added sugars, preservatives, and icky oils, so making them yourself makes your salad dressing even healthier!
Plus, you can customize your dressing with your salad ingredients for less waste. For example, we used the grapefruit juice from the extra grapefruit in this salad for the dressing.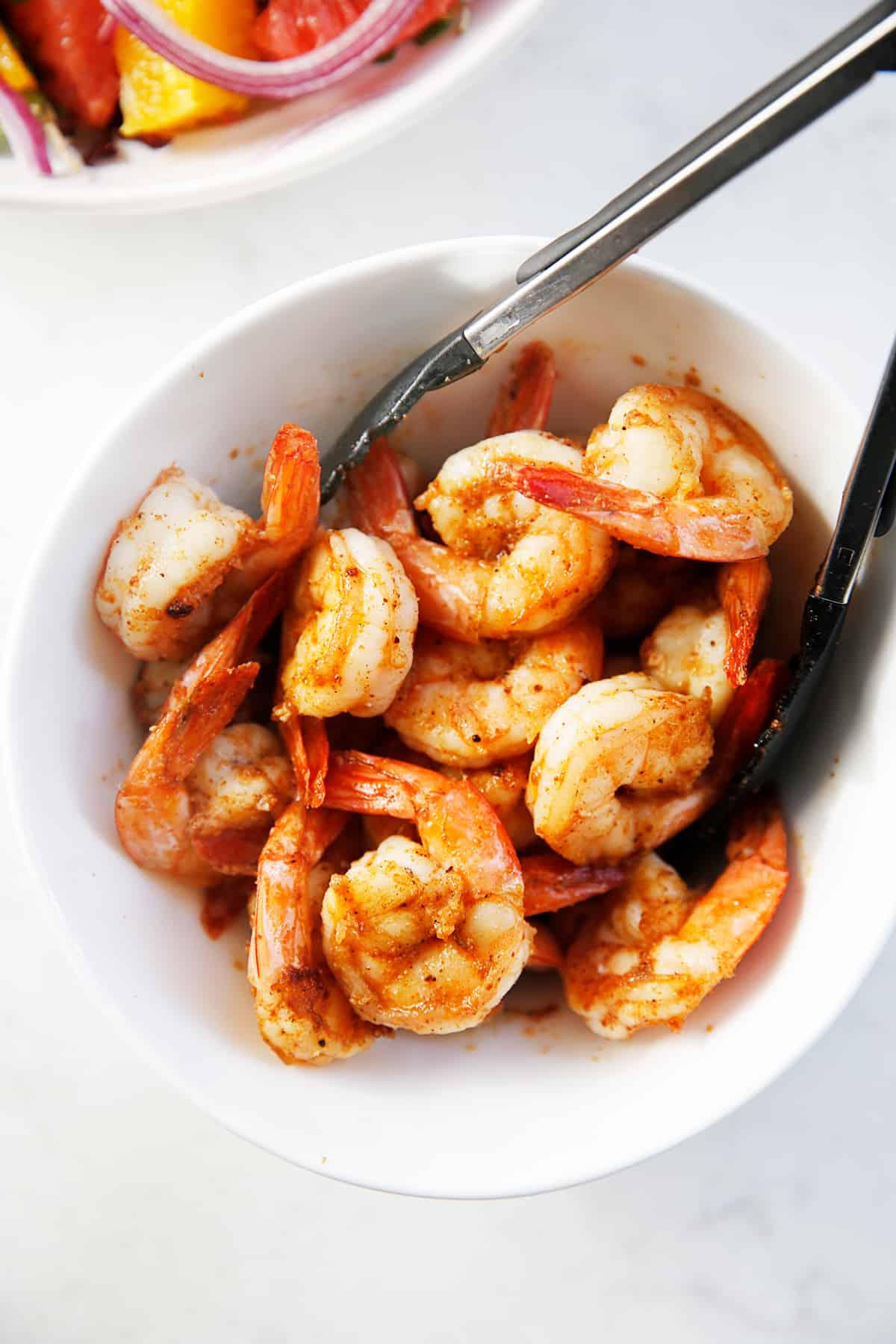 I love this zesty shrimp that cooks up in no time! It uses a few simple spices and you simply cook, let cool slightly, then serve on top of your salad!
It would be delicious on top of any salad, or alone served with Herb and Garlic Quinoa, Oven Roasted Vegetables, or Homemade Guacamole for taco night!
Shrimp Cooking Tip
You can cook this shrimp in a skillet for ease, or if it's grilling season, throw it on the grill!
Why Are Citrus Fruits Segmented?
Citrus fruit, like oranges and grapefruit are often segmented *basically* for presentation purposes. They look gorgeous, don't you agree?
When segmenting, you are removing the membrane, so you're left with beautiful pieces of the fruit that are very juicy and delicious — perfect for a salad!
How to Segment Citrus
Place the fruit flat end down on the cutting board. Using a sharp knife, slice off the top and bottom of the orange.
Using even downward strokes, slice the skin away from the flesh and discard until completely peeled. Then, remove any remaining white pith.
Cut between as close to the membranes as possible, to segment the fruit!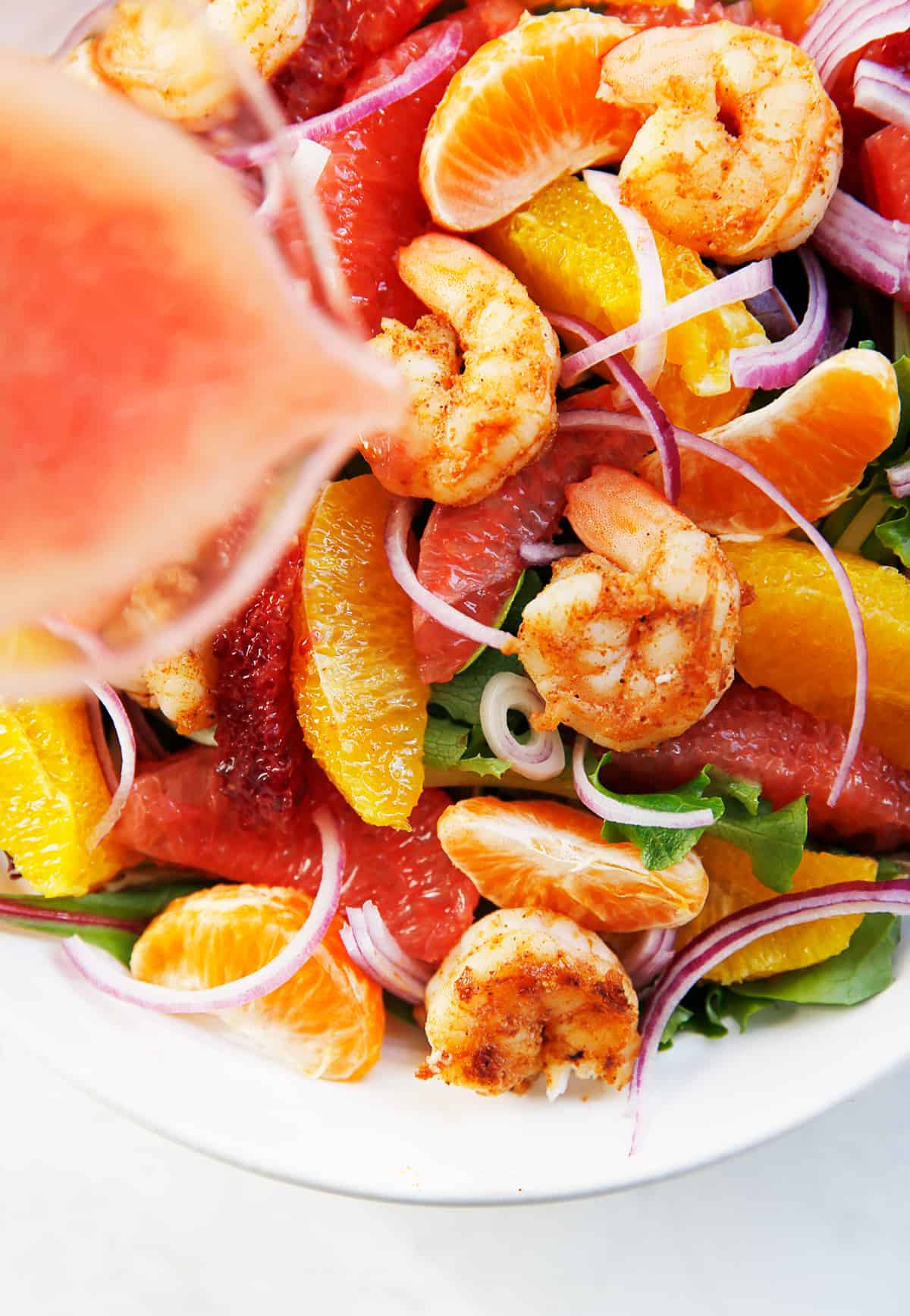 Other Favorite Salads:
Easy Shrimp Recipes: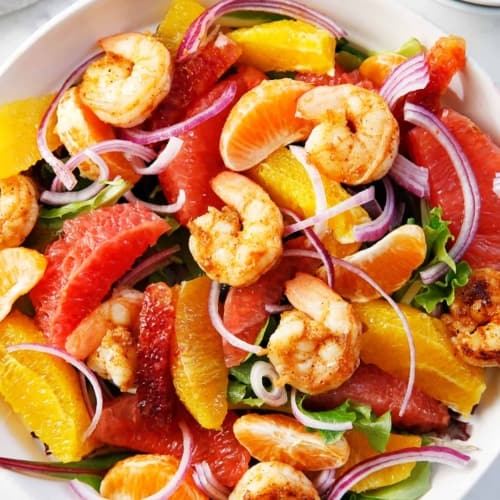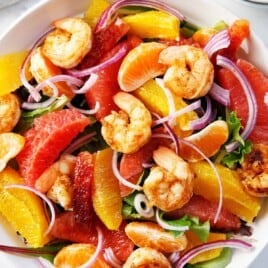 Spicy Shrimp and Citrus Salad
Ingredients
4

cups

spinach, kale, mixed greens or bibb lettuce

1

grapefruit, cut into segments

1

orange, cut into segments

1

blood or cara cara orange, cut into segments

1

small

red onion, thinly sliced

1

avocado, cubed
For the Spicy Shrimp:
15-20

shrimp, peeled and deveined

2

teaspoons

extra-virgin olive oil or avocado oil

1/2

teaspoon

chili powder

1/2

teaspoon

paprika

1/2

teaspoon

cumin

1/2

teaspoon

garlic powder

1/2

teaspoon

sea salt

Pinch

cayenne pepper

optional for spicier
For the Grapefruit Vinaigrette:
1/2

cup

fresh grapefruit juice

2

tablespoons

avocado or extra-virgin olive oil

1

teaspoon

dijon mustard

1

teaspoon

grated ginger

1

teaspoon

honey

Pinch

fine sea salt
Instructions
In a bowl place your lettuce of choice.

Add in citrus segments and sliced onion and set aside.

In a bowl, toss shrimp with oil and spices. In a skillet heat oil and add in shrimp. Let cook for 6-8 minutes, tossing mid-way, until shrimps are fully cooked and opaque. Place on a plate and let cool.

Make your dressing: Whisk together dressing ingredients and set aside!

Assemble: Add shrimp to the salad with lettuce and citrus.

Toss with some of the dressing and serve.

Reserve additional dressing for anyone who wants more!
Notes
Citrus cut into segments looks like slices with no skin!
This recipe was originally published in 2016 and updated with new photos in 2020.