Instant Pot Italian Chicken and Rice
This Instant Pot Italian Chicken and Rice is an easy-to-make dinner that the whole family will love. Made with a few simple whole ingredients and a zesty Italian flavor, this healthy dinner will soon be a family favorite. Made in partnership with my friends at Farmer Focus!
Easy Italian Chicken and Rice
Everyone needs to have a healthy and delicious dinner recipe that can be made quickly and this Instant Pot Italian Chicken and Rice is ours! This easy chicken and rice dinner requires only about 10 minutes of prep and hands on cooking time, while the rest is done easily in the Instant Pot. The rice is creamy, the chicken is perfectly cooked and it has the zesty Italian flavors we love. We're confident in saying even the pickiest of eaters will like this one!
Ingredients Needed
Farmer Focus Chicken Breast (Boneless and Skinless Breasts)
Long-Grain White Rice
Onion + Garlic
Roasted Red Peppers
Chicken Broth
Lemon

Italian Seasoning

Salt and Pepper

Green Peas

Parmesan Cheese

Fresh Parsley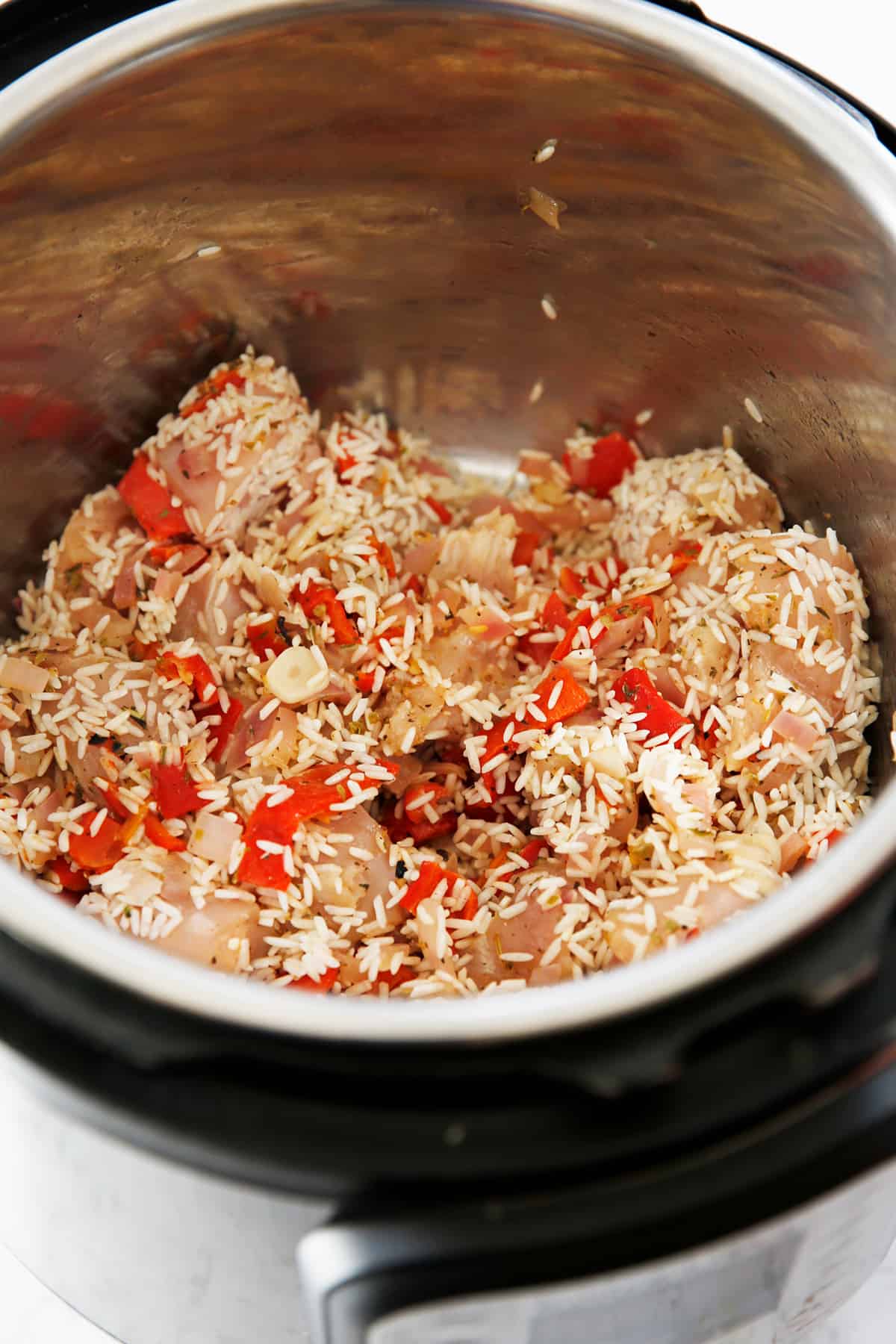 What Type of Rice to Use
This recipe was developed and tested for the use of long-grain white rice. This will be labeled as long-grain white rice, Jasmin rice or Basmati rice.
Using other types of rice such as brown rice or wild rice will not work here.
Don't have an Instant Pot but Still Want to Cook it?
We love making it in the Instant Pot, but understand not everyone has one! To cook this recipe without it, follow these instructions:
Heat a 12" heavy bottomed high-sided pan over medium-high heat. Once hot, add oil, onion and garlic and cook, stirring often, until beginning to soften, about 5 minutes. Shut off the saute function.

To the pan add red peppers, rice,

chicken broth

, chicken, lemon juice, italian seasoning,

salt

, pepper and and mix well. 

Make sure the mixture is spread evenly in the pan and the veggies and chicken are pushed into the liquid as much as possible.

Let mixture come up to a boil, then cover with a tight fitting lid, and lower the heat to medium-low.

Cook for 20 minutes, or until the rice is cooked through.

Shut off heat, quickly remove the cover and sprinkle ½ cup peas over the top. Close the lid and let steam for 5 minutes.

Fluff with a fork garnish with parsley and a sprinkle of lemon juice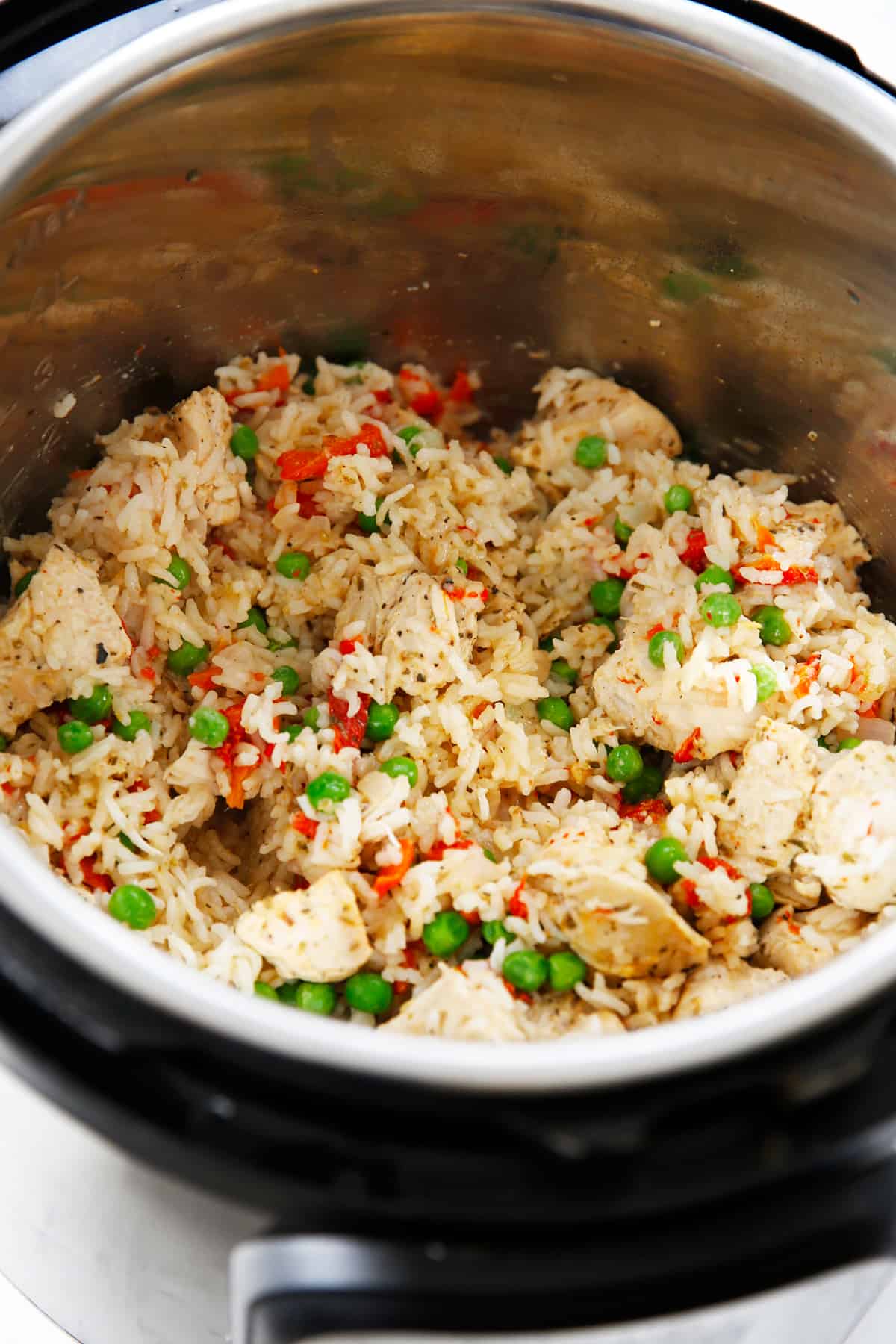 Why Quality Chicken is a Must
With so few ingredients in this dish, it is incredibly important to use quality chicken. I am so happy partnering with my friends at Farmer Focus to bring you this easy Instant Pot chicken recipe! Farmer Focus has been my go-to, trusted chicken for years now, because they pride themselves in producing the highest quality meat grown on family-owned farms. You can 100% taste the difference. I love knowing that, without a doubt, when I pick up Farmer Focus chicken at the grocery store, it's the best there is and I don't have to question whether it was raised in a humane way.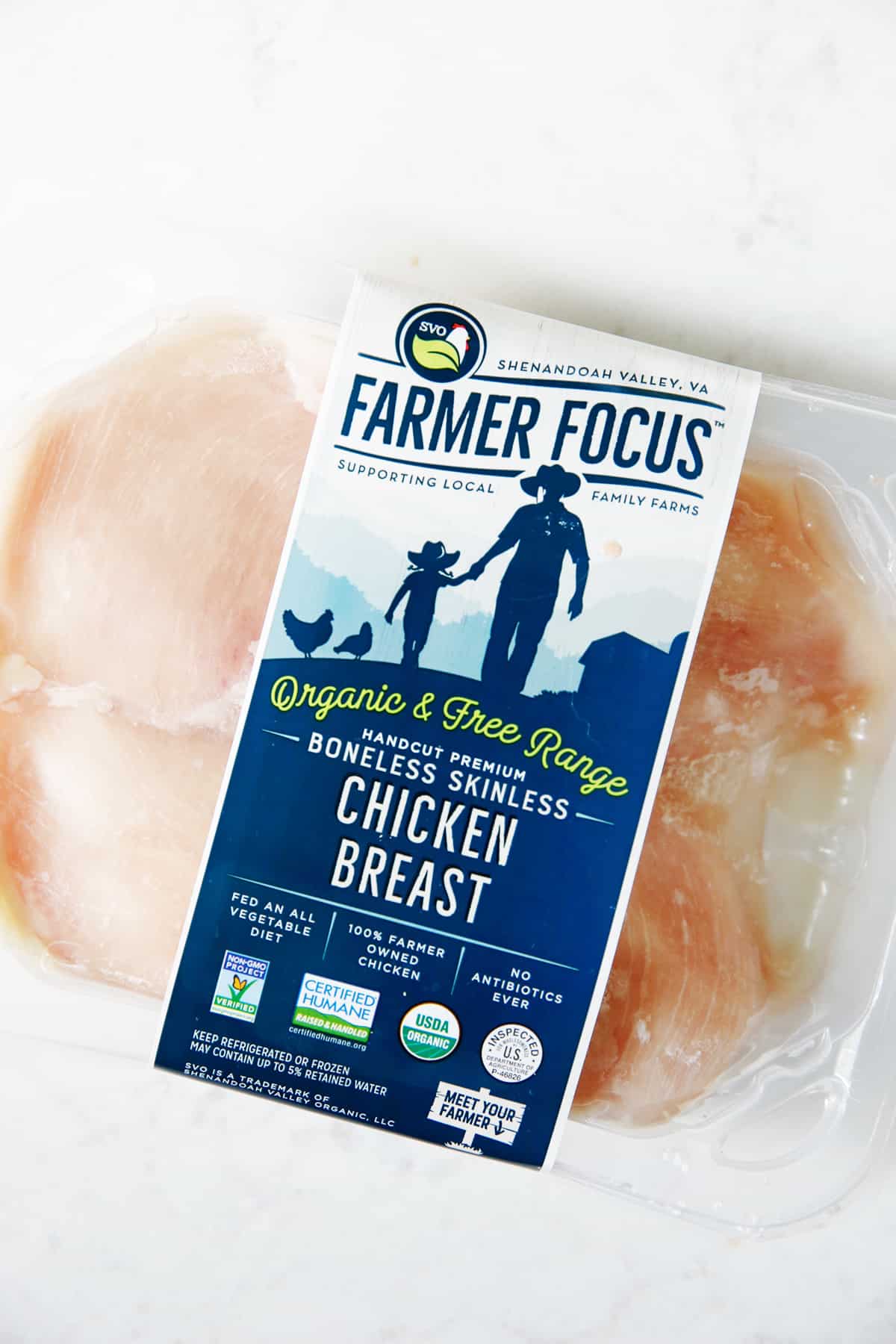 Farmer Focus is building partnerships with farmers through their innovative Farmer Focus Business Model
Here is what I love about Farmer Focus: they are a company that supports their farmer partners and they are working hard to do things right and truly raise and produce the highest quality chicken! Every Farmer Focus product includes a 4-letter Farm ID that traces your chicken to the farm that raised it. Buying meat from Farmer Focus also gives me peace of mind that I am supporting hard-working family farmers.
Farmer Focus chickens are humanely raised and fed a diet free from animal byproducts, pesticides, and antibiotics. On their website you can see where all of the farms are located, so you know just where your chicken was raised! How awesome is that?!
You can also use their easy store locator to find where you can get this amazing quality chicken near you.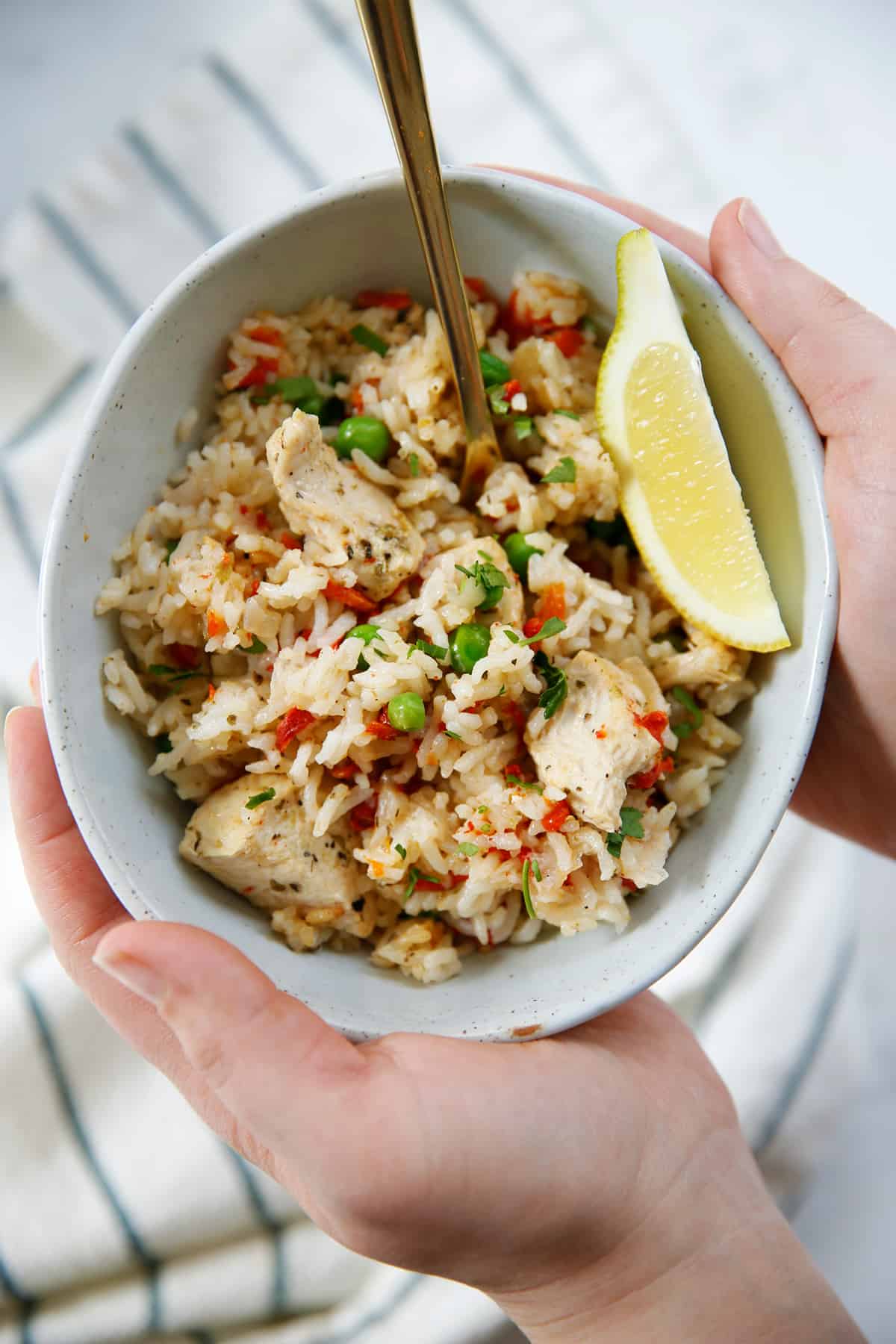 Watch the video:
---
If you like this whole dinner in the Instant Pot, check out these others:
For more chicken recipes, check out these:
---

This post is sponsored by Farmer Focus! All thoughts and opinions are always 100% my own! I love the integrity of their products and think you'll love them too. Thank you for continuing to support LCK and the brands I work with!
Instant Pot Italian Chicken and Rice
This Slow-Cooker Beef Stew is the perfect healthy comfort food for cold days! It's hearty, flavorful, packed with veggies, and easy to make right in your crock pot. Make it for a cold winter night, or a festive St. Patrick's Day meal! Beef stew is a simple recipe that will wow everyone who tries it.


The Slow Cooker is an amazing phenomenon in my opinion. Even those friends of mine who aren't big cookers use it! Throw all the ingredients in with the right flavor combo and BOOM: the perfect stew. It's hands off, easy to use, and safe!
What is Irish stew made of?
Filled with beef, carrots, mushrooms, onions, and potatoes is the perfect main dish for your St. Patrick's Day celebrations. The beef is so tender, it just melts in your mouth!
Tips For Slow Cooker Beef Stew
Brown your meat
Don't use too much liquid
Don't skimp on the cook time
Layer your beef and veggies
Set it and forget it! The beauty of a slow cooker!

This stew is: hearty, flavorful, tender melt-in-your-mouth beef, and packed with veggies! It is also paleo-friendly, dairy-free, whole30 compliant and has no sugar added… does it get any better than that? I love making this soup at the beginning of the week and enjoy it all week long!
What defines a stew?
In a stew you aren't looking for the consistency of a soup, so minimizing added liquids is helpful!
Beef stew doesn't need to be super, super thick. You'll most likely be using potatoes, and their starch will naturally thicken your stew! If not, don't worry, this stew thickens whithout it, too.
What kind of beef is used for stew?
You can buy beef stew meat, which is cut and cubed and is generally chuck or round! Beef round cuts (bottom and eye) are generally leaner than chuck (shoulder, leg and butt) and very well-suited to stew.
I always add beef stew meat to my ButcherBox order in the cold weather months. Each month, ButcherBox curates a one-of-a-kind selection of the healthiest, tastiest meats, humanely raised and free of antibiotics and hormones. Or you can customize your box and select your favorite cuts and get 20% more meat.The price works out to less than $6.00/meal and shipping is always free. You can also space it out so it's not every 4 weeks, too! ButcherBox delivers your meat for the month, saves you money, and is the best quality! Order Today and get this amazing deal:
Get FREE bacon
FREE Shipping
$15 OFF!
Can you put raw meat in a slow cooker?
You certainly can, but for this beef stew recipe, we prefer to sear the meat first to bring out the amazing flavor that you'll get!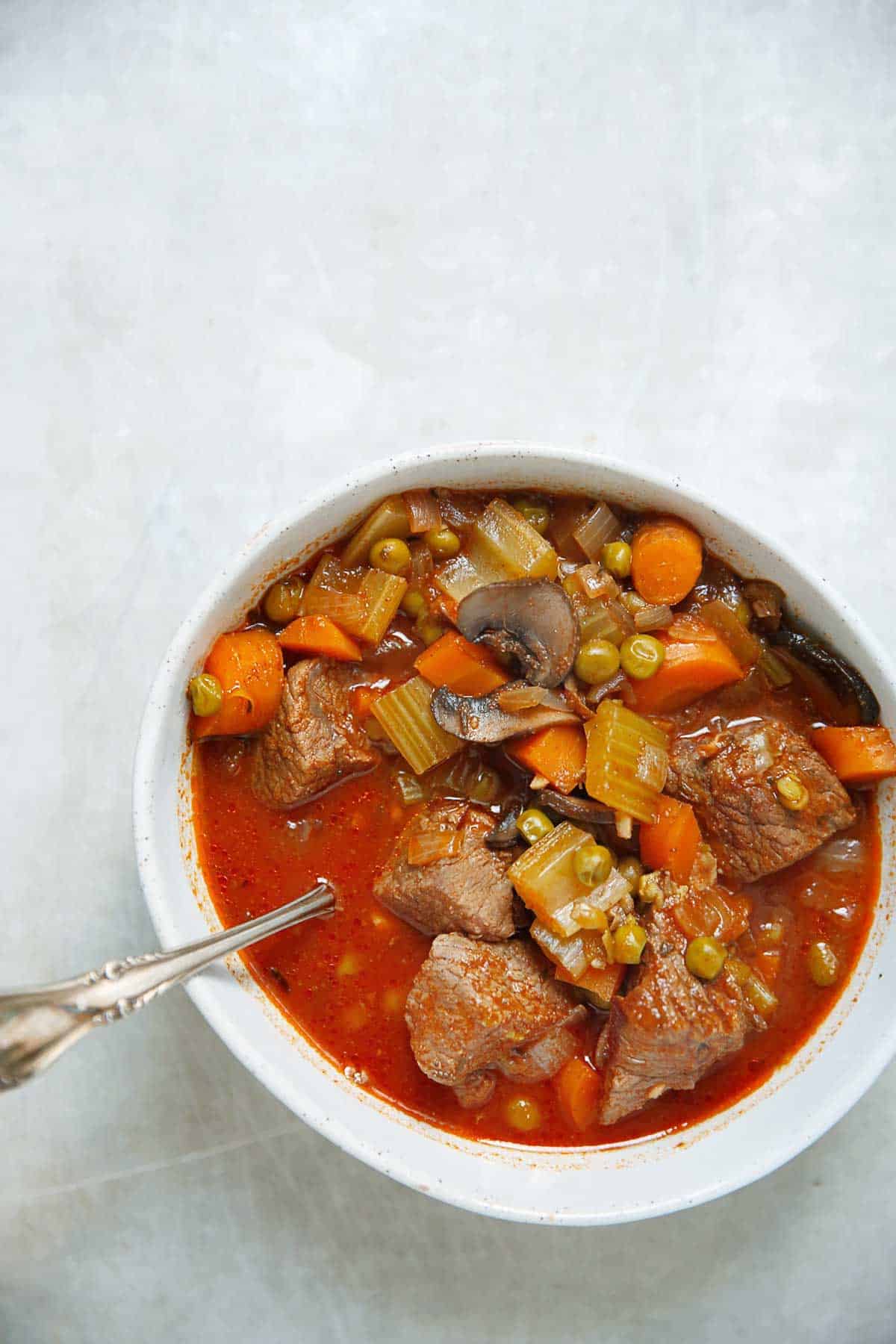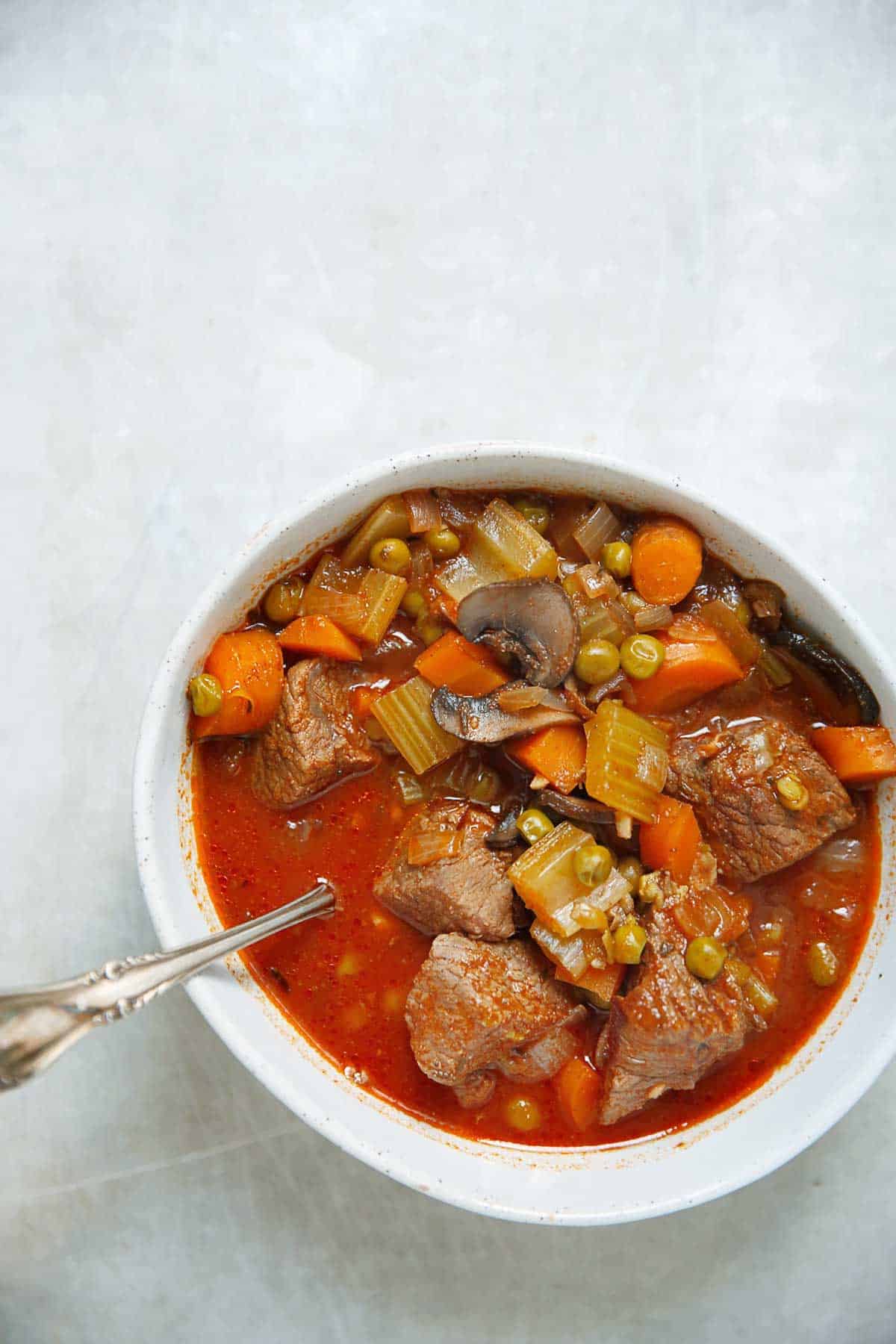 Tools used to make this easy slow cooker beef stew recipe:
Want other slow cooker recipes? Try these favorites:
If you like this beef stew recipe, make these other St Patrick's Day Favorites:
Slow-Cooker Beef Stew
This One Pot Turmeric Chicken and Rice is a hearty, warm and comforting weeknight dinner option! It's full of veggies and uses both fresh and dried turmeric. It is dairy-free and gluten-free and is bound to be a new, and easy, family favorite!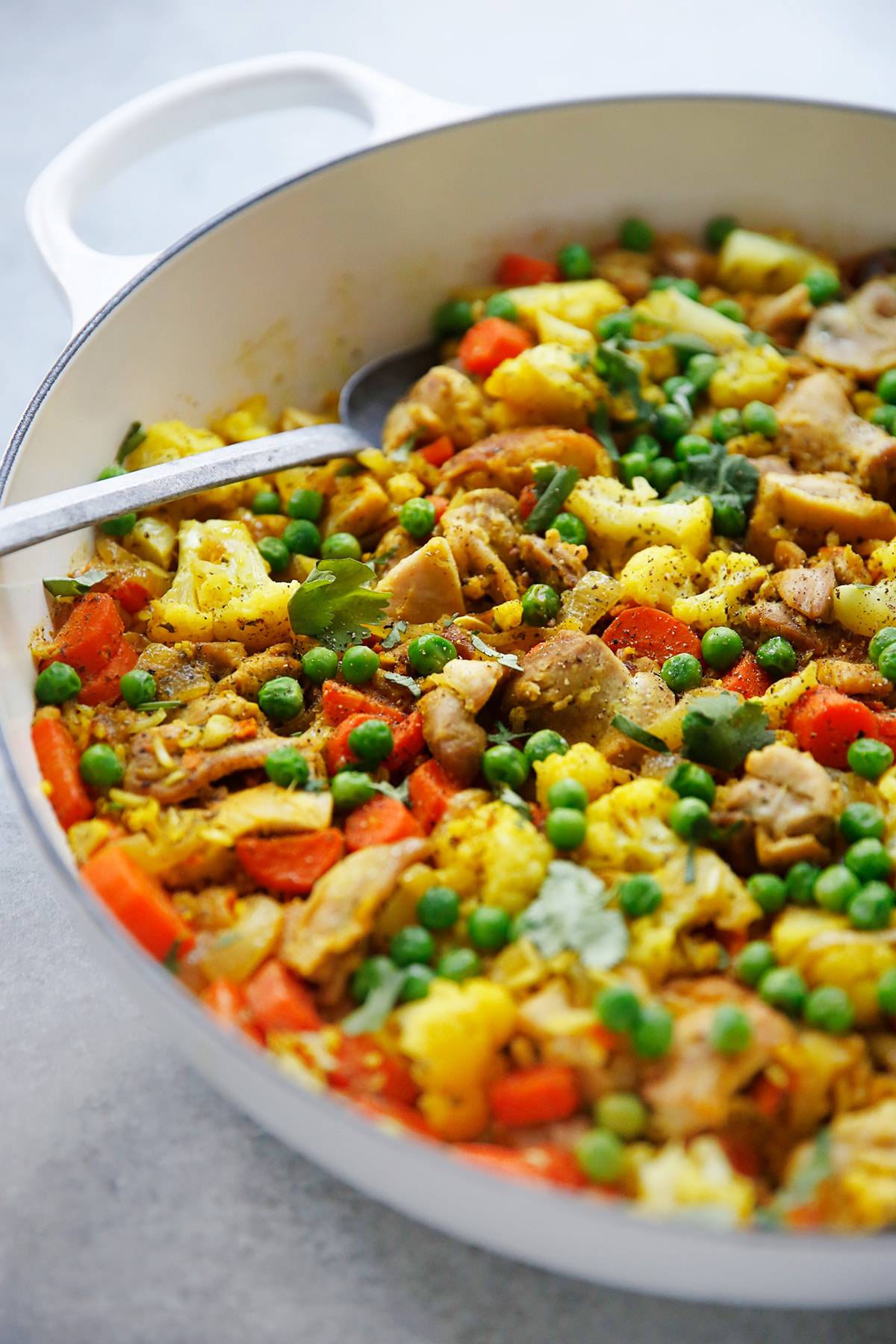 One Pot Turmeric Chicken and Rice
We love an easy-to-make and easy-to-love weeknight dinner and this One Pot Turmeric Chicken and Rice is one of them! A warm and comforting spiced chicken and rice dish that consists largely of unattended cooking and is made all in one pot for a simpler clean up! This dish uses both fresh and dried turmeric for an extra punch of flavor and has so many veggies packed in!
Let's talk turmeric:
We've talked quite a bit about turmeric on this site before because turmeric is a trendy food topic these days, but for good reason: it provides significant anti-inflammatory effects that can benefit a wide variety of health concerns! Curcumin, which is a nutrient found within turmeric, is a powerful anti-inflammatory. Chronic inflammation has been linked to a number of larger medical conditions such as diabetes, arthritis and heart disease. A natural and easy way to help keep inflammation down is through the foods you put in your body. This One Pot Turmeric Chicken and Rice uses both fresh turmeric and dried turmeric. Now are we saying if you eat this rice all of your inflammation will go away? Nope! But we are big believers in using a whole and real food approach to healthy living and including as many nutrient dense ingredients in our every day meals is a good start.
Where can you buy fresh turmeric?
Almost any major grocery store will sell turmeric. Look for it in the section where they sell fresh ginger, and it looks similar!
What do you do with fresh turmeric
You don't need to peel the thin skin off of fresh turmeric, but we prefer to especially if it isn't organic. The easiest way to do this is to take a spoon and gently scrape off the skin. You can grate the turmeric with a microplane or finely mince it. Just be careful about where you prepare the turmeric because it will leave yellow everywhere it touches, including your hands!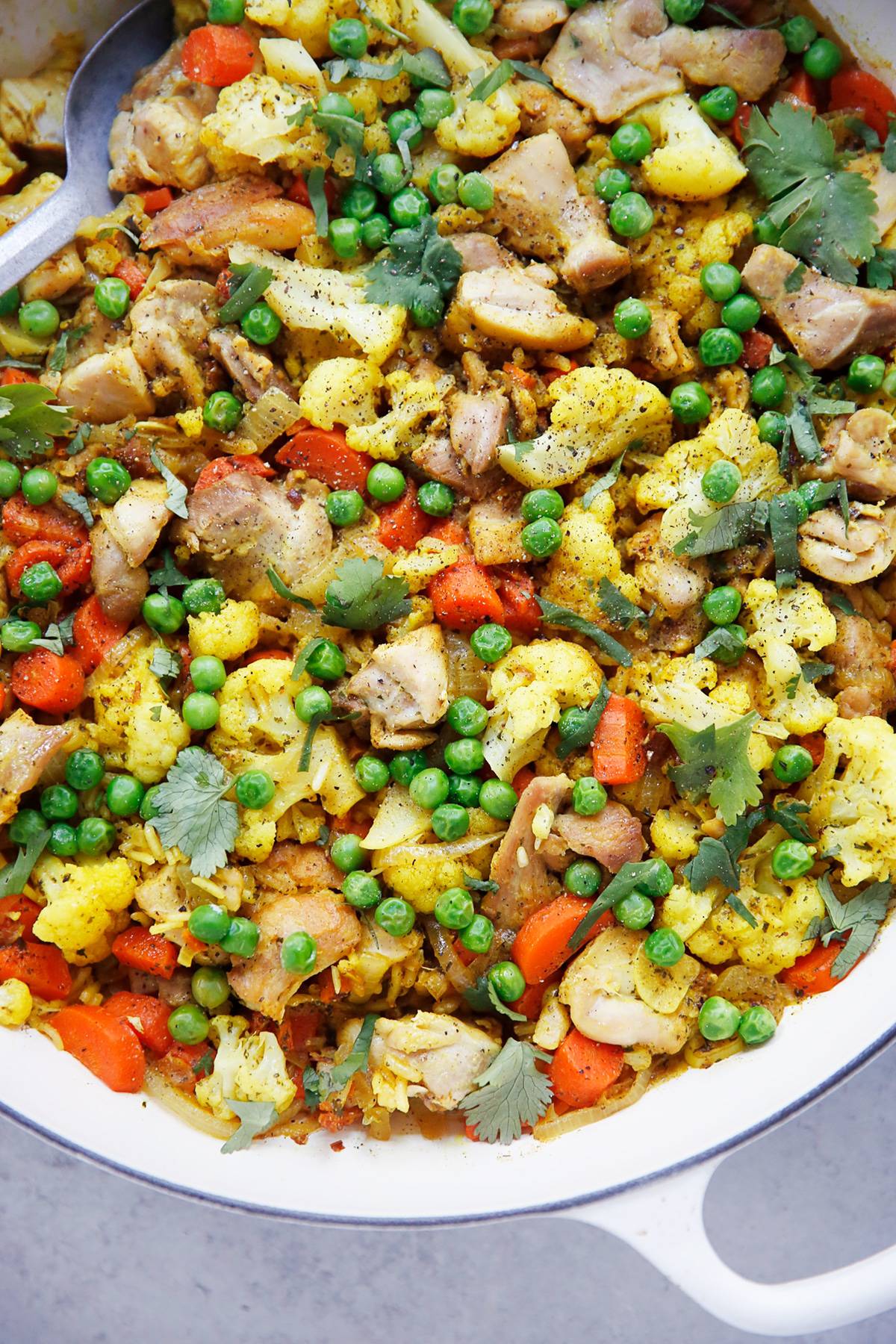 If you like this easy weeknight dinner recipes, check out these others:
---
One Pot Turmeric Chicken and Rice
With Korean fermented cabbage as its base, this Kimchi Fried Rice is a great weeknight dinner when you want to spice it up a bit. It's tangy and spicy and a great way to use up leftover rice or cauli-rice and veggies in your refrigerator. It is vegetarian, paleo friendly (with cauli-rice) and ready in under 30 minutes.
Kimchi Fried Rice
With the busy holiday season upon us we thought it was time to make a quick and easy weeknight dinner that is also SUPER DELICIOUS and fun. And we love a good fried rice here at LCK, and this Kimchi Fried Rice is no exception! I almost always have Kimchi hanging around in my fridge (it lasts nearly forever) which makes it the perfect base to add to a fried rice that uses primarily pantry items. It's super flavorful and we've included directions to make this with white rice or cauli-rice.
What is kimchi?
In short kimchi is fermented vegetables! It is native of Korean cuisine and can range from spicy to mild depending on what brand you are buying (or making, if you're feeling adventurous).  Aside from being delicious Kimchi is a nutrient dense food but probably what makes me most excited about it is the naturally occurring probiotic strains that occur during fermentation. This is a great food to eat if you're in the process of healing your gut or you want to have healthier digestive functions.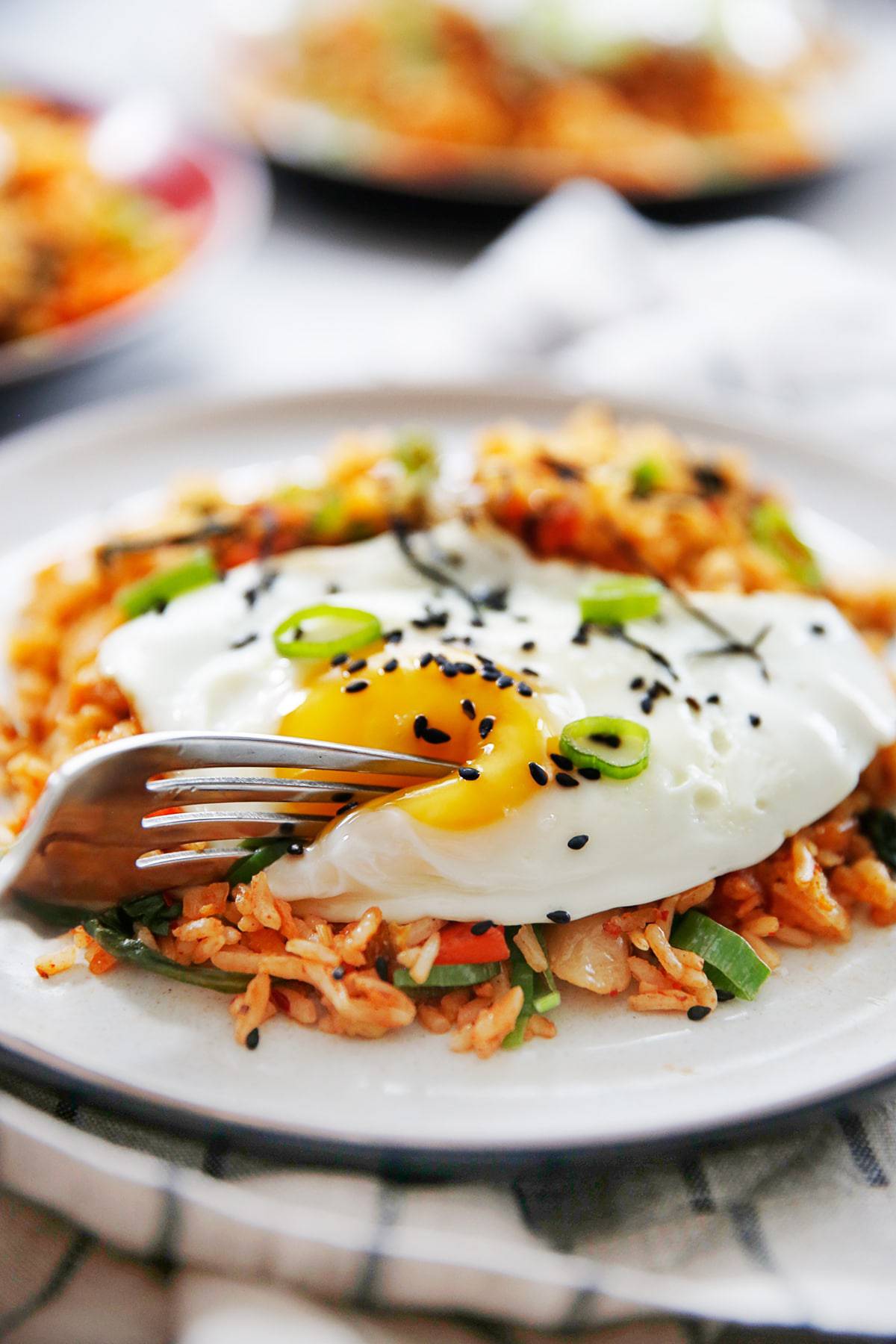 What type of kimchi should I buy?
A good kimchi will bring a balance of salty, sour and spicy flavor while holding a nice crunch to it. We're partial to kimchi made from cabbage, but really the most important thing is to buy a kimchi that has only natural ingredients added to it. In other words, if you can't pronounce or clearly recognize anything on the ingredients label, skip it!
Tips for making a good stir fry:
Fried rice is a stir fry using rice as the base instead of noodles. It's a simple dish to make, but the following tips will make sure that your fried rice will shine:
Make sure your pan is nice and hot! We like to use a cast iron skillet for this, which retains heat nicely! But if you have a wok feel free to use that.
Have all ingredients ready and prepped before you begin cooking!
Use a high heat oil, like avocado oil.
Always top it with a fried egg!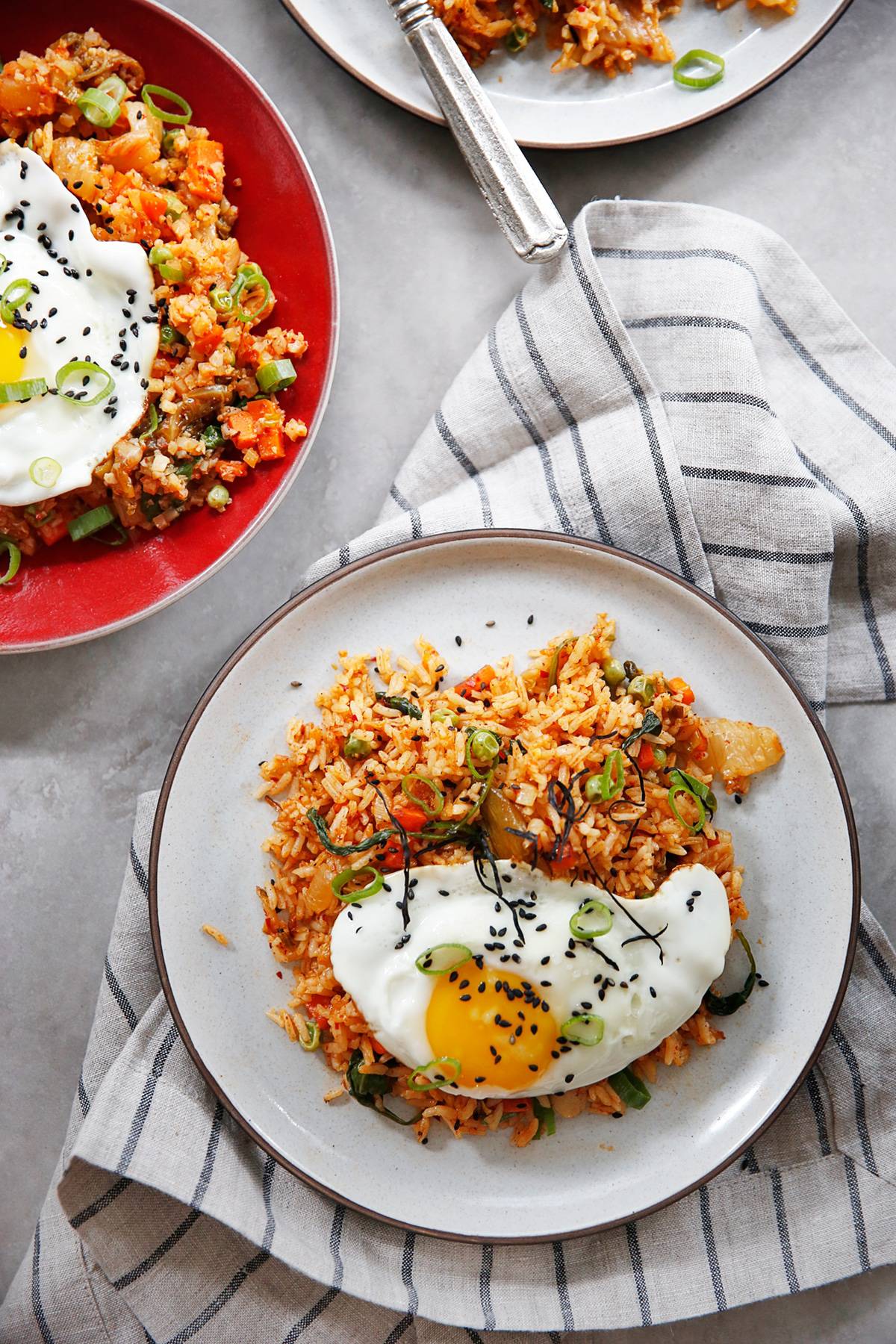 If you like this stir fry recipe, check out these others:
Kimchi Fried Rice (Cauliflower Rice or White Rice)
This Instant Pot Beef Stroganoff recipe is an easy weeknight dinner win! This classic American dish comes together quick, with minimal prep and mostly hands-off cooking thanks to the Instant Pot. It's made using REAL ingredients and is so hearty! It's paleo and Whole30 friendly (if served without noodles), dairy and gluten free and a delicious meal the whole family will love!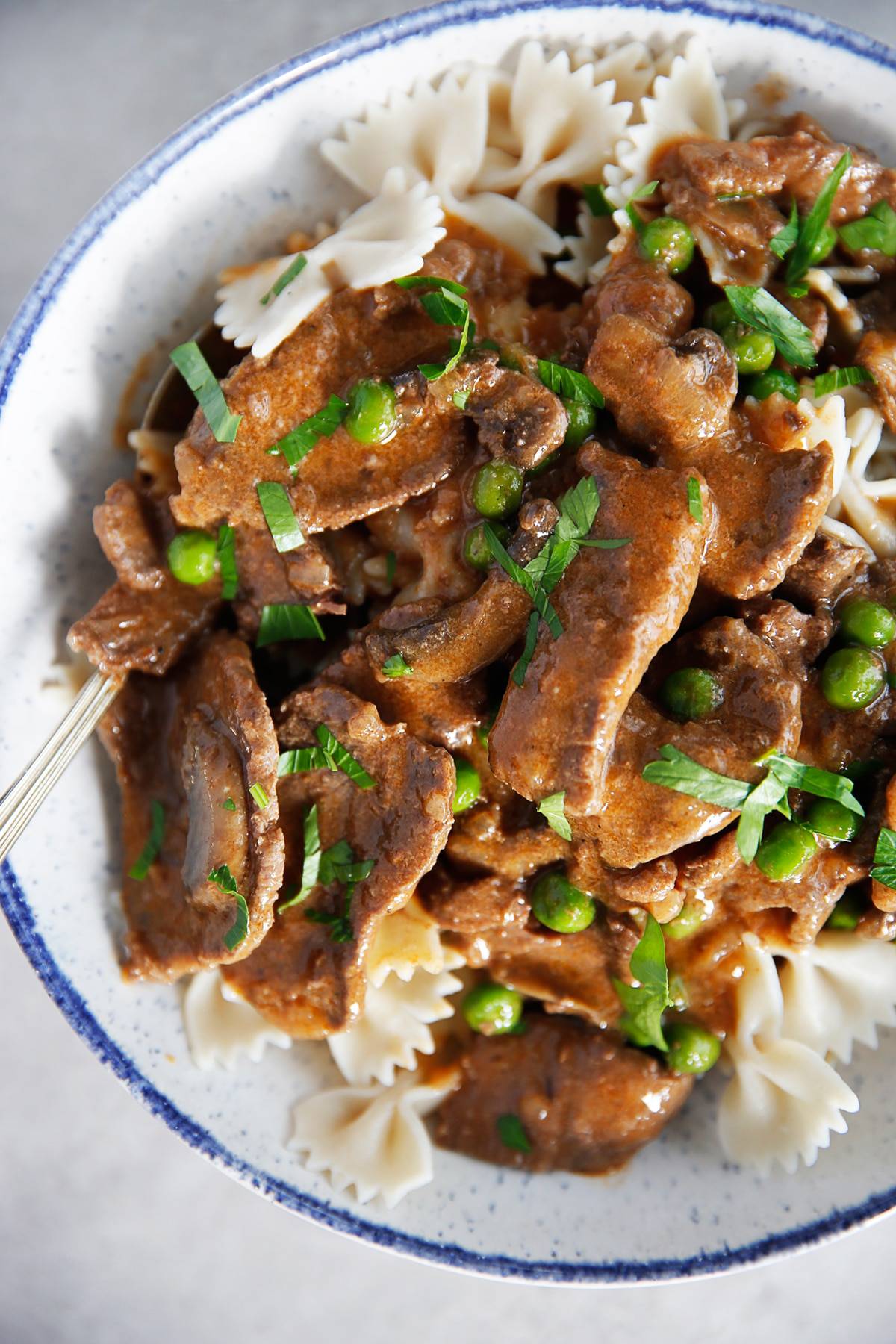 Instant Pot Beef Stroganoff
Honestly I'd never tried beef stroganoff before making this recipe, but I'm glad I finally did because it's such a delicious and easy dinner! It's one of the most popular google dinner searches, so we knew it was time to make a cleaned up version that didn't require any canned soup or junky ingredients. Our version here is dairy-free (made creamy with coconut cream) and option to serve it with gluten-free noodles or over zoodles (we recommend sweet potato, butternut squash or carrot zoodles).
We love the rich and hearty flavor to the sauce! We use paprika, mustard and tomato paste to add a depth and umami flavor to the sauce, that is then thickened up with a bit of arrowroot and rounded out with our non-dairy choice of coconut cream. You can't taste the coconut in it either!
Our choice for beef was to use a sirloin steak, but if you can't find that some other options would be a chuck roast or top round. Just make sure to slice it thinly!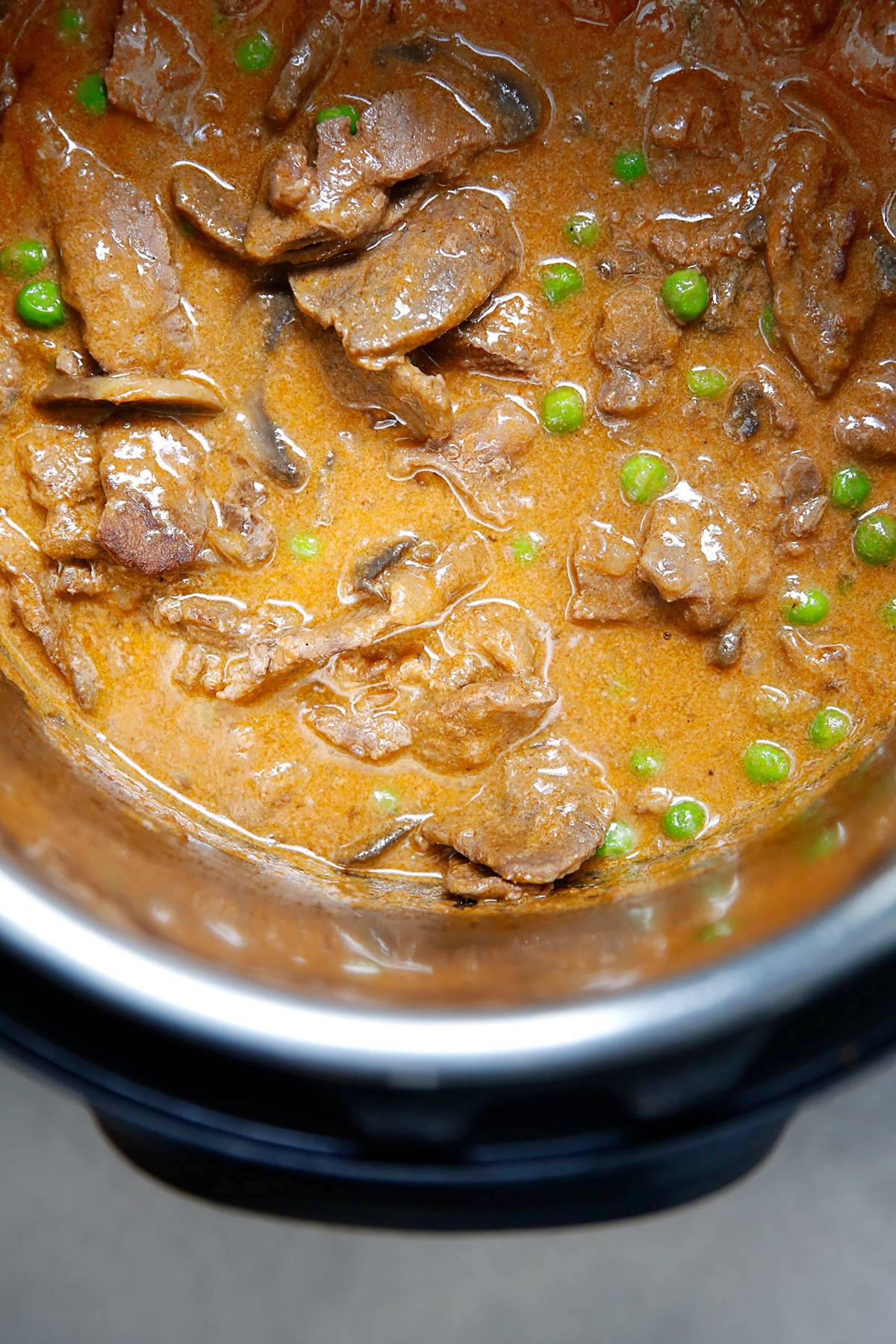 How do you make beef stroganoff in the Instant Pot?
We opted to make this Beef Stroganoff in the Instant Pot because it makes for really tender meat thanks to the pressure cooker and largely hands-off cooking after you've sauteed the aromatics and built up the flavor. So while the recipes says it takes about an hour to make, most of this time it is hands-off cooking so you can be getting other tasks done while dinner is cooking.
To make in the Instant Pot:
Saute your aromatics (we use mushrooms, onions and garlic) and beef
Add your base flavors in (we use paprika, mustard and tomato paste to build up a nice rich flavor)
Deglaze with liquid and cook in high pressure!
After you release the pressure we add in a thickener and creaminess (coconut cream) to finish it off.
Serve with gluten-free pasta or noodles and ENJOY!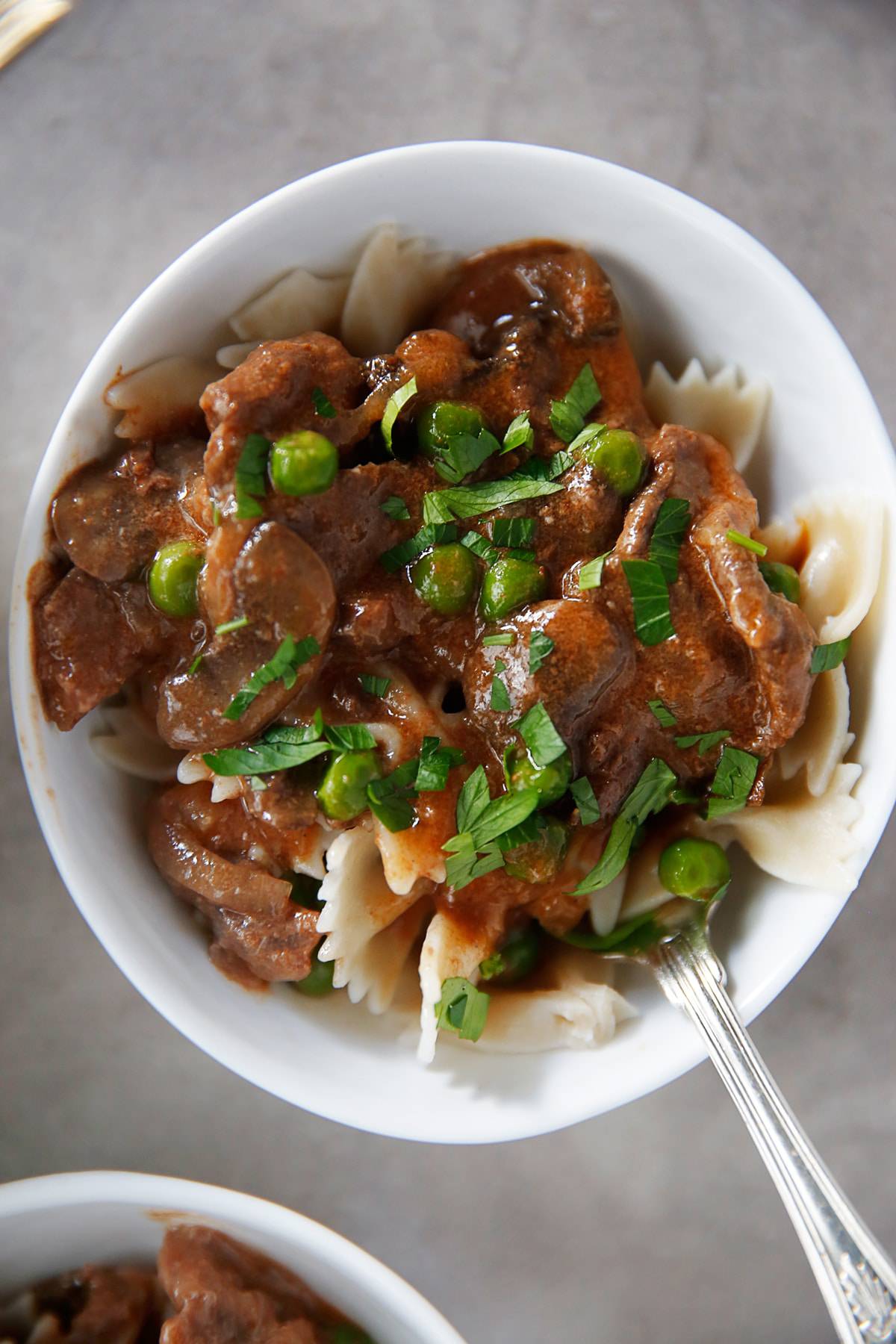 If you like this Instant Pot recipe, check out these others:
Instant Pot Beef Stroganoff
There couldn't be an easier dish to make for dinner than this Cauliflower Fried Rice. This fried "rice" veers off the path from the classic by skipping out on the actual rice and replacing it with low-carb rice made from cauliflower. It's simple, yet delicious. This low-carb, Paleo, and Whole30-friendly healthy dish is easily customizable based on what you have on hand.
Healthy Cauliflower Fried Rice
You know we love when a take-out style dinner can be made in less time than it takes to order it! And even more so when it's healthier for you and tastes way better, and this Cauliflower Fried Rice is all that and more! This quick dish is made in just about 25 minutes, and is loaded with veggies and a really yummy fried rice sauce. Serve it as a light main dish, or pair it with any of our other fake-out take-out main dishes such as Healthy General Tso's Chicken, or Paleo Orange Chicken or Instant Pot Mongolian Beef!
What is Cauliflower Rice?
Putting it simply, cauliflower rice is rice-sized pieces of cauliflower that is cooked and served in place of regular rice. You can find cauliflower rice in most grocery stores these days, but if you've never made (or eaten) it, learning how to make cauliflower rice may seem difficult or time consuming. But trust us, it's easy peasy!
When compared to regular white or brown rice, cauliflower rice is:
Grain-free
Low-carb
More nutrient dense
Fast to cook (5 minutes only!)
Check out this post all about making cauliflower rice at home!
Tips for Making Cauliflower Fried Rice
You can use frozen or fresh cauliflower rice. The frozen rice might need a few extra minutes to cook through.
Make sure all your ingredients are prepped up before you start! Everything happens quickly so you don't want to be caught chopping veggies when you should be paying attention to the stir fry.
Use a high heat oil, like avocado oil. This ensures you can get your pan nice and hot without the oil smoking or getting any off flavors.
Make sure your pan gets really hot! It gives the veggies good flavor and the correct cook of crisp, but tender.
Other Fried Rice Variations
Want to mix things up and add-in some other flavors for this fried rice? There are tons of options here.
Chicken: Feel free to add in leftover rotisserie or cooked chicken, for an easy chicken fried rice.
Vegetarian: Omit the shrimp and add in extra veggies.
Beef: Either leftover shredded beef or even raw ground beef can work. If using raw, cook in the pan beforehand, and then remove and set aside and add it at the end along with the coconut aminos.
Pineapple or Mango: Like the sweet and savory combination? Add in some diced fresh or canned pineapple or mango along with the veggies.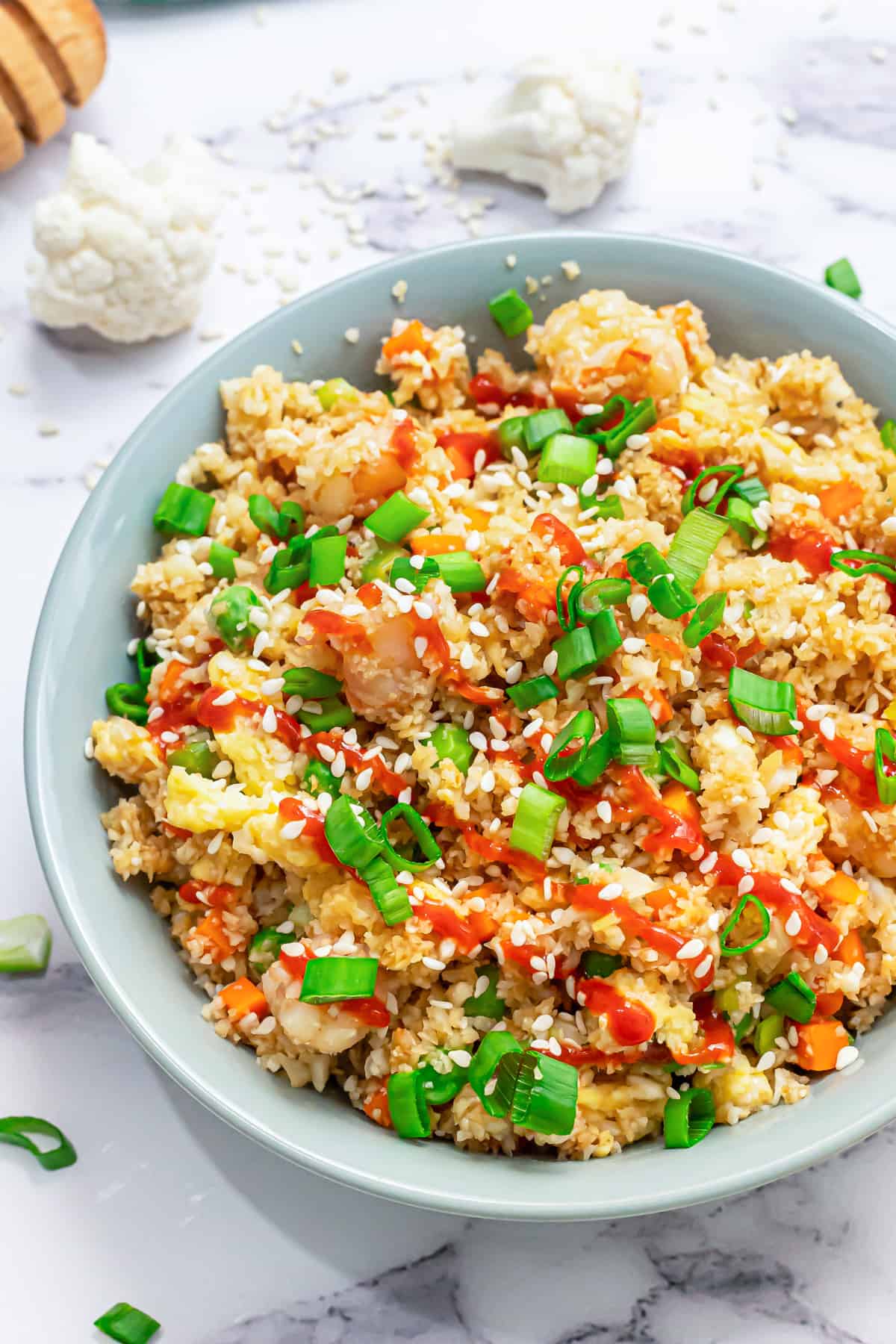 Watch the video here:
---
---
If you like this cauliflower recipe, check out these others: