Click to edit CSS
Click to edit CSS
Take out? No thanks! This guilt-free version of fried rice is so delicious that in my house the bowl actually got licked. I am also a big fan of this Cauliflower Fried Rice dish because it is high in protein and always makes enough leftovers to last us a few meals!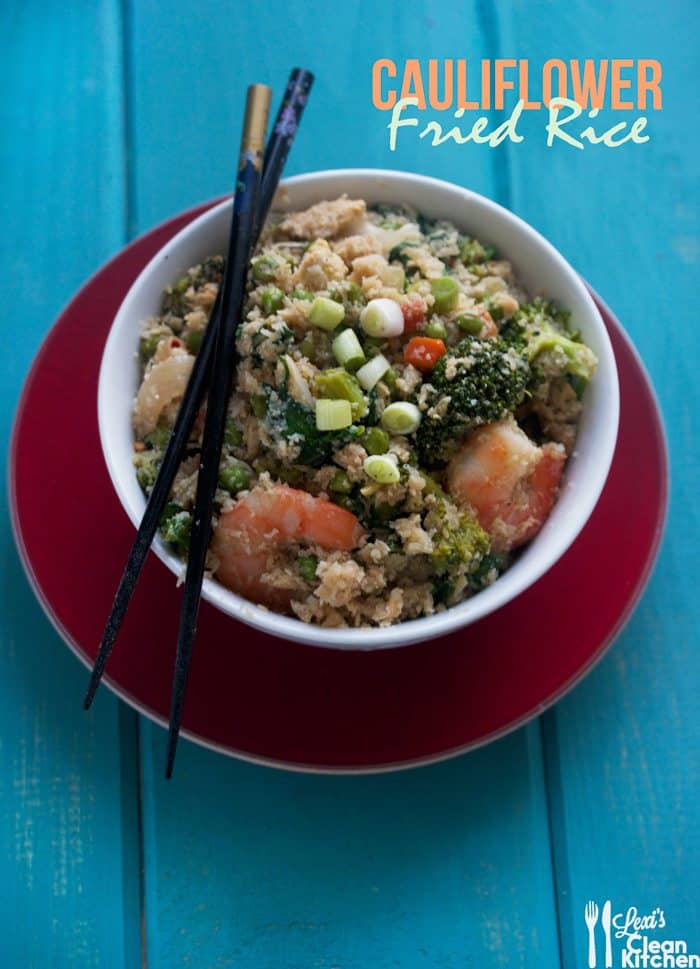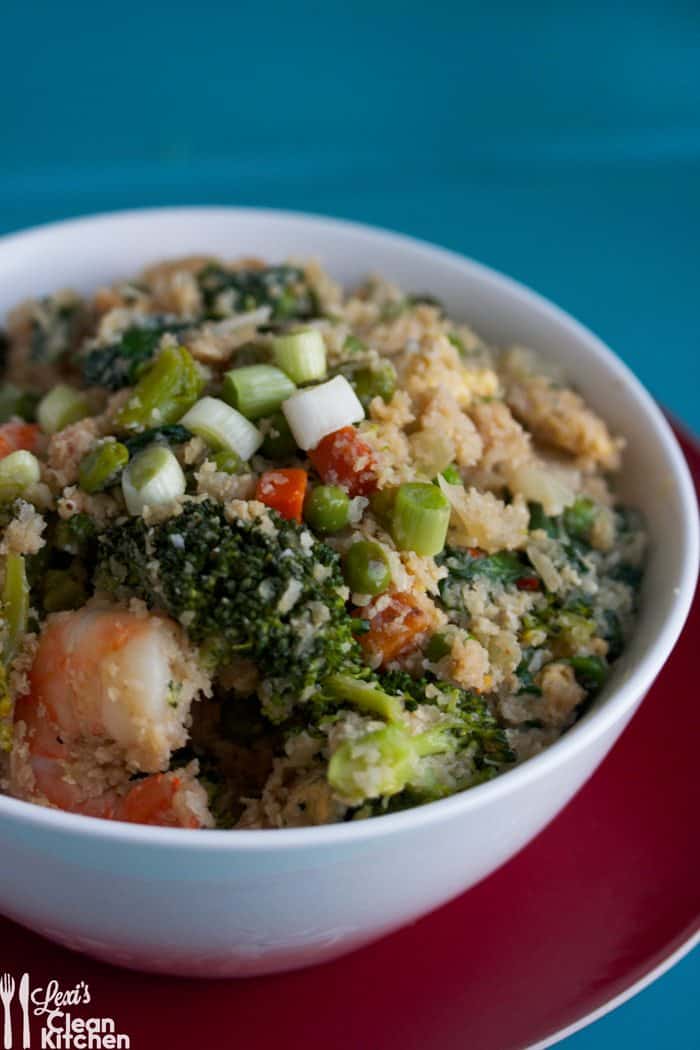 Cauliflower Fried Rice
---
---
Ingredients
1 head cauliflower (I use a large one)
1 onion, chopped
2-3 carrot stalks, chopped
1 cup frozen organic peas, chopped
1 zucchini, chopped
1 head broccoli, finely chopped
2 tbsp extra virgin olive oil
4 cloves garlic, crushed
1/4 cup scallions, chopped
Handful of spinach
4 organic eggs
2 pieces organic boneless chicken breasts, diced (or protein of choice)
1 tbsp garlic powder
1 tsp onion powder
1/2 tsp red pepper flakes (more to taste)
3 tbsp coconut aminos, more to taste
2 tbsp seasoned rice vinegar
1/2 tsp Himalayan sea salt, more to taste
1/2 tsp freshly ground pepper
Directions
1. Using your food processor or cheese grater, pulse/grate cauliflower until rice consistency
2. Cut up all veggies you're going to use and set aside
3. In one pan, heat 1 tbsp oil and sauté 2 cloves crushed garlic, add in onions and sauté for 5 minutes, then add in the rest of your veggies (except for spinach) and mix well for 6-8 minutes
4. Add in protein of choice and cook until fully cooked
5. Add cauliflower rice to the pan and mix well, let cook for 5 minutes, stirring often.
6, Make a hole in the center of your rice and put eggs in. Once scrambled in the center, mix in completely with the rice. Add scallions and mix again.
6. Add garlic powder, onion powder, red pepper flakes, salt and pepper, seasoned rice vinegar, and coconut aminos and mix well
7. Add spinach and mix until sautéed
8. Taste and adjust spices as desired
---
Nutrition
Loading nutrition data...
Subscribe to
Lexis Clean Living
Join our email list to get instant updates and weekly summaries of our top content and special exclusive offers along with our free clean eating kickstart guide!
This website may at times receive a small affiliate commission for products that we shared with you in our posts. Although we may receive a commission for linking certain products, there's no additional costs to you and all of our opinion and suggestions are 100% our own and unbiased. That's our promise to you!