The Best Food For Your Dog & Why We Changed Jax's Diet
Getting Jax 3 years ago (where does time go?) was the best decision I ever made! As a first-time dog owner, I learned a lot about the diet, food options, and digestive issues a dog could have, so I am extra excited to partner with my friends at Stella and Chewy's to bring you today's post all about the best food for your dog & why we changed Jax's diet!

I've talked about this before, but when Jax first came home, he had horrible stomach issues (diarrhea). We couldn't figure out why, so we kept going back to the vet. The lab results came back with no parasites or anything major, so it was then that we learned it was his food he came home with from the breeder, which was pretty junky. Keep in mind, Jax is my first dog ever, so I was a little clueless!
We switched his food over to one brand, Natural Balance, that I heard was good at the time, but he'd go through phases where he didn't want to eat it, and for a golden retriever, that's fairly alarming! We made another switch to Blue Buffalo, and with that brand we had to constantly change the flavors or he'd be picky, again, this was weird for Jax. I also noticed when brushing him that his skin was super dry.
By that point I had learned that 1. his stomach is too sensitive for chicken (fairly common) and 2. he needed a really good-quality, limited ingredient diet (gluten sensitive like his human mom, haha).
I was on the hunt for new food.
I wanted a food that was nutrient-dense, made with good quality ingredients, convenient, and one that of course, he'd love!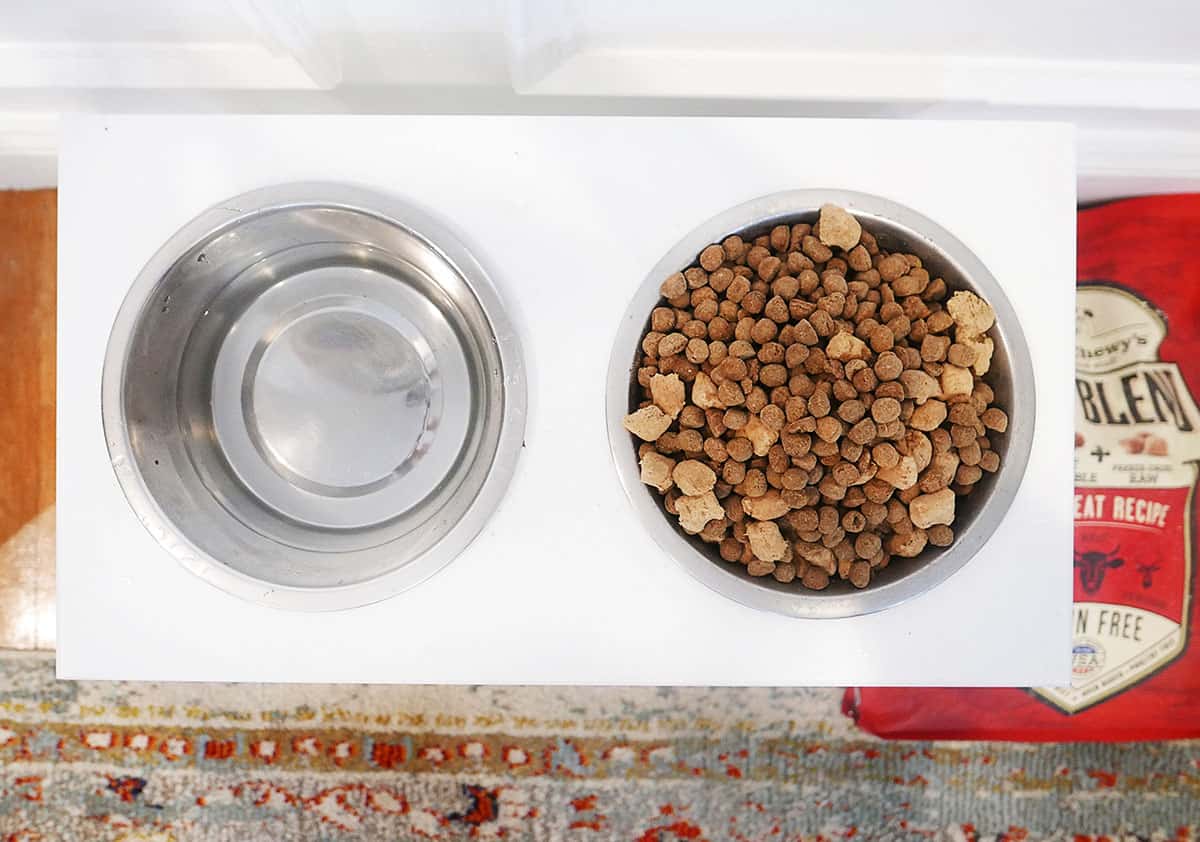 Look at this vibrant, sweet angel!

What to Look For When Picking Your Dog's Food:
Here's what I ultimately based my decision on. Use this as a guide to choosing what's right for your dog, but know that every dog is very different, their size, age, breed-specific needs, and their ability to digest and so on, so the food may certainly vary. They're just like us in that regard!
Food Allergies or Sensitivities: Some dogs can totally eat any food without any issues, and some, like Jax, can't. It's important to be aware of any changes to their digestion, mood, coat, and personality, and just be aware!
Choosing Quality Food: I care about the quality of food that I put into my body: my seafood, meat, and produce; and that was no exception for how I wanted to feed Jax! I truly believe that food is our fuel, and can heal our bodies, but can also do damage. Stella and Chewy's food is made from grass-fed, cage-free or wild-caught meat and seafood with no added hormones or antibiotics. They ae transparent about their sourcing, and their vegetables are 100% organic. This was a huge plus for me. Takeaway: read ingredients like you would for yourself!
Oven Baked or Extruded Kibble? This was the biggest game changer for me when deciding on Stella & Chewy's. Extrusion is an easy and efficient way to create large amounts of nutritious, shelf-stable food. Often dogs can experience digestive issues with this process, like Jax did on Purina, the food he was sent home with. The extrusion process leaves the kibble with less than 40% of it's vitamins and minerals and baking retains almost 100% of the initial nutrients. So, your dog is getting his/her vitamins and minerals from real food, which you know I am ALL about. Baking ensures the protein sources included in the initial recipe survive the cooking process leaving you with a more flavorful, nutrient-dense food! Stella & Chewy's Raw Blend is one of the only kibbles available that is gently baked!
What about a Raw Diet? You'll hear a ton about this, and honestly, it probably is a good option. For me though, as much as I want the absolute best food for Jax, I also want CONVENIENCE. I ultimately chose Stella & Chewy's Raw Kibble Blend, a mixture of freeze-dried raw food andgently-baked kibble. It retains the nutritional benefits I wanted, while being convenient for us owners, and he devours it!
Supplements & Nutrition For YOUR Breed: Every breed is different and has different needs. Goldens are notorious for hip issues as they age, so it's important to be aware of these things from a young age. I love that with his food, he's getting more nutrients than he was with others, and I can totally see the difference even in his coat.
Note: When switching your dog's food, ease into it to avoid upsetting their stomachs! Start by mixing the new food with your old food for a number of days until you've slowly weaned your dog into the new food!
Want to read more about Jax? Find my posts about Getting a Dog 101 here, & 10 Reasons Why Having a Dog is The Best here.
This post is sponsored by Stella & Chewy's. All thoughts and opinions are always 100% my own! This is the actual food we feed Jax, so I am thrilled to partner with them! I love the integrity of their products and think you'll love them too. Thank you for continuing to support LCK and the brands I work with!
4 comments
October 27, 2017
This website may at times receive a small affiliate commission for products that we shared with you in our posts. Although we may receive a commission for linking certain products, there's no additional costs to you and all of our opinion and suggestions are 100% our own and unbiased. That's our promise to you!
Subscribe to get our FREE clean eating guide!
Join our email list TODAY to start recieving our newsletter weekly, access to exclusive content and deals, *and* a FREE complete 24-page clean eating guide!