This easy sheet pan dinner is packed with flavors straight from the farm or the garden! Use up that fresh basil, parsley, cherry tomatoes, and green beans in this Herb Butter Salmon with Blistered Tomatoes and Green Beans dish! It comes together in under 20 minutes and will be a hit with the entire family!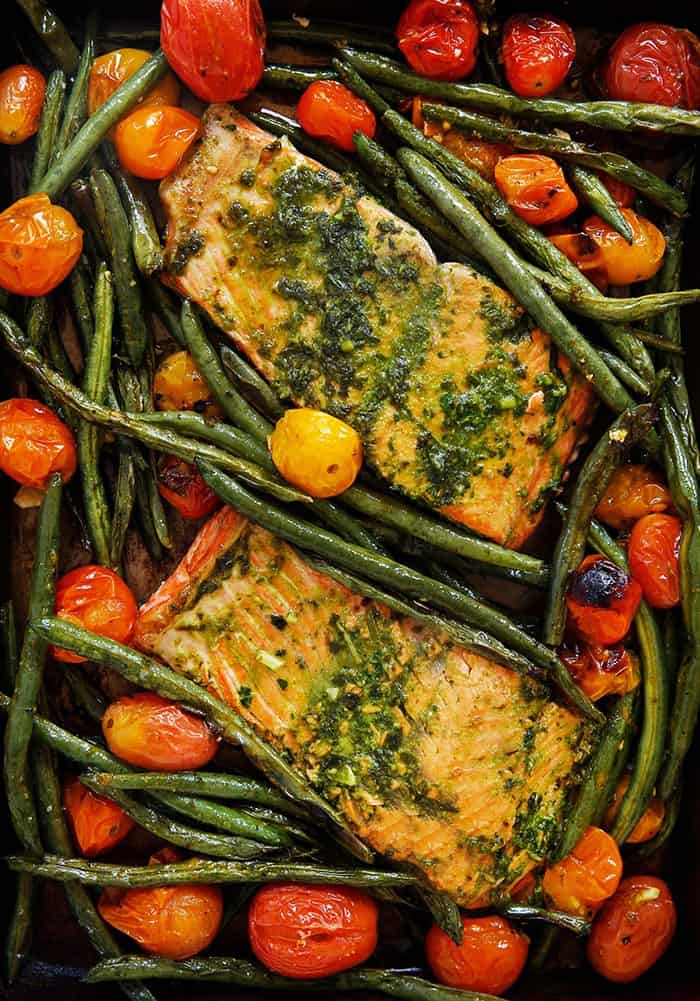 Week 6 of the CSA summer series with Fed and Fit and PaleOMG is already here. Where is summer going? We're getting married in like 10 days. It's about to be single digits. WHAT! That also means there are still 3 recipes left from each of us for the remaining week of August! You guys, there's just so many amazing recipes to use as a resource for your CSA cooking!
Herb Butter Salmon with Charred Tomatoes and Green Beans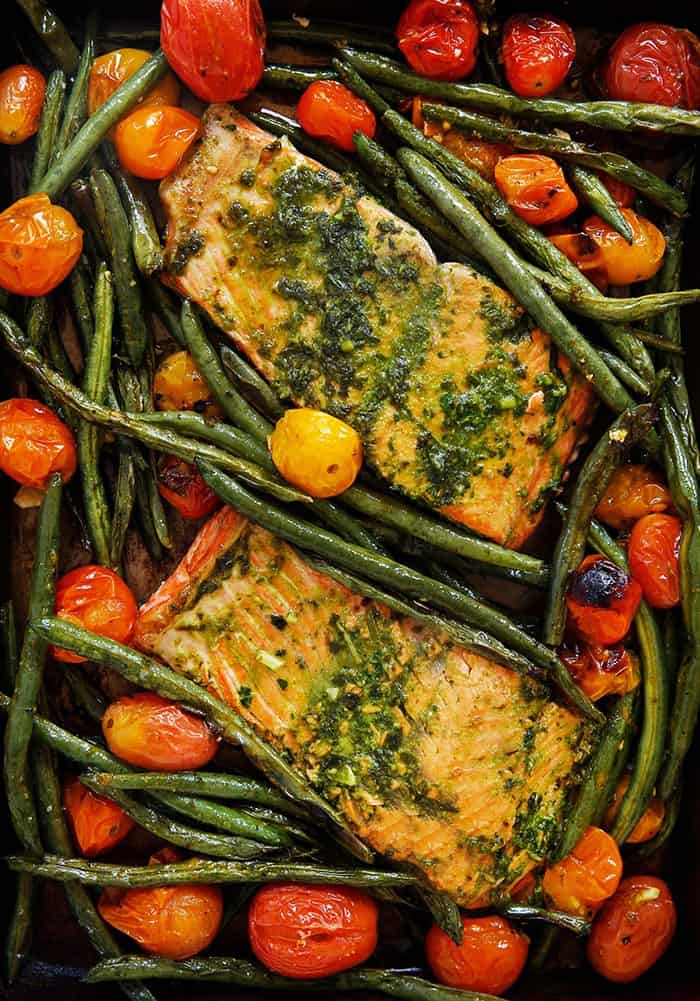 Ingredients
For the Herb Butter
Instructions
Preheat oven to broil high.
In a bowl toss tomatoes and string beans with oil or butter. Add salt and pepper.
Place on a baking sheet and broil for 5 minutes.
While broiling, combine butter ingredients in a blender and blend until combined.
Brush onto salmon and add the salmon to the baking sheet.
Broil for 7 to 9 minutes (longer for thicker salmon), until veggies are blistered and salmon is cooked through. Taste and add additional salt and pepper as desired.
---
This simple batch cook-friendly dinner is packed with flavor and an abundance of healthy Summer vegetables! Take advantage of this Summer's tomatillos, jalapenos, cilantro, onions, garlic, and poblano peppers. The salsa verde is a breeze to whip up and these meatballs are delicious over polished white or cauliflower rice!
This quick side dish of cauliflower and fennel is amplified with savory spices and pops of color jumping off your plate!
Happy cooking!