How to Make Baked Potatoes
Nothing beats a classic baked potato, with a creamy interior, and a crispy exterior. We're talking all about How to Make Baked Potatoes and our favorite ways to serve them to inspire your side dish game.
How to Make Oven Baked Potatoes
When done right, a baked potato should have a crispy exterior skin and a fluffy and flavorful filling. A good baked potato needs nothing more than a bit of butter or ghee and a little bit of salt and pepper. But a great baked potato can go much further, with many different options for customizing or stuffing. This classic side dish isn't complicated to make, but we do have a few tricks to share. We're showing you everything you need to know in order to make the BEST Baked Potatoes in the oven.
Looking for a good baked potato, but made quickly? Check out our Instant Pot Baked Potato recipe. Or how about a set it and forget it baked potato? Check out this Slow Cooker Baked Potato recipe.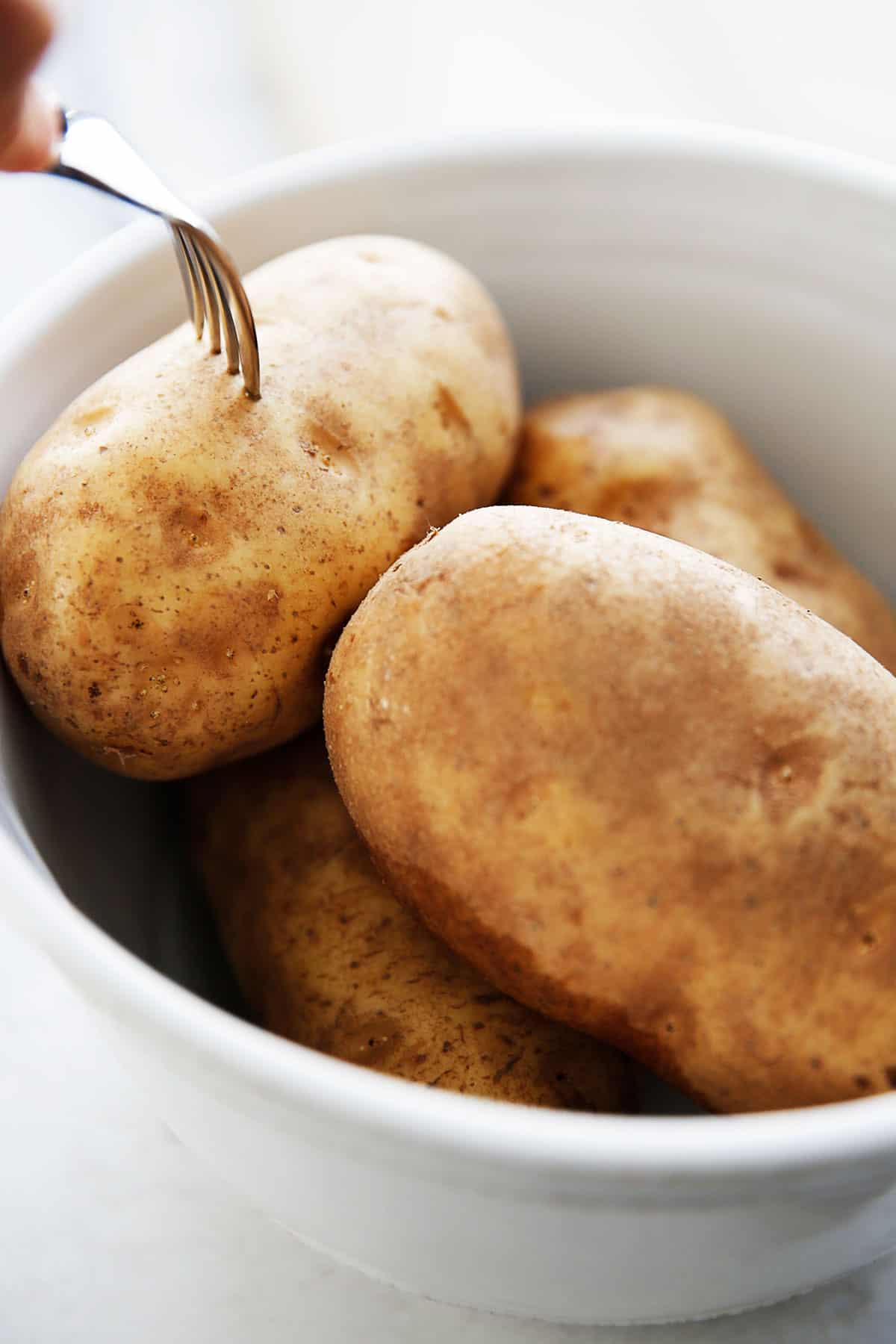 What Type of Potatoes are Best
Russett Potatoes are great because they have a high starch and low moisture content, which means really fluffy insides. Plus, that thick skin lends itself to getting nice and crisp on the outside (more on that later).
When buying potatoes, steer clear of any potatoes with soft or dark spots on the outside. This can indicate that there is a rotten or spoiled part inside of the potato, and we obviously want to try to avoid this since you won't know it until after it's been cooked. And of course, avoid potatoes with any sprouted eyes.
Other Ingredients Needed for this Recipe
Aside from the potatoes, you're going to need:
Oil

Coarse Salt + Pepper

Butter or Ghee (for placing inside of the potato after it's cooked)
Tools Needed
Sheet Pan
Fork
Pastry Brush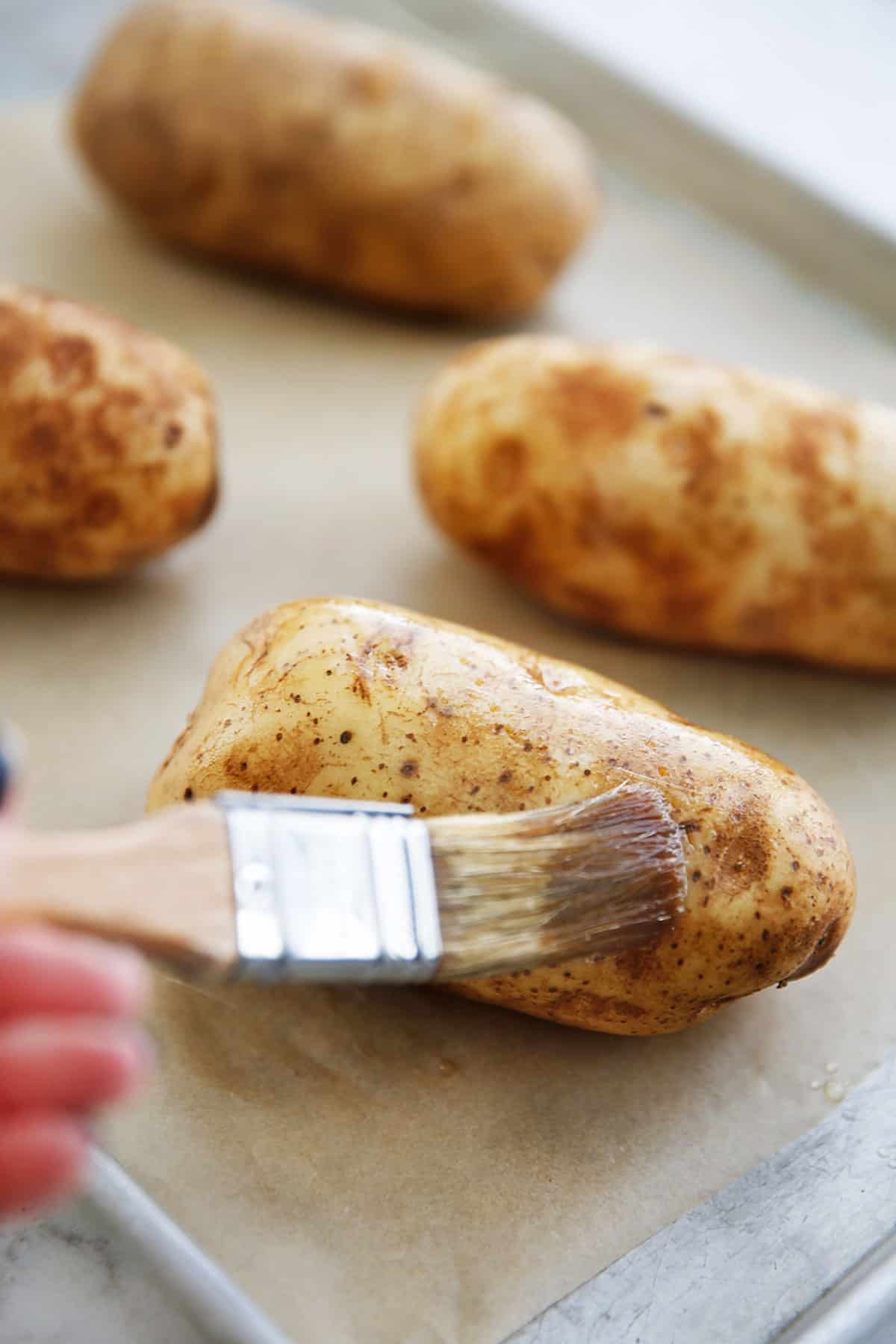 A Few Tips for Making Baked Potatoes in the Oven
Make sure to check the outside for any blemishes that might indicate any rot inside of the potato, since you won't know until you cut into them. Similarly, try to grab potatoes that are similar in size so they all cook at the same time.

Don't forget to poke those holes in the potatoes, to let the steam escape while they bake.
Make sure to rotate the potatoes as they cook, so they cook evenly and one side of the potato doesn't get too crispy, while the others remain soft. I find it helpful to set a time for 20 minutes, to make sure I go in and rotate throughout the baking time.
Be careful when you slice it and push the potato to open. Hot steam can escape and burn you if your hand is too close. The potato will be VERY HOT.
How to Serve Baked Potatoes
And now comes the fun part! Obviously baked potatoes are so delicious on their own, with a pat of butter or ghee, and a big pinch of salt and pepper. But stuffing these potatoes is a great way to go too! Here are some suggestions on what to stuff a baked potato with:
Classic Stuffed Baked Potato with sour cream or greek yogurt, crispy bacon, cheese and scallions.
Taco Stuffed Baked Potato with your favorite taco filling and taco toppings.
Chili Stuffed Baked Potato with homemade chili and chili toppings.
Pizza Stuffed Baked Potato with marinara sauce, mozzarella cheese and pepperoni.
Other stuffing ideas:
Steamed broccoli

Cheddar Cheese

Sour Cream or

Cashew Cream

Shredded Chicken (

Slow Cooker

or

Instant Pot

or Store-bought Rotisserie)

Chopped Tomatoes

Chopped Scallions

Crispy Bacon

Hot Sauce

Spicy Mayo

Avocado

Beans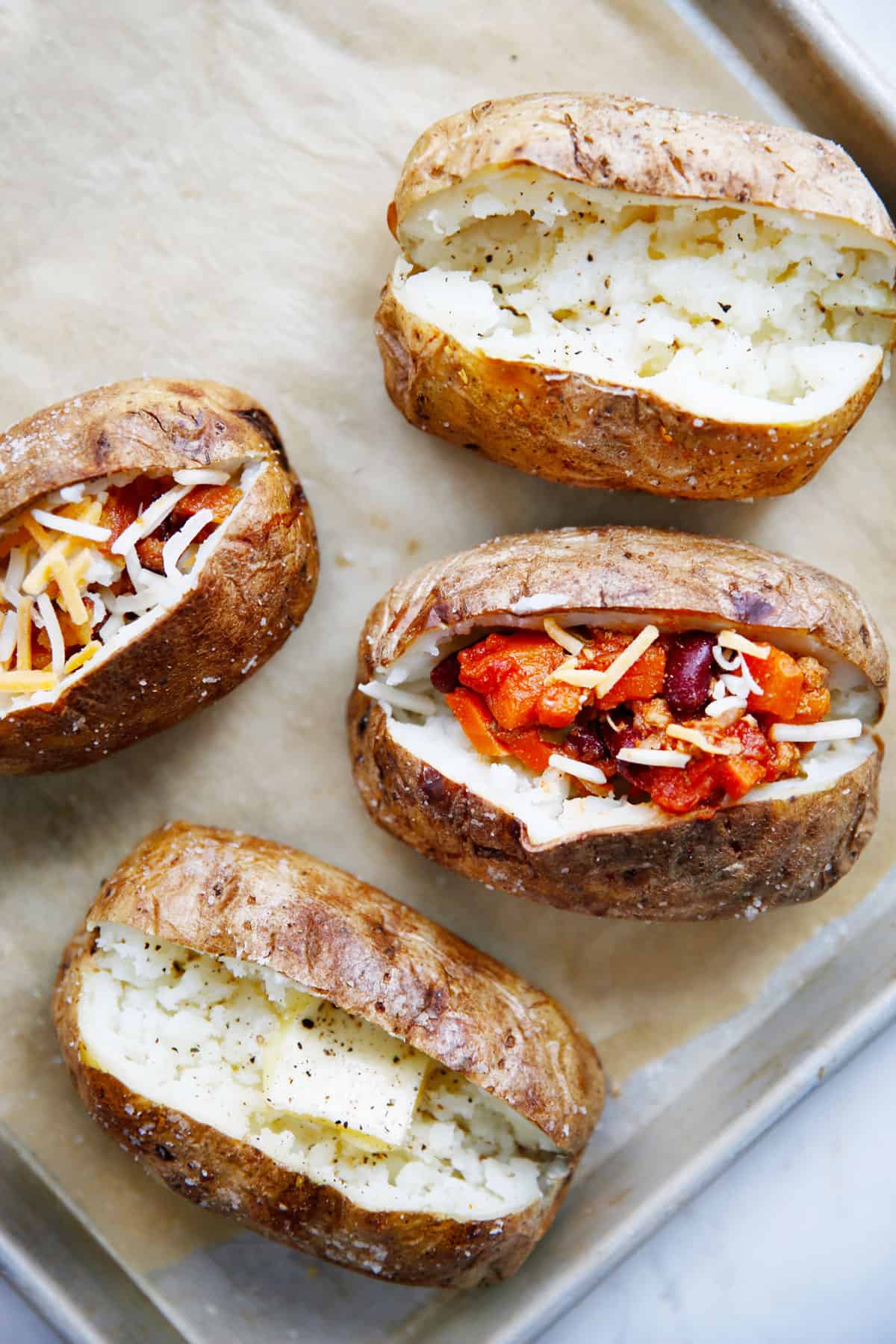 Watch the video here:
---
---
If you like this potato recipe, check out these others:
Print
How to Make Baked Potatoes
Nothing beats a classic baked potato, with a creamy interior, and a crispy exterior. We're talking all about How to Make Baked Potatoes and our favorite ways to serve them to inspire your side dish game.
Author:
Prep Time:

00:05

Cook Time:

00:50

Total Time:

55 minutes

Category:

Side Dish

Method:

Bake

Diet:

Gluten Free
Russet Potatoes

Avocado oil

1

–

2

tablespoons of butter or ghee

Fine Sea Salt

Freshly Ground Pepper
Instructions
Preheat oven to 425ºF.

Scrub and dry potatoes. Poke each potato all over with a fork.

Place potatoes on rimmed baking sheet. Rub or brush avocado oil over the potato and sprinkle each with a big pinch of salt.

Roast in the oven, rotating the potato every 20 minutes, until the potato is dry on the outside and easily pierced with a fork, about 50-70 minutes.

Carefully slice open the potato, and press it together to separate the flesh. Fluff the interior of the potato with a fork and add a pat of butter or ghee, a sprinkle of salt and fresh ground black pepper.

Add butter and salt or desired filling.
0 comments
February 28, 2021
This website may at times receive a small affiliate commission for products that we shared with you in our posts. Although we may receive a commission for linking certain products, there's no additional costs to you and all of our opinion and suggestions are 100% our own and unbiased. That's our promise to you!
Subscribe to get our FREE clean eating guide!
Join our email list TODAY to start recieving our newsletter weekly, access to exclusive content and deals, *and* a FREE complete 24-page clean eating guide!