These Lemon Herb Roasted Potatoes are crispy and golden on the outside and soft and smooth on the inside. This simple side dish is bright, fresh, savory, and takes just a few minutes to prep and everyone will love them!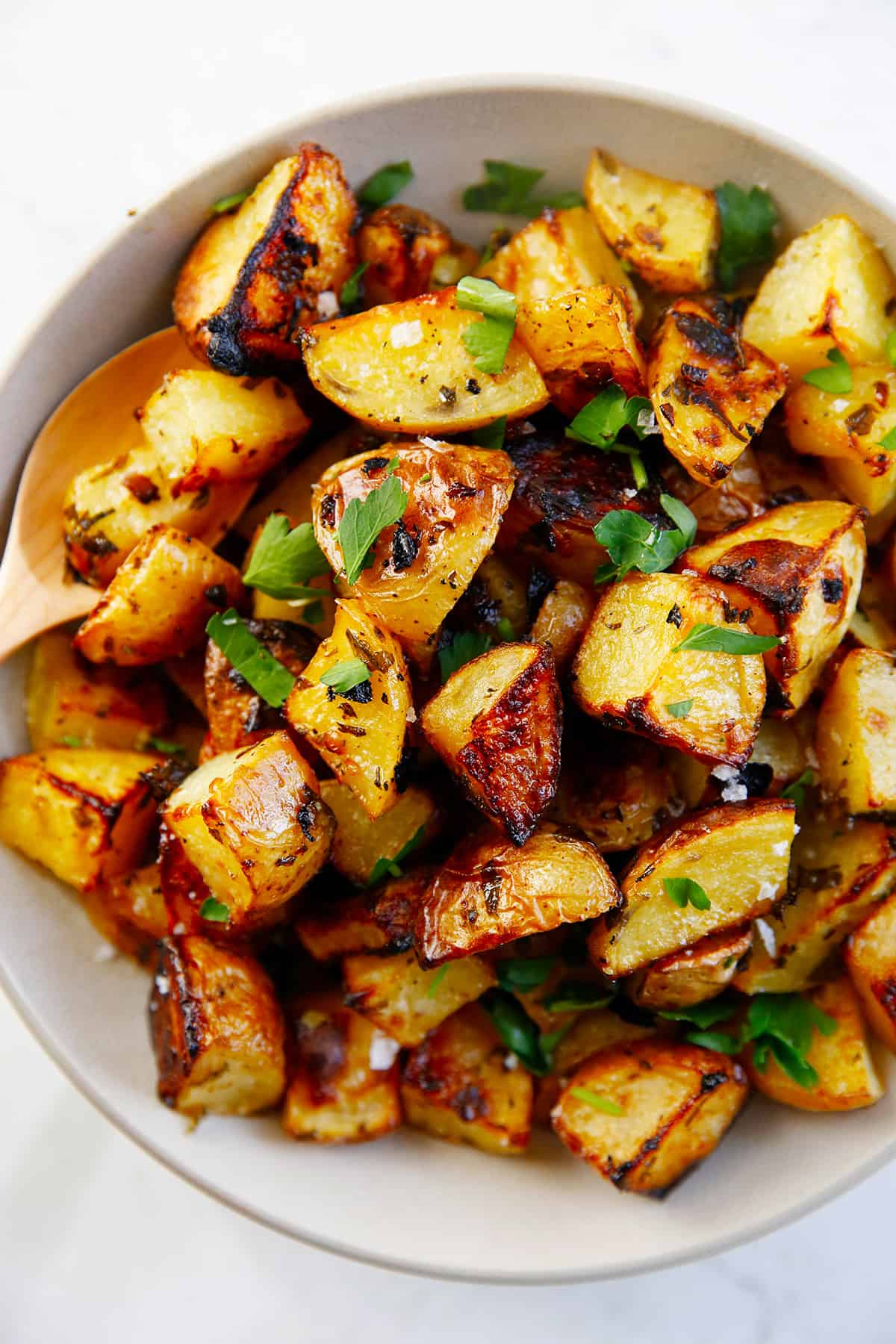 The Best Oven Roasted Potatoes
There are so many ways to cook potatoes and I love Mashed Potatoes, Gluten Free Potato Latkes, Cinnamon Roasted Sweet Potatoes, Roasted Potato Wedges and a good Baked Potato. But I have to say I think this roasted potatoes may just be an all-time favorite of mine. And these Herb Roasted Lemon Potatoes are one of the reasons why! 
This roasted potatoes recipe is made with fresh garlic, olive oil, lemon juice, just a few herbs and seasonings, and Yukon Gold potatoes cut into pieces. The result is tender, flavorful, golden, and crispy-yet-creamy, roasted potatoes.
This quick and easy side dish is delicious and incredibly versatile!
Ingredients Needed
These lemon potatoes require just a few simple and fresh ingredients!
Garlic: you will need 6 cloves of minced garlic! The more the better, in my opinion!
Lemon Juice: I highly recommend using freshly squeezed lemon juice. This recipe uses 3 or 4 lemons, depending on the size.
Oil: you can use avocado oil or olive oil to coat the potatoes before roasting.
Herbs: I use a combination of dried oregano and fresh parsley, but feel free to play around with whatever herbs you like.
Fine Sea Salt and Black Pepper: I keep it simple with salt and pepper, but any truly seasonings can go! A little paprika would be great!
Potatoes: I use Yukon Gold potatoes for their creamy texture.
How to Make Lemon Herb Roasted Potatoes in the Oven
This roasted potatoes recipe could not be any easier! Just a few minutes to prep!
Prep the potatoes: Cut the potatoes into 1-inch cubes, then toss them in a bowl with the remaining ingredients.
Roast: Transfer the potatoes to a lined baking sheet, then bake, flip, and bake until golden and crispy.
What Potato is Best for Roasting
My favorite potato to use for these Greek lemon potatoes is Yukon Gold. These potatoes are the perfect balance of waxy and starchy which makes them soft and creamy in the middle, yet still crispy on the outside.
If you can't find Yukon Gold potatoes, you can totally use Russet potatoes, red potatoes, or even sweet potatoes. You really can't go wrong!
Do You Peel the Potatoes?
You can if you'd like, but it's definitely not necessary. I actually prefer to leave the peel on because it's part of what helps the exterior of the potato chunks get nice and crispy!
Should You Soak Potatoes in Water Before Roasting?
Soaking the potatoes is completely optional, but it does help remove some excess starch which can help the potatoes get crispier. I choose not to soak mine to save time and they still come out deliciously crispy.
If you do decide to soak the potato chunks, simply place them in cold water and allow them to sit for 30 minutes or so. Be sure to pat them dry before roasting to remove excess moisture!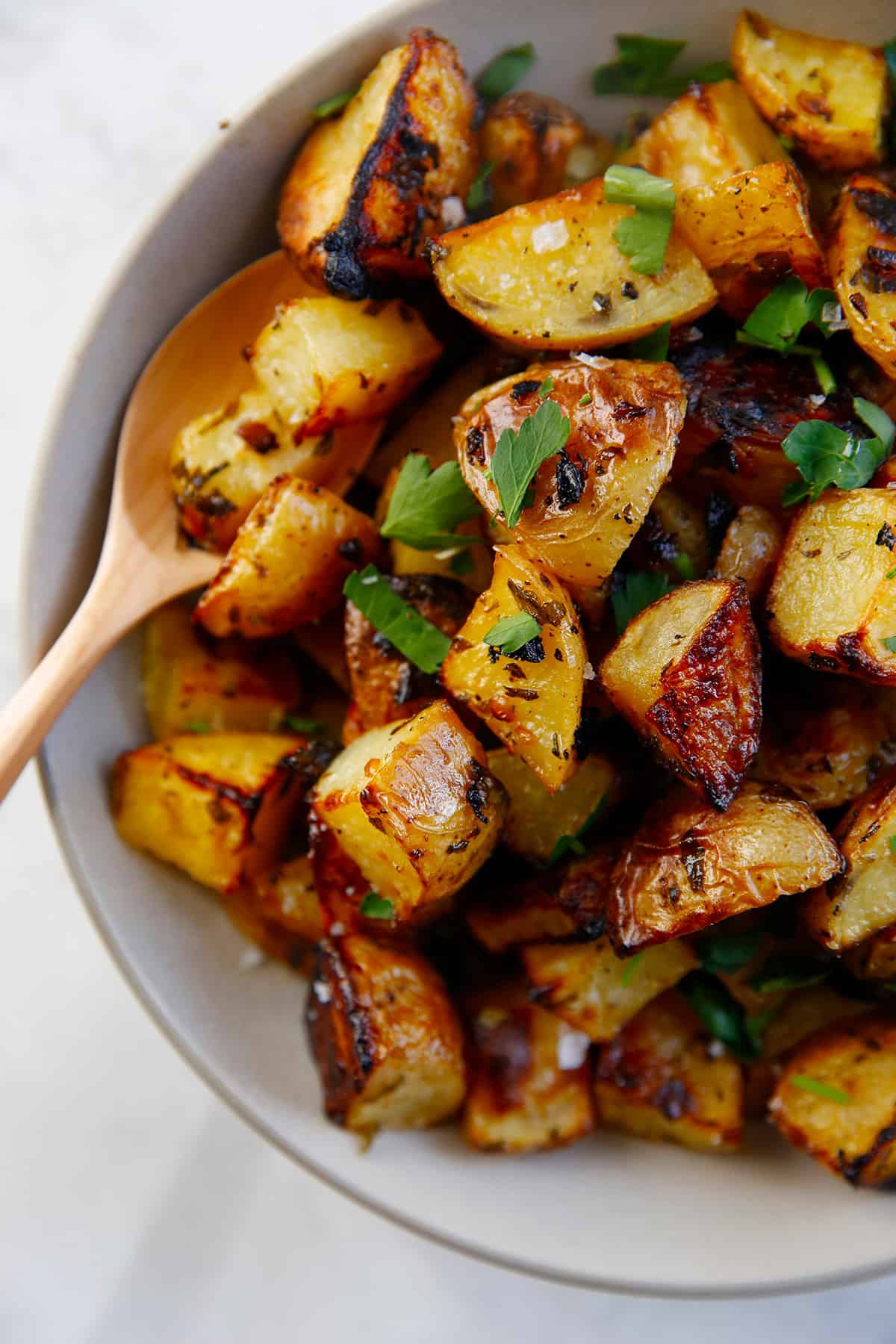 Do You Have to Boil Potatoes Before Roasting?
No! I don't in this recipe, but on the flipside, if you do, you'll have a quicker roasting time! Many say that's the secret to a crisp crust on the outside of your potato, but you'll see these get nice and crispy!
If you do want to however, place cut potatoes in a pot of boiling water for about ten minutes. Once the outside is soft but the inside is still raw and firm, remove, drain, toss with the oil/lemon/herb mixture, and roast. They'll be done a bit quicker, so keep an eye on them!
How Do You Get Crispy Roast Potatoes
There are a few things you can do to make sure that your oven-roasted potatoes come out perfectly crispy every time:
Leave the skins on. The skins get nice and crispy in the oven. I like to leave them on!
Make sure they're dry. You want your potatoes dry before roasting to get them nice and crispy!
Don't overcrowd the pan. Give the potato chunks space to breathe in the oven. We want the heat to reach them on all sides. If they're touching, the potatoes will steam rather than roast and crisp.
Flip them. Flipping the potatoes halfway through the roasting time allows the heat to reach them all over, not just on one side.
Bake at high heat. Roasting potatoes at 425ºF is hot enough that the potatoes crisp up, but not so hot that the outsides burn before the insides are cooked through.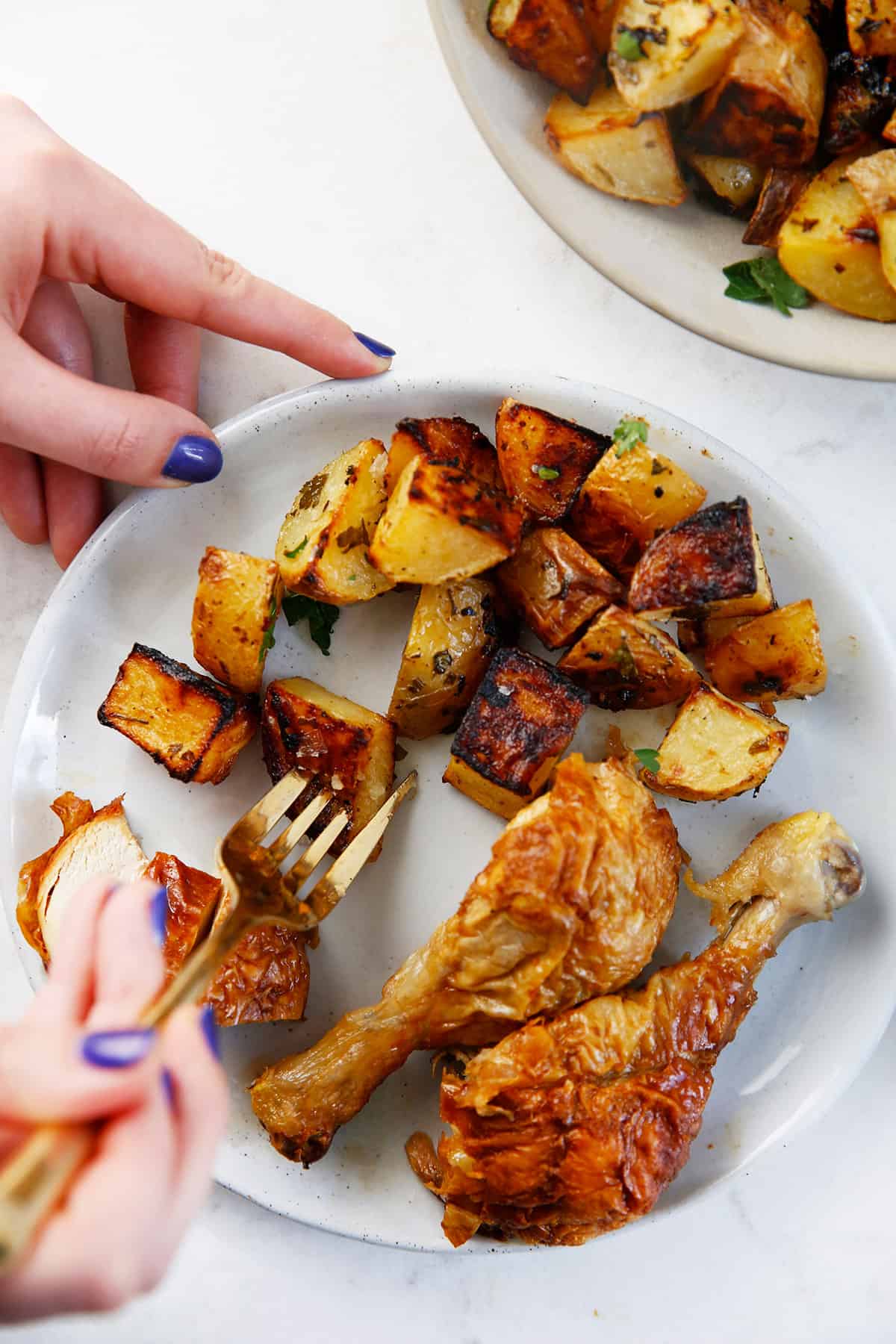 Variations
Play with seasonings. Keep it simple with salt and pepper or spice things up with chili powder, cayenne, paprika, Cajun seasoning, Taco Seasoning, Ranch seasoning, Italian seasoning, you name it.
Try other herbs. I love the dried oregano and fresh parsley combo, but you could also use rosemary, dill, basil, you name it.
Make them cheesy. Sprinkle the finished potatoes with freshly grated parmesan for a cheesy finish. Yum!
Serving Suggestions
These lemon potatoes are incredibly versatile! Serve them next to Greek Chicken Kebabs, Air Fryer Salmon, Grilled Chicken, Jalapeño Salmon Burgers, My Favorite Shrimp, or any of your favorite entrees!
How to Store
Leftover roasted potatoes will last in an airtight container in the fridge for up to 4 days. To reheat, warm in the oven at 350ºF until heated through.
I don't recommend freezing these roasted potatoes because the texture can become grainy when they're thawed.
More Easy Side Dishes
Watch The Video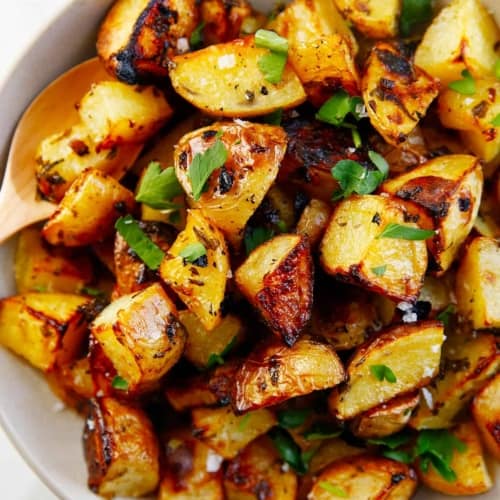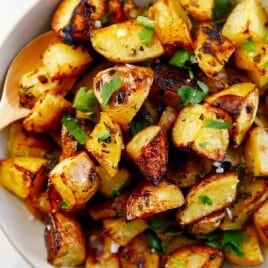 Lemon Herb Roasted Potatoes
These Lemon Herb Roasted Potatoes are crispy and golden on the outside and soft and smooth on the inside. This simple side dish is bright, fresh, savory, and takes just a few minutes to prep!
Ingredients
3

pounds

Yukon Gold potatoes

cut into 1-inch pieces

6

garlic cloves

minced

1/2

cup

freshly squeezed lemon juice

about 3 or 4 lemons

1/3

cup

olive oil or avocado oil

2

teaspoons

dried oregano

1/3

cup

fresh parsley

minced

1

teaspoon

fine sea salt

more as desired

Freshly ground black pepper
Instructions
Preheat oven to 425ºF and line a baking sheet with parchment paper.

Cut potatoes into 1-inch cubes.

In a bowl whisk together olive oil, lemon juice, garlic, herbs, and spices.

Add potatoes to the bowl and toss together to coat

Transfer potatoes to the lined baking sheet, making sure that they are spaced evenly apart and that the flat side of the potatoes are touching the baking sheet. If needed, use two baking sheets to make sure they have at least ½" of space between them. 

Bake in the preheated oven for 30 minutes, then flip the potatoes over and then bake for another 30 minutes until crisp and fork tender.