These Apple Hand Pies are such a great fall treat using my popular gluten-free pie crust recipe made with almond flour, and a classic apple pie filling that is heavy on the apple flavor, and perfect for so many things (hello pancakes & waffle topping)! They're gluten-free and and the cutest thing to bake up with the bushels of fresh apples undoubtedly piling up in people's homes this fall!  Plus, they are NOT hard to make!!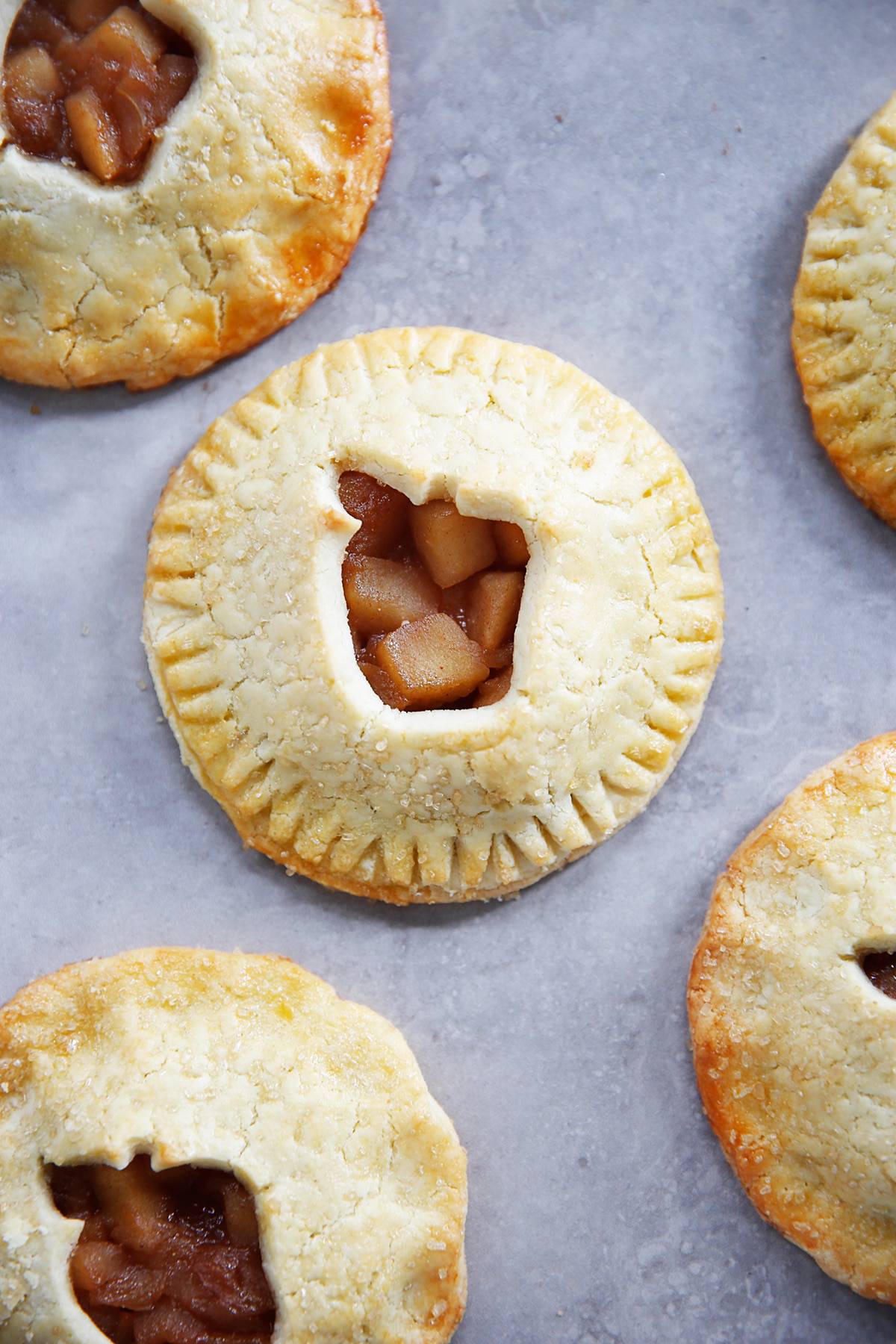 Apple Hand Pies
Apple season is upon us! The glorious time of year when we all head out to the apple orchards in our sweaters with lattes in hand and pick as many delicious apples as we can hold in our arms and carry back to our cars. While the act of picking the apples is always fun, even better is coming home and baking up all the goodies with our apple spoils. We've got a few new apple recipes coming your way this month, and this first one does not disappoint. I took my easy gluten-free pie crust recipe and made a quick stove-top apple pie filling to place inside the cutest apple-stamped hand pies.
When you make a whole apple pie (new recipe coming this month!) the apple filling is definitely the star of the show, but with a hand pie it is heavy on the crust. Since you all have been loving my pie crust recipe (we do too!), featured in a few recipes here on the blog and found in my cookbook, we knew we should start there. We added a touch more sweetener, in the form of honey or maple syrup, just to round it out.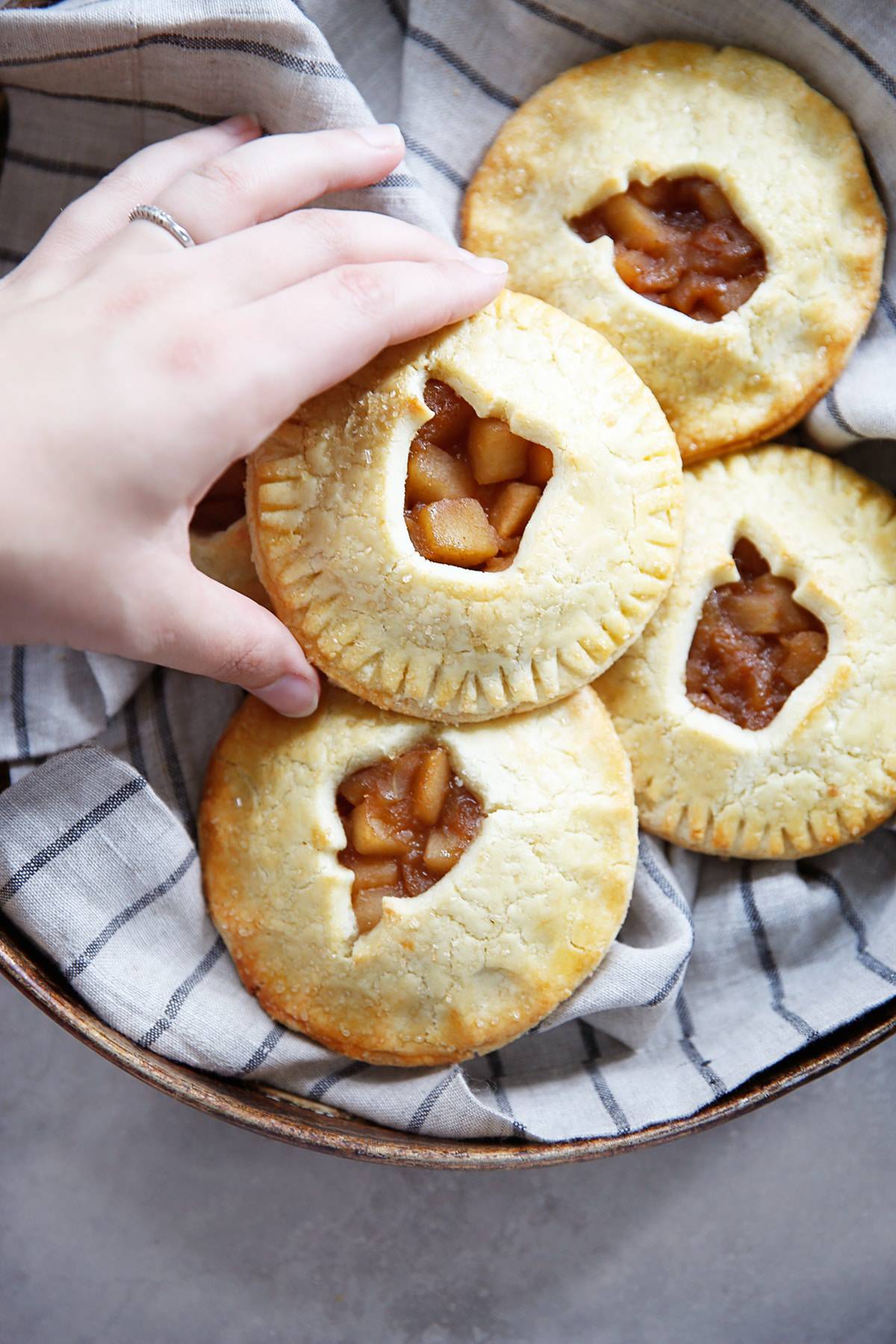 Next we moved on to our apple pie filling. Hand pies bake pretty quickly in the oven, so you have to pre-cook your apple filling. We chose to use gala and granny smith apples, but check out this Guide to Baking with Apples if you want to switch it up. Next we cooked them with apple cider to really accentuate the apple flavor. We don't go crazy with the spices, so it doesn't distract from the apple, but just enough to make it feel like fall. You have to fully cool the apple pie mixture before placing it in the hand pies, but luckily this step can be done 1-2 days ahead of time to make assembling these really easy.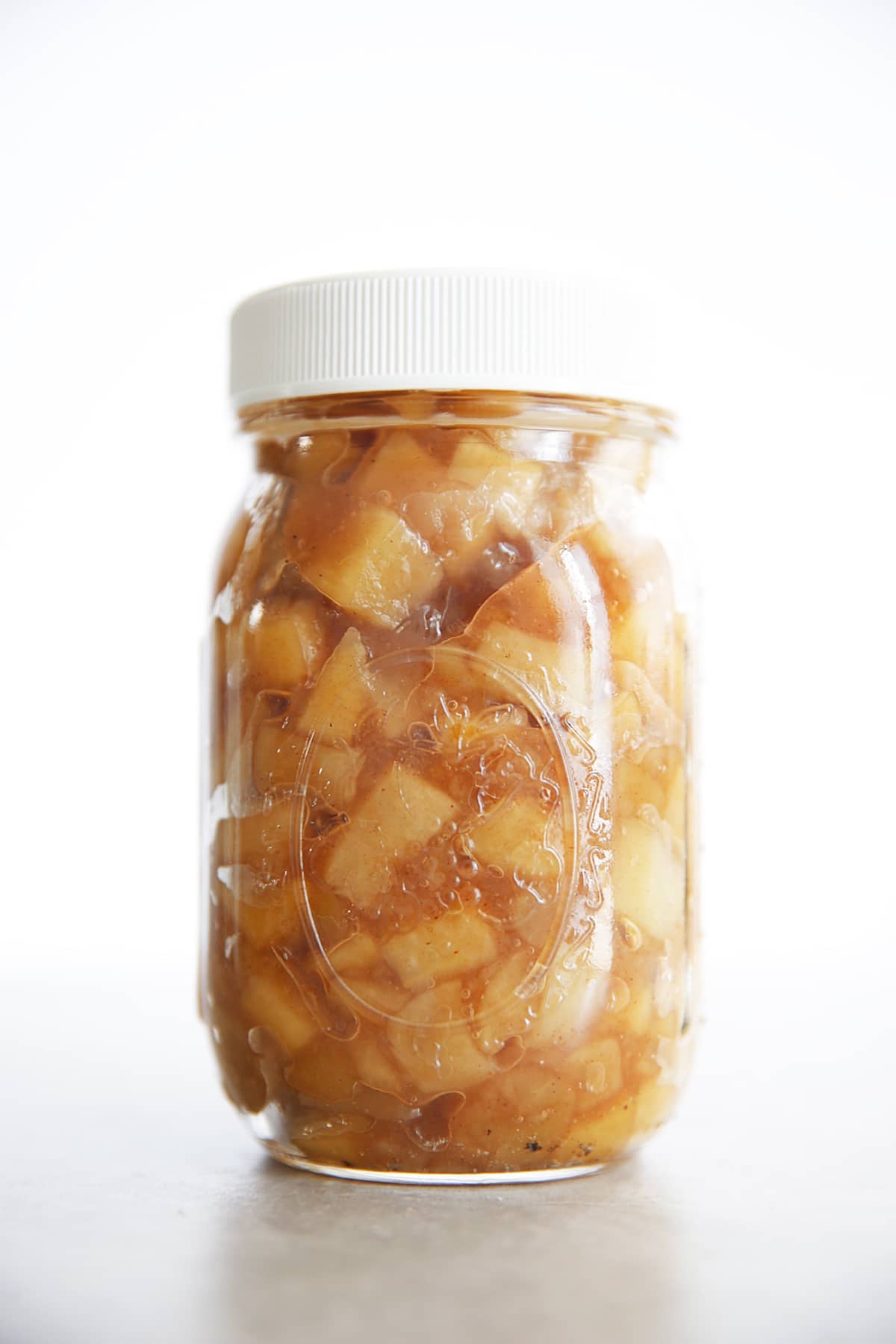 Tips for Rolling and Stamping Out Pie Dough
We know you aren't intimidated by rolling and stamping out dough thanks to the Healthier Pop-Tarts recipe, but just in case you are nervous about it, here are some tips:
Break down the steps: Make the pie dough ahead of time (1-2 days) then roll out the dough.
Use parchment paper to prevent the dough from sticking to the your work surface or rolling pin.
Work quickly when rolling, stamping and filling the hand pies. When the dough warms up, it's hard to work with. If it does get warm, no worries: just place it in the refrigerator to cool back down and then begin again.
Use cookie cutters to make uniform hand pies.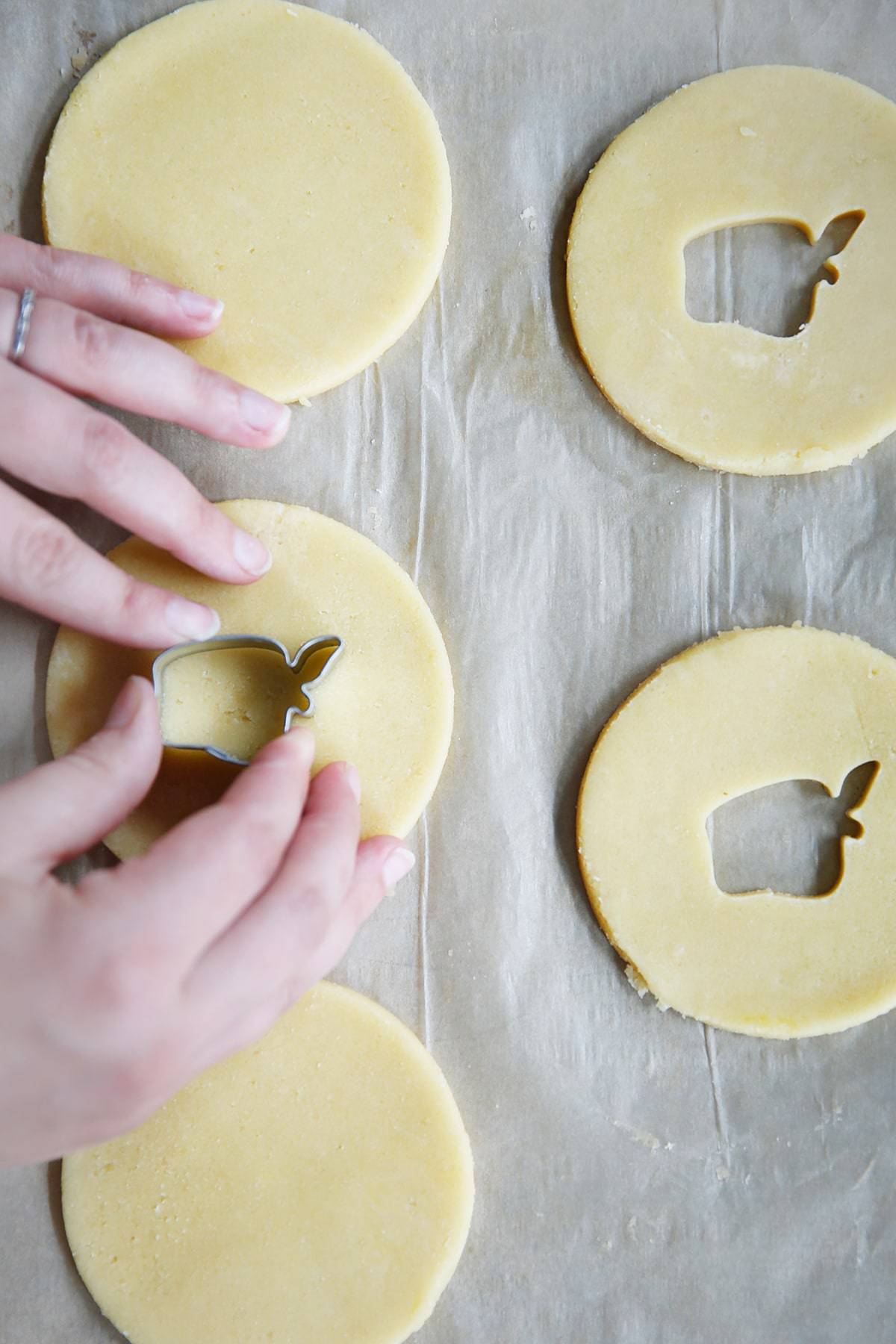 We filled the rolled out dough with about 3 tablespoons of cooled filling. As stated above, make sure the dough you are working with when placing the dough circles together is cooled so it doesn't melt and deform in your hands. Place one stamped out dough circle on top of the filled one and crimp with a fork to seal. No need to egg wash them together as they seal pretty nicely.
Tools we use:
How Long Do You Bake Hand Pies?
Once the hand pies are filled, egg washed on top and sprinkled with sugar (if using) they bake up pretty quickly in a 350ºF pre-heated oven for 15 minutes or so. We wanted a uniformly golden crust so halfway through we rotated the hand pies on the sheet tray. They last at room temperature about 2-3 days in an air-tight container, and can be reheated in a toaster to crisp up the crust.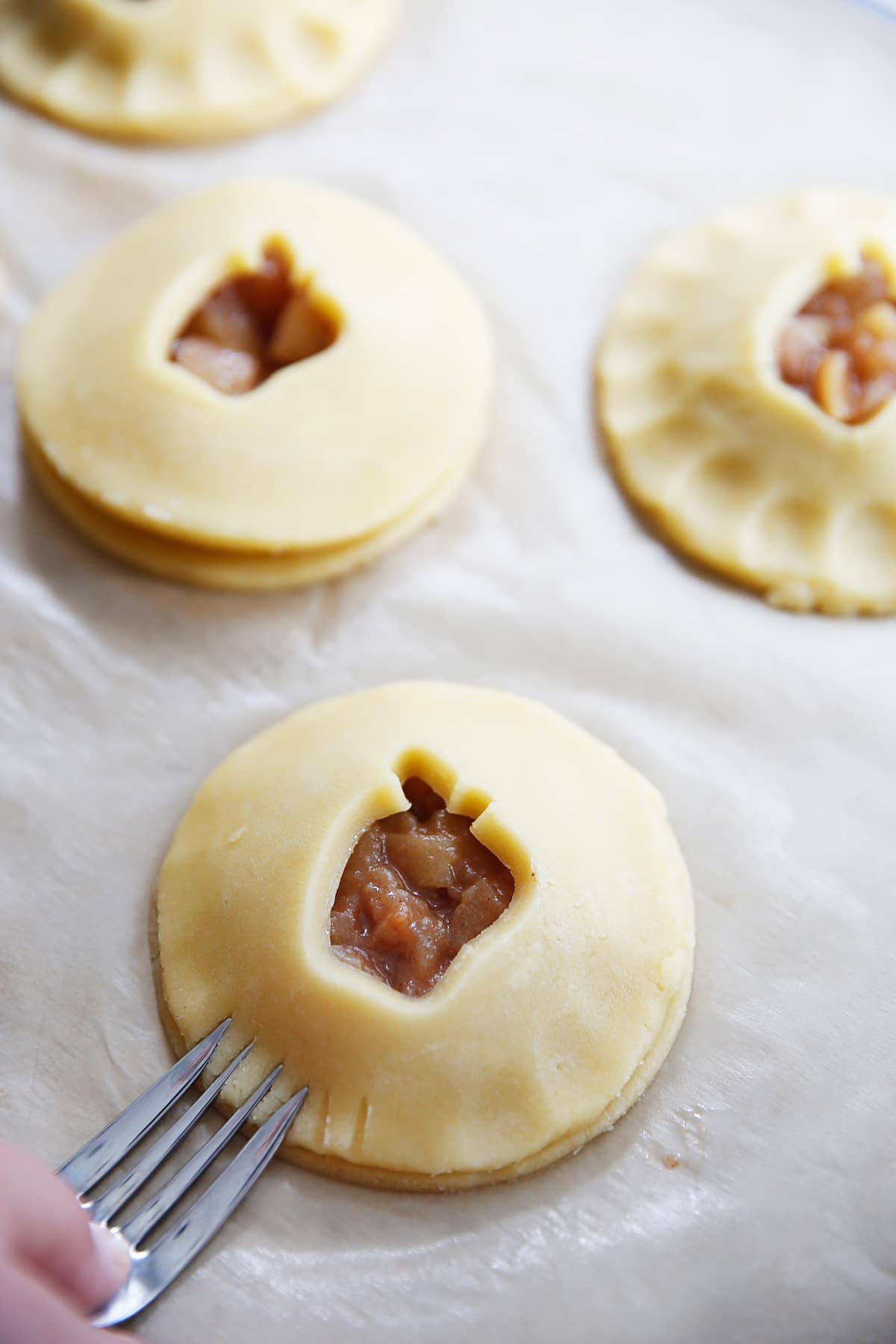 If you like this fall dessert recipe, check out these other fall favorites: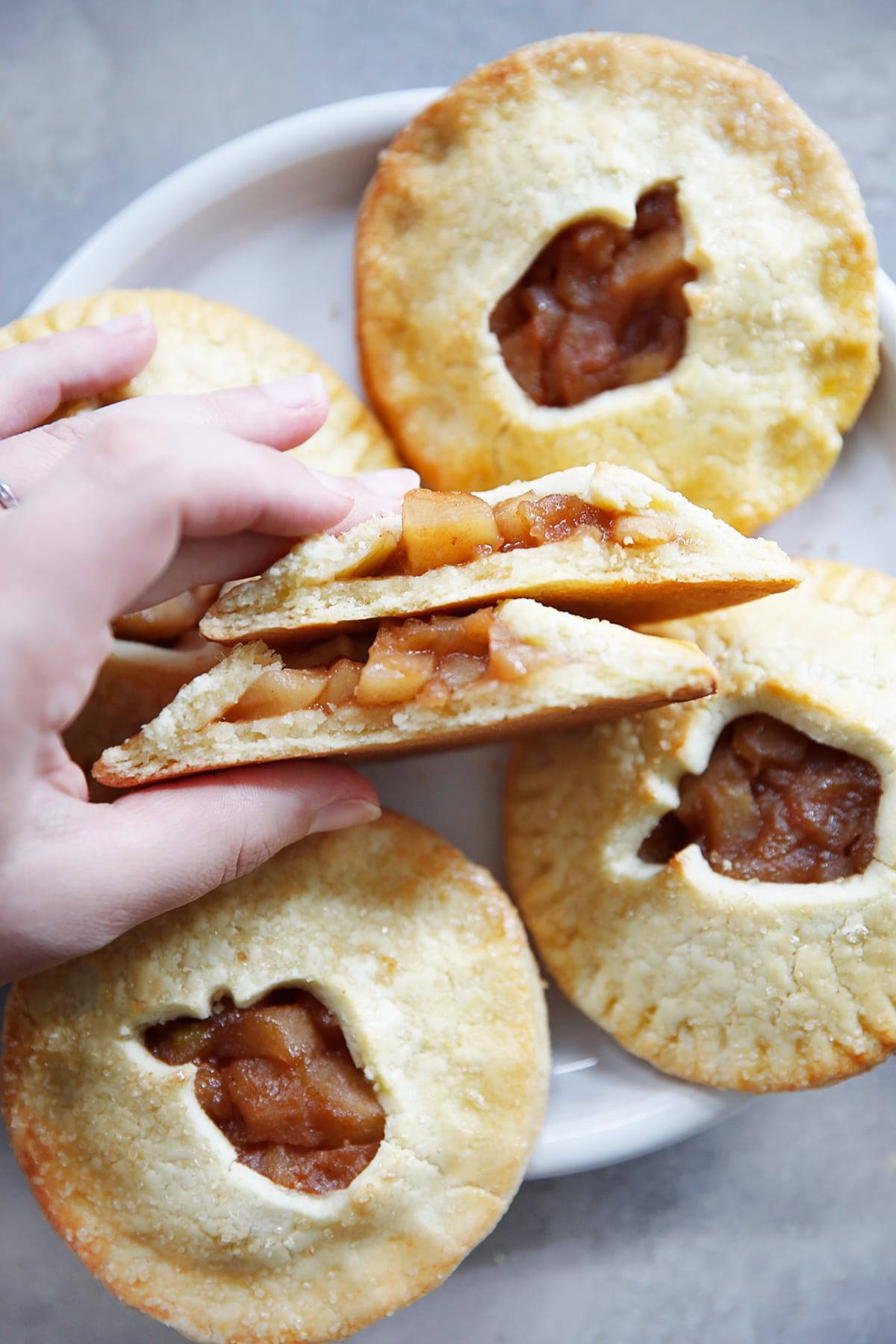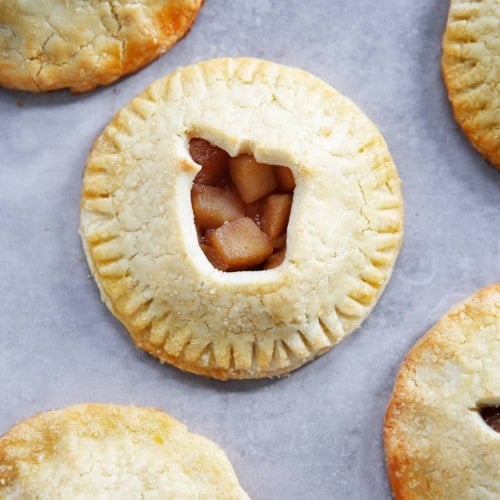 Apple Hand Pies (Gluten-Free)
Ingredients
For Apple Filling:
2

medium gala apples

peeled, cored and diced to 1/2"

2

medium granny smith apples

peeled, cored and diced to 1/2"

1/2

cup

apple cider

2

tablespoon

maple syrup

1-1/2

teaspoons

lemon juice

3/4

teaspoon

ground cinnamon

pinch

nutmeg

1/4

teaspoon

fine sea salt

2

teaspoons

tapioca starch

1

tablespoon

water

1

teaspoon

vanilla extract

1

tablespoon

grass-fed butter

optional
To Assemble:
1

egg

for egg wash

coarse raw sugar

optional
Instructions
To Make Crust:
In a food processor combine

almond flour

,

tapioca flour

, and cold butter and pulse until the butter is broken down into pea-sized pieces.

Add in egg and honey and process until the dough comes together.

Shape dough into a round disk, wrap in plastic wrap and transfer to refrigerator until cold, at least 4 hours or overnight. (See note)
For Pie Filling:
In a medium sauce pan, add apples, apple cider, maple syrup, lemon juice, spices and salt and heat to medium-high. Cook, stirring frequently for 8-10 minutes until the exuded liquid from the apples has reduced and the apples are soft, but not broken apart.

In a small bowl make a slurry using tapioca and water and add it to the apple mixture, stirring continuously. Cook for 1 minute or until the mixture has thickened up.

Once thickened, add vanilla extract and optional butter and stir to combine.

Cool apple pie filling completely.
To assemble:
Between two sheets of parchment, roll out dough to a thickness of 1/16" - 1/8" of an inch. Stamp out 10 circles that are 4" in diameter using a cookie cutter. You may have to re-roll scraps 2 or 3 times to get 10 circles. If your dough starts to get too warm to work with, place in the refrigerator on sheet tray until cool enough to handle 10-15 minutes.

Gently place 5 circles on parchment on sheet pan. Place the remaining 5 on a separate sheet of parchment and if desired stamp out an apple shape from the center using a cookie cutter and stack on top of parchment line baking sheet. Place dough in the refrigerator on pan to chill for 15-20 minutes while the oven is pre-heating.

Preheat oven to 350ºF.

Remove dough from refrigerator and take off one sheet of dough lined parchment and set aside. Place 3 tablespoons of apple pie filling in the center of the dough and gently smooth down down the filling leaving a 1/2" border of pie dough. Repeat for the remaining 4.

Top each filled dough with stamped dough circle and press your fingers along the edge to seal tightly.

Use a fork to crimp the edges. Brush with egg wash and top with raw sugar if desired.

Bake at 350ºF for 15-18 minutes, rotating half-way through, until the crust is golden brown.

Let cool briefly before serving. Store at room temperature for 2 days in a closed container, reheating briefly in a toaster oven to crisp up crust before serving
Notes
Pie dough will keep in the refrigerator, wrapped well, for 2-3 days.
If pie dough is getting too sticky to work with, always place it in the refrigerator. Cooling down the pie dough as needed is the best trick you can use to make the prettiest hand pies.
See this post all about making Gluten-Free Pie Dough for troubleshooting tips!
What apple treats do you plan to bake up this fall?