Ever wonder how to make Homemade Healthier Pop Tarts? I've been dreaming of making a healthier pop tarts recipe for some time now, and we've finally got the homemade pop tart recipe just right for you! This homemade pop tart recipe is gluten-free and grain-free, and pairs wonderfully with my homemade chia seed jam. Frost and enjoy!
Homemade Healthier Pop Tarts
Growing up, I absolutely loved pop tarts. S'mores, Strawberry Frosted, and Cherry Frosted were my favorites. I've been wanting to make my own paleo version to enjoy, and with much anticipation, they are finally here!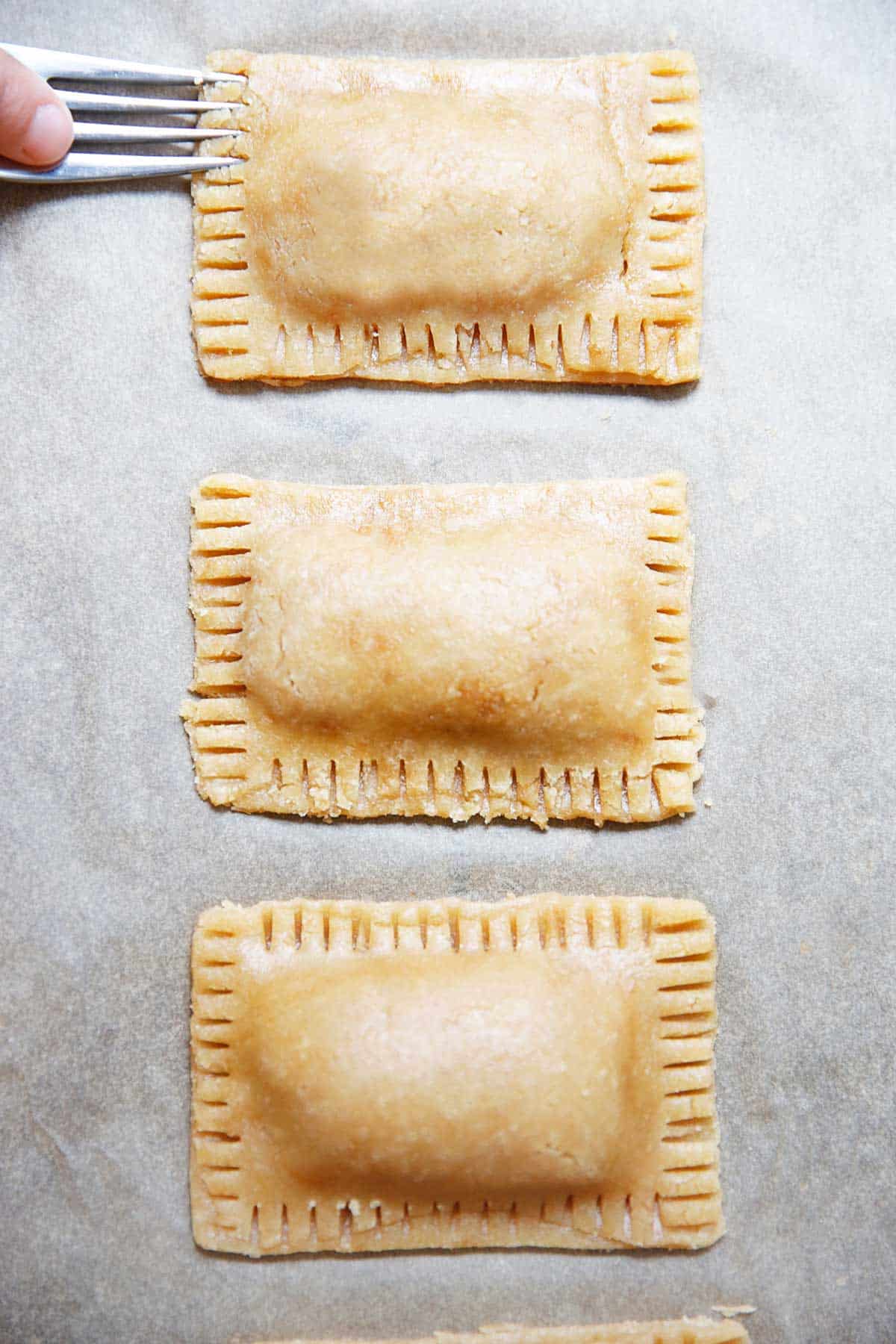 Homemade Pop Tart Recipe
We are in love with this Homemade Healthier Pop Tarts recipe! This pop tart crust is based off of my pie crust recipe. For all the versions we tested, this is my absolute favorite! It takes a little prep work, but then you'll have pop tarts and you'll be winning at your weekend brunch or mid-day snack break!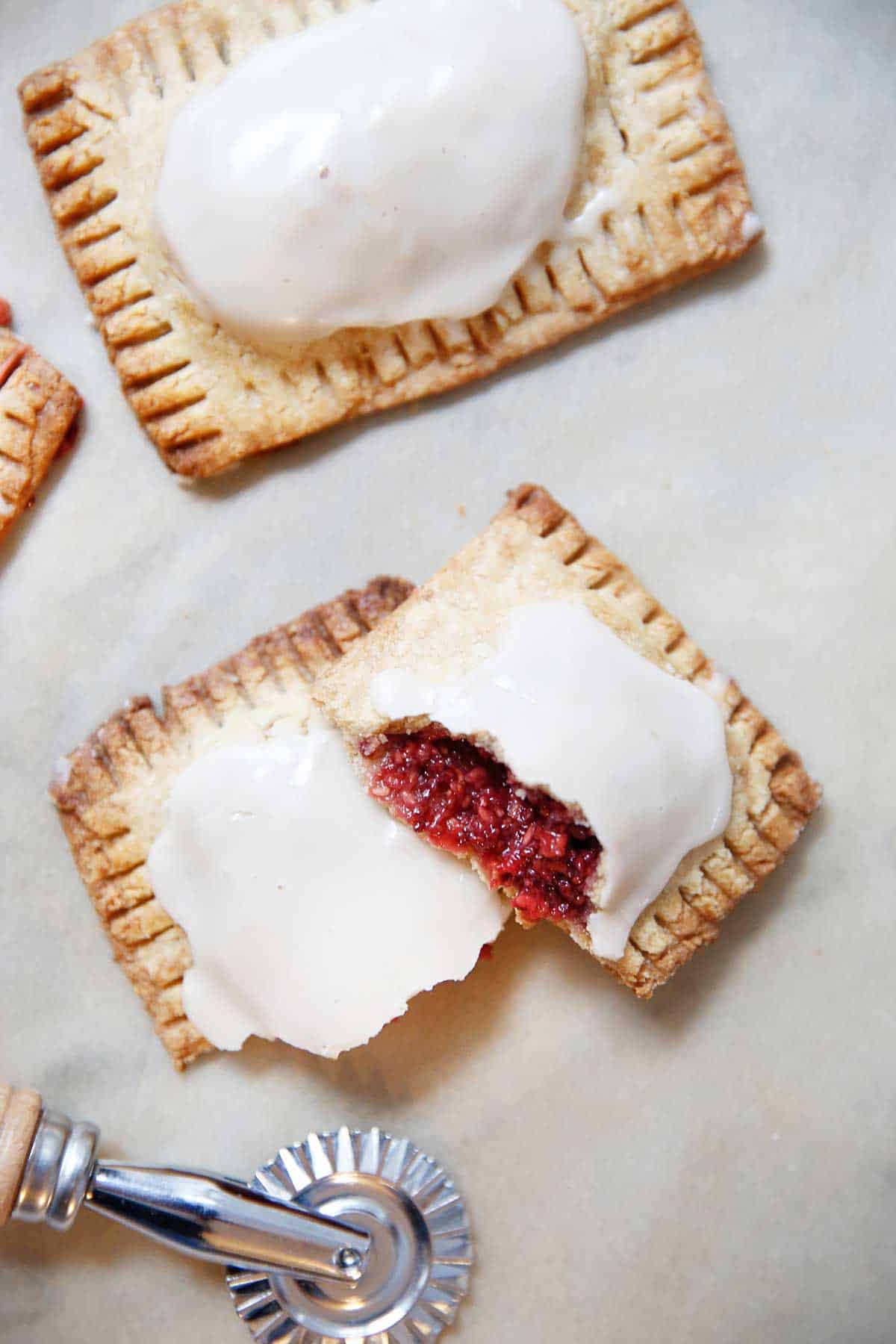 You will LOVE these Healthy Homemade Pop Tarts! You can make the jam filling into any flavor you'd like: strawberry, raspberry, blueberry, etc. They would even be great with my homemade nutella!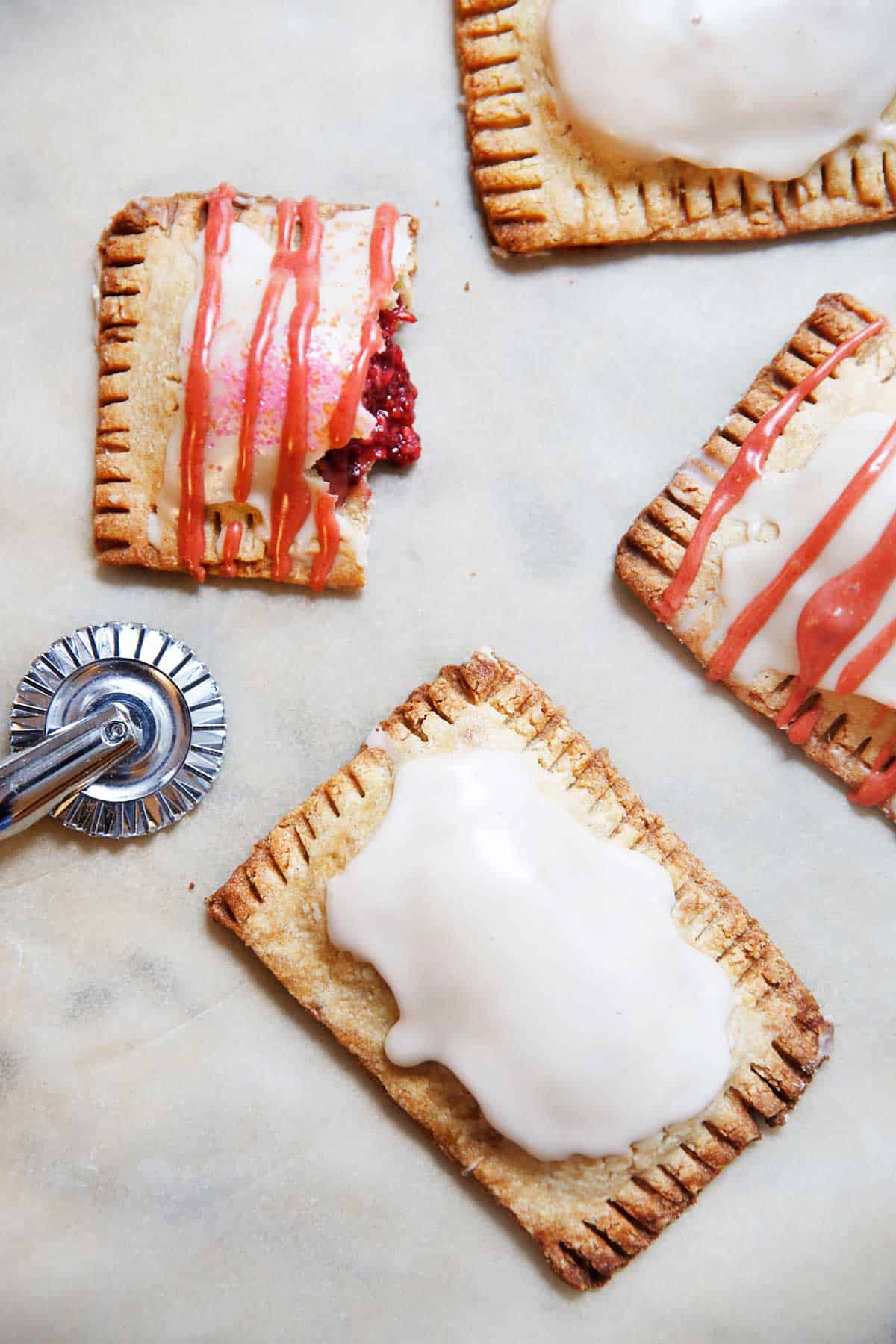 Want other breakfast treat recipes? Try these:
Homemade Pop Tarts With Pie Crust

Watch the video: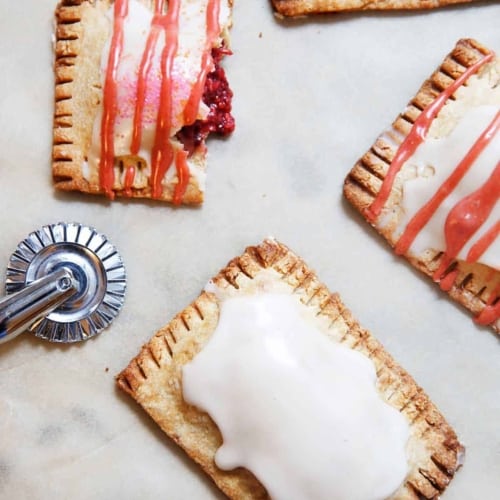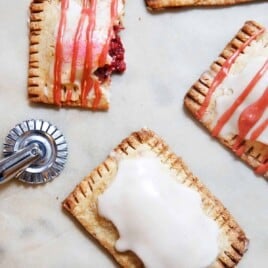 Homemade Healthier Pop Tarts (Gluten-Free + How-To Video)
Ingredients
1 Batch Lexi's dough:
1

cup

almond flour

1

cup

tapioca flour

1/2

teaspoon

sea salt

1/4

cup

maple sugar

4

tablespoons

butter

1

large egg
1 Batch Homemade Jam:
2

cups

fresh organic blueberries

strawberries, or fruit of joice

2

tablespoons

raw honey

2

tablespoons

lemon juice

2

tablespoons

chia seeds
Glaze:
½

cup

powdered sugar

2

teaspoon

cashew milk or almond milk

¼

teaspoon

vanilla extract

almond extract

Optional: Add 1 teaspoon freeze dried strawberry powder to color your glaze.
Instructions
Make dough, chill overnight:
In a food processor combine almond flour, tapioca flour, cold butter, and sea salt.

Add in sugar and egg and process until dough combines.

Transfer dough to refrigerator overnight.
Make jam, chill:
Add blueberries, honey and lemon juice to a pot and stir until combined.

Over medium-low heat cook until blueberries are soft and bubbling, about 5 minutes.

Lightly smash blueberries and reduce heat.

Add in chia seeds and mix to combine. If you're using raspberries, or a berry with lots of seeds, reduce chia seeds to 1 tablespoon.

Bring heat back to medium-low and let it simmer, stirring frequently to prevent burning, until jam thickens, about 5 minutes.

Turn heat off and let cool for 5-10 minutes before transferring to jars.
Roll Dough:
Between two sheets of parchment, GENTLY roll out dough evenly to 1/8th- ¼th inch thickness. Use knife or pizza cutter to cut rectangles 4" by 2.5". The dough should yield 12 squares. You may have to reroll scraps to get this many 2 or 3 times.

Preheat oven to 350ºF.

Gently place 6 pieces of dough on parchment on sheet pan. Place the remaining 6 on a separate sheet of parchment and stack on top. Place dough in the refrigerator on pan to chill for 30 minutes.

Place 1 heaping tablespoon of jam in the center of the dough, repeat for 6 total.

Use a pastry brush to brush water along the edges of the dough. Top each poptart with the remaining dough rectangles. Press your fingers along the edge to seal.

Use a fork to crimp the edges.

Bake at 350ºF for 12-15 minutes until the crust is golden brown. Let cool.
To Glaze:
In a bowl whisk together powdered sugar, milk and extract.

Dip or drizzle glaze onto the cooled pop tarts.

Store in the refrigerator for 1 week or freeze for up to 3 months.
Notes
If you cannot tolerate butter, sub ghee or coconut oil in the crust, but butter is preferred.
I like this powdered sugar. Feel free to omit for paleo.
Nutrition
Serving:
6
g
Calories:
251
kcal
Carbohydrates:
34
g
Protein:
4
g
Fat:
12
g
Saturated Fat:
5.8
g
Cholesterol:
50
mg
Sodium:
227
mg
Fiber:
2.6
g
Sugar:
24
g