Winter dry skin here in Boston is NO joke. I've talked about dry skin before, and how to beat it, but I need to spotlight one product and how I use it that has changed my dry winter skin this year for the better. As soon as the temperatures drop and the air becomes less humid, it's no secret that dry skin starts to appear, even those who normally don't have a problem with it. I've had such issues with this in the past, but not this year! I've finally found the one product that has changed the game for me and today I'm excited to be sharing my #1 must-have face product for dry skin!

My #1 Must-Have Face Product For Dry Skin
Meet… the super popular Cleansing Balm! It's an award-winning product and one of their most popular items, and admittedly, one that I waited way too long to try out. I've been using Beautycounter's Cleansing Balm for about a year now, but this winter I've been using it a little bit differently that has eliminated my typical dry and flaky winter skin and I'm so glad I discovered it.
What is the Cleansing Balm
This is the product that does it all– literally! The Cleansing Balm is:
A daily cleanser and makeup-removing balm: It doesn't foam like a typical cleanser, but it definitely cleans your face really, really well. You simply massage an almond-sized amount onto dry skin, applying gentle pressure to cheeks, forehead, and eyebrows for increased circulation. Gently wipe it off with a dampened cleansing cloth and thoroughly rinse skin
A replenishing overnight mask: Massage it into clean skin and rinse away in the morning when you wash your face.
AND the ultimate moisturizer: This has been the game-changer for me! How I use it as a moisturizer below.
How I Use the Cleansing Balm
Since winter has started I've been using the the cleansing balm as a thick moisturizer that has halted the dry, itchy skin I usually experience in colder months. It is so hydrating (made with raspberry and cranberry seed oils… think Vitamin C!) and my skin just soaks it up! I use it in the morning and at night before bed, and even before applying make-up!
Let me say, I have breakout prone skin, so I don't take moisturizers lightly, since I can so easily breakout. I use an almond-sized amount in the morning and at night, or any time my skin is feeling particularly dry after spending time outdoors. While on vacation I also used it after being in the sun and the beach (you know that tight skin feeling?) and my face was seriously grateful.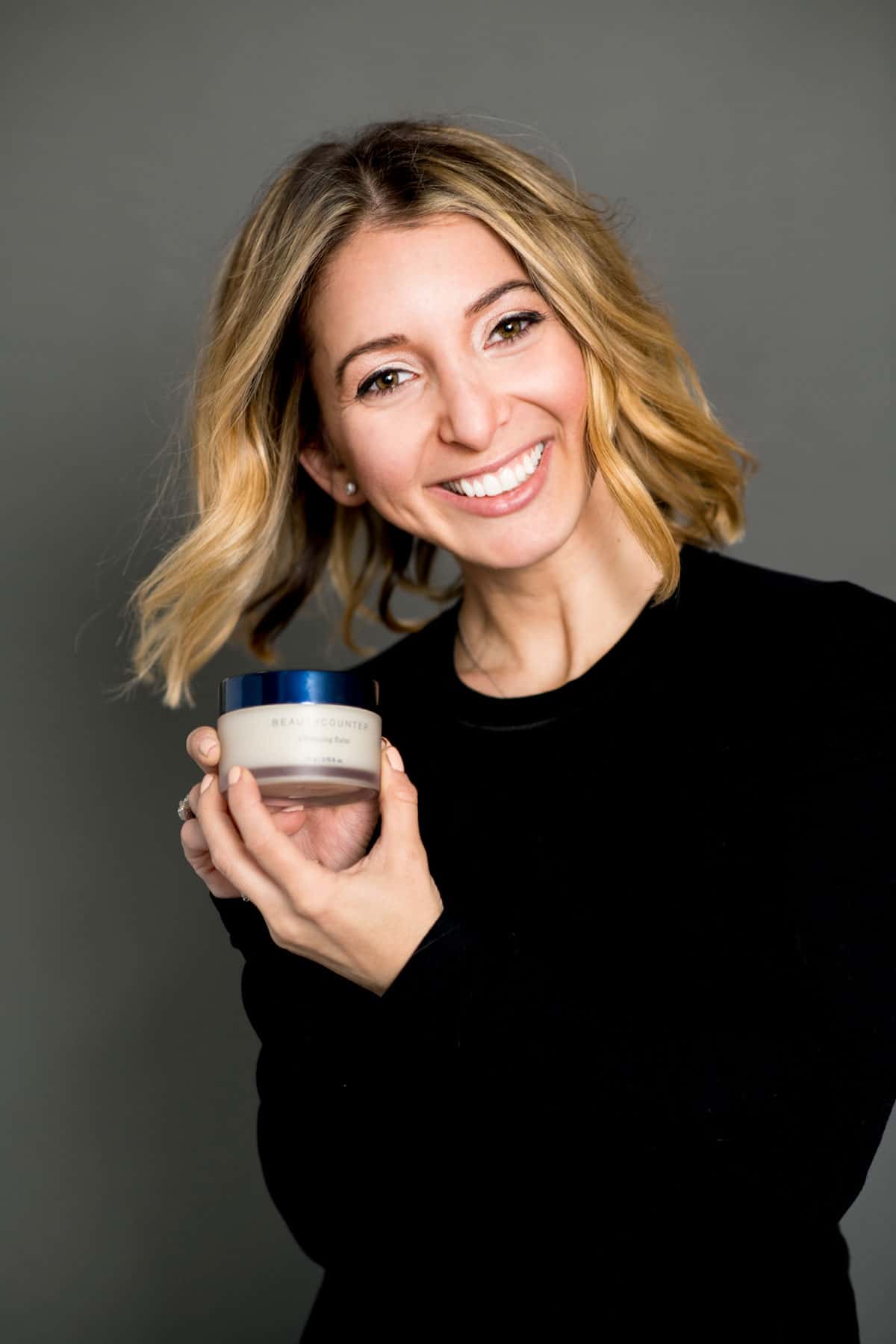 ---
Other Environmental Factors to Help Dry Skin
Last year we talked all about how to deal with enviromental factors that affect your skin, but I feel it's important to recap here because I certainly focus on these as well when it comes to dry skin.
Here are some tips to help beat winter dry skin:
Get a humidifier: Add moisture BACK into your skin at night while sleeping.
Drink and eat more water: Carry a water bottle with you wherever you go to constantly remind yourself to hydrate and consume more nutrient-dense fruits and vegetables, which in their natural forms typically have high hydration levels and electrolytes!
Consume more healthy fats: If you don't already eat a variety of healthy fats in your normal diet, now is a great time to add them in as healthy fats will contribute to your skin health and fats help keep moisture in.
Have a good skin care routine for your face: Nourish your skin topically by establishing a good routine, and don't forget these key things:

As much as possible use skin care products without harmful chemicals (why I proudly support Beautycounter, a B-corp fighting to change the industry overall)
Exfoliate at least 3x a week (I like this exfoliating scrub for a deeper scrub and the Beautycounter Overnight Resurfacing Peel)

Have a good skin care routine for your body:

Dry Brush before you shower to remove dead skin!
Exfoliate in the shower with this body scrub (or make your own).
Moisturize: I LOVE Primally Pure's body butter. I always have it for myself and get it for my friends who are pregnant to use on their bellies!
---
Want to Try the Cleansing Balm?
A little goes a LONG way. Mine lasts me over 6 months of daily use.
Cleansing Balm $80: I know this is price is steep, but I promise, a little goes a long way. I've used my current one twice a day and I've been using this jar for 4 months now. It is worth it, truly!
AMAZING RETURN POLICY: If you're a first-time Beautycounter shopper, you should know that they have a 60-day return policy, no questions asked, with free return shipping. I trust you'll love everything but I think that's helpful to know since buying makeup and skincare online can be nerve-wracking! Want to see my other favorites? Click here for my personal routine.
P.S. I truly think it's great for any skin type:
My mom uses it daily for anti-aging and loves it.

Nanny (who is 95) uses it and it soaks right into her skin for major hydration.

I am acne-prone and it's been great for me, no issues whatsoever!

Mike, who has pretty normal skin, uses it on his nose when it gets dry/irritated.

Kelli swears by it for her skin

and

she even uses it for her children!
If you have dry or combination skin, I think it's 100% worth a try. The only skin type I'd probably be cautious/avoid it with is super oily skin, as it is a thicker, super hydrating balm.
---
Here's to safer skincare and better beauty! This post is not sponsored, but does contain affiliate links. I would never share something I don't 100% stand behind and personally use, and I hope you've grown to trust that from me over the years.
As always, thank you so much for your continued support of my Beautycounter business and all of my work. Please reach out with any questions, I am happy to help in any way that I can! And make sure to join my safer skincare email list for fun exclusives!
Your friend,
Lexi