Don't just save pizza for dinner–it's perfect for breakfast too! This Breakfast Pizza is totally customizable but we think it should definitely include eggs, bacon, and cheese, also known as the breakfast classics! These individual breakfast pizzas are gluten and grain-free, and easily made Paleo and Whole30-friendly.
Gluten-free Breakfast Pizza
I bet you never thought about having pizza for breakfast! But I'm here to say, it's amazing. And our version is quite good-for-you using wholesome ingredients and my famous Gluten-Free Pizza Crust.
We love how quickly our homemade paleo and nut-free crust comes together, all in 1-bowl and in under 10 minutes. No kneading, proofing or fussing is required! This crust uses a blend of coconut flour, tapioca flour and ground flaxseed. It's light and chewy and is a crowd-pleaser, whether you are gluten-free or not. It's easy to make ANY day of the week and perfect for any topping you'd like!
It's all About the Toppings
The truth is, this is more of an inspiration recipe than one that is meant to be strictly followed ingredient for ingredient. We're giving you the amazing gluten-free pizza crust recipe, plus instructions on how to make it, and some topping ideas. We made two different pizzas that we think are winners, and we'll share them in the recipe, but the truth is you can just about put anything on your breakfast pizza that you want! But here are some suggestions:
Eggs! It's breakfast of course. We made the pizza with both scrambled eggs on one, or a baked sunny-side-up again on another. Pick your adventure for this one!
Breakfast meat: If you like it for breakfast, put it on your pizza! Some suggestions would be breakfast sausage, cooked bacon or ham. But really, feel free to think outside the boat. Want pepperoni for breakfast? Go for it.
Cheese: It is pizza after all! But we've also tried skipping the cheese on this for a paleo option and still think it's pretty great!
Leftover veggies: What have you got in your fridge that will do well here? We also love the idea of some peppers or zucchini on this breakfast pizza.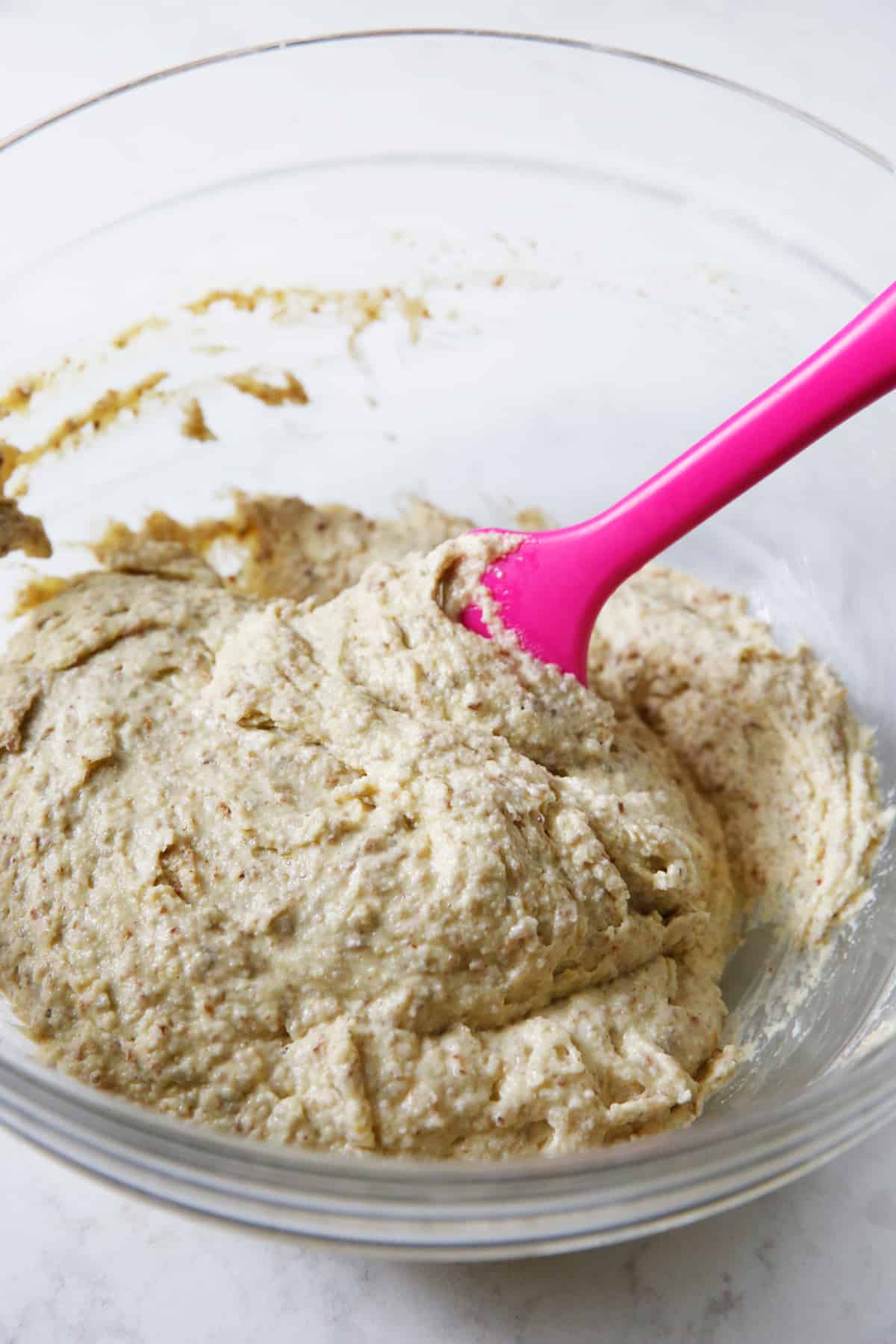 How to Make Gluten-Free Pizza Crust
What I love about this crust is how truly easy it is to make! All you need is a bowl, a whisk and a spatula. First you whisk together the wet ingredients. Next you add in the dry ingredients, whisk together until you can't whisk anymore, and then continue to stir it together with a spatula.
Because we're using coconut flour, the dough will look more like a batter and thickens as it sits. After it's been mixed together, let it sit for about 5 minutes.
You have two options to either make one big pizza, or you can make 4 individual pizzas. We love the individual pizzas for breakfast.
To form the pizza crusts, divide the dough into 4 pieces on a baking sheet lined with parchment that is dusted with tapioca starch. The dough will be sticky. Dust your hands with tapioca starch, as well as the top of the dough. Using your fingers pat the dough down into a circle 4-5″ circle, dusting with additional tapioca as needed. The thinner you pat out the dough, the crispier the crust will be.
The good news is we have a video below that shows you exactly how to do it!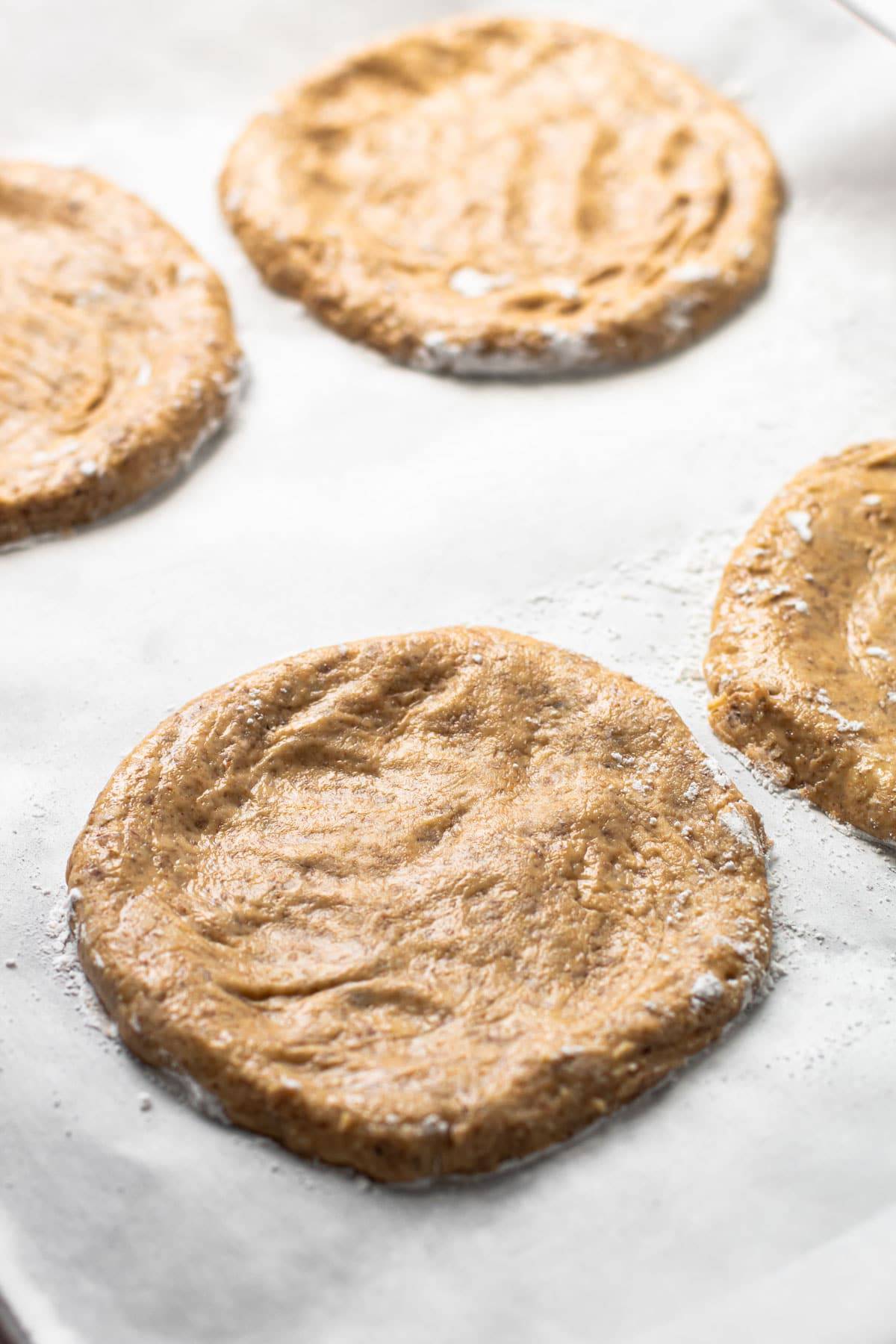 Tips for Working with Homemade Paleo Pizza Crust
Use a scale to measure out the flour! Coconut flour is very absorbent. If it is not measured correctly it could impact the recipe. Check out this post for more information.
Form the crust directly on the parchment and baking sheet you plan to bake the pizza on.
Let the dough rest for a few minutes before you form the pizza crust. This dough uses coconut flour and the longer it sits the more liquid it absorbs. If you try to form the crust right away it may be too wet.
This pizza crust is sticky! Use extra tapioca flour as needed to prevent it from sticking to you, or the parchment. If you have an excess after you have finished forming the pizza, brush or gently blow it off.
You must parbake the crust. Typically pizza is baked at a very high temperature. Because of the use of paleo flours, it is better for the flavor for this crust to be baked at 350ºF, so you'll need to fully bake the crust before adding in your toppings.
How to Bake Breakfast Pizzas
This pizza crust must be baked first before you add any toppings. Bake in a preheated 350ºF on the middle to lower rack for 10 minutes for the individual pizzas or 20 minutes for the large pizzas.
While the pizza is baking, make sure to get all of your toppings ready. If you need to scramble eggs, or crisp up some bacon or sausage, do that now!
Once your crust is par-baked, add your pizza toppings and continue to bake until the cheese is melty and the eggs are cooked (if you are doing baked eggs).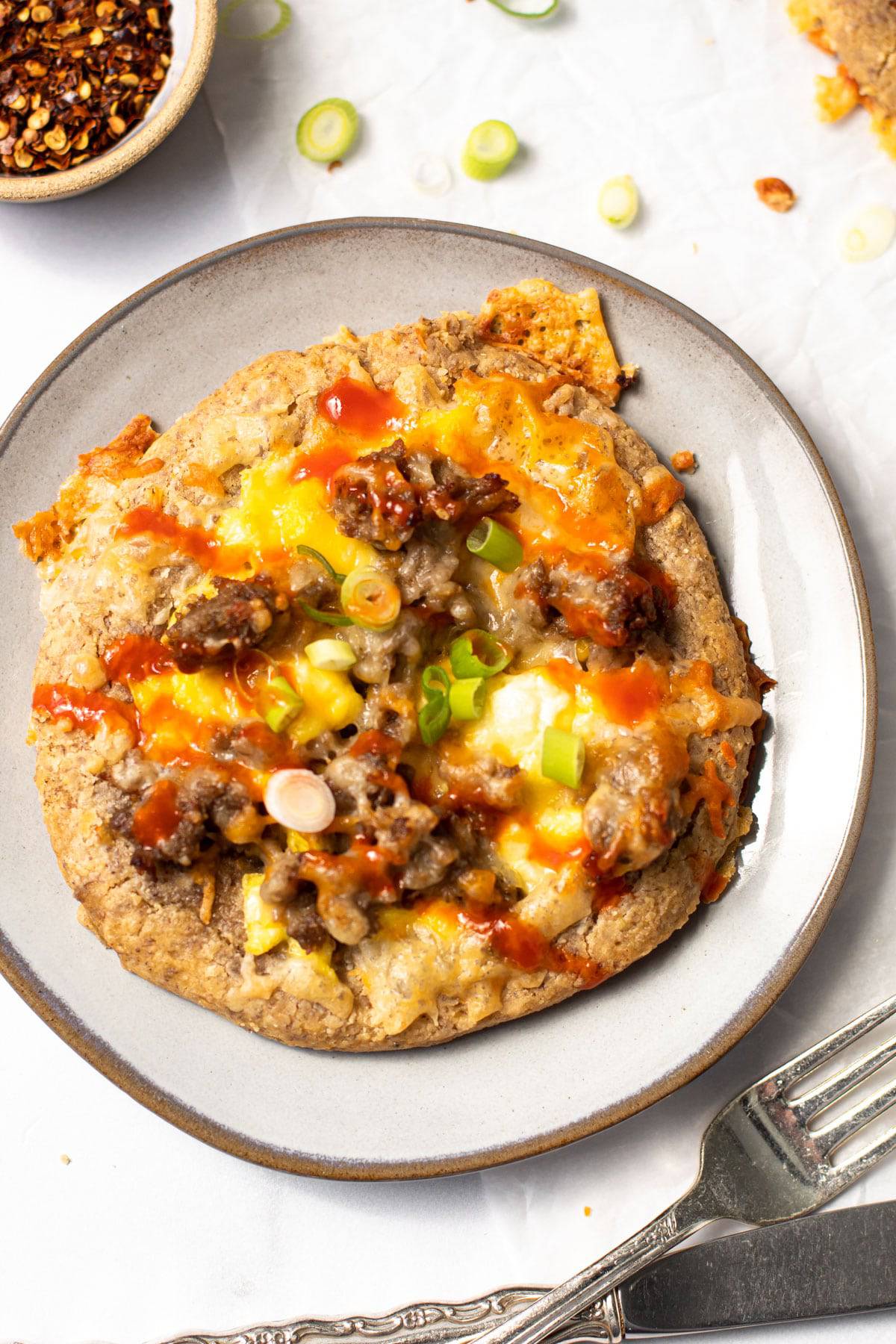 Watch the video here:
---
---
If you like this breakfast recipe, check out these others:
[simple-recipe:9205a]