4-Ingredient Chai Popsicles
These 4-Ingredient Chai Popsicles couldn't be easier to make! And they have such a warm and unique flavor, and naturally separate in the freezer to make a really beautiful layered look! They're also dairy-free, Paleo and vegan friendly.
Easy Chai Popsicles
Summertime means it's popsicle season! Are you a chai fan like I am? These 4-ingredient chai popsicles are creamy, flavorful, and the perfect summer cool down treat! Not much is better than cooling down outside with a delicious, creamy popsicle that's packed with flavor while also having none of the added refined sugars that goes into conventional store-bought popsicles. Plus, it's made with only FOUR ingredients, and is SO easy to make.
What is Chai spice?
A chai spice is a blend of warm spices. The ingredients can vary but here is what I use in mine:
Cardamon
Allpice
Cinnamon
Cloves
Ginger
For this recipe you'll make a slightly larger amount of chia spice than you'll need, but you can store the rest to use for various recipes that call for a Chai Spice blend. It will keep for up to a year in your cabinet, assuming the spices you are starting with are fresh.
How to Make These Chai Popsicles
It's so simple to make these Chai spice popsicles. There is no cooking required at all. Simply: Blend, pour, freeze, devour. The popsicles will have a natural separation which will give you a total flavor experience with each bite! And they look so beautiful.
Want to know more about making popsicles? Check out this guide on building your own popsicles HERE.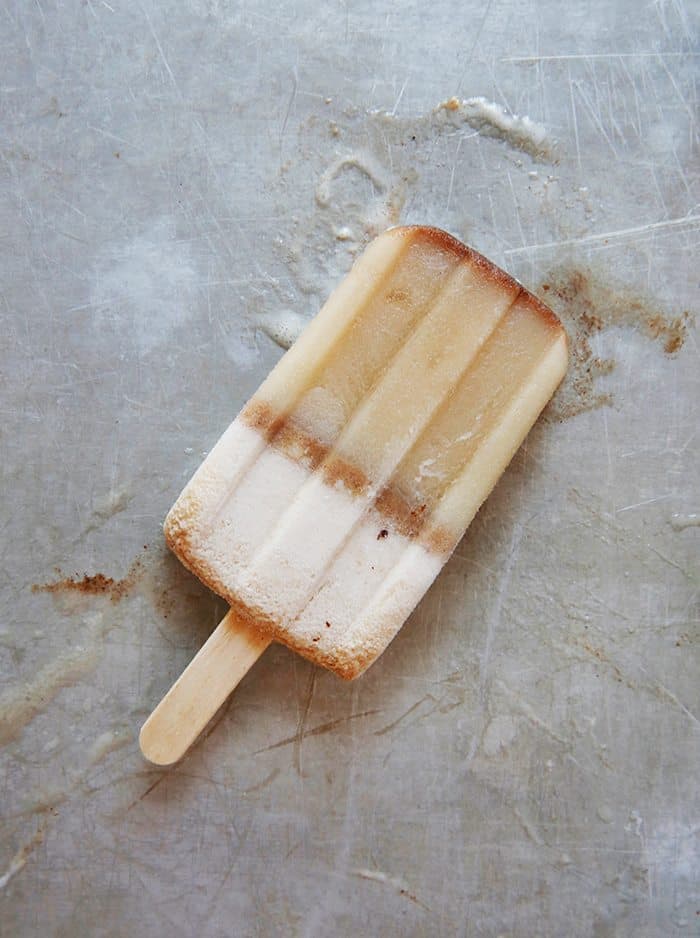 If you like this summertime dessert recipe, check out these others:
Chai Popsicles
---
---
Ingredients
Chai Spice Mix: (1 tablespoon is used for this recipe)
Everything else
Directions
Place almond milk, honey, vanilla and 1 tablespoon of chai spice mix into your blender and blend until smooth.
Pour into popsicle molds and add in your popsicle sticks.
Freeze for 5 hours or up to overnight.
Recipe Notes
For vegan sub maple syrup for the honey.
---
Nutrition
Loading nutrition data...
12 comments
June 27, 2016
Subscribe to
Lexis Clean Living
Join our email list to get instant updates and weekly summaries of our top content and special exclusive offers along with our free clean eating kickstart guide!
This website may at times receive a small affiliate commission for products that we shared with you in our posts. Although we may receive a commission for linking certain products, there's no additional costs to you and all of our opinion and suggestions are 100% our own and unbiased. That's our promise to you!