These Double Chocolate Macadamia Nut Cookies are a holiday favorite! They're the perfect gluten-free and paleo-friendly cookie—soft, chewy, chocolatey, and loaded with melty chocolate chunks and buttery macadamia nuts.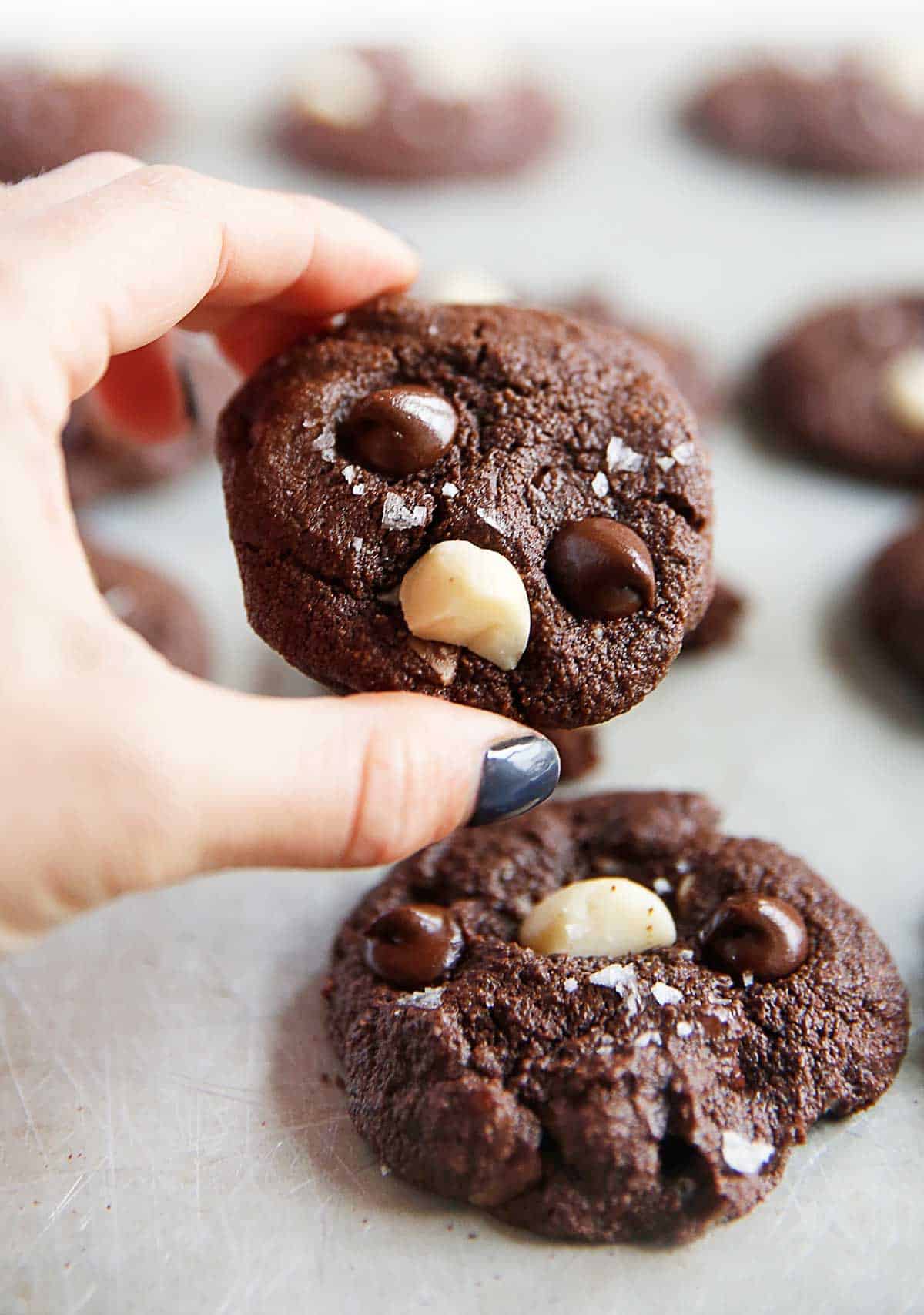 Easy Gluten-Free Double Chocolate Cookies with Macadamia Nuts
Nothing reminds me more of the holidays than a warm cookie oozing with chocolate and packed full of just the right amount of macadamia nuts.
One bite of one of these Double Chocolate Macadamia Nut Cookies and I can just envision myself sitting by a fire munching on a plate of cookies with a cup of coffee or almond milk in-hand…
I can also envision myself standing in the kitchen shoveling them into my mouth to "taste test" the recipe. I'll let you guess which one I find myself doing more often…
These macadamia cookies are perfect for your upcoming family get together, holiday party, or for gifting to the chocolate lovers in your life! They're gluten-free, paleo-friendly, and can easily be made dairy-free.
Ingredients Needed for Double Chocolate Macadamia Nut Cookies
This gluten-free cookie recipe is made with simple ingredients you probably already have in your kitchen!
Coconut Oil or Butter: I love the flavor depth that butter adds, but coconut oil is a great way to keep your gluten-free cookie recipe dairy-free too. Use whichever works best for you!
Chocolate Chips: The chocolate chips are melted with the butter or coconut oil to create a rich chocolate sauce. That mixture is incorporated into the cookie dough to provide moisture and the best chocolatey flavor!
Flour: We're using a combination of almond flour and coconut flour for this recipe.
Baking Soda: Baking soda gives the macadamia cookies just the right amount of lift for a lighter, more tender texture.
Cocoa Powder: Use a good-quality, unsweetened cocoa powder.
Salt: Cuts the sweetness and enhances all of the rich flavors in these cookies.
Honey: Our natural sweetener of choice! If you don't have honey, maple syrup is also a great option.
Egg: You just need one egg to bind everything together and create a chewier, more tender texture.
Vanilla Extract: Adds flavor depth and some extra flavor.
Macadamia Nuts: I use 1/3 cup of chopped macadamia nuts, but if you want to load your cookies up even more feel free to add more. You can buy them already chopped or use your food processor to chop whole macadamia nuts into smaller pieces.
Chocolate Chunks: You can use your favorite variety of chocolate chunks to add texture and even more chocolatey goodness to the cookies. Alternatively, use chocolate chips instead of chocolate chunks!
Sea Salt: I love to finish each cookie off with a sprinkle of coarse, flaky sea salt.
What Flour is Best for Gluten-Free Cookies?
I use a combination of coconut flour and almond flour for this recipe. The coconut flour creates the perfect base for the cookies while the almond flour keeps the texture light and fluffy.
Flour Tip!
While there are other gluten-free flours that can be used to make cookies, I don't recommend doing any swaps or substitutions for this one. Different gluten-free flours have different absorption levels, so using other varieties can affect the texture of the finished cookies.
Can I Use Baking Powder Instead of Baking Soda in Cookies?
In some instances, yes. For this recipe, I don't recommend it.
Baking soda has triple the power of baking powder, so in order to achieve the same texture, you would need triple the amount of baking powder. While that amount may work just fine for texture purposes, it can impart a bitter flavor onto the cookies.
How to Make Macadamia Nut Cookies
This chocolate cookies recipe takes a quick 10 minutes to prep before your kitchen is filled with the delicious aroma of freshly baked cookies!
Here's a quick summary of the recipe:
Prepare the chocolate: In a double boiler. melt coconut oil and chocolate. Whisk until smooth, then set aside.
Make the dough: In a large bowl, mix together the flour, baking soda, cocoa powder, and salt. Whisk to combine, then add in honey, egg, and vanilla. Mix together, then stir in the chocolate mixture until well incorporated.
Portion and bake: Portion the dough out into tablespoon-sized dough balls, place onto a lined baking sheet, then use a spatula or your hand to flatten each dough ball a little bit. Bake at 350ºF for 10-15 minutes or until baked to your liking, then cool slightly before serving.
What is the Secret to Moist Cookies?
The oil/butter, melted chocolate, honey, and egg all contribute to the overall moisture content of these cookies. However, to ensure that all the ingredients can work their magic to the fullest, the key is to make sure you aren't over-measuring your dry ingredients—particularly the flour!
To make sure that your flour measurements are totally accurate, I recommend scooping it into the measuring cup, then gently leveling it off with your finger. This prevents it from getting too packed into the measuring cup!
How Do You Keep Gluten-Free Cookies From Crumbling?
First and foremost, moisture plays a key role in the integrity of the cookies. However, the other key is to make sure you're not over-baking them! Baking too long can zap the moisture out of them and create a dry, crumbly texture.
For the best results, take them out of the oven when they look slightly under-baked, then let them set up fully as they cool on the baking sheet.
How Do You Know When Double Chocolate Cookies Are Done?
The best way to tell that the cookies are done is to look at the edges. They will be set and starting to crisp.
We prefer our cookies to be slightly under-baked for a softer, chewier texture, so I usually take them out of the oven as soon as the edges start to get crispy. The middle of the cookies always look slightly under-baked, but they set up as they cool.
If you prefer crispier, more well-baked cookies, then let the middle firm up fully before you take them out of the oven.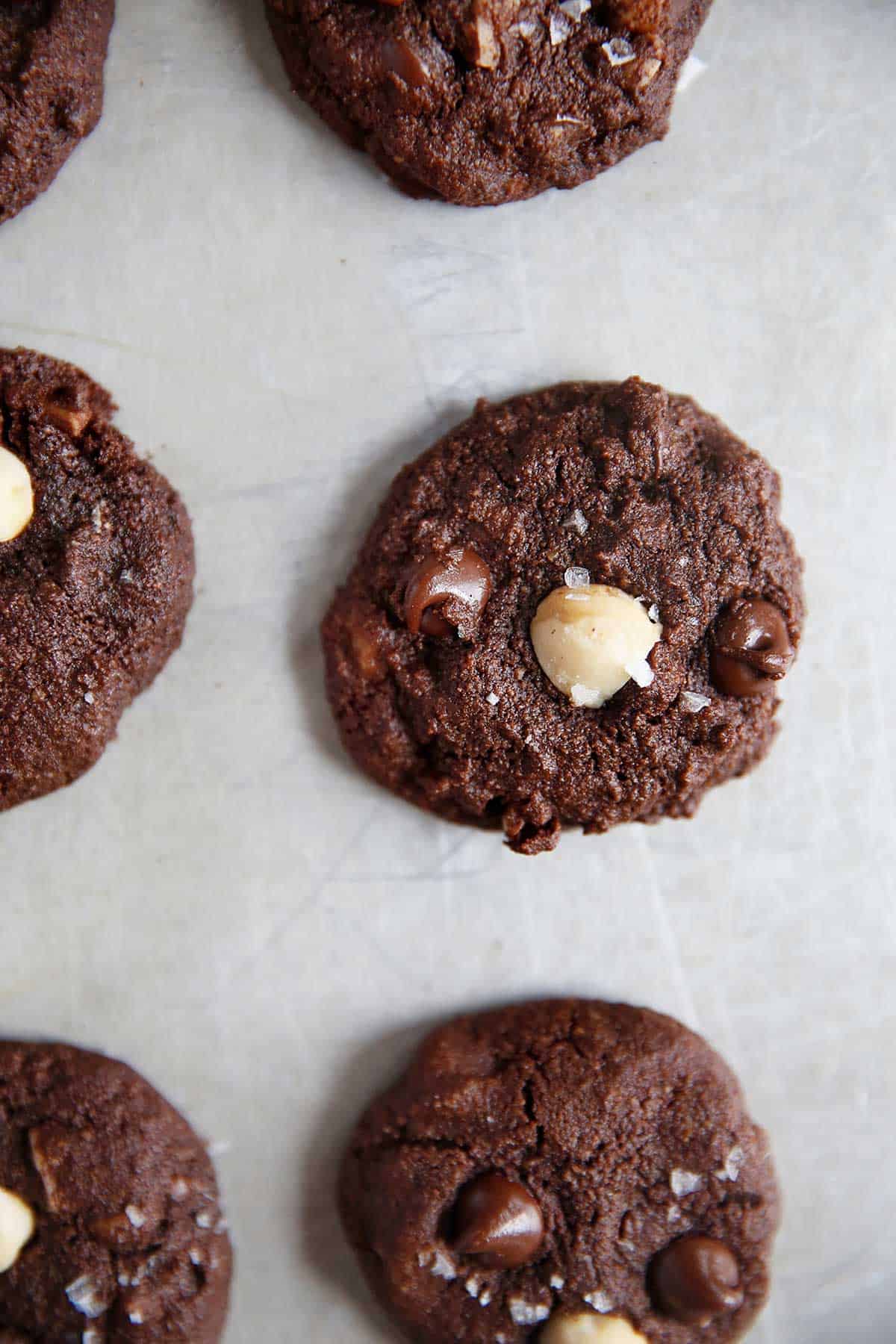 Tips and Notes
Portion the dough evenly. I recommend 1 tablespoon of dough per cookie. Make sure they're all relatively even in size so that they bake at the same rate.
Flatten the cookies. These cookies don't really spread on their own, so don't forget to flatten them slightly before popping them in the oven.
Baking time tip: We like our cookies a bit under-baked, so 10 minutes is our preferred time. If you like yours a little crispier, then shoot for closer to the 15 minutes mark. If you're not sure, then check the cookies at 10 minutes and add time as needed!
Variations
Try other baking chips. I love all of the chocolate that goes into these macadamia nut cookies, but feel free to switch the flavors up by swapping the chocolate chunks out for white chocolate chips or peanut butter chips.
Use another nut. Macadamia nuts are a cookie classic, but feel free to use whatever nuts you love in cookies! Walnuts or pecans are both great options.
Make peppermint double chocolate cookies. Give these an extra holiday flair by mixing in peppermint chips or sprinkling the finished cookies with a little bit of crushed peppermint candy.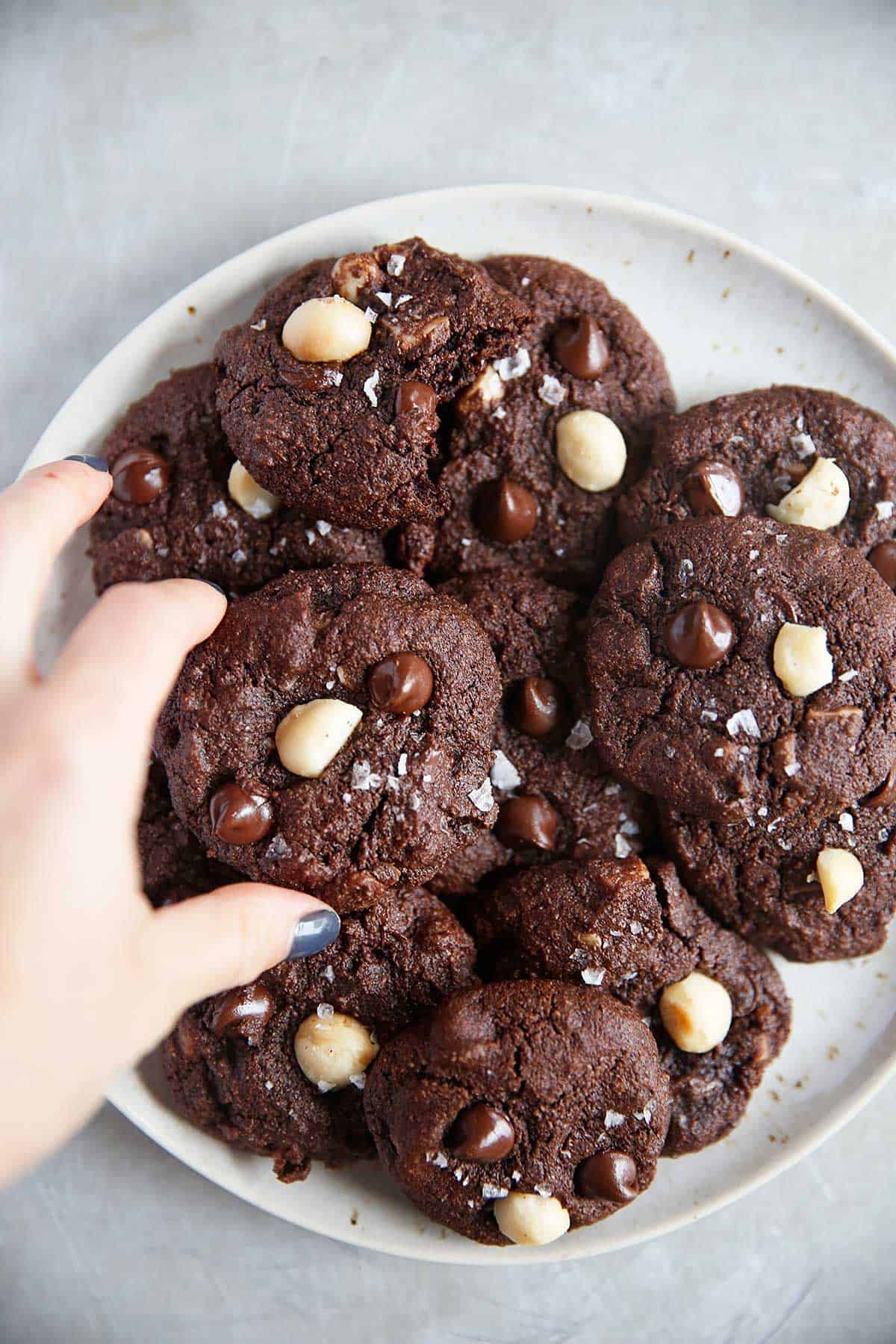 How to Store
These double chocolate cookies can be stored in an airtight container at room temperature for 3-4 days or in the freezer for up to 1 month.
To enjoy again, thaw at room temperature if frozen or thaw individual cookies quickly in the microwave.
Make-Ahead Instructions
Want to get ahead on holiday baking? You can prepare, portion, and flatten the dough, then store that in the freezer for up to 3 months.
When you're ready to bake the cookies, thaw the dough at room temperature or bake the cookies from frozen—adding a couple of extra minutes to ensure they bake all the way through.
More Gluten Free Cookie Recipes
Watch the video:
---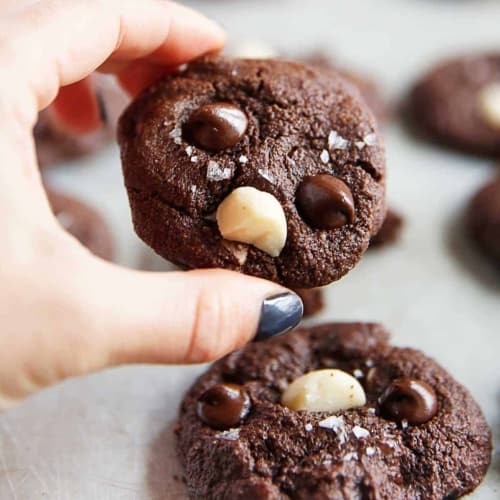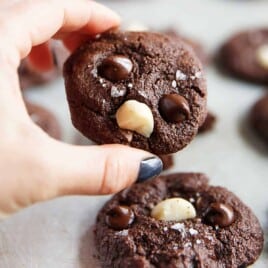 Double Chocolate Chunk Macadamia Nut Cookies
These Double Chocolate Macadamia Nut Cookies are a holiday favorite! They're the perfect gluten-free and paleo-friendly cookie—soft, chewy, chocolatey, and loaded with melty chocolate chunks and buttery macadamia nuts.
Ingredients
5

tablespoons

coconut oil

or grass-fed butter

1/4

cup

chopped dark chocolate or chocolate chips

1

cup

almond flour

1

tablespoon

coconut flour

1/4

teaspoon

baking soda

1/4

cup

cocoa powder

big pinch fine sea salt

3

tablespoons

honey

1

egg

1

teaspoon

organic vanilla extract

1/3

cup

chopped macadamia nuts

more if desired

1/4

cup

chocolate chunks

Coarse Flaky Sea Salt

for garnish
Instructions
Preheat oven to 350 °F and line a baking sheet with parchment paper and set aside.

Melt coconut oil and chocolate over a double-boiler, or using preferred method. Once melted, whisk to combine and set aside to cool.

In a large bowl combine almond flour, coconut flour, baking soda, cocoa powder, sea salt and whisk to combine, making sure to get out any clumps.

Add in honey, egg and vanilla extract and whisk together. Then add in the melted chocolate mixture and combine together.

Fold in the nuts and chocolate chips.

Using a 

cookie scoop

, or spoon, portion a tablespoon sized dough and roll into a ball and place on baking sheet 1-1/2″ apart. Flatten cookie down a bit, as these will not spread very much on their own.

Bake for 10-15 minutes (see note).

Let cool on a rack slightly before serving.
Notes
We like our cookies a bit underbaked, so 10 minutes is our preferred baking time.
Photos updated in 2017.
Nutrition
Serving:
1
cookie
Calories:
118
kcal
Carbohydrates:
9.5
g
Protein:
1.7
g
Fat:
9.3
g
Saturated Fat:
5.4
g
Cholesterol:
11
mg
Sodium:
102
mg
Fiber:
1.4
g
Sugar:
6
g