These Gluten Free Cut Out Cookies are the best for decorating holiday cookies! They are so simple to put together, can be rolled out immediately and decorated (or not) to celebrate any holiday!
These versatile cookies are made with only 5 ingredients (plus a pinch of salt!) and are a great activity to do with the kids. We've included tips and tricks for decorating using an easy powdered sugar icing so you can get your holiday bake on now!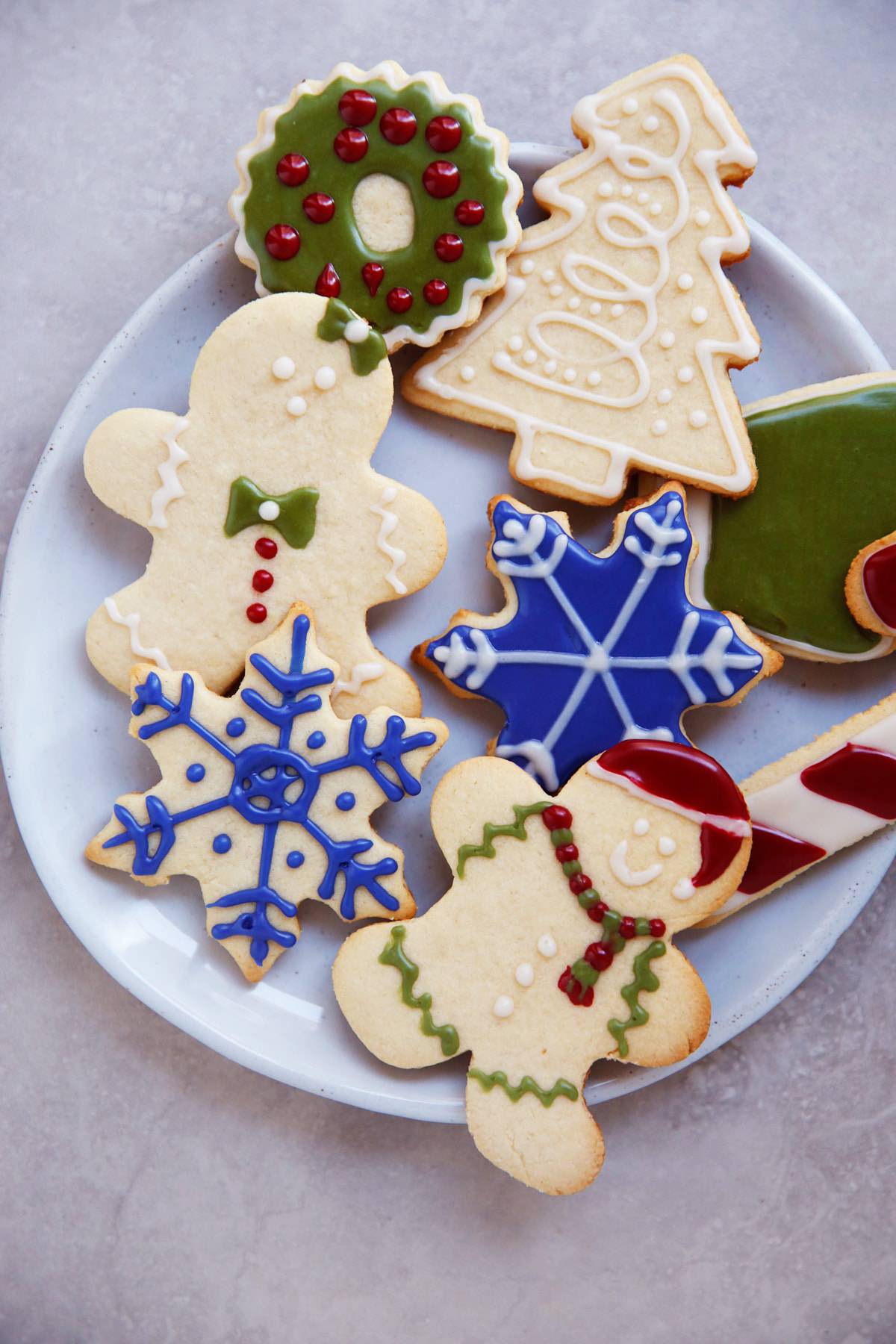 Gluten Free Cut Out Cookies
How cute are these Gluten Free Cut Out Cookies? They're also easy to make, taste delicious and we've offered a few different flavor options so they're customizable! They can be baked and left plain, or topped with good quality colored sugar, or they can be fully decorated to match the holiday you are celebrating!
FYI!!!!
The best part about these cookies is that you don't have to wait for them to chill before rolling out!
Usually with sugar cookies the dough has to set up for a few hours in order to get great cookies, but we had amazing results with rolling the dough out immediately. You can also make the dough and then chill for a few hours to days if you want to break down the steps as well!
Read below for some tips and tricks on how to make the cutest Gluten Free Cut Out Cookies!
Reader Review
"I've tried several paleo cut out recipes, and these are hands down the BEST! They have a nice chew, but also have a crisp to them that most other recipes lack. I used maple syrup for the honey and used vegan butter and had great success! I can't say enough good things about this recipe, non-paleo family members loved them and had no clue they were a cleaner version of the classic!!"
Reader Review
"These are our favorite!! We used a mix from Pamela's the other day and my son said he liked yours better. Perfect texture, so yummy. We love the ingredients ❤️"
Tips for Rolling Out Dough
We may be biased but we felt this dough was so easy to roll out! For us it went straight from the mixing bowl to being rolled out!
We didn't have any issues moving the cut out cookies from where we rolled them out to the baking tray.
But if you are a beginner cut-out cookie maker follow these tips below for best results:
Prepare a baking sheet with a silpat or parchment paper.
Roll out dough between two sheets of parchment or plastic wrap.
Stamp cookies out as close together as possible to get the most out of each time you roll out the dough.
Using a small offset spatula or knife lift up cookies and transfer to baking sheet. If you are having trouble moving the cookies and having them keep there shape, place in the refrigerator to chill for a few minutes until they are stiff.
You can re-roll the scraps as many times as you would like because there is no gluten in these cookies so they won't be tough from re-rolling!

Tips for Decorating with Powdered Sugar Icing
As we said above, these cookies are delicious as is! But if you'd like to make decorative cookies at any time of the year we've included a recipe for a stiff powdered sugar icing.
We chose this over a royal icing because it is a lot easier to make and the end result didn't look too different. If you'd prefer to use royal icing, than feel free to use that instead.
If you want to do more intricate decorating you'll want to make two different consistency icings. One for piping, or borders, which is more thick. And a second for flooding a border, which is thinner.
We tried out a few different types of artificial dye free food coloring (see below) to make the most festive cookies. Once you have mixed your base icings you can divide them into smaller bowls and add the natural food coloring.
Pipe the border details first and let it dry briefly (10 minutes or so) before filling in the flooding icing.
We piped ours using both piping bags and also tried using squeeze bottles. We didn't use a tip in the piping bags we just cut a small hole! Squeeze bottles would be great to use with kids! We use these Piping Bags and these Mini Squeeze Bottles!
Let the icing harden a bit before storing (a few hours, or until dry).
Have fun with it!
Reader Review
"These are awesome! The cookies themselves aren't too sweet which is nice. I topped the glaze with Christmas sprinkles and they are just perfect. It's been so long since I've had cut out cookies!"
Let's talk about natural dye options:
We've talked about making your own food dye with food based powders this past year. While you certainly can frost there cookies with buttercream, it's more traditional to use an icing so we tried out a bunch of different brands of artificial dye free food coloring.
We actually loved them all, but they vary in price.
We tried:
Whole Foods Market 365 Brand: This one was the most economical and worked well, except for the red which tinted more towards pink. This brand most resembles traditional dye in the sense that it comes in little liquid squeeze bottles. It is under $10 for a few different colors and offers a guide on the package to mix additional colors.
ColorKitchen Foods: This dye free coloring comes in powder form. You can mix it with your dry ingredients to hydrate, or add in a touch of water to hydrate before adding it in the icing (which is the method we used).This one was surprisingly very potent, but it's on the pricier side. It comes in single use packets which can be either useful, or annoying if you don't want to use the whole amount. At the time that we tried this brand they didn't have a red color that we found, but since we developed this recipe they are offering a red velvet color (though we have not been able to try it yet).
TruColor: This brand works magically, but it is expensive and harder to find. It also comes in powdered form but in small jars (depending on the amount you order) so you can store any leftover right in the container. You must store it in the refrigerator. Any red coloring that you see in this post uses TruColor, and does in fact make a brilliant red.
Don't feel like stamping out designs with these cookies?
Don't feel like stamping out designs with these cookies? No problem! The dough can also be formed into a log, placed in the refrigerator for about 1 hour (or more) and than sliced! Bake as directed. We've also included a couple of different flavor options in the post to include almond, citrus and mint!
Tools Used:
Additional standard equipment: bowls, whisks, etc.
More Cookie Recipes:
Watch The Video:
Gluten Free Cut Out Cookies
These Gluten Free Cut Out Cookies are the best for decorating holiday cookies! They are so simple to put together, can be rolled out immediately and decorated (or not) to celebrate any holiday! These versatile cookies are made with only 5 ingredients (plus a pinch of salt!) and are a great activity to do with the kids.
Ingredients
1/4

cup

butter

room temperature (or butter alternative, or palm shortening)

¼

cup

honey

1

teaspoon

vanilla

1-½

cup

190g almond flour

½

cup

60g tapioca flour

Pinch

of fine sea salt
Optional Flavors (choose one):
1/2

teaspoon

mint

1

tablespoons

orange zest

¼

teaspoon

almond extract
For Decorating:
1

cup

organic powdered sugar

1-½ to 2-½

tablespoons

almond milk

1/4

teaspoon

vanilla extract
Instructions
To Make Cookie Dough:
In a stand mixer, or with a hand mixer cream butter, honey and vanilla, until light and fluffy, about 3-5 minutes

In a medium bowl add almond flour, tapioca flour and salt and whisk to combine.

Add dry ingredients to butter and combine. It may look crumbly at first, but continue to mix until the dough comes together.

Roll out immediately (see directions below) or wrap in plastic wrap and keep in refrigerator until ready to roll, up to 3 days.
To Roll Out and Bake Cookies:
Preheat oven to 350 and line a baking sheet with parchment paper or a silpat.

Roll out dough between two sheets of parchment paper or plastic wrap. Roll out to a thickness or 1/4″ and stamp with cookie cutters. Carefully peel stamped cookies off parchment and place on baking sheet. They will not spread so you can spaces them as close as 1/4″ apart.

You can re roll scraps, chilling in between if dough is getting too warm.

Bake for 7 minutes, until slightly golden around the edges.

Let cool before decorating.
To Decorate:
Whisk 1-1/2 tablespoons almond milk, vanilla and powdered sugar together until smooth. You want it to be thick enough to pipe. If you plan to flood the cookie you can make two smaller batches and add a touch more almond milk to want to make it thinner to floor the cookie in between the piping icing. Drop in some food coloring (see post for more info) depending on what color you'd like to make. Decorate using squeeze bottles of piping bags.
Notes
Read post for more information and tips for making these cut out cookies.