'Everything Bagel' Topped Cauliflower Rolls [VIDEO]
These Everything Bagel topped Cauliflower Rolls are low carb, paleo-friendly, and a perfect roll alternative. Growing up in New York, the "everything" bagel was my go-to sandwich bread. A toasted egg everything or a whole wheat everything… You name it, I loved it.
Paleo Cauliflower Rolls
Now, you know I don't eat those bagels anymore, not even the gluten-free ones, so I bring to you an alternative that is really so beyond good! When these rolls were baking in the oven my whole apartment smelled like those glorious everything bagels I loved so much.
I don't typically eat them as a total replacement to bread — they are made out of cauliflower! But they do hold up well if you want to!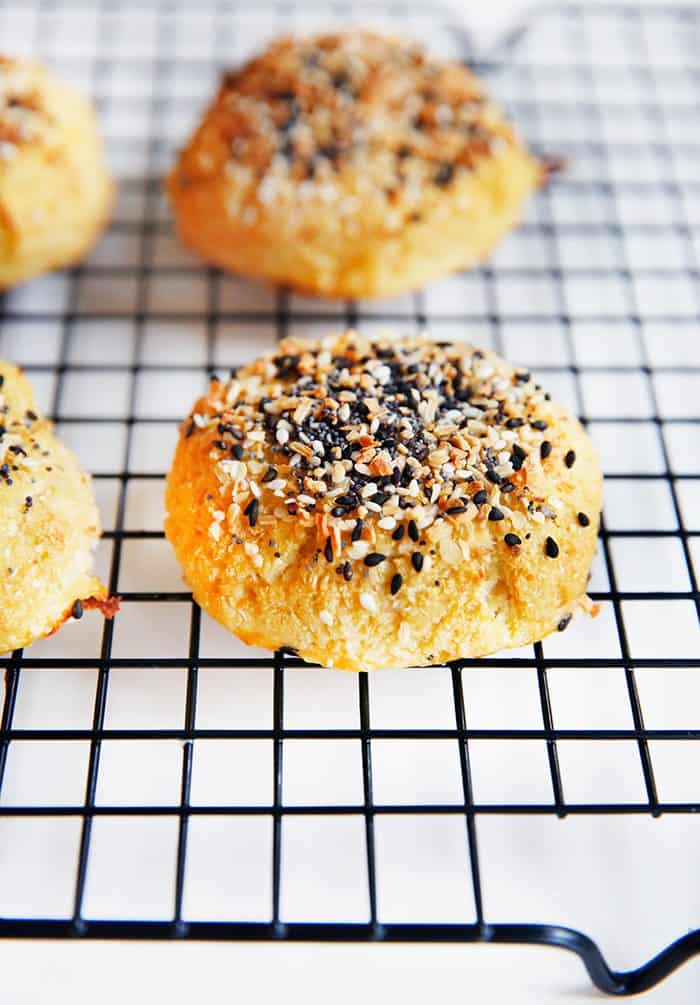 Cheers to another delicious and healthy alternative!
Can you use store-bought cauliflower rice?
Frozen or refrigerated pre-riced cauliflower is not riced fine enough for these rolls. Here's a guide on how to make cauliflower rice!
Is cauliflower good for Keto?
There are 2.9 grams of net carbs in an entire cup of this low carb vegetable, making it a great option. Plus it's super versitile!
Like this recipe? Try these other LCK reader favorites:
Want other cauliflower recipes? Try these:
Watch the how-to video:
---
'Everything Bagel' Cauliflower Rolls
---
---
Ingredients
Cauliflower Buns
Everything Topping
Directions
Preheat oven to 400°F and line a baking sheet.
In a food processor, or using a hand grater, pulse/grate cauliflower until rice consistency.
In a bowl combine eggs, cauliflower rice, almond flour, coconut flour, garlic powder, and salt,
In a separate bowl combine "everything" topping ingredients. Or grab Trader Joe's Everything Bagel Seasoning!
Roll cauliflower mixture into even sized balls and lay onto the baking sheet. Sprinkle "everything" topping and slightly press them into the top,
Bake for about 30 minutes, or until golden brown.
Optional: For extra crisp rolls, remove from baking sheet and broil on high for 3 minutes with the buns directly on the oven rack.
Remove from baking sheet and let cool directly on a cooling rack.
Serve as rolls with your meal, or serve as bread with your favorite sandwich ingredients.
Recipe Notes
*Updated 12/2016.
*Note: Frozen pre-riced cauliflower is not riced fine enough for these!!
Cauliflower sizes vary. If yours is bigger or makes more riced cauliflower, and it seems like it needs a little extra love to make them firm, add an additional egg and tablespoon of flour. 3 cups of packed riced cauliflower is the correct consistency for these rolls.
Makes 4 large or 6 medium rolls.
---
Nutrition
Loading nutrition data...
223 comments
July 30, 2013
Subscribe to
Lexis Clean Living
Join our email list to get instant updates and weekly summaries of our top content and special exclusive offers along with our free clean eating kickstart guide!
This website may at times receive a small affiliate commission for products that we shared with you in our posts. Although we may receive a commission for linking certain products, there's no additional costs to you and all of our opinion and suggestions are 100% our own and unbiased. That's our promise to you!