If you like buttery, chewy and soft cookies that are speckled full of sprinkles and also happen to be gluten-free with a dairy-free paleo option, then you are going to love these Gluten-free Funfetti Cookies! They are simple to prepare using only a handful of ingredients and you only need a bowl and a spoon to make the dough!
How fun are these cookies? These chewy little cookies are insanely delicious, easy-to-prepare and perfect for a last-minute sweet treat. They will put a smile on anyones face! And nobody is going to know they are gluten-free.
But what we really love about this recipe is that we simplified the steps needed to make this cookie by using just 1 bowl and a sturdy spoon to mix the dough all together. Which means you can have fresh, hot sprinkle cookies on your table quickly. This is also a great recipe to make with the kids. If you've made any of our cookie recipes like our Gluten Free Sugar Cookies or Gluten Free Cut Out Cookies, you know we've mastered the art of gluten-free cookie baking!
Ingredients Needed
Here is an overview of the ingredient list. Keep scrolling for the full recipe.
Sprinkles! See below for the cleaner brands I love.
Almond Flour
Tapioca Flour
Baking Soda
Baking Powder
Sea Salt
Maple Syrup
Vanilla Extract
Butter
How to Make These Cookies Dairy-Free
We tested this with coconut oil. It works, but it does slightly change the cookies.
The coconut oil must be at room temperature (which is just the same as the recipe calls for with the butter). You might find it a bit tricky to blend in all the pieces of coconut oil, but do your best, using your fingers to blend in the small pieces, if necessary. In addition, the cookies don't spread as much as the butter version, so they need a slightly longer baking time since they're thicker. We recommend baking them for 11-12 minutes. But the cookie still turned out delicious, so we do think it's worth it to make this with this dairy-free swap.
A Note About Sprinkles
We stay away from artificially dyed sprinkles when we can. Lucky for us there are so many good brands out there for naturally dyed sprinkles derived from fruits, vegetables and herbs. And for a true funfetti look try to avoid sanding sugars or nonpereils, the best kind of sprinkles here are the classics.
Here is a list of some of the ones we've tried and liked:
Let's Do Organic: This one will add some color to the cookies but are similar to nonpareils. We've added this to the list because this brand can be purchased at a few natural grocery stores and Whole Foods and might be easier to find, though these would be our last choice.
Tips for Making Gluten Free Funfetti Cookies
Make sure your butter is fully softened. This recipe requires the butter to be room temperature because it is mixed in with the dough as is, as opposed to creaming it or melting it. Room temperature butter will easily be mixed into this almond flour dough. It should have no chunks of butter remaining.
Use a sturdy spoon and a bit of muscle. We use a bit of an unusual method of making this dough: all the ingredients are simply mixed together in a bowl until the dough has come together. It's easiest to achieve smooth dough if you use a sturdy spoon, such as metal or wooden one, and really mix it up well. At some point while you are making the dough you are going to feel like it won't ever come together–but keep mixing: it will.
Chill the dough, if you have time. We tested making this dough baked right after mixing as well as baking after a chill in the refrigerator. Truth be told, we preferred the chilled cookies, because the dough has chance to rest and the flavors play better together when this happens. However, this recipe works just fine when the cookies are baked immediately after the dough is made.
Put extra sprinkles on top of the raw cookie dough balls. This gives it a nice look once its baked.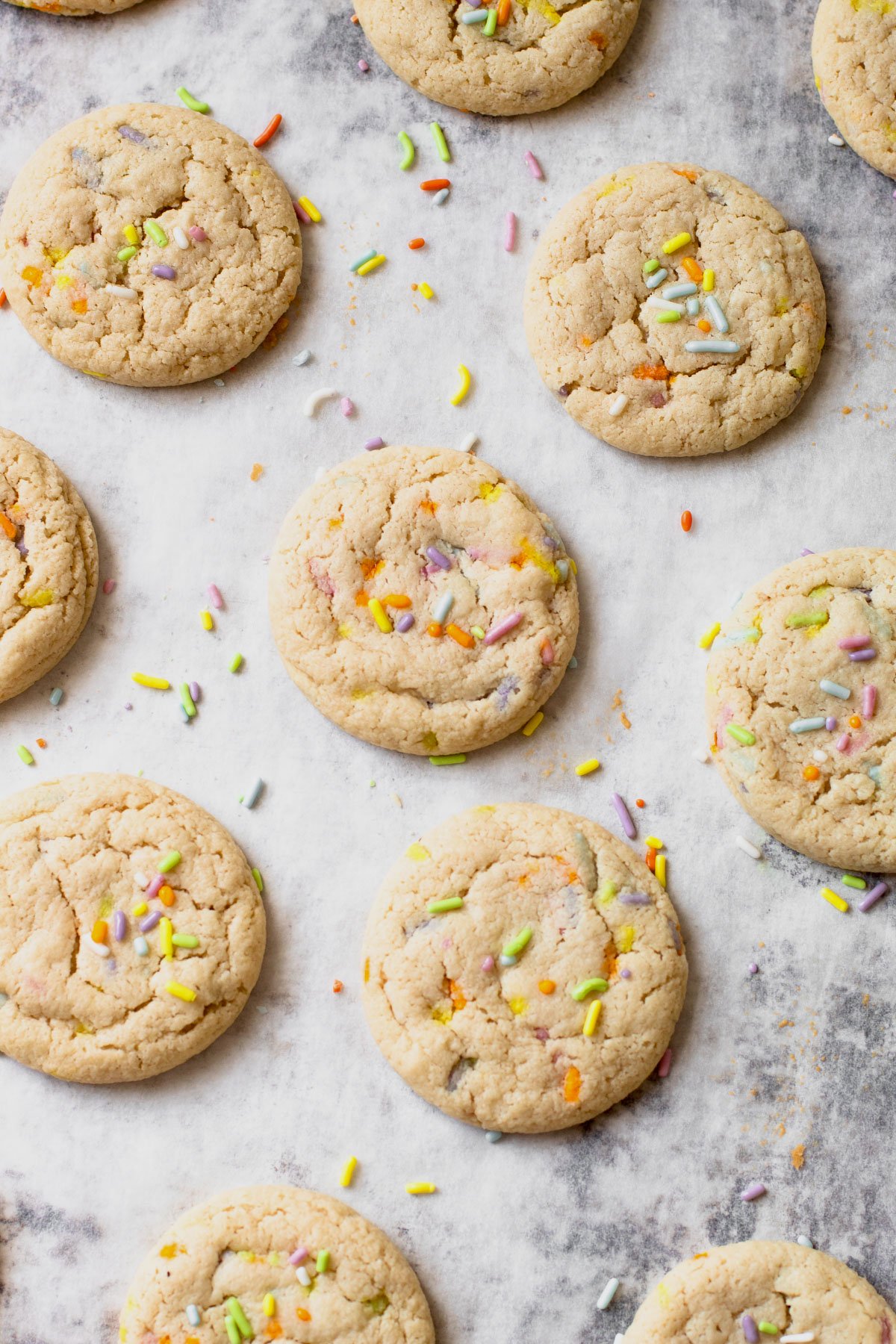 How to Store Your Cookies
These are best eaten on the day they are made. On day 1, the outside is crisp in the middle is soft and chewy. The cookies can be stored in a bag or container at room temperature for up to 3 days, but they soften as time goes on.
Freezing the Dough For Later!
Oh yeah, you can! The cookie dough can be rolled into balls and frozen for up to 3 months. To freeze, place the portioned cookie dough balls on a baking sheet and freeze until solid. Move cookie dough to a freezer bag for long term storage.
When ready to bake, follow the baking instructions but add an extra minute or two to the cooking time!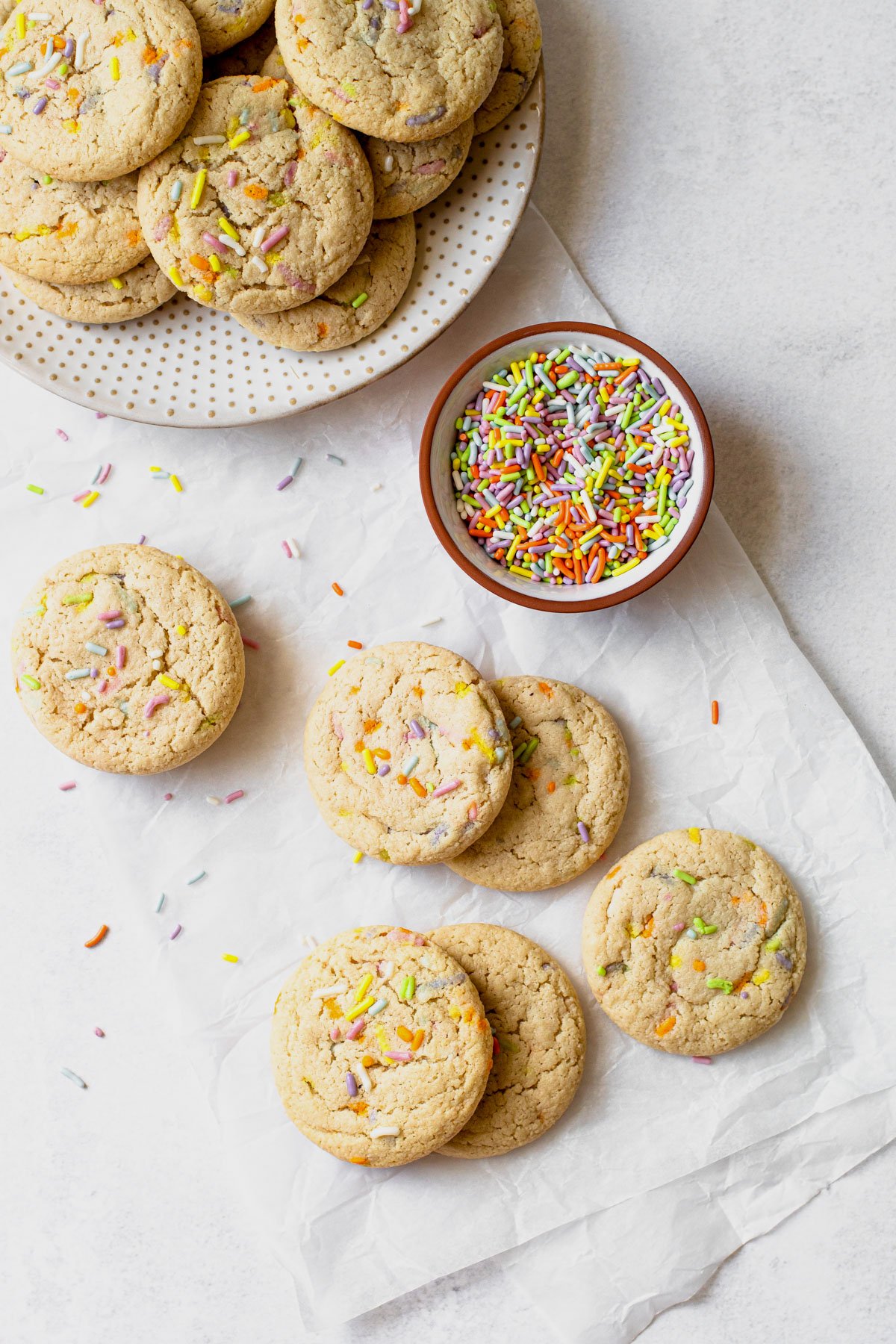 If you like this gluten free cookie recipe, check out these others: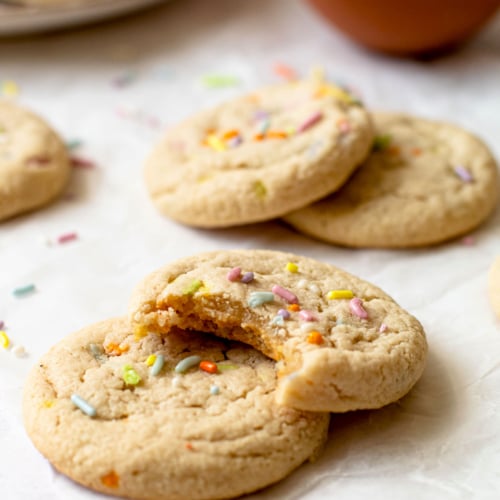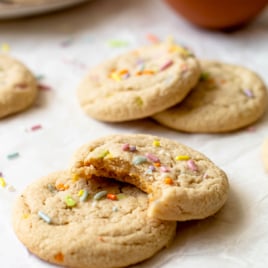 Gluten-Free Funfetti Cookies
If you like buttery, chewy and soft cookies that are speckled full of sprinkles and also happened to be gluten-free with a dairy-free paleo option, then you are going to love these Gluten-free Funfetti Cookies! They are simple to prepare using only a handful of ingredients and you only need a bowl and a spoon to make the batter!
Ingredients
2-1/2

cups

245 grams almond flour

1

cup

120 grams tapioca flour

1/2

teaspoon

baking soda

¼

teaspoon

baking powder

Pinch

sea salt

1/2

cup

maple syrup

2

teaspoon

vanilla

1/2

cup

unsalted butter

softened (see note)

1/3

cup

sprinkles

plus more for the tops of the cookie
Instructions
Preheat the oven to 350º and line two baking sheets with parchment paper.

Add almond flour, tapioca flour, baking soda, baking powder and salt to a bowl. Whisk together until combined.

Add in maple syrup, vanilla and softened butter. Using a heavy spoon, mix the dough all together until fully combined with no visible butter remaining. Add in the sprinkles and mix together until combined.

Roll dough into balls (about 2 tablespoons in size, or a #30 scoop), and place on a baking sheet about 2 inches apart. Add sprinkles to the tops of each cookie dough.

Bake for 10 minutes.
Notes
This dough could also be made in an electric stand mixer, following the same process as mixing it by hand.
If you find the dough difficult to work with, place in the refrigerator for 15-20 minutes before rolling cookie dough balls.
Let cool before picking up after baking, as they are quite delicate when hot. 
Cookie dough can be made up to 2 days ahead.
Want to make it dairy-free? Swap out room-temperature coconut oil for the butter. The cookie won't spread as much, so you'll have to tack on 1-2 minutes to bake it to account for a thicker cookie. Make sure to mix in as much of the coconut oil to the batter as possible.