These Gluten Free Lactation Cookies are a nursing mom's best friend. Packed with nutrient-rich flaxseed and oats, these cookies help keep a new mom fueled throughout the day. They are simple to put together and free from gluten, refined sugars, eggs, and dairy.
Made in partnership with my friends at Spectra.
Healthy Oatmeal Lactation Cookies
These lactation cookies don't look much different than your average oatmeal cookie, but they do combine a couple of ingredients that are said to support a mom's milk supply AND they're really delicious. These vegan cookies are made in 1-bowl and are free from gluten, refined sugar, dairy and eggs. Make them as oatmeal raisin cookies or oatmeal chocolate chip cookies, depending on what you have on hand. And now that our sweet little girl has arrived (more on that soon), I have an excuse to dive into the freezer stash I have of these with my name on it!
What are lactation cookies?
Lactation cookies are simply cookies made with ingredients that are said to support a woman's milk supply. According to KellyMom.com (a popular and useful source for breastfeeding women), certain substances are anecdotally helpful in supporting or increasing a woman's milk supply. They can be either herbal, or more popularly common kitchen ingredients, such as oats, flaxseed, and brewer's yeast. These are known as galactagogues! While scientifically there may not be fool-proof data that says galactagogues absolutely increase milk supply, we do know that these healthy additions to cookies can't hurt, and most definitely have beneficial health properties!
Oats
Oats contain plant estrogens which support prolactin, the hormone responsible for the production of breast milk. Oats are also a complex carb, providing long-term energy for exhausted mothers.
Flaxseed
Flaxseeds have estrogenic properties, which are connected to breast milk production. They also contain healthy fats which are important for nursing mothers and their babies.
Brewer's Yeast
Brewer's yeast is packed with vitamins and minerals and can boost energy and fights fatigue. It contains chromium to help regulate blood sugar levels, and acts as a probiotic, aiding in digestive health. See below for more information about brewer's yeast!
Ingredients Needed
Can I Make my Own Oat Flour?
Yes! You can make your own oat flour for this recipe by blitzing whole rolled oats in a blender or food processor until they are a fine powder. If you have a kitchen scale at home, simply measure out 120 grams of rolled oats, as that is how much oat flour you need. If you don't have a kitchen scale, measure out about 1 heaping cup of oats.
What is Brewer's Yeast and Do I Need It?
Brewer's yeast is a fungus, often derived as a by-product of brewing beer. Beer of course is often made with wheat, which would mean that brewer's yeast can contain gluten. However, there are several brands that are gluten-free, just make sure to check the labels. Brewer's yeast comes in the form of a powder and can be easily purchased either in a local health food store or on Amazon.
Each brand can vary in terms of taste. Some have more of an after taste than others. Those labeled as "debittered" have less of an aftertaste, but depending on how fine your taste buds are you still might be able to notice it.
If you do not want to buy brewer's yeast for this recipe and wish to leave it out, that is totally fine. You will just need to replace it with an extra tablespoon of oat flour.
My favorite I have tried is this one, which is gluten-free.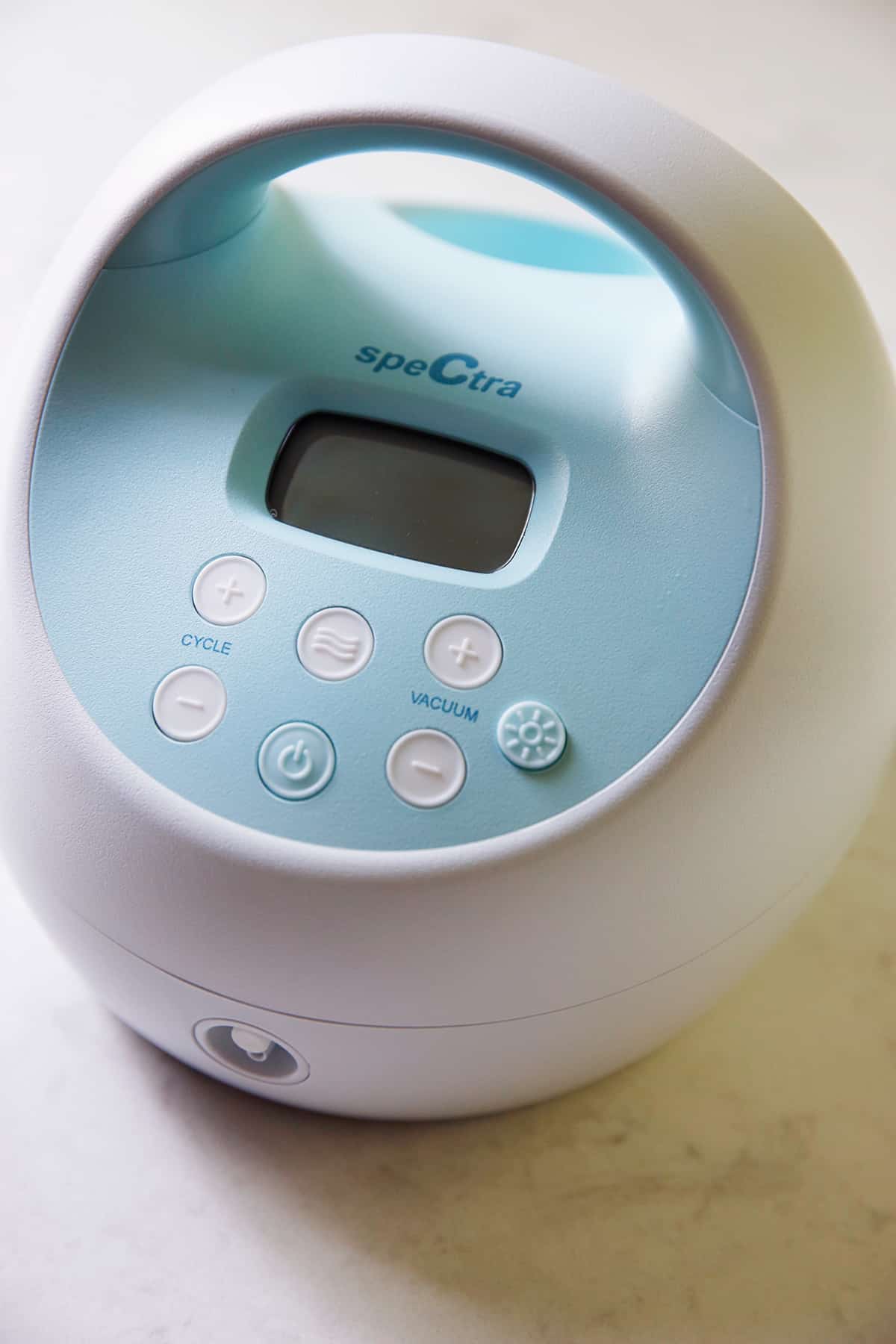 Why I chose Spectra
I'm really excited to partner with my friends at Spectra today to bring you this recipe! Spectra is run by a team of registered nurses, lactation consultants, and fellow mothers and as a new mom, this gives me peace to know! If you read my registry post, you may have already seen that most mamas recommended Spectra to me, and per my research, they were the clear winner.
Breastfeeding pump through your health insurance: Did you know many insurance companies actually cover or partially cover the cost of a breast pump? All you have to do is call the number on the back of your card and ask about options for breast pumps. I opted to go through my insurance and contribute a portion of the cost to get the Spectra S1.
Why I picked the Spectra S1? This pump will be my main one for at home, but I love that it can also be on-the-go if need be. The S1 can be plugged into an outlet or be battery operated, which seems like the way to go in my opinion rather than only having the outlet option (thinking in the car here). It's super quiet, yet hospital strength, and it's a true closed system, so breast milk only contacts flanges and bottles (not tubing or pump), keeping pumping sanitary.
Many moms grab two pumps (especially if traveling or working). While travel is up in the air right now, I decided to also snag the Spectra 9 Plus (and give away one to one of you!), to have the extra flexibility when I need it.
The 9 Plus is only half a pound, and can actually fit in your pocket! It allows you to multitask while you pump so you can work or cook or anything else you might need to be doing. Its size makes it great for mobility. So with the size and weight of the 9 Plus, it's portable and great for travel, and it's still hospital strength despite its compact size.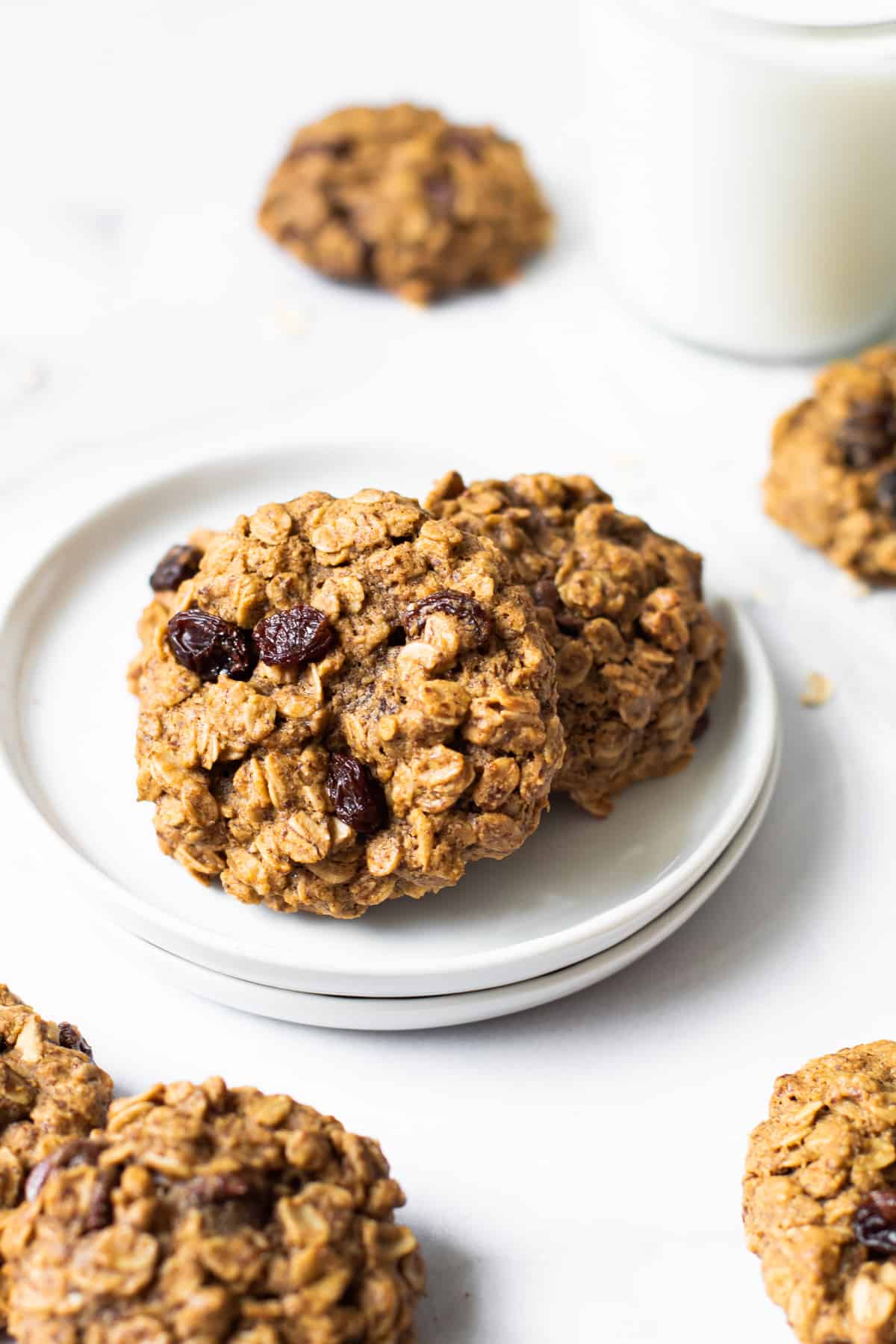 How to Make these Gluten-Free Lactation Cookies
It couldn't be easier to make these cookies! They're made all in one bowl. The most complicated part about making these is that you have to let the flaxseed thicken up for about 10 minutes before you mix in the rest of the ingredients. The flaxseed takes the place of eggs, so it's important to let it absorb the water, prior to moving on to adding in the rest of the ingredients.
After you mix together the dough, scoop out the dough onto two baking sheets. Bake in a preheated oven for about 10-15 minutes. If you like your cookies a bit more soft, bake closer to 10 minutes, and if you like them a bit more set, bake more towards the 15-minute mark.
Let them cool slightly before trying to handle, as they will be delicate when hot. Once cool enough to handle, they're ready to eat!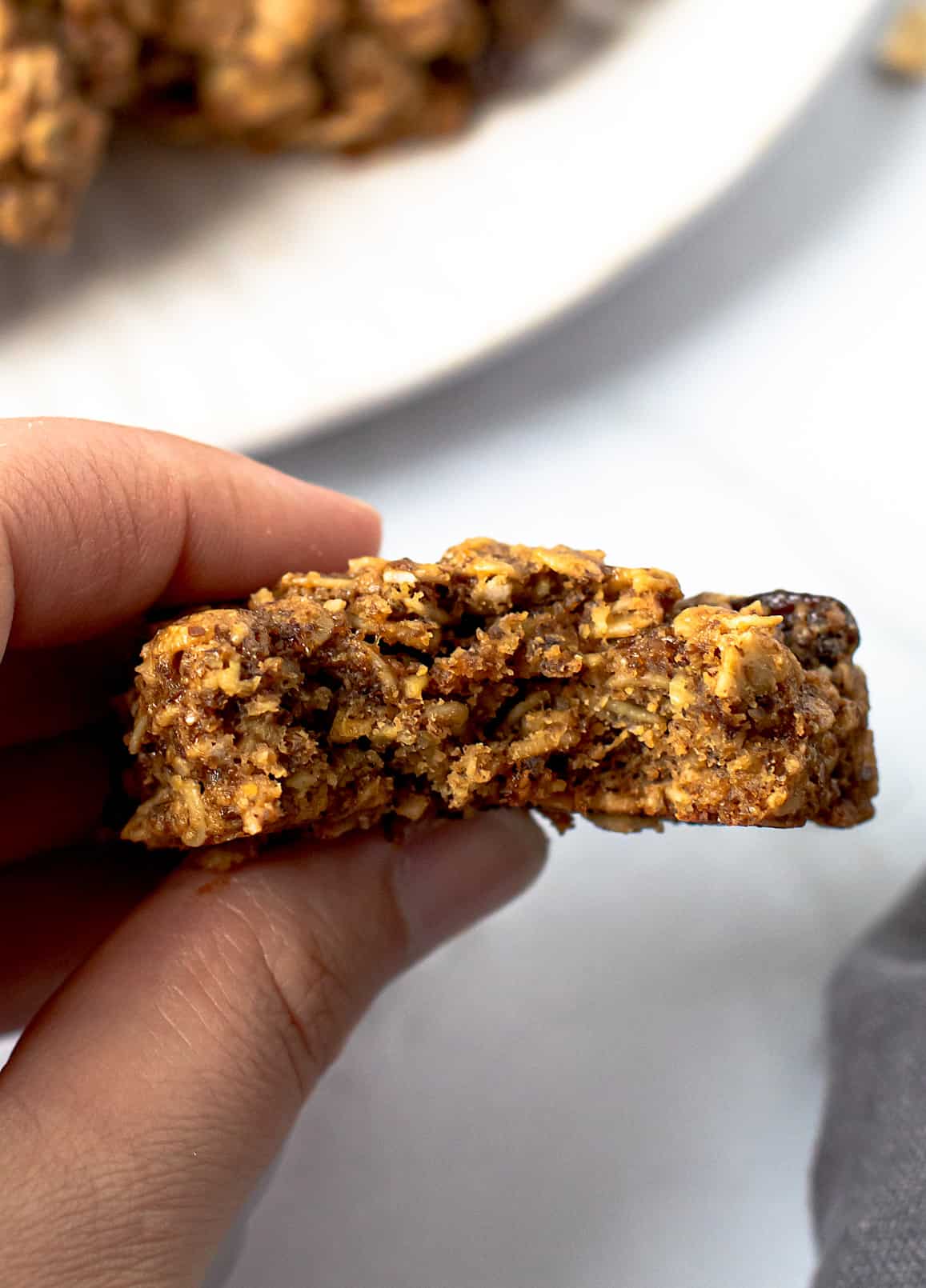 Other ways to boost milk supply:
While everyone is different, know that generally your supply is based on demand. So, nursing more often or pumping will let your body know you need it to start making more milk. Here's a list of a few things to try:
How to Store Lactation Cookies
These cookies can be stored in an air-tight container for up to 3 days. Keep in the refrigerator for 5-7 days. Or they can be frozen for up to 2 months. We recommend you bake the cookies before freezing, as the dough doesn't keep as well in the freezer as the baked cookies do.
When ready to eat, simply defrost at room temperature for about an hour.
Watch the video here:
---
If you like this lactation cookie recipe, check out these other useful resources: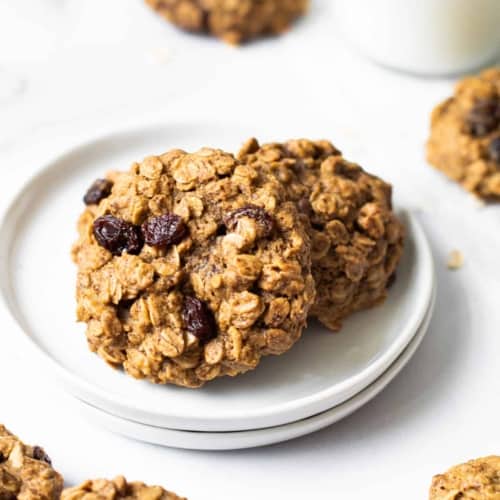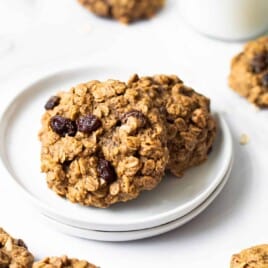 Gluten Free Lactation Cookies
These Gluten Free Lactation Cookies are a nursing mom's best friend. Packed with nutrient-rich flaxseed and oats, these cookies help keep a new mom fueled throughout the day. They are simple to put together and free from gluten, refined sugars, eggs, and dairy.
Ingredients
¼

cup

flax seed

½

cup

water

1/2

cup

coconut oil

melted

¾

cup

coconut sugar

2

cups

rolled oats

1

cup

120 grams oat flour

¼

cup

brewer's yeast

see note

1/2

teaspoon

baking soda

Pinch

of fine sea salt

1/2

teaspoon

cinnamon

½

cup

raisins or chocolate chips

more as desired
Instructions
Pre-heat oven to 350 and line 2 baking sheets with parchment paper.

Add flaxseed and water to a bowl, and let sit for 10 minutes to thicken up. Add the remainder of the ingredients to the bowl and mix together.

Scoop dough into balls about 2 tablespoons in size and place on baking sheet about 1-½" apart. Gently press down on the dough to flatten it.

Bake in the preheated oven in the middle rack for 10-15 minutes, until the edges are set. The cookie will still be soft when hot.

Remove to a cooling rack and let cool at least 1 hour to allow them to finish setting up.
Notes
If you are gluten-intolerant, make sure to look for gluten-free rolled oats and oat flour, as well as gluten-free brewer's yeast.
If you want to skip the brewer's yeast, increase the oat flour by 1 tablespoon.
We preferred these cookies baked at 10 minutes, for a slightly "underbaked" cookie. If you prefer your cookies more set, bake for the full 15 minutes.
Nutrition
Serving:
1
Cookie
Calories:
166
kcal
Carbohydrates:
24
g
Protein:
3
g
Fat:
6
g
Saturated Fat:
5
g
Sodium:
48
mg
Fiber:
2
g
Sugar:
10
g
DISCLAIMERS: