Pregnancy nutrition can be extremely overwhelming. Our registered dietitian and mamas with first hand experience, are here to bring you some ease, guidance, and support.
First, know that it is not the best idea to dramatically change your diet once you get pregnant. Make some small changes that allow you to consume the nourishment and energy that you and the little one(s) need.
Of course, always consult with your doctor with any major dietary changes and any concerns you may have! Also, depending where you are in your pregnancy, don't beat yourself up if you're not crushing all the vegetables!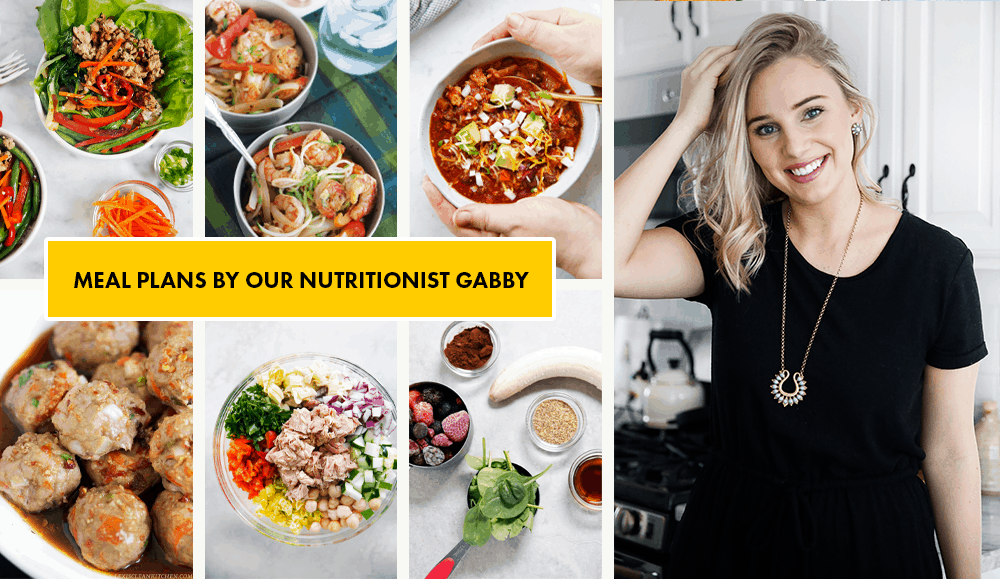 What's most important is that you focus on nutrient-dense foods. Nutrients are so incredibly important for the development of the baby and the mama's health.
This meal plan and advice provides you with some general pregnancy nutrition guidance. Keep in mind that during pregnancy, you may need 350–500 extra calories each day during the second and third trimesters. Because of this, you may want to incorporate some nutrient-rich snacks throughout your day such as fruit, crackers, or popcorn. It's also important to note that all vitamins and minerals are important during pregnancy, but ones to spend some attention on are: folate, omega-3, choline, calcium, vitamin A, C, D, K, iron, and protein. 
You'll be taking a prenatal and getting nutrients, but on top of that, some important foods I recommend you incorporate into your diet, if you tolerate and enjoy, are listed here:
Fatty fish, such as wild salmon, for the omega-3 (EPA DHA) and vitamin D content.
Eggs for the high-quality protein and choline. 
Green leafy vegetables for their fiber, vitamin C, K, A, calcium, iron, and folate content.
Orange and red vegetables for the beta carotene (vitamin A).
Lean protein for high quality protein, iron, choline and B vitamins.
Dairy, if you tolerate it. Dairy is high in protein, calcium, and B vitamins. 
Legumes for protein, iron, folate, and calcium.
Dark berries, they contain lots of vitamin C, fiber and antioxidants.
Whole grains, for plant-based protein, B vitamins, and magnesium.
This meal plan is rich in all of those vitamins, minerals, and foods listed above to ensure you are a nourished mama, with a happy belly.
This Sheet Pan Greek Meatballs with Veggies and Chickpeas is a delicious dinner that will make the whole family happy! The greek meatballs have a healthy dose of spinach and a nice bright lemon and herb flavor to complement the veggies and chickpeas. This meal provides the mamas-to-be with tons of lean protein, folate from the chickpeas, and your daily dose of vitamin A from the bell pepper! 
To reduce waste and save time:
Save the ½ eggplant and feta cheese for this week's Non-recipe Recipe.

Save the leftovers for lunch!
This Grilled Salmon and Shrimp Scampi is the perfect classic seafood dish! The marinade and sauce are loaded with bright flavors of lemon, herbs, garlic, tomatoes and spinach! There is tremendous essential nourishment in a bowl of this delicious dish from so many different ingredients but especially the omega-3 from the salmon, zinc from the shrimp, and the leafy greens packed with vitamins.
To reduce waste and save time:
Buy a pint of cherry tomatoes as you will need 1 cup for this dish and 1 cup for Dinner 4's Corn Avocado Salsa.
These Sheet Pan Steak Fajitas is a super easy weeknight dinner with juicy steak tips roasted alongside classic fajita style vegetables! Red meat during pregnancy can be extremely beneficial because of the high iron content. Iron is especially important during pregnancy because a pregnant woman's blood volume increases by nearly 50 percent, causing her to need more iron so she has more oxygen-carrying capacity.
To reduce waste and save time:
Save the leftovers for lunch! 
These perfectly cooked BBQ Chicken Breasts are your answer to a quick and delicious dinner. The chicken is quickly marinated with a bit of apple cider vinegar and spices, topped with BBQ sauce (homemade or store-bought) and then baked to perfection. Paired perfectly with a Corn Avocado Salsa for a refreshing, flavorful side. Not only does this meal provide you with delicious flavors and different textures that flawlessly complement each other, but it also nourishes you with lean protein, vitamin C, and B vitamins.
To reduce waste and save time:
Roasted Eggplant and Feta Sandwich
Bake leftover eggplant with olive oil, salt, pepper, oregano. Then take your favorite sandwich bread or baguette and add the baked eggplant, tomato, leftover red onion, and feta cheese for a delicious  lunch.
Gluten-Free Oatmeal Raisin Cookies
These Gluten Free Oatmeal Raisin Cookies with chocolate chips are the perfect way to get your whole grains in while sneaking in some cinnamon, chocolate, and raisin goodness. They are the most chewy, soft, and delicious cookies. No one will be able to tell that these are gluten-free and refined sugar-free!
To find other meal plans that fit your lifestyle and learn how these meal plans were created, click here.