How To Cut and Pick A Pineapple
Love fresh pineapple but not sure how to cut it? Scroll on down for a tutorial on How to Cut a Pineapple and our best tips for picking a ripe one at the grocery store.
How to Cut a Pineapple
Pineapples are SO JUICY and so naturally sweet. Pineapple makes the perfect after dinner treat. They're also one of the least expensive and most popular additions to fruit salad. All of that is well and good, but you may be asking yourself how on earth do you cut one? If you've never cut a pineapple it can feel intimidating! Fear not, we're showing you just how to do it in a few easy steps!

Step 1: On a steady surface cut off the prickly crown of the pineapple.
Step 2: Turn the pineapple around and trim off the bottom, to about 1″ inch up from the bottom.
Step 3: Put the pineapple on the flat surface to steady the fruit. This is always important with anything you are cutting up!
Step 4: Trim the green/brown sides from the pineapple. Preserve as much as the sweet yellow flesh as possible.
Step 5: Remove all of the "eyes" (which are the holes with the fibrous spike on it) on the pineapple with a small pairing knife.
Step 6: Cut out the hard woody core: Locate the core (you can see it is the middle part that looks distinctly different) and then cut right up against it through the pineapple. Repeat this four times until you've cut the core out and you are left with 4 large chunks of juicy pineapple.
Step 7: Lay one of the large flat surfaces of the pineapple on the cutting board and slice it into 1″ semi-circles.
Step 8: Turn the pineapple and cut from the opposite side to make a large dice! Repeat with all of the large pieces until the pineapple is all diced up.
How to Pick a Ripe Pineapple
Pineapples are a tricky fruit to tell if it is ripe! Here are some quick ways to tell if your pineapple is ripe:
Look for a pineapple with green fresh looking leaves.
If that leaves pull off easily at the center, it's a sign that it is ripe
Smell the bottom: if it's smells like pineapple you are on the right path. If it smells fermented than it is overripe. If it doesn't smell like anything then it is not ripe.
---
Watch the video:
---
Check out these pineapple recipes: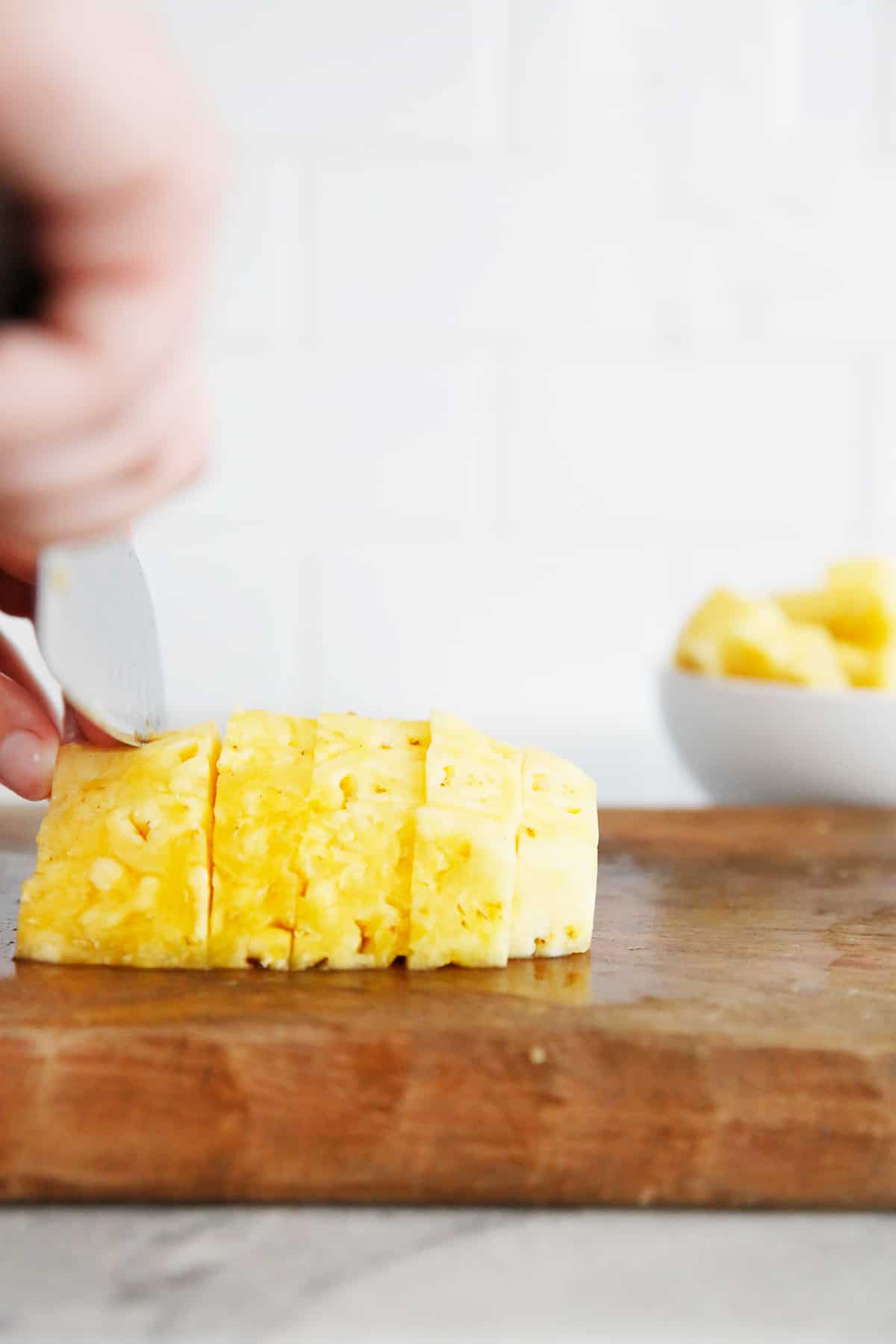 This website may at times receive a small affiliate commission for products that we shared with you in our posts. Although we may receive a commission for linking certain products, there's no additional costs to you and all of our opinion and suggestions are 100% our own and unbiased. That's our promise to you!
Subscribe to get our FREE clean eating guide!
Join our email list TODAY to start recieving our newsletter weekly, access to exclusive content and deals, *and* a FREE complete 24-page clean eating guide!