This Healthier Hollandaise Sauce is my version of a classic condiment. It's rich, creamy, velvety smooth, and ready in just a few short minutes.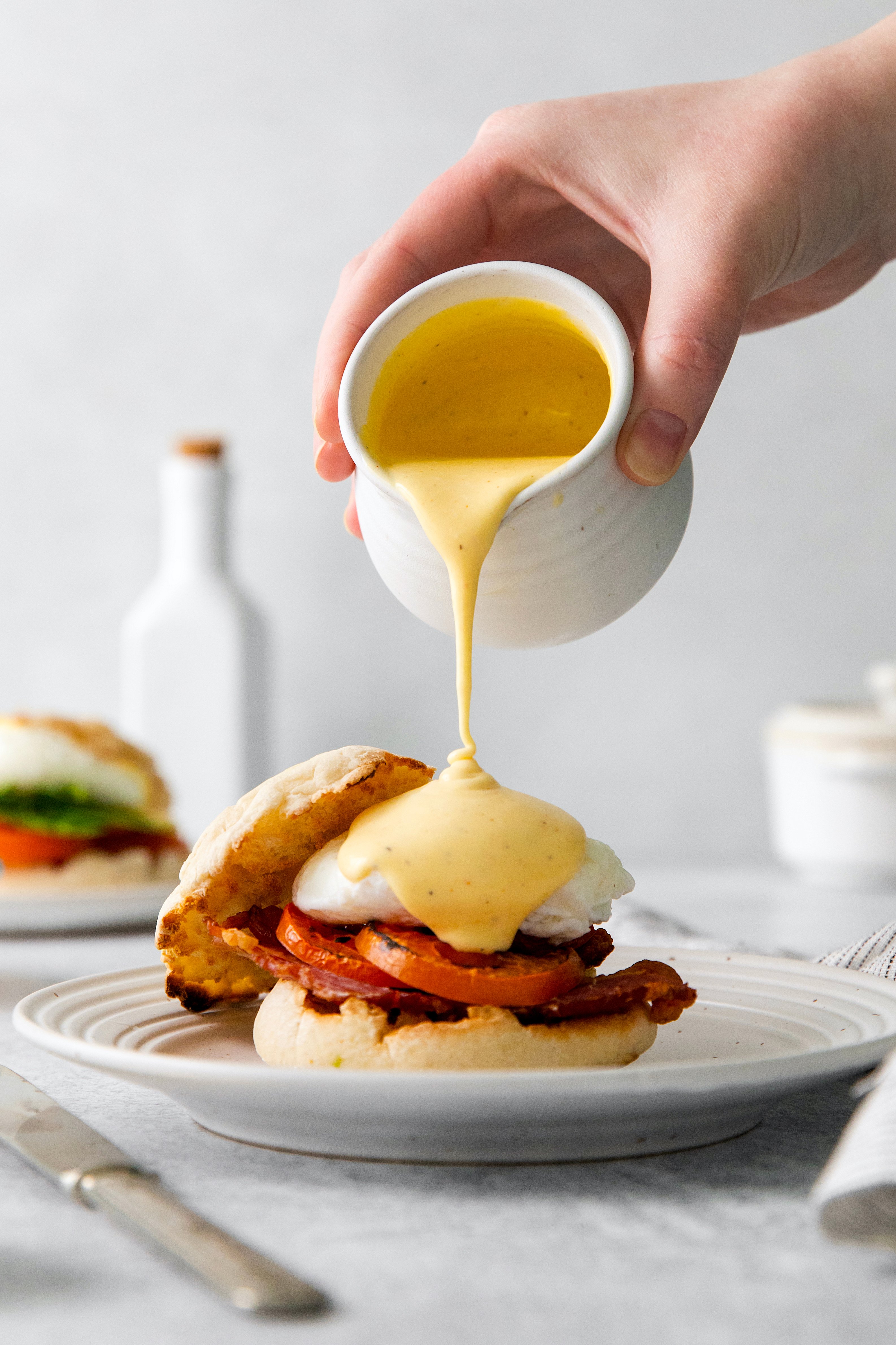 Easy Homemade Hollandaise Recipe
If you've never had hollandaise sauce before, then get ready to discover your new favorite condiment.
I mean, what's better than a rich, buttery, tangy, perfectly seasoned sauce to spice up your breakfast sandwich, veggies, roasted potatoes, etc. It really does make every recipe seem fancier!
This recipe for homemade hollandaise sauce is way simpler than it tastes and sounds and comes together in just a few short minutes!
What is Hollandaise Sauce?
Hollandaise is a condiment with French origins that's made with a mixture of butter, egg yolk, lemon, and seasonings. It's simple, delicate, and most commonly used in a classic breakfast dish known as Eggs Benedict.
Hollandaise Sauce Ingredients
Scroll to the recipe card below for the ingredient amounts and full instructions!
Butter: I recommend unsalted, grass-fed butter.
Egg Yolks: Look for pasture-raised eggs.
Lemon Juice: Use fresh lemon juice
Seasonings: sea salt, pepper, cayenne pepper, onion powder, garlic powder
Warm Water: only if needed to thin it out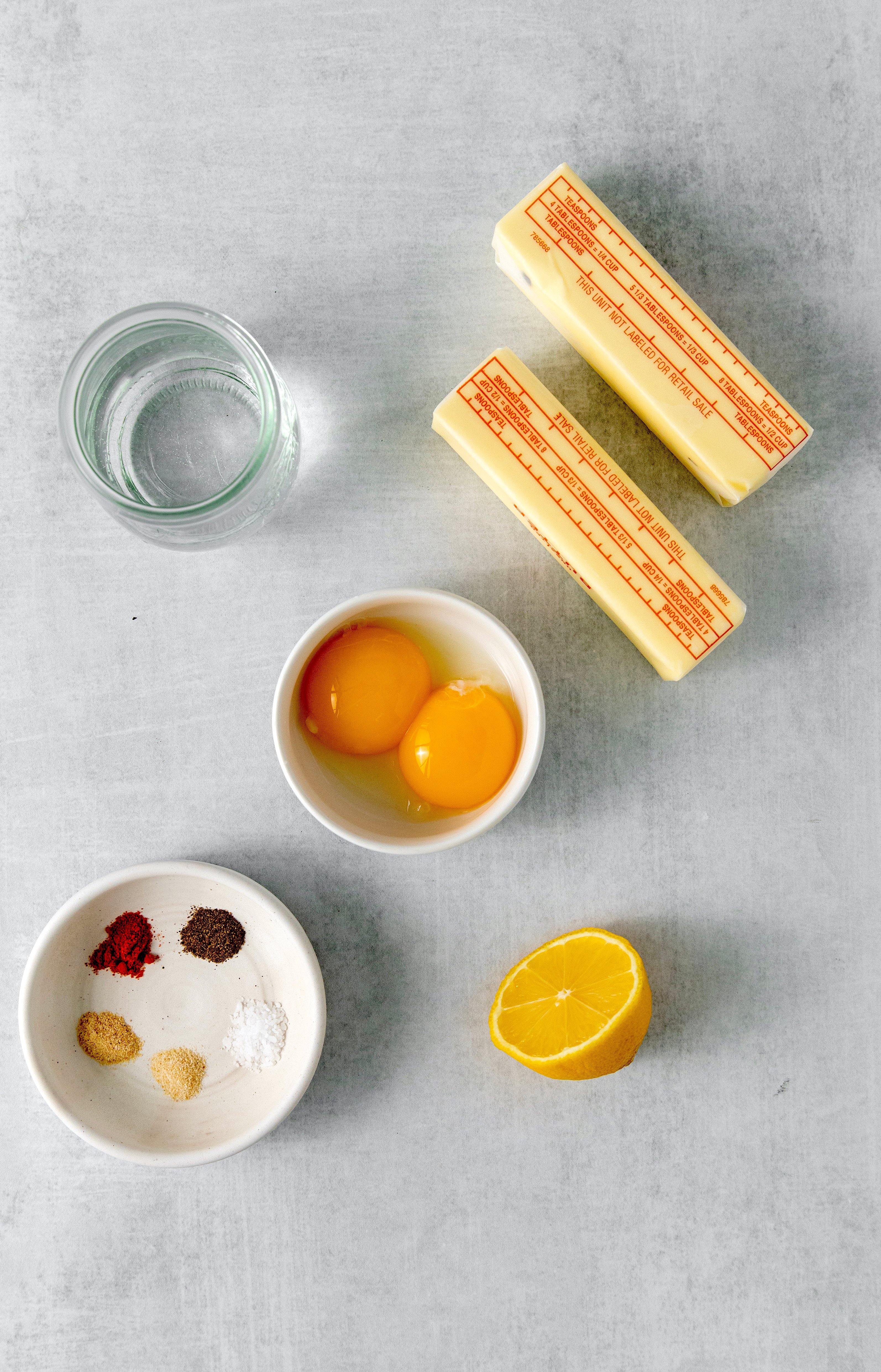 How to Make Hollandaise Sauce
Like I said, this hollandaise sauce recipe is so much simpler than it sounds! Just a few minutes and it's ready to go.
Melt the butter: Using a double boiler, heat the butter until melted.
Blend: In a blender, combine egg yolks, lemon juice, and spices. Blend on low speed, then slowly pour in the melted butter until well-combined.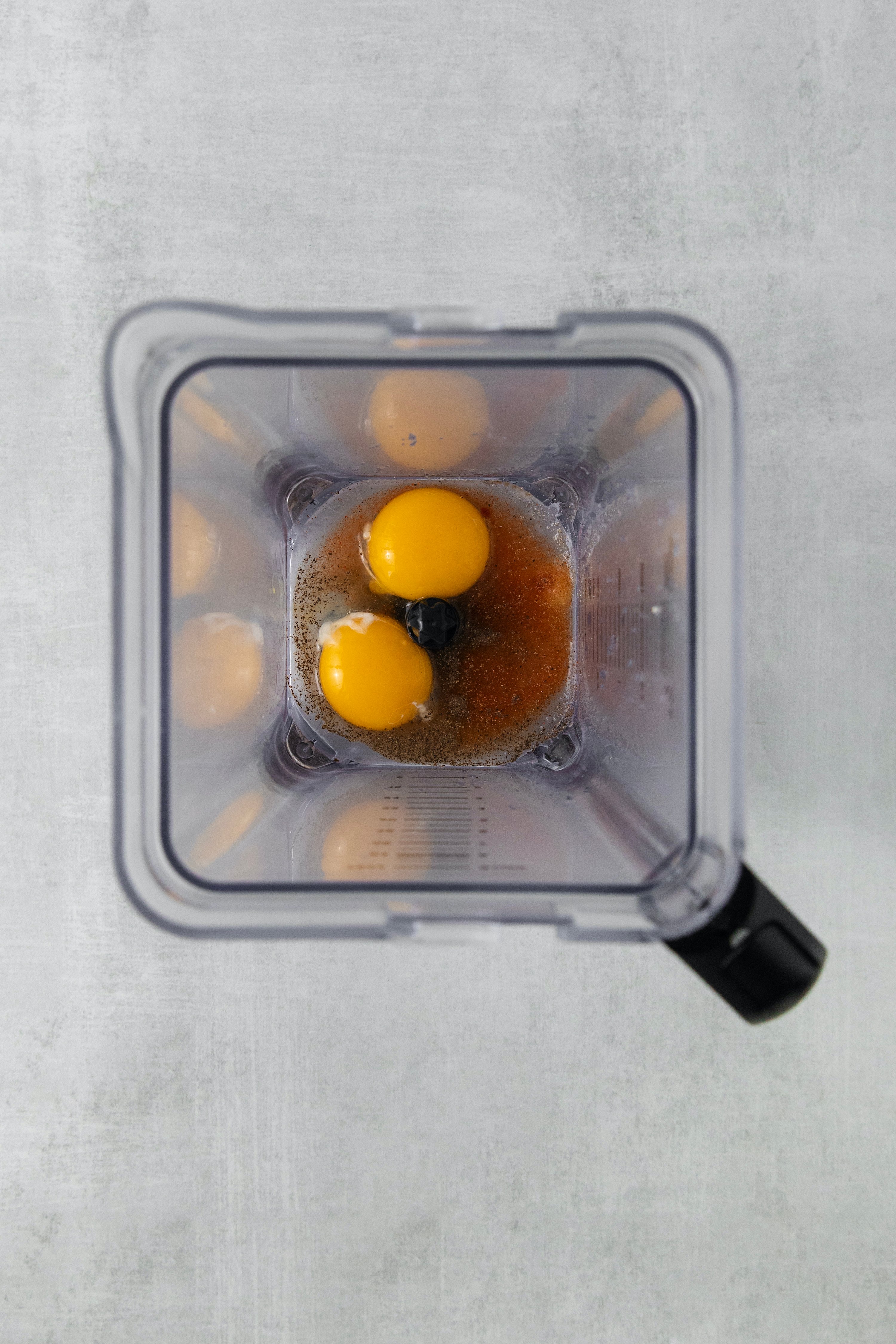 What Does Hollandaise Sauce Taste Like?
Hollandaise tastes like the perfect balance of all of its ingredients!
It has a buttery undertone made even creamier and richer with egg yolk. Those richer flavors are offset perfectly with the tangy lemon juice and then it's spiced up perfectly with a flavorful blend of seasonings.
Since this recipe is homemade, you can make it as buttery, tangy, or spicy as you like. Feel free to adjust to your tastes!
Tips and Notes
Use a double boiler. This helps the butter melt smoothly without burning.
Bring the egg yolks to room temperature. The eggs will separate better when they're cold, but I recommend bringing the yolks to room temp after they've been separated from the whites. This helps them incorporate more easily with the butter.
If the sauce is too thick or not emulsifying, slowly add little bits of warm water at a time until it has reached your desired consistency.
Serve warm. Hollandaise sauce is meant to be served slightly warm as soon as it's done being mixed. The flavor and texture is hard to beat!
Save the whites. Rather than discarding them, save the egg whites and use them for another recipe or add them into scrambled eggs for some extra protein.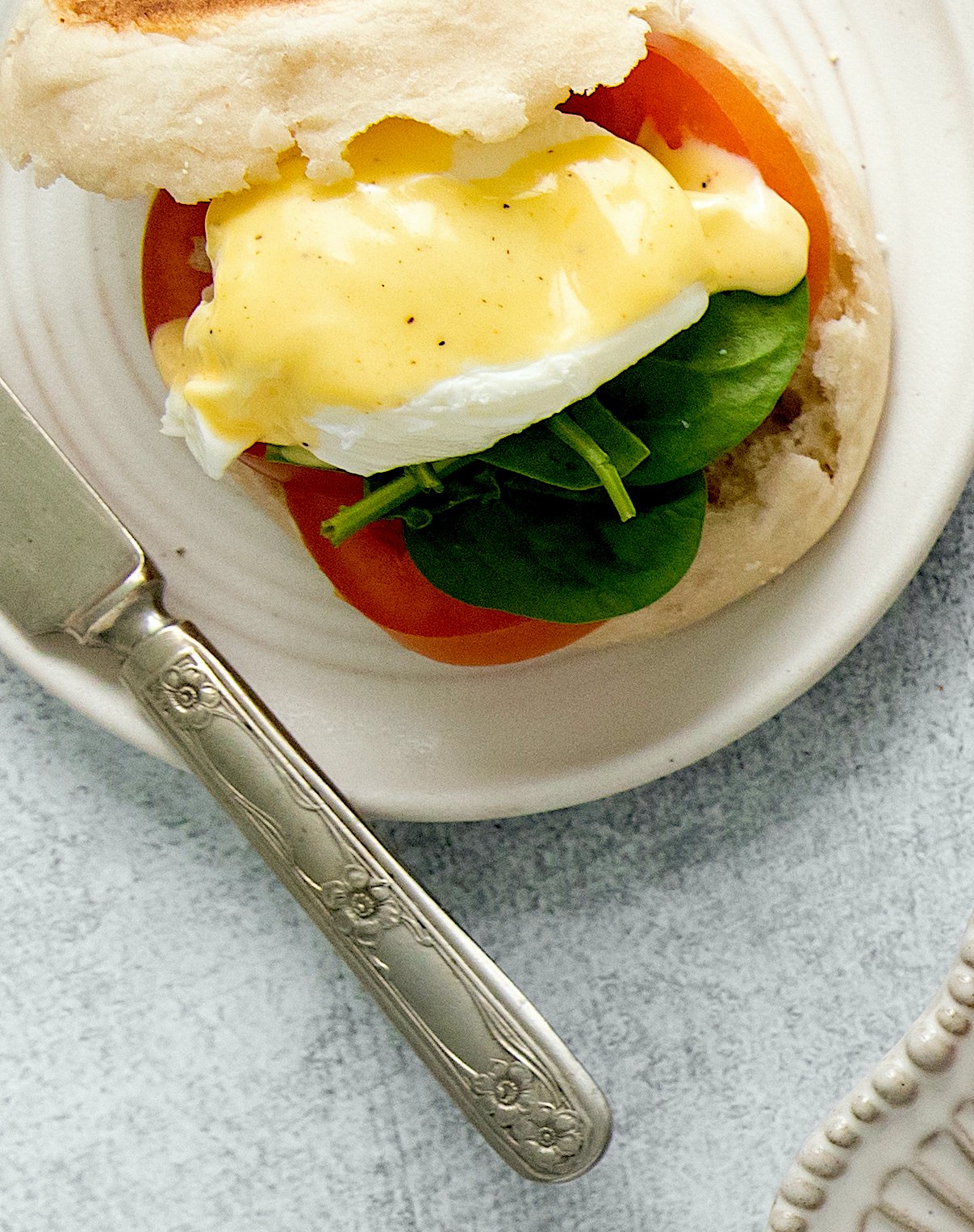 Serving Suggestions
The classic way to serve hollandaise sauce is on Eggs Benedict, which is a flavorful breakfast sandwich made with poached eggs, veggies, bacon, and onions.
However, it is versatile enough that it can totally be served in other ways too! Try it with:
The possibilities for this flavorful sauce really are endless.
How to Store
The texture of homemade hollandaise sauce is best right away. However, if you do have any leftover, it can be stored in an airtight container in the fridge for up to 2 days.
To reheat the sauce, the key is to do so gently so as not to accidentally cook the eggs. Here are a couple of options:
Warm water: Keep the sauce in the airtight container and submerge it in a bowl of warm water just until warmed.
Double boiler: Warm on low in a double boiler on the stove just until heated.
Microwave: Microwave in 15 second increments, stirring often, just until heated.
Watch The Video: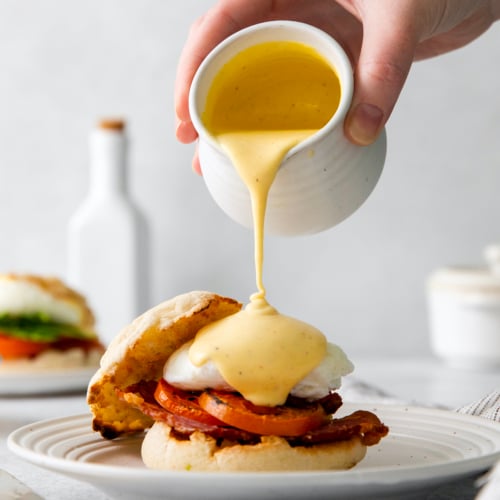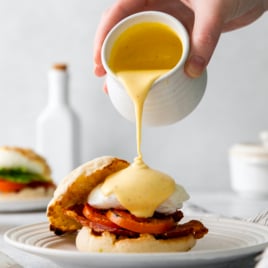 Healthier Hollandaise Sauce
This Healthier Hollandaise Sauce is my version of a classic condiment. It's rich, creamy, velvety smooth, and ready in just a few short minutes.
Ingredients
1

cup

butter

unsalted

2

egg yolks

1

tablespoon

lemon juice

1/4

teaspoon

sea salt

1/4

teaspoon

black pepper

1/4

teaspoon

cayenne pepper, more to taste

1/4

teaspoon

onion powder

1/4

teaspoon

garlic powder

1/4

cup

warm water, if needed
Instructions
In a double boiler or microwave, melt butter.

While butter is melting, place egg yolks, lemon juice, and spices in a blender and cover. On low speed, slowly pour the melted butter into the blender in a steady stream until the butter and egg yolk are well blended.

 If the sauce is thick slowly add in water, until you have reached a slightly thick and runny consistency.

 Taste and adjust spices as needed. Serve warm in serving dish of choice!